Have you ever been to the gym and seen the poor shy skinny guy wandering aimlessly around, clumsily trying out machines? Chances are you only saw him once, because I quickly … errr, I mean "he" quickly gave up and went back to doing what skinny people do. In my case that meant going home to earn strength points for my Asheron's Call avatar, because, well, at least I knew how to do that properly – slay a bunch of dragons. The gym's no different. Once you learn the ropes you can get fearsome results and build up your strength and size points just as effectively in real life … but like anything else there's a learning curve, and it can be frustrating, overwhelming and intimidating at first.
The gym is a place you need to master though if you want to become an impressively strong dude, whether that's the local Goodlife, the neighbourhood boutique gym or the campus athletics centre. (Or the rusty pile of weights that you found on the side of the road … which is how I gained my first 20 pounds. More on building a home gym next post.)
I remember going to the gym for the first time, eyes carefully kept on the floor for fear of accidentally catching a buff man's eye and being found out as a first-timer. My 10″ biceps probably made that pretty evident, but at the time pretending to be a pro still seemed like the right move. Unfortunately I was so nervous and clueless that I hardly even got any lifting in. Plus when I would get nervous I would get clumsy too, so all the fumbled weights just drew even more attention to me.
It was only years later, and right after I'd spent a solid month researching strength training, that I finally worked up the determination to go back and stick it out. I marched in, workout sheets and workout drink in hand, ready to successfully complete my first non-nonsensical workout … and was promptly kicked out because my carefully selected denim shorts violated the dress code. Dammit.
So this post will help you conquer both problems: not being a total dork in the gym and help you make sure that your time spent there winds up getting you somewhere ;)
The crazy thing is that for some reason us skinny guys often have this view that the gym is only for people who are already buff. That we don't belong. As soon as you put it like that you realize it's backwards—the gym is where guys go to become buff. Admittedly that doesn't make it any easier for us skinny ectomorphs who don't feel physically fit enough to even step foot into one though … but the first thing to realize is that the feeling of not belonging is all in your head.
With that in mind, there are some things you should know:
Gym étiquette 
Gym equipment
Gym gear
Gym Etiquette.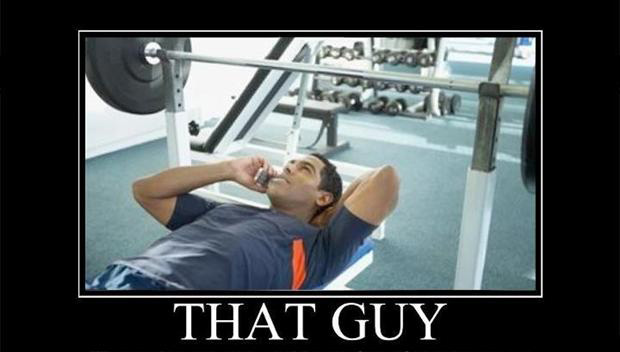 I'm a firm believer that the gym isn't some sacred ground where you need to remain totally silent, focused, sweat-free and smelling subtly of ocean mist. It's a place where you should be allowed to laugh, sweat, and even—sometimes—grunt. With that said, within every culture and subculture there are rules and customs. Gym culture is no different, and it has it's own unique set of rules. You'll see people break them, and it's up to you to decide which you choose to follow. Here are some:
Leave your phone in your locker. The gym is where a lot of people go to unwind and take a break from constantly being bombarded by emails, texts, phone calls and Facebook friend requests from very attractive ectomorph women who want weightlifting advice. Phones not only take you out of the zone, phones take everyone around you out of the zone. Besides, nothing angers a serious lifter like taking your phone out between lifts, especially if you're monopolizing a piece of equipment that he's been eyeing. All of a sudden you aren't resting—you're taking up too much space and wasting too much time. (If you absolutely need to bring your phone in, set it to silent and leave the room to text/make calls/YouTube the exercise you've already forgotten how to do.)
Being kind of social is okay, so long as you're not being the invasively chit-chatty person who won't let you focus. It's okay to have fun and interact with people … and it's also okay to be a total loner. Using headphones is a good way to signal to others that you don't want to be disturbed, and thus those are the last people you want to approach. Regardless of headphones though don't be scared to ask a person if you can work in on a piece of equipment, how much longer they'll be, if they can spot you, etc. Just don't interrupt them while they're lifting.
Yes, hearts can be romantic in the right situation, but the steamy kind of heart that a perspiring bum leaves when you hop off a workout bench isn't going to woo the woman waiting to use it. Sweating is totally cool—it's a gym—just make sure to mop up any lingering sweat that hangs around after you're gone. (Sometimes there's a spray bottle and paper towels, other times you're supposed to carry around a towel.)
Knowing that you're going to shower after you train doesn't mean you get to show up smelling like the weird guy on the bus. Fresh sweat is full of pheromones and, while it has an odour, it doesn't actually smell "bad". When it comes into contact with air though a chemical reaction takes place and it gradually starts smelling worse and worse. So if you sweat while in the gym that's cool … but don't show up smelling like old sweat—that stuff stinks! (Deodorant is recommended, to prevent your smell from disturbing others. Cologne is discouraged, also to prevent your smell from disturbing others.)
There's an unspoken rule in many gyms that you only get 20 minutes per piece of equipment. That means that using a squat rack or bench press on a busy day is absolutely fine, however thin, inexperienced and shy you are, but at 20 minutes you may need to double check that no one is waiting for it. Generally this works best if you're doing the intended exercise. Doing curls in the squat rack won't earn you any popularity points.
When you're finished with a piece of equipment you've got to "rack" your weights, i.e., put all the dumbbells and weight plates back where they belong. The good news is that as a gym newbie you likely won't have much weight to put back
Flexing naked in the change room is often frowned upon.
Being skinny, chubby or inexperienced is perfectly fine. Other gym-goers probably won't judge you for it. Chances are you either bring back feelings of nostalgia, reminding them of when they first started, or they admire the bravery and resolve it took to get you there … or they'll try to look extra buff and impress you with how much weight they can lift. The experienced guys are often eager to share their wisdom and help out beginners, too.
Not lifting much weight is okay. Besides, it's really hard to tell how strong someone is by how little weight they're lifting anyway, unless you're really really creeping them hard. Sometimes you'll see the biggest guys in the gym red faced, grunting and curling 5 pound dumbbells because their muscles are so damn fatigued from the heavier sets they just finished. Sometimes you'll see the most athletic guy in the gym deadlifting just 135 pounds because he's practicing his form, warming up or recovering from an injury. Sometimes you'll see the strongest guy there squatting just the bar because he's working on improving his mobility. Going as light as you need to go is cool. Lifting incorrectly in an egotistical attempt to seem like you can lift more than you actually can is what's usually frowned upon.
Don't giggle at guys using the adductor machines—they're probably nice guys. Don't use the adductor machine—they don't work very well.

Gym Equipment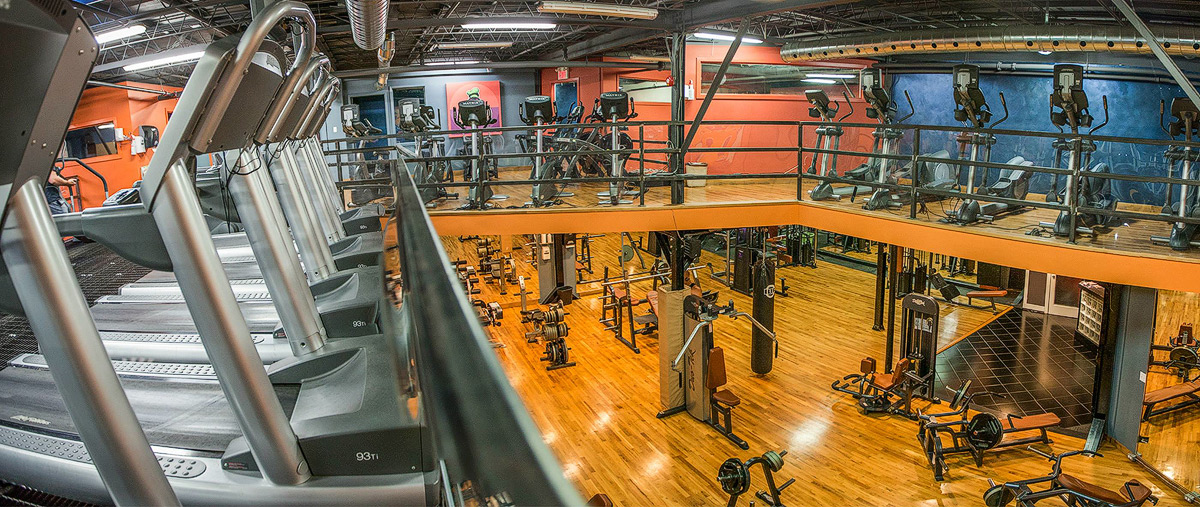 There's a whole hell of a lot of gear in most gyms. Luckily, you don't need to know how to use most of it. You can leave the ellipticals, treadmills, bosu balls and adductor machines to the prettier trainees. If it were up to me, hell, even they wouldn't be on 'em. (Girls respond awesomely well to heavy strength training too.)
So what do you need? You guessed it: free weights. They result in more real world strength, they stimulate individual muscle groups better, they stimulate more muscles simultaneously, they're safer and they're a whole hell of a lot cooler. Machines will let you feel the burn, sure, but you aren't developing a connection between your muscles and your nervous system, they don't activate stabilizer muscles, they can ingrain faulty movement patterns and they can create muscle imbalances, meaning that your training isn't actually making you better at anything. You may wind up just as weak and uncoordinated afterwards.
The muscles in our body don't function in isolation, they all work together to perform certain movement patterns. Lifting free weights using natural movement patterns is by far the best way to get fearsomely big and strong.
Plus, machines aren't even all too good at doing what they're designed to do: make isolated muscles bigger and stronger. In one study, training with machines for 16 weeks increased the participants' strength by 57% and their balance by 49%. Those training with free weights had a 115% increase in strength and a 245% increase in balance. So free weights, in this case, resulted in nearly twice as much strength and five times more balance than machines. Prrretty badass. (study)
Free weight compound lifts are also extremely efficient. You can work many dozens of muscles at the same time doing simple lifts, getting the amount of work done in an hour that it would take you 3 hours to do with machines. Keep in mind that you work those individual muscle groups better with compound free weight lifts, too. Doing a perfect chin-up will grow your biceps faster than doing curls.
Inefficiently working muscle groups in isolation for slower results – slower results even in the muscles you're isolating? Ain't nobody got time for that.
B-b-b-but Shane machines are so much easier! Yep. You raise a good point my friend. Let's say you're all alone, brand new to the gym and doing a barbell back squat is just a little too complicated, overwhelming and intimidating? First off – we agree, and I would say start with a goblet squat, not a back squat – read this article – but back to the point: machines are infinity times better than not going to the gym at all. Being a total gym equipment elitist snob who only believes in free weights won't get you anywhere if you don't actually lift. So, I give you permission to go to the gym for a couple weeks and use machines if you find that a bajillion times less overwhelming than free weights. Then, when you're ready to take things to the next level, you can master free weights.
(There are also wickedly buff and impressive dudes who use machines, and many would argue that there comes a time when machines can be introduced into your training, but that's way down the road once you're already a grandmaster.)
So, with all that in mind, you only need to use a few key movement patterns and pieces of equipment to get wickedly strong:

Dumbbells. Dumbbells are the best piece of equipment for beginners. You can do dumbbell variations of all the big free weight lifts simply and easily: the dumbbell sumo deadlift, the dumbbell bench press, the goblet squat, one-armed rows, farmer carries. They also offer the advantage of not needing a spotter. If you get yourself into a pinch you can simply drop them without risk of becoming pinned under them (as you would be if you were doing, say, a barbell bench press). This means that if you're training solo and don't have a cage to work inside, you can still squat and bench press safely. I would drop weights sparingly though. You don't want to be failing on every set and sending dumbbells flying. It's a last resort—not the proper way to put a weight down.
The Bench. Pretty simple piece of equipment. You can use it for classic lifts like bench presses and rows, and you can get into fancy performance and postural stuff, like bulgarian split squats.
Barbells. Barbells are arguably the best strength and size builders out there – bar none. (Is that a pun?) This is especially true for us ectomorphs, as we respond particularly well to a more classic approach to weightlifting. We respond really really well to heavy barbell strength training lifts. They make your muscles bigger, your tendons stronger, your bones denser—all good things. Barbells can often result in a larger anabolic hormonal response than dumbbells too, as they gives your body a chance to haul really heavy weights around.
The Squat Rack / Power Cage. Perhaps the most versatile and badass piece of equipment in the gym.You can safely squat, bench press, overhead press, rack pull and chin up, meaning you can effectively train every single muscle group like a total badass. And you can do it perfectly safely without a training partner, since you can set up those handy safety bars to spot for you.
When scouting out gyms check out the squat rack / power cage situation. That's often a great way to see where a gym's priorities lie. Some gyms, like ours, have a squat rack and a power cage. That's how you know you've found a good one.
The spot bars that this guy is happily holding are your training partner. You set 'em up a little bellow the lowest part of your lift and then they'll catch the weight if you drop it. They won't even make fun of you for it. (This guy apparently doesn't plan on squatting very deep.)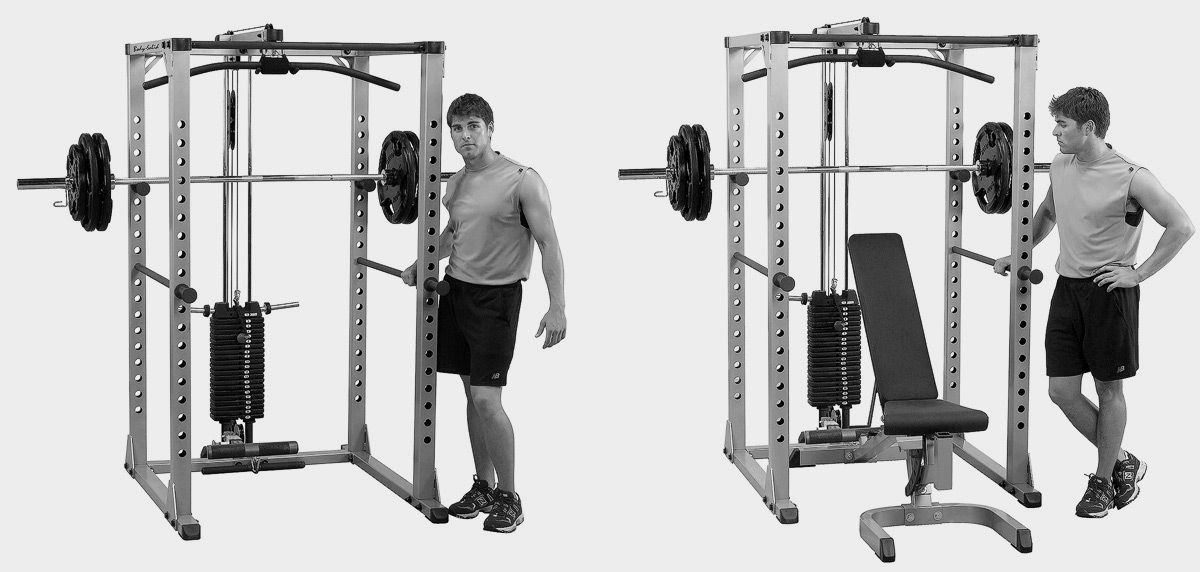 Cable Machines? Cable machines are generally still considered free weights, as there's no fixed path that they're forcing you to lift through. It's hard to perform the most crucial lifts with them (presses, deadlifts, squats and chins) but they can also do a lot of things that dumbbells and barbells can't do. Dumbbells and barbells always pull down … but with a cable machine you can get a weight that pulls up or even sideways. You can do seated rows, external rotation exercises, 1-arm lat pulldowns … and even the often forgotten but much needed anti-rotation exercises, like the Pallof Press. The other cool thing is that, used properly, they provide constant and steady tension, making them amazing at growing biceps and triceps (and pecs, some would say).
(The good news for guys who build their own gyms is that a pair of adjustable dumbbells, a bench, a barbell and a rack aren't all that expensive, especially if you aren't buying them all at once. You can start with just a heavy adjustable dumbbell. Plus, all these things are so solidly built and they're such classics that they hold value extremely well. You can use them for decades and then sell them if you ever need to.)
Equipment to avoid?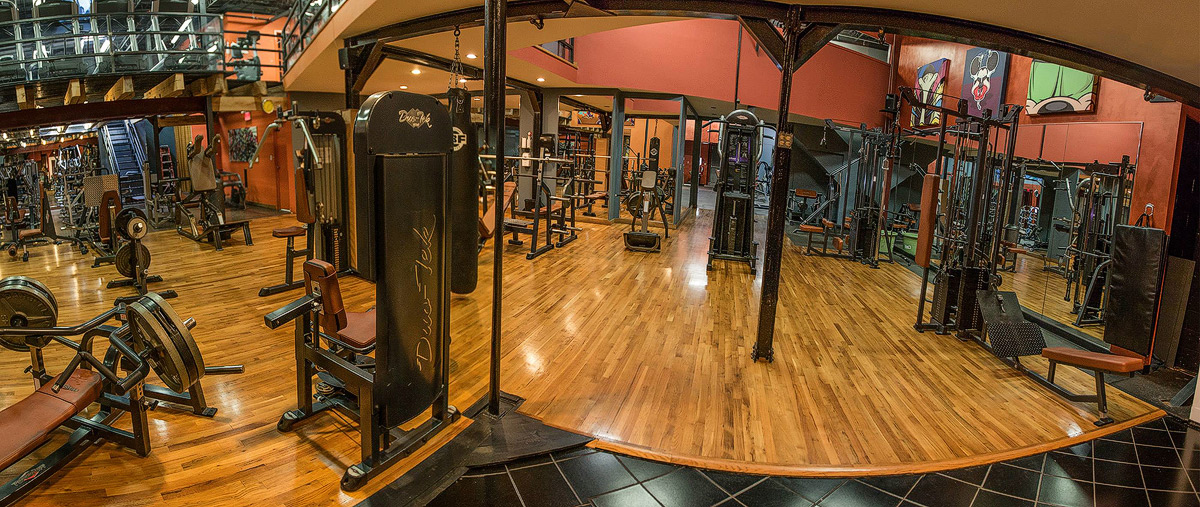 The Smith Machine? Avoid it. Way back in the 50′s the legendary buff man Jack Lalanne attached a barbell to fixed steel rails, allowing only vertical movement. He primarily trained with free weights and used the odd contraption sparingly, and only for a few specific exercises. Wise man. Rudy Smith saw it and commissioned his own, later marketing it as the "Smith" machine.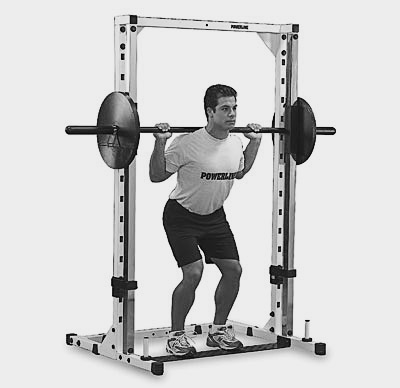 The myth is that the Smith Machine allows you to do heavy compound lifts (e.g. squats, deadlifts and bench presses) safely as a beginner because the bar is on a fixed path and can be easily secured at any point during the movement.
The truth is that the Smith Machine was designed for simple accessory movements like calf raises. If you try a big compound lift in one the fixed path forces you into an unnatural movement pattern. Using a squat as an example, this will create stress in your knees and lower back. Since it uses fewer stabilizer and accessory muscle you can often haul heavier weights, too. Too-heavy weights + unnatural movement patterns is a recipe for disaster. Don't do it!
Besides, like most other machines, it isn't even as good at producing muscle as free weights are. Traditional squats result in 50% more muscle activity than Smith Machine squats. (study) Some gyms have fallen prey to the safety myth though and don't even have squat racks (in which case you use dumbbells). Silly, as squat racks have safety bars, which work way better at catching dropped weight … and they allow for safe and healthy movement patterns. Plus, real barbell lifts result in real world strength, performance and posture.
The Leg Press? Your call. This machine is actually one of my favourite machines. Not because I use it very often … but because everyone else does. If my gym didn't have a leg press machine I'd probably have to wait in line for the squat rack.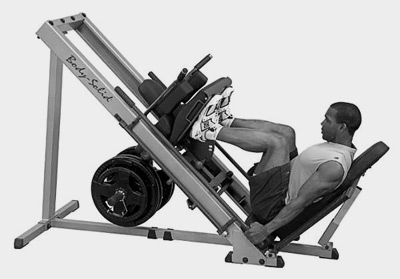 The other reason it's one of the cooler machines is that it's easy to create constant tension throughout your set. This means bodybuilder style hypertrophy training is quite effective on a leg press machine. For some guys that makes it a good addition to the squat (usually done right after you finish your squat sets). This constant tension the leg press provides is similar to why we dig cable machines for arm growth and core stability.
I don't often do leg presses for a few reasons:
Squats destroy leg presses when it comes to real world strength. (This assumes, of course, that you're doing one or the other. Like I said, you can do both.)
Squats result in way more balanced leg development. The leg press targets the quads pretty well, but with a squat you get sweet quads and sweet hams, calves and glutes. Most of us already get enough quad activation compared to ham, calve and glute activation anyway, so leg presses are usually the last thing we need to add into our lifting routines. Oh, and squats stimulate the quads better than the leg press does, too. (study)
Leg presses do produce more exercise induced growth hormone production than squats do, which admittedly sounds pretty appealing. Not so fast. Exercise induced HGH really doesn't matter. The slight boost in HGH that you get surrounding your workouts is insignificant to the point that it doesn't matter. Not even a bit. It won't affect your muscle size or strength gains at all.
Us naturally long/lanky ectomorphs need to develop full body strength and stability. We've usually got very long torsos to stabilize, and leg presses don't help us with that. Again, you can certainly do both the squat and the leg press, but whatever you do don't only do the leg press!
Squats work the upper body too. Do a heavy leg lift and get sweet back growth and core strength? I'm in.
Olympic Lifting / Crossfit? Olympic lifts are extremely badass and can do a great job of building strength, power and athletic performance, especially with very buff and athletic dudes with lots of training experience, very tough durable bone structures and an amazing coach. For them, Olympic lifts are pretty damn sweet. As an ectomorph stay away from olympic lifting though (and thus Crossfit) unless you have a true expert coaching you through it. Even then, that's probably only something you want to do when you've gained 20-30 pounds, totally fixed up your posture and totally mastered the fundamentals of weight training. And even then you might want to work with a private coach a few times before taking a group class where you won't get the individualized coaching you may need. Taking a long unstable spine, poor mobility and faulty movement patterns and then doing advanced explosive lifts is a really really bad idea.
We think Olympic lifting is cool. But we don't teach it online (Marco does teach it in person with his more advanced lifters) and we don't recommend it for most guys, at least not right away. Most guys don't even have the shoulder mobility and lower back strength to do an overhead press safely, let alone olympic variants (like the snatch) where the technique is more advanced and compressive spinal loads are many multiple higher.
Crossfit is Olympic lifting taken to the next level, since the reps and intensity are higher (among other things). It's like an extreme sport, and Crossfit people are really tough people. I think it's amazingly badass that they're popularizing weightlifting for both men and women and I really hope it sticks around. With that said it's not for everyone. They ran a study on Crossfit not too long ago and had it coached by two top weightlifting experts. Over the course of just 10 weeks 16% of the participants came out injured – even with the coaching. Plus, those participants were athletes / experienced weightlifters. (study) With a less extreme approach to weightlifting you're looking at something like a 1.5% injury rate over 8 months – even with beginner and intermediate trainees. Nothing is risk free, including sitting on your tush all day, jogging, etc – but for many people factoring in the chance of getting injured is something worth considering. Crossfit has an unreal high injury rate and you're going to spend a whole lot of time sore as hell … without there being any real need for it. You won't make better size or strength gains or anything because of beating yourself to a pulp, you'll just recover more slowly, aka, grow more slowly. Crossfit, like an intense sport like football, comes with many risks. Classic weightlifting is very safe (can't have a football player missing out on millions of dollars a year because he got hurt in the gym) … and also optimized for size and strength gains. Weightlifting is like training for a sport, so you show up healthy, strong and looking like a total badass. When you've reached that level of badassery and you're already trained to be an athlete – that's when you should delve into Crossfit style training, if you so desire.
Bosu Balls: boss balls are the swiss balls that are cut in half and used for "stability" training. They're popular among novices who value balance … but they don't really do anything except give you a higher chance of falling or pulling a muscle. Ironically, training on a stable surface results in developing more stability. Some personal trainers love putting their trainees on them though, although it's often uncertain whether they're doing it as a practical joke or not.
The Gear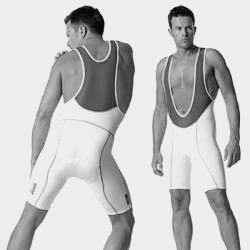 Gym gear can be a little confusing. Should you lift weights in running shoes? Does that dry fit stuff make you smell better or worse? Is Underarmor underwear? I have some answers.
Running shoes are for running.
UnderArmor was originally invented to be worn under football players' pads (under their armor) to keep them dry during practices. That's why classic UnderArmor gear is so tight and has the word "under" in it. They also make a looser line of clothing that's outerwear / gym wear.
Dry fit means you stay dry because all your sweat is pushed to the exterior of your clothing. You feel less sweaty but you smell even sweatier.
Michelle, Jared's wife, wears gloves so her hands stay soft and feminine after she finishes deadlifting like a bombshell. Your hands will naturally toughen up when you lift, turning thick, leathery and masculine. You may even develop superpowers. (I once accidentally took a cast iron pot out of the oven without oven mitts.) There's a dark side to it though—I can't touch pantyhose without them running. It's become such a problem that I hardly even wear them anymore.
Lifting straps are for guys who want to lift weights that are heavier than their grip allows them to lift. Some guys can shrug 400 pounds with their trap muscles but can only hold 250 in their hands before the bar slips out. The solution, of course, is to avoid straps right from the very beginning. That way when you're able to deadlift 405 pounds your grip can hold 595. Grip strength generally develops at a very quick pace, so you'll soon never need to worry about it again.
If you're already finding that your grip is giving out with barbell lifts, when the weight gets heavy just switch to an alternating grip and you should be just fine. Always warm up with a double-overhand grip though. If you can lift mega huge weights and your grip strength isn't superhuman yet, you can use lifting straps for your big lifts and then also train your grip separately so that it eventually catches up to the rest of you.
Lifting belts are for powerlifters. You won't ever need one. Unless the guy in your gym is planning on becoming the state powerlifting champ, he probably doesn't need one either. It's best to lift "raw" and naturally develop the core strength you need along the way. (A lifting belt, by allowing you to flex your core against the belt, can sometimes result in a very very strong core, but this is very very advanced stuff that will do you more harm than good.)
Most gyms have some sort of dress code. Most ban denim, some ban undershirts and tank tops, some require that you always keep your shoes on.
You'll always be 100% safe arriving with:
1. A t-shirt. An old band tee is fine. If you throw on your Backstreet Boys reunion tour tee and you can save some money on the UnderArmor.
2. A simple pair of shorts. You don't want them so big and baggy that they get in the way, and you don't want them so tight that they restrict your movement. Sweatpants are cool too, but the last thing you want is a visible sweaty butt, so if your gym is hot you may want to avoid rocking the sweat-showing athletic grey ones.
3. A pair of flat soled shoes like Vans or Converse. When doing full body lifts like squats and deadlifts you don't want to be wearing running shoes that have all kinds of padding under the heel. It's a surprisingly little-known fact that running shoes are actually specifically designed for running, not for exercise in general. Shoes built for exercise in general are called cross-trainers (which is what you ask for if you're shopping for gym shoes in a sporty store … but really Vans are equally effective, look cooler and are 1/4 of the price). Going barefoot works too.
4. A water bottle, sometimes. Some gyms have water fountains. Some don't. Besides, my water bottle is always full of maltodextrin and protein. Dehydration is unpleasant and saps performance. You'll lift much better (and more safely) with water on hand.
5. A mid-sized towel. (Not a big beach towel or a tiny face cloth.) Sometimes gyms provide these, sometimes they don't. It's always best to have one around the first few times until you figure out whether you actually need it or not.
6. Sheets of paper telling you what to do how many times / how much to lift. It's a common mistake to think that carrying around pieces of paper with instructions is only for novices and nerds. Nope. The novices are the ones who wander around without any clue what they're doing and haphazardly select weights hoping that they're remembering how much they can lift for each particular exercise that they're selecting based on what they feel like doing in that moment. Not surprisingly, those guys make abysmal progress. It's also really demotivating, as it's really hard to tell if you're making any measurable progress.
Most guys who know what they're doing are following a specific plan, and many of them bring in a notebook or sheets with them. You need to be able to know what lifts you're doing, you need to be able to write down what you can lift so you can improve upon it next time, and you need to be able to look back a few weeks and see if your plan is even working. Generally the more advanced the trainee, the more intense the sheets. (Some guys who are already where they want to be physically just come into the gym and fool around to make sure they stay that way. That's cool, but that isn't us.)
Conclusion
While a squat may produce more muscle and functional strength than a leg press … that doesn't mean that a leg press is useless. Far from it. If all you have access to is a leg press, well, go for it. Not doing anything because you  refuse to settle for anything less than perfection produces 0% muscle gains—that's even worse than the adductor machine!
If your short-term goal is simply to build size and look good, that's cool – almost everyone starts there – but keep two things in mind:
Here's a more in-depth article on aesthetics and how to get the raddest looking body around, but to make a long story short: the most functional and athletic body will always look the best, as it'll be sending off all the right subconscious cues. Train for strength and performance, and ideal aesthetics are pretty much guaranteed. 
As you grow, make sure that your goals begin to grow too. The goal of training is to conquer that "I'm too tiny" ectomorph mindset. Getting bigger and strong is one way to conquer it, and working simultaneously on your confidence is another. 20 pounds from now you should be worrying about other things, not delving deeper and deeper into insecurity. If you aren't careful, one day you may be the 230 pound guy at the gym crying into the curl rack because he thinks he's too little.
The other thing to keep in mind is that as you become more athletic and build up a stronger and more stable body, your training world starts to open up. After building up your back strength and stabilizing your spine with deadlifts you may realize you want to try experimenting with Olympic lifts or running yourself through a Crossfit routine to see how fit you are. After developing sweet mobility, movement patterns and power in your legs from squatting it may be time to work on increasing your vertical jump or sprint time. Or you may decide that you just really really want to get wickedly strong, and spend loads of time trying to go from a 1 plate deadlift (135lbs) to a 5 plate deadlift (495lbs). Whatever your longterm goals, step one should always be mastering a few fundamental lifts with dumbbells and barbells.
Head over to a nearby gym and take the new member orientation. Don't be shy to ask about the dress code, etiquette, etc. It's okay to be new. No sense pretending like you already know exactly where everything is and exactly what you're doing—you don't.
But you will soon.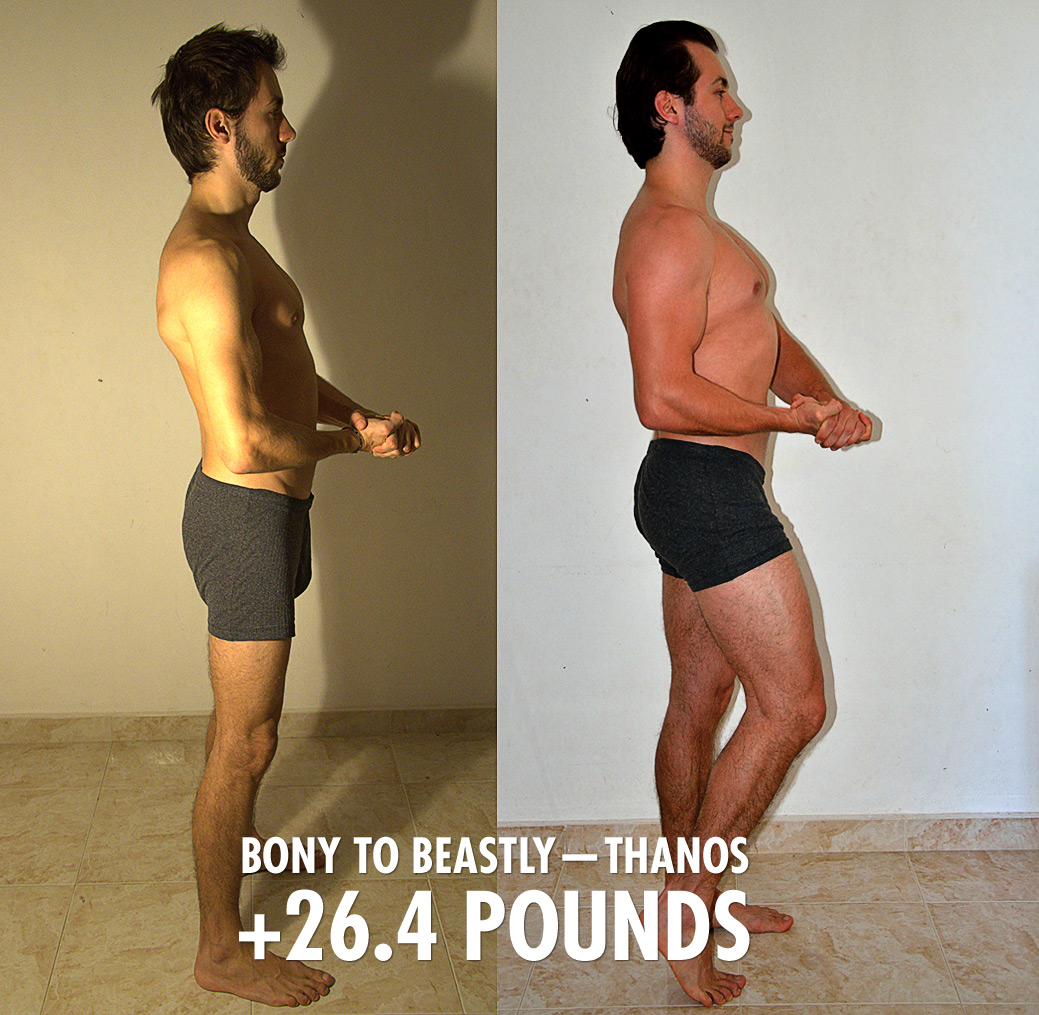 Good luck! Time to get growing.
(If you're looking for a gym in Toronto check out 99 Sudbury. It's a pretty good example of how to set up a gym properly, and the people there are great.)