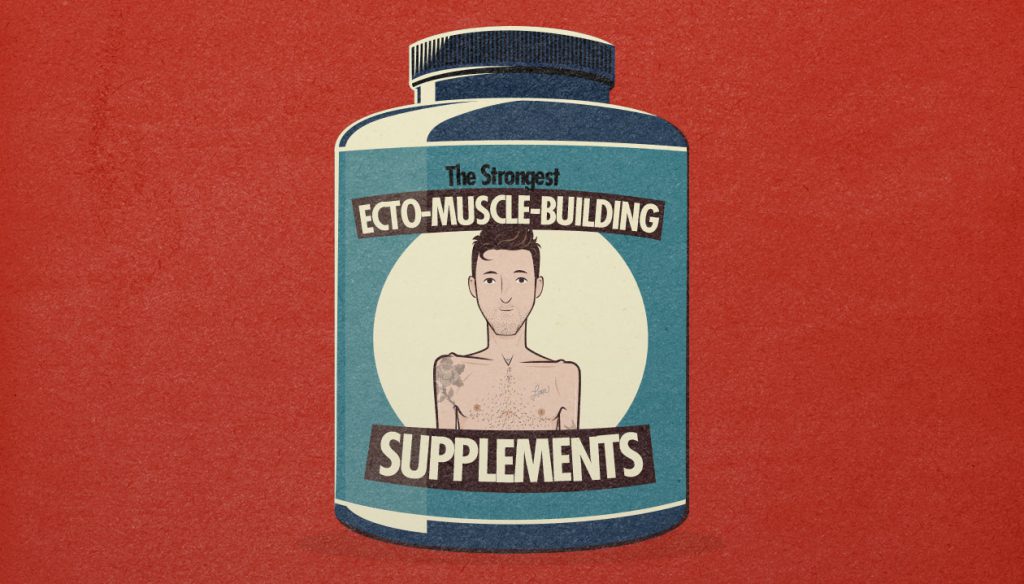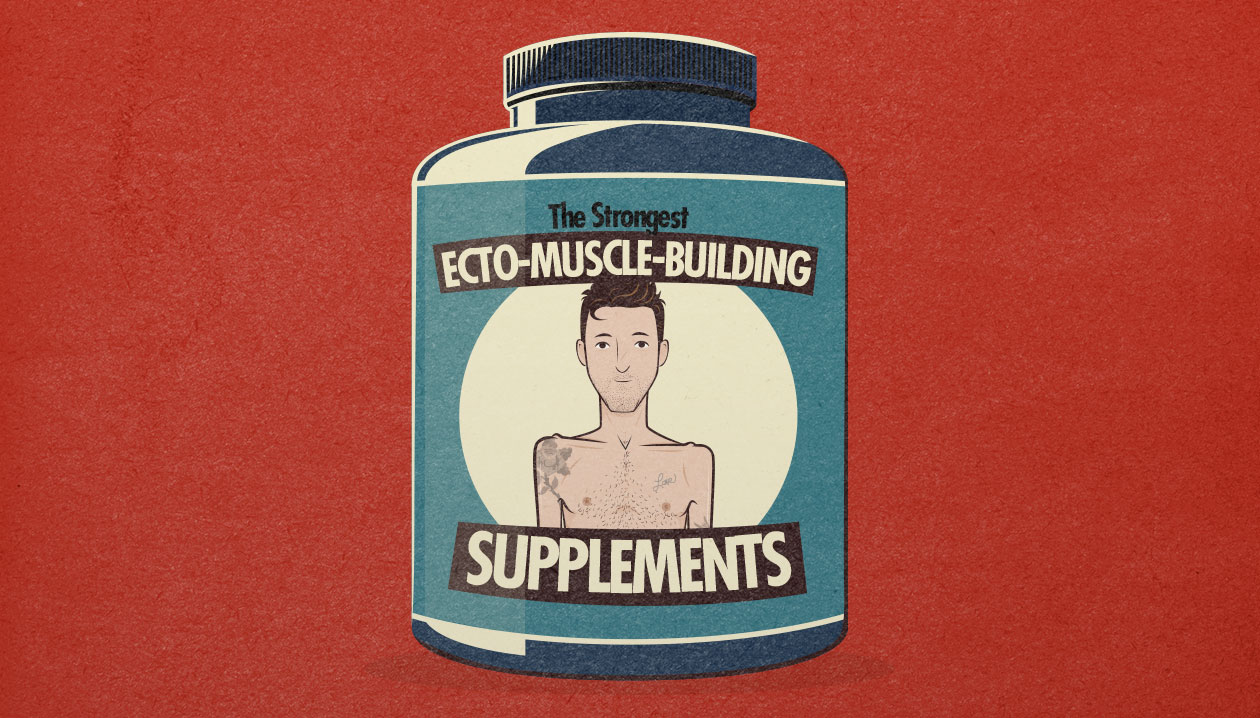 (Updated August 2017) We've gotten several hundred questions about supplements for ectomorphs—which supplements are best for us, what brands we recommend, whether they're healthy, and whether we need them at all. The answer to that last question is simple: you don't need them. You can build muscle just fine without them. However, adding in some key supplements can speed up your gains, make your life easier, improve your health, and even save you some money. That is, if you're smart about it.
To make things simpler for you, we've put together a protocol that should be ideal for improving your gains. The best supplements to take, how much, and when.
These probably aren't the supplements you expect, though. Two are classic, since they work for all body types, but you're going to find the third one a little weird. It only works well for ectomorphs, so you may have never even heard of it.
Finally, this is a research-based article, and there's a lot of research being done into muscle-building supplements. We'll update this post every month with all the relevant new studies that come out.
Runner ups & noteworthy mentions:
Citrulline Malate: good, not great. This is the best "pump" supplement on the market right now, and is starting to get some good research behind it. When digested, it converts into arginine, which turns into nitric oxide, which allows you to get a fearsome pump. The pump improves the health of your blood vessels and increases protein synthesis.
Beta-alanine: good, not great. Beta-alanine supplements are proving to be quite effective. It's not on the golden list yet, but for ectomorphs eager to experiment with new supplements, this could noticeably improve the speed with which you can build muscle. The ideal dosage seems to be around 4 grams per day at any time (similar to how you take creatine). Be warned, though—it can make your skin tingle. Harmless, but strange.
Ashwagandha: promising. Last year a study came out showing that ashwagandha can increase testosterone production, reduce cortisol production, increase strength, limit fat storage, and accelerate the pace that your body can build muscle. To give you an idea of the magnitude of these effects, the study found a 15% greater increase in testosterone and a 44 pound greater increase in bench press strength when compared to the placebo group over the course of 8 weeks. If more robust evidence comes out to back up these findings, ashwagandha could be a good supplement for bulking ectomorphs.
HMB: almost promising. HMB did really well in a couple studies funded by the supplement companies that make it. That's not uncommon. Now we need to wait to see if these results can be reproduced. This could wind up being a good muscle-building supplement, but it's too early to say.
Vitamin D: a healthy testosterone booster for some. Vitamin D supplements can increase testosterone output if you're deficient in vitamin D,

and most people are

.  However, unlike steroids, it won't boost your testosterone production outside of normal ranges. For guys who don't get enough sun, though, this can bring their muscle-building potential back to baseline while improving their general health.
Fish oil: healthy. Another study has come out showing that fish oil supplementation can slightly improve weightlifting performance. There are others showing that it can allow you to build slightly more muscle slightly more leanly. These effects are weak compared to the core muscle-building supplements, though. Fish oil is still a supplement that is better for general health than body composition.
Nitrates: ignore for now. There was a buzz about the nitrates in beets and leafy greens being good for gains, but as more research comes out, they're seeming less and less intriguing. Great for general health, not gains.
Collagen powder: ignore until you're very old. A new study just came out showing that collagen powder can be effective for building muscle in old people with sarcopenia (age-related muscle loss). However, whey protein is a better supplement for young skinny guys trying to build muscle because it has more of the amino acid leucine, and leucine is the amino acid that optimally stimulates muscle protein synthesis.
Arginine: replaced by citrulline malate. This was used in the past, but wasn't very effective. Recently, citrulline malate is proving to be a better supplement for increasing arginine, increase nitric oxide, and ultimately get a bigger pump.
Baking powder: misery awaits. Some cool research is going on with plain old baking powder as a pre-workout supplement, and a new study just came out showing that it improved muscular endurance by 42%! Very cool, but way too early to draw any conclusions, especially when it comes to muscular strength/growth. The dosage in the study was 0.2 grams / kilogram bodyweight taken one hour before training. I tried this and I really do not recommend it—extremely unpleasant.
With that handled, let's move on to the very effective muscle-building supplements that have rigorous research proving their effectiveness.