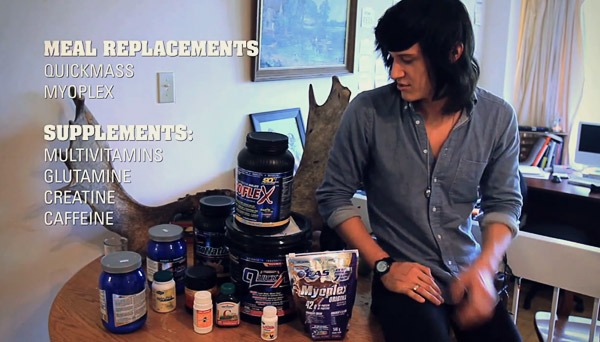 Bachelor of Stress: With a Major in Minor Things.
One of the biggest mistakes I've made with training, and in life, is to worry about useless-ass trivial things. When I used to be a "pro" bodybuilder (in my parents' basement), my regime was more complicated than trying to understand why they made 13 movies of Land Before Time. The first one was just fine. Each one just got progressively weirder.
Here are some of the things I was obsessed with:
Did I take all 27 of my individual supplements? Did I take the pre-workout, during workout, post-workout, test booster, BCAAs, multivitamins, sleep muscle enhancer, vasculizer and pulmonizer?

Was I making sure to train each part of each muscle using every exercise variation possible? I need to blast each sarcomere until the cell is ruptured and spilling cytoplasm all over my innards.

Are my inner pecs developing to the fullest?

Was I eating 8 meals a day in the correct macronutrient ranges? Need to be anabolic at all times.

Was I resting enough? God forbid I partake in a pickup volleyball game … I don't want to leave my anabolic state …
Just thinking about my old life makes me stressed out. How do I still have friends?? (Well I have a car so that helps …)
I made the same mistake with everything I've ever done. Sports, careers, girls and different skills. Then I read about Pareto's principle, where you get 80% of the results from 20% of the effort. It took me a while to understand it, but when I did a light when off. The other thing that really helped me was reading Dan John and Pavel Tsatsouline's Easy Strength. It opened my eyes. It's possible to get a kickass physique without hating life.
Focusing on so many different variables takes up so much space in your brain and produces more stress than any positive effect. As soon as I missed one of those things, the stress started to pour in, which produced negative chemicals in my body. I realized what's the point of looking good and being strong if you're not happy, and all you do is workout and eat supplements? This was not fulfilling for me.
The cool thing is, the less I focused on it, the better my results were. When you only focus on the important things your brain is only worrying about the stuff that matters, and you start doing those key things better because of that focus. Your thoughts aren't spread thin. (This may or may not be scientifically proven—this is my heart talking).
So what is the 20% of building muscle that will give you 80% of the results?
For mass training, you need to do two things:
1. Eat a surplus of calories
2. Progressively overload your muscles with compound lifts. Get really strong at the squat, deadlift, bench press, chin up, row, military press.
This makes it easy to filter out the unecessary.
When you're considering adding complexity to your routine try to think of the big picture result it will have. Think of your return on investment (ROI). Really think. Is it important? Or is it trivial?
For example, the typical question when starting a bulking program:
"What supplements should I get?"
Answer: Depends on your situation. Take 2 scenarios:
Scenario 1: Billy-Jean is the classic skinny ectomozorph. He's starting a bulking plan, has never eaten over 2000 calories a day and pops this question.
This is truly a trivial thing. All he needs to worry about is getting his calories high enough and learning how to squat and deadlift.
Scenario 2: Jacob The Werewolf is a pretty muscular 200lb Werewolf, who eats a lot of flesh and trains pretty ferociously. He is trying to push his limit so that he can finally defeat a vampire and get the vixen of his dreams.
Now we're talking! This would be a good time to increase his creatine intake, take some BCAA's during training, and inject a couple cc's of unicorn blood. He's at a more advanced level, so he can benefit from more advanced protocols. However, most of his results will still be the result of his classic routine of fighting vampires and eating lots of meat.
It's the exact same with a training plan. If you're 150lbs, all you need to worry about is eating more food and learning and perfecting  the big lifts until you gain at least 30lbs. You might notice that the result of keeping it simple is that you'll finally gain 30 pounds.
So what's more beneficial for building muscle?
4000 calories of whole food filled with healthy protein, carbs, fats and vitamins?
Or 10g of Charmander Muscle Fire 6000?
When you are a beginner, pay attention to the fundamentals of hearty training, and when you're advanced (aka squat more than 2x bodyweight lower than 2 inches) then worry about advanced protocols.
To recap, when you're worrying about something, try to decide if it is worth your time and energy. Will it actually affect you noticeably?
Is it truly important?
Let's start a discussion on what is important and unimportant for mass training or anything! Leave your comments below!