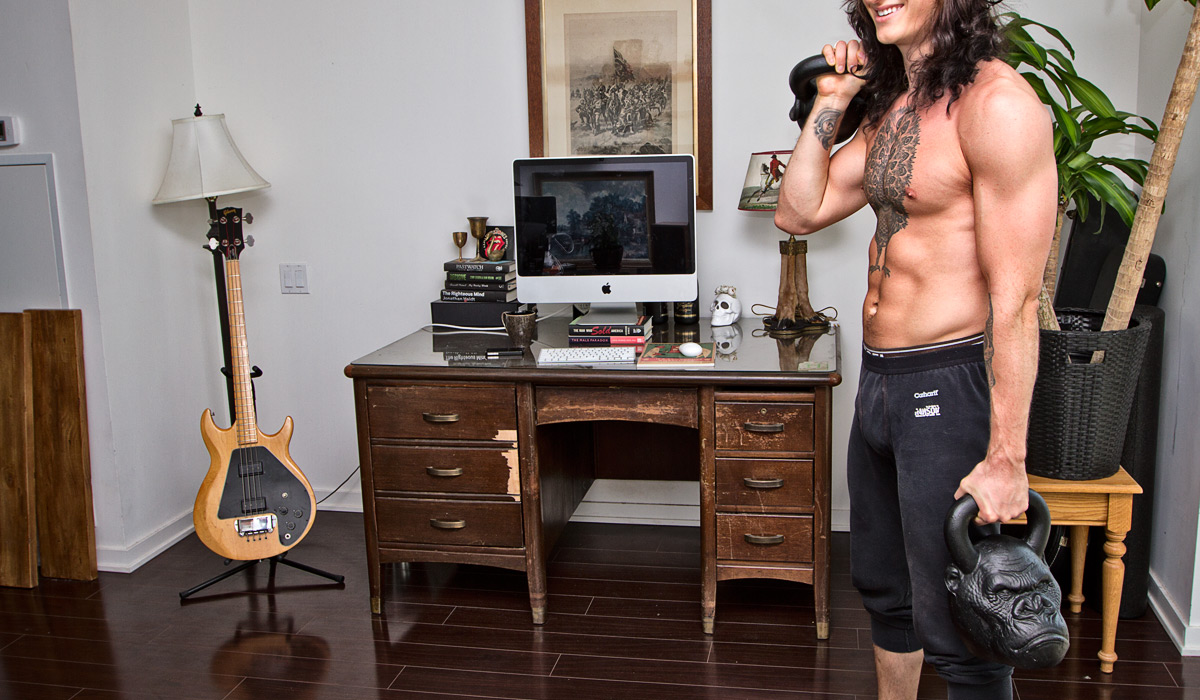 How to Build a Badass Home Gym
(Updated February 2014) I gained my first twenty pounds using a rusty old barbell and bench that my dad and I found on the side of the road. It wasn't expensive, it wasn't pretty, it wasn't safe. It also wasn't the first time I'd tried to build muscle. I'd already tried going to the gym, using a personal trainer, and martial arts. This time though, in my simple rickety home gym, I finally figured out the basic principles of weight gain.
You don't need much equipment to build muscle optimally. The big heavy muscle-building lifts don't require much. You don't even need the rickety bench and rusty barbell that I had. If you're smart about this, you can get away with just one simple piece of fairly inexpensive equipment. Maybe two.
Gaining My First Twenty Pounds
Despite my very best efforts I started out at a pretty bony 130 pounds. This isn't me after attempting a marathon, struggling with an eating disorder or intentionally losing weight or anything. This was the heaviest I'd ever been. And I'd been trying to gain weight for six years.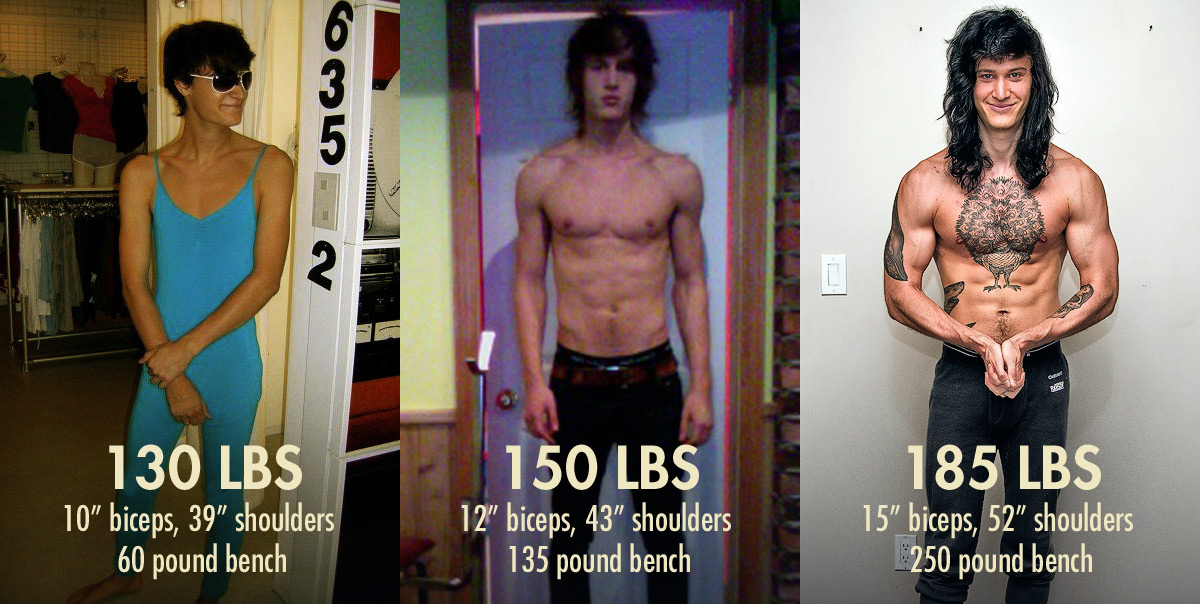 On left you can see me at my then-heaviest. It's hard to show you what I looked like back then because I started destroying evidence as soon as I started growing. Luckily, my friends kept that photo of me in the unitard. Probably as blackmail.
The middle shot is me right after having trained for four months in my parents' basement with an awkward mix of equipment from the side of the road and a local fitness store.* I'd finally gained weight. Twenty pounds in four months. I didn't know that was possible for anyone, let alone me. That was enough to stop my friends from thinking of me as "the skinny kid" and start treating me like a man.
(The final photo is me after having gained another 4o pounds. That story here.)
Over the years we've coached many hundreds of guys into building muscle. Some guys train at home, some guys train at the gym—both work equally well. Their success doesn't have much to do with how fancy their setup is, but rather how well they apply the fundamentals of muscle-building lifting and nutrition.
Here's what a member of our community, a thin medical doctor, was able to accomplish doing our Bony to Beastly Program from home: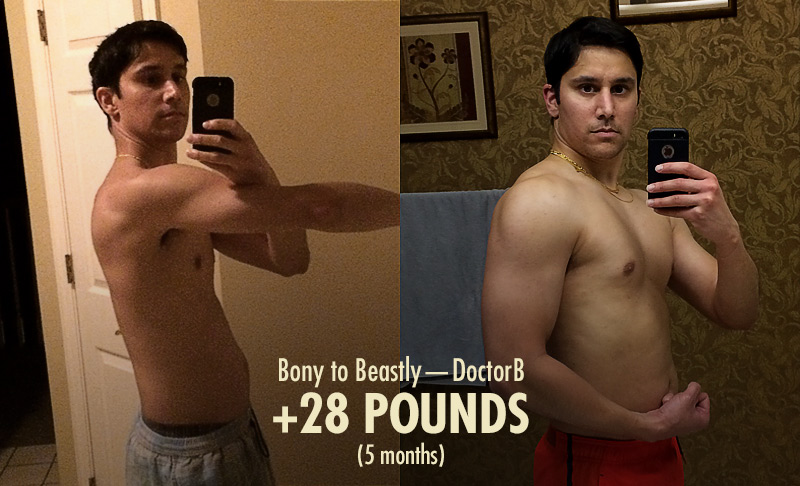 Basic Gym-Building Principles
Progressive overload. Progressive overload is "the gradual increase of stress placed upon the body during training." This is what causes our body to adapt. Since our goal is building muscle, we need to do a type of training that causes our body to adapt by synthesizing new muscle mass. To do this we need to increase our strength, not our endurance, balance, fitness or the myriad of other things we can train for. 
The way to best increase our strength is resistance training. There are several ways to do resistance training, and some are better than others. For example, bodyweight workouts are better than nothing, but not anywhere near what weightlifting can offer. Going from 15 pushups to 60 pushups won't make you any stronger—nothing is getting heavier. There are ways to make bodyweight workouts heavier, but if your goal is building muscle, you don't want be spending six months mastering a handstand pushup so that you finally have the balance and stabilizer muscles you need to start building up your shoulders.
If you want to build muscle effectively, weightlifting is the best route. You start off lifting within your means and you gradually lift more and more, building muscle along the way. Over time your technique improves and you start lifting heavier and heavier weights. Each step of the way your body responds by growing bigger, stronger and more stable.
In order to do this we need weights that get progressively heavier.
The Five Fundamental Movements. Once we have some weights we can work with, the best way to build muscle is to learn a few movement patterns that allow you to hit all the muscle groups that you're trying to grow. Marco learned these five fundamental movement patterns from strength legend Dan John:
Presses, like the bench press, build up your shoulders, chest, triceps and abs.
Pulls, like the chin up, build up your back, shoulders, biceps, forearms and abs.
Hinges, like the deadlift, build up your back, butt, legs, abs and forearms.
Squats, like the back squat, build up your legs, abs, butt and back.
Loaded carries, like the farmer carry, turn you into a true beast. They build up your core, your forearms, your traps, your bones, and build up all kinds of spinal support and stability. Stuart McGill, the leading expert in spinal health, calls these a "moving plank" and considers them one of the most important tools for developing a strong body that resists injury.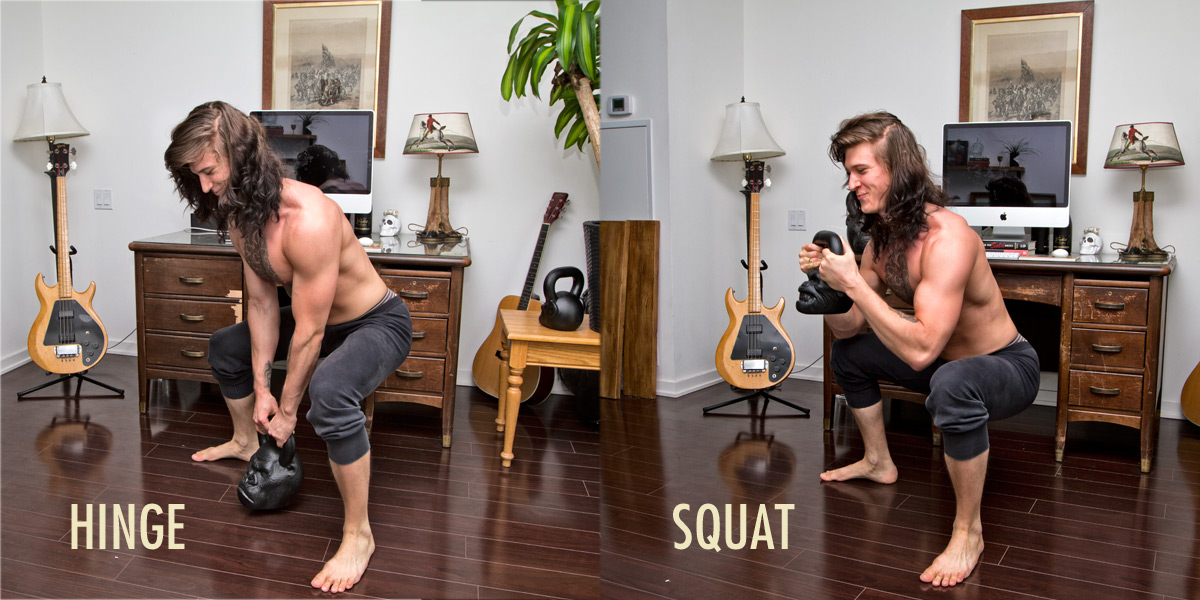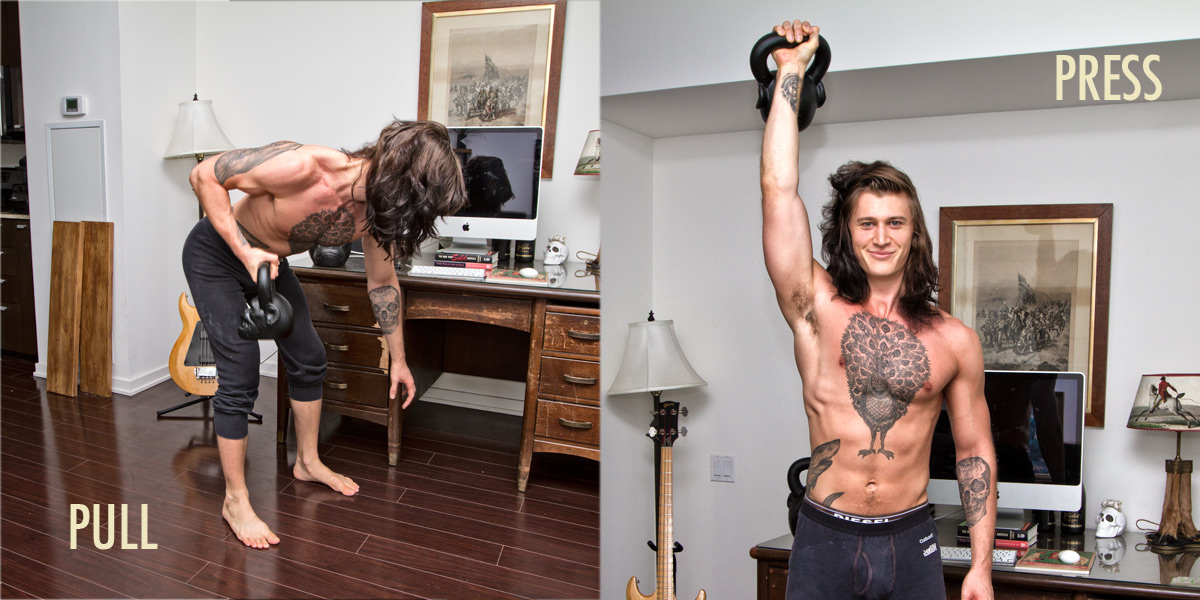 (Shown: dumbbell sumo deadlift, goblet squat, one-arm two-point supinated hinge row, one-arm press and cross carry.)
You'll see that your abs, obliques, forearms, shoulders, back and hips are getting a lot of attention. They need it. We're teaching them how to work together in a variety of different ways. Rather than isolating muscle groups, we're using many different muscle groups at once to perform the most natural human movements as effectively and efficiently as possible. This develops real world strength, coordination, balance… and tons of muscle mass.
It's not just effective, it's also efficient. Let's say you're trying to learn how to type – would it make sense to spend Monday practicing typing with just your index finger, Tuesday practicing typing with just your middle finger, Wednesday typing with just your ring finger? Obviously not. You'd want to learn how to use everything together. Not only that, you'd want to practice typing actual words, learning actual movement patterns and building up muscle memory so that you can do those movements without thinking.
That's how you become a fearsome typist. That's also how you build a fearsome physique. Just like typing, soon being a strong dude will become intuitive both in and out of the gym. When you start your lawnmower you'll be doing a perfect pull, when you carry your groceries you'll be doing a perfect loaded carry, when you pick up your wife and lift her over your head you'll be doing a perfect hinge and then a perfect press.
You can also add in some isolation lifts to give your favourite areas some love. We use plenty of biceps curls and triceps extensions, chest flys and shoulder raises.
So when it comes to building a home gym we need weights that allow us to do these fundamental movement patterns (and some curls and stuff).
The minimum dose that's maximally effective. If you get a gym membership you'll have access to a vast array of equipment that let's you do a rather overwhelming amount of different lifts. That's great, but when we're trying to put together a home gym we want to keep equipment to an absolute minimum. And we want to do this while still getting maximal results.
If you do this right, you can buy a few high quality, safe and effective pieces of equipment and have everything you need for the rest of your life.
Safety. We also want to avoid being pinned under bars and dropping barbells on your head, or getting an exercise machine that forces unnatural movement patterns and puts stress on our lower back and whatnot.
Recap. So we need to build a gym that let's us lift progressively heavier in the five fundamental movement patterns with minimal equipment—safely.
With all of that in mind, here's how to build a beastly home gym:
Building the Best Muscle-building Home Gym
Must Have: Big Heavy Adjustable Dumbbells

Dumbbells are the most effective piece of muscle-building equipment—far better than any machine, and arguably better than even the barbell. They're also cheap, they don't take up much room, and they allow us to lift very safely. You can safely drop them to the sides if you get stuck during a bench press, safely drop them to the front if you get stuck during a goblet squat, etc. Just don't drop them on your feet. Best of all, if you get a adjustable ones (or a wide assortment of different weights), you can start light and progressively load them up heavier and heavier each week as you grow bigger and stronger.
That's everything you need to build one helluva burly body. Dumbbells are the only mandatory piece of equipment needed to do our Bony to Beastly Program.
Here are some lifts you can do with just a couple dumbbells:
The Press: Floor Press, Half-Kneeling Press, Pushups, Tricep Extensions
The Pull: Hinge Row, Bicep Curl, Hammer Curl
The Hinge: Dumbbell Sumo Deadlift, Suitcase Deadlift, Romanian Deadlift, Dumbbell swings
The Squat: Goblet Squat, Split squat, Lunges (backwards)
The Carry: One-Arm Farmer Carry, Racked Carry, Cross Carry, Waiter carry
What I'd get: Badass & Basic Adjustable Dumbbells (100lbs each)*
*These Amazon links are affiliate links, so if you purchase something after following the link we'll get a small 4% commission, which would be sweet! If you decide to get this stuff using our links – thank you! The three of us really appreciate it. However, checking for secondhand weights on a site like Kijiji is a good option too. You might get lucky!
Probably Want: Sturdy Adjustable Bench
While you can build muscle perfectly well with a pair of adjustable dumbbells, there will probably be a time when you're eager to expand on the list of exercises you can do and the range of motion that you can do them through. An adjustable bench allows you to turn your floor presses into dumbbell bench presses, turn your hinge rows into 3-point rows, unlock some new badass strength lifts like the pullover, and some badass aesthetic lifts like the incline bicep curl.
Some of many new exercises:
The Push: Dumbbell Bench Press, Incline Bench Press, Military Press
The Pulls: Dumbbell Row, Pullover, Chest Supported Reverse Fly, Incline Bicep Curl
The Squat: Bulgarian Split Squats, Step Ups
The Hinge: hip thrusts, one-legged hip thrusts
The bench just needs to be sturdy, well proportioned and simple. You don't need a bench with any sort of weird leg attachments or "bonus" features on it—they'll just get in the way. Go for quality and function, not fanciness.
What I'd get:  a simple adjustable weight bench (or this expensive one)
Lifelong Lifters: Power Cage & Olympic Barbell (or chin-up bar)
You may eventually find that you become too strong for your dumbbell setup. Even the 90 pound adjustable dumbbell that we recommend will soon become too light to dumbbell deadlift. Your legs will become so strong that your goblet squats will start to become harder on your upper body than your lower body. Plus, you may want to start adding in some cool hearty strongman lifts like the barbell deadlift, barbell (overhead) press or the Yates bent over row. Maybe down the road even some Olympic lifts. Tons of fun to be had with a barbell.
Power racks are how you lift heavy barbells safely. They've got safety bars, which will safely catch any weight that you drop. You can set up your barbell bench press in there and rest assured that you won't get pinned under the bar or drop it on your head, you can back squat without needing to worry about not being able to stand back up, etc.
The power cage has a chin-up and pull-up bar so you're covered there, too. (If a power cage is too big, too expensive, or overkill though, feel free to get a simple chin-up bar instead.)
A power cage and an Olympic barbell set give you absolutely 100% everything you need to train for the rest of your life. We aren't talking about building 20-50 pounds of muscle anymore, we're talking about building as much muscle as your frame will allow (which is probably more than you think) over the course of your entire lifetime.
The Push: Bench Press (with safety bars), Incline Bench Press
The Pulls: Chin Ups, Pull Ups, Yates Bent Over Row, Barbell Curls
The Hinge: Deadlifts, Rack Pulls, Romanian Deadlifts
The Squat: Front Squats, Back Squats, Box Squats
The power cage / squat rack that we recommend: The Best Power Cage
The Olympic* barbell set that we recommend: Badass Olympic Barbell Set
Both of these are top of the line pieces of equipment that you can use for decade after decade. They'll help you lift really damn heavy really damn safely.
*I highly recommend going Olympic with your barbell, even if you don't plan on doing Olympic lifts. Olympic  means that there are sleeves that rotate freely on either side of the barbell. These revolving sleeves make the barbell much easier on your grip, allowing you to lift more weight and build more muscle. "Regular" barbells don't allow the weight plates to rotate freely, meaning the barbell will always be trying to rotate out of your grip, peeling your hands open. It's good for your forearms … but bad for everything else you're trying to strengthen and grow.
Bonus Gear 
This is stuff that isn't even remotely necessary, but hey if you love lifting and want to take it to the next level this stuff can be great to have around. It's also great if you prefer training at the gym but like having a couple small pieces of equipment around home so that you can still do quick super efficient workouts when you can't make it to the gym.
An Ab Wheel (with free washboard!). There are many many ways to functionally train you core, but for guys who have mastered the plank and who want to encourage a bit more abdominal hypertrophy and build up truly fearsome core strength, all without stressing their back or ruining their posture with crunches … this thing is super effective and super duper cheap. It's not necessary at all, but it's almost as fun as barbell curls.
A Kettlebell. If you've got an adjustable dumbbell you can technically do all the kettlebell moves: dumbbell swings, dumbbell turkish get ups, etc… but they're kind of awkward. Adjustable dumbbells aren't the prettiest or most streamlined things out there and you never know if a clamp will shake lose, so it can be nice to have a simple little cast iron hunk of metal with a handle on it for when you're looking to get a little more explosive. I recommend 20 pounds and 50 pounds for starters … or you could get limited edition chimp and gorilla ones like Marco and I have.
A Foam Roller. I love these things. If you've got any kind of muscle soreness, mobility issues or you just really dig massages this is a pretty good purchase. They reduce arterial stiffness and thus may improve cardiovascular health (study), they may increase your range of motion without reducing your muscular power (study), and they increase flexibility without reducing muscular strength (study). Since static stretching can reduce power and strength output if you do them pre-workout, this makes foam rolling a wicked way to warm up. (You can use it whenever as a massage and to reduce arterial stiffness, but the mobility you gain is temporary – it won't become permanent unless you also build strength through that range of motion, e.g., by lifting weights through the five fundamental movements afterwards.)
Conclusion
You don't need to get fancy, you just need to get smart. If you stick with heartily made quality pieces of equipment, like the ones we've recommended, you really can't go wrong. These things don't ever go out of style and they don't break, so 20 years from now if you decide to sell them instead of giving them to your kids, well, you can.
Here are the links again all in one place:
Must have: Badass & Basic Adjustable Dumbbells
Probably want: A Sturdily Built Adjustable Workout Bench
For the lifelong lifters: A Quality Power Cage and a Classic Olympic Barbell Set
For fun: Foam Roller, Kettlebell and Ab Wheel
I hope that helps. Best of luck Beasting up!