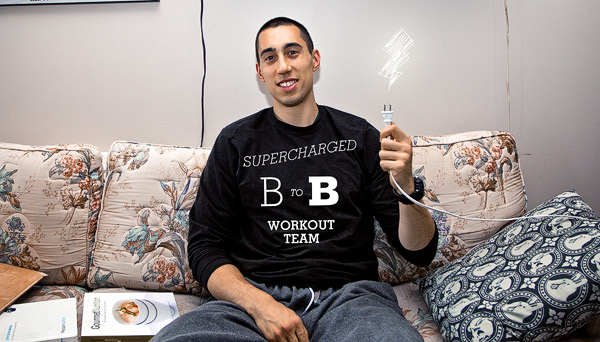 How to Eke More Muscle Growth Out of Your Bulking Program
There are many different workout routines that skinny guys will often try as they bulk up, ranging from strength training to bodyweight workouts to bodybuilding. Now, as a general rule, we recommend that you do dedicated hypertrophy training if your goal is to bulk up, but for the purposes of this article, let's talk about how to get more muscle growth out of any workout program.
My only question is: how is your workout routine working for you? If you aren't getting the results you want, or living the lifestyle you want to live, then it's time to re-evaluate your approach to training. 
People can spend years working their butts to the bone—literally. They work so hard that their gluteal muscles erode from their pelvis leaving only bone on their behinds. Believe it or not, this actually happened to me, and let me tell you, it was not pretty!
You see, my friend, working hard is essential. However, working hard on the wrong program will not get you the body you're working so hard to get.
For example, if your training isn't designed to help you accomplish your specific goals, then you may get an entirely different set of adaptations out of it. No matter how long you spend improving your cardio, it's not going to cause any extra muscle growth.
For another example, if your training isn't efficient, then working harder may not yield extra muscle growth. Nowadays, I feel that this idea tends to get distorted; I know for me it was. Consider this: would you rather work for 3 hours at $100/h and earn a total of $300, or would you rather work 8 hours for $15/hour and earn $120? No brainer, right?
So why do people think that hour after hour of inefficiently training in the gym is the solution?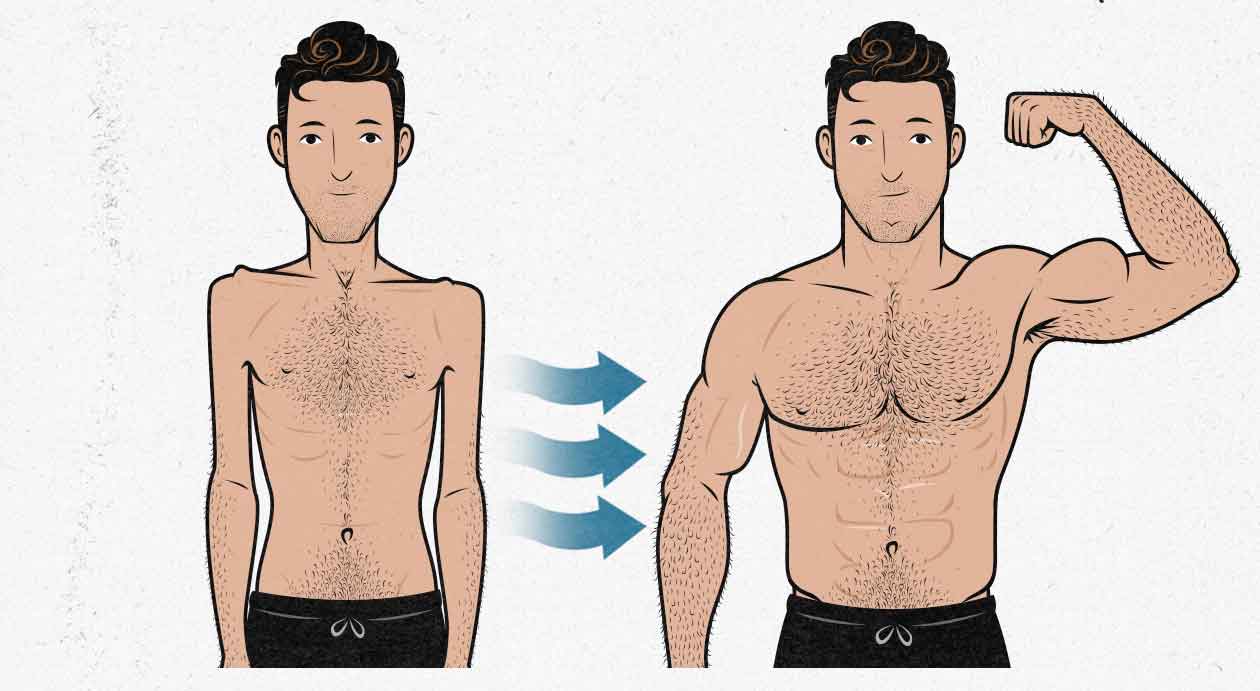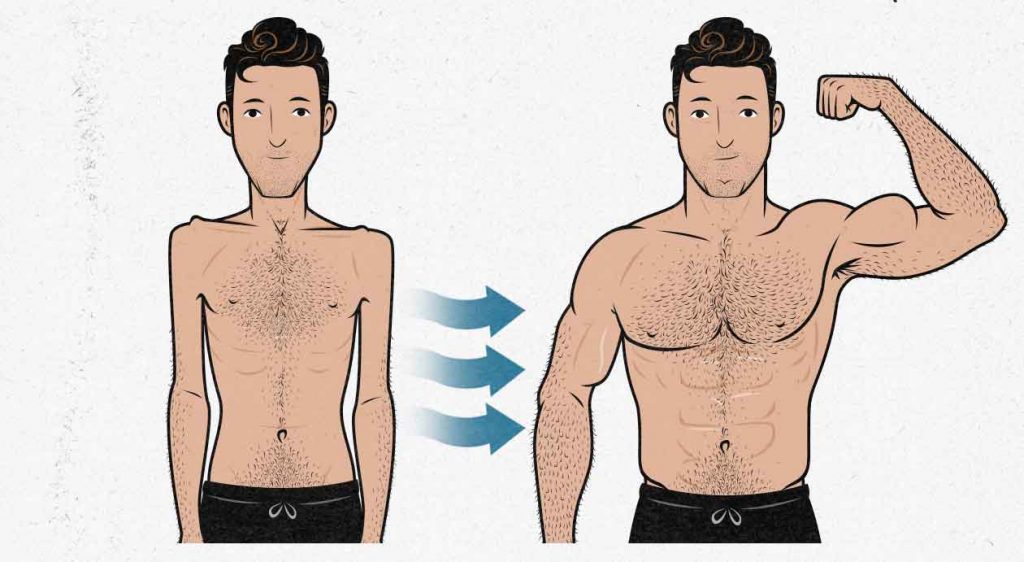 No Pains, No Gains
For roughly 5 years, I spent hours every day trying to build muscle. Bulking up took over my life. I thought I was cool because I had this "go hard in the paint", "no pain no gain", "every rep to absolute failure", "leave everything in the gym" mindset. I was going so hard no one could stop me. Not even myself.
I still gained mass simply because I was eating like a sumo wrestler. I'm an unusual kind of ectomorph. I have the classic ectomorph bone structure, but most naturally skinny guys also have a hard time eating enough to gain weight. I was lucky in that regard. I've always been able to eat more calories without much effort. My weight was climbing higher. I was building muscle.
Unfortunately, despite doing 7-day workout routine, eating an entire football team's calorie requirements, and gaining 63 pounds of muscle, I still wasn't happy with my physique. It's not because I was getting fat, either. I was under 10% body fat (estimated in the mirror). And I didn't have the problem of having flat skinny abs, either. I had great ab definition.
My problem was that my posture was becoming so bad that it was preventing my physique from looking more attractive. Despite all of the extra muscle, despite all of the strength I was gaining, and despite actually being an athlete, my poor posture kept me from looking athletic.
Not only that, I felt like a giant band-aid. I had so many chronic injuries built up from years of pushing myself to limit that I didn't remember what it felt like to be a normal human being. Apparently it is not normal to have to foam roll between every set of squats so your knees don't feel like exploding. My workouts were very long, tiresome, and painful.
Several years later, thanks to working with and studying the works of some excellent trainers by the names of Mike Robertson, Eric Cressey and Tony Gentilcore, to name a few, I was finally able to realize (aka they explained to me) that I didn't need to push my body so hard physically. I learned how to better listen to my body and actually recover from workouts so I could actually improve in the long run.
See, if you don't recover from your workouts, you won't ever get any better.
I know, blasphemous right? That was really hard for me to do. I wanted to blast my muscle fibres until there was nothing left. That is how you build muscle, right? WRONG!
No, no seriously, you're pulling my leg, you gotta be the hardest worker in the gym, right? WRONG!
It does take hard work and dedication, no doubt. However, the quality of that hard work is extremely important! Like the old saying goes, "you play how you practice." If you practice sloppy, you play sloppy.
If your training sessions are always so hard that you get in the habit of lifting with sloppy technique, you won't be hitting the right muscles, you won't be growing in the right places, and you'll also be more likely to injure yourself. If your recovery is sloppy, you won't actually get better from your workouts. If your nutrition is wack, you won't get jack…ed.
So how can you adjust your training to get more muscle growth with less work?
Get Your Technique 80% Correct
Who taught you how to lift weights? How do you know you're lifting with correct form? If you have a hard time answering these questions, I would find someone who knows what they're doing and have them teach you proper exercise technique.
Now, that doesn't mean that you need to lift with perfect technique. If you're a beginner who's just starting to lift weights, that simply isn't possible. Lifting is going to feel a bit awkward and uncoordinated at first. That's perfectly fine.
The trick is to try and lift with technique that's at least 80% correct. That means that you shouldn't be increasing the weight on the bar until your technique is feeling fairly good. And you shouldn't be taking your sets all the way to failure, either, because your technique will likely fall below that 80% threshold in those final brutal reps. If your add weight a little more slowly and stop your sets a couple reps shy of failure, it won't negatively impact your muscle growth. You'll still be challenging your muscles enough to provoke an optimal adaptation.
However, that means that you shouldn't hold yourself to an impossible standard, either. If your technique feels fairly good, increase the load. You don't need to wait until you're lifting an empty barbell with the skill of an Olympic athlete before adding 5 pounds to the bar. Your body is strong. Don't underestimate it. Don't be afraid to challenge yourself.
Feel The Right Muscles Working
This idea is often misrepresented, so just to be perfectly clear, no, I don't mean that you should feel the muscles on the right side of your body working. I mean that you should feel the correct muscles working.
For example, if you feel your lower back working more than any other muscle group while deadlifting, there's a good chance that something isn't working properly.
Try lifting your chest up a little higher so that you can see the logo of your shirt in the mirror.
Try engaging your lats by flexing into your armpits.
Try thinking of driving the floor away with your legs.
Yes, your lower back is one of the main muscles being worked while you're deadlifting. Building stronger spinal erectors is one of the things that the deadlift is best for. That's going to help you build a stronger, healthier back that's more resistant to injury.
However, you shouldn't only be feeling the spinal erectors working. And it shouldn't only be the spinal erectors in your lower back that are crying out in pain. What you want is all of your spinal erectors working in concert with your lats to keep your back stable while you pull the weight up with your glutes and hamstrings.
One way to go about it is to start with easier variations of the lift that naturally help you develop better lifting technique. So in the case of the deadlift, instead of starting with a conventional deadlift from the floor, perhaps start with a dumbbell sumo deadlift or a barbell Romanian deadlift. Both of these variations naturally take strain off of the lower back, allowing you to improve your technique before advancing to a conventional barbell deadlift.
This is the approach we use in our Bony to Beastly Bulking Program. We start beginners off with an optional Phase Zero where we show them the ropes.
Even then, every lift has its nuances. Even just being a lanky ectomorph can change the dynamics of the big compound lifts. And when something feel off, it can really help to have a coach who can help you diagnose the problem and then help you overcome it.
Your coach doesn't need to be a personal trainer that you hire in person, but it could be. The way we do it in our program is that we have guys send in videos when they want form feedback.
Proper technique does a couple key things.
It will help keep your joints and muscles healthy, which will keep you lifting weights pain free and to your maximum capability.
It allows you to hypertrophy the correct muscles. Going back to the example of the deadlift, instead of just stimulating some muscle fibres in your lower back, you'll be stimulating all of the muscle fibres in your entire posterior chain. (Big muscles, baby!)
It will improve your posture, which will help you look like much more of a badass.
Bulk with Compound Lifts (Mostly)
Train less, get paid more. I believe this is also very applicable to life, but with training, it means focusing on exercises that give you the most return on your investment.
For example compound exercises are exercises that work a bunch of different muscle groups while also allowing you to use a lot of weight. I recommend building your bulking routine on top of a foundation of the following "Big 5" bulking lifts:
In addition to stimulating hundreds of muscle with every rep you do, the heavier weights that you'll be using will put more overall mechanical tension on your muscles, helping to stimulate more overall muscle growth.
Lifting heavier weights will also make your bones denser and your connective tissues tougher. And there's even some evidence showing that it can help to improve your production of testosterone and growth hormone.
Now, if you could focus on just five exercises and get all of your muscle from those, wouldn't that be much easier than doing fifteen exercises? Would you be able to do more in your life if you only had to go to the gym 3-4 times a week instead of 5-7? 
If you focus on doing and developing your skills at compound exercises, you will essentially kill a flock of geese with four stones.
(This isn't to say that you shouldn't also do isolation exercises, mind you. I just mean that most of your effort should be focused on these big compound exercises that will give you the most dead geese per shotgun shell.)
Every workout should start with two of the big compound lifts. If you get stronger at these lifts then your body will have no choice but to get jacked.
Limit yourself to seven exercises per workout. Most of our workouts have 5–6 exercises, starting with two big compound exercises, then two assistance lifts, and then a couple quick isolation exercises.
If you haven't finished after an hour and a half (including warm-up)—leave. If that means you don't get to do your bicep curls or calf raises, so be it. That's going to force you to stay focused.
Take Recovery Seriously
If you train hard, you also need to recover hard. And if you're new to lifting weights, then almost any training at all can be hard on your body. The more seriously you take your recovery, the more seriously you'll be able to take your training.
Yes, this is me telling you that you can spend more time playing outside in the park, hanging out with friends and maybe even playing some Call of Duty. Although if you're anything like me, COD is anything but relaxing—that shit is intense!
Training only three times a week might sound really weird to some people. Sleeping in to make sure that you get your eight hours of sleep might sound lazy. Going to bed early might sound like a waste of time.
However, training less and recovering more will allow you to show up to every workout bigger and stronger. You'll be able to push yourself harder and stimulate more muscle growth.
How do you know if you're recovering properly? That is tough to say and this topic is incredibly huge. I'm not going to get into that here. Especially because Shane got into muscle soreness and recovery over here. (A good rule of thumb is that if you show up to your workouts stronger than before, then you've recovered properly. This is one of many reasons why it's so important to track how much weight you're lifting and how quickly you're progressing.)
That being said, if I could say one thing it would be to limit your training sessions to 3-4 days a week, with a day or two of "active rest" in between each workout.
Active rest is simply doing something easy to get your heart rate up and blood flowing into your muscles to help them recover: walking, swimming, jogging, basketball, mobility exercises, those dynamic stretches up above, foam rolling, etc. The fitter you are, the better you'll be able to recover from lifting. So when you aren't lifting, it helps to be a generally active and healthy guy.
Key Takeaways
No matter what workout program you're using to bulk up, you'll be able to get better results if you:
Lift in a way that makes you challenges you and builds you up, not in a way that wears you down. You don't need to lift all the way to failure, you don't need to kill yourself with marathon workouts, and you shouldn't be associating pain with progress.
Lift 80% correct. This means that you should always be trying to improve your technique, but that you shouldn't hold yourself to impossible standards, either. You can add weight to the barbell even when your technique isn't flawless. But don't rush to add weight if you can feel your technique becoming sloppier because of it.
Bulk more efficiently by using compound lifts. We recommend starting every workout with two big compound lifts (such as a squat and chin-up, or deadlift and bench press). That's going to ensure that every workout starts off with highly efficient exercises that put a tremendous amount of mechanical tension on most of the muscles in your body. After those compound lifts, choose some assistance lifts (such as rows and incline benching). Finally, add in a couple quick isolation exercises, such as curls or ab exercises.
Train hard, recover hard. If you want to train well, you need to recover well. That means getting a good night's sleep, having some rest days every week, and doing some active recovery: walking, swimming, casual sports, yoga, and so on.
So next time you plan your workouts, take a second to see if you're doing these four things. If you combine these tips with a good bulking diet, you'll be very pleased with how much muscle you can build!
Marco Walker-Ng is the co-founder and strength coach of Outlift, Bony to Beastly, and Bony to Bombshell, and is a certified trainer (PTS) with a Bachelor's degree in Health Sciences (BHSc) from the University of Ottawa. His specialty is helping people build muscle to improve their strength and general health, with clients including college, professional, and Olympic athletes.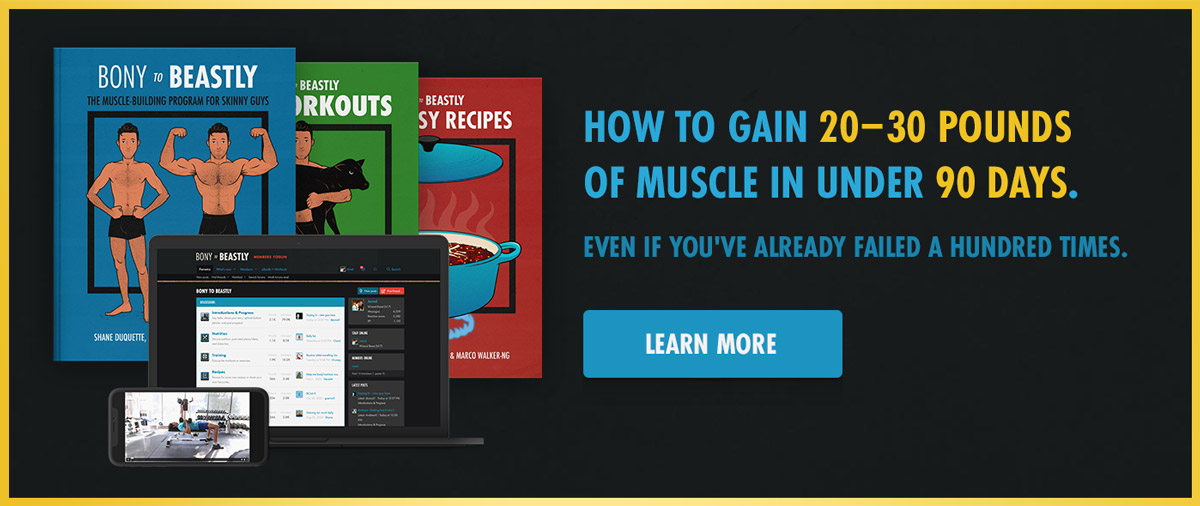 FREE Bulking Mini-Course
Sign up for our 5-part bulking mini-course that covers everything you need to know about:
Hardgainer genetics

and how to make the most of them
How to take a minimalist approach to bulking

while still getting great results

What you need to know about

aesthetics, health and strength

while bulking up