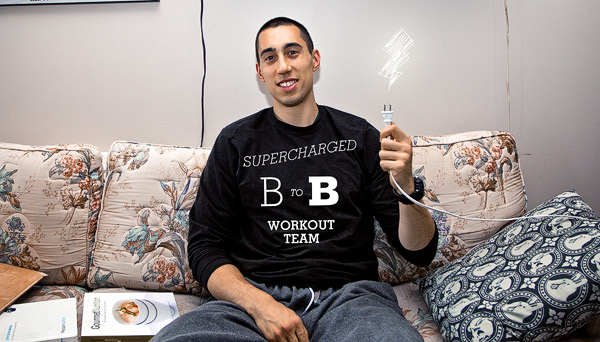 How to Supercharge your Training Program for Absolute Muscle Growth
There are a hundreds of different exercise routines that people try. My only question is: how is it working for you? If you aren't getting the results you want and living the lifestyle you want to live, it's time to re-evaluate your approach to training. People can spend years working their tushies to the bone—literally. They work so hard that their gluteal muscles erode from their pelvis and all that is left is bone. It's happened to me, and let me tell you, it is not pretty!
You see my friend, working hard is essential, however, working hard on the wrong program will not get you the body you're working so hard to get. Huh?
It takes hard and—equally important—smart work. Nowadays, I feel that this idea tends to get distorted; I know for me it was. Consider this: would you rather work for 3 hours at $100/h and earn a total of $300, or would you rather work 8 hours for $15/hour and earn $120? No brainer, right? So why do people think that hour after hour of inefficiently training in the gym is the solution?
I thought I was cool because I had this "go hard in the paint", "no pain no gain", "every rep to absolute failure", "leave everything in the gym" mindset. I was going so hard no one could stop me. Not even myself.
For roughly 5 years I spent a huge portion of each day doing something training related. It literally took over my life. I still gained mass because I was eating like a hoss … but unfortunately my physique wasn't that appealing due to my poor posture. Not only that, I felt like a giant band-aid. I had so many chronic injuries built up from years of pushing myself to limit that I didn't remember what it felt like to be a normal human being. Apparently it is not normal to have to foam roll between every set of squats so your knees don't feel like exploding. My workouts were very long and tiresome.
Several years later, thanks to working with and studying the works of some excellent trainers by the names of Mike Robertson, Eric Cressey and Tony Gentilcore, to name a few, I was finally able to realize (aka they explained to me) I didn't need to push my body so hard physically. I learned how to better listen to my body and actually recover from workouts so I could actually improve in the long run.
See, If you don't recover from your workouts you won't get better.
I know, blasphemous right? That was really hard for me to do. I wanted to blast my muscle fibers until there was nothing left. That is how you build muscle right??? WRONG!
No, no seriously, you're pulling my leg, you gotta be the hardest worker in the gym right?? WRONG!
It does take hard work and dedication, no doubt. However, the quality of that hard work is extremely important! Like the old saying goes, "you play how you practice". If you practice sloppy, you play sloppy.
If your training sessions are always so hard that you get in the habit of lifting with sloppy technique, you won't be hitting the right muscles, you won't be growing in the right places, and you'll also be more likely to injure yourself! If your recovery is sloppy, you won't actually get better from your workouts. If your nutrition is wack, you won't get jack…ed.
So how can you avoid these mistakes and "pimp your program"?
1. Focus on your technique and feeling the proper muscles working.
Who taught you how to lift weights? How do you know you're lifting with correct form? If you have a hard time answering these questions, I would find someone who knows what they're doing and have them teach you proper exercise technique. Make sure you feel the right muscles working when you're lifting. For example, if you feel your lower back working a ton while deadlifting, something is not working properly! Fix it! Proper technique does a couple key things.
It keeps your joints and muscles healthy, which will keep you lifting weights pain free and to your maximum capability.
It allows you to "hypertrophize" the correct muscle groups. (Big muscles, baby!)
It will improve your posture – which makes you look much more badass than having posture which is less good.
Action step: do these dynamic flexibility warm-ups before your workout. They're designed to help you activate the right muscles while you lift, and they'll give you a chance to practice form before loading up with weights. After doing these you'll be lifting better than ever.
2. Train less, get paid more
I believe this is also very applicable to life, but with training, it means focusing on exercises that give you the most return on your investment. For example compound exercises are exercises that work a bunch of different muscle groups while also allowing you to use a lot of weight. The heavier weights help stimulate the release of anabolic hormones like Testosterone and growth hormone. Now if you could stick to 5 exercises and get all your muscle from those, wouldn't that be much easier than doing 15 exercises? Would you be able to do more in your life if you only had to go to the gym 3-4 times a week instead of 5-7? If you focus on doing and developing your skills at compound exercises, you will essentially kill a flock of geese with four stones.
Add these exercises to the beginning of your training plan: the squat, deadlift, chin up, bench press and military press. I've put them in order of importance.  If you get stronger at these lifts your body will have no choice but to get jacked. Adding two of these exercises to the beginning of each workout is the best way to supercharge your training plan.
Limit yourself to 7 exercises per workout. If you haven't finished after an hour and a half (including warm-up)—leave. If that means you don't get to do your bicep curls or calf raises so be it.
3. Make sure you're recovering from your training sessions.
This is probably the hardest one to get over, but if you do it you won't be disappointed. Pinky Promise. Yes, you can spend more time playing outside in the park, hanging out with friends and maybe even some Call of Duty. However, if you're anything like me, COD is anything but relaxing—that sh*t is intense!
It will be hard to not train every single day if you're used to going every day. Training three times a week might sound really weird to some people. However, training less will allow you to actually recover and show up to your next session stronger, so you can push harder and make more muscle. If you're always sore there's a problem! How do you know if you're recovering properly? That is tough to say and this topic is incredibly huge. I'm not going to get into that here.
That being said if I could say one thing it would be to limit your training sessions to 3-4 days a week, with a day or two of "active rest" in between. Active rest is simply doing something easy to get your heart rate up and blood flowing into your muscles to help them recover: walking, swimming, jogging, basketball, mobility exercises, those dynamic stretches up above, foam rolling, etc.
So next time you plan your workouts, take a second to see if you're doing these three things. If you actually put these to the test with some proper nutrition, you'll be very pleased!