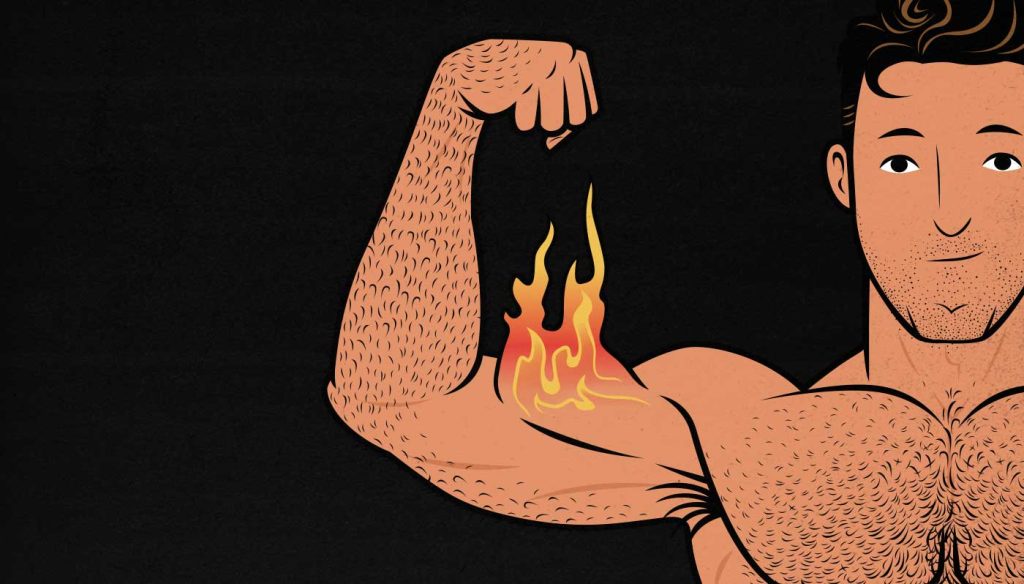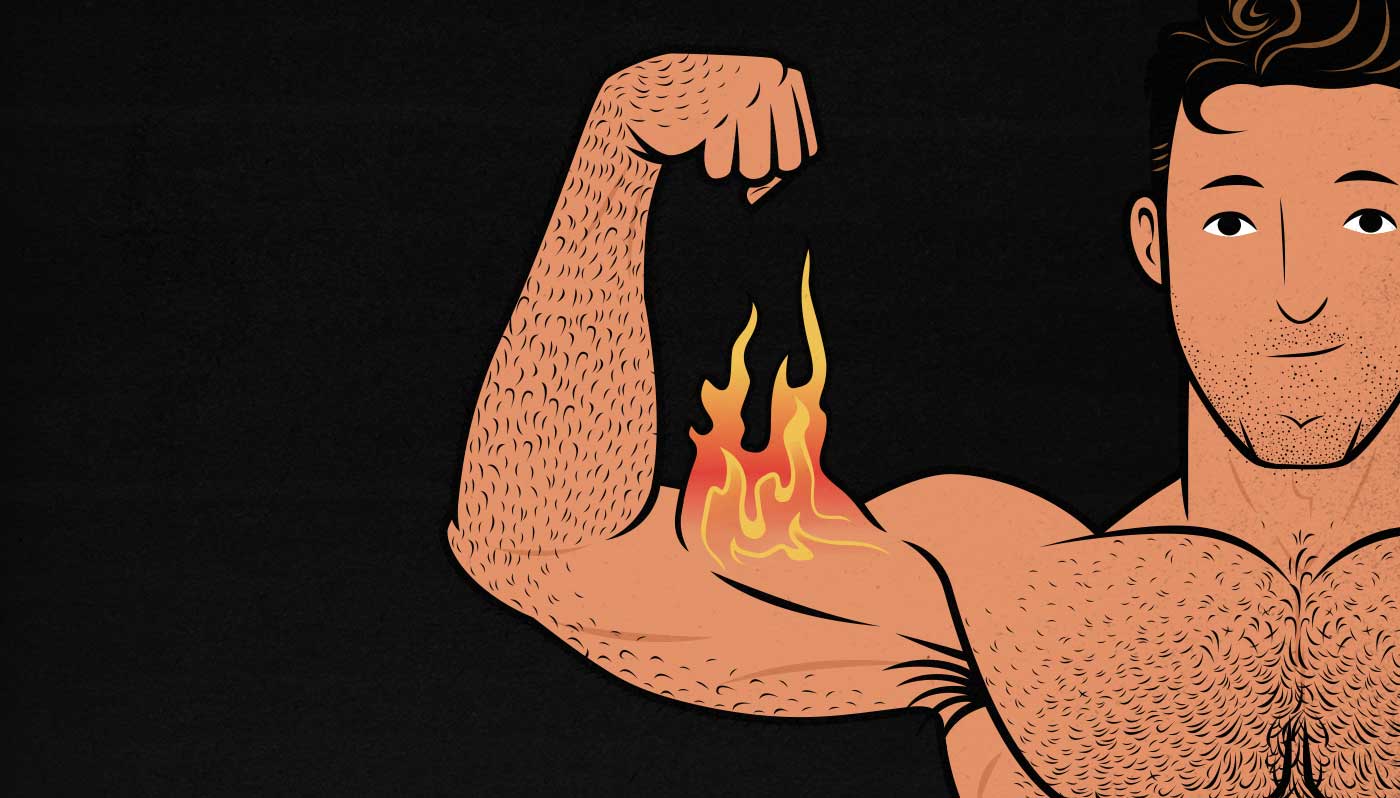 How Inflammation Affects Muscle Growth & Fat Storage
Inflammation is an odd beast. We've been getting some questions about it in the community, but most members are approaching it dead backwards. I don't blame them—it's totally counterintuitive.
Unhealthy foods cause inflammation, and if we eat too many of them, we can wind up chronically inflamed. Healthy bulking foods, on the the other hand, are rich in antioxidants, and if we eat enough of them, it reduces our baseline inflammation.
Similarly, being obese can cause inflammation, and is linked with higher risks of morbidity. Being lean, however, reduces inflammation and is linked with improved long-term health.
We're interested in building muscle, though, and lifting weights causes inflammation. In fact, lifting weights causes a lot of inflammation. So much so that lifting may become your main source of inflammation.
And inflammation is bad… right?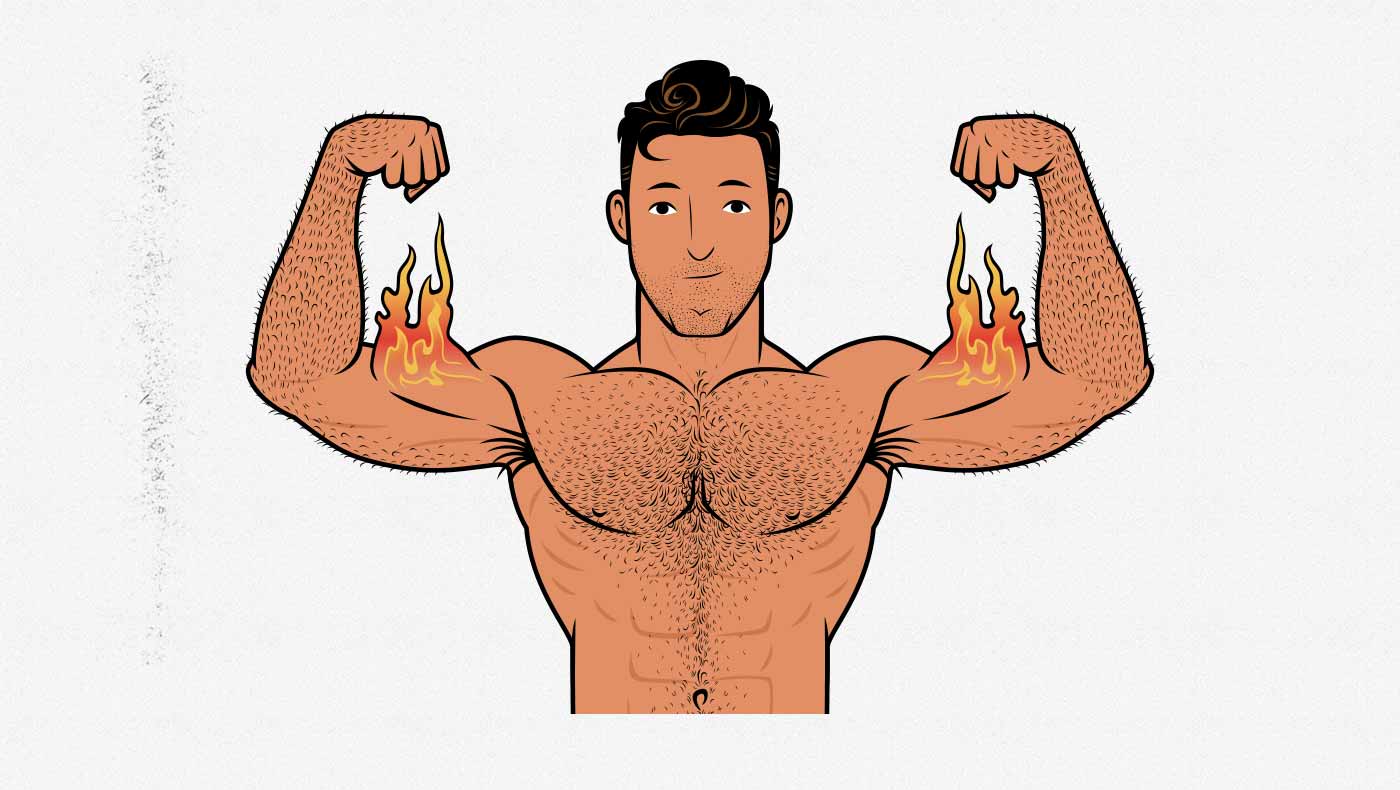 Introduction
The first thing to set straight is that there are different types of inflammation, each with their own causes and effects. The first type of inflammation is the most ubiquitous: systemic inflammation. That's the kind that persists indefinitely throughout our entire bodies, and it's associated with a number of poor health outcomes, such as cardiovascular disease (and almost everything else you don't want to suffer from). We'll cover the risk factors and how we can reduce our chronic inflammation (although if it's serious, seeing a physician is best).
There's another type of persistent inflammation, too: the type of inflammation we get from grinding away at our joints and connective tissues while lifting weights, such as the sore elbows we can get from doing barbell curls or the sore shoulder we can get from the bench press. We'll talk about how to prevent that, how to work around it, and how to get better (although if it's serious, seeing a physiotherapist is often best).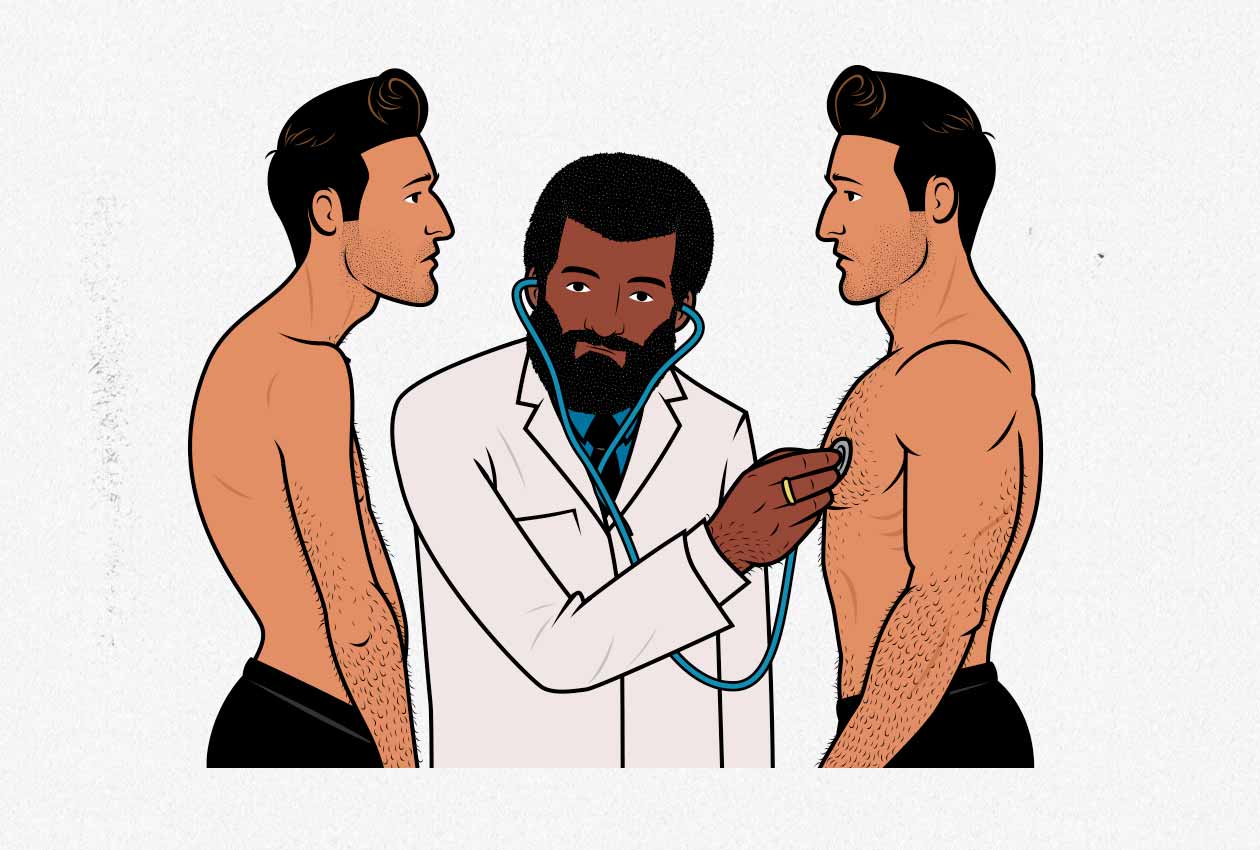 Finally, there's acute inflammation, which is our bodies' natural response to acute stressors. It's healthy for our bodies to respond this way. This is how we heal and adapt. This is the type of inflammation that we get from lifting weights, and it's associated with great things, such as gains in muscle size and strength. In fact, it can even help to reduce chronic inflammation (study, study). Lifting weights in a way that provokes robust amounts of lean muscle growth is exactly our specialty.
Reducing Chronic Inflammation
For our general health, it's important to minimize our overall inflammation. Ideally, we'd do this by addressing the root issue rather than just by taking drugs to treat the symptoms. For example, if you find yourself chronically inflamed because your body fat percentage has climbed too high, the best approach may be to simply chip away at your body-fat percentage to bring your inflammation back in line.
Here are some ways to keep your baseline inflammation low, all of which should help you build more muscle, improve your general health, and gain less fat while building muscle:
Get plenty of good quality sleep. The better you sleep, the more testosterone and the less cortisol you'll produce. You'll feel less inflamed, you'll have more energy, you'll lift harder, you'll recover better, and you'll build more muscle.
Eat a diet that's made up mostly of whole foods. If you're wondering what a healthy bulking diet looks like, here's our guide for how to eat more calories.
Try to minimize chronic stress and anxiety in your life. Maybe that means meditation or prayer, or spending more time with loved ones. Regular exercise is also a great way to reduce feelings of chronic stress and anxiety.
Engage in regular exercise, ideally including 2–5 strenuous weight training workouts along with some cardio (which includes casual exercise such as walking).
Make sure that you aren't too fat: having an overly high body-fat percentage is by far the most common source of chronic inflammation (study, study). This can be a problem for skinny-fat guys, too, not just overweight people. In this case, losing some fat is a great way to reduce inflammation.
There are also some supplements, such as curcumin, which seem to do quite a good job of reducing inflammation without producing any negative side effects (study), but the best ways to reduce inflammation are to exercise, eat well, and get good sleep.
Lifting Weights Causes Inflammation
Lifting weights stresses our muscles, that stress triggers inflammation, and that inflammation helps us break down, repair, and build new muscle. This is great. This is why we lift weights.
Our muscles begin to feel sore about a day after working out, that soreness peaks on the second day, and then begins to fade away. During this period, our muscles are inflamed. This is called delayed onset muscle soreness (DOMS).
Some people see this inflammation as being a sign of a good workout, and it can be. A good weight training workout will usually produce enough inflammation to cause at least a bit of soreness. However, the soreness we get from lifting just shows that we've caused muscle damage. We shouldn't be trying to cause muscle damage to maximize inflammation, we should simply be trying to stimulate muscle growth, and some soreness—hopefully mild—will come along afterwards.
We can pick the type of training that provokes the type of adaptation we want. If we want to build muscle, then hypertrophy training. That training will stress our muscles, and our bodies can then respond to that stress. We don't need to intentionally increase muscle damage, we just need to worry about sending a good growth stimulus.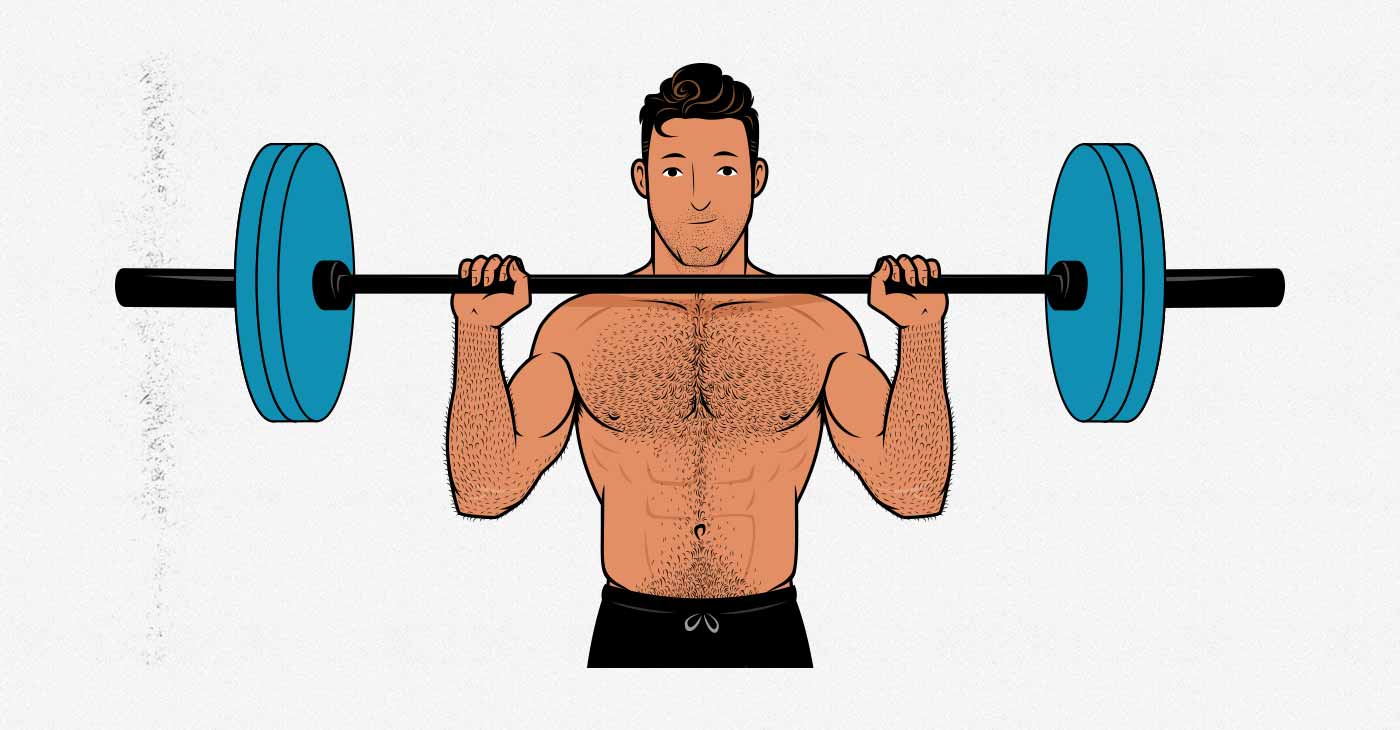 One nice thing about the inflammation we get after lifting weights, though, is that since the inflammation is in the muscles themselves, it makes them look a little bit bigger. This is why some people fear that they're losing muscle if they miss a workout or two. Their inflammation fades away, and all of a sudden they look smaller.
So in a sense, inflammation can be good for encouraging people to stick with their habit of lifting weights—if you lift weights every couple days, you'll look better simply due to your muscles always being a little bit inflamed. This is especially true if you're doing full-body workouts, where all of your muscles will get inflamed after every workout.
Inflammation Causes Muscle Growth
So chronic inflammation is unhealthy, and the main cause is having too much body fat. On the other hand, the acute inflammation that we get from lifting weights is good—that's how we build muscle. The next thing to consider is how the two types of inflammation relate to one another.
When we lift weights, our muscles raise our markers of inflammation (study), and this has a positive impact on our overall inflammation and general health. However, our body fat can also raise our markers of inflammation, potentially leading to higher levels of chronic inflammation, an overactive immune system, and sore joints (study).
In both cases, this stems from the same markers of inflammation (interleukin-6), just in different concentrations and over different time periods. This is interesting because if we look at a study on healthy young men who started weight training, we see that those who had lower chronic inflammation levels built more muscle. We also see that those who had a stronger inflammatory response to the training built more muscle.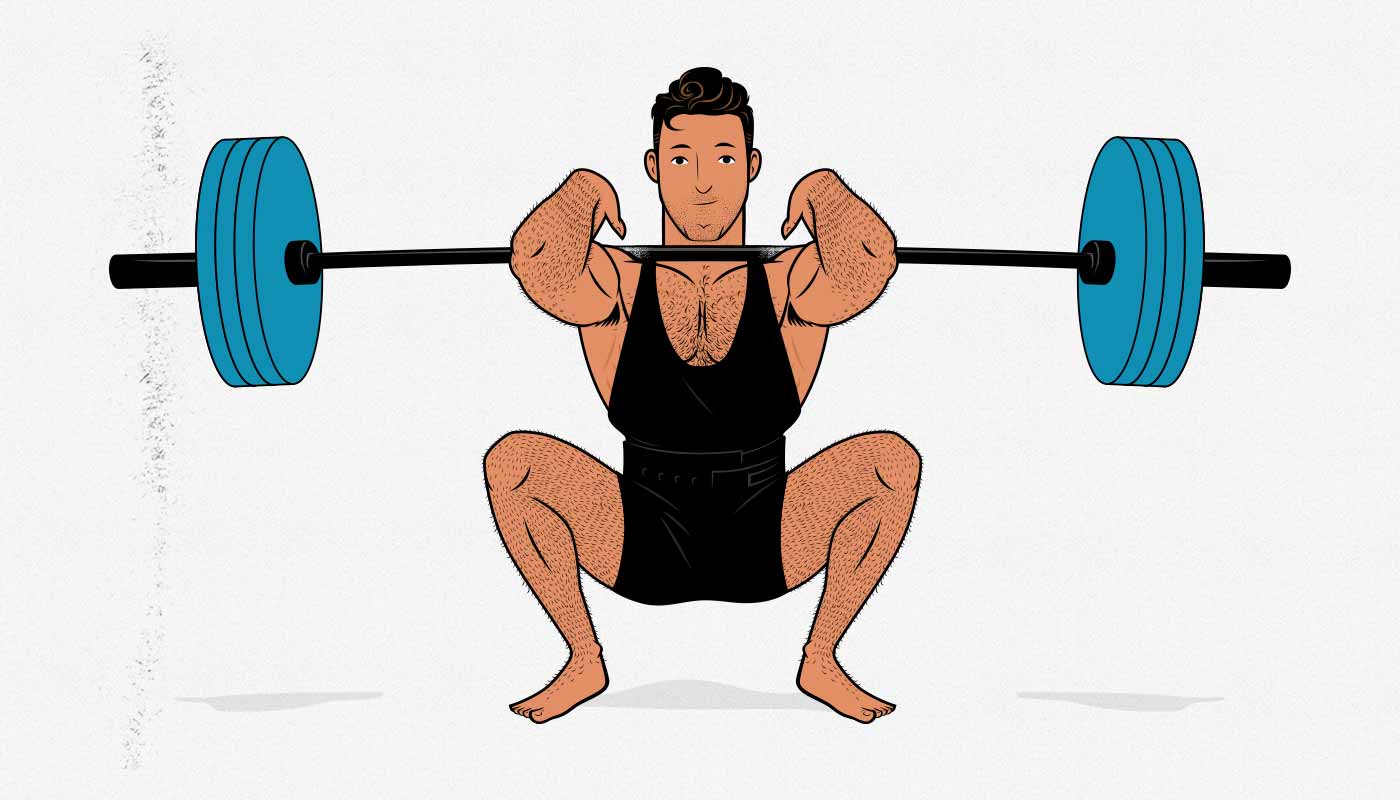 It appears that having higher chronic levels of inflammation interferes with our ability to signal muscle growth. Thus, anything we can do to lower chronic inflammation, such as being lean, getting good sleep, and eating good food, should improve our ability to build muscle.
However, it also means that anything we do to blunt our inflammatory response to lifting weights will limit our ability to build muscle. This may be why taking ice baths after lifting weights or using anti-inflammatory drugs (such as Advil) to reduce muscle soreness can impair muscle growth.
Consider this: how did Heracles finally defeat the Hydra? He chopped off the heads and then immediately cauterized the wounds. He interfered with the Hydra's natural adaptive response. When we interfere with our inflammatory response, we're essentially doing the same thing. We're preventing our body from adapting and growing.
This is all to say that we want a strong inflammatory response to lifting weights, just not high resting levels of inflammation. This will allow us. to build muscle more quickly, and it may explain why people who are overweight tend to gain more fat while bulking—because they're unable to invest as many extra calories into muscle growth.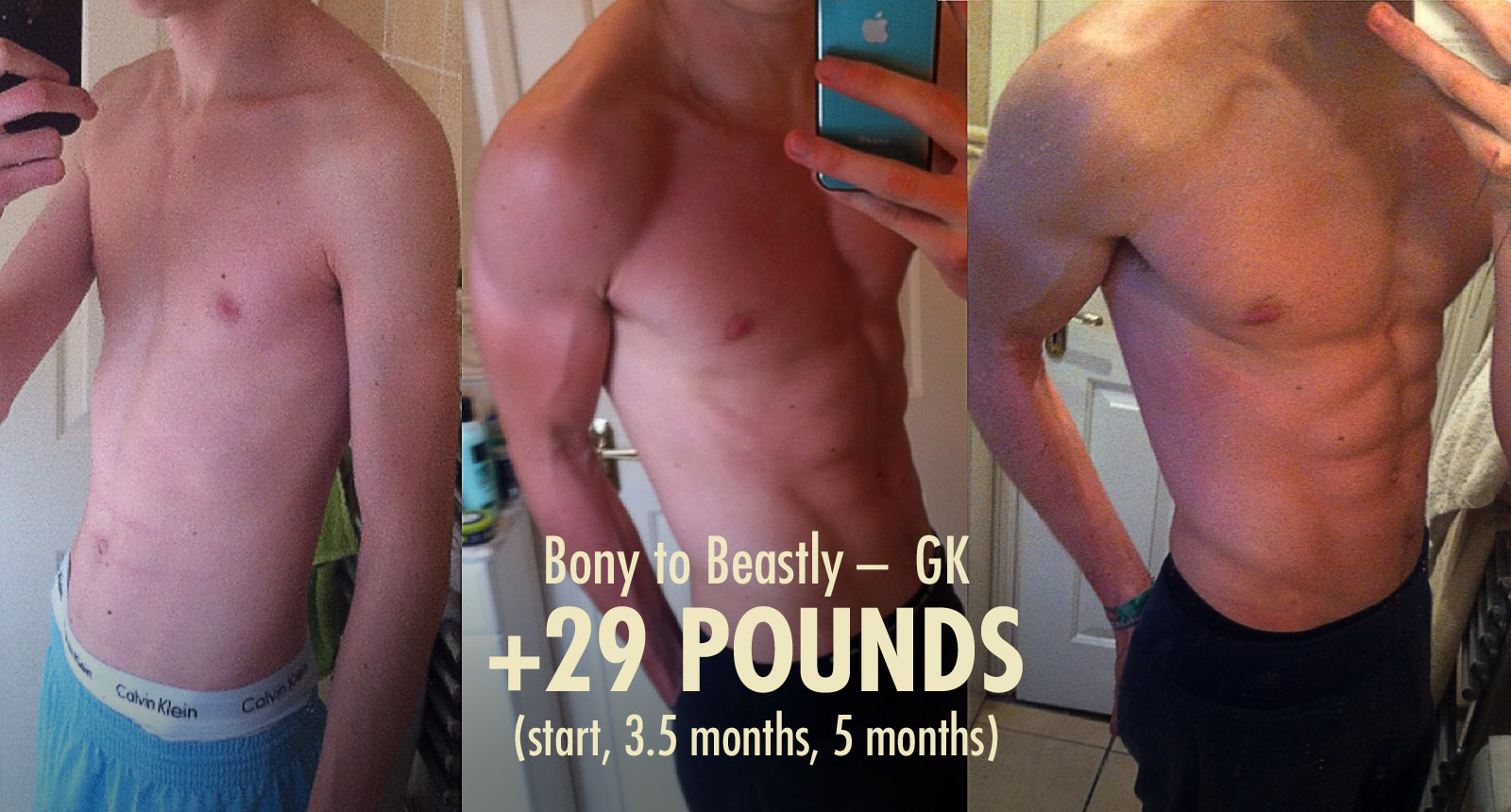 Frequently Asked Questions
How Do Anti-Inflammatory Drugs (NSAIDS) Affect Muscle Growth?
Many new lifters are crippled by muscle soreness, and many older lifters are nursing nagging aches and pains, so they take anti-inflammatory drugs to reduce their muscle soreness and joint pain. Non-steroidal anti-inflammatory drugs (NSAIDS) such as Advil, Aspirin, and Aleve are especially common. But what effect do they have on muscle growth?
In this study, the participants who took 1,200mg of ibuprofen per day only gained half as much muscle as the participants who took nothing. The drugs reduce symptoms of soreness, but they did so by reducing our ability to recover and grow (study).
Note that acetaminophen (Tylenol) isn't an anti-inflammatory drug, and so you wouldn't run into any of these issues with it. However, there's another downside to lifting weights while taking any form of painkiller. There's a reason we evolved to feel pain—because it's a useful signal. It warns us away from inflicting harm on ourselves. For example, if you put your hand on the stove, it hurts, and so you shriek and yank your hand away before you get a burn.
Let's imagine someone with a sore shoulder who takes some Tylenol before doing their bench press. They have a shoulder impingement issue, but the Tylenol kills the pain. They start to lift, and as their shoulder cries out in agony, the lifter isn't listening. He grinds away at his rotator cuff, making it worse and worse (study). The next workout, he really needs to take some Tylenol. No good.
This isn't to say that you should never take painkillers, just to say that you should try to avoid becoming reliant on them on a day-to-day basis. Taking some painkillers now and then, especially in lower doses, shouldn't affect your muscle growth at all. For example, in another study, the participants using 400mg of ibuprofen per day grew at the exact same rate as the participants taking a placebo. However, that lower dose wasn't enough to reduce muscle soreness, either. No harm, no benefit.
This means that you might be able to take a small amount of Advil (around 400mg) to cure your headache without it having any impact on your bulking routine. Just don't try to reduce your muscle soreness with it. After all, a dose high enough to cure your muscle soreness will also be high enough to halve your muscle growth.
Similar problems arise if you try to use painkillers to numb the pain from chronic injuries, such as inflamed shoulders, knees, or forearms. If you succeed in numbing the pain, you'll be making yourself more vulnerable to worsening the injury. In addition to that, you might be interfering with your body's ability to repair the damage.
How Do Antioxidants Affect Muscle Growth?
Antioxidants are a healthy way to reduce inflammation and soreness… right? Antioxidants are indeed part of a healthy diet, and yes, they're also healthy. That's why it's controversial to say that they might harm our ability to build muscle. Still, recent research into antioxidant supplements like vitamin C and E have shown that they:
So just like anti-inflammatory drugs, antioxidant supplements have a negative effect on muscle growth.
But keep in mind that this doesn't make antioxidants unhealthy, and it doesn't mean that you should avoid them. These studies were done using high doses of antioxidant supplements. You can still eat plenty of fruits and veggies, and you can still drink plenty of tea. Just don't intentionally consume a ton of antioxidants as a strategy to reduce soreness.
To quote the researchers over at Examine.com:
Although antioxidants are an essential part of any diet, evidence is mounting that antioxidant supplements should be avoided in the hours around training time. It may also be wise to avoid daily very-high-dose antioxidant supplements if you're aiming for maximum muscle growth.
You might even want to experiment with taking this idea a little further. Maybe you try avoiding meals rich in antioxidants right before and right after working out, and then having more antioxidants further away from your workouts. A post-workout pizza after your evening workout, but then fill your next day with fruits, veggies, and tea.
Are Saunas Good for Building Muscle?
Saunas are interesting. They temporarily boost our heart rate, increasing blood flow. Some preliminary research shows that this may reduce our baseline levels of inflammation (study). Other experts note that although saunas reduce soreness, they actually seem to increase inflammation in certain areas.
Either way, saunas don't appear to harm muscle growth. If anything, they might even improve our ability to build muscle. After all, saunas improve our ability to pump blood and nutrients into our muscles, which is very similar to the positive role of inflammation itself.
I don't want to make too many claims about saunas and muscle growth, though. The research isn't very conclusive yet, so we'll have to wait and see. I'll keep this article updated.
Do Ice Baths Improve Muscle Growth?
On the other side of the spectrum, we have ice baths. Despite being the exact opposite of a sauna, they're also commonly used to reduce muscle soreness after lifting weights. Fortunately, there's been some good research directly looking into ice baths and their effect on muscle growth and strength. Furthermore, all of the research lines up, leaving little controversy.
Ice baths have a fairly predictable effect on muscle growth once we understand the role of inflammation. By reducing inflammation, we're reducing our ability to adapt to the stresses of lifting weights. So, unsurprisingly, research is showing that immersing yourself in cold water after working out will reduce your muscle and strength gains (study, study).
However, as with anti-inflammatory drugs and antioxidants, we need to keep in mind that the dose makes the poison. Having a long and painful ice bath after working out will directly harm your gains, but a short cool shower shouldn't do much of anything. If you prefer cool showers to refresh yourself after lifting weights, no problem, just don't take it to a painful extreme.
What Causes Sore Joints & Tendons?
Now let's talk about another type of inflammation—the chronic inflammation that you get from joint issues, such as inflamed shoulders, or from tendon issues, such as forearm tendonitis. The inflammation itself is your body trying to fix the issue, which is good, but there's also some root issue which is gradually wearing you down, which is bad.
The stress of lifting weights can make our muscles stronger, our tendons tougher, and our bones denser. The point is to apply stress, then recover, then adapt. But sometimes we don't fully recover from that stress, leading to an accumulation of damage. This can happen in our shoulders, forearms, and knees when lifting weights.
Are Barbell Curls Bad for Our Elbows?
The purpose of the barbell curl is to stress our biceps (as well as our brachialis and brachioradialis). If we put enough mechanical tension on our biceps, they'll sustain muscle damage, yes, but they'll also respond by growing bigger and stronger.
However, biceps curls also put stress on our bones, joints, and connective tissues. That's not necessarily a problem. Our bones will gradually grow harder, our tendons will grow tougher, our joints will grow sturdier. These are all great things. So even though the curls are causing various sorts of acute inflammation, that inflammation is helping us improve our physiques.
This is all well and good, but everyone is built a little bit differently, and not everyone can handle the underhand grip that's used in a barbell curl. In some people, doing bicep curls with a straight barbell can cause pain in their elbow joint. This where the "no pain, no gain" approach to lifting weights can really mess people up. Burning muscles are fine, and sometimes it's helpful to lift through that pain. But aching joints are a different matter. Our joints recover more slowly than our muscles, and so if we continue to beat up our elbows workout after workout, we can accumulate damage there. That can lead to achy elbows.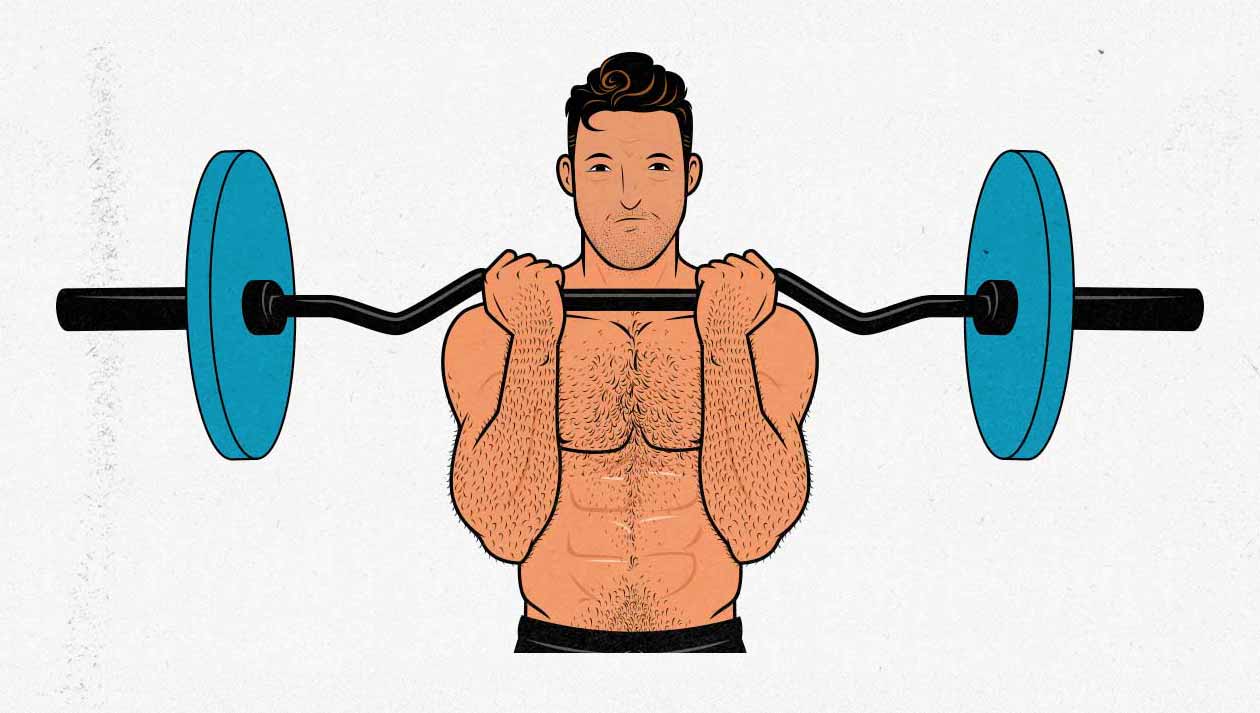 So if barbell curls are hurting your elbows, best to switch to a variation that doesn't cause any pain. Here are some good alternatives to the barbell curl:
The Curl-Bar Curl (aka the EZ-Bar Curl): if you use an angled bar to do your barbell curls, you can use an angled grip, reducing the external rotation of the elbows, which can feel much more comfortable.
The Dumbbell Curl: if you do your biceps curls with dumbbells, you can let your wrists rotate freely throughout the lift, reducing strain on the elbows.
The Hammer Curl: if doing regular dumbbell curls still hurts your elbows, try doing them with your palms facing one another. That neutral grip can be easier on the elbows.
Can We Lift Weights With Tendonitis?
Yes, most people can lift weights even if they have tendonitis. It often helps. Even so, some modifications may need to be made, and it's best to speak to a physician or physiotherapist first.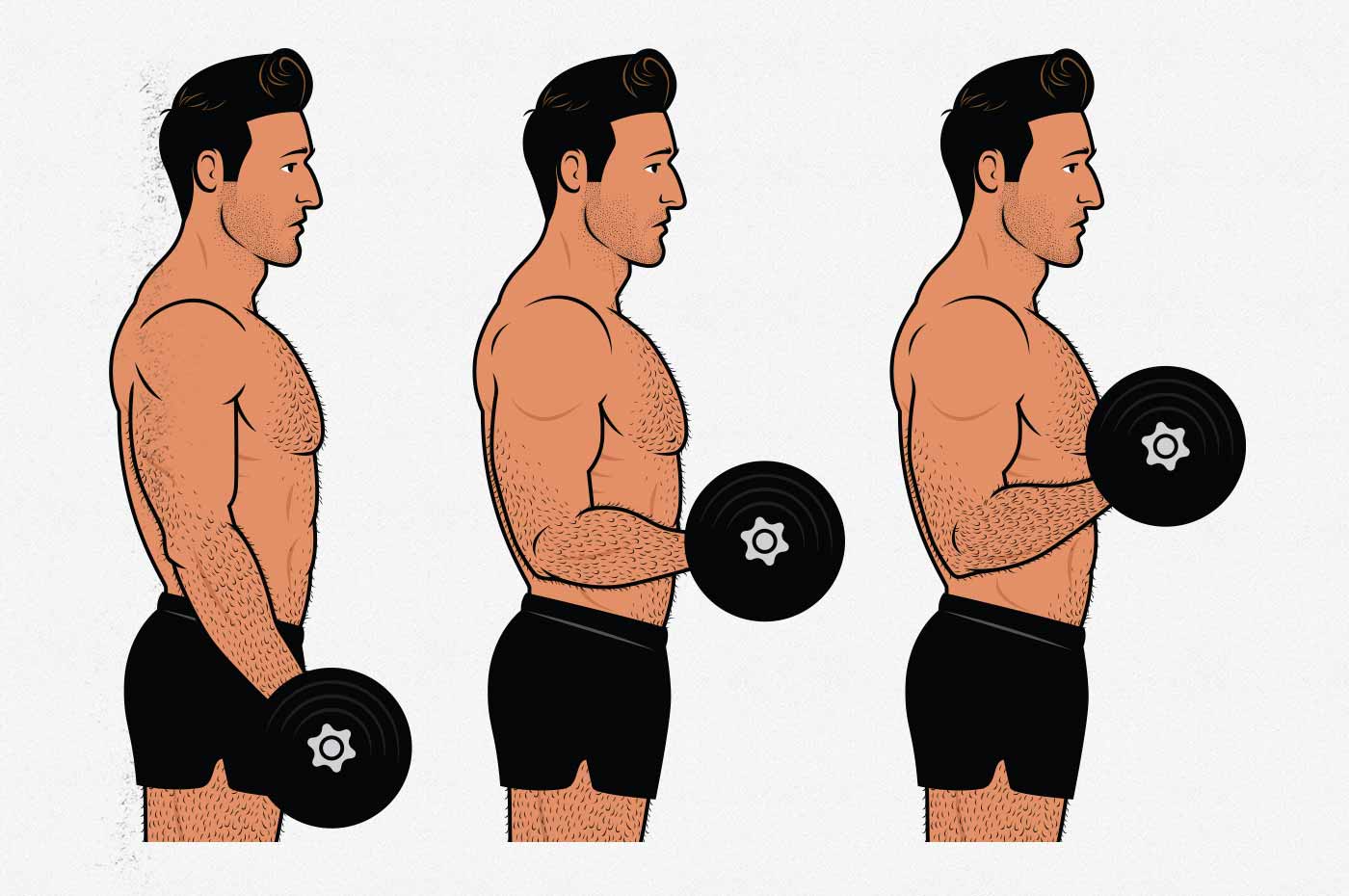 Before Jared and I gained fifty pounds each, Jared was struggling with severe tendonitis in both forearms from doing graphic design work. He sought out a number of different doctors and was prescribed anti-inflammatory drugs to help him manage his pain. Unfortunately, the problem continued to get worse, and eventually, he found himself unable to do his job properly.
In a situation like that, it might sound crazy to start lifting weights. After all, if even using a keyboard is causing severe pain, how on earth is he supposed to do squats, deadlifts, bench presses, and biceps curls? And there's some truth to that. When Jared tried doing barbell curls, they hurt both his elbows and his forearms. When he tried doing deadlifts, his grip was too weak to hold the barbell properly.
Marco recommended something called the Graston technique, which has been shown to help reduce pain when combined with a weight training program (study). It's unclear what made the difference, but he swapped out the lifts that were hurting for more comfortable variations (such as Romanian deadlifts, push-ups, and dumbbell curls) and he continued working to strengthen his arms. He also started eating more whole foods and more protein, going on walks, and working to improve his sleep.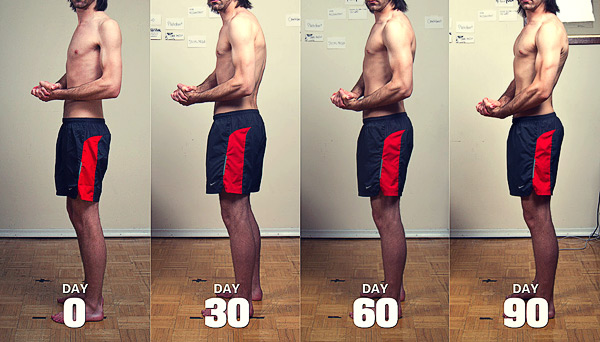 Over the course of a few months, as he gained 27 pounds, his tendonitis started to fade. Over the course of a few years, as he gained fifty pounds, his symptoms have virtually disappeared.
Is the Bench Press Bad for Our Shoulders?
Let's look at another example: the bench press. If you're doing the bench press properly, you're going to be stressing your bones, your tendons, your forearms, your triceps, the fronts of your shoulders, and most of all, your chest. (If the bench press isn't stimulating your chest, check out our chest exercise article).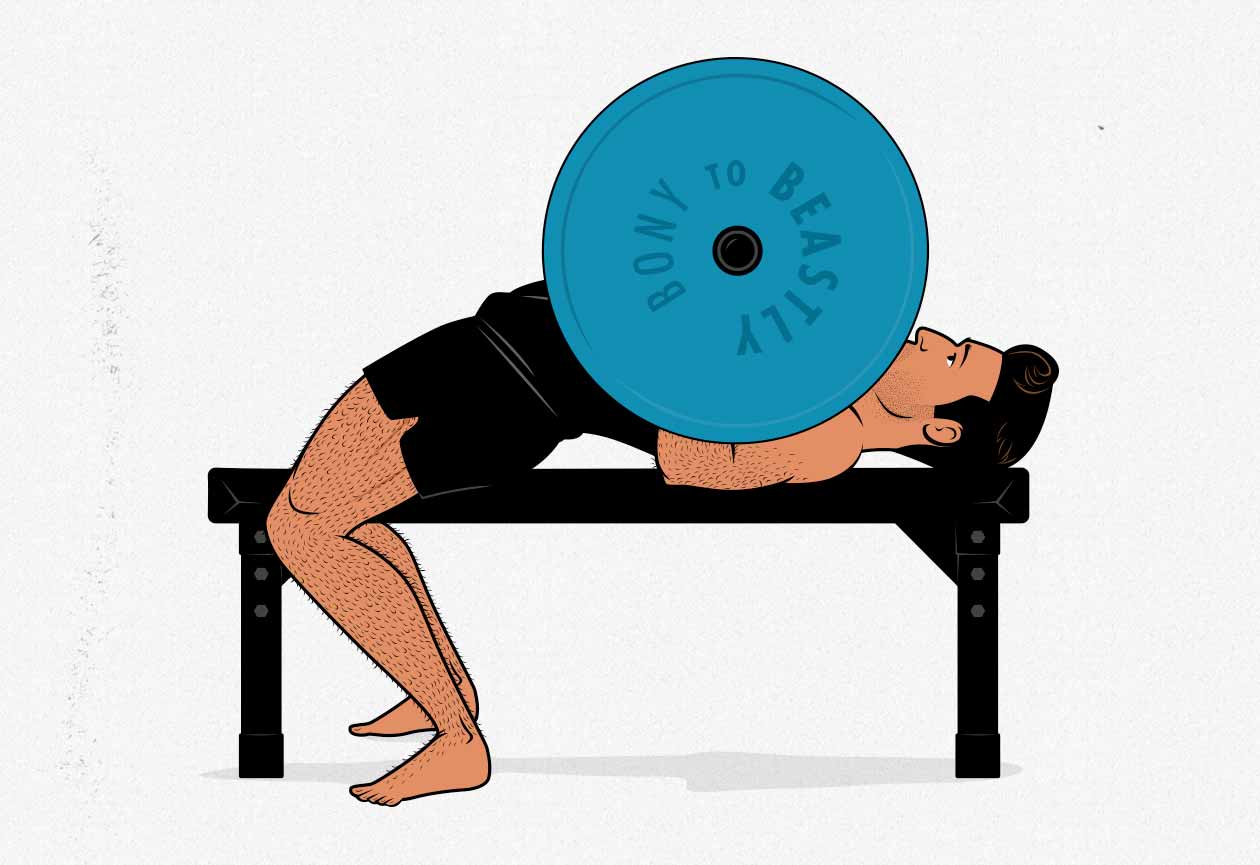 However, bench pressing is infamous for causing shoulder impingement, which is chronic inflammation in your shoulder joint. This is something I struggled with in the past. I had trouble lifting my arm up overhead, benching hurt, and I kept on getting sharp pains that would shoot through my shoulder.
Shoulder impingement is what happens when the bones in your shoulder joint scrape against the tendons, wearing them down until they become damaged. This makes the tendons inflamed, which makes them bigger, which makes the space even tighter. That makes them grate even more against your shoulder joint.
In my case, I was skinny, desperate, and an idiot, so I ploughed forward, continuing to grind away at the tendons in my shoulders. This, of course, made my shoulder impingement worse.
One cause of the issue is benching with poor technique. For example, if you bench with an excessively wide grip, or if you don't pull your shoulder blades down and back, or if you don't have a proper arch in your back. I was doing all of these things.
Should We Balance Pushing & Pulling Movements?
Some experts argue that one source of shoulder impingement is doing a disproportionate amount of pushing (such as the bench press) compared to pulling (such as rows) or doing too much internal versus external rotation. The claim is that an imbalanced workout routine can lead to muscular imbalance, causing our shoulders to drift out of the proper position, and making them more vulnerable to impingement. There's not a lot of evidence to support this idea, but if someone presents with shoulder issues, it's certainly something to look into. And it's true that strengthening certain muscles will often help the problem fade away.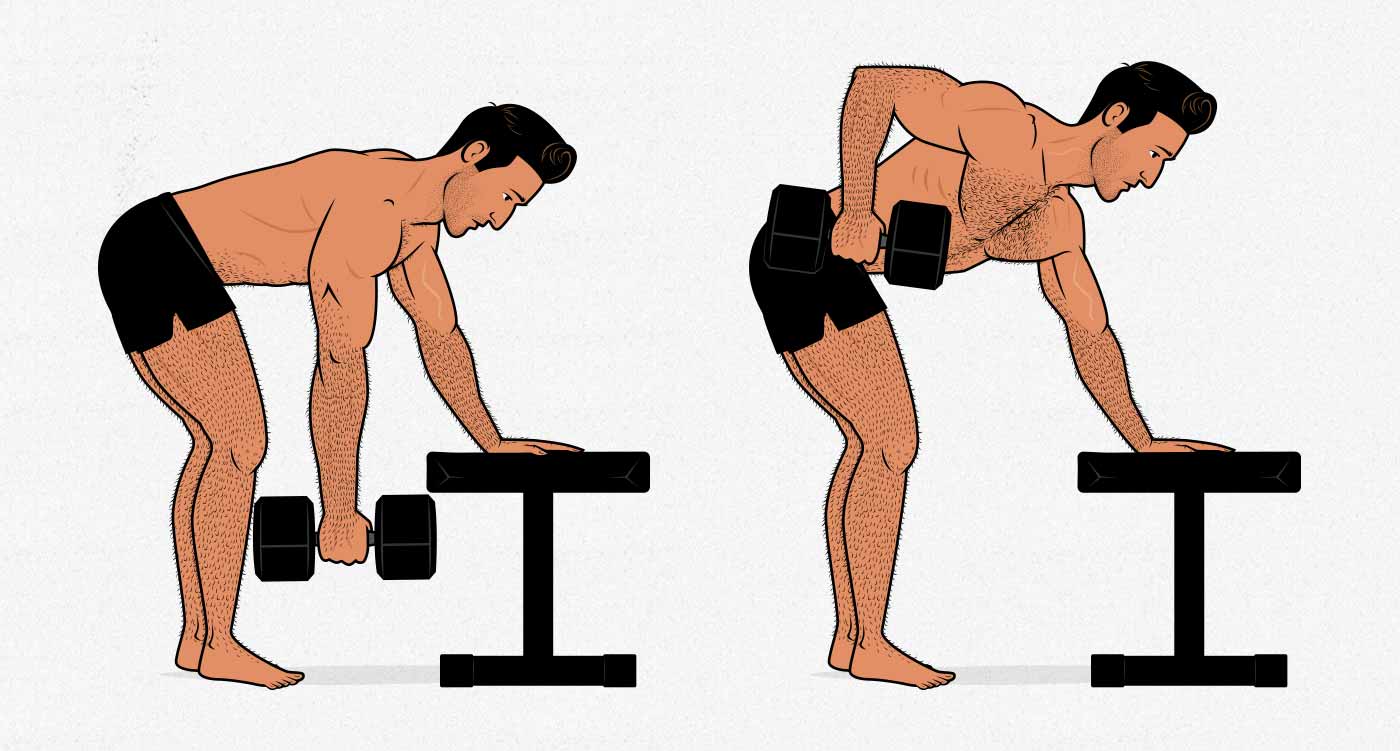 The most common ways to manage that shoulder impingement is to stop doing pressing movements or to take anti-inflammatory pills before working out. The problem with those approaches is that avoiding pressing movements will make it hard to build strong pecs and shoulders, and taking anti-inflammatory pills can make it hard to build a strong anything, not to mention that grinding away at a painful lift can make things much worse.
As stupid as I was to simply keep grinding away at my shoulder, at least I didn't make the mistake of giving up entirely. I pressed on, so to speak. And fortunately, right when my shoulder issue was at its worst, I came into contact with Marco.
Marco taught me how to do the bench press in a way that put less stress on my shoulder joint, and we added some push-ups and overhead pressing into my routine as well, to strengthen my serratus muscles. He also helped strengthen my back with a variety of rows and external rotation exercises, creating more space in the joint. It's unclear which intervention solved my shoulder pain, but it's been gone for nearly a decade now.
Should We Vary Our Lifts to Limit Joint Stress?
Another principle that Marco loves to use in his workout program is variety. Not variety in the CrossFit or Westside Barbell sense, where different lifts are rotated in every workout, but rather in the sense that every 5–10 weeks, we switch up the training variables a bit. This not only helps prevent muscle growth plateaus, it also leads to more balanced muscle growth overall, and perhaps most relevantly, it can reduce the strain on our joints and connective tissues.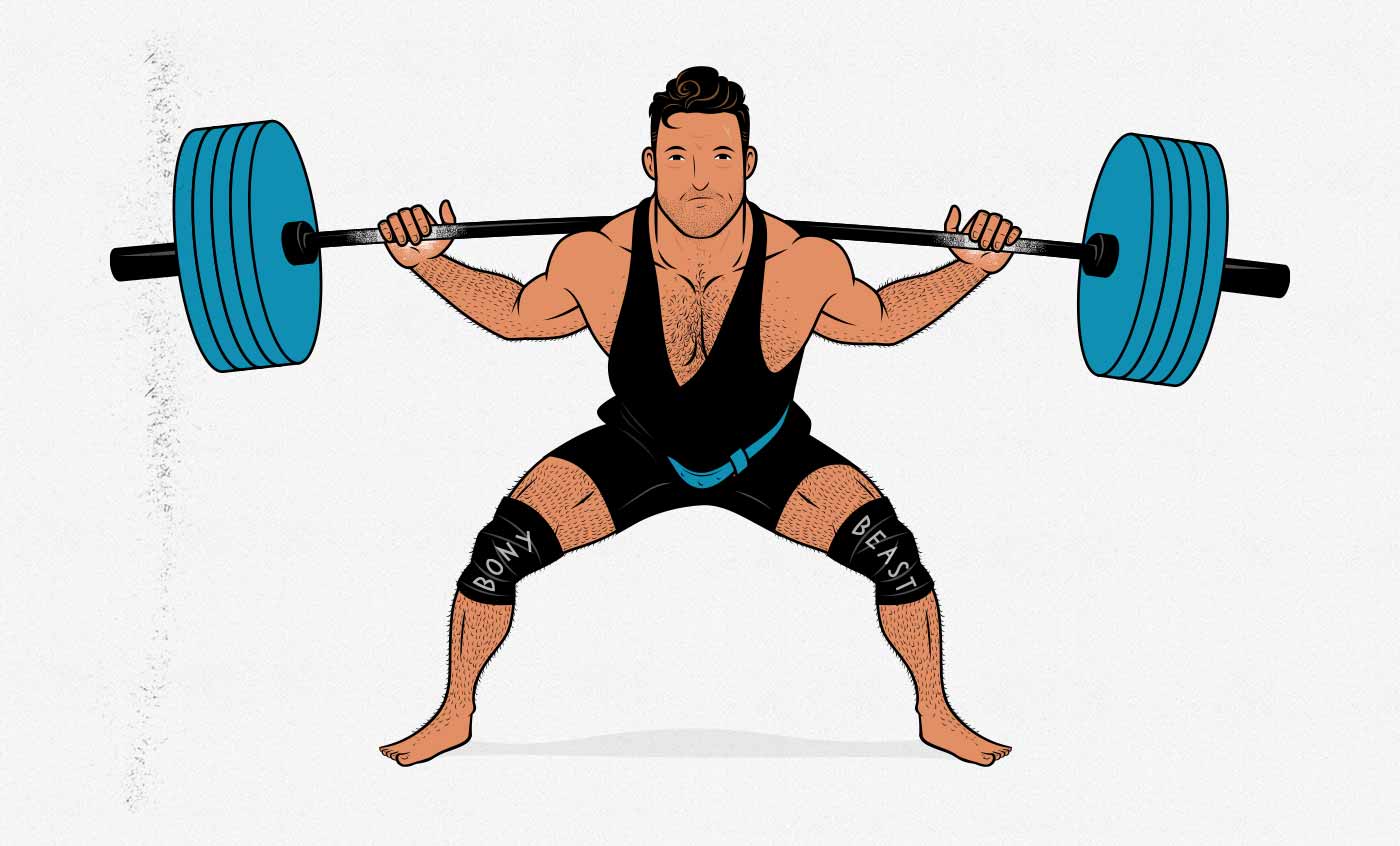 If we continue to grind away at the same lift month after month, such as a wide-grip barbell bench press or low-bar back squat (as powerlifters often do), then we're stressing our joints and connective tissues in the exact same way over and over again, perhaps without ever giving them a chance to fully recover and adapt to the strain. For the first few weeks (or months), sticking to the same exercise can help build muscle, yes, but at a certain point (that's different for everyone) it can become like Chinese water torture. A small stressor applied a million times to the exact same area can eventually start to cause damage.
Summary
It's good for our muscles to get inflamed after a hard workout. That's how we break down, repair, and build new muscle. There's nothing unhealthy about this. In fact, strenuous weight training tends to be fantastic for our general health and is associated with a reduction in overall chronic inflammation.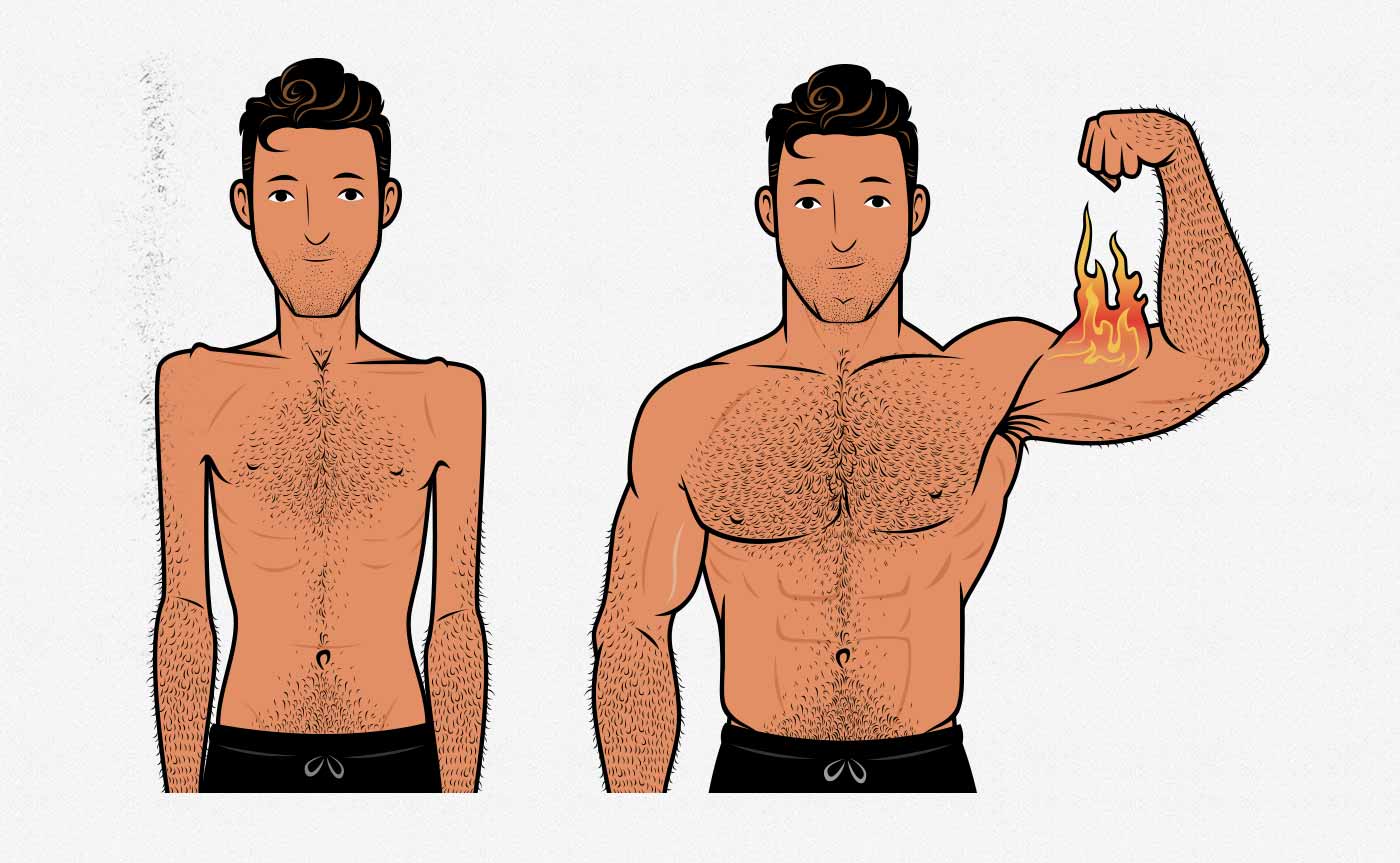 Chronic inflammation is mainly associated with being overweight, getting poor sleep, and eating a poor diet. For those of us who are lean, exercise regularly, and try to get a good night's sleep every night, it's unlikely to be a problem. However, we can certainly wind up with inflamed joints and tendons if we repetitively grind away at painful lifts. It's important to choose lifts that feel good on our joints, and even then, it's usually wise to vary them every month or two.
It's true that actively trying to reduce inflammation with anti-inflammation drugs or ice baths can blunt muscle growth. But taking an Advil here and there to cure a headache won't have any effect on muscle growth (or soreness). Plus, some healthy lifestyle changes can lower chronic inflammation without impairing acute inflammation. For example, blending up some beets and kale into a smoothie or supplementing with certain antioxidants (such as turmeric).
Inflammation is an evolved adaptive response. It's how our bodies heal and grow.
Working out causes acute inflammation, and that's good—that's how we repair and build muscle.
Minimizing acute inflammation with anti-inflammatory drugs, antioxidant supplements, or ice baths can harm our ability to build muscle. The goal isn't to reduce acute inflammation.
Saunas seem to have a mild positive effect on muscle growth. This may be because they improve blood flow, temporarily increasing inflammation.
Painful inflammation in joints and tendons should be avoided whenever possible. It's important to choose lifts that feel good on our joints and tendons, and to eat enough calories and protein between workouts so that we can recover properly from our training.
Chronic inflammation is bad for our health, bad for muscle growth, and bad for nutrient partitioning. To reduce it, we should engage in regular exercise, ideally including both weight training and cardio. We should get 80% or more of our calories from nutritious whole foods, and we should try to sleep well at night.
When dealing with chronic inflammation, we don't necessarily want to reduce the inflammation directly by taking NSAIDS like Advil (unless recommended by your physician). Oftentimes, it's better to weed out the root cause. For example, perhaps we need to lose some fat, improve our sleep, or choose lifts that don't hurt our joints.
Be careful if working out while on painkillers. Pain tells us what to avoid. If we blunt that signal, we can make ourselves more prone to injury.
If you want to dig even deeper, we've posted a second article about delayed onset muscle soreness (DOMS), which is closely related to the principles in this article.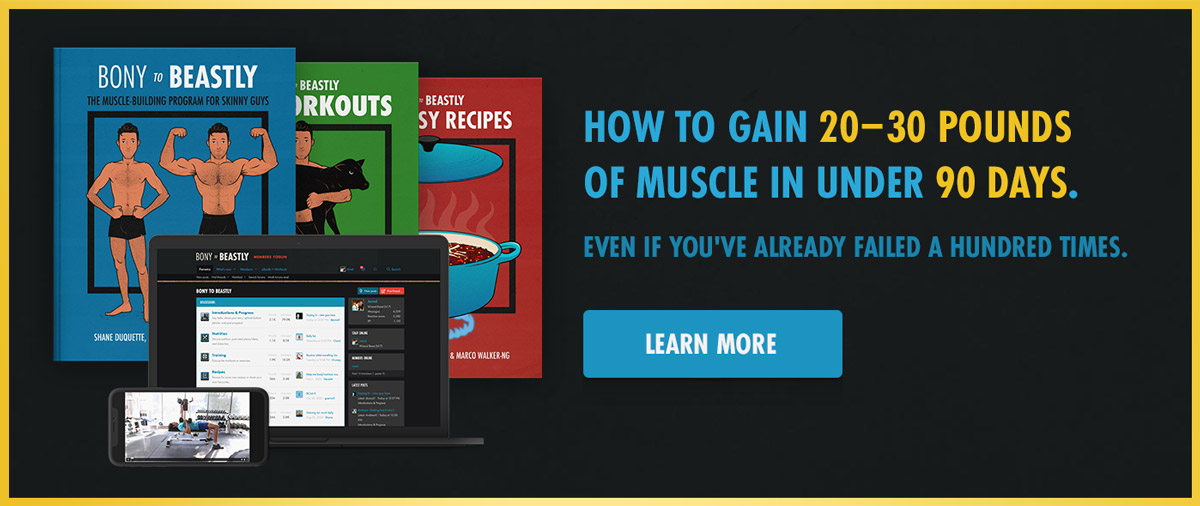 FREE Bulking Mini-Course
Sign up for our 5-part bulking mini-course that covers everything you need to know about:
Hardgainer genetics

and how to make the most of them
How to take a minimalist approach to bulking

while still getting great results

What you need to know about

aesthetics, health and strength

while bulking up