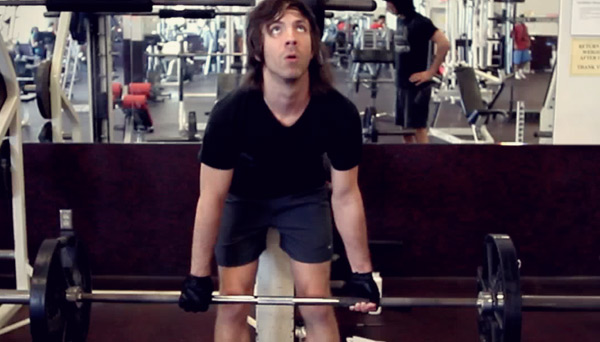 Muscle-Building Mythtake #4: Never having heard of neutral spine
Okay so not having heard of something isn't a myth—it's a mistake.  (I apologize for the lithpy pun.) Anyway, neutral spine and neutral neck (or "packed neck", as Marco calls it) are both really damn important. Proper spinal alignment is debatably the single most important training cue out there. All performance trainers, powerlifters and high level athletes know this, but most gym-goers are out of the loop. They lift with really poor spinal alignment, not because they aren't focusing enough on form, but because they've never even heard that spinal alignment exists, let alone matters. You've probably heard not to round your back, but that's as far as mainstream sources go on the matter. The problem here is that as ectomorphs we're particularly vulnerable to injuries, as our structures are naturally smaller. We can fix this, of course, and your bone density and tendon strength will soon reach beastly levels, but as a skinny dude starting out you can do some real damage to yourself if you neglect your alignment.
This post will help you improve your longterm health and strength, dodge future back pain, and help you build more muscle in the short term by properly targeting the muscles you're trying to hit.
Marco is a perfect example of an ectomorph who's managed to bulletproof his body by packing on 60 pounds of muscle, increase his bone density, improve his joint health and develop monstrous tendon and muscle strength. Being smart in the gym has improved his appearance, his athletic performance and his health while reducing his risk of injuries.
Sadly it wasn't a smooth ride. Over the course of his training he did a lot of stupid stuff—and that's normal. With most challenges in life people start out not knowing what they're doing, run into some problems, figure them out, and gradually find their way. The problem is that when it comes to putting on muscle, those problems can linger.
Many of the problems can be avoided by training intelligently. If you haven't injured yourself yet you should jump onto a solid training program before you do. If you've already injured yourself don't sweat it—there are lots of ways to improve and repair. Jared came into the program with tendonitis from extended graphic designing (funny how graphic design can result in sports injuries) and busted up knees from years of skateboarding.
I'm a good example of someone who was an idiot in the gym. 6'2, long lanky limbs and weighing in at 130 pounds I took to training with a callous disregard for tendon strength, connective tissues and joints (because I didn't know about them). The result? I dislocated and pulled a bunch of stuff. My lingering problem came from improperly doing military press. My shoulder popped out of its socket. I popped it back in and tried to finish my workout. This may sound dumb of me—and it was.
With Marco's help both of our issues have greatly improved. It's amazing what a great training program can do for your body as a whole as well as your musculature and appearance. The longterm health benefits from strength training are pretty staggering, too.
What one thing will prevent most gym injuries? Neutral spinal alignment. Check it out: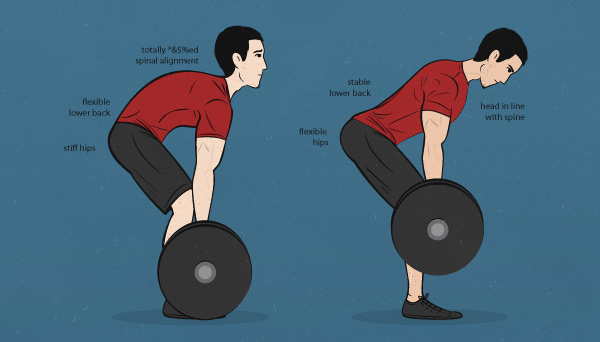 Most lifters kink their heads back while squatting and deadlifting—to look in the mirror or whatnot (see left). We had one well-intentioned personal trainer tell us that we should look at the ceiling while deadlifting in order to help keep our backs straight—huh?! This is really bad news, and it's no wonder that many experienced, intelligent, and overall rad lifters suffer from back pain. Similarly, it's common to be taught to squat without being shown how to do it with neutral spine.
This isn't just a problem with squatting and deadlifting either—this problem sneaks its way into almost all lifts, giving guys shoddy musculature and causing injuries all over the place.
Another common problem area is with bent over rows. Many trainees sabotage their back growth by kinking their head up or down while rowing. Sometimes to look in the mirror. Sometimes to make the exercise easier. This engages a whole different set of muscles and will result in more problems than muscle growth.
Same with shoulder raises. Most guys, in an effort to haul more weight, duck and peck their head while attempting to contract their shoulder muscles. This results in engaging a whole different set of muscles. The result? Crappy shoulder muscle growth.
Don't even get me started on push ups hahaha.
The solution
Marco doesn't address packing the neck in this video, but notice how Marco's head stays in line with his spine as he demonstrates the hip hinge with neutral spine. I recommend practicing bodyweight squats and deadlifts at home and doing a few of them during your workout warmups.
Another good place to develop and practice this skill is to practice doing pushups with perfect form. Developing a stronger core and glutes (as planks and pushups will do) will build strength in the areas you'll need it when doing loaded exercises like heavy squats and deadlifts.
You'll also become used to tensing the right muscles while lifting, holding the natural s-shape of your back, and keeping your head in line with your spine.
***
If you liked the post, "Like" it, share it, and Check out the other Muscle-Building Myths.