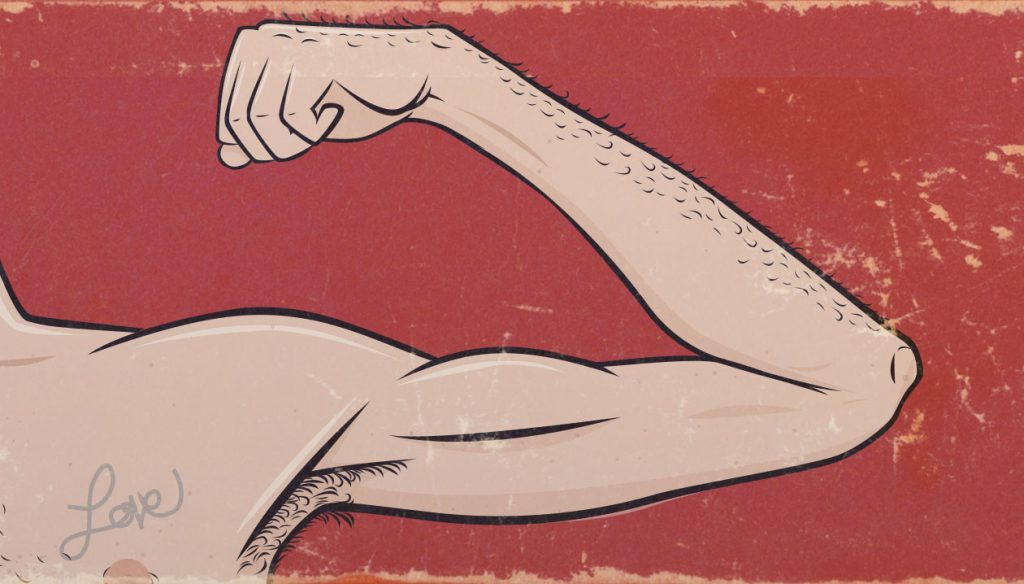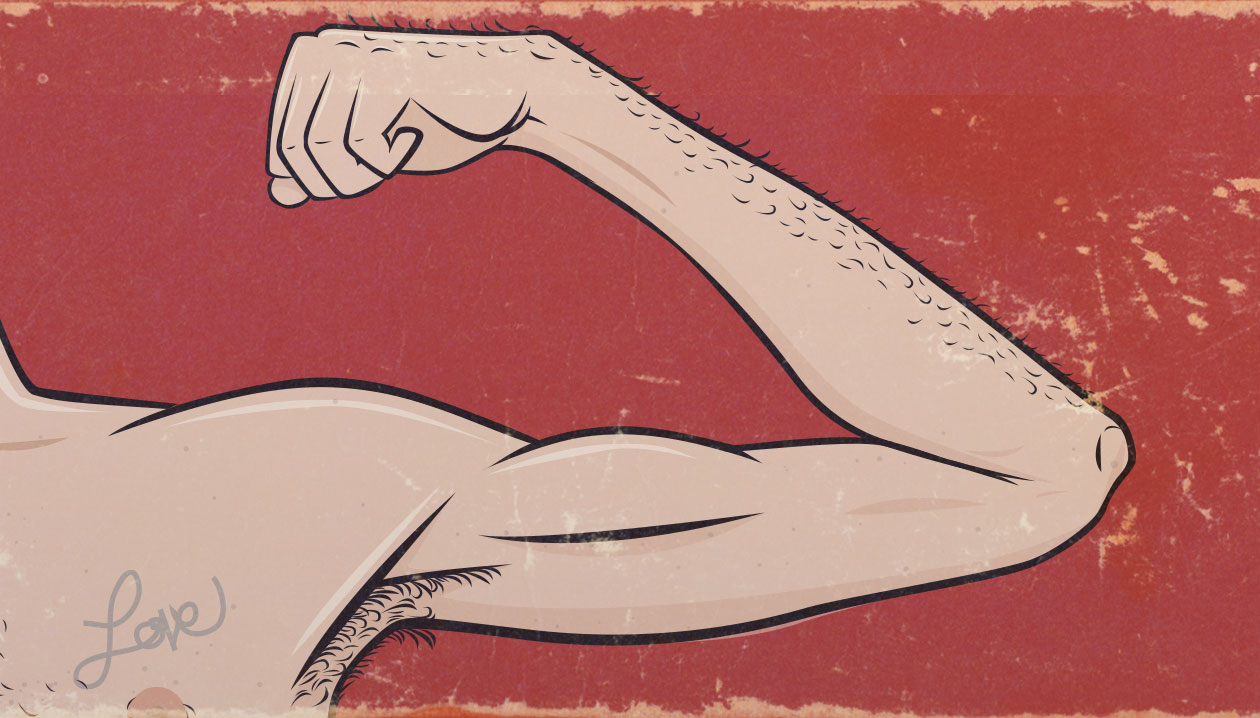 The Skinny Struggle is Real
I spent almost 10 years of my life trying and failing to gain weight. In fact, when I tried to bulk up, I would often lose weight. And whenever I did gain a few pounds, I'd get a cold or take a break, and the weight would melt right off. I'd wind up right back where I started.
I didn't understand why it was so damn hard for me to gain weight. Was it because I had an ectomorph body type? Could it really be that simple? But if that were the case, how come so many ectomorphs are able to bulk up? How was I different? Was I a hardgainer? Was I non-responder to weightlifting?
Other people would see me struggling to gain weight and they'd figure I just I wasn't eating enough calories. They'd tell me to "just eat more." Then they'd look at me like they'd just solved all of my problems, totally confident they'd given me the information I'd been missing all my life.
I had been skinny all of my life, though. "Just eat more" wasn't new advice. I mean, it's not like I hadn't tried to eat more. Of course I had. I'd been trying to gain weight my entire life.
I get it. That advice would work fine for most people. After all, gaining weight is second nature for most people. If you tell the average dude to eat more, he'd be able to. Hell, he'd probably even like it.
So the assumption is that no matter how fast our metabolisms are, and no matter how small our stomachs are, we're just supposed to tough it. We're supposed to force-feed ourselves. But after grinding out a brutal bulking diet for a few weeks, feeling bloated and tired the whole way through, we'll inevitably give up. It's just not a sustainable diet.
So at that point, most of us blame our ectomorph genetics, thinking that we're doomed to stay skinny forever. But some ectomorphs do it. Some skinny guys are able to bulk up. What's their secret?
In this article, we'll cover:
Why is it so hard for ectomorphs to gain weight?
What's the best ectomorph bulking diet?
What type of exercise should ectomorphs do to bulk up?
How quickly can skinny guys build muscle?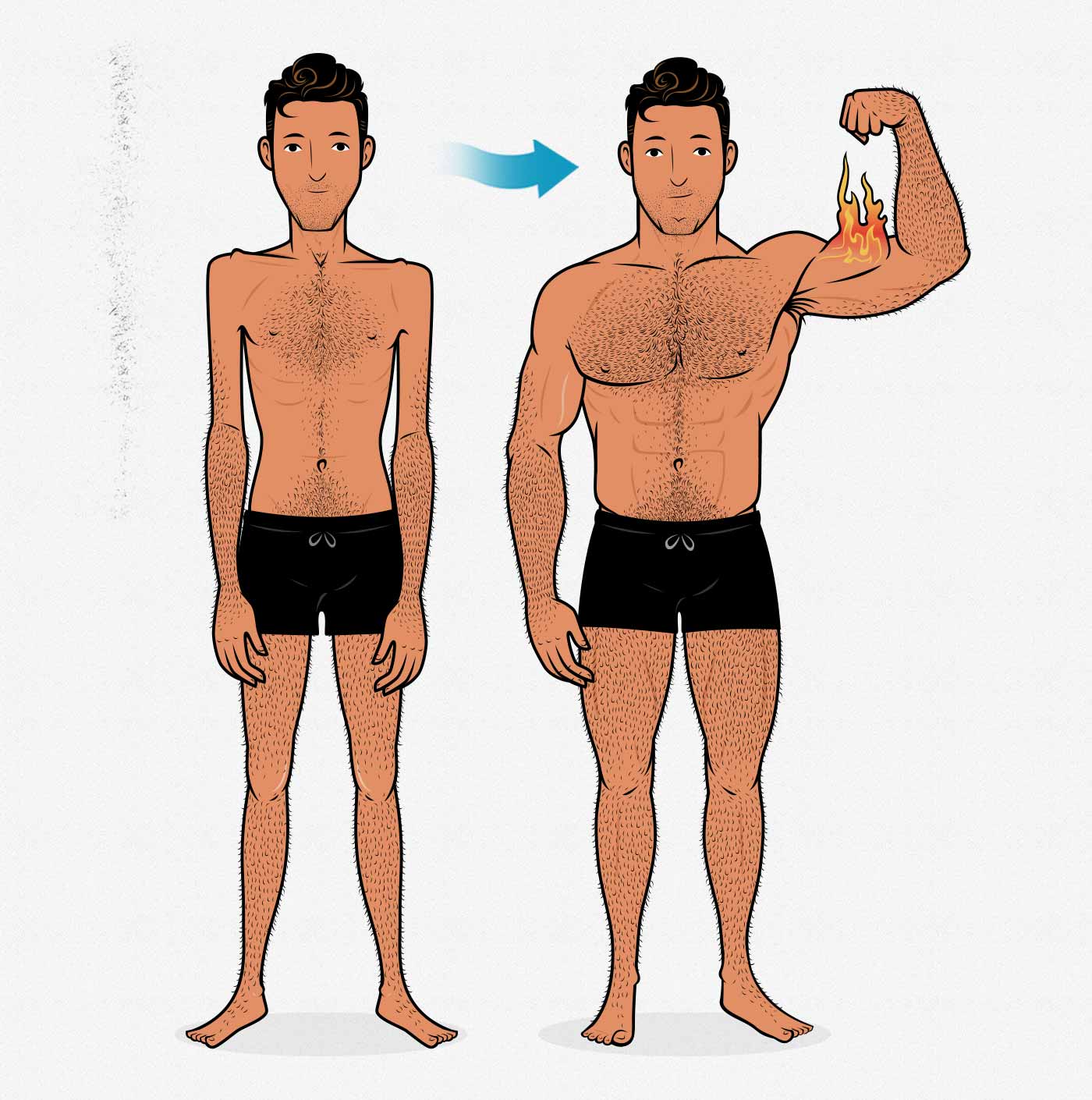 People Aren't Supposed to Gain Weight Easily
Up until recently, being overweight was actually pretty rare. To quote the researcher Alan Aragon, "The human body wasn't designed to overeat. Just a quick glance at the consequences of long-term overeating can tell us that the body doesn't cope with it too well. That's probably why there are several mechanisms in place to signal hunger and satiety so that energy balance can be met most of the time."
Said more normally: if you're a healthy person, your body will make it very hard for you to overeat.
Huh? Has this researcher never stepped outside of his research lab? Most people are overweight. Obviously that's false… right?
It seems false now, but for most of human history, obesity wasn't really a thing. According to the Center for Disease Control (CDC), in 1960, only 13% of Americans over the age of twenty were obese. Then foods started becoming cheaper, higher in calories, and tastier.
So people started eating more. The modern man started eating 400 more calories than his father did (study). That's enough of a calorie surplus to gain almost a pound each week. By 2008, 34% of Americans were obese.
How do we know for sure that this is because junk food is messing with appetite regulation? We can't say for sure, but there's a lot of supporting evidence for it, making it the leading hypothesis. For example, there's a 1992 study where people were given an unlimited amount of vending machine foods to eat. The study participants accidentally gained a couple pounds in a single week.
So it's not that people are eating too many carbs (as researchers like Gary Taubes thought), or that they're eating too much fat (as Dean Ornish thought), but because of the delicious combination of processed carbs and fats found in junk food. These foods are low protein, low fibre, high carb, high fat, salty and sweet. A perfect storm for accidental weight gain.
Overeating is hard, but junk food makes it far easier. So much easier that a third of people are obese, almost everyone else is overweight, and only 3% of people are trying to gain weight. 3%. That's an unbelievable minority. Such a tiny group of people that the fitness and health industries will often just ignore us entirely, focusing on the far bigger issue of far bigger people.
This is where a lot of us make a huge mistake. I made it myself. We read mainstream fitness information as if we're the target audience. We forget that it's almost always weight loss information. Even if it's "muscle-building" information, it's usually written for guys who are naturally beefy—guys who are trying to chisel out their muscles from under their fat, not trying to build new muscle mass.
And this is also where a mystery starts to develop.
Why are we so totally immune to the so-called obesity epidemic?
Why It's So Hard for Hardgainer to Gain Weight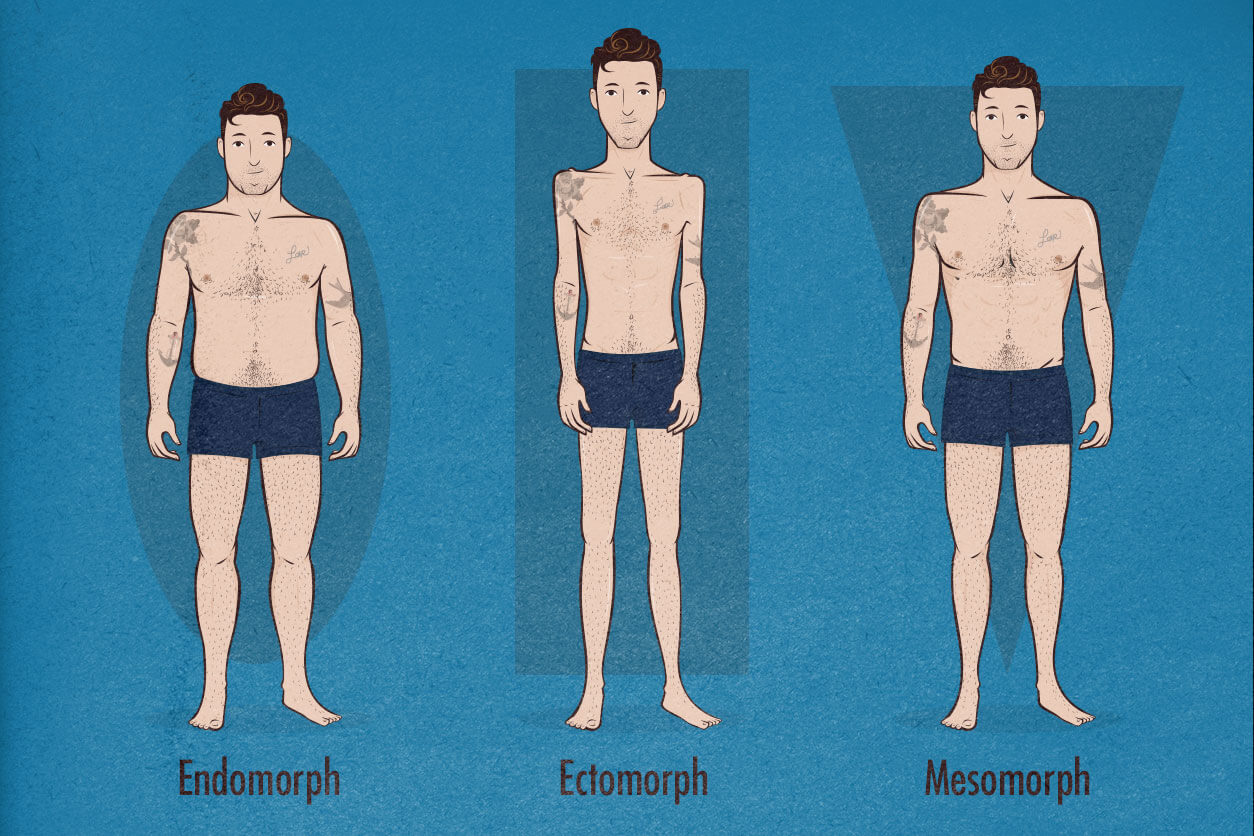 So, first of all, a person who is naturally skinny is called an ectomorph. It's one of the three male body types. It's an old term with a strange history, invented by the psychologist William Sheldon in the 1940s. As a psychologist, Sheldon was wrong about almost everything. In fact, it's hard to find a psychologist more discredited than Sheldon.
However, Sheldon he did discover that some guys are naturally skinny, and he finally gave us a name: ectomorphs. He also called us fidgety and fragile, which I'm not too keen on—and he's clearly never seen Fight Club—but, well, at least we have a name now.
And that name has stuck! 70 years later, and "ectomorph" is still the best way to describe a naturally skinny body type.
An ectomorph is a person with some combination of:
A modest appetite
A small stomach
Thin bones
Most of us will have a couple of those traits, some of us will have all of those traits.
Why are some of us shaped this way? Well, according to the Smithsonian, it was an evolutionary adaptation to help us survive running around in hotter climates. The experts there believe that it's no coincidence that Inuit people tend to be short, stocky endomorphs who retain body heat extremely efficiently, whereas Ethiopians tend to be built like marathon runners, finding it very difficult to gain weight.
Now, the difference between people tends to be bigger than the difference between peoples, so you get people with ectomorph genetics sprinkled into every population on earth.
Whether or not that hypothesis is correct, the basis for their hypothesis is rooted in indisputable science: having longer, thinner bodies gives us greater surface area relative to our volume, which means that we're very good at radiating our heat outwards.
As a naturally skinny guy living up in Canada, this blew my mind. I'm living in a cold climate with a body type designed to radiate heat outwards, not keep it in. It's no wonder that I burn through so many calories.
But there's more to it than that. Having longer limbs means it takes more energy to move, and having a narrower torso means that there's less room for our stomach, and having thinner bones means that we naturally support less muscle mass (just a little bit less, though), and having narrower shoulders makes it way harder to activate certain muscles when lifting (such as our chests).
All of these issues compound, and can make it seem like it's almost impossible to gain weight.
So being shaped like an ectomorph makes it far harder to gain weight, but if we find a way to eat enough calories, we'll gain weight then, right?
The Hardgainer Dilemma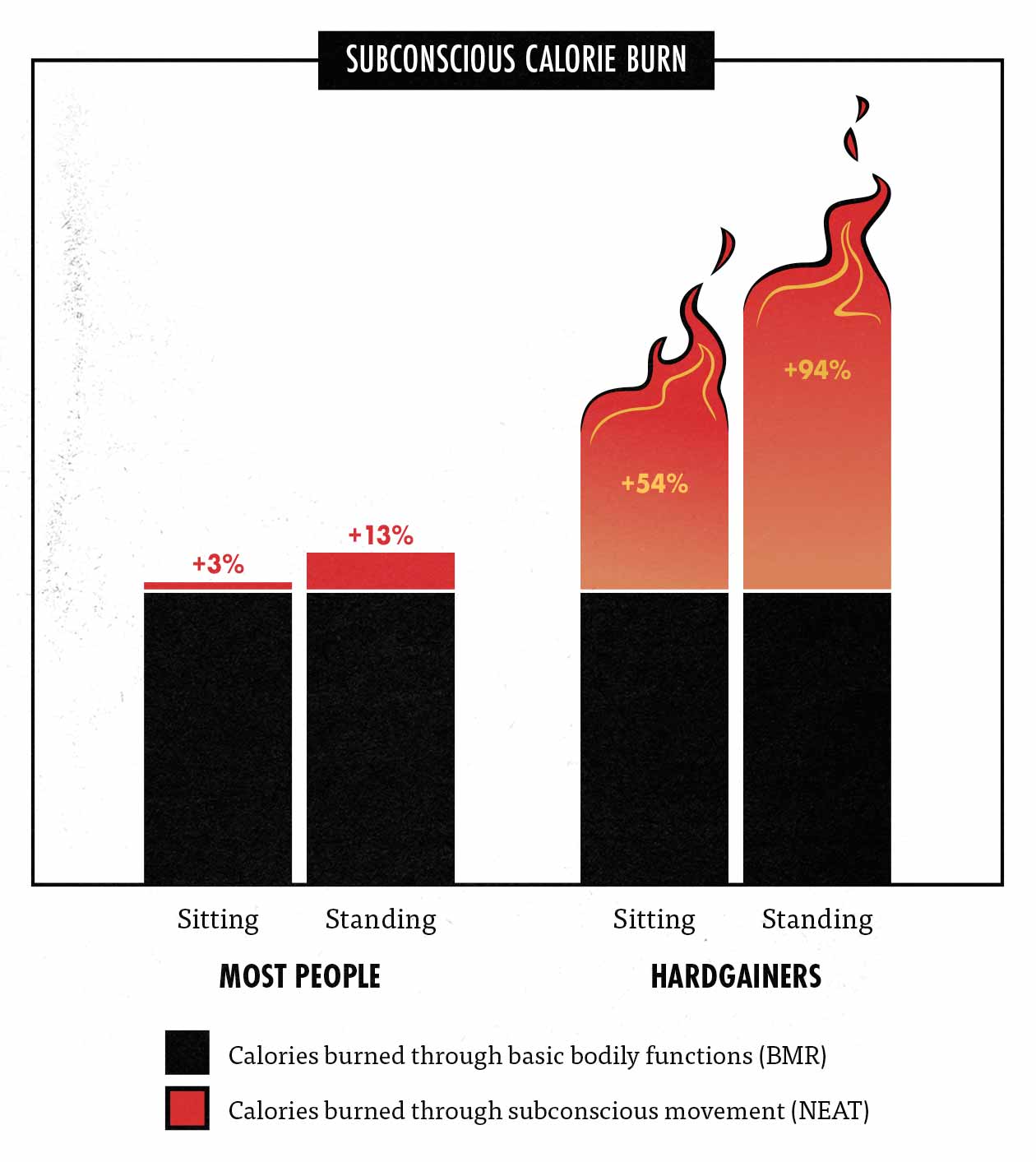 This is where things get pretty strange. Experts used to argue that, yes, ectomorphs will gain weight just like everyone else so long as we get into a calorie surplus. Research started coming out showing that we're just really bad at estimating how many calories we're eating. We think we're eating a lot, but because of our naturally smaller stomachs, smaller appetites, and higher calorie needs, it just isn't enough calories (study, study, study). This is what you'll hear a lot of the "just eat more" people saying.
… But even when we do succeed at eating enough, we still resist weight gain. Our body has another layer of obesity resistance. On top of everything else, when we get into a calorie surplus, we start burning calories through subconsciousactivity—radiating more body heat, fidgeting, and standing with less efficient posture (study).
This is called non-exercise activity thermogenesis (NEAT). It basically means that our bodies would rather burn off energy as heat or movement than store it as body fat. A study looking into metabolisms found that most people burned 3% more calories sitting in a chair than they did lying motionless on their backs. Add in some fidgeting, though, and they burned 54% more calories. When standing, the average person burns 13% more calories than when lying on their backs, but the hardgainers burned 94% more calories (study).
While just casually standing next to a friend, you can have almost double his metabolism just because you're standing like a hardgainer.
Now, some of our heightened metabolism is just wasted energy. For example, accidentally sitting and standing with poor posture not only reduces our athleticism and attractiveness but also makes it harder to stay focused while working and harder to stay comfortable while standing. As naturally skinny guys, our favourite stance is usually this one: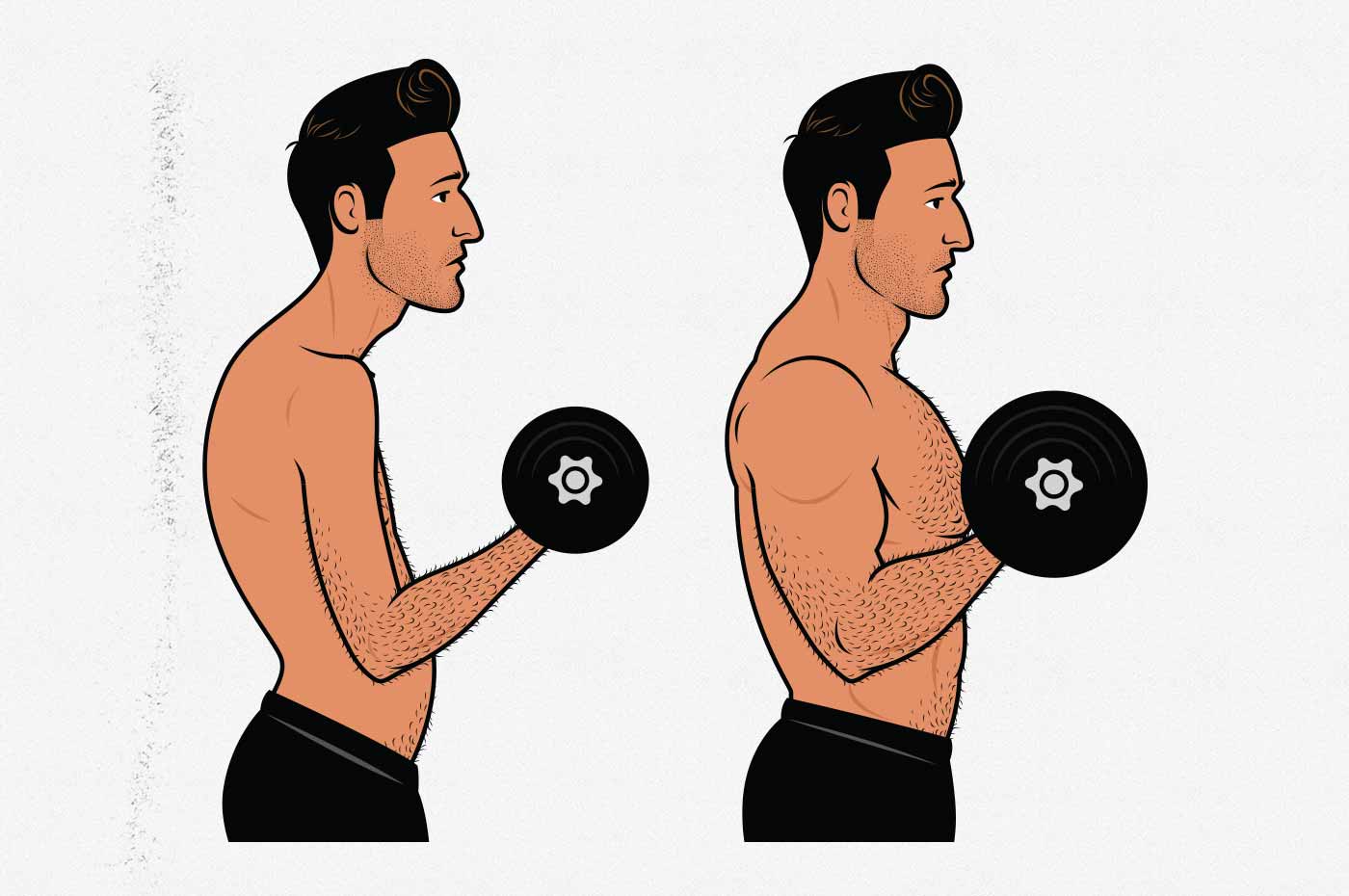 If we strengthen the postural muscles that hold us in a more neutral position, we can sit, stand and move around much more easily—and look better while doing it.
With proper posture, our head can rest comfortably on our spine, which has cushioning between each joint, instead of being held out in front of us, tiring out our necks and upper backs. Improving our posture can also improve our spinal health, reduce back pain, and prevent injury.
However, in most other ways, our naturally adaptive "hardgainer" metabolism is amazing. It's a natural defence mechanism against obesity, not against muscle mass. While it can seem like burning all these extra calories is a disadvantage, this is actually one of our best genetic advantages.
If we force our body to prioritize muscle growth through hypertrophy training, all of the extra calories we're eating will first be invested into muscle mass. Then, once our rate of muscle growth is capped, we'll start burning off the extra calories through heat and movement, keeping us from storing those extra calories as fat.
Let me give you an example.
Let's say an endomorph follows a good muscle-building program and eats a 1,000-calorie surplus every day. That's enough to gain about two pounds in a week. So he'll gain, say, a pound of muscle and a pound of fat.
Now let's say an ectomorph follows a good muscle-building program eats a 1,000-calorie surplus every day. That's still enough for him to theoretically gain two pounds, but what's more likely to happen is that he'll gain a pound of muscle, and then the extra pound will be burned off. He builds just as much muscle, but he avoids the fat gain.
This allows ectomorphs—especially naturally lean "hardgainer" ectomorphs—to bulk far more aggressively. This is a great genetic advantage.
The problem is that most of us ectomorphs don't exercise in a way that causes our body to prioritize muscle growth. This causes most of our surplus calories to simply be burned off. And what isn't burned off will often just be stored as fat. This can be incredibly frustrating, but all that's happening is that we're staying the same instead of getting fat. It's not preventing us from building muscle.
So let's move on to exercise.
Exercising to Build Muscle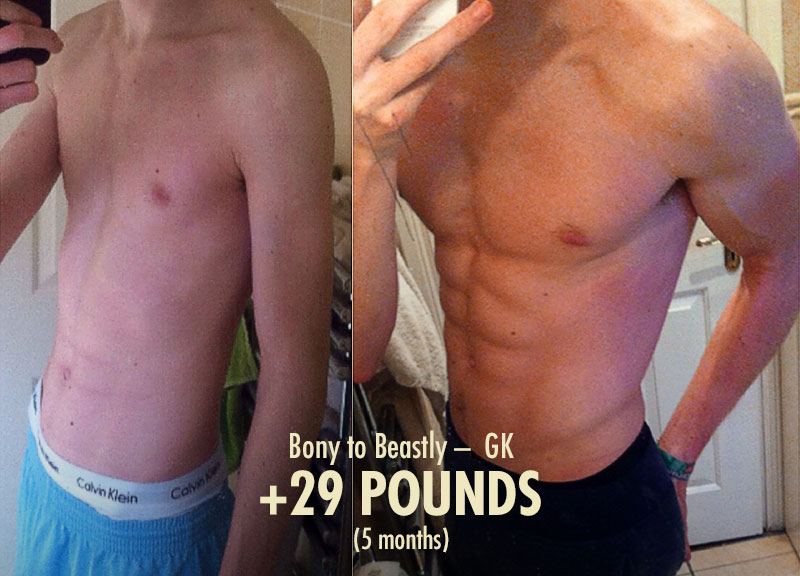 There are a lot of different ways to exercise, and it can be hard to figure out what they're all for. Is swimming a good way to build a fit physique? Will martial arts make us ripped? Are bodyweight exercises good for building functional muscle? What about CrossFit?
There's also bodybuilding, which is designed specifically to stimulate muscle growth… but what if we aren't even trying to look like bodybuilders? What if we're trying to build an athletic physique? Can't we do athletic things instead?
That's what I thought. I wasn't trying to become a bodybuilder. I just didn't want to be so skinny anymore. I would have loved to look like Brad Pitt in Fight Club, for example. So I thought that I could use other types of exercise to build the physique I wanted.
That set me up for years of frustration.
I did everything I could to build muscle while avoiding lifting weights at all costs. After all, many of my friends had great physiques just from being generally athletic people. Some of them weren't even athletic, and didn't seem to do anything—they just seemed naturally strong. So first I tried swimming, then I tried bodyweight exercises, then I tried martial arts… and only then did I realize, okay, obviously this stuff isn't working. What's working for other people isn't working for me, so it must be my genetics.
Looking back, that was foolish of me. The people I knew didn't need to lift weights because they already had enough muscle. It's not that they were building all that much muscle from bodyweight exercises, it's just that they were losing some fat and gaining better muscle definition.
I wasn't failing at building muscle because I had poor muscle-building genetics, I was failing at building muscle because I had been avoiding the type of exercise designed to build muscle. When I first started following a good muscle-building program (including learning how to eat enough) and gained 10 pounds of muscle in my first month, I felt pretty foolish. But then after a few years of running Bony to Beastly, I learned that so many ectomorphs shy away from lifting weights. This is a mistake that most of us make.
Frankly, it's understandable. Going into any new social setting is intimidating, but going into a gym can be an especially intimidating place for a natural skinny guy, or a guy who can't lift a lot, or a guy who isn't familiar with the basic lifts. We are often all three of these things.
Unless you've got truly incredible self confidence, going to the gym can be a true test of your character.
For someone who just wants to build muscle, not test their self-esteem, that sucks.
But if we spend our time jogging around trying to get fitter, we're running with our strengths (pun intended) instead of strengthening our weaknesses (is that a pun?). If we want to become strong, athletic, attractive guys, we need to strengthen our weaknesses.
Trying to build a muscular physique with other types of exercise is like using a unicycle to do your grocery shopping instead of a car. It's possible yes, and if you go on YouTube, I'm sure you'll see some people doing it, but it's needlessly difficult. And if it's already harder for our body type to build muscle, we don't need those extra layers of difficulty.
We're the type of people who can get fit and lean even while being careless, not the type of people who can build muscle while being careless. We can build muscle incredibly well, but only if we do it properly.
We're already good at avoiding obesity and improving our cardiovascular health. That's half the battle won. But we don't have dense bones, or strong muscles, and we aren't shaped by a powerful V-tapered physique.
So just like a naturally strongish chubby guy will probably suck at cardio and feel embarrassed on a treadmill but need to do it anyway to improve his cardiovascular health, us skinny guys need to lift weights in order to make the most of ourselves.
Even that can be confusing, though. The fitness industry makes it seem so, so convoluted. As if there's all this conflicting information. And until we have a thorough understanding of the fundamentals of muscle growth, it's really difficult to understand what's going on. Who's telling the truth? What does the science actually say? And does the scientific research even agree with itself?
What Type of Lifting Is Best for Gaining Muscle Size?
So let's say you've gotten to the point where you realize that you need to lift weights in order to build muscle. That narrows things down, but there are still a lot of mysteries ahead of you. There's strength training, bodybuilding, split routines, full-body routines, this theory, that theory. What's the best for building muscle?
Let's break it down.
There used to be two main types of weightlifting: strength training and bodybuilding. Powerlifters and Olympic lifters would do strength training. It's hard on your joints, and it prioritizes lower body growth, but it's an amazing way for guys to build strong bodies and compete with one another.
Bodybuilders, fitness models, actors, and everyone else who was mainly interested in looking better gravitated towards bodybuilding instead. It's a fairly safe way of lifting, and it's actually pretty good for your health, but it started getting a stigma for being the vainer way to lift weights.
Recently a third type of lifting has sprung up. Some people call it high-intensity power training (HIPT), others call it high-intensity functional training (HIFT). Most people just call it CrossFit. It's great for improving general fitness, but it's designed primarily for competition and community, not building muscle. Like using a unicycle to do your grocery shopping, CrossFit adds a level of complexity that can make things more interesting for people who are looking for a challenge. But if you want to build muscle quickly or efficiently, skip it.
Unfortunately, CrossFit is just one example. The same is true for a lot of sporty fitness things: martial arts, callisthenics, p90x, Insanity, etc. They help us burn calories (not a good thing for us) and they help us develop better coordination, fitness and stabilizer muscles, but they're ineffective ways to gain weight and build muscle. They're so ineffective for building muscle that we might soon start thinking that our genetics suck.
This is another example of mainstream fitness stuff misleading us because we're not the majority. As we start researching how to build muscle, we tend to find types of lifting designed for improving fitness (CrossFit, Insanity, P90X, etc) or improving powerlifting strength (Starting Strength, StrongLifts 5×5, etc). The fitness stuff won't help us build muscle, and the strength stuff will have us learning complicated movements that direct most of our muscle growth towards our lower bodies, which doesn't give us great results in the mirror, and leaves us feeling discouraged.
Some guys get lucky, and they start down the bodybuilding road, but that road is fraught with peril as well. So many of the popular bodybuilding routines trickle down from famous professional bodybuilders who have been lifting weights for decades (often on steroids) and have totally different needs from a guy who hasn't already gained 50 pounds of muscle. Even after gaining 55 pounds of muscle, those routines are still the wrong approach for me.
Moreover, most bodybuilders have no trouble eating enough to gain weight. They love bulking diets. So most of their diet routines are full of fat loss information. (Some of them aren't. It really depends. But that's what can make it so confusing.)
The good news is that there's actually quite of a lot of research being conducted into muscle growth these days. Muscle is so important for athletes, and it's so important for our general health, that science is becoming very thorough. That wasn't the case in the '80s, when bodybuilders like Arnold Schwarzenegger were having to figure stuff out through trial and error.
This means that we can take the most effective parts of each style of training and ditch the stuff that's been proven ineffective or irrelevant for our goals.
Dr. Brad Schoenfeld's research has proven that full-body routines stimulate more muscle growth than split routines, so that's a good place to start. Muscles grow best when stimulated 2–3 times per week, so we can schedule 2–3 full-body workouts per week.
Schoenfeld's research also proves that strength training is great for stimulating muscle growth via mechanical tension, so we can start our full-body routine with a little strength training. We can prioritize the biggest compound lifts that will stimulate the most muscles at once, such as the bench press, squat, deadlift, chin-up, row and overhead press.
That same research also shows that bodybuilding is superior for stimulating muscle growth via metabolic stress, so we can add that in too. Also, Dr. James Krieger's meta-analyses have shown that muscle grows more quickly with more volume (more sets/reps). Other research shows that bodybuilding is the most ideal for boosting volume because it stimulates a maximal amount of muscle growth with a minimal amount of time, energy and overall stress on your body.
And we know that some muscles are more attractive than others (full article here), so we can prioritize our shoulder, chest and arm growth while making sure that our legs are strong and functional. This gets most of our growth happening in the places with the most visual impact, but we still build powerful, athletic, and healthy bodies.
But this brings us to another problem…
Ectomorphs Can Have a Hard Time Lifting Weights
Ectomorphs are built incredibly well for many sports. We have light bodies and long legs, making us great at running (see every marathon runner ever). We have long arms and aerodynamic torsos, making us great at swimming (see Michael Phelps). We have a light bodyweight and a long reach, making us great at fighting (see Connor McGregor) and basketball (see Lebron James). We excel at sports where being proportionally long and light are an asset, not a disadvantage.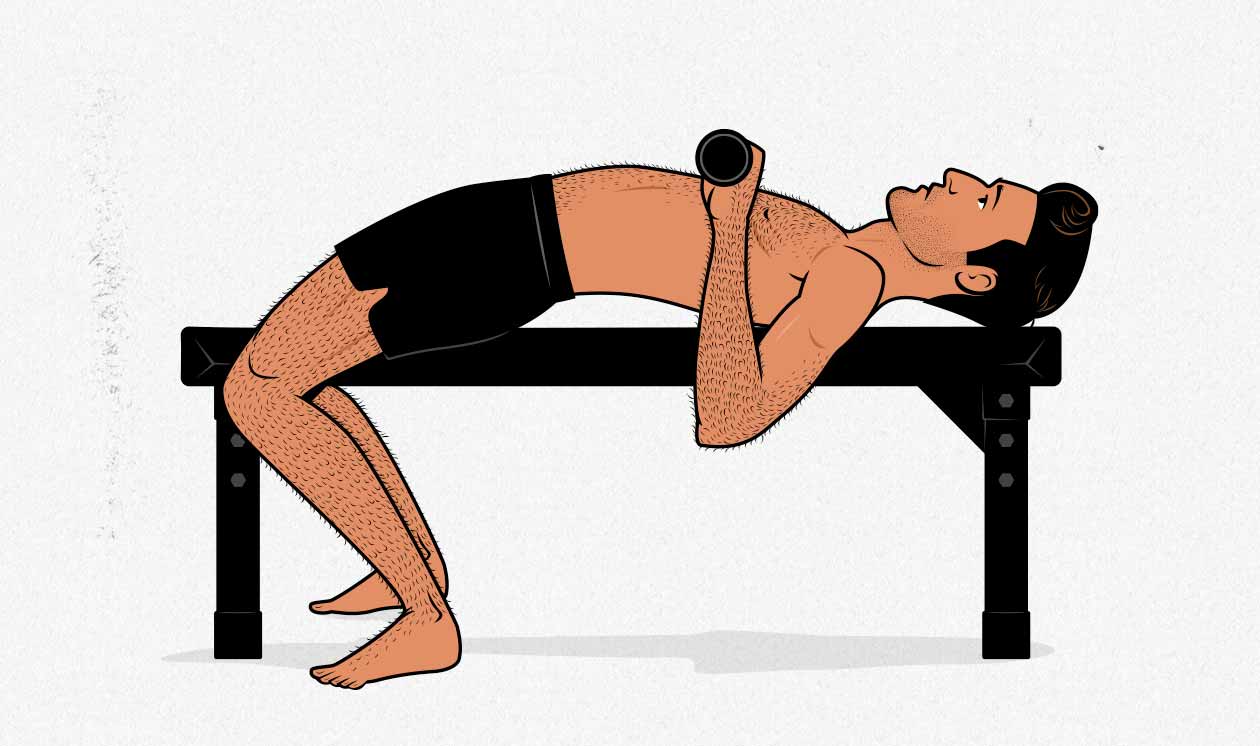 Unfortunately, weightlifting is not one of those sports. Well, except for the deadlift, which is arguably the most badass of all lifts. The deadlift favours our long reach and light bodyweight, and a routine designed for ectomorphs will capitalize on that.
But aside from the deadlift, weightlifting is a sport that stubby people excel at. Their shorter limbs mean that they have proportionally larger muscles, shorter lever lengths, and shorter ranges of motion. This means that a little muscle will go a long way, both in terms of lifting performance and how big their muscles look.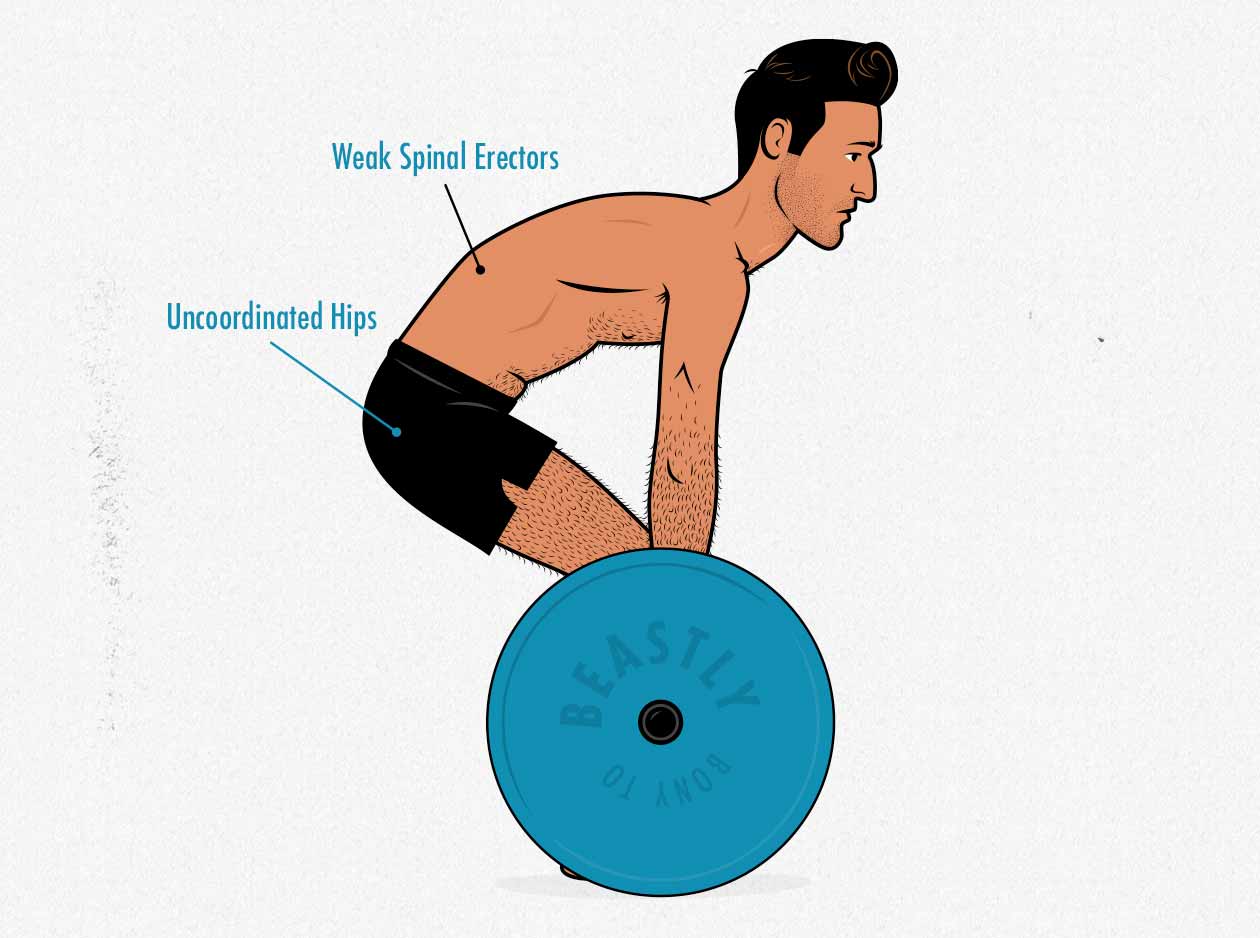 Moreover, since our spines are long, thin and not held in place by thick strong musculature yet, even the deadlift can be difficult to learn. Even though we don't excel at it right away, though, this makes the deadlift an extremely important lift for us. It builds up the musculature surrounding our spine that will fix and strengthen our posture.
This doesn't mean that we can't build muscle by lifting weights, or even that we can't become amazing weightlifters, but it does mean that we can't just jump into a strength training routine and expect to excel at it. We need to be more methodological about this. We need to take into account that our body type isn't the average body type, and that we have different weaknesses and advantages.
We talk about some solutions for these weightlifting issues in our article, Why Ectomorphs Need to Lift a Little Differently.
What Should We Do?
We've got a lot of obstacles in our way. Not because our body type is bad, but because it's rare. We have just as many natural advantages as disadvantages, it's just that following mainstream fitness advice is like shooting yourself in the stomach. It can often make it harder to gain weight because there are all these fat loss tricks buried into the advice.
"Eat clean." Hm, you mean reduce our calorie intake by removing the highest calorie foods from our diets? Well, that's a bad idea.
"Try intermittent fasting." Huh, and skip breakfast, meaning we need to eat an even bigger lunch and dinner? No thanks. (Here's our full article about whether intermittent fasting is good for bulking.)
This is why the skinny struggle is real.
This is why most of us will go through a period of assuming being an ectomorph is a genetic disadvantage. We might wish we had a different body type. We forget that our body type is probably the best one of all. It's the ectomorphs who have the famous Hollywood physiques, and most of the athletes who are famous for having badass bodies are ectomorphs, too.
We just need to learn how to combine a good ectomorph diet with a good ectomorph lifting program. Once we can do that, we can build muscle. And not in a slow and patient way either. We're far enough away from our genetic muscular potential that we can usually build muscle more quickly than the other body types.
Here's my progress over the course of a couple years: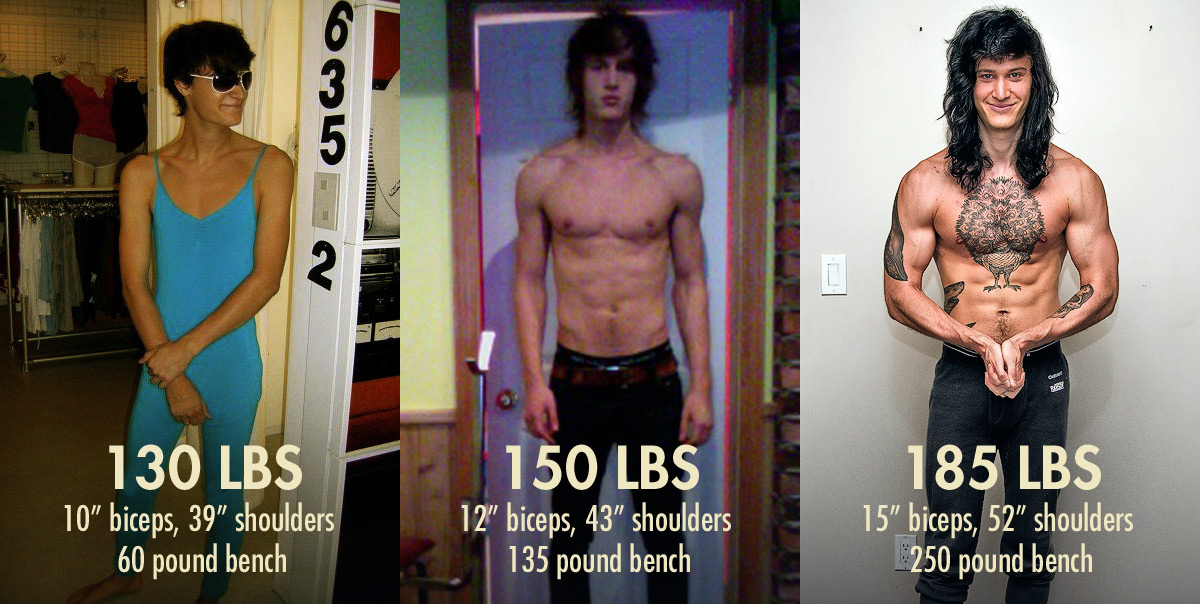 55 pounds in just a couple years might sound like a lot, but it's not unusual for a skinny guy to be able to build muscle this quickly. I wasn't perfect about it, either. I made a lot of mistakes, and it took me a long time to figure out how to bulk up properly. I wasted five years trying and failing, doing everything I could to gain weight by not gaining a single pound. In fact, the first time I tried to bulk up, I lost five pounds.
We want to save you from that fate. So here's an article we wrote about how to eat more as an ectomorph. Here's an article about how to lift as an ectomorph. I think those articles are a good place to start if you're interested in learning a little more about bulking up.
If you're sick and tired of being skinny and you want to start building muscle now, today, that's what the Bony to Beastly Bulking Program is for. We cover all the fundamentals of nutrition and appetite manipulation, and we have Gain-Easy recipe book full of delicious, cheap and convenient bulking meals. On the lifting side, we have a fully optimized bulking program designed with pure muscle growth in mind, and we have a video course that will teach you all of the lifts in the program, starting with simpler variations and bringing you to an advanced level of the course of a few months. We'll also coach you through the whole program in the Beastly community, making sure that you overcome any obstacle you run into. And we guarantee your results with a full refund policy. 20 pounds in 3 months or every penny back.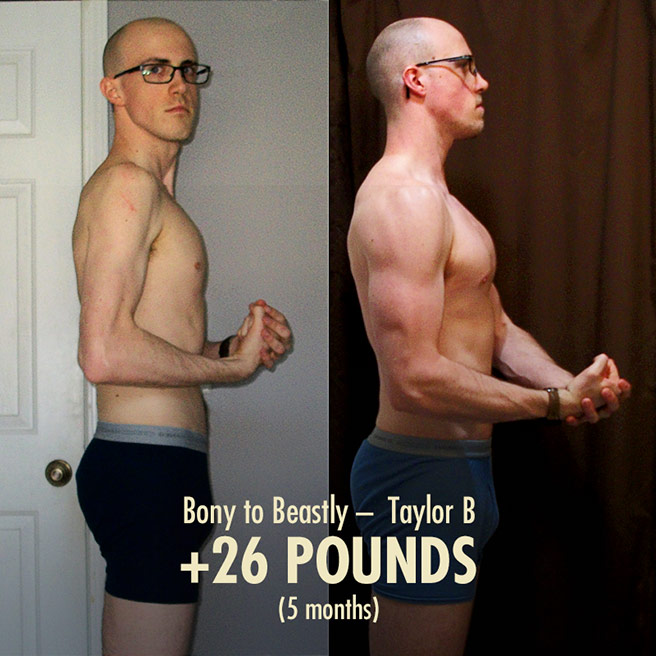 So the skinny struggle is real, but you can do this. And when you finally start succeeding, I think you'll realize how much of a blessing being an ectomorph can be.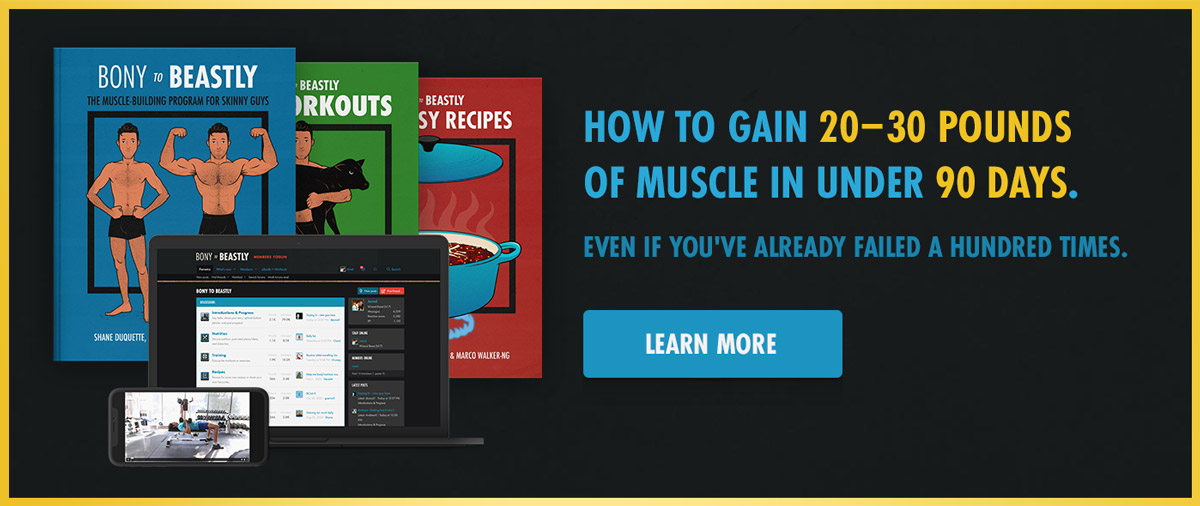 FREE Bulking Mini-Course
Sign up for our 5-part bulking mini-course that covers everything you need to know about:
Hardgainer genetics

and how to make the most of them
How to take a minimalist approach to bulking

while still getting great results

What you need to know about

aesthetics, health and strength

while bulking up