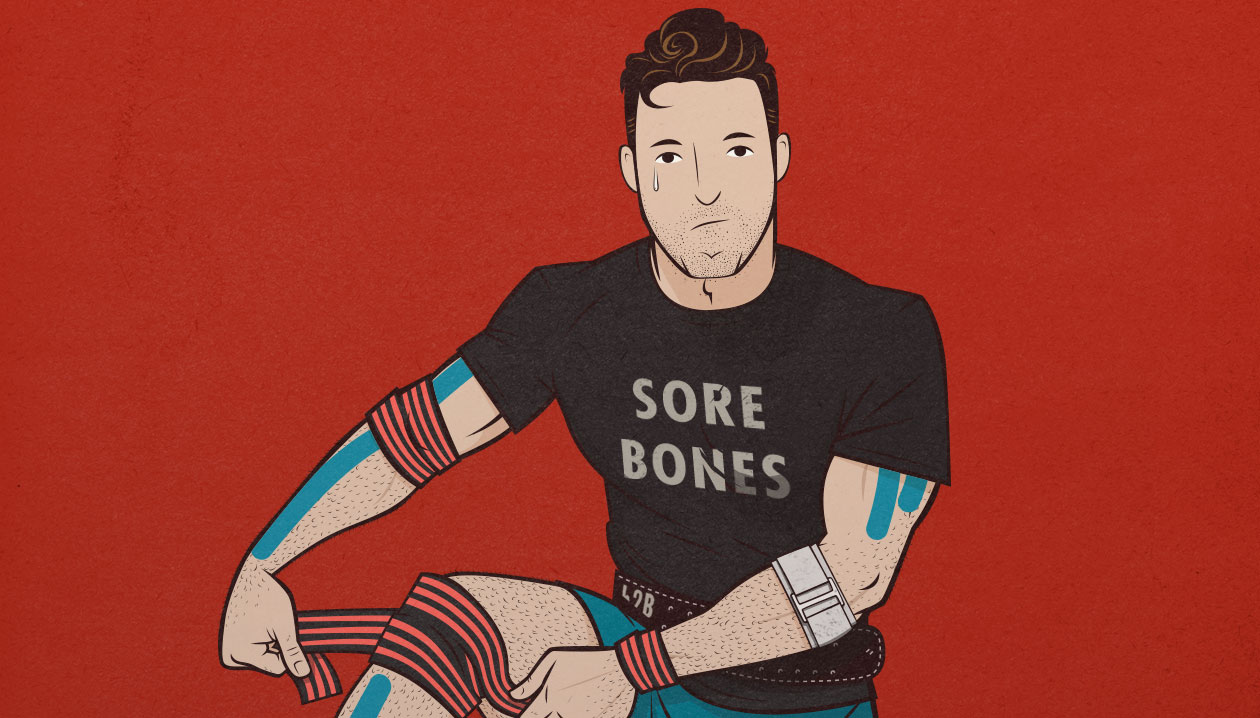 Train Around Chronic Pain & Still Build Muscle
I will be the first to tell you that chronic pain can really take away from exercise. It's a huge reason a lot of people do not enjoy activities as much as they could.
Over the years training clients and conversing with fellow gym folk, I've noticed a trend in fitness and in sports where a lot of people just push past chronic pain to reach their goals. They've accepted it as their norm. While I do respect someone's ability to get the job done regardless of their pain, I still believe that you can modify your training program to reach your goal and decrease pain.
I do not claim to be a pain specialist whatsoever, and I still refer people to see a physiotherapist if it is a serious injury. However, it's rare to meet a client who doesn't have at least one thing bugging them. You learn to tweak things, work around injuries, or even fix them. It's amazing what well progressed exercise can do.
Not everything requires a doctor visit, pain killers or bed rest. In fact, I believe staying active in a healthy way while recovering from an injury is one of the best ways to recover more quickly.
In this article, I'm going to go over my process of working around chronic joint pain with my clients.
Assessments
When I am assessing clients, I'm looking at how naturally they move. What are their sticking points, how have their muscles developed, how well do they transfer their weight from foot to foot? Usually, you can tell if something hurts because they avoid certain ranges or grimace while doing certain things.
I ask them to tell me, but sometimes it's hard for people to admit their limitations.
Don't be shy.
"What makes you vulnerable makes you beautiful." – Dr Brene Brown.
"But still, let's make sure you're a little less vulnerable next week." – Marco
Find out what hurts and what things make it hurt. This will be your progress marker when trying the strategies below.
Since I'm in the business of bulking people up, not fixing injuries, my first goal is to find ways for them to build muscle in a pain-free way. I will now go over the step-by-step process I use to do that.
The Method
My method is nothing new. Since I'm looking for fast relief, I'm thinking what can I do right now that can allow this person to get the job done. We'll go over some longer-term solutions at the end of this post, but let's start with the stuff that can have an immediate effect.
We'll use the example of coaching someone with knee pain through a squat.
Reginald is doing his first set of bodyweight squats for his assessment. He is leaning too far forward and is only going about halfway down. He tells me his knee hurts too much to go any lower. At this point, I look for the limiting factor, and maybe in this case I notice that his hips are tilted forward and his calves are stiff. I now suspect he is having trouble getting lower in his squat because his tilted hips are causing unwanted tension in certain areas, like his calves. This is making his squat feel awkward and painful.
Intervention 1—The 90/90 Hip Lift
This is an exercise that uses the hamstring muscles to restore a more favourable 'mobile' position to his hips. This exercise is used to balance out the tension so that it's not all in just one spot.
Re-Test. Reginald will then do another set of bodyweight squats and see how it feels. Most times he'll squat a little lower and it will look a bit smoother.
Intervention 2—Modify His Lifts
This intervention involves either modifying his lifts or teaching him how to do the lift with more favourable biomechanics. The first cue I might try is to relax more and "melt" into the squat. The next thing I'll do is give him a weight to hold out in front while he squats (a goblet squat), helping him stay more upright.
Re-Test. After this, we probably have a significant improvement in Reggie's bodyweight squat, both in terms of range of motion and technique. It might not be perfect, but it's more perfect. It's important to understand everyone is starting from a different spot. Not everyone will have an athletic squat right away.
Build Some Muscle
During his workout I will have him do a goblet squat variation to whatever depth is comfortable, focusing on breathing naturally through his sets. I will pair his squats with a reaching exercise, like a push-up. I'll add an extra reach at the end of the push-up to further get his center of gravity back. During his rest time, I will sometimes have him do a 90/90 hip if it worked well before.
Then we'll fill in the rest of his workout with lifts designed to build muscle and strengthen his body overall. After all, having forward-tilted hips and an awkward squat doesn't mean that Reggie can't curl his heart out.
How does this apply to chronic pain?
Speaking from a strength and conditioning coach's perspective, if you have too much tension in the wrong places, over time something is going to wear down. The breakdown tends to be in trouble spots, like the knees, back, elbows, and shoulders. So this approach is designed to balance out tension and create the feeling of a bit more joint space. The movement should start to feel easier and more natural, instead of like it's grinding up your joints.
You might have to drop the weight a bit to experiment with this. Not a problem, I'll mention a few ways of tweaking your program to account for this. And you can lift a little more weight in simpler exercises to make up for the lighter weight you're using with the technical ones. Sometimes, you may only need to do a few warm up sets until it's feeling a lot smoother then it holds as you up the weight.
Other Factors
Sometimes you have great mobility and fluid movement but your joints ache anyway. In that case, it could be that you're simply training outside of your recovery abilities. It could be that you fatigue too quickly. Get a look at how much volume you're doing, and if you're balancing out the proper amount of rest necessary.
One strategy to reduce the wear and tear you're putting on your body while still building a maximal amount of muscle might be to switch to higher rep ranges.
Dr. Brad Schoenfeld recently conducted a study where he had one group of participants start up a strength training program, the other start up a bodybuilding program. They each lifted with the same volume, and the programs even produced the same amount of muscle growth, but the guys who took a bodybuilding approach wound up with far fewer injuries, fewer aches and pains, and less general weariness (study).
In the Bony to Beastly Program, we take this into consideration by using a strategic blend of rep ranges, but even our fairly conservative blend of strength training and bodybuilding might be too much for some.
Application To Your Training
Let's review a couple concepts that can affect joint pain:
Posture
Coordination
Fatigue and Training Load
Now let's apply it to a guy who is doing 5×5-style training who is dealing with knee and elbow pain on his pulling movements.
His Program:
5×5 Back Squat
5×5 Barbell Row
5×5 Bench Press
His Improved Program:
5×12 Goblet Squat + 5×5 relaxed breaths of 90/90 Hip Lift
5×12 Neutral Grip Lat Pulldowns
5×5 Bench Press
2×12 Dumbbell Biceps Curls, Triceps Extensions and Shoulder Raises
Explanation:
We've made the squat more knee-friendly by switching to a different variation and increasing the rep range. He will still build just as much muscle, too. We'll work our way back up to the full back squat eventually, but while there's still chronic pain, there's no need to rush the process.
The 90/90 hip lift repositions the pelvis and ribs in-between sets so that each set is done with better form, more range of motion, and more balanced muscle activation. This ingrains a better movement pattern and starts to fix the problem in the longer term. Since the 90/90 hip lift also has an impact on shoulder positioning, he'll be working towards better elbow movement as well.
We've switched the barbell row for the lat pulldown to allow for less weight pulling on the elbow joint while he's regaining strength. Switching to a neutral grip also reduces strain on his elbow joints.
To make things even better, cueing "smoothness" helps to take away unnecessary tension from the exercise. Since he is working with lighter weights that before, he's more likely to breathe through the lifts instead of holding his breath and trying to force things.
The third exercise, the bench press, was left alone because it wasn't causing any issues.
Then because the client is after muscle growth, we've added in some extra exercises that are easy to recover from, won't stress the areas he's struggling with and will make sure that he's fully stimulating the areas he's trying to grow.
Real Life Example
Context: Charles' first session, complains of a stiff aching back often.
We begin the warm up with a 90/90 hip lift followed by some toe touches. During this time, I'm not cueing him, I'm just letting the hip lift shut off his back. As he feels his back loosen up more, we begin doing more mobility drills periodically interrupted by more 90/90 hip lifts. Since we were doing goblet squats that day, he won't leave the warm up until his squat feels free. That way when we start the workout he's not worrying about a tight back, he's enjoying the release that comes with physical exertion. After the workout his back felt much looser. His homework is to do his hip lift daily and try to be a bit more active as he still gets a stiff back when he sits for long periods of time.
Conclusion
Before overhauling the program, try adding in the 90/90 hip lift to your warm up and work your way up to your weight with some smoother, more natural lifting. Think less, and work within your ROM that is comfortable even if your technique is not perfect.
If you still have pain, consider modifying the rep scheme, going for higher reps and lighter weight. Or just spend a bit more time with the 90/90 Hip lift and regressed versions of the exercise.
Take an inventory of your training volume and your recovery and see if they match up.
I've had clients whose pain actually got worse from giving them too many cues since it made them too stiff. I've since learned to work more with what people already have instead of trying to make them perfect on day one.
By adding repositioning exercises and aiming for natural movement, you may not have perfect technique on day one, but you'll get your workout done, build muscle, have fun… and then before you know it, your technique might actually look pretty dang sweet too.