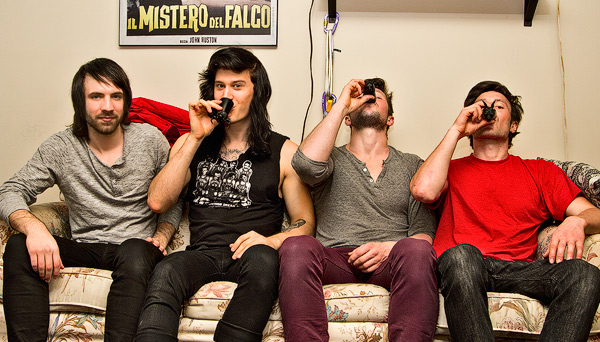 Should You Drink? The Surprising Facts About Alcohol & Muscle Growth
You've probably heard that alcohol calories will make you fat and that beer causes beer bellies. You may have heard that alcohol consumption negatively affects your metabolism and testosterone production, or even that it hampers protein synthesis. You might also be thinking this is nutrionazi Shane ordering you to vacate the bar. If you knew me better you'd know otherwise—being a beast is about enjoying life, not raining on peoples' parades. If I wasn't too busy dancing my glutes off at a rock 'n roll show—beer in hand, I'd be the one at the bar telling you that you don't need to worry about a few shots of vodka or a hearty glass of scotch.
That might sound strange coming from the guy telling you to put down the cupcake and stick to the steak, but the facts on alcohol consumption back up my lack of concern for the state of your shredded abs while having a drink with your friends. Most of the hype surrounding the negative effects of alcohol are exaggerated, avoidable or just plain wrong.
B-b-but the experts say that I can only have a couple drinks a week or my results will be significantly diminished! Yes, a lot of bloggers and hardcore fitness dudes say exactly that, and some of them may even be very intelligent and muscular pillars of health. This information seems legitimate because of all those guys that are rockin' really unattractive beer bodies. Yet you've probably seen incredibly fit guys prancing around the bar with their biceps flexed thinking they're God's gift to the ladies—and they may have been incredibly drunk at the time! (why else would they be prancing around like that?) So how do we solve this conundrum?
I say turn to the research. When mainstream media fails us, it's time to dig into the studies a little deeper.
First, some basic facts about alcohol:
A) There are lots of different types of alcohol, and the type we drink is called ethanol. It's formed from the fermentation of dense carbohydrates (wheat, corn, potatoes, grapes, etc) and during that process transforms into a new kind of macronutrient: alcohol. It's a non-essential nutrient, so total abstinence isn't bad for our bodies, just our parties.
B) It weighs in at 7 calories per gram. Carbs and protein weigh in at 4, while fat weighs in at 9. This makes alcohol a fairly dense little demon. It's also consumed in liquid form, which makes it incredibly light on the appetite. This means that we can consume a lot of calories quite effortlessly. Not a big deal for us ectomorphs, but for the beefy boys this is bad news.
C) Similar to protein, alcohol results in a lot of thermogenesis. As you may already know, people with high protein diets burn more calories and produce more heat. This also happens with alcohol consumption. Whiskey really will keep you warm—go figure. This somewhat negates the fact that alcohol packs a heavy punch calorically.
D) Regular alcohol consumption seems to positively affect insulin sensitivity. (study, study) This is where stuff gets really interesting, because this allows your body to direct calories away from fat storage during your day to day life. This is potentially why regular alcohol consumption is associated with longer lifespans and a reduced risk of cardiovascular disease. I should point out that this is for people who regularly consume reasonable amounts of alcohol, not for the guys who have 20 shots in a row once a month (those guys put most of the calories in the toilet).
E) Alcohol is absorbed throughout our entire gastrointestinal tract (GI) and the rate at which it's absorbed is affected by how much food we have hanging out in there. Alcohol gets immediate processing priority though, because our liver loves to use alcohol as fuel. It's nearly impossible for alcohol itself to be stored as fat because our liver is incredibly good at metabolizing it and terribly inefficient at converting it into fatty acids. Fat gains from alcohol calories, if any, will be very very negligible. I wouldn't worry about it at all.
F) Alcohol suppresses fat oxidation. This means that your body is much more likely to store fat, as it can't be oxidized away. Luckily the alcohol won't be converted into any significant amount of fatty acids, so this isn't necessarily a problem—unless you're also eating a cupcake.
G) There's an enzyme called liver alcohol dehydrogenase (LADH) that limits the amount of ethanol we can oxidize. A typical 155 pound man can oxidize one "drink" per hour. One drink is classified as 15g of ethanol, and that works out to be 1.5 shots (vodka, whiskey, tequila, etc), a pint of beer (one bottle), or a 5oz glass of wine. You would legally be considered drunk after four of them in an hour. That's the equivalent of 6 shots of vodka, 4 pints of beer, or 4 small glasses of wine.
H) You feel nauseous if you over-drink because alcohol produces toxic byproducts called acetaldehyde and acetate. These are, in a sense, anti-alcoholism toxins, because in small quantities these toxins produce negligible effects, but in large quantities they cause you to want to avoid alcohol in the future. Sadly, these byproducts interact negatively with Tylenol, and thus you risk damaging your liver if you try and cure your hangover with it.
I) You may wonder why alcohol makes you sleepy, and then oversleep, and then remain tired the next day. This is due to the release of the inhibitor gamma-aminobutyric acid (GABA), which makes it easier to fall asleep, but harder to fall into a deep sleep, where the real benefits of rest occur.
J) Alcohol lowers testosterone production. Dammit. But only by a little bit … maybe. Studies like this one shows that moderate alcohol consumption doesn't effect testosterone at all and studies like this one show that alcohol increases testosterone production. Going with the worst possible outcome though, this study found that if you were to have three drinks every night your testosterone production would go down by less than 7%. This is, however, totally irrelevant. Considering the amount that your testosterone goes up if you're eating and training properly, as per the Bony to Beastly way, this really won't affect too much of anything, and certainly not noticeably. To put this into perspective, by eating a diet conducive to testosterone production, Tim Ferriss (bestselling author) was able to increase his testosterone production by almost 300%. So you'd be much much much better off going to the gym, doing a full body workout with heavy weights, coming home to a hearty meal, and then heading out and having a few drinks with your friends than you would be if you spent the night at home worrying. Even more so because worrying also lowers testosterone production. Plus,  If you down 10 beers in a binge drinking spree though, you've got a 23% reduction in testosterone that lasts for 16 hours. (study) Could be better, could be worse.
K) Alcohol probably won't affect your ability to synthesize protein. The protein synthesis rumours you may have heard stem from studies done on rats, but the studies on humans have been finding, well, nothing. There aren't any. In some hardcore alcoholics their ability to synthesize protein is diminished, but this has to do with a condition (chronic alcoholic myopathy) that sometimes comes along with the alcoholism, not the alcohol itself. (study) So we really don't know what happens to protein synthesis when a healthy dude is a moderate drinker. The reason I say that it probably won't affect your ability to synthesize protein is that this study looked into the body composition of alcoholics and found that they preserved muscle mass just fine regardless of how long they'd been alcoholics and how much alcohol they'd been consuming. If you wound up with chronic alcoholic myopathy that would change, of course, but that's irrelevant for your non-alcoholic drinker, who obviously wouldn't have it. So, presumably, you could have a couple drinks every day for decades and your muscle would be just fine, indicating that your ability to synthesize protein would also be just fine. (Admittedly this is an assumption.)
L) While the overall body of evidence currently indicates that moderate alcohol consumption likely comes with a lot of perks, alcoholism comes with a plethora of negative side-effects (especially when combined with smoking). I'm not addressing alcoholism here because I feel that goes without saying. Alcoholics are riddled with heart disease, health problems and higher rates of cancer. Abstainers though, surprisingly, have the next highest mortality rate.  Moderate drinkers have been proven time and time again to live the longest (study, study, study, study), which is admittedly a little peculiar, since the mechanisms behind the supposed head benefits of alcohol aren't well understood yet (although this study sheds some light on that). If you stick within light to moderate alcohol consumption (1-3 drinks per day) then you probably have nothing to worry about and can potentially collect on a bunch of health benefits, including a stronger immune system, a decreased chance of getting the common cold, Alzheimer's, dementia, metabolic syndrome, cancer, arthritis, heart disease, and depression. (study, study, study, study, study, study, study, study) The absolute healthiest amount to drink is one drink per day, and the negative effects start to come after about 3.5 drinks per day.
Moderation for the Win (The Inverted-U Curve) 
Alcohol is a beautiful example of something called an inverted-U curve (the curve that looks like a hill). The inverted-U curve describes situations where total abstinence produces minimal results (and more would be a lot better), a slight intake produces modest results (and more would be a little bit better), a moderate intake produces optimal results, a slightly heavier intake produces okay results (and a little bit less would be a little bit better), and a high intake is back to producing minimal results (less would be a lot better).
This is so true with alcohol consumption that when Malcolm Gladwell describes the inverted-U curve in his latest book, David and Goliath*, he uses alcohol to illustrate the point:
"A classic inverted-U curve can be seen in the relationship between alcohol consumption and health. If you go from not drinking at all to drinking one glass of wine a week, you'll live longer. And if you drink two glasses a week, you'll live a little bit longer, and three glasses a little bit longer still – all the way up to about seven glasses a week. (These numbers are for men, not women.) That's the upslope: the more, the merrier. Then there's the stretch from, say, seven to fourteen glasses of wine a week. You're not helping yourself by drinking more in that range. But you're not particularly hurting yourself either. That's the middle part of the curve. Finally, there's the right side of the curve: the downslope. That's when you get past fourteen glasses of wine a week and drinking more starts to leave you with a shorter life. Alcohol is not inherently good or bad or neutral. It starts out good, becomes neutral, and ends up bad."
*Surprisingly fitting book to quote, considering David and Goliath is about the naturally skinny guy using his intelligence and training to gain the advantage over the naturally enormous guy.
So… if I'm not an alcoholic do I need to worry about alcohol making me skinny-fat?
No. (study, study) What all this means is that if you go out drinking you don't need to worry about losing your hard earned muscle or adding fat to your frame…. unless you're also doing nutritionally dumb things while drinking your alcohol. You may tend towards doing one of these three things:
1) Not getting in your daily nutritional needs to build muscle because you've filled up on beer and skipped 3 meals. This will limit your muscle growth, but has more to do with your habits surrounding alcohol than the alcohol itself. Eat like a bear and your problems disappear.
2) Ordering drinks that are full of sugar. I won't call you a sissy, but I will remind you that since alcohol reduces fat oxidation, all of that sugar heads straight towards your belly. Luckily, once you develop a healthy lifestyle you'll find that you don't crave tons of sugar, and your taste in ultra-sweet alcoholic drinks will likely disappear.
3) Drinking a ton of alcohol and then eating processed fat-person food, because alcohol has left you hungry and stripped you of your inhibitions against eating junk. With my small stomach and appetite this was never a problem for me, but I've seen many a friend build a belly this way.
So if you drink stereotypically masculine drinks and eat like a beast all your problems are solved? Almost. Red wine, whiskey, scotch, tequila, vodka, rum and gin pretty much only have calories from alcohol in them, meaning they're pretty solid choices. I got lucky here, because my three favourites are on the golden list: red wine, whiskey and tequila. This presents a problem for most guys though, since beer has carbohydrates in it. You could order light beer, which has fewer carbs, but who wants to be drinking light beer? Not me.
At this point I want to point out that even if alcohol were bad for muscle growth, there's always room for moderation in any diet, no matter how strict. This applies to beer, and, as much as it pains me to say this, this even applies to cupcakes. The problem is that three beers turn into 10, and one cupcake every couple days turns into 2 cupcakes every day. If you keep 90% of your diet "clean", then you can still achieve near-maximal results. The difference between 90% and 100% compliance is very negligible. When the occasional indulgence becomes a daily habit though you start to notice your fitness goals sprinting off into the distance while you're left bony and gasping for breath. A couple beers is nothing to stress over though, especially since if this is a regular part of your lifestyle you also get all of the benefits, like increased insulin sensitivity. So while you may regularly be consuming a few carbs at a bad time, you'll also be improving your body's ability to build muscle and lose fat.
A lot of you reading this article are probably at a point in your life where you're willing to temporarily make dietary sacrifices in order to rapidly achieve an incredible physique, strength and health transformation. I'm testing the Bony to Beastly program right now, up 21 lean pounds in 10 weeks, and at exactly that point in my life. Sometimes I'm willing to forego moderation in exchange for accomplishing what I want to accomplish more quickly. I still drink though.
Here's a good way to drink while still rapidly accomplishing ludicrous goals:
1. Fat Loss: If you're going to be drinking a fair amount and want to lose fat while doing it, simply avoid fats and carbs. This includes several hours before you start drinking, as your body takes a long time to process food. Your pre-pre-drink meal should thus be really really high in protein. While you're drinking you'll be taking in calories in the form of alcohol—and that's okay. After you finish drinking have another protein filled meal: greek yogurt, chicken, lean meat, low fat cottage cheese, etc. If you're only having a drink or two a night I wouldn't worry about it, and the net effect will likely be positive. In this study they gave one group 150 calories of wine each day and the other 150 calories of grape juice. The wine drinkers came out leaner. Not by much (1kg leaner than the other group after 3 months of dieting) … but still leaner.
Studies have found a similar effect with beer. Isohumulones, which come from the female hop plant, are what give beer its bitter taste. They also give beer the (slight) ability to stimulate brown fat tissue, which resulted in a statistically significant reduction in visceral fat—the unhealthy kind of fat that surrounds our organs (study). So, surprisingly, beer has a compound in it that can actively combat beer bellies? Who knew!
2. For Muscle Gain: Have a couple/few drinks and enjoy. Similar to #1, protein is the top nutrient you'll want to be consuming surrounding your drinking to minimize fat gain, but I wouldn't stress about it. It's important to make sure that you keep up your large intake of beastly foods in order to fuel muscle growth of course, but this doesn't really have anything to do with alcohol unless you really take your drinking to excess.
3. For long-term health and a badass beastly lifestyle: Have a drink or two most nights. Beer, wine, whiskey—whatever. Kick back, relax, unwind. The alcohol comes with several long-term health benefits and will have a positive effect on your ability to build muscle and dodge fat. In addition to that, if you enjoy your alcohol while hanging out with friends, reading a book, or unwinding however you like to unwind you also get all the health benefits of relaxing.
Now if your goal is simply to look better, alcohol can definitely help, even in the short term. Simply give some to your lady and she'll find you more handsome in no time!
Cheers!
Resources; when writing this article I read a lot of pub med studies, and revisited a lot of books and articles from my favourite researchers and writers in the nutrition, health, athletics, and strength fields. Special thanks to nutritional badass Alan Aragon, supplement review website examine.com, sports nutritionist John Berardi, nutrition consultant Martin Berkhan, author Malcolm Gladwell, and researcher/writer/fellow wine lover Tim Ferriss.