Frequently Asked Questions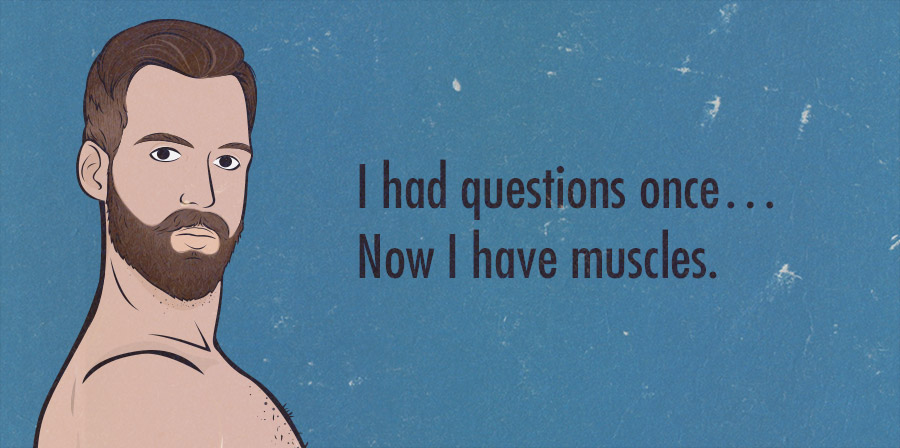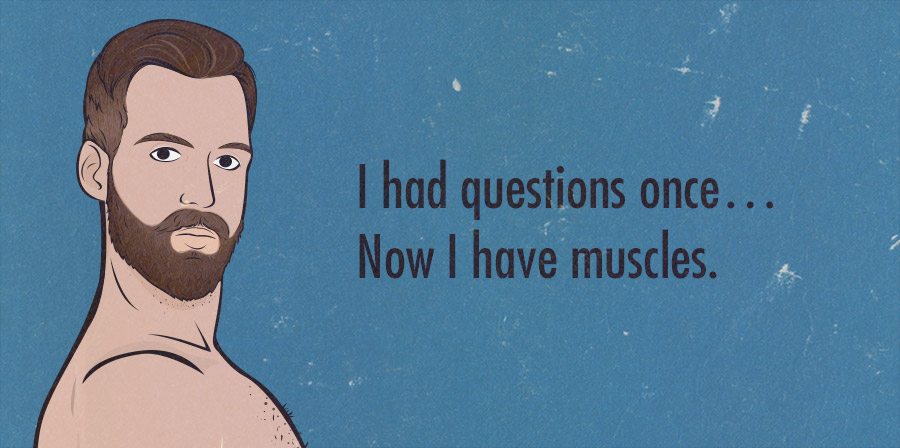 We read every single email we get and try our very best to answer all of them. Over the past couple years we've gotten several thousand questions—many of them similar to one another. Around 90% of the questions we get are about the Bony to Beastly Program, and whether or not we're a good fit for one another. We've covered those questions in the last section 🙂
However, to make things a little more interesting, we've decided to answer the common questions we get in the member community too—questions about being a skinny guy, weightlifting, nutrition and supplements. That way this isn't just a giant advertisement for our program (although let's be real here, you should definitely sign up for the program).
Oh—and as per usual, this is not medical advice, or even advice at all. Always consult your doctor about any questions related to exercise, nutrition and health.
Okay, here we go:
1. Skinny Guy Problems
3. Exercise & Weightlifting Questions
4. Aesthetics & Size
5. Health & Wholesomeness
That's totally cool. You don't need to take supplements to build muscle, and you certainly don't need to take supplements to do our program.
As a skinny guy, creatine terrified me—I thought it was like steroids. I was way way too scared to walk into a supplement store and ask for it, let alone keep it around my room for other people to find. Having creatine seemed both scary and also embarrassing. So I gained my first twenty pounds without it, going from 130 pounds up to 150 pounds.
When it came time to gain more muscle, I enlisted my roommate, Jared, to be my summer-time training partner. (That story here.) I was a little more confident, since I looked somewhat fit and healthy, and I also had my roommate in on it. By then I'd done more research into creatine too, and learned that it wasn't anything like steroids. So we bought some creatine. Jared gained 5 pounds within that first week, whereas nothing crazy happened to me. I assumed it wasn't working (probably incorrectly) and I stopped taking it. Jared finished the tub on his own. By the end of that summer I'd gained another 22 pounds, bringing me up to 172. (Jared gained 37 pounds, going from 130 up to 167.)
During my third and final muscle-building spree (while testing the Bony to Beastly Program), I went from 170ish up to 190ish. Since I hadn't used creatine before and wasn't even sure if it even had any effect on me, I decided to skip it.
So I gained 60ish pounds of muscle without any creatine. I did use whey protein though, just to make things a little easier and more convenient. (Whey protein offers no advantage over whole food protein sources, other than being convenient and easy on the appetite.)
Frankly, supplements pale in comparison to the effects of lifting and eating heartily (and cleverly). Lots of our members choose not to use any. They do great.
---
Oh hell yes. Weightlifting—or more specifically getting strong and building muscle*—is amazing for your health. It reduces your all-cause mortality (study), which means that it reduces your chance of dying from everything—heart attack, cancer, loneliness, polar bear**, etc. 
The study found that having higher amounts of muscle mass and strength improves blood pressure, lowers cholesterol, reduces triglycerides, improves insulin sensitivity and blood sugar levels, and reduces the signs of aging. Part of this is because weightlifting improves cardiovascular / cardiorespiratory fitness, but even after that variable was controlled for, the added muscle mass and strength still significantly reduces your chances of dying from everything. This suggests that while cardio is certainly great for your health, for optimum health you'll also want to be a strong dude.
This is the latest and greatest study, but these findings have been unanimously confirmed by dozens of studies, including these two: study, study. Hell, weightlifting is even being officially recommended by the American Heart Association (study) and the American College of Sports Medicine (study).
If that's not enough to get you psyched to burly-up, it turns out that the "meathead" stereotype is actually dead backwards. Strenuous physical activity—like heavy weightlifting—stresses the brain and promotes adaptation and growth, improving brain function. Not only does weightlifting keep alive and healthy longer, it also improves your memory, concentration, mood and ability to learn (study).
*Building muscle is also a matter of nutrition, which is also strongly tied to health and longevity.
**We're Canadian
---
6. Can I do the Program?
2. Nutrition & Supplement Questions
As you likely already know, plant-based diets are pretty sweet. Most of the healthiest cultures around the world base their diets around fruits, vegetables and grains. Compared to your average dude, in many ways you're already rocking a rad advantage. (Moreover, most people vastly overestimate the amount of protein they need to build muscle.)
When it comes to building muscle, the nutrition rules are the same for everyone. But that doesn't mean that everyone needs to eat exactly the same diet. Everyone has different preferences, limitations, ideologies.
As far as our program goes, we practice something called "flexible dieting", which allows people to eat in a way that best suits them on an individual level while still getting optimal results. It's not like we're trying to force feed all of our members tuna shakes at precisely 8am or anything. You'll be making your diet your own, and we can help you with that.
So eating a plant-based diet is totally cool, and many of our members choose to go that route.
---
I'm glad you asked. Check this article out.
And keep in mind that you don't need any supplements. Training and nutrition—that's where the real muscle comes from!
---
Effectiveness. Creatine does work, but it's often hard to get an idea of exactly how well it works, since every study has slightly different findings. It seems like if you lift weights well and eat well, creatine can accelerate your gains. That's important to keep in mind: it will not help you gain muscle if you aren't already gaining muscle.
For an idea of how well it works, a 2004 study found that the group of participants taking a placebo increased bicep size by 6% over the course of six weeks, whereas the group taking creatine increased their bicep size by 10% (study). A 2010 study had similar findings—creatine increased muscular gains by about 20% (study). These studies are a dime a dozen—there are hundreds confirming the effectiveness of creatine.
It's not just water weight or anything either—these size increases come along with significant strength increases, and these muscular gains will stick around even if you stop using creatine.
Safety. The only known side-effect of creatine is stomach cramping, which just means that you aren't digesting it properly. Taking smaller doses and/or drinking more water usually seems to fix that. There are no long-term health issues or anything, and it's been rigorously and critically studied for several decades now.
Health. Creatine seems to be pretty great for general health in a number of ways, although research is still limited. It's both cardioprotective and neuroprotective. As for being good for your heart, it seems to have a positive effect on insulin sensitivity in guys who exercise (study) and it may help reduce cholesterol and triglycerides (study). For your brain, it may help prevent and treat depression (study) and it's currently being researched for prevention and treatment of Alzheimer's (study).
This research is all still preliminary though. Most of the research done into creatine has to do with muscle strength, size, power and speed.
If you want a more thorough explanation of creatine, check our article on muscle-building supplements for ectomorphs out.
---