How to naturally gain
20 pounds of muscle

in under 90 days. Guaranteed.
The muscle-building program for naturally skinny guys.
Time to make muscles or excuses:
This is the official Bony to Beastly muscle-building program. All of the amazing transformations you see around the site are from this program. The program covers absolutely everything you need to build muscle as quickly, safely and aesthetically as humanly possible, and we're here to coach you through the entire process.
You need:
Heavy weights to lift. A gym membership is perfect. A home gym is perfect too—all you need are a couple heavy adjustable dumbbells and a bench.
A willingness to lift those heavy weights. For optimal results we recommend three hour-long workouts per week. We'll teach you exactly what to do, but you actually need to do it.
A willingness to attempt to eat more. We can teach you how to eat more easily, more quickly, more affordably, and more effectively. But let's be real here—eating enough to build muscle won't always be fun—but you'll have every advantage to keep crushing calories.
If you can do those three things, we guarantee 20–30 pounds within the next 3–5 months. That's our promise to you, and we stand behind it with a full 100% refund policy within 90 days. No fine print.
Newsletter + Free Chapter
We'll keep you up to date on all the cool stuff you'll want to hear about and we'll email you chapter one from our program right away. Sound good?
The Complete Bony to Beastly Program
Second Edition—Brand New & Improved
This isn't a fad or an angle, a trick or a pill. We've assembled
everything

us skinny guys need to build burly muscles, bear-like strength, and superhuman health.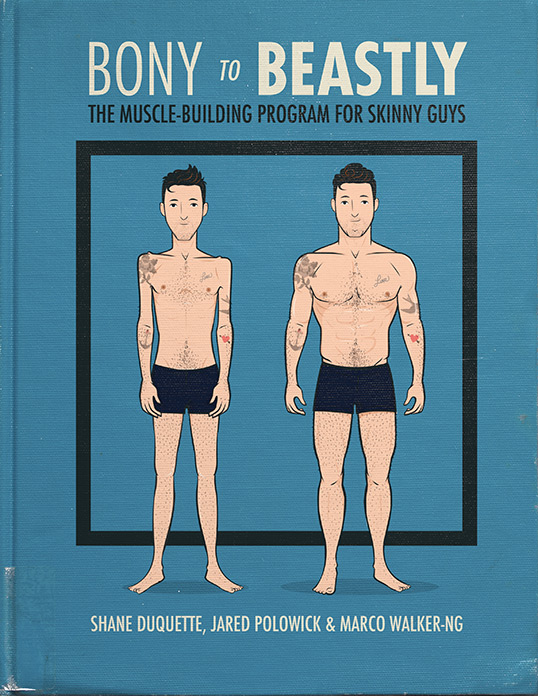 The Bony to Beastly eBook
The eBook covers the fundamentals of building strong, functional muscle through solid strength training and nutrition. (We touch on health, too.) Keep in mind that we're a program for skinny guys, so this approach is designed to build muscle quickly while overcoming ecto-hurdles like:

A small stomach capacity
A meager appetite
A fast metabolism
Lanky arms
Cooking cluelessness
A long spine
Stubborn muscle groups
Poor posture
Not getting fat while bulking
Highlights:
We know you don't have the bottomless, eager stomach that all the other programs take for granted. We'll teach you all about how appetite works, along with how to manipulate it to reach your goals.
We have natural advantages too though. We'll teach you how to take advantage of our naturally higher insulin sensitivity so that you can cram specific muscle-building nutrients into your body at exactly the right moments, allowing your muscles to grow as quickly and leanly as possible.
Many guys have poor posture and a couple nagging aches or issues. We'll help you work around any problems you have, whether diet or exercise related.
We'll make you tough. This program will improve your bone density, tendon strength, joint health, stabilizer muscle strength, posture and general health.
You'll learn how to build muscle with real food. Learn how to build a fully optimized muscle-building diet out of cheap, regular foods that you can find at your local grocery store. Your diet will still look kind of normal, but you'll be getting way more muscle out of it. It'll be healthier, too.
If you want to use supplements, you'll learn about the ones that actually work for us skinny guys. You'll even learn how to make your own super-supplements by combining your own ingredients. This approach is more effective than buying a name brand, it saves you money, and you'll control exactly what ingredients and how much of them are in it.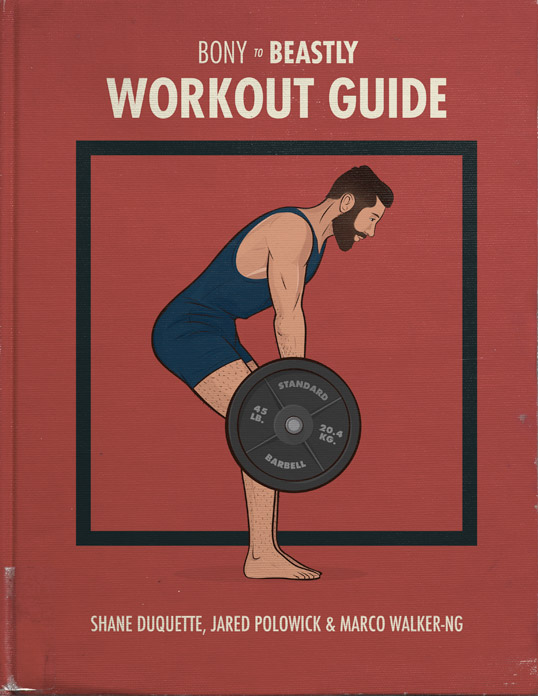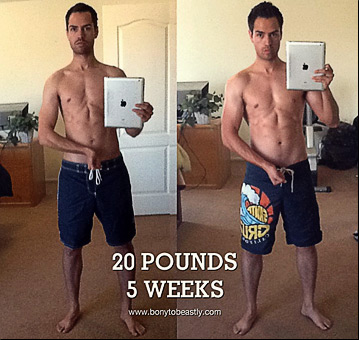 The Workouts + Guide
We know you want to bulk in a hurry. This isn't one of those programs where you slowly, leanly build muscle over several years. This is the program where next time you see your extended family they're going to be asking you if you're on steroids.
However, us ectomorphs are a rare breed. A one-size-fits-all bodybuilding approach isn't the right solution for us. These past few years have been exciting for muscle-building research. There's now solid scientific evidence behind some of the tricks that bodybuilders, athletes, strongmen and even callisthenics guys use. We combine the best of all of them.
There's another factor to consider as well. By putting a slight emphasis on certain muscle groups we can create a more powerful looking physique. One of the reasons actors are able to make such impressive transformations isn't because they gain a lot of weight, it's because they gain a lot of weight in the right places.
How?
By emphasizing the posterior chain (the muscles along your spine) you can quickly develop a thick, strong, wide back with strong traps and broad shoulders, aka, the masculine v-taper. Studies have found that developing these particular muscle groups will get your body rated as the most attractive by women. This makes sense, as this type of physique is (and looks) the strongest.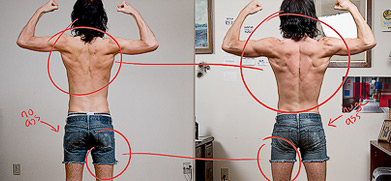 By developing the posterior chain this will stretch your shortened pec muscles, making them look wider, and also making them activate more readily when you do the bench press and push-ups. This will lead to greater chest growth and aesthetics.
The back muscles also work in conjunction with the biceps in most major pulling lifts, like the chin up, meaning that this protocol will also result in the largest possible bicep growth. Not a bad bonus! But...
Us ectomorphs often have incredibly lanky arms. It isn't our fault—they're just really damn long. We need to approach arm training a little bit differently in order to get maximum growth. Following a basic strength training approach centred around compound lifts is all well and good, but without direct arm work our biceps, triceps and shoulders will lag behind.
So we include a lot of extra arm work. And some extra chest work too.
The best way to become a strong man is to emphasize heavy spinal loading. Heavy lifts like the squat and deadlift aren't famous because guys want to look like a tyrannosaurus, they're famous because each will each stimulate literally hundreds of muscles, stimulating muscle growth in all of them. In addition to this, the heavy load on the spine will help optimize your body's overall testosterone production.
Us ectomorphs have a problem here, because back squats and deadlifts have a very steep learning curve and require a ton of pre-existing back strength. This is why we begin use simpler variations that'll allow you to lift heavier, more frequently, and with a greater hormonal response. (If you're a more advanced lifter, this is optional and can be skipped.)
We used the best available scientific evidence to meticulously optimize exercise selection, rep ranges, weekly lifting volume, tempo—everything. Even the rest times between exercises are geared towards giving you an impressive physique.
All of this is clearly organized phase by phase. No guesswork involved. Write in your results week by week, track your strength gains, and collect your weekly muscle cheque.
The Muscle-Building Recipe eBook
What good is understanding nutrition if you still don't know what foods to eat or how to prepare them?
Jared and I had a lot of trouble figuring out what to eat when we first started, and not surprisingly, considering most recipe books don't care what effect their recipes have on your physique and your health. The recipes that do take your health into consideration are usually targeted at people trying to lose weight—not all that helpful for us ectomorphs!
Most foods are a pain in the ass to prepare, too. The trick to leading a healthy lifestyle and building muscle like a champ is figuring out how to make it simple and enjoyable.
Want to cook up a huge pot of stew that you can divide up into portions and eat all week long? Want to whip up a batch of healthy homemade protein bars that you can toss in your bag and bring to school/work with you? Want delicious muscle-building meal ideas for dates and family dinners? Want to know exactly what to eat before bed to get peak testosterone production? We've even got tasty desserts that help you pack on muscle.
We're normal guys. We like to eat hamburgers, steaks, chicken fingers and fruit smoothies. But we know how to tweak these foods so that they give us the results we want.
To make things easier on you we also calculated out the calories, protein/carb/fat breakdown and explain the main muscle-building and health benefits of the meals.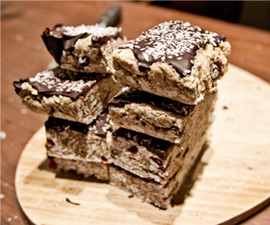 Online Training Video Library
I remember one of the first conversations I had with Marco about strength training went something like this:
Me: Well we're skinny, so I figure we're not lifting that much weight, so our chances of injury are small, right? I mean if a powerlifter can bench 500 pounds with shoddy form, I shouldn't be too worried about mine, right?
Marco: What?! No! Ah! You're an ectomorph with long limbs, a small bone structure, and low levels of musculature—you're an injury waiting to happen!!! Ectomorphs need to pay attention to form more than anyone until they've built some muscle mass! ... wait, why aren't you lifting much weight?
Oops.
Besides, there are a dozen ways to do each lift with a variety of different outcomes: general fitness, injury rehab, sports performance, cardiovascular health, optimizing steroids results, muscular endurance, getting stronger with gaining size (for strength athletes), and gaining size without any regard for strength (some bodybuilders). Most guys in the gym asked a friend or youtubed someone doing the exercise, having no idea what that person's goals were, or even if that person had any idea what they were doing to begin with.
We make it simple: lift like this, grow like a beast.
The online video library includes over 115+ videos, and is continually being updated with new content.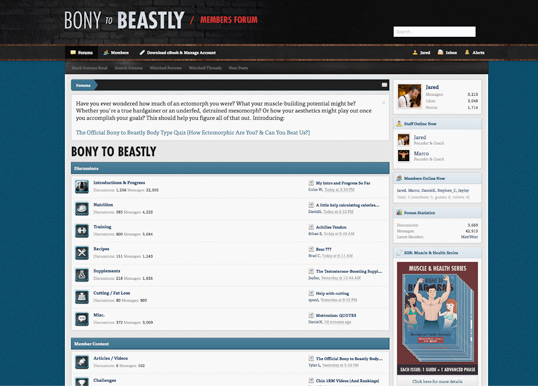 Coaching for One Year
We're all ectomorphs and we're all here to build muscle, but that does't mean we're all identical. We aren't. We all have different situations and we all have different goals. I mean, I might want to look like Brad Pitt in Fight Club, whereas you might want to look like Brad Pitt in Snatch.
Seriously though, nothing ruins a bulk like running into a problem and not having a clear solution. We're here to coach you through it, either through private messaging or in the forum discussions.
This is also where we can put you on a specialized protocol to further develop a lagging muscle group (e.g your chest) or a target area (e.g. your arms).
This isn't one of those programs where you send us a message and you might get an answer back maybe sometime. We're real people, and we really are passionate about this. We take your success with this program seriously.
We leave no bony behind.
Yearlong Membership in the Community
This is the members-only coaching community where all the before/after photos you've seen on this site come from. We encourage members to track their progress in a very specific way that allows everyone to see exactly how they're doing. This lets us give feedback to keep them on track, and it's also super motivating for everyone else in the community when someone finishes a 5-week phase and posts a new round of progress photos (usually having gained 3–10 pounds).
The forum is also a great place to discuss current issues when it comes to strength training and nutrition. There are advancements and interesting studies being published all the time. This is what we do for fun—it keeps us on our toes.
Plus, once you master the fundamentals and you're getting consistent results there are some really cool things you can do to further accelerate your muscle gains and strength.
We sent out a survey recently when making the new version of the program and nearly everyone said that the incredible community and coaching was what made all the difference to them. Guys liked the community so much that some have been with us for nearly five years now.
We really hope you decide to join us!
The Guarantee
If you're anything like me you'll have your doubts. I failed many, many times before I finally succeeded. After every failed attempt I would go through a period of acceptance. I would grudgingly try to accept the skinny body I had, convinced that I was stuck with it forever.
I was wrong.
The average member in the community will gain 8–12 pounds within just the first five weeks. We've seen guys following the program gain as much as 20 pounds in five weeks, and as little as "just" 5 pounds. These are regular skinny guys. Skinny guys who doubt their ability to build muscle, who have hectic schedules, who have finicky stomachs, and who have days where their willpower fails them. Our specialty is guys who think they suck at building muscle. And these are the guys gaining 8–12 pounds in their first few weeks, 20–30 pounds by the time they finish the program.
This will be true for you as well, guaranteed. We promise you that if you put in the work you'll have a much stronger, buffer body in a few months.
If you still have any doubts, don't worry—there's a full 100% money-back guarantee. Any time, any reason. No conditions or fine print.
Now it's time to build muscle—or excuses. *if you have any excuses please send them to us [at] bonytobeastly.com, so we can crush 'em


Here's what you'll get:
The b2B eBook Guide (Second Edition) downloadable in PDF format that covers everything about nutrition, working out, how to actually stick with it, supplements, and so much more so you can finally build muscle. The 250-page eBook starts with the fundamentals to get you started quickly, and then gradually introduces and covers complex topics such as the latest scientific research. So it's perfect fit whether you're a complete beginner or already quite advanced.
The 25-week Training Program in PDF format. 5 phases that are optimized to get you building muscle fast and as aesthetically and safely as possible.
The recipe eBook which includes 20 muscle-building recipes to get started with. Ranging from smoothies, on-the-go snacks, freezer-ready meals, date night meals, etc. Includes our famous beef stew recipe which makes 8 hearty and delicious portions—which is enough to cover your dinner for every night of the week!
One year of access to the online video library that includes 115+ videos of Marco teaching you how to do every lift you'll need to safely and aesthetically build muscle.
One year of online coaching so we can answer your specific questions about where you're currently at, diet or training restrictions you might have, help push past pleateau's, bring up lagging areas (like your chest or arms), etc.
One year of community access so you can ask questions, learn from others, and get held accountable to your goals. There's no need to go through it alone.
One year of free updates to the program. We're continually updating the eBook (such as when there are new supplement studies published), testing new workouts to do after the official program, adding new videos to the library, adding new recipes, etc. That way you'll always get the most up-to-date content.
After considering the value of this program we were told by a marketing expert to price the program at $397. But our goal is to help as many skinny guys as we can, and because the program is digital we can offer you the whole system for $197. Our guarantee is to get you building 20–30 pounds over the course of the 25-week workout program. Over that period of time the investment is less than the cost of a few coffee's per week.
We hope you'll give it a try, it's 100% risk-free. If for any reason you're not happy, just let us know, and we'll give you a full refund.
Ready to become a beast?