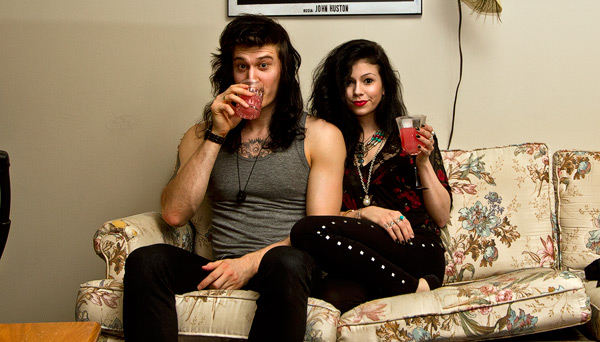 How to Deal with Bloating, Indigestion and Gas
Hey guys this may be a little overdue, depending on what you've been eating 😉
I went on a date last week shortly after training, and before heading off to the bar I crammed down as much food as I could: a 2 scoop whey shake, 2 bananas, 4 eggs, a shot of olive oil, and then I grabbed a litre of milk and started walking off to the bar. This is after finishing my 1200 calorie workout sugar/whey shake. I arrived just as I finished my litre of milk and greeted my date. I then quickly had to sit down to make sure none of that hard-swallowed nutrition came back up. She thought it was pretty funny, and 45 minutes of wheezing later I was back to normal.
During my recent muscle-building shake recipe experiments I ran into a couple duds and had a similar experience on another date, except this time my stomach expanded and I spent an hour or so burping uncontrollably. Conclusion? Soda + dairy is a really bad combination. These little mishaps reminded me of my struggles years ago, when I first started out on my journey to muscle-town.
Let me take you back to when I was a 130 pound hardgainer…
When I first started putting on some muscle and eating a huge surplus of healthy food I thought I was headed down the path to feeling awesome. It turns out after a couple weeks I did start to feel a lot better, look a lot better, and have a lot more energy … but I also started to bloat up like a blowfish. I had skinny-boy abs, but my dreams of having a washboard stomach were being ruined by the fact that my stomach now looked like a rock hard turtle shell. My abs were convex.
The other problem with this was that my stomach was inflated full of gas, and that gas needed to come out of somewhere. Having higher testosterone levels, more muscle mass, more confidence, more energy and being healthier than ever was fantastic for dating, but now my poor dates had to deal with the side effects of my bulking diet: bloating, indigestion and gas. I had 2 roommates too.
And it didn't help that my primary source of carbohydrates at the time was beans.
You may have an image of some poor girl plugging her nose and scowling at poor skinny me. Not the case. More like me sitting in discomfort holding all that gas in my poor inflated turtleshell stomach and subtly trying to imply that it was getting late and that she should probably get her tiny tush home. Little did they know I was a natural gas factory (I hope).
I used to think the gas was just a necessary side effect of working out, and most of the guys I knew that were successfully putting on mass were in the exact same bloated boat. I was really damn tired of being skinny, so it's not like a little gas for a couple months was going to stop me. Luckily after some diet experimentation and improvements the problem went away, and I pretty much forgot that I ever had it… until these recent dates.
I watched a seminar yesterday where some sports nutritionists were discussing indigestion and they were laughing about how you should get a medal just for being able to survive the backstage area at a bodybuilding event. These guys apparently release a lot of gas. They also said that it was an unnecessary evil, and in fact you can actually put on muscle even quicker once you figure out how to digest your food properly.
So how do you get rid of the bloating, indigestion and gas?
Here are a few nutrition tricks:
If it's the protein powders that you're guzzling that make you feel bloated and gassy then they should be your first stop when trying to fix the problem. When you consume a lot of identical nutrients, as you do when you consume massive amounts of the same brand of whey protein, your body can start to build up an intolerance. That makes you feel bloated and gassy, and just means that you should mix up your whey proteins. Buy a couple different brands and cycle them. If you really eat a ton of whey you may even want to buy three or four different brands at once.If that still doesn't help, switch up the type of protein powder you buy. Whey isn't the only option—you can also get egg based proteins, casein protein, blends. Even with whey protein lots of people find that they respond better to whey isolate than concentrate, or even to hydrolized whey over whey isolate.
Eat probiotic yogurt. It's full of bacterial cultures that will populate your gastrointestinal tract with the right bacteria, making it easier to digest your food. Goodbye gas. This helped me out a ton and pretty much solved all my problems right away.
Eat pineapples. They're full of great digestive enzymes that will help you process your food. You can buy digestive enzyme supplements, but pineapples are a great way to get them from whole foods. Since they're coming from whole foods there's a better chance of your body knowing how to properly deal with the enzymes, upping the chances of them working for you. You also get all the benefits of the pineapples.
Supplements:
If you can't fix the problem holistically via your whole food intake then do not fret—there are supplements that might help you battle your gassy demons. Try supplementing with digestive enzymes or bacterial cultures, like enteric coated acidophilus.
Allergies / Intolerances:
Still having problems? You may be allergic or have an intolerance to something that you're eating. Try systematically removing potential problem foods from your diet one by one and monitoring your progress. Here are some common foods that cause problems:
wheat
dairy / protein powders
nuts
eggs
One of these solutions is sure to give you some "release". For me it was a combination. The yogurt helped, eating less whey (and more eggs) and varying the types helped, adding some bacterial culture rich kefir (fermented milk) to my protein shakes instead of just regular milk helped as well.
Hope this helps! Happy training!
Shane Duquette is the co-founder and creative lead of Outlift, Bony to Beastly, and Bony to Bombshell, and has a degree in design from York University in Toronto, Canada. He's personally gained sixty pounds at 11% body fat and has nine years of experience helping nearly ten thousand skinny people bulk up.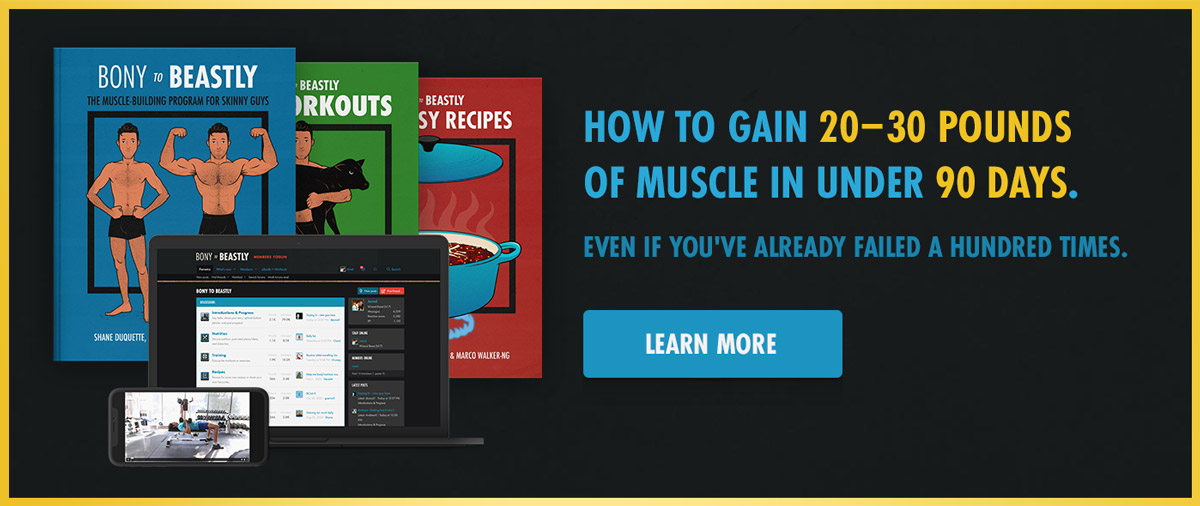 FREE Bulking Mini-Course
Sign up for our 5-part bulking mini-course that covers everything you need to know about:
Hardgainer genetics

and how to make the most of them
How to take a minimalist approach to bulking

while still getting great results

What you need to know about

aesthetics, health and strength

while bulking up