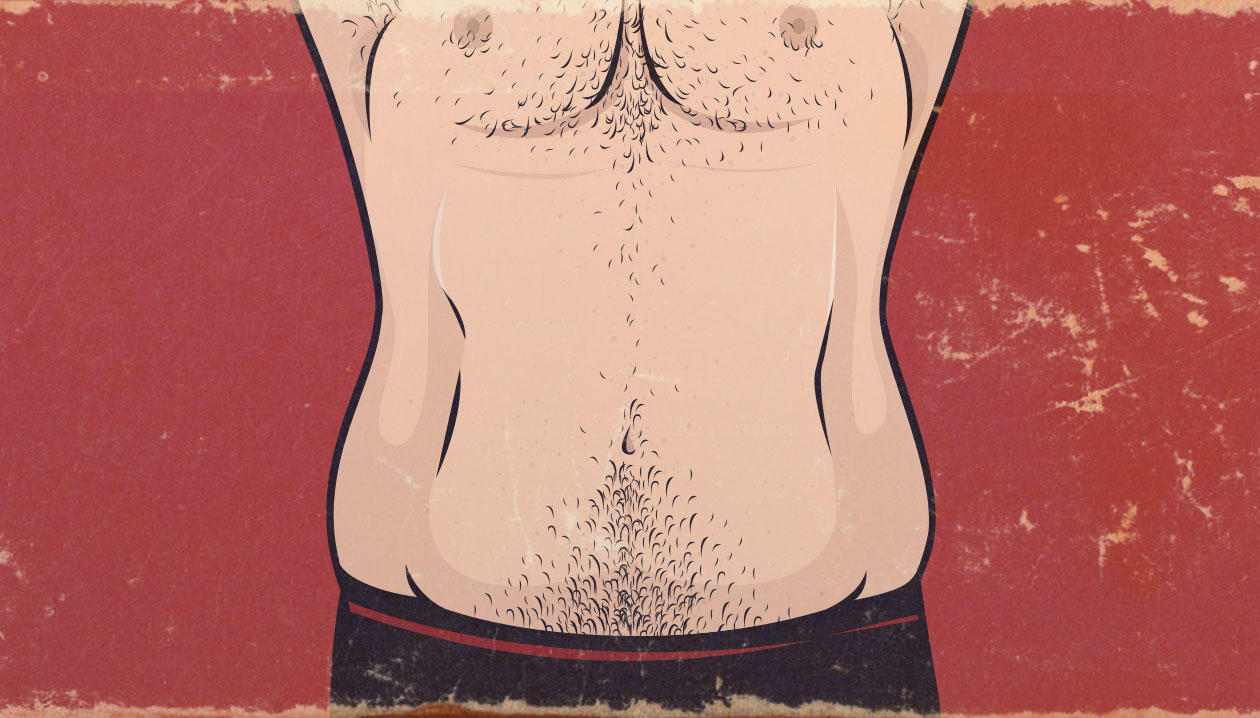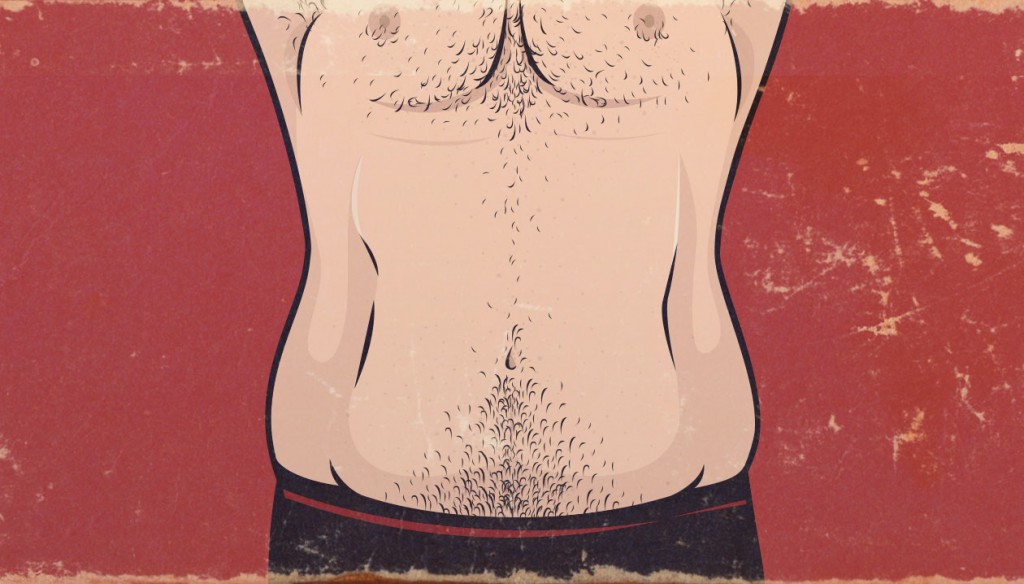 What to do When You're Tired of Being Skinny-Fat
Skinny-fat is when you've got over 20% bodyfat but look skinny in a t-shirt. When instead of your shirt hanging off your pecs, it's puffed out by your gut. This is is a frustrating situation to be in because the advice the typical skinny-guy hears is to avoid cardio, lift and eat more; whereas the typical chubby-guy is told to do plenty of cardio, lift and eat less.
…But it feels like whenever you eat more you just get chubbier, and whenever you eat less you just get skinnier. In the past I've "bulked" myself into having a love-handly gut, and I've lost all the muscle I gained from the bulk when trying to get rid of that gut. Not a good cycle to get caught in.  As far as my physique went, I don't think I've ever struggled with anything quite so confusing and frustrating. To make things even more infuriating, if you've tried to lose fat while building muscle… then you know all too well that that's the least effective advice of all.
At that point, feeling let down by classic advice, most of us desperately turn to novelty advice: eating like a caveman, avoiding carbs (or even going ketogenic), doing some sort of extreme sport routine (like CrossFit), or eating 100% "clean" (whatever clean means), etc. I've been down that road as well, because it seems like somebody finally, finally has the solution. But after a few months of having sky-high energy levels (because your body is pumping you full of energizing stress hormones), you realize that you're exactly where you started except now you have a bunch of food phobias, your grocery bill is twice as high, and you can't eat at a normal restaurant anymore.
We're going to cover why you're skinny-fat, and then how to become strong and lean. This approach isn't novel—there's nothing revolutionary in this article, and your doctor would likely agree with all of it. However, because it's thorough and evidence-based it'll actually work.
Curious?
Are you actually skinny-fat?
First we should figure out if you're even skinny-fat. We're a site that specializes in various types of skinny guys, and we've noticed that it's fairly common for skinny guys to assume they've got a higher bodyfat percentage than they do. This is because even a very lean bodyfat percentage, say 10%, looks very different on a skinny guy than on a strong guy: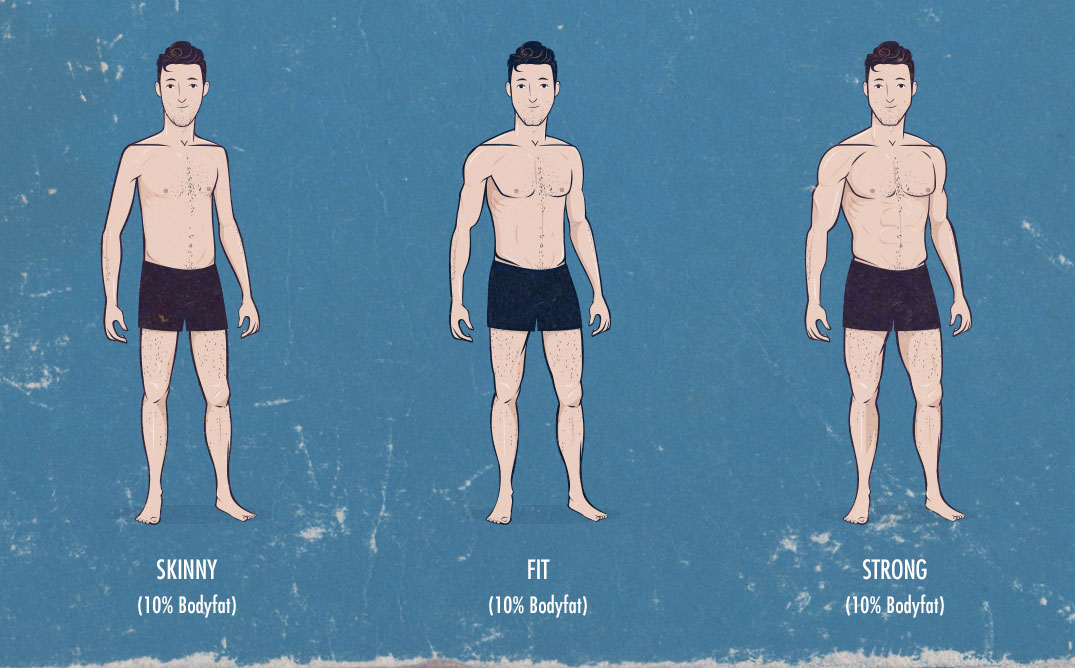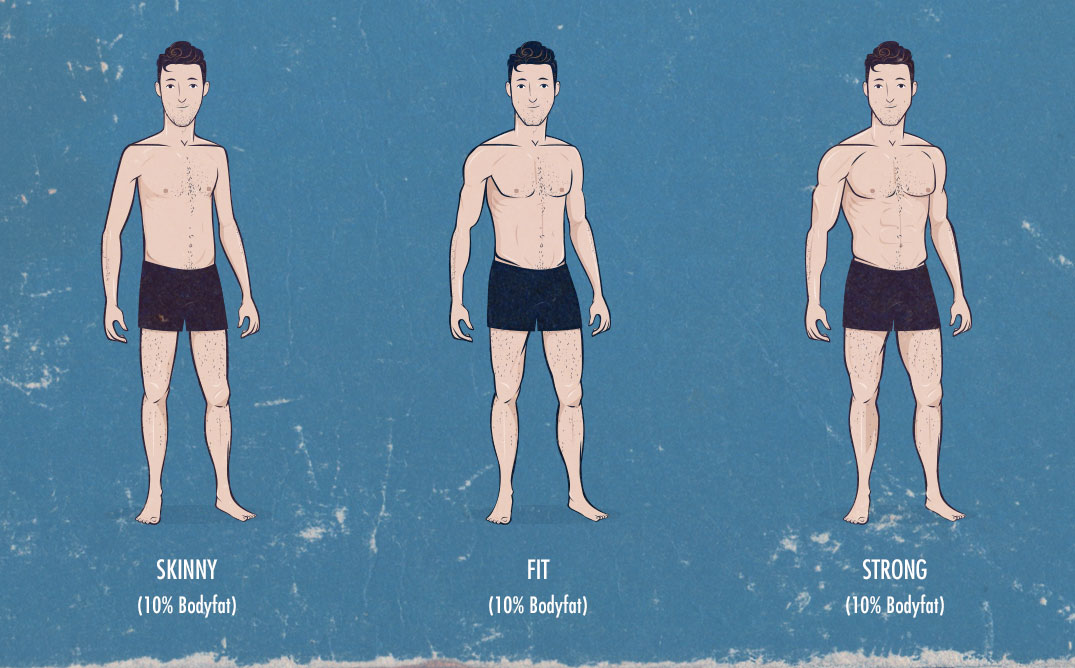 Us skinny guys don't naturally have a lot of muscle rounding out our physique, so it's just our bone structure and our fat that shapes us. As we grow more muscular our bones become less prominent, our fat is spread thinner, and we begin to be shaped by our muscles. Everyone says abs are built in the kitchen, but as skinny guys we often need to develop them in the gym to make them large enough to show through the fat on even a fairly lean stomach.
For a real life example, GK was a softer skinny, he leanly added a ton of muscle mass, and he transitioned smoothly into the lean and strong category. His bodyfat percentage is similar in both photos, but he appears far leaner with all the new muscle mass: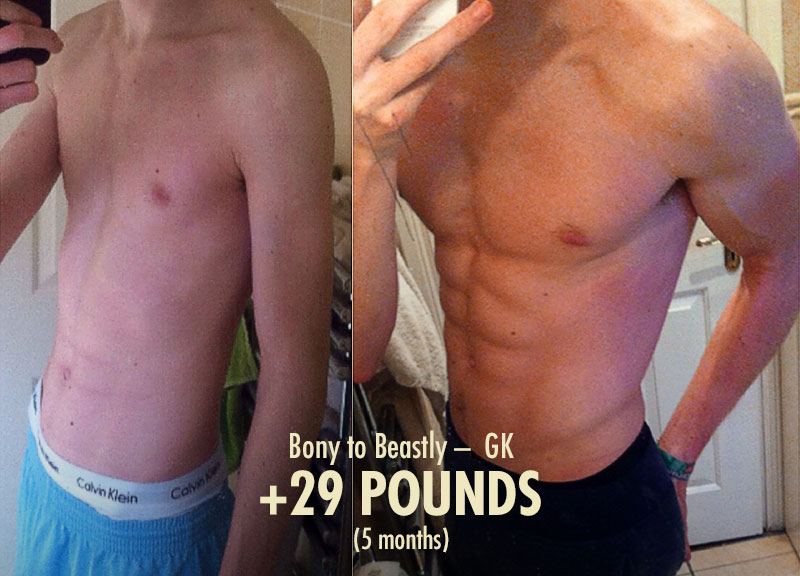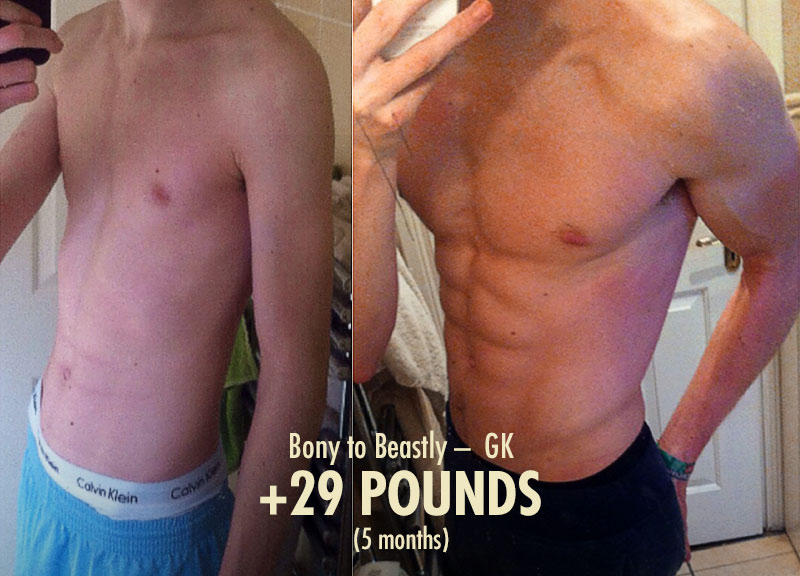 It's also common for skinny guys to mistake having bad posture for having a gut. If your abs aren't large enough to show through, and your pelvis is tilted forward pushing your stomach out, it can create the illusion of having a little belly—what we affectionately call an ecto-belly. This could be caused by a number of things: sitting a lot, having weak abs/glutes, not having proper hip mobility, and other more complex reasons. If this sounds like it might describe you, try squeezing your glutes and flexing your abs to rotate your pelvis back into position. Does your belly still stick out?
In my case, my stomach was flat but soft, and if I got tired my posture would collapse and a little gut would pop out. If that's what's happening with you, it's just due to poor posture and slender musculature. There isn't a problem of our calories going towards fat instead of muscle. You'd just want to buff yourself into some muscles. It's far from easy, but your path is fairly straightforward: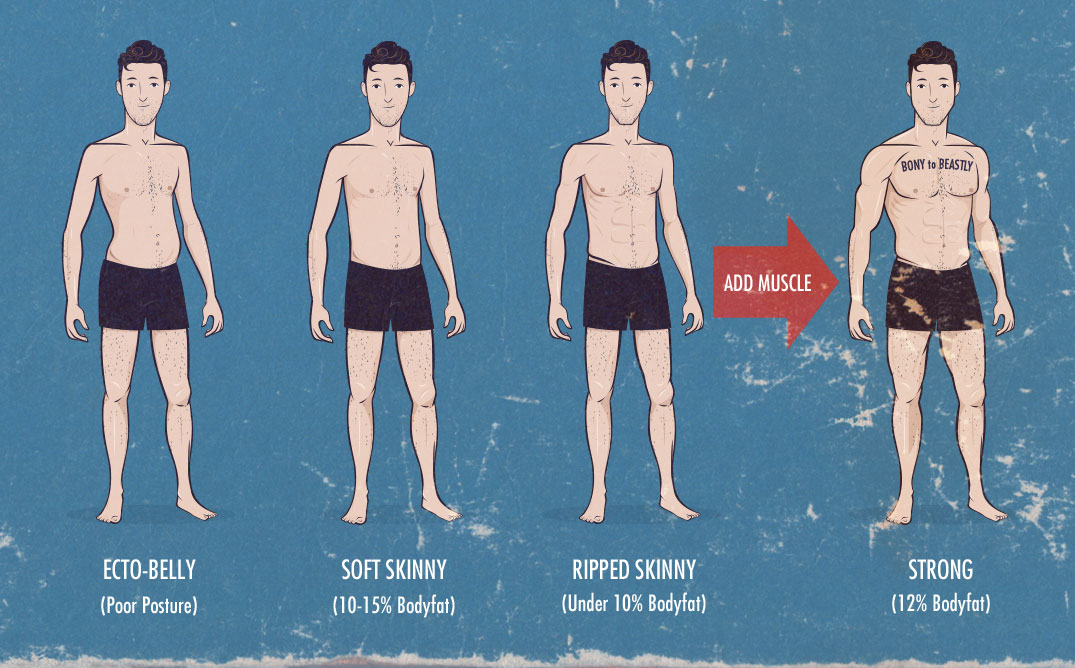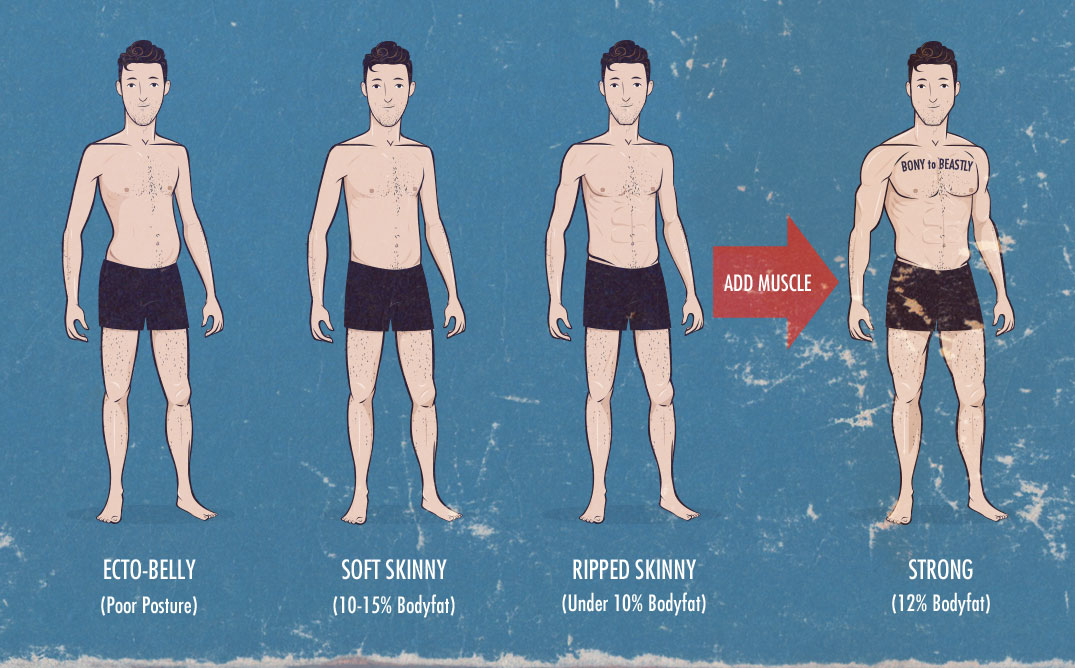 Of course, you might actually be skinny-fat, and that's who this article is for. If you've got a higher body fat percentage and skinny muscles, let's address how to shed the fat and burly up your muscles. But first, let's talk about what's going on here.
You're skinny-fat, but that's not your body type
You aren't skinny-fat because of a genetic limitation. Skinny-fat is just where you are right now. A couple years ago I was the skinniest guy I'd ever met.
I've also been skinny-fat. I was taking weight gainers, training like a doofus, and so excited to see my weight moving up on the scale that I gained a good twenty pounds of fat before realizing I was just getting fatter. My genetics hadn't changed, my lifestyle was just pretty atrocious.
Over the course of a couple of years I trimmed off the fat I had gained and then built around fifty pounds of muscle. I learned a lot about lifting and nutrition, and all of a sudden my body became eager to add lean mass instead of fat mass—my nutrient partitioning had done a complete 180. Now being muscular feels easy and natural.
Does this mean that I started off as a skinny ectomorph, became a skinny-fat endomorph, and then became a muscular mesomorph? I highly doubt it. Training, nutrition and lifestyle all play a far larger role than we often think.
Most of our skinny-fat members have variations of the following stories:
Where'd my metabolism go? They were skinny guys growing up. For a while their metabolisms and lifestyles were able to keep the fat away, but fast forward a few years—maybe even a decade—and their lifestyles have finally caught up with them.
I'm skinny-fat, so I do skinny-fat-person things. We gravitate towards things that we're naturally good at, and activities where we feel like we belong. Jogging, yoga, martial arts, etc. Activities where strength and leanness aren't a deciding factor and where you won't be judged on the size of your muscles. These activities won't stress your muscles, they'll stress your cardiovascular system. Calories that aren't burned off will tend to be stored as fat instead of as muscle.
Dream Bulker. They were skinny guys desperate to build muscle, so they turned to the most effective way to build muscle—lifting weights. They ate hard, but weren't quite as studious as they could have been (perhaps because they needed a nap after every meal). They bulked themselves into a bulging belly instead of bulging biceps. This was me.
My body is just to carry my head around. They've never been that happy or confident with their body, so they've never been in the habit of consistently feeding it fairly well and doing muscle-buildy physical activity. Instead, they focused on more cerebral things. Eventually they realize that having a fit body will increase their energy levels, improve their mood, get rid of aches and pains that are developing, improve productivity, etc… and they realize they're skinny-fat. (This was me as well, but my genetics were such that it made me super skinny.)
Most mesomorph "naturally athletic" guys have a story like this:
Young athlete. They were one of the bigger/quicker/stronger ones in the first grade, thus they excelled at sports and physical activities.  They signed up for all the sports teams, became very physically confident, and trained their way into a very athletic build. Being physically capable became part of their identity.
Malcolm Gladwell, a New York Times Best Selling author, found that even something as trivial as how early you were born in the calendar year can impact your athletic career. Most elite hockey players here in Canada are born in the first half of the year, because the age cutoff is January 1st. If you're born on January 2nd and your buddy was born on December 31st, you'd be a year older than him and playing in the same age bracket. If you're 7 and he's 6, you're going to be way bigger, way stronger, way more mature, way more practiced. As a result, you get all the coaching, you get all the encouragement, all the extra practice—your chances of becoming as someone who identifies as a very natural athlete skyrockets.
It has nothing to do with genetics, it's just that the guys who develop that confidence (and those preferences) earlier on in life get more practice and thus have far more success.
I'm not saying that body types don't exist. They do. In fact, once you get to an elite hockey league like the NHL, genetics actually are quite a strong predictor. These guys are the genetic outliers who could excel regardless of where they fall in the age bracket. The same is true of sports like bodybuilding and powerlifting, where being a genetic superfreak is the norm. These guys actually are naturally built like monsters. Greg Nuckols, for example, deadlifted over 400 pounds in a totally untrained state.
You can probably see genetic variance among your friends too, even if they have similar lifestyles as you. You probably have friends who are chubby, some who are skinny-fat, some who are skinny. Their bodies look a little different in an untrained state because of different stomach sizes, appetites, hormonal responses to food, habits, etc.
What I'm saying is that most naturally muscular "mesomorphs" are guys who did a ton of physical activity growing up while their parents fed them relatively healthy meals in the right portion sizes to grow leanly. Maybe they're naturally skinnier guys who built muscle as they grew up. Maybe they're naturally chubbier guys who burned off their baby fat as they grew up. Maybe they're average guys who did both. Almost all of them would look fairly unfit if you took their fit lifestyles away from them though.
Furthermore, virtually every guy who looks very strong, fit or athletic leads a lifestyle that strongly supports that type of physique. Genetics can only carry you so far, after all.
Even reaching your full genetic potential of your height is influenced up to 40% by the quality of your nutrition growing up (article).
Casey Butts, author of Your Muscular Potential, the most thorough book on natural muscular potential, found that genetically gifted guys can build about 5% more muscle than the average guy. Guys with poor genetics, on the other hand, can build about 5% less muscle than the average guy. For example, he found that the average 5'10 guy could get to a lean 200 pounds, the genetically gifted guy could get to about 210, and the guy with poor muscle-building genetics could get to 190 pounds. If you've seen 5'10 guys at a lean 190 and 210 pounds, you know that they both look like they could be in the Olympics.
Here's me at 6'2 and 180 pounds. Even if I had the poorest muscle-building genetics, I'm still a good couple dozen pounds away from my genetic muscular potential (although Casey Butts informed me that my too-tiny wrist sizes broke his formula).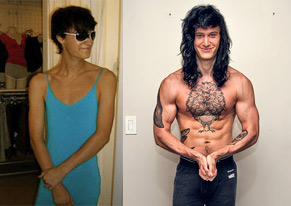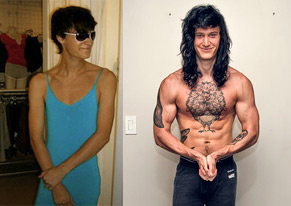 Genetics also play a role when it comes to fat gain. People have varying levels of insulin sensitivity, differing quantities of fat cells, and even our metabolisms respond differently to overfeeding. A lean skinny guy might be able to bulk with quite a large calorie surplus, as his body naturally burns off the excess calories via fidgeting, extra body heat production, and even holding peculiar postures. (Our full article on that here.) Some guys need to be more mindful of their calorie intake when bulking, meaning it'll take them a little bit longer to become incredibly muscular.
So you might not be able to become a hulking mammoth of a man who looks like he must be on steroids (perhaps a blessing), and you might not be able to diet down to 7% bodyfat. Or maybe you can. Unless you've been lifting well and eating right for a few years, your current condition is probably not the best predictor of how far your genetics can take you.
Let's assume you've got atrocious genetics though. You won't win a national bodybuilding competition, no matter how hard and how smart you work for it… but you could probably still get buffer than Bradley Cooper, Michael Jordan, Bruce Willis, Usain Bolt, Ryan Gosling, Brad Pitt, etc. They all work out but none of them have a body outside the natural muscular potential of guys with awful genetics.
If you think your genetics are holding you back much more than that, it's probably because you aren't lifting right (or you aren't lifting), you aren't eating right, you haven't been doing it consistently for long enough, or there's another aspect of your lifestyle holding you back.
Becoming "Naturally" Lean & Muscular
How to become naturally muscular. The strongest predictor of "natural muscularity" is the number of nuclei in our muscle cells.  When you have a lot of them and stimulate them properly, they use the food you're eating to build muscle mass incredibly quickly.
These nuclei are sort of like little muscle-building construction workers. Imagine getting a giant calorie paycheque. If you don't have any expenses, you can put your calories in the energy bank, i.e., you'll store fat. If you have a lot of construction workers permanently on staff, you need to give them each their calorie salaries. In return they'll get to work building muscle. This means more muscle and less fat. (In the fitness industry this is called favourable nutrient partitioning.)
Naturally muscular guys have a tremendous amount of these nuclei in their muscle cells by default, but as we skinny-muscled guys grow bigger and stronger (best done by weightlifting) we add more nuclei in our muscle cells. We take on the muscle-building advantages of guys who are naturally muscular. And these nuclei stick around forever. Your muscles may shrink and grow, but each time you build muscle, you pull nuclei into your cells, and it becomes a little easier to get and stay more muscular.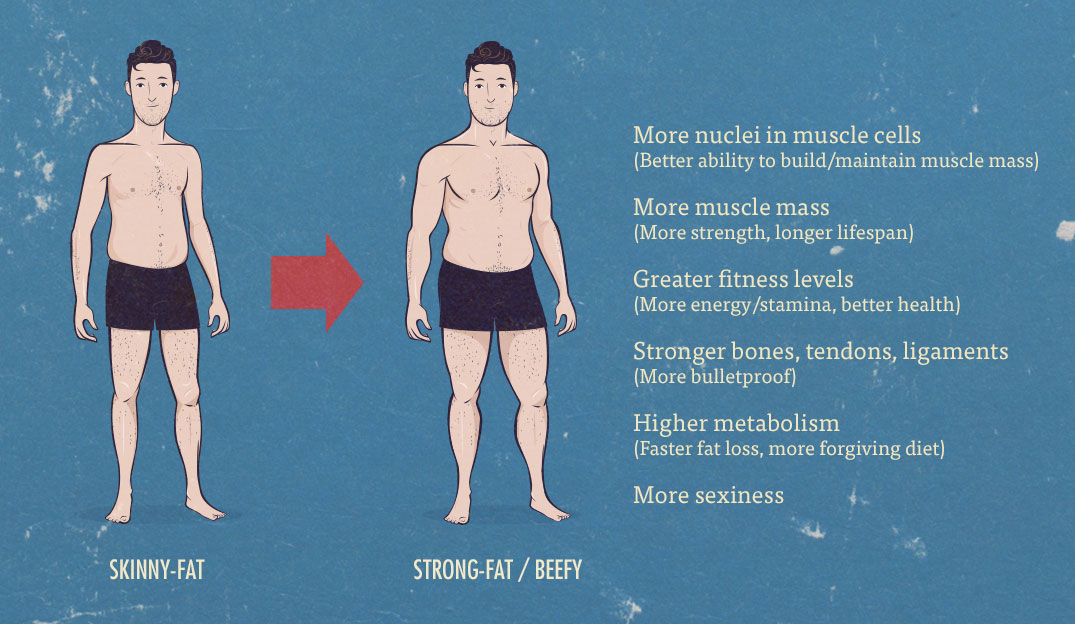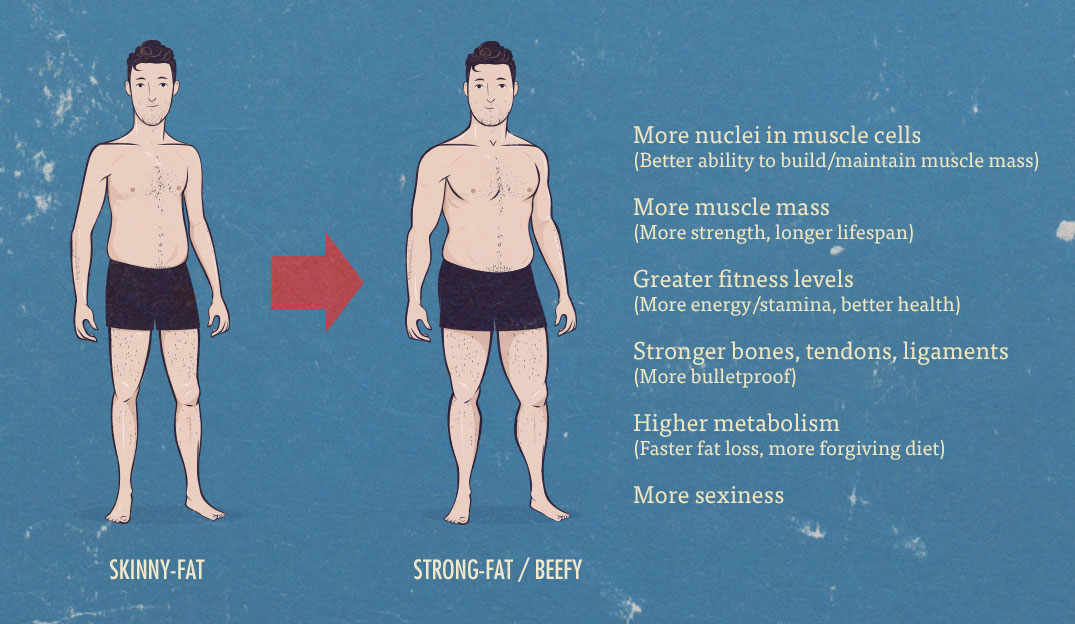 How to become naturally lean. Fat cells can inflate and deflate with stored energy, but the number of fat cells we have tends to stay fairly constant. We can increase the number of fat cells we have (hyperplasia) by gaining a tremendous amount of fat. This is one of the bigger problems of morbid obesity. If we gained a bunch of new fat cells, getting lean again could become incredibly difficult. But unless we become morbidly obese we don't need to stress too much about this.
Some guys naturally have a lot of fat cells, some guys eat their way into having a lot of fat cells. This makes being lean much more challenging for them. Luckily, skinny-fat or not, we don't tend to be those people—at least not in an extreme way.
Being morbidly obese would change the game, but being skinny-fat won't really reduce your long-term ability to get leaner. However, it will reduce your short-term ability to gain muscle leanly. When your bodyfat percentage is higher you will gain more fat when you bulk. This is probably due to the higher levels of estrogen and lower levels of testosterone that often goes along with having a higher body fat percentage.
On the other hand, when you get leaner your hormone profile becomes more masculine and muscle-buildy, and your nutrient partitioning improves. Your body will be more inclined to store surplus calories as muscle rather than fat.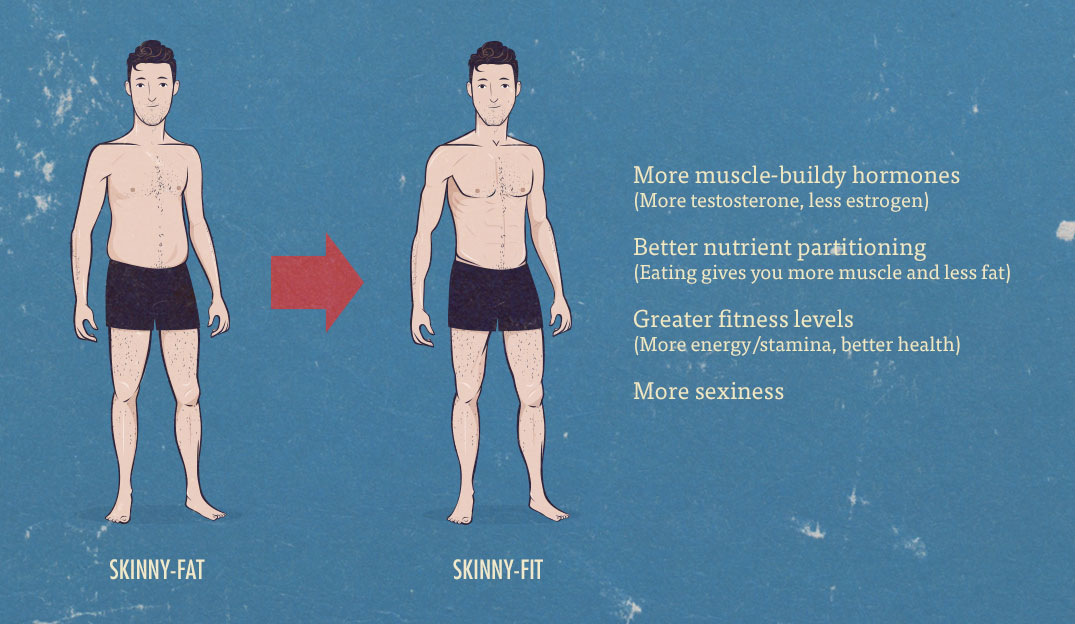 Changing your body type. You can see that once you build an appreciable amount of muscle mass and get to a fairly low body fat percentage (10-15%), things start getting pretty easy. Combine that with a healthy lifestyle that involves some exercise and some quality food, and you'll be maintaining a lean and muscular body fairly easily. (Becoming more muscular will still be challenging, and becoming even leaner will also still be challenging, but maintaining a lean and muscular physique will be fairly easy.)
You'll discover what it feels like to be a naturally muscular mesomorph, since you will have become one.
So that means you now have two straightforward goals: 1) build muscle, and 2) get lean. The problem is that building appreciable amounts of muscle requires a calorie surplus, and losing fat at a halfway decent pace requires a calorie deficit. You also need to make sure that you aren't getting fat when in a calorie surplus, and that you aren't losing muscle while in a calorie deficit.
Too many skinny-fat guys get stuck in the dreaded skinny-fat cycle—where cutting makes you skinnier and bulking makes you fatter.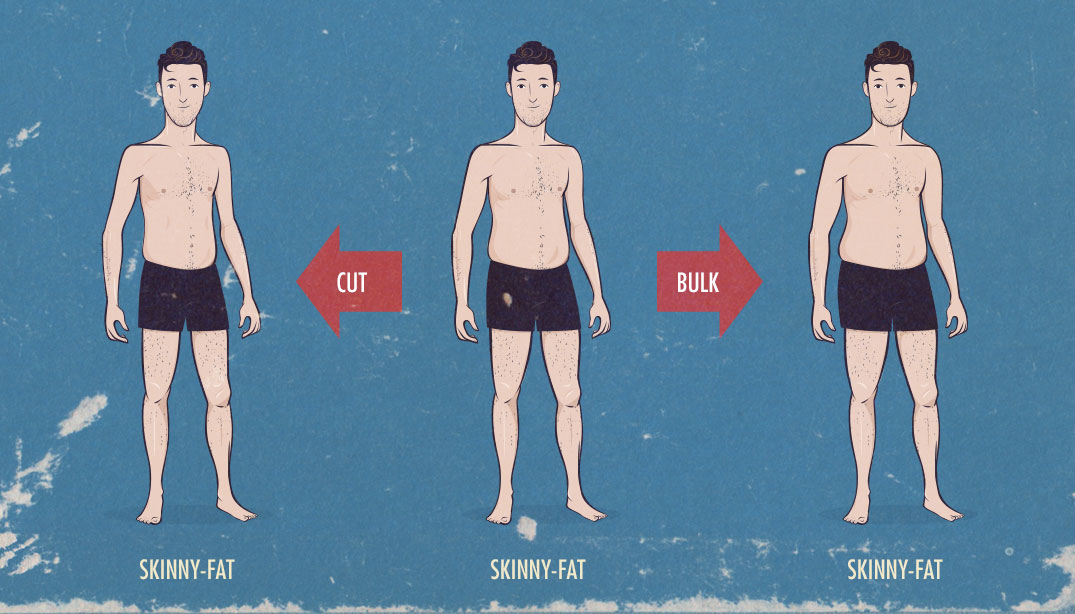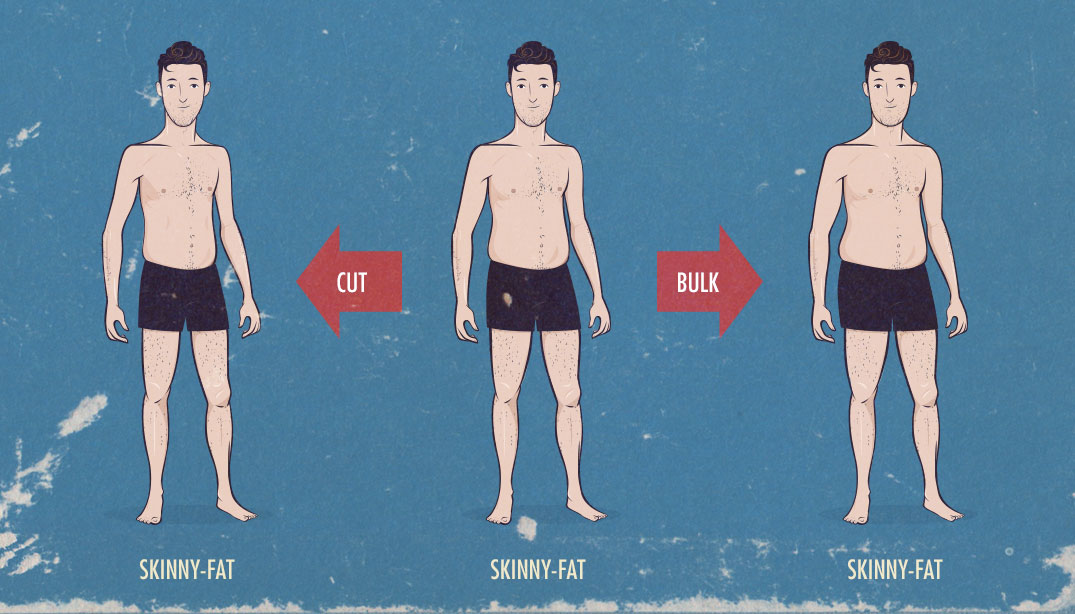 This leaves you with a big decision to make—whether to bulk leanly or cut while maintaining muscle mass.
… or does it?
What happens if you stay the same weight?
We get a ton of questions about this. Yes, you can build muscle and lose fat without bulking or cutting. You can keep your weight about the same and make progress, but it takes forever.
Your body will only burn fat when it needs the energy—when it needs the calories. If you aren't losing weight (i.e. in calorie deficit) you won't be losing fat. Similarly, beyond the very very early stages of training, your body will only build muscle when you're gaining weight (i.e. in a calorie surplus).
What happens though is that you inevitably go in and out of surpluses and deficits even if your weight is staying the same overall. Maybe you have a big dinner, driving you into a calorie surplus, and you gain a bit of muscle and fat. Then you go to bed for eight hours, falling into a calorie deficit, and you lose a bit of fat and muscle.
The idea of body recomposition is that when in those brief surpluses you build more muscle than fat, and when in those brief deficits you lose more fat than muscle. So over time you build muscle and you lose fat. Relying on these tiny little surpluses and deficits is a very slow way to make progress though. It also hinges entirely on the fact that you're able to get damn-near-perfect nutrient partitioning… which is currently your biggest weakness.
We see a lot of guys doing this, thinking that intermittent fasting or whatnot will fix their nutrient partitioning issues and lead to simultaneous fat loss and muscle gain. It might help a little, but you probably want to be fit and lean for the beach this summer. You probably won't even be ready for the swimming pool at your retirement home… so I vote that we stick to more rapid and effective body recomposition methods.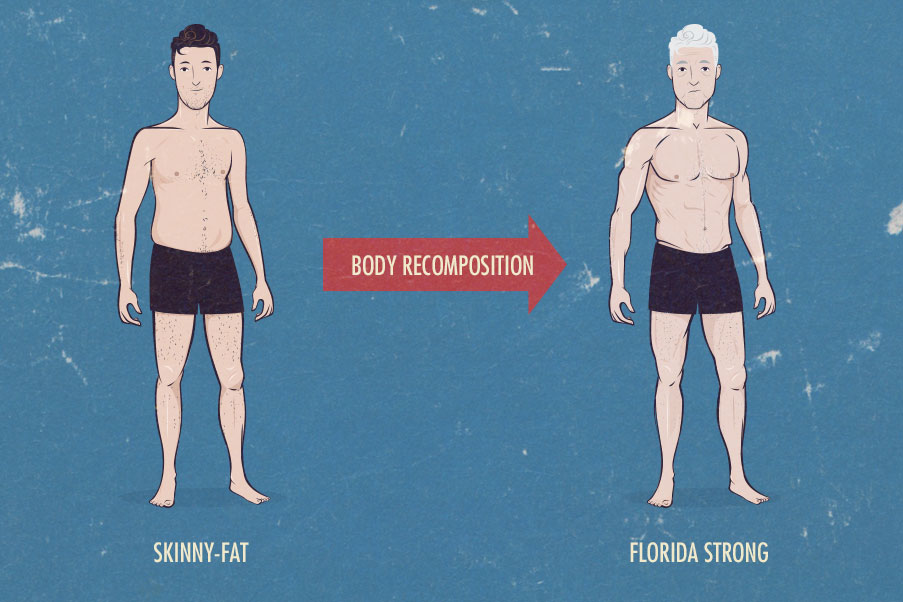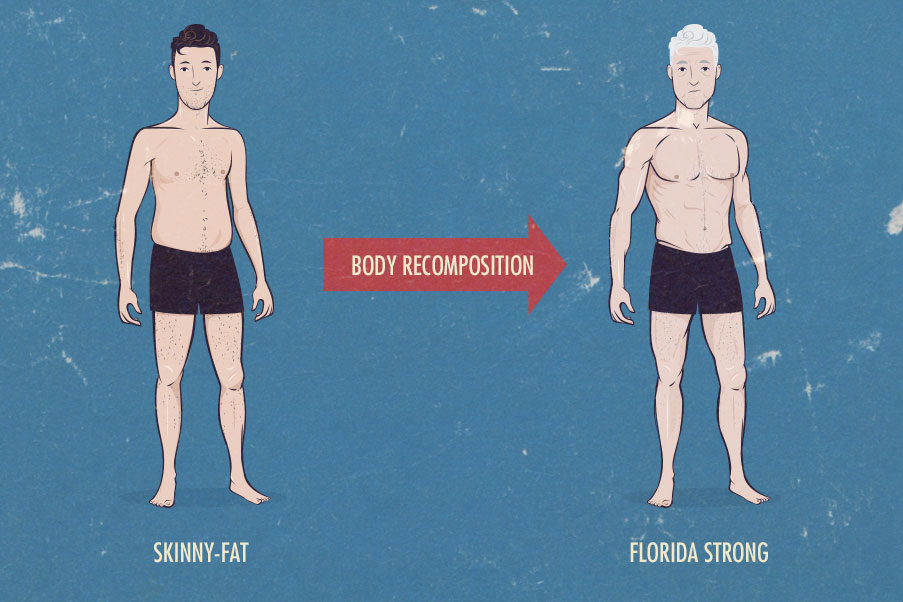 Very, very slowly progressing your weight is an effective strategy for lifters who are already very lean and muscular. After a decade of lifting, you're only going to be able to gain a fraction of a pound of muscle each month, making your gains on the scale nearly imperceptible. However this is not an appropriate strategy for you at this point.
What happens if you bulk first?
If you bulk properly you can build muscle fairly quickly, but it's going to be challenging to keep your gains lean, and to come out looking not fat. If you have a belly and build up bigger abs under that belly, your belly is going to look bigger. Still, having a bunch of fat and muscle on you will make you look bigger, and what skinny-muscled guy doesn't dream of being bigger? While you might not be quite as lean as you'd like, your friends will finally start trying to lure you into helping them move heavy furniture with pizza and beer.
Building muscle first is a great option for guys who are more on the skinny side of skinny-fat. For example, DoctorB came in without abs but still fairly lean. His goal was building muscle as quickly as possible. This made bulking the perfect choice and he did a perfect job of it. In 5 months he went from being thin to being a true beast of a dude 🙂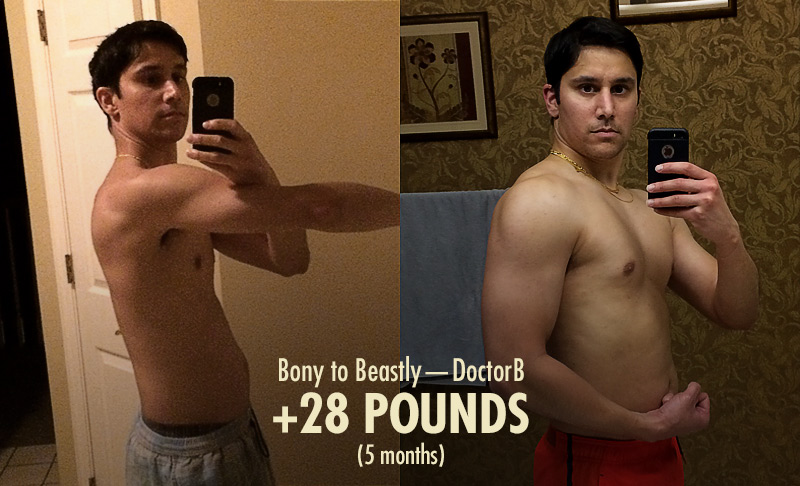 Advantages of bulking first:
You don't need to stress about getting even littler—every skinny-fat guy's worst fear.
Having more muscle mass will make cutting a little quicker, since muscle mass increases your metabolism.
Disadvantages of bulking first:
Depending on how high your body fat percentage is, you might have more estrogen and less testosterone. This isn't ideal for bulking, as it can make it harder to keep your gains lean. (This was probably not the case for DoctorB, since he's fairly lean.)
Building muscle takes time. You're going to be bulking for at least a couple months in order to see great progress. During that time you're going to need to be okay with your current body fat percentage.
What happens if you cut first?
If you're fairly new to either weightlifting or proper muscle-building nutrition, you can expect some pretty good results. Most studies show that relatively untrained guys who lift weights while cutting will not only lose fat very rapidly, they'll also build muscle as they lose weight overall. This is the skinny-fat holy grail.
For example, a study published last February found that guys who did cardio while eating in a calorie deficit lost 7 pounds of fat and 6 pounds of muscle—they got smaller. However the group of guys who lifted weights while eating in a calorie deficit lost 22 pounds of fat and gained 4 pounds of muscle—they got leaner and more muscular. Similar results have been found in many studies.
This is a great option for guys who are more on the fat side of skinny-fat. For example, Eric, who already had a decent amount of muscle mass, lost 4 pounds while gaining 2″ on his biceps and 1.75″ on his chest in 5 weeks. Quite the jaw-dropping transformation (literally), as you can see 😉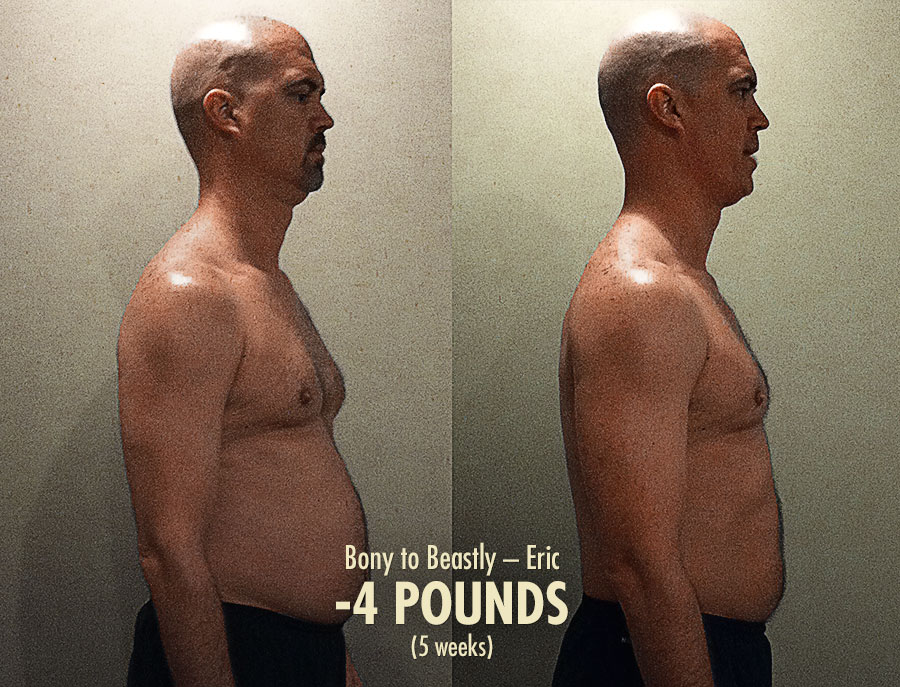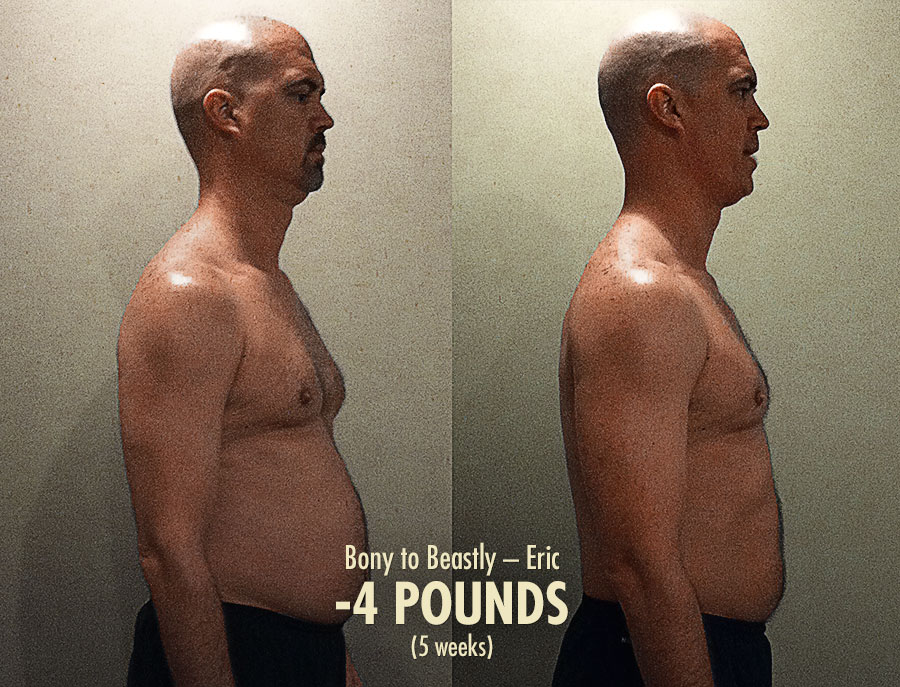 Advantages of cutting first:
If you're new to lifting well and eating for muscle, you can expect to build a few pounds of muscle even as you cut. You won't come out smaller, you'll come out leaner, stronger and more muscular.
Losing fat is quick. You can realistically lose two pounds of fat per week. If you don't have that much to lose, you can be done with your cut fairly quickly. (You might lose something like 1.5 pounds per week—2 pounds of fat down, 0.5 pounds of muscle up.)
Reducing your body fat percentage will allow you to bulk more leanly afterwards.
Disadvantages of cutting first:
If you're already self-conscious about how skinny you are, this can be stressful. It's scary to get lighter when you want to command more space, not less.
If you aren't currently eating a lot of calories, you might need to drop your calories quite low. This makes cutting very unpleasant, and if you spend a long time cutting, it isn't very healthy either. It seems to be more common with the skinny-fat guys who have been yo-yo dieting and doing tons of not-particularly-muscle-buildy exercise for years in an attempt to get rid of their gut: Runners, P90Xers and CrossFitters who are very familiar with calorie restriction. Their metabolisms adapt to lots of cardio and lots of dieting by growing ever smaller. Dr. Layne Norton coined the term metabolic damage to describe this, and it's rare that we run into this issue, but it happens.
Conclusion. You can cut first or bulk first, but you do need to pick one or the other. If you're like most skinny-fat guys and you aren't as lean as DoctorB or as muscular as Eric (we've got a more typical example still to come), the decision can be tricky. You need to start seeing what approach fits your situation best. Keep in mind that both paths will get you out of skinny-fat in a relatively short timeframe: a few months of bulking + a couple months of cutting. Hell, you'll probably look markedly better within just weeks of starting.
Now onto the how-to.
What to do when you're skinny-fat
1. Forget about being hardcore. You may be really unhappy with where your body is, but that doesn't mean that you need to punish it. You don't need to do the most brutal CrossFit or Insanity routine every day in order to fix your body. You just need some good training, some good food and some good rest. You can have 2-5 meals per day depending on your schedule and preference, those meals can contain carbs, and you can fit all the lifting you need into about three hour-long workouts per week. You can do cardio or play sports if you like that kind of thing, but you don't have to.
The more stressful your routine, the harder it will be to get yourself to the gym. The harder it will be to tell what's working for you and what's just useless filler. The harder it will be to stick with this long enough to solidify a healthy lifestyle that will last.
You can make rapid progress at first, sure, but if you want to go from being skinny-fat to feeling like "a naturally muscular mesomorph", you need to build a lifestyle that you can actually live.
2. Focus on what matters—lifting and nutrition. I know this one is hard. There's a ton of pseudoscience and bro-science out there telling you that carbs are bad, or meat is bad, or dairy is bad, or maybe gluten is bad, or maybe you're consuming too many meals per day, or too few meals per day… which they say is also bad. This just makes things really confusing.
What matters nutritionally is the quantity of the calories you eat, the quality of the calories you eat, and what your macro breakdown is—especially how much protein you consume.
What matters as far as exercise goes is that you lift, and that you lift well. Lifting well means choosing the right lifts for your skill level, using good technique, lifting with the right intensity, and doing enough volume (sets/reps) per muscle group without fatiguing yourself. (Here's our article comparing different types of lifting and how effective they are for building muscle.)
Lifting well is what will tell your body to use surplus calories to build muscle instead of storing fat. Lifting well is what will tell your body to keep your muscle around when in a calorie deficit, instead of keeping your fat around. Lifting well will make you leaner and more muscular.
There are many benefits to cardio, but the main body composition benefit is that it burns calories. It won't tell your body to build muscle or get rid of fat, it mostly just burns calories. You can do it if you want, but don't use up all your willpower on it. It's not one of the more important factors.
In fact, sleep is probably far more important. You need to learn to turn yourself on so that you can lift well. And you need to learn to turn yourself off so that you can rest well. When you rest is when you build muscle, and sleeping is the pinnacle of resting—you'll build muscle far more quickly, you'll build muscle more leanly, you'll lose more fat, and you'll have more willpower. (Members, optimal sleep guide here.)
3. Adjust your calorie intake as you zig-zag towards your goal. 15+% is the cutting zone, where you focus on getting stronger and losing fat. You'll need to be in a calorie deficit to do this, i.e., consistently losing weight (maybe 1-2 pounds per week). Keep going until you're fairly lean—preferably under 15%—but you can switch goals if the diet is becoming very unmanageable. As we discussed above, if you're new to lifting well and eating for muscle, you'll probably gain a few pounds of muscle while cutting.
10-15% body fat is the bulking zone, where you focus on building muscle and strength as leanly as possible. You'll need to be in a calorie surplus to do this, i.e., consistently gaining weight (maybe 0.5-1 pound per week). The goal is to gain weight leanly so that you can just slowly bulk without ever having to cut again. But when does life ever go perfectly according to plan? Keep going until you get to around 16% body fat—until you entirely lose sight of your abs (or the vein running down your bicep), and then trim off a little fat.
Your progress should look like this: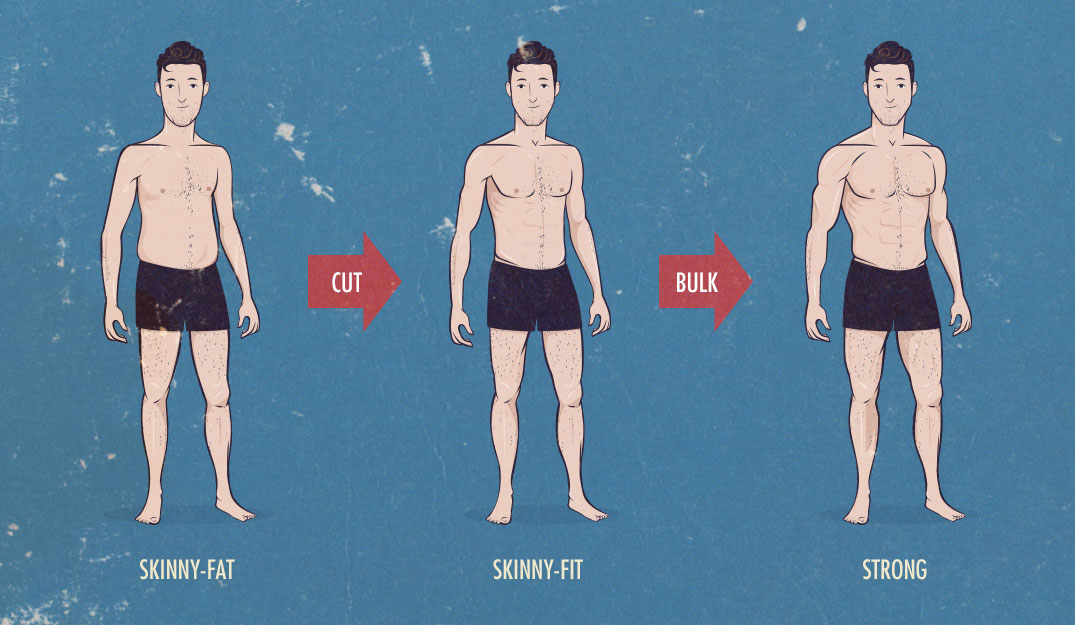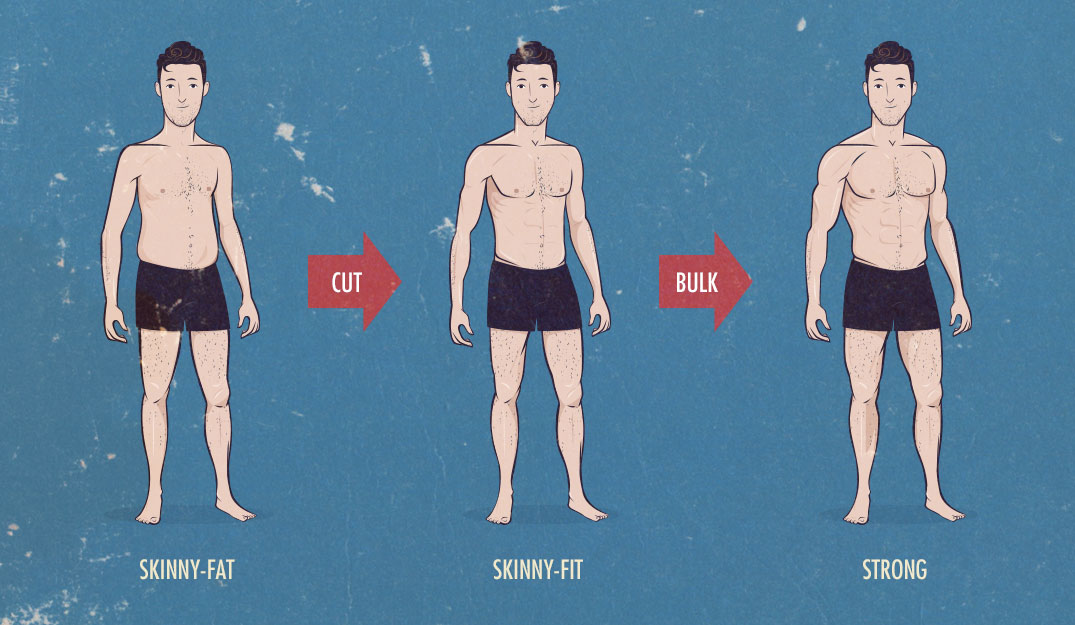 If you want to bulk first, that's cool too. I was a skinny guy, and personally I didn't care if I got a little chubby on my way to getting bigger and stronger—I just didn't want to be the skinny guy anymore! If you bulk first, your path will look more like this: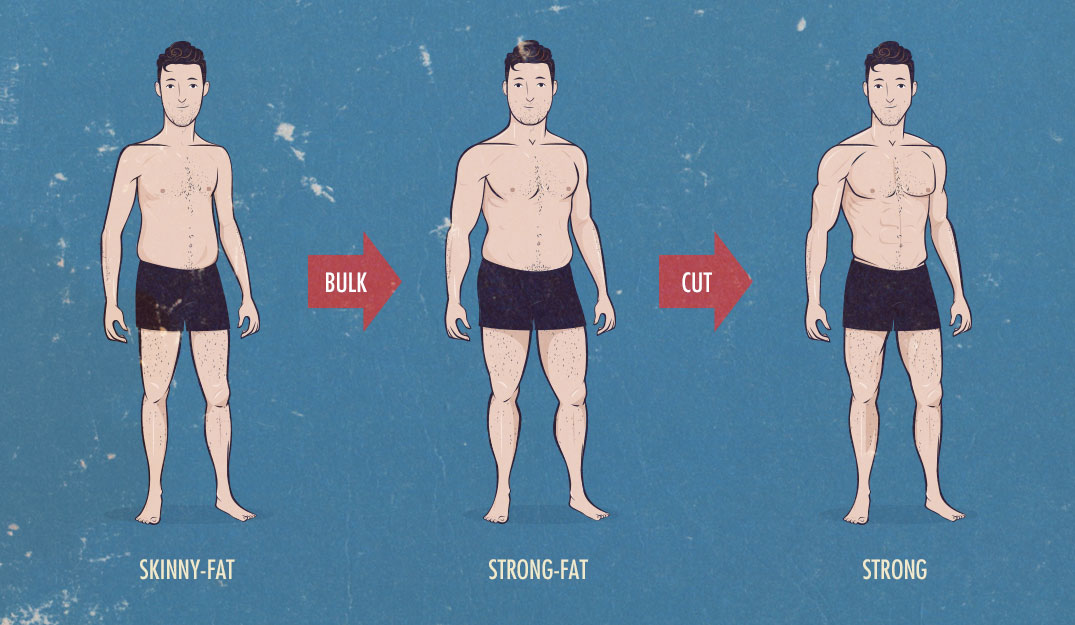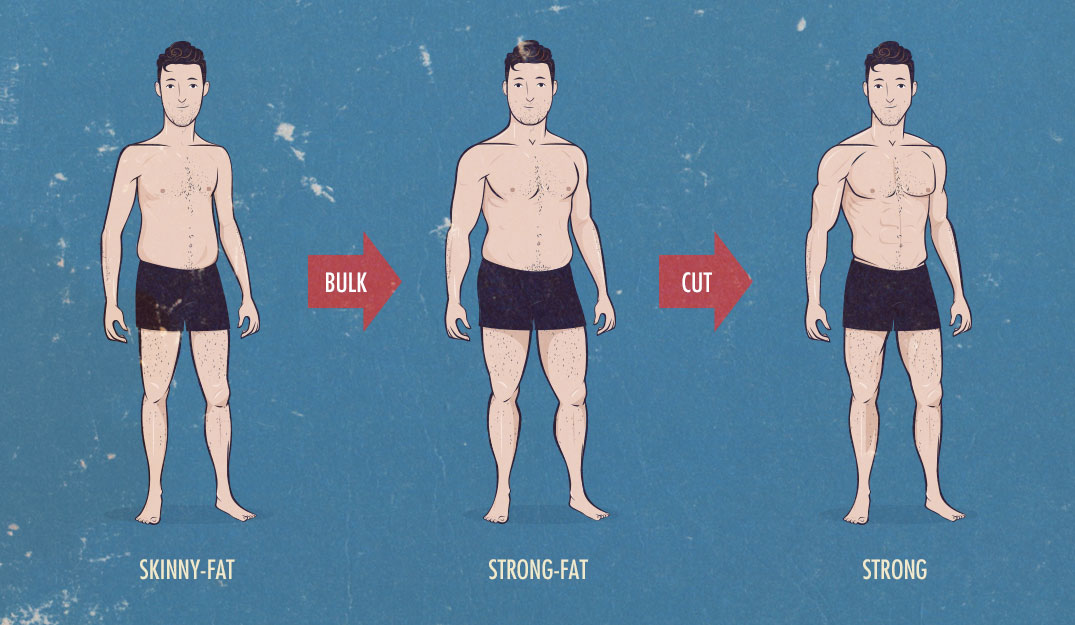 At all times make sure that you're progressing in your lifts. You want to be building a lot of strength when bulking, and at the very least maintaining your strength when cutting. If you're consistently getting stronger, even as your body weight fluctuates, you can be confident that you're on the path to becoming lean and strong.
Keep going until you're a beast. Good luck!