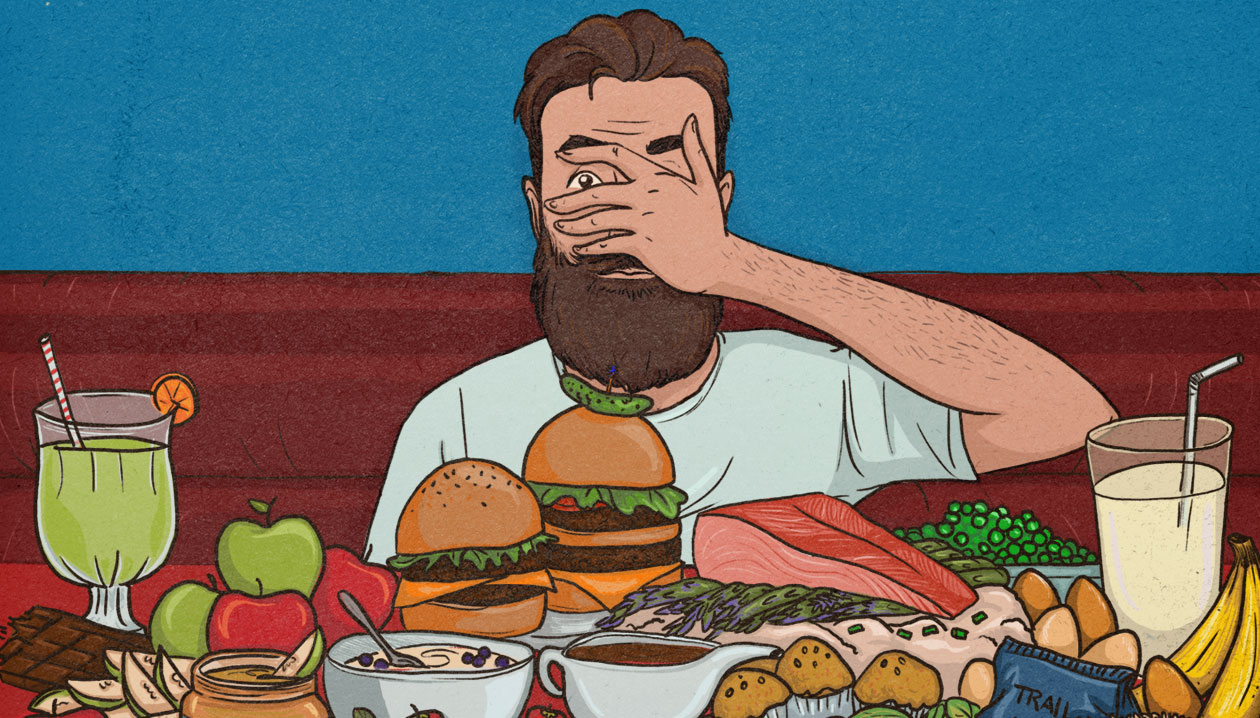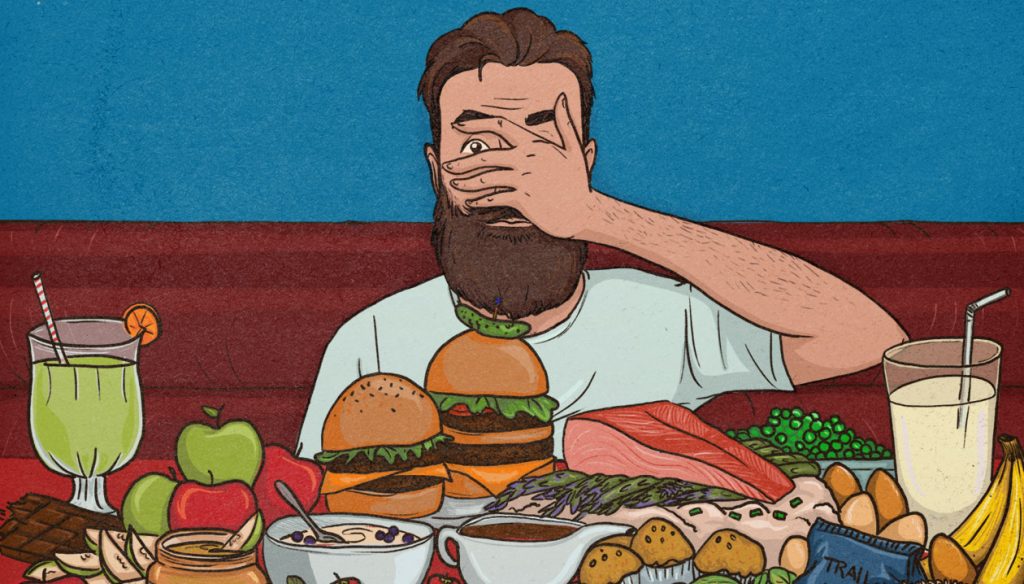 It's rare to want to learn how to eat more calories. Most guys feel like their stomachs are too big and their metabolisms are too slow. And they're right. Their stomachs really are too big, and their metabolisms really are too slow.
However, there are also a small minority of guys—guys like us—who are naturally underweight. We struggle against our small stomachs and fast metabolisms, and most people have absolutely no idea how insanely difficult it can be for us to eat enough calories to gain weight.
People will tell us to "just eat more calories." Yeah, sure, that's technically true, but we know that already, and it doesn't help. How can we possibly eat more calories when we're so damn full all the time?
But the thing is, if we want to bulk up, we need to find a way to eat more. I know that's a tough bite to swallow, but that's just the science of bulking up. It takes roughly 3,500 extra calories to gain a pound, so if we want to gain around a pound each week, we need to find a way to eat around 500 extra calories per day.
That's what we need to do to gain weight, but it doesn't teach us how to do it. And the "how" is actually quite complicated for guys like us, especially since our problem is so rare.
So that's what this article is about—about how to eat more calories.
We'll go over:
How not to reduce your appetite by accident
What makes a food filling
Whether you should be clean or dirty bulking
How many meals you should be eating per day
What the best bulking foods are
Tips to improve your bulking diet
Don't shoot yourself in the stomach
If you want to learn more about why it's so hard for us to eat enough calories to gain weight, here's our article on ectomorph stomachs, metabolisms, and appetites. In this article, we're not going to talk about why it's hard to eat more, we're going to talk about how to eat more.
To start things off, we need to understand that the fitness industry is focused on overweight people. There are fat-loss tricks hidden in every workout, in every diet, and in every health tip.
So the very first step is to make sure that you aren't accidentally following any fat-loss advice—to make sure that you aren't shooting yourself in the stomach, so to speak.
For example, in most bulking communities, there's a big emphasis on lifting weights, eating lots of protein, and eating clean. "Clean" is a vague term that can mean a variety of things: avoiding carbs, avoiding sugar, avoiding junk food, avoiding gluten, etc. There's even intermittent fasting, which calls for avoiding breakfast.
These are all fat-loss tricks.
To illustrate this example, let's consider intermittent fasting for a second. The most popular type of fasting is 16:8 fasting, where you skip breakfast. It was popularized by Martin Berkhan, who dubbed it the "LeanGains" approach. Research has proven that intermittent fasting is an effective way to eat fewer calories while still feeling satisfied, making it great for the average guy who's trying to lose weight. But why is it called LeanGAINS? Why is gains is in the title of the most popular weight loss diet?
Because even overweight guys want to be more muscular.
Even in the bulking community, skinny guys are still rare.
After figuring out how common it was to have a "bulking" diet that's full of proven ways to help people eat fewer calories, I started to understand why I kept on losing weight whenever I would try to bulk up.
"Clean bulking, eh? Nice try. I can see the 'lean' hidden in 'clean.'"
"Paleo, eh? You mean how to get thin like our primal ancestors?"
These massively popular diets are designed to help the average person build muscle, and the average person eats too many calories. So these diets incorporate appetite reduction techniques to prevent people from gaining weight too quickly as they bulk up.
By the way, these approaches are "healthy" in the same sense that losing weight is "healthy." It's only true if you're overweight. There's nothing inherently unhealthy with breakfast, carbs or even sugar. The only "unhealthy" things about them is that they make it easier to eat more food.
Anyway, I obediently followed these diets and I kept on losing weight, totally confused about why bulking diets were making me smaller. I became frustrated with my genetics, and after a few failed attempts, I came to the (false) conclusion that it was physically impossible for someone like me to bulk up.
Thing is, I was asking for directions to Gainsville, and everyone kept giving me directions to Leanopolis instead. No wonder I kept getting lost—those two places are in totally different directions!
Now, after successfully gaining 55 pounds, I'm realizing that my failed attempts were simply due to a lack of understanding. As soon as I learned how to eat more calories, I exploded in size.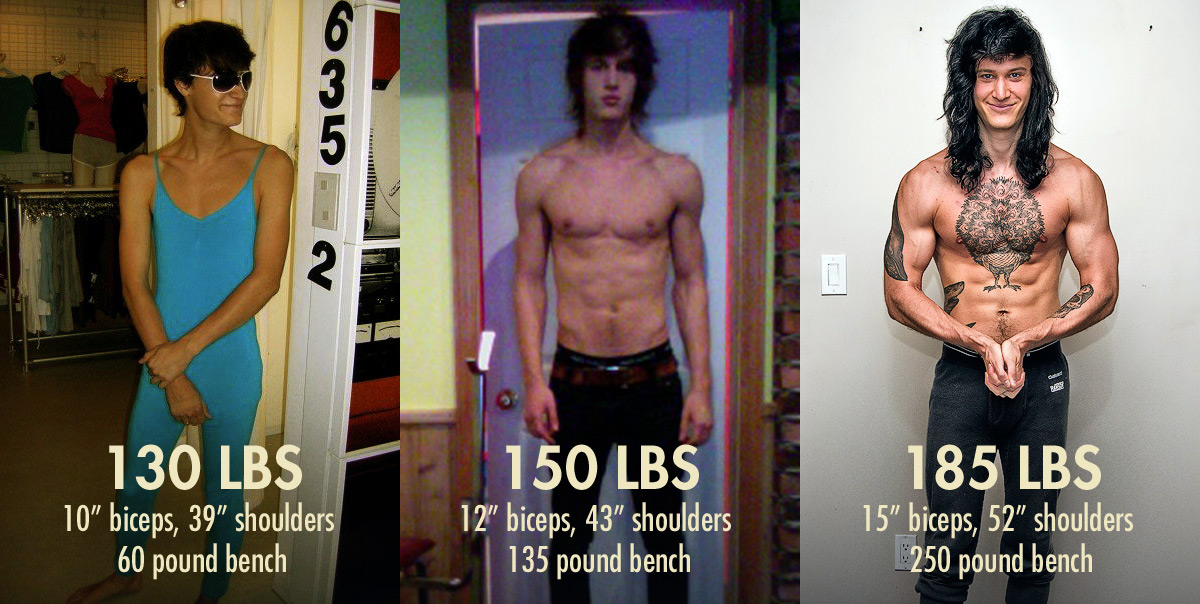 Even as naturally skinny guys, our potential is incredible. I wound up gaining more muscle than I wanted to. And then we helped over 5,000 other guys do the same.
Just like overweight people need a "LeanGains" or "clean bulking" approach to building muscle, we need an approach designed for us—for people with smaller stomachs and faster metabolisms who need more calories.
How can we make our diets less filling?
When trying to eat more calories, the second thing we want to do is figure out which foods are filling and which ones aren't. We can use that information to figure out which foods have that magical combination of being good for building muscle and being easy on the appetite.
For this, we can use The Satiety Index of Common Foods. In this study, they took the most common foods, figured out how filling they were, and then saw how it affected the study participants' overall calorie intake.
The goal of the study, as you can probably guess, was to help people feel more satisfied while eating fewer calories. We're going to use it for the opposite purpose: finding out how to eat more calories.
I've organized the foods into categories and remade their results graph: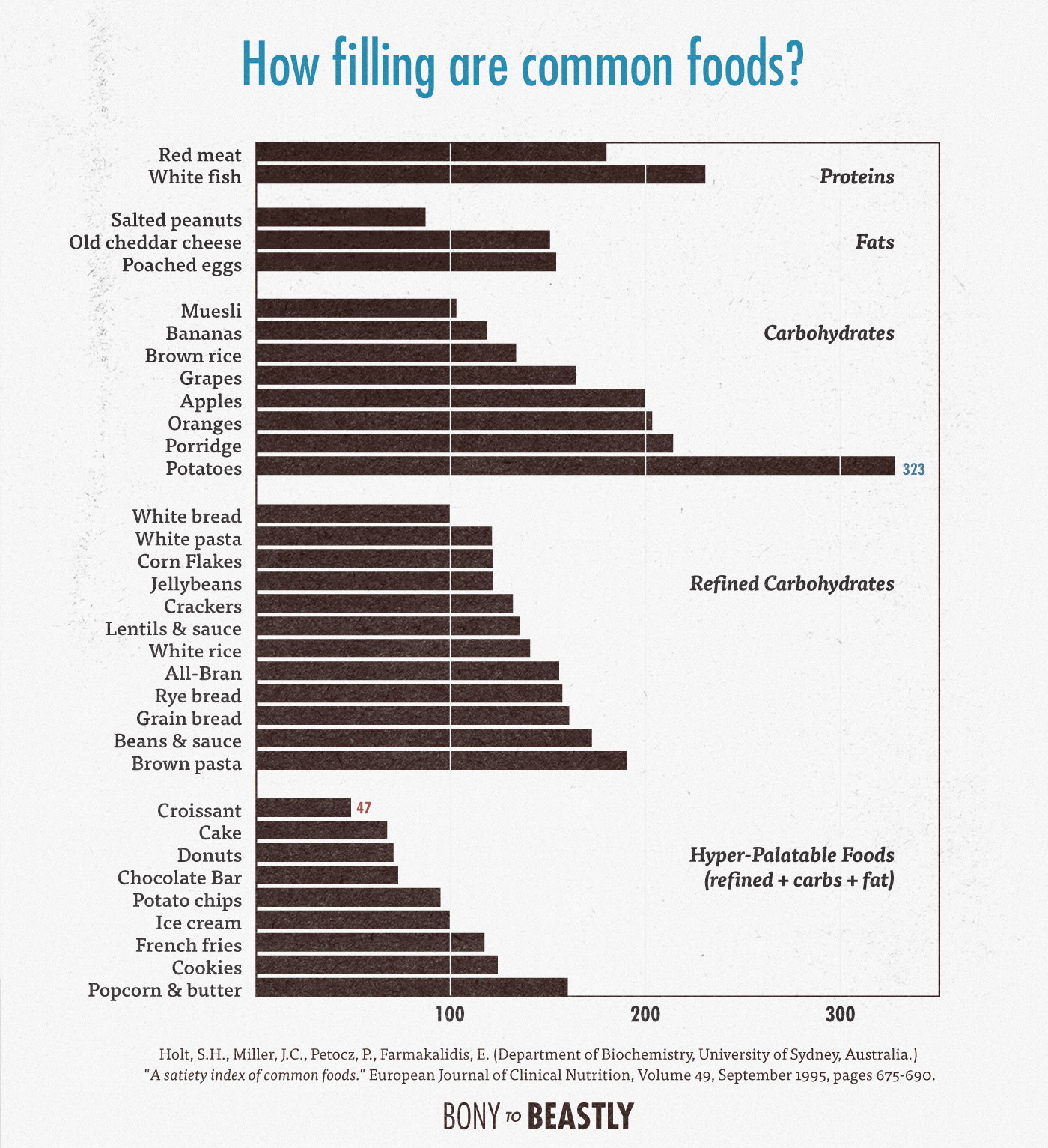 Most of this is fairly intuitive. Whole foods are filling, and the more you process them, the less filling they become. By the time we get to pure junk food, we have foods that are very easy to overeat. With the rise of junk foods in modern societies, we also have rising obesity. No huge surprise there.
But some of this is weird. I would never have guessed that potatoes were the best weight loss food ever, being 300% more filling than bananas and 700% more filling than croissants. But of course, "steak and potatoes" is an expression that means simple yet satisfying, so I shouldn't have been too surprised to find that both of those foods are indeed filling. (Mind you, these are boiled potatoes. If you turned that same potato into french fries, you'd be removing the water while adding oil, making it a far denser source of calories. We can also prepare steak in a way where it's not nearly as filling—but more on that later.)
Does satiety actually affect how many calories we eat? The researchers found that with these 250-calorie meals, for every 100-point difference on the satiety scale, there was a corresponding 50-calorie difference in how much was eaten in the next meal. That means that if you ate a potato for lunch (323 satiety) you'd eat a 650-calorie dinner, whereas if you ate a croissant for lunch (47 satiety) you'd eat an 800-calorie dinner. If you eat three meals per day, that could help you eat an extra 450 calories without you even noticing the difference. That's enough extra calories to gain nearly a pound each week.
What makes a food filling?
The researchers concluded that the most filling foods were either high in protein (like chicken breast), high in fibre (like broccoli), or high in water (like potatoes).
If we look at research conducted since then, we can also see that chewiness is a huge factor. The harder a food is to chew, the more filling it becomes. And if you don't need to chew the food (such as when drinking milk), your body barely even realizes that you're consuming calories at all.
Flavour is also an important factor, as explained in books like The Dorito Effect. After all, part of the reason we eat more calories is because we enjoy the flavour of the food. This means that if a meal tastes good enough, we'll often keep eating even after we feel full. A common example of this is when someone stops eating dinner because they feel full… and then goes on to eat dessert. The opposite is true when a food tastes bland. Since we're not enjoying the experience of eating the food, we stop eating as soon as our hunger is satisfied.
So here are the five traits of a filling food:
High in protein (like chicken breast).
High in fibre (like broccoli).
High in water (like potatoes).
Hard to chew (like tough steak).
Poor flavour (like plain chicken breast).
There are plenty of foods that are low in protein, low in fibre, low in water, easy to chew, and intensely flavourful. Doritos, for example. The problem is that Doritos aren't very good for building muscle. They don't have enough vitamins and minerals, they're too low in protein, they're too low in fibre, they're too high in processed fat, and they're bad for our digestive systems if we have too many of them.
We need to be smarter about this.
How to make protein less filling. If you look at lean fish, steak and chicken breast, you get protein sources that are hard to chew and slow to digest, making them almost impossible to bulk up on.
Choose liquid protein sources, such as whey protein shakes, yogurt or milk.
Choose high-calorie protein sources, such as salmon or chicken thighs (which have more calories from unprocessed fat).
Cook the meat in a way that makes it easier to chew and quicker to digest. One example of this is stewing the meat until it falls apart on your fork. Another example is to choose ground meat instead of steak.
How to make fibre less filling. First of all, you don't need to be eating that much fibre, especially when bulking up. For optimal health, you only need around 10 grams of fibre for every 1,000 calories that you eat. So if you're bulking up on 3,000 calories per day, you only need about 30 grams of fibre. That's not very much fibre, and eating more fibre than that can put a real strain on your digestive system, especially when you're eating so many calories.
Here are some tips to keep your diet healthy while reducing your fibre intake:
White foods are okay. For example, brown rice is usually marketed as being healthier because of its higher fibre content. However, white rice is cheaper, less filling, quicker to prepare, easier to digest, and, yes, lower in fibre (which in this case is a good thing).
Eat fruits instead of vegetables. Vegetables have a reputation for being healthier than fruits, but fruits and vegetables are actually both equally healthy sources of fibre and phytonutrients. The only "downside" to fruits is that they're higher in sugar and calories, making it easier to gain weight. You could say that fruits are healthier for underweight people, whereas vegetables are healthier for overweight people.
Blend the foods that are higher in fibre. Leafy greens are great for your health. No getting around that. So blend them. They'll be pulverized into perfectly "chewed" particles that all fit together perfectly, taking up far less space in your stomach and digesting far more quickly.
How to make water less filling. It's important to be drinking enough water, yes, but it's also important to make sure that you aren't filling yourself up on water while eating. Soup is notorious for being one of the most filling foods despite being extremely low in calories, but that same effect is true with a lot of foods. If you compare a grape with a raisin, for example, it becomes obvious that 90% of a grape is just water. That's just as bad as soup!
Don't drink water alongside meals. Have your water between meals instead. If you like having water with meals, try having milk (or soy milk) alongside your meal instead. That way at least you're boosting your protein and calorie intake.
Dried fruits are far less filling than regular fruits. If you take a grape and remove the water, you're left with a raisin that's 1/10th the size yet still contains the exact same nutrients and calories. Prunes, dates, and dried mangoes are also great for bulking up.
You might not need to drink as much water as you think. So long as your pee isn't darker than straw, you're hydrated enough. (Keep in mind that most fluids, and even many foods, contain plenty of water. That water counts.)
How to make food less chewy. The easiest way to make a food easier to chew is to blend it. That doesn't mean that you should blend everything, but it does mean that a smoothie or two per day might keep the doctor away. (I don't know if your doctor is bothering you, but mine was always calling me "dangerously underweight" and pestering me to eat more.)
Blend up fruits with yogurt, milk or whey protein. You'll get all the same nutrients but they'll be far less filling.
Choose ground meat instead of steak. This is the same idea as blending up your fruits, except instead of blending chewy fruit into a smoothie, you're grinding chewy meat into a hamburger patty or chili.
Cook your food well. Cooked carrots are easier to chew than raw carrots, (properly) stewed beef is easier to chew than steak, and kale chips are easier to eat than a kale salad. Cooking is also a form of healthy processing that will help your body digest the food more easily and extract more calories from it.
How to make food taste better. When we eat bland foods, we tend to get bored of them quickly, and as soon as we're full, we stop eating. This makes it psychologically harder to eat more calories, and honesty, making this bulking up process more psychologically enjoyable is one of the best ways to guarantee that you'll stick with it long enough to see real results.
Use sauces and spices liberally. There's nothing wrong with using plenty of barbecue sauce, ketchup, mustard, hot sauce, soy sauce, salt, pepper, onion powder, garlic powder, and whatever else you enjoy using on your foods. Some of them contain calories (often coming from sugar), but that just boosts the calorie content of your food without removing any of the vitamins, minerals and fibre in it.
Vary the flavours in your food. It's easiest to bulk up when your meals are fairly consistent, but your body will burn out on certain flavours if you eat them over and over again. So try to add variety via spices, sauces and toppings. For example, my wife and I will have picadillo served on tortillas one day (as tacos) with plenty of hot sauce, then picadillo served on a bed of rice the next day with a little bit of soy sauce (which tastes better than it sounds). This allows us to make a giant pot of picadillo that we eat all week long without feeling like we're eating the same thing every day.
Combine smaller meals into one mega-meal. Tim Ferriss famously bulked up on chili served on a bed of macaroni and cheese. A bizarre combination, but one that helped him prevent flavour fatigue. A more common example of this would be to have dinner (e.g. stew) served alongside a drink (e.g. milk) followed by a dessert (e.g. dark chocolate). Yes, these larger meals will take a while to digest, but if you have them at night, your body can digest them while you sleep.
Takeaway: now's not the time to be loading up on raw low-calorie watery fibrous foods like broccoli, lettuce, and watermelon. Go for the higher calorie choices instead, such as hamburgers, bananas, milk and trail mix. They're just as healthy but far less filling.
Then focus on making all of your meals taste great so that you enjoy eating more calories. For example, don't just toss a bunch of high-calorie ingredients into a blender and hope for the best. Make smoothies that actually taste good. (We'll give you a great bulking smoothie recipe at the end of the article.)
Dirty bulking vs clean bulking
Mark Schatzker, author of The Dorito Effect, wrote about how the 60's changed the food industry in two key ways. First, scientists found a way to make artificial flavouring taste better. Instead of craving cheese, people started craving cheese-flavoured Dorito chips. Doritos have the same great cheese flavour except even more intense.
Second, farms were starting to master the art of growing greater volumes of food. Their focus on volume instead of flavour was excellent for feeding tons of people at reasonable prices… but farmed foods began tasting more bland. The thought of eating a bowl of berries became far less exciting, and people became more likely to choose berry-flavoured junk food instead.
Making your diet more delicious is a great way to make bulking easier and more enjoyable, and choosing junk foods instead of whole foods is an effective way to do that.
Moreover, most junk food is low in protein, low in fibre, low in water and easy to chew, making it extremely easy on your appetite.
And most junk food is also so incredibly processed that it's essentially predigested, allowing you to absorb the calories extremely efficiently.
Junk food makes eating enough calories to gain weight far easier.
These are huge points in favour of dirty bulking, right? Maybe it's not the healthiest approach, sure, but if you're desperate to eat more calories, it will work… right?
Sort of. It will absolutely help you eat more calories, especially in the short term, but you'll also start running into a few problems.
The downsides of dirty bulking:
You'll start getting vitamin and mineral deficiencies, which will limit your testosterone production and crush your immune system, among other things. You'll start gaining more fat and less muscle, and you'll start getting sick more often.
You'll develop a weaker digestive system. Your digestive system relies on healthy bacteria to help you digest your food, and these healthy bacteria survive on fibre and prebiotics, which most junk food is too low in. Dirty bulking can lead you to a point where you feel like you can't digest food properly anymore.
You'll wear your body down. Lifting weights stresses your body and forces it to adapt. It's a good stress, but if you're also eating too much junk food, you're going to wind up inflamed, fatigued and unable to recover in time for your next workout.
You'll be consuming too much dietary fat. You'll build muscle the most leanly when you eat a diet that's very high in carbohydrates (50–60%), moderately high in protein (20–30%), and fairly low in fat (20–30%). Junk food tends to be too high in fat, and that extra fat is very easily stored as body fat. To make matters worse, the type of highly processed fat that's commonly used in junk food is even more likely to be stored as body fat.
So should we bulk "dirty" by eating a diet that's high in junk food? Probably not. At a certain point, you'll probably get sick, feel bad about how you're looking and feeling, and give up. But keep in mind that the best bulking diets don't focus on cutting the bad stuff out, they focus on adding the good stuff in.
A good bulking diet isn't about eating clean, as eating clean emphasizes restricting bad foods. A good bulking diet is about focusing on eating plenty of nutritious foods. If there's some junk food in there too, so be it—it's probably making it easier to eat enough calories.
So the best way to improve your diet as an underweight guy is to add in more of the protein, fibre, starchy carbs, vitamins, and minerals that you're missing, not to remove the easy sources of calories that you're already in the habit of eating.
Here are some examples of adding in nutritious foods:
Start having a glass of milk alongside your meals to boost protein.
Start adding some sliced bananas into your breakfast cereal for added prebiotics.
Snack on some trail mix between meals to add vitamins and minerals.
Once gaining weight becomes easy, then you can work on swapping out your unhealthy meals for healthier alternatives. And as you swap in those healthier meals, keep in mind that you want to be keeping those new foods as easy on your appetite as possible.
For example, let's say you love eating fast-food hamburgers. There are a lot of appetite tricks in there. The meat is ground, the bread is heavily processed, the processed cheese is calorically dense, and there are a lot of delicious sauces in there. If you swap that hamburger for some steak and veggies, you'll be eating far fewer calories and feeling far more full afterwards. That's a bad swap.
So when you're trying to eat more calories, a better replacement for your burger would be a big bowl of deliciously flavoured chili with a generous topping of cheese. The chili is even easier to chew than a hamburger patty, it's even more calorically dense, and it's even more convenient to make (because you can cook 14 servings at once and reheat them in a few minutes, saving yourself from two entire weeks of having to cook dinner—far more convenient than fast food). This makes your meal healthier without sabotaging your efforts to eat more calories.
Also, don't strive for perfection. If 80% of your diet is whole foods, that's usually enough to give you all the protein, fibre, prebiotics, vitamins and minerals that you need for perfect health and perfect gains.
Takeaway: Focus on adding nutritious foods in, not on removing junk food.
Big meals vs frequent meals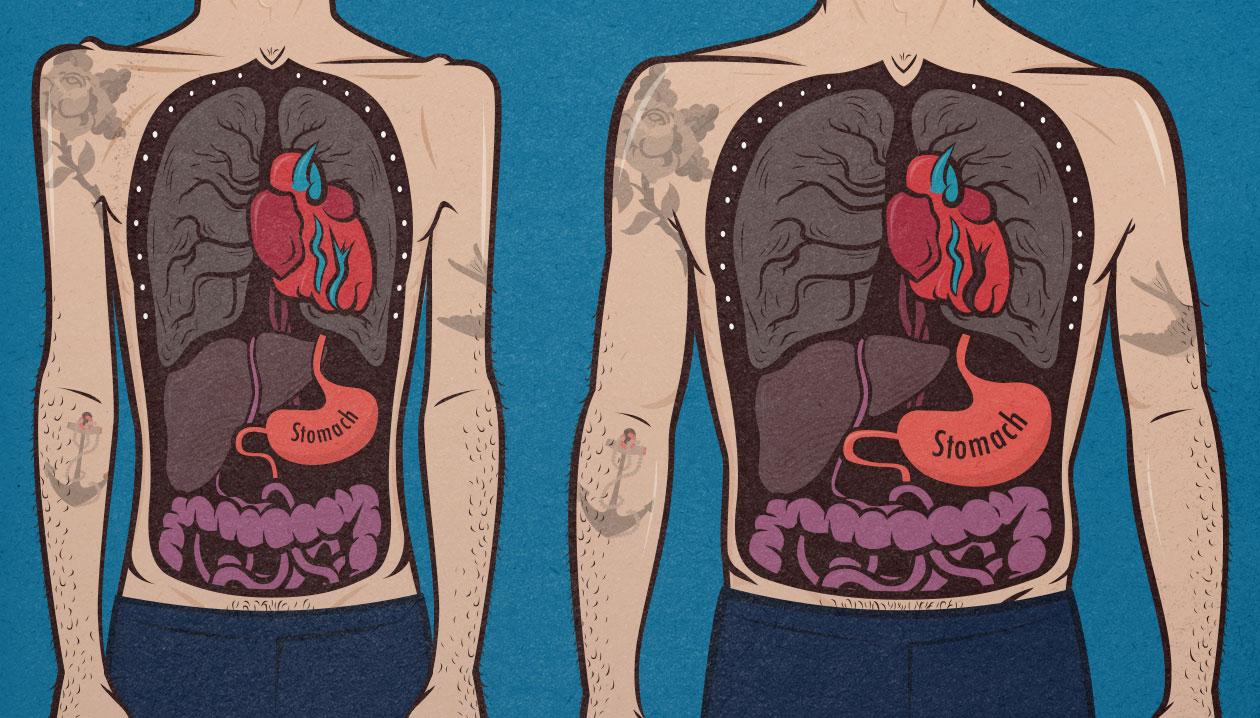 One of the main differences between naturally skinny guys (ectomorphs) and naturally overweight guys (endomorphs) is that our stomach sizes are totally different sizes. In fact, our stomachs can be up to 6 times smaller than theirs. This is why they can wolf down giant meals with ease, but if we try to match them fork for fork, we wind up feeling sick and lethargic.
However, our digestive system is often similarly powerful to theirs, especially once we get used to eating more food. This means that we can process roughly the same amount of food each day, it's just that we can't fit as much in our stomach per sitting.
So one of the best ways to get around a small stomach is to forget about eating bigger meals and instead focus on snacking between meals. You only need about 500 extra calories in your daily diet in order to gain a pound each week, and that can easily be accomplished with just two 250-calorie snacks each day.
If we look at the research on how snacking affects appetite, your body does a poor job of tracking how many calories you eat while snacking. If you have a 300-calorie snack after lunch, you'll naturally eat around 100 fewer calories for dinner. That means that you've added 200 calories into your diet without having to stress your appetite or stomach whatsoever.
There's another factor to consider as well. Every time you eat a meal that has enough protein in it (about 20 grams), you'll stimulate muscle growth. This extra muscle growth will last for a few hours, and then your body will return to normal, at which point you can stimulate muscle growth again by eating another protein-rich meal.
The researcher Dr Eric Helms estimates that eating 4–5 meals per day, each containing at least 20 grams of protein, is the absolute ideal for building muscle. This schedule is also well-suited for guys with smaller stomachs, as eating more frequently means that your meals can be smaller.
However, be warned that frequently eating protein-rich meals can make it harder to eat more calories. Protein is the most filling macronutrient, so if you're finding that too difficult, you might find it easier to snack on lower-protein foods like trail mix.
Takeaway: if you currently eat the standard three meals per day, instead of making those meals bigger, you might want to experiment with adding in an extra 500-calorie meal, or adding in two extra 250-calorie snacks.
Healthy foods that are high in calories
Junk food is high in calories and easy to digest, but it's also full of empty calories, it's low in protein, and it will make your digestive system weaker over time. Fortunately, there are quite a few healthy foods that can help us eat more calories. Here are the best healthy bulking foods:
Whole Milk
Whole milk is high in protein and calcium, making it great for stimulating muscle growth. It's easy on the appetite because it's a liquid, making it harder for our bodies to detect the calories, and making it pass through our digestive system more quickly.
Olive oil (and other healthy oils)
A single tablespoon of olive oil contains 120 calories, making it the most calorically dense food out there. Desperately taking shots of olive oil at midnight in order to hit your daily calorie target (as we used to do) can be a pretty bad time, but drizzling olive oil on top of vegetables is a great way to boost their caloric content in a healthy way. (Tip: fish oil is also healthy and high in calories, and research shows that a tablespoon of fish oil per day can help us build muscle more leanly.)
Nuts (and nut butters)
Nuts are incredibly dense sources of calories, they're one of the healthiest sources of fats, and they tend to also contain some protein. As a bonus, the minerals found in nuts, such as magnesium, tend to be great for testosterone production and muscle growth. (Tip: mixed nuts will give you a greater variety of nutrients and their varied flavours will help prevent flavour fatigue.)
Dried fruits
Dried fruits are a fraction the size of regular fruits, yet they have just as many vitamins, minerals and fibre. In fact, if you compare dried fruit against fresh fruit by weight, dried fruit contains about 3.5 times the amount of fibre, vitamins and minerals as fresh fruit.
Dark chocolate
Dark chocolate is a good source of healthy fats, minerals and antioxidants. It's also incredibly dense and easy to digest. (Tip: add unsweetened chocolate chips to your trail mix or muesli cereal.)
Trail mix (nuts + dried fruit + dark chocolate)
Trail mix is a blend of the highest calorie health foods: dried fruits, nuts and chocolate. This gives you the carbs, fibre and phytonutrients from the dried fruits while also getting the healthy fats and minerals from the nuts and chocolate.
Muesli cereal (trail mix + milk)
Muesli cereal, like trail mix, is a blend of dried fruits and nuts. What makes muesli cereal especially powerful when you're trying to eat more is that you can combine it with milk, kefir or yogurt, adding more calories and protein to the mix. (Tip: mix some protein powder into the milk to boost the protein content of your cereal without making it more filling.)
Protein shakes
Protein shakes—especially whey protein shakes—are the easiest way for a guy with a small stomach to boost his protein intake. (Tip: experiment with using less water in your protein shakes, especially when having them alongside meals.)
Bananas
Bananas are one of the most calorically dense fruits, and they're also a great source of prebiotics, which is important for keeping your digestive system running smoothly. They also taste great in smoothies, can be sliced up and added to cereal, and make a great pre-workout snack (especially if you lift first thing in the morning).
White Rice
White rice is the cheap bulking food. A cup of cooked white rice contains roughly 200 starchy carb calories, which are perfect for building muscle, and which digest easily. (Tip: Brown rice is usually marketed as being healthier because of its higher fibre content, but white rice is cheaper and easier to digest while being just as effective for building muscle.)
Smoothies
When you're trying to eat more calories, a good blender will quickly become your best friend. When you blend foods, they become calorically denser, less filling, and easier to digest. And best of all, blending up foods doesn't remove any nutritional value whatsoever. (Tip: struggling to eat enough leafy greens while bulking? Blend them up with some fruits and milk.)
Cheese
Cheese is high in calories, contains a decent amount of protein, and makes food far more flavourful. Some cheeses, like parmesan, are also rich in probiotics, making them great for your digestive health. (Tip: parmesan can be added to almost any savoury food—chili, soup, sandwiches, eggs, etc—to intensify flavour, boost calories, and strengthen your digestive system.)
Full-fat yoghurt
Yoghurt is high in protein and a great source of probiotics. It works well in smoothies, can be added to cereal, and makes for a great snack. When trying to eat more calories, choose full-fat yoghurt instead of the low-fat "diet" yoghurts that are becoming so common. (Tip: greek yoghurt is even higher in protein.)
Kefir made from milk
Kefir can be made by fermenting milk. The fermentation process eats up some of the sugars in the milk, leaving probiotics in its place. This makes kefir higher in protein than milk, and richer in probiotics than yogurt.
Raw eggs
There's a reason that bodybuilders (and Rocky) are notorious for drinking raw eggs to bulk up. Not only are they a fantastic source of vitamins and minerals, they're also high in protein, healthy fats, and calories. However, be warned that there's a small risk of salmonella poisoning, and so it's important to choose high-quality eggs and drink them at your own risk. (Tip: cooked eggs are equally nutritious, but they're also far more filling.)
Ground meat
Meat is often chewy and sinuous, making it quite filling and slow to digest. It's common for guys who are trying to eat more calories to add more steak into their diet, as steak is so high in protein. However, if you choose ground meat instead, not only is it often cheaper, but it will also be far less filling and digest far more quickly.
Salmon (and other fatty fish)
Salmon is arguably the best meat for trying to eat more calories. It's not only high in protein, but also full of fish oil. Moreover, it's quite easy to chew and digest, making it one of the healthiest and least filling sources of protein. (Tip: Eating salmon twice per week is more than enough to get all the benefits from the healthy fats.)
How to Eat More Calories (Summary):
Here are the seven things to keep in mind when you're trying to eat more calories:
Don't eat a restrictive diet. Don't focus on cutting out sugar, carbs, beer, gluten, junk food, breakfast—whatever. Restricting your diet is a mindset designed to help people lose weight. To gain weight, we need to stop focusing on cutting bad things out, and start focusing on adding good things in.
Eat more often. If you have a small stomach, eating bigger meals will be hard. Snacking is a much easier way to add calories into your diet.
Eat denser foods. For example, if a raisin is 1/10th the size of a grape, then you can fit 10x as many calories in your stomach if you eat raisins instead of grapes.
Eat foods that are lower in fibre. Fibre makes foods more filling and slower to digest. For example, white rice is quicker and easier to digest than brown rice because of its lower fibre content. (10 grams of fibre per 1,000 calories is ideal for bulking leanly and healthfully.)
Drink your calories instead of eating them. Liquid calories are less filling per calorie and clear out your stomach more quickly. For example, have a whey protein shake instead of a chicken breast.
Prepare your food for easy digestion. The better you can prepare your food, the less work your digestive system will have to do. For example, ground meat has essentially been pre-chewed, making it far easier to eat and digest.
Build a stronger digestive system. Eating plenty of prebiotics and probiotics can improve your ability to digest food. For example, a diet rich in onions, garlic, bananas, yogurt, and hard cheeses will make it easier to eat more in the longer term.
Make your food taste better. The better your food tastes, the more of it you'll want to eat. One way to build this into your diet is to have (somewhat) healthy desserts after dinner. Also, use plenty of sauces and spices.
Conclusion
When we asked our 10,000 newsletter subscribers what their biggest issue was, 60% of guys told us that they had trouble eating enough. Their metabolisms were too fast, their stomachs were too small, their appetites were too fickle, and even though they tried to force-feed themselves, they just felt sick and tired.
After 10 years of research, personally gaining 55 pounds, helping my closest friends bulk up, and then helping over 5,000 guys build muscle with the Bony to Beastly Program, I can tell you that it's possible eat enough calories to gain weight, and it doesn't need to be nearly as hard as you think it does.
Gaining weight isn't just possible, it's realistically achievable.
Three months from now, you can step onto the scale 20 pounds heavier. I'm not just pulling that number out of my biceps, either. Not only have I done it three times myself (I gained 55 pounds by doing three 3-month 20-pound bulks), but this is what I spend all day helping guys do in the Beastly community.
The trick is being clever about it instead of trying to brute-force it. Now isn't a time to watch a motivational video and use will yourself to eat more. If you do that, you'll be able to tough it out for a few miserable weeks if you're lucky, and then you'll burn out and give up. Now is the time to start learning about how to eat in a way that suits your body type and your goals.
So, up above we've explained how appetite and stomach capacity work, along with a number of ways to eat more calories. But just to make sure you have an actual action plan, we've made a guide for you. It includes a sample meal plan with all of these principles optimized (which is how I was able to finally gain 55 pounds). We've also included 3 bulking recipes: one for breakfast, lunch and dinner.
You can get it (for free) right here:
​Free guide: How to Eat More

​​A PDF version of this article

for later reference​

A cheat sheet of the main points (great ​for putting on​ your fridge)
A sample meal plan with these principles optimized—​the​ same plan Shane used to gain 55 pounds
3 of Shane's favourite bulking recipes​; one for breakfast, lunch and dinner
Plus, we'll put you on the Beastly newsletter so that you get all of our best information and offers.