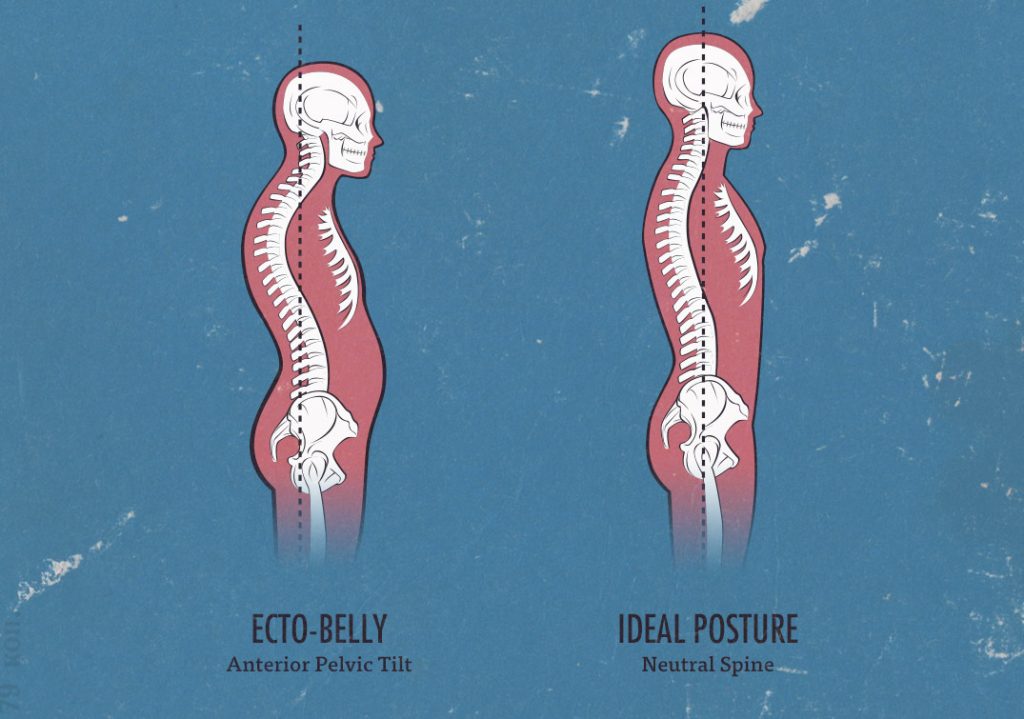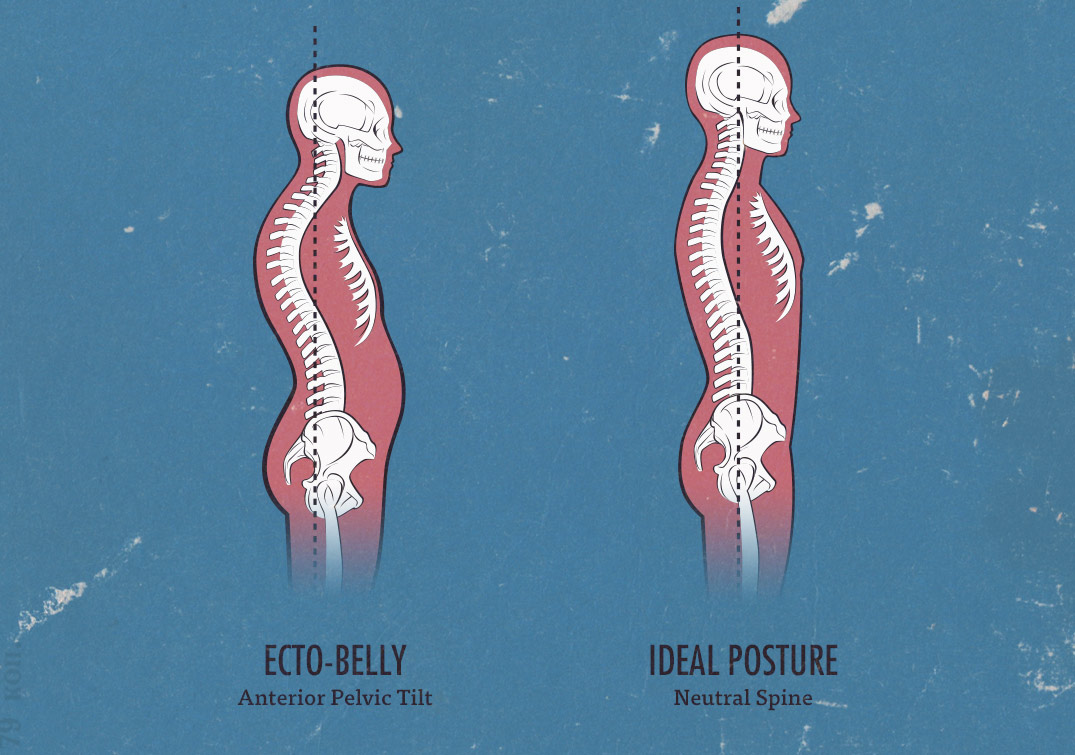 Why do I have a little belly even though I'm fairly lean?
One reason could be that you're "skinny-fat". Masculine hormones generally cause us to store fat in our stomachs, so it's actually pretty common for skinny guys to start developing a bit of a belly—and only a belly—if they aren't eating very well or doing much to encourage muscle growth (like lifting weights). The solution to that would be to start eating and training for muscle growth.
…However, many of the skinny "pot bellies" we see have nothing to do with fat at all—they're postural. More specifically, they're caused by an anterior pelvic tilt. This is incredibly incredibly common. I'd guess that around 80% of the skinny guys coming into our program have them. So around here we affectionately call this postural pot belly issue "ecto-belly."
Here's what I mean: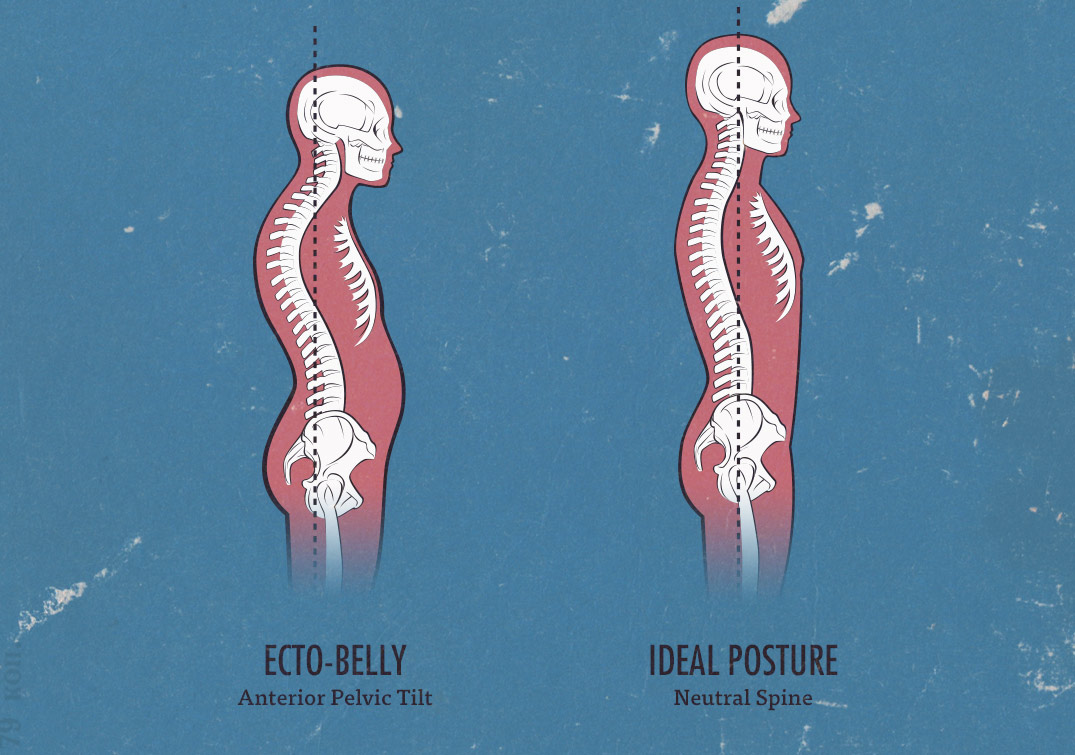 In the first image you've got a typical skinny guy with ecto-belly. His pelvis is tilted forward, perhaps from years of spending a lot of time sitting and not a lot of time developing strength or working on mobility. This creates an arch in his lower back (lordosis). In order to keep his upper body upright, his ribs then need to flare upwards. This creates a flat zone in the mid back. In order for his head to remain upright, his upper back rounds forwards and his neck juts forward. This creates rounding (kyphosis) in his upper back and something called "forward head syndrome."
This arsenal of postural compensation patterns isn't that bad. Many skinny guys go through their entire lives without ever addressing it and nothing all that horrifying happens. This posture also boosts the perceived size of your tush, making it a create choice when taking belfies*.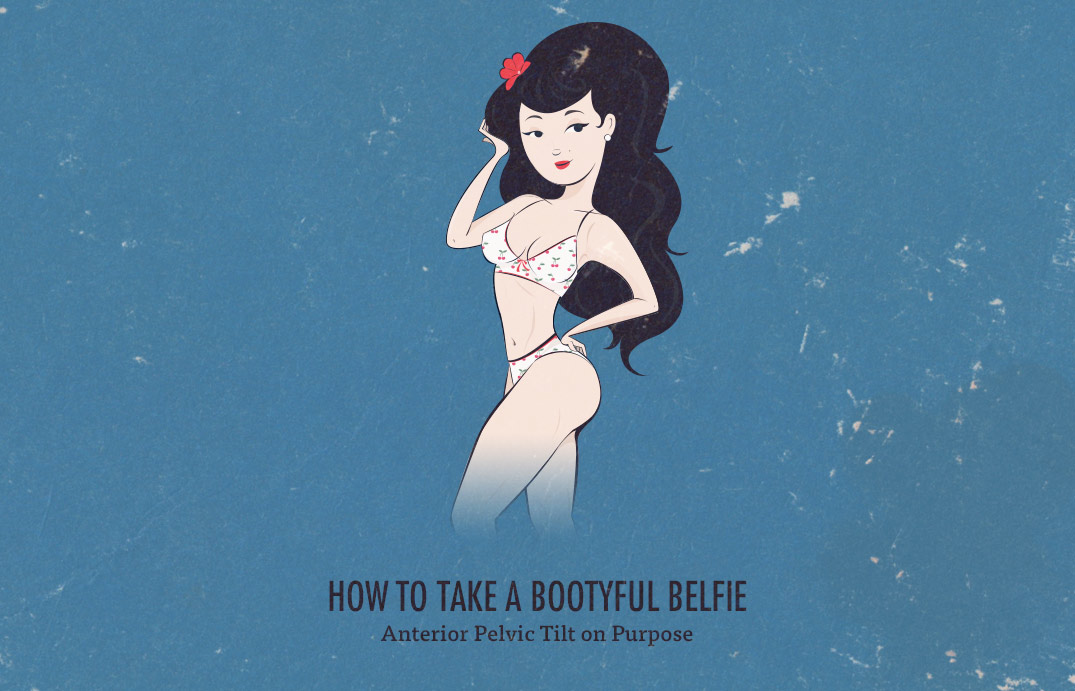 Most men try desperately to get out of it though, and there's good reason for that. It can make it dangerous to lift weights overhead, it could potentially reduce athletic performance, it gives you the appearance of a skinny dude with a pot belly, and it also makes you look a whole lot less confident. In fact, it mirrors a timid posture so perfectly that your brain will respond to it by reducing your actual confidence levels.
Luckily it's very fixable. Learning how to do deadlifts, squats push-ups and planks properly will go a long way to fixing it, so a good strength training program (like ours!) will help a tremendous amount even if you don't pay that much attention to your posture. You can also work on building up better glute strength, doing planks, and practicing maintaining a neutral pelvis and strengthening that position with lifts like the dead bug:
Postural stuff can take time. If you're lifting well though, you're well on your way. You'll be standing a little taller and more confidently each week.
*Butt selfies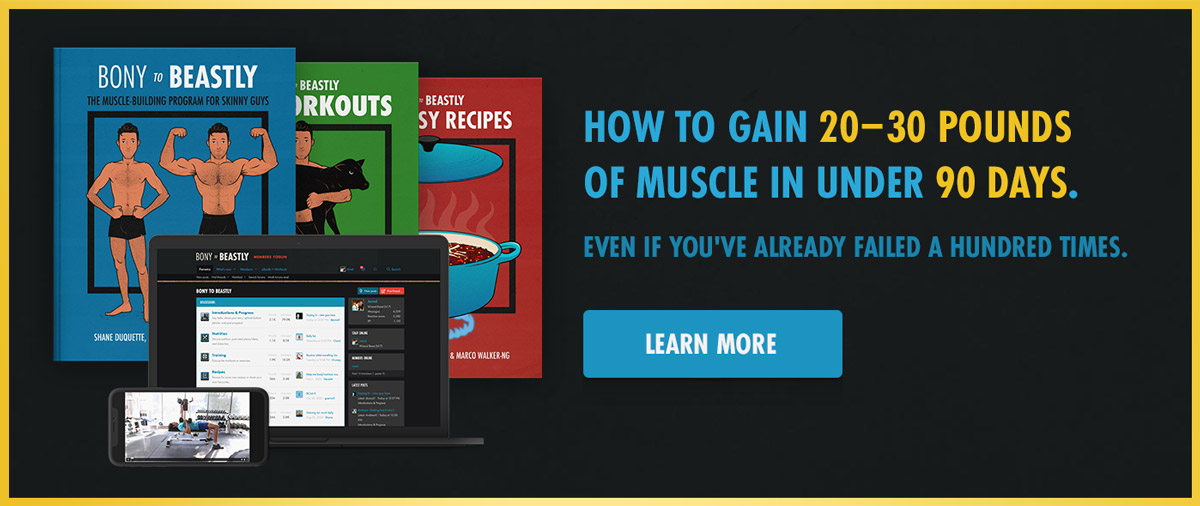 FREE Bulking Mini-Course
Sign up for our 5-part bulking mini-course that covers everything you need to know about:
Hardgainer genetics and how to make the most of them.
How to take a minimalist approach to bulking while still getting great results.
What you need to know about aesthetics, health and strength while bulking up.