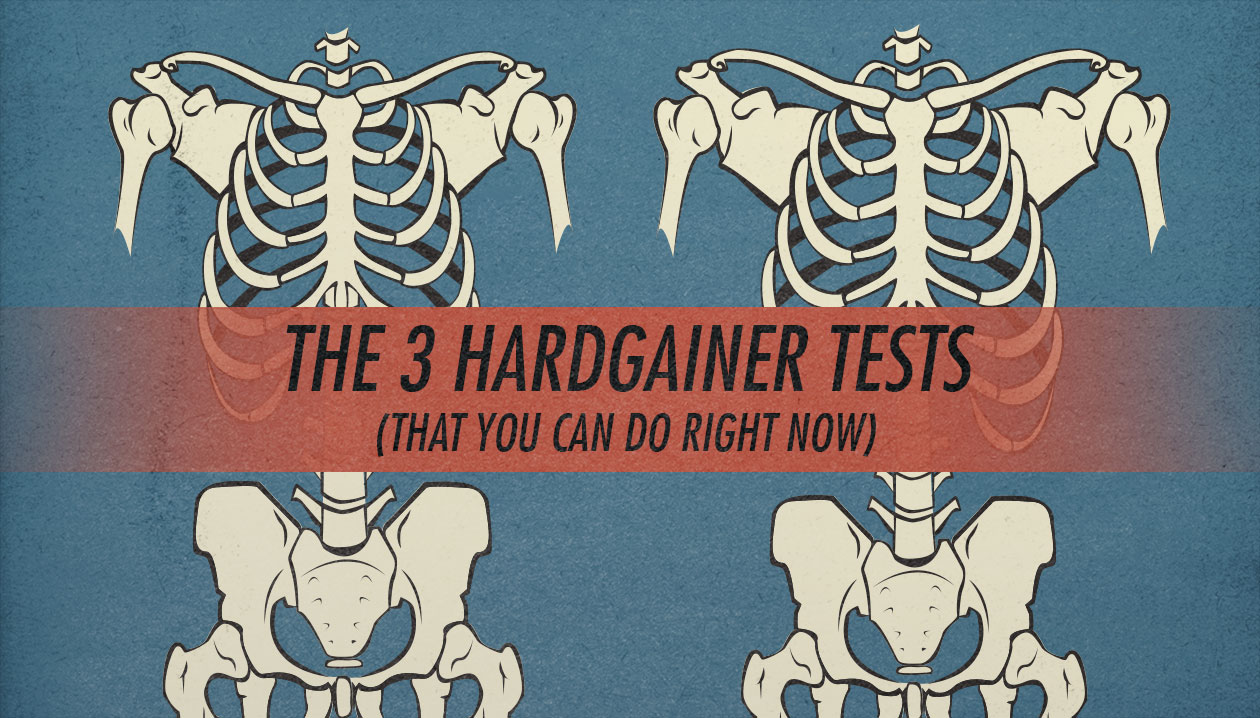 How Much of a Hardgainer Are You?
Have you ever wondered whether you're an ectomorph or not? What your muscle-building potential might be? How much of a hardgainer you are? How your physique might look after gaining 10, 20 or even 40 pounds of muscle?
These three quizzes should help you figure all of that out, and you can do it right now from the comfort of your very own home.
Before we get started we also have a quick announcement to make. We've had a lot of guys asking for video content, so we've decided to start making YouTube videos. We've just put up these three new videos, and if you want more, just let us know by liking, commenting and subscribing via YouTube. If you guys dig 'em, let us know as we're happy to keep making more.
Hardgainer Genetics Quiz #1. Bone Breadth
In our Ectomorph Aesthetics article we talk about the most attractive shoulder to waist ratio. That has to do with how broad your shoulders are compared to how narrow your waist is. Genetics can help with that for sure, but that has more to do with leaning down your waist and muscling up your shoulders. This ratio is very different, as it concerns itself strictly with your bone structure.
I initially read about this a decade ago in the old Scrawny to Brawny book by Dr. John Berardi and Michael Mejia. They suggest that if your bi-acromial to bi-iliac breadth ratio is 1.46 or higher then you have an ideal frame for building muscle. Berardi is well known for doing good research, so I suspected there was more to this. I searched PubMed for studies looking into this bi-acromial to bi-iliac ratio and found a couple studies that use it as a way of predicting body mass.
Excellent.
One of them was a study out of Johns Hopkins University in 2000 (study). The researchers took elite athletes in various sports, measured their bi-acromial to bi-iliac ratio, weighed them, and established a way to predict body mass based on bone structure. Olympic weightlifters, the burliest of the bunch, had a ratio of 1.491. Decathletes, the narrowest of the bunch, had a ratio of 1.311.
A follow-up study in 2004 supports this theory as well, finding that Inupiats (aboriginals of Alaska) have a 1.38 biac/bi-iliac ratio and are slenderer than Finns, who have a 1.41 ratio (study).
Now the rub—this ratio is very hard to measure! I highly recommend watching the video above, where I show you how to measure it.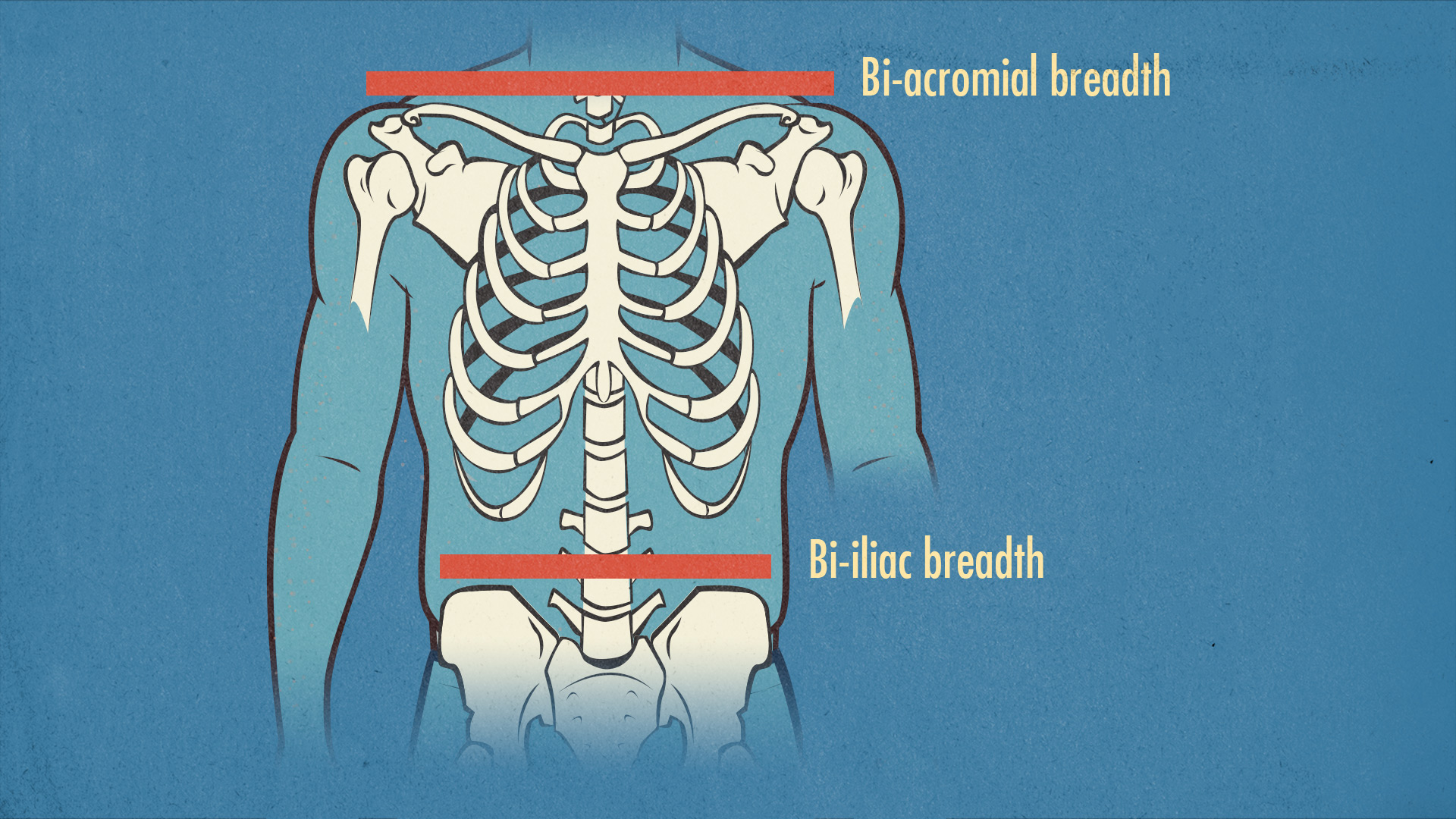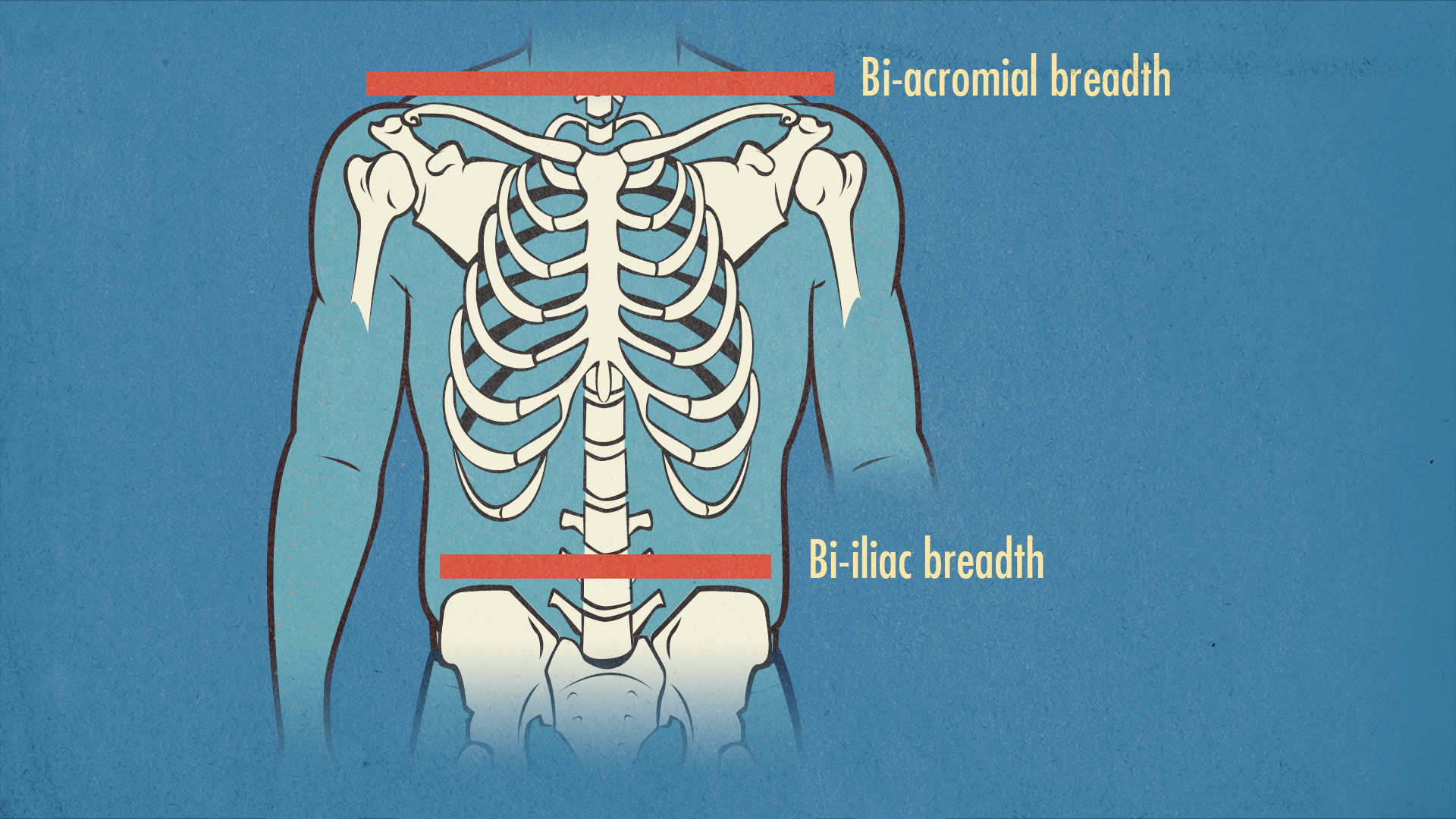 For the bi-acromial breadth, use measuring tape to measure the distance between the outermost parts of your shoulder bones. This doesn't include your upper arm bone or your shoulder muscles, but just where your shoulder joint begins. Also keep in mind that we're measuring the distance between the joints, so hold the measuring tape out a little bit in front of your body so that it doesn't curve around your chest.
Same deal with your hips. The outermost part of your upper hip bones, and no bending of the measuring tape.
Once you have these measurements, just divide the shoulder measurement by your hip measurement to get your ratio. You can use either inches or centimetres for this. We're calculating a ratio here, so as long as you're consistent it won't matter.
Your Bone Breadth Ratio = Shoulder breadth / Hip breadth
If you have a ratio under 1.4 you have an elite endurance build
If you have a ratio of 1.4–1.45 you have an average build
If you have a ratio of 1.46–1.5 you have an elite strength build
For an example of someone with amazing natural muscle-building potential, we can look at the old school bodybuilder Steve Reeves. Even as a young teenager you can see that his genetics are pretty undeniable.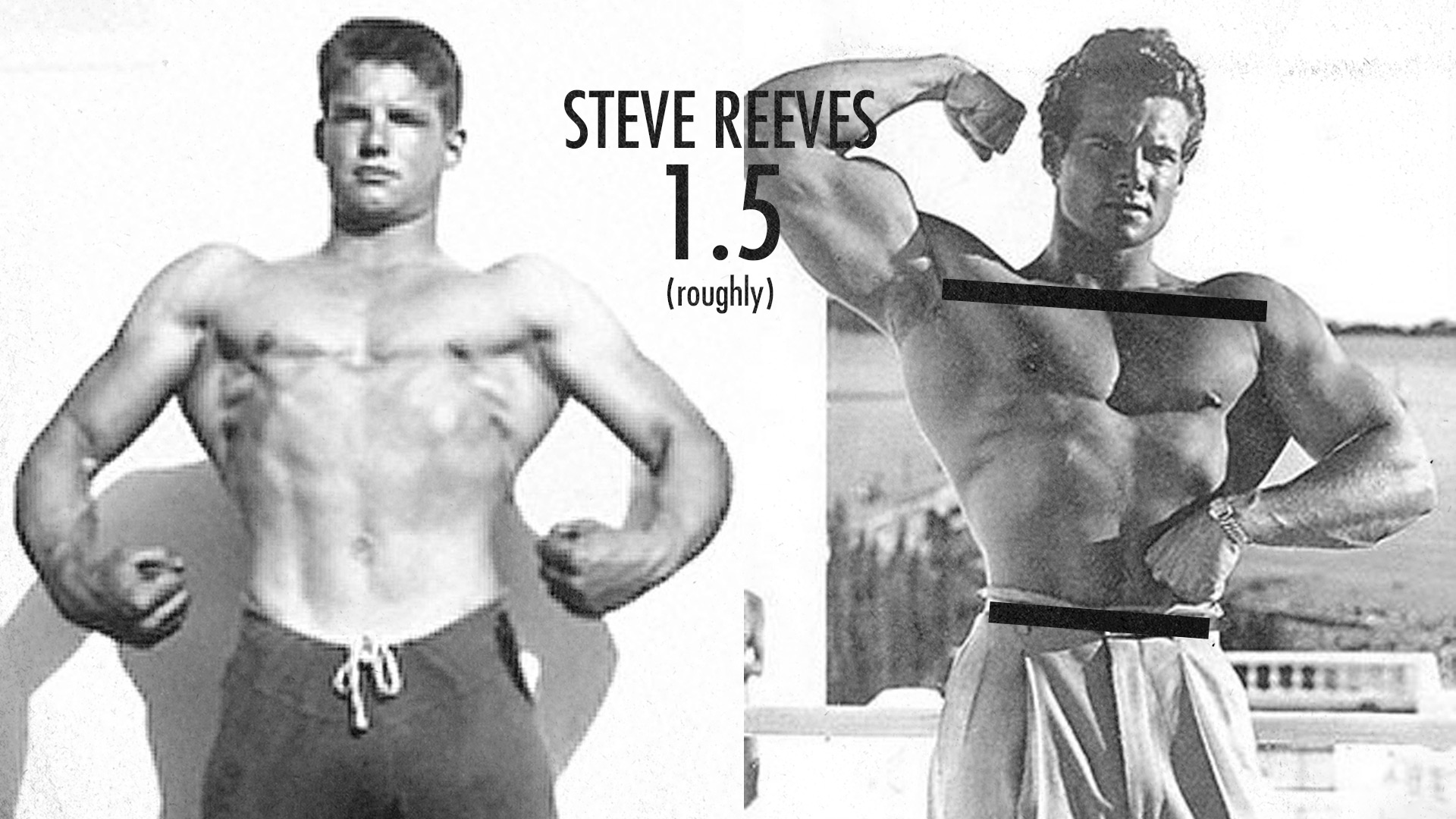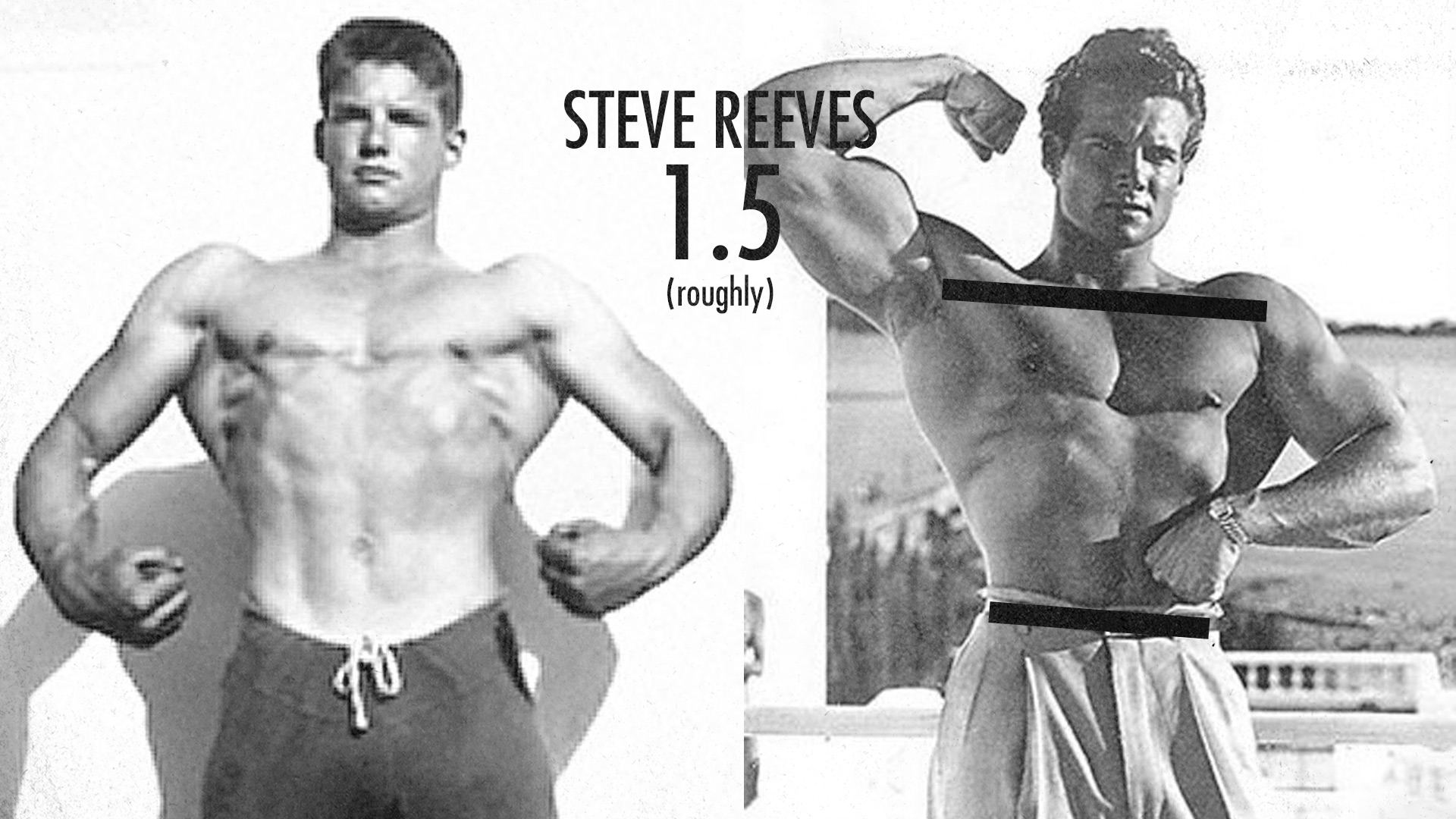 For realistic examples of what you can achieve, some good examples are Ryan Gosling and Brad Pitt. Both are ectomorphs with similar muscle-building genetics in most ways, but Ryan Gosling has a slightly lower ratio than Brad Pitt. Chances are that you're somewhere in the middle.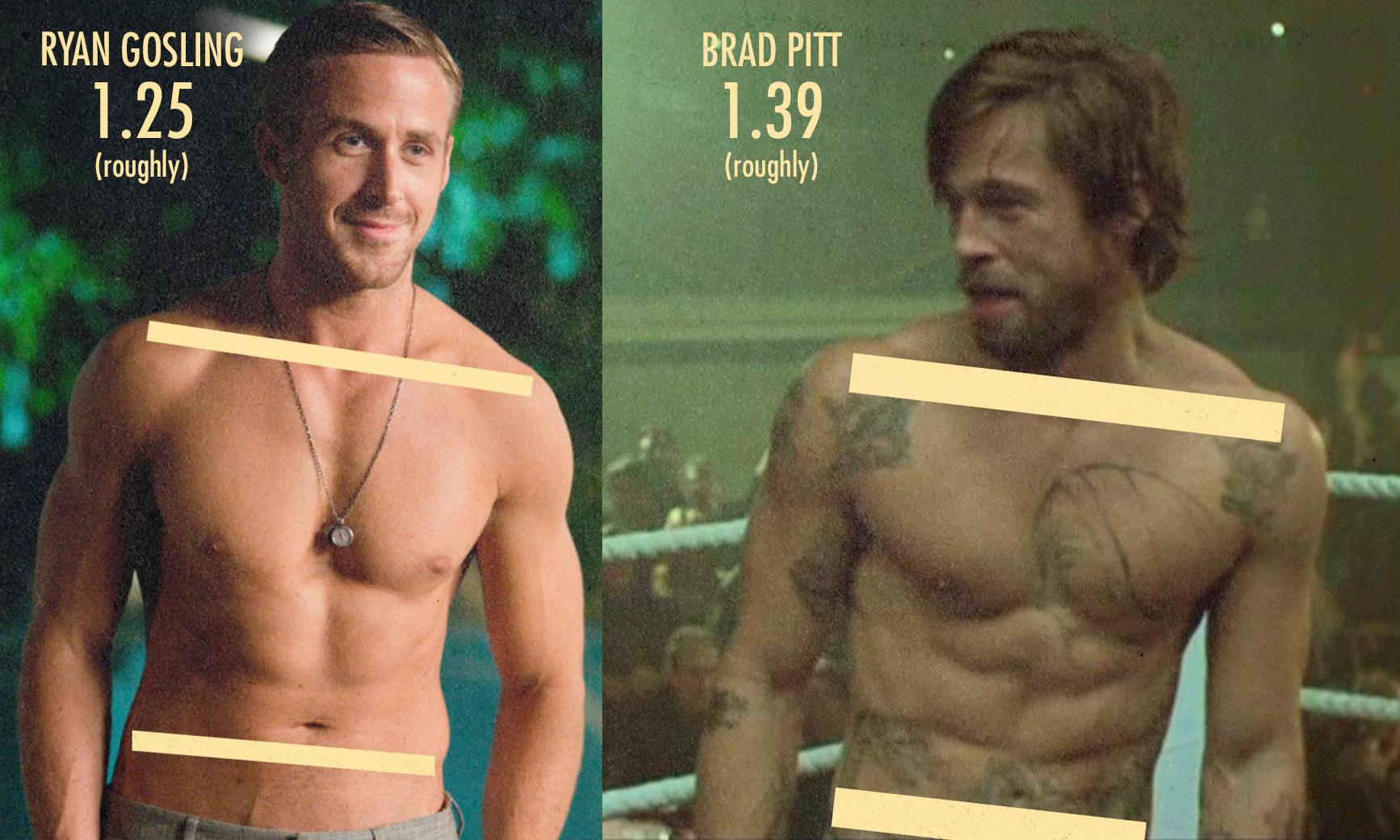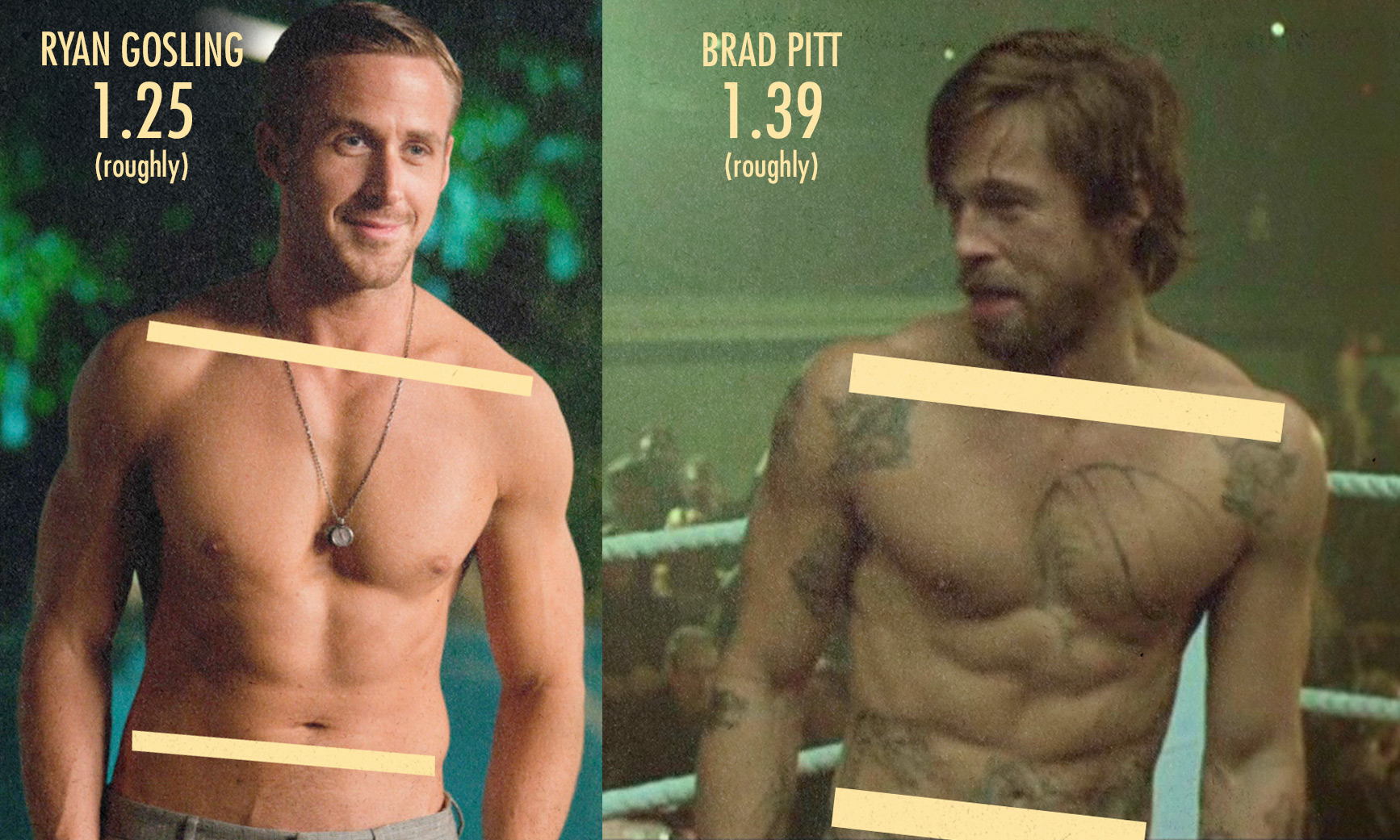 What should you do if you have an endurance build? This is another one of those things that makes us "hardgainers"—guys who need to be smart with our lifting and nutrition in order to wind up with a strong, optimally attractive physique. Some guys look plenty strong just by playing sports and whatnot, but we aren't those guys.
Hardgainer Genetics Quiz #2. Bone Thickness
This test is a special one, since you could say that it's the original hardgainer test. In the 1950's, the famous bodybuilder Reg Park began noticing that "the small boned type" didn't build muscle as easily as other body types. The term hardgainer was coined shortly thereafter, and since then the research of Dr. Casey Butts has proven that there's indeed a relationship between bone thickness and muscle-building potential.
How do you figure out if you're the small boned type? By measuring how thick your bones are in relation to your height. Unless you're quite overweight, your wrist and ankle size are determined almost exclusively by your bone size, so these are the best places to test. Our wrist size directly relates to arm muscularity, whereas ankle size directly relates to leg muscularity. For the purposes of this test, we'll use our wrists.
Your Bone Thickness Ratio = Wrist Circumference / Height
So take your wrist circumference and divide it by your height (in cm or inches). If the number you get is smaller than 0.1045, you have skinny wrists. Welcome to the hardgainer club.
Now, to figure out what an exceptionally thick bone structure is, let's take a couple pre-steroid era bodybuilders and run their numbers. Thanks again to the research of Dr. Casey Butts, we have some good numbers to use. Ron Lacy (Mr. America 1957) had a moderate ratio of 0.1058, whereas thicker boned John Grimek had a ratio of 0.1138.
Taking this further, Butts found that most guys who can get world class biceps are over 6' tall and/or have over 8" wrists (over 183 cm tall with over 20 cm wrists). This beast of a dude would have a ratio of 0.1111. Not quite as sturdy as Grimek, but still larger than some of the thinner Mr. America winners. With a ratio like this you can rest assured that your bone structure will be propelling you forward, not holding you back. If you're reading this though, I doubt that describes you at all. It certainly doesn't describe me!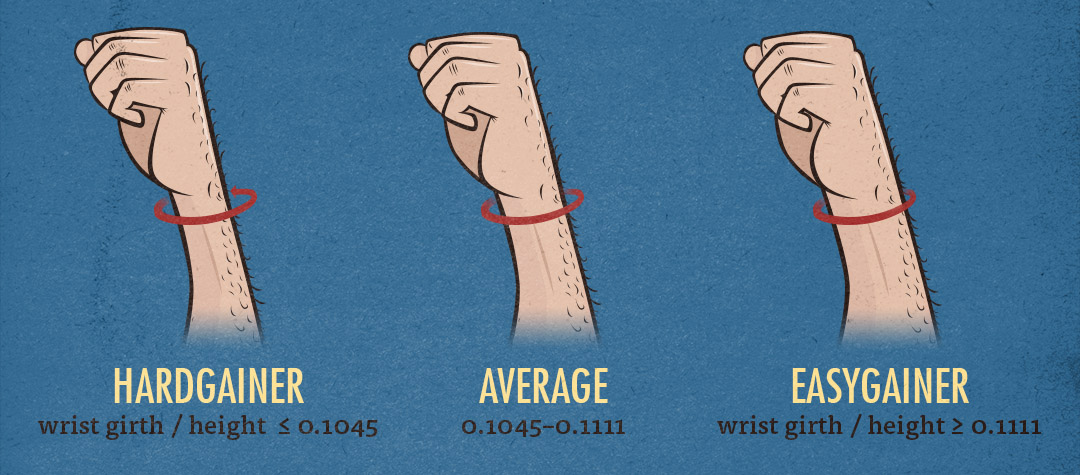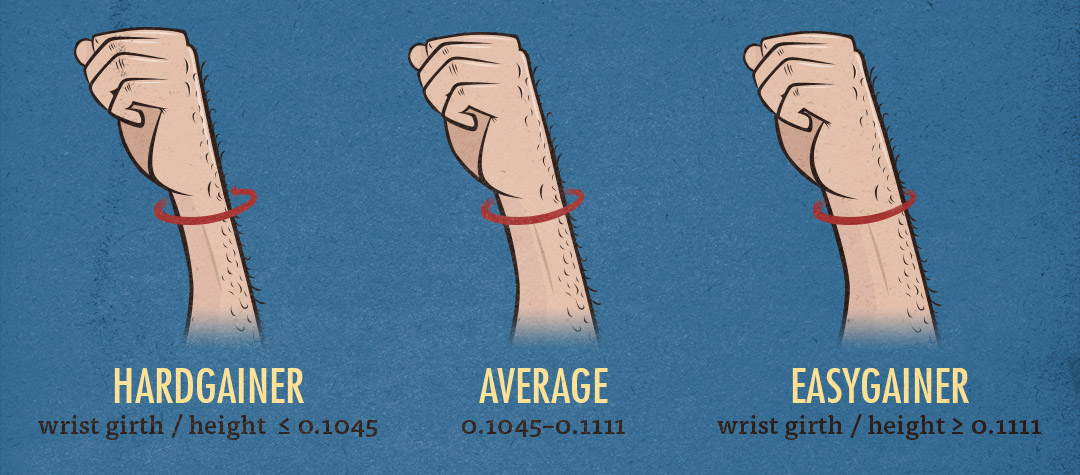 So for the purposes of our chart we'll use a ratio of under 0.1045 to denote a hardgainer and a ratio of over 0.1111 to represent guys who can become very muscular very easily.
If your ratio is over 0.1111 you're an easygainer
If your ratio is 0.1045–0.1111 you have average muscle-building genetics
If your ratio is under 0.1045 you're a hardgainer
However, we quickly realized that not a single b2B member even had a ratio over 0.1. We're super hardgainers, you could say. For example, my wrist size is 6.5" and my height is 74" (6'2), making my ratio 0.088. (In metric this would be 16.5 cm divided by 188 cm, still giving a ratio of 0.088.) With wrists this small, I'd be a hardgainer even if I were 5'4 (163 cm).
What should you do if you have hardgainer bones? "Small bone type" guys, aka ectomorphs, are the more "delicate" type of guys, as Google so asshole-ishly points out to anyone who looks up the word ectomorph. It also makes us weigh less, even when heavily muscled. Sometimes this is an advantage, such as when running, doing chin-ups, or playing sports with weight divisions. Sometimes this is a disadvantage, such as when trying to fill out the sleeve of a t-shirt, win a bodybuilding competition or avoid broken bones.
It's not a disadvantage when it comes to being considered attractive, manly dudes though.
Most Hollywood sex icons have hardgainer bone structures. This is true with guys like Johnny Depp and Leonardo DiCaprio, who both have attractive faces and personalities. You could argue that this has little to do with their physiques though, and you'd probably be right. Their attractiveness may be in part due to their thinner facial structure though. Regardless, let's not count those guys.
What's more interesting is that it's the thinner boned actors who are known for having extremely attractive bodies. Some good examples are Ryan Gosling, Brad Pitt, Cam Gigandet, Paul Walker and Michael Fassbender.


This goes outside of Hollywood as well. Almost all male models have very thin bone structures. Many of the athletes who are considered sexy have thin bones too. Take a look at Mr. Ward and David Beckham.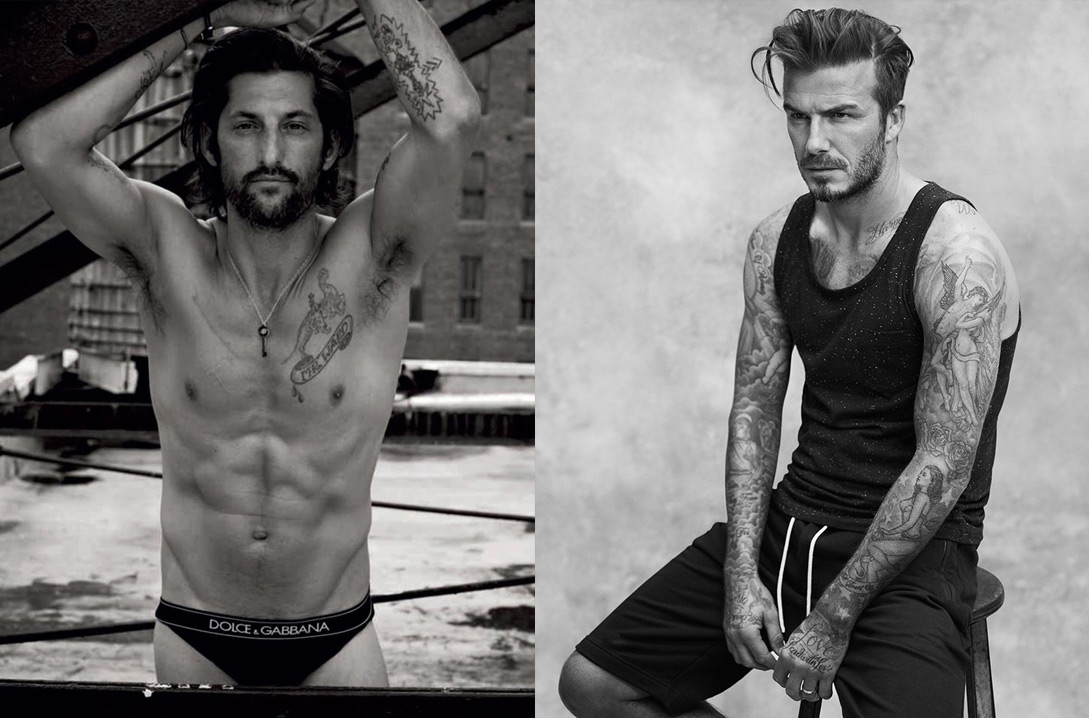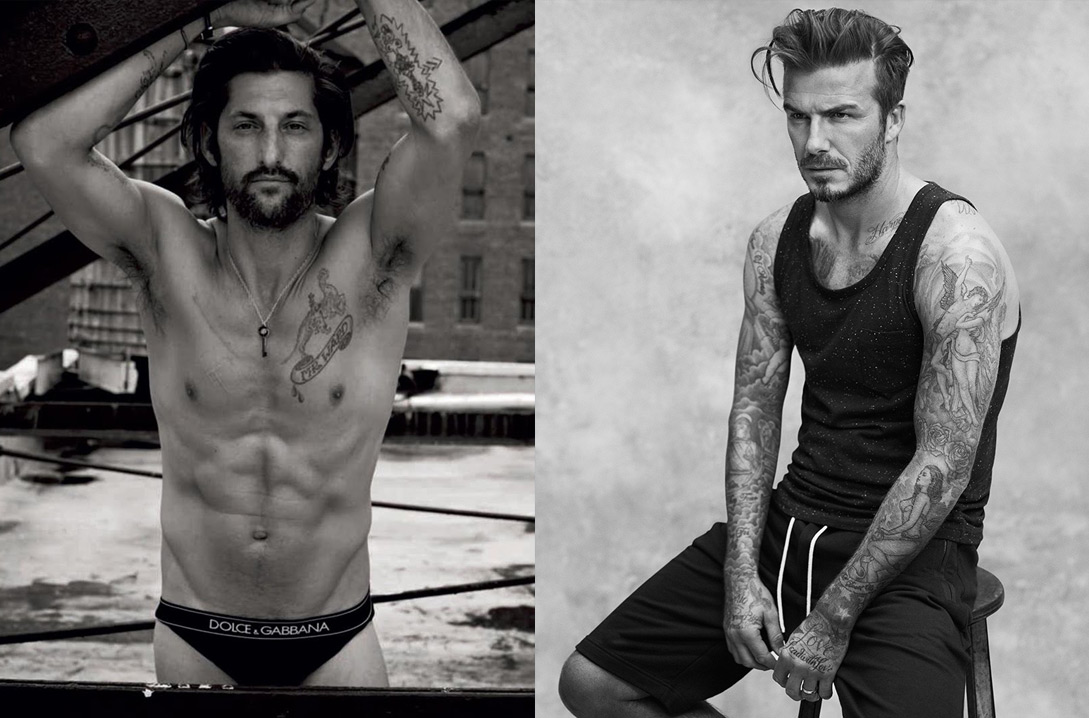 So what should you do if you have thin bones? Lift very heavy weights, eat enough calcium and get plenty of sun to strengthen your bones, not to mention pack a ton of muscle on top of them. With that done, relax and enjoy the attractiveness benefits.
Hardgainer Genetics Quiz #3: Muscle Bellies
We can make muscles larger by lifting weights. We can even make them a little longer (improving flexibility). What we cannot do though is change the length of them in relation to our tendons. This impacts how our muscles look and also how strong they can become.
An easy place to test your muscle belly size is with your biceps. A smaller bellies means more difficulty building up the biceps, but also a visually pleasant peak, as it will contrast nicely to the tendon right next to it.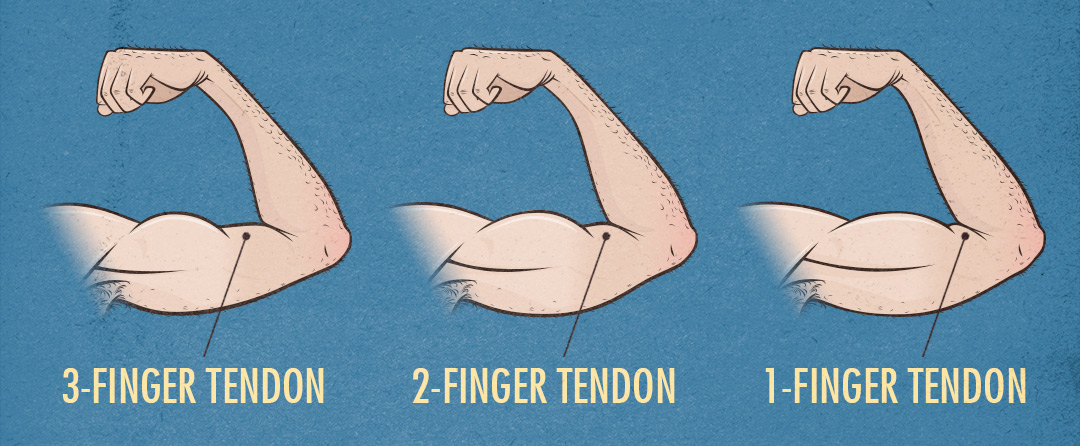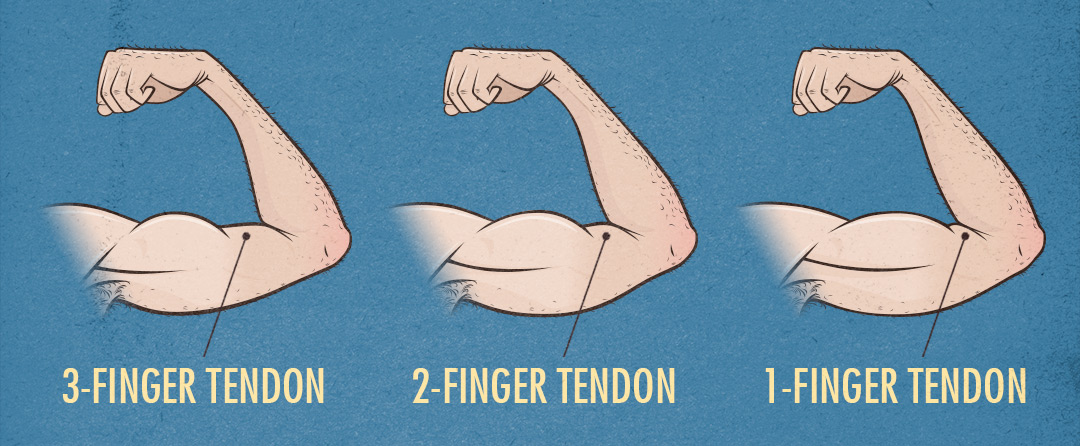 Flex your arm to 90 degrees, face your palm towards your biceps, and see how many fingers you can fit between your biceps muscle bellies and your forearm. (See the video for an example.)
If you can fit 3 or more fingers between your biceps and forearm, your muscle bellies are fairly small. You have ectomorphic "hardgainer" muscle bellies, at least as far as your biceps are concerned.
If you can fit 2 fingers, you've got fairly average, well-rounded muscle bellies
If you can fit 0–1 finger you have mesomorphic "easygainer" muscle bellies.
In the above video you can see me easily fitting 3 fingers between my bicep and forearm, slotting me firmly in the hardgainer category. In the bodybuilding, fitness modelling and YouTube fitness world this is very rare. However, when you look at guys a little further away from bodybuilding, you see tons of famous ectomorphs and hardgainers. Some top tier actors, like Ryan Gosling and Brad Pitt, are ectomorphs who have very small muscle bellies.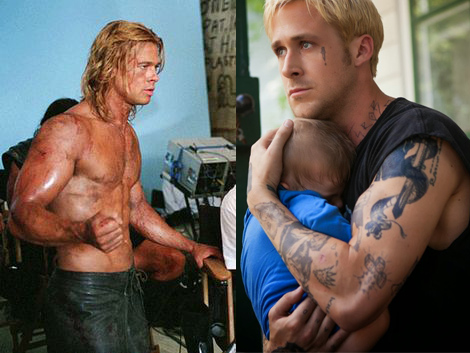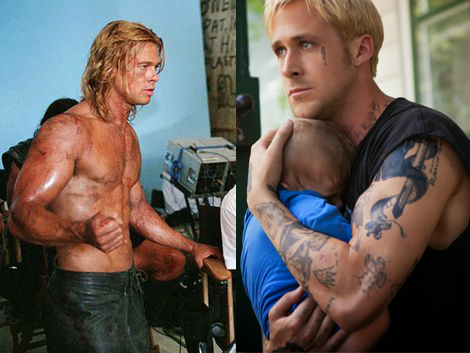 What should you do if you have short bellies? Hit your arms a little extra, since they'll grow a little more slowly. You aren't the guy who can get away with doing just the compound lifts. You need the big compound biceps builders like chin-ups, but you also need an assortment of curls.
Also, remember that your biceps are just a small part of your upper arms. You can add tons of girth to your guns by training your other upper arm muscles, such as your brachialis, shoulders and triceps.
Realistic Examples & Wrap-Up
Okay so let's say you're a true ectomorph "hardgainer" in very sense, as the three of us are. This isn't bad. Yes, it will be very hard to build a physique that will win you the admiration of guys who are into bodybuilding, but it won't be that hard to build a physique that's impressively fit, wickedly healthy and considered ideally attractive by women.
For an exaggerated example, check out the wrestler Brock Lesnar and the highest paid fashion model, Sean O'Pry. Lesnar has an elite mesomorphic physique that's sure to impress most guys who are into bodybuilding, whereas O'Pry has an ectomorph physique that will woo the vast majority of women. If anything, women will think he's too fit.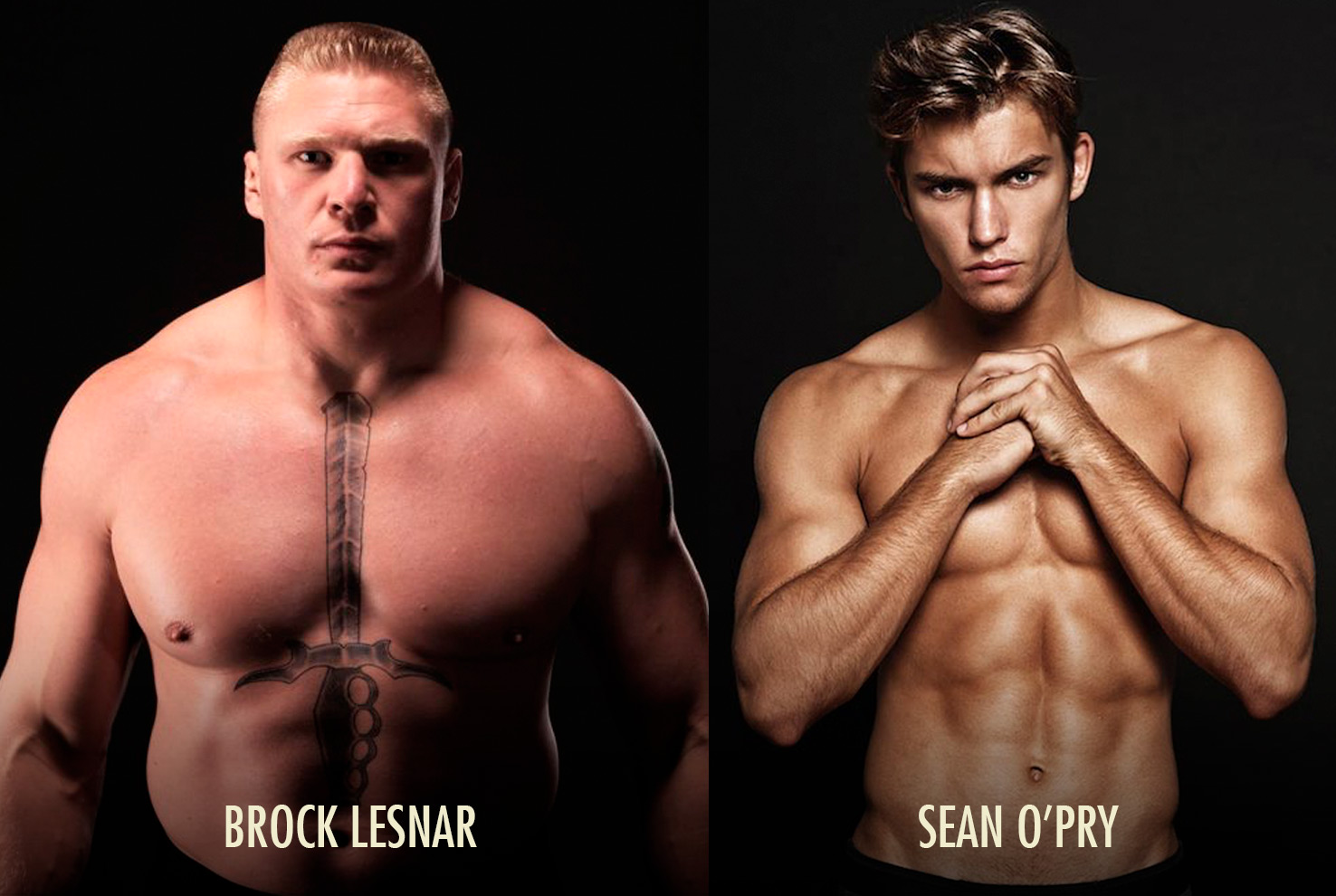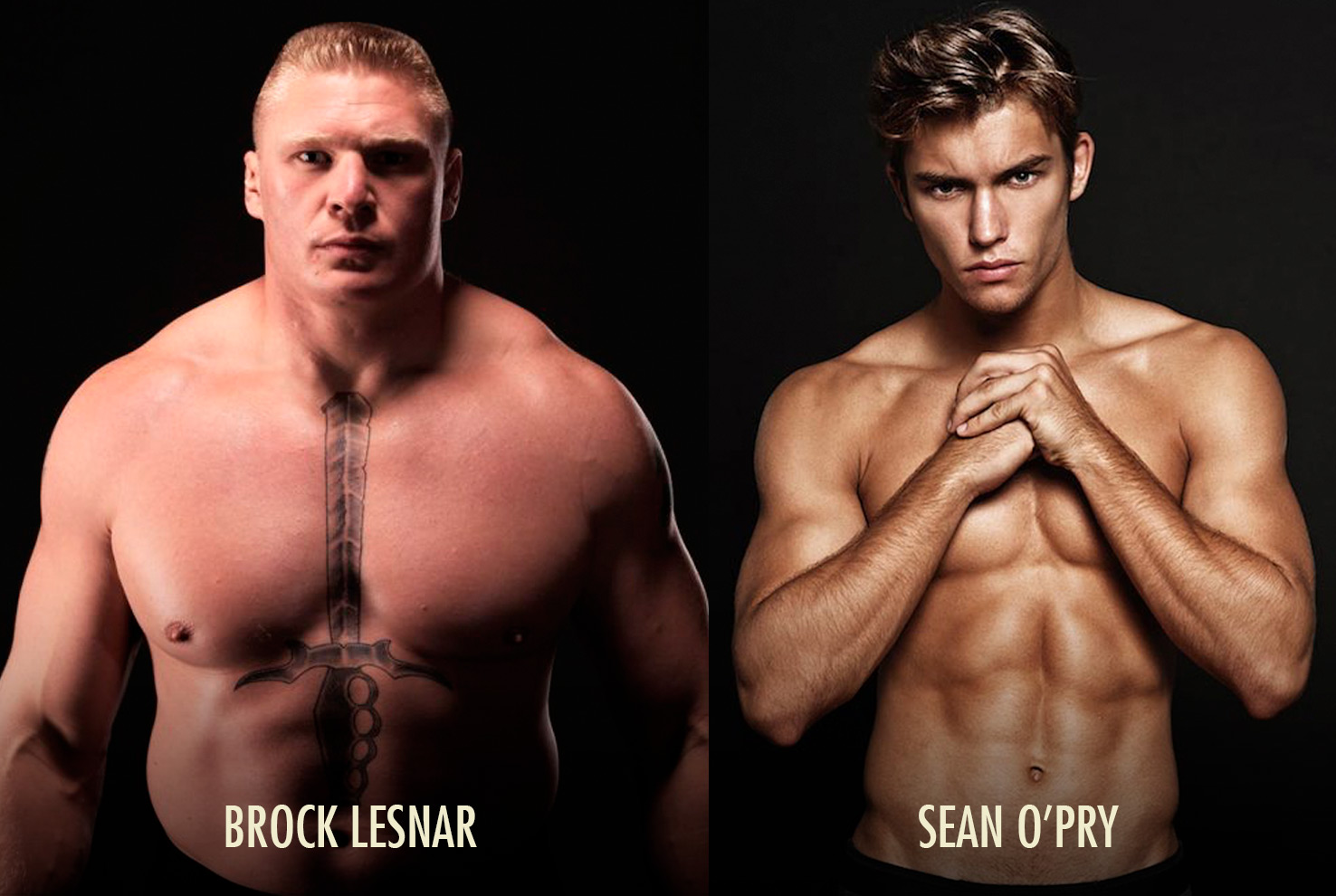 Neither body is better than the other, but each is better at different things. Given that we have more in common with the dude on the right, I would recommend aiming for something more like that. His face may not be something we can acquire, but his body probably is.
It's not even that difficult to get a fit, healthy, attractive physique. Women aren't looking for the next Steve Reeves or Arnold Schwarzenegger, just a guy with a masculine look who will make a rad dad and be able to protect his kids. With just three hourlong workouts per week, in a matter of months you could probably get the manly hunk physique of her dreams. Here are three more pop culture examples: Bradley Cooper, Jake Gyllenhaal and Shia LaBeouf.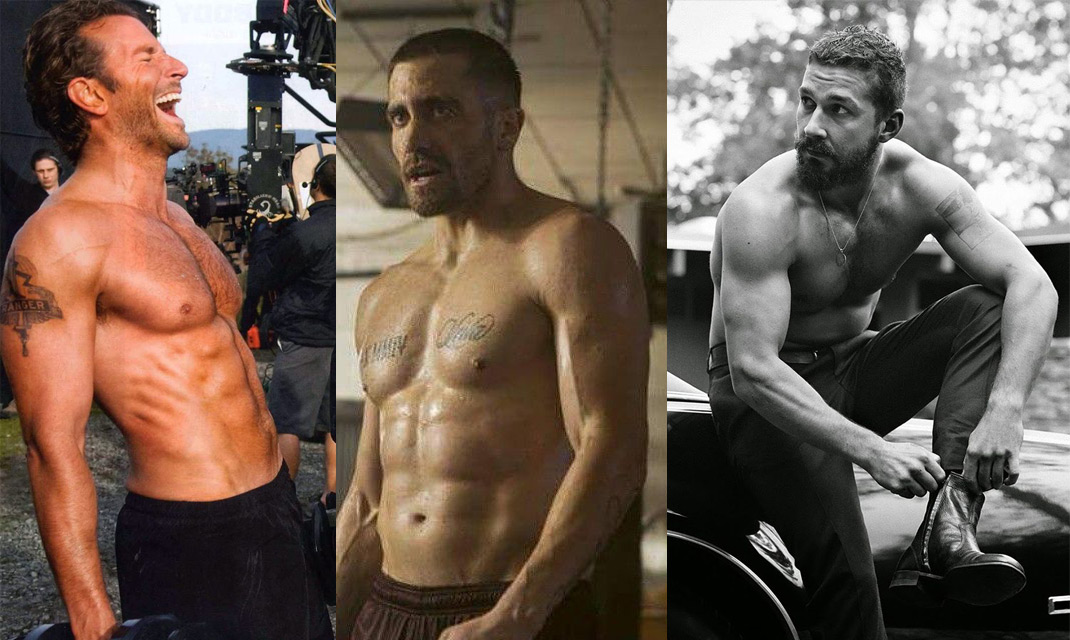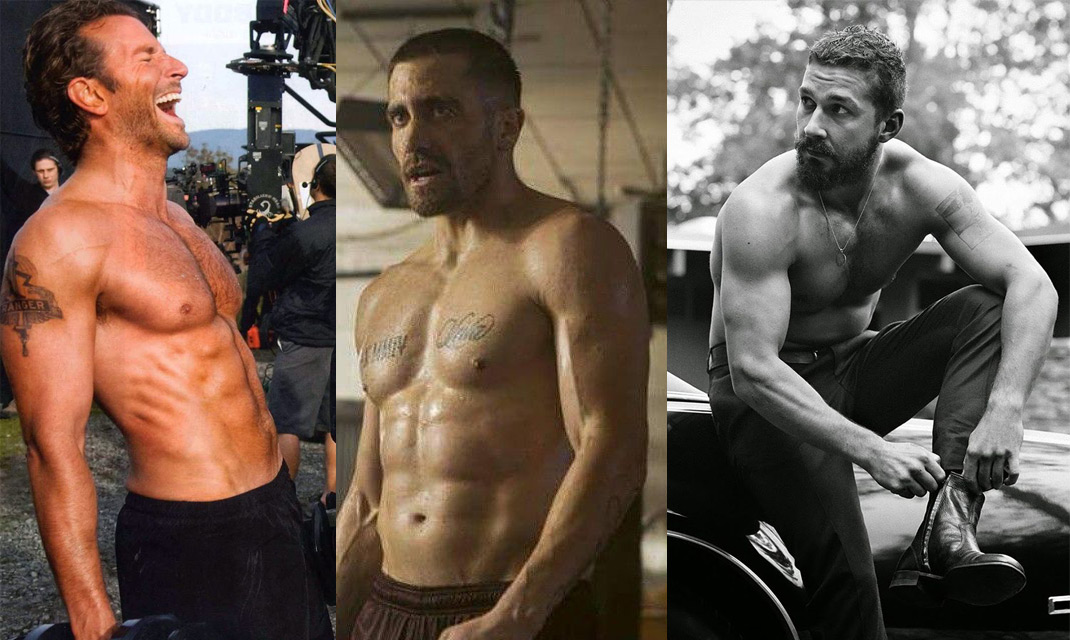 Maybe your bone breadth, bone width and muscle belly size make it easier to look like Bradley Cooper than Jake Gyllenhaal, or vice versa, but chances are that some of the physiques mentioned in this article will be realistic for you, no matter how much of an ectomorph you are.
The catch is that you need to lift and eat for muscle growth. We often make the mistake of assuming that lifting weights is for guys who want to look like bodybuilders. Yes, if you want to look like a bodybuilder you'll need to do bodybuilding, but even if you just want to build a little bit of muscle (or lose a little bit of fat) you should still be "bodybuilding," since that's the type of exercise designed to build muscle effectively.
Wolverine doesn't look like a bodybuilder, but Hugh Jackman was deadlifting 405 pounds to get in shape for that role. That's probably something that you'll want to work towards also. And yes, deadlifting 300+ pounds is realistic for a guy with your genetics. But no, you don't have to do deadlifts—you can lift weights at home and still build muscle perfectly well.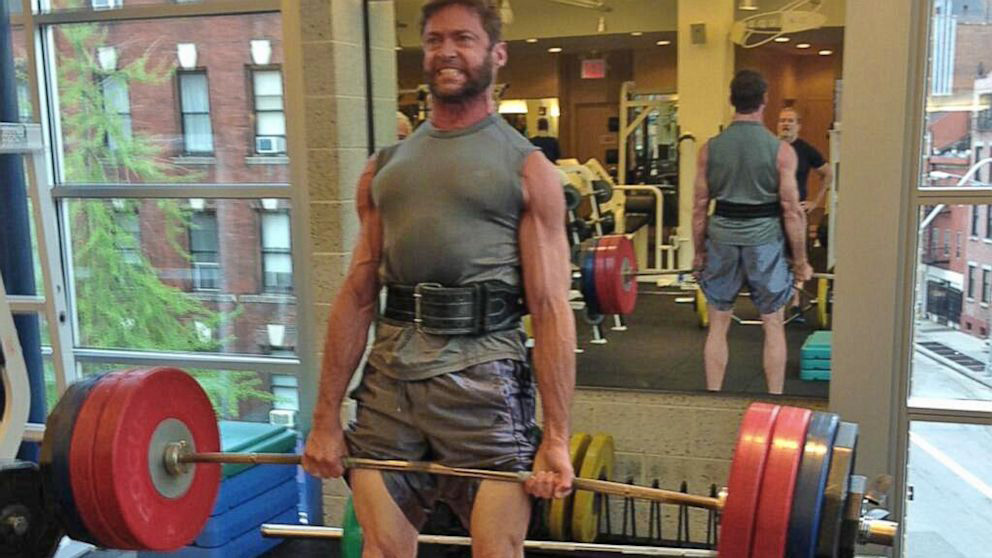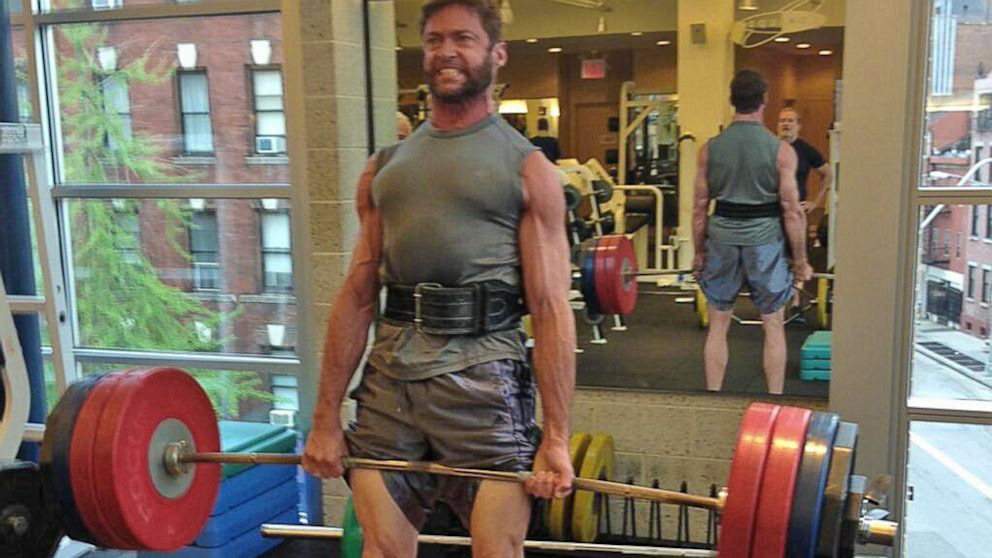 Most skinny guys will want to pursue types of exercise that line up with their natural strengths. They gravitate towards calisthenics, cardio, martial arts and general physical preparedness (CrossFit and P90X type stuff). They soon become frustrated that these styles of exercise aren't bringing up their weaknesses—muscle size. But since they aren't doing a type of exercise that is designed to build muscle very well, you'd need to have good muscle-building genetics to build muscle with that stuff.
Remember that Tony Horton used bodybuilding to build up his physique before becoming the P90X guy. Same thing with the calisthenics guys. Most of them build their muscle size and strength with weights before moving on to learning the calisthenics tricks.
This is even more true for guys like us. Pursuing "fitness" will usually make us naturally skinny guys look even skinnier, just like pursuing powerlifting will make most chubby guys look even chubbier.
If you want to bring up your weaknesses, you need to go outside of your comfort zone. Once you do that, I suspect that you'll grow more quickly than you even thought possible. Soon you'll be pretty thrilled with your genetics, given all the advantages we have outside of the "bigger is better" mentality of mainstream bodybuilding.
If you want a program that will teach you absolutely everything you need to know about building muscle as quickly and efficiently a possible, you should sign up for the Bony to Beastly Muscle-Building Program For Skinny Guys. We'd really love to have you 🙂
PS, do you know anyone who might like or benefit from reading this article? We'd love it if you could give it a Facebook like and share it. Thanks!