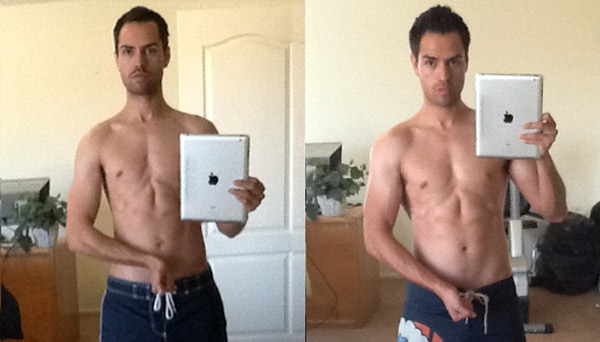 Obe's Anti-Secret: How a Lifetime Ectomorph Gained 20 Pounds of Muscle in 5 Weeks
Obe is a student in studying commercial aviation, not unlike the other Obi you all know and love. Unlike Obi though, Obe is real. He's married, spends his free time playing soccer and watching movies, and a little over 5 weeks ago became a really supportive member of the Bony to Beastly community. He's kicking some serious ectomorph ass, but isn't even doing anything all that crazy to get his results. He's following the plan, working out for an hour three times a week, eating well and making sure he has his calories in before going to bed. And he gained 4 pounds of muscle a week 5 weeks in a row. This just goes to show what proper training and nutrition can do, and that our potential for growth, hardgainer or not, is a hell of a lot greater than what most of us assume.
A little over five weeks ago Obe joined the program:
 "Whats up everyone! My name is Obe and I'm a student. I'm 5'11 and currently weigh 135. I'm freaking stoked to be part of this program as I've always been skinny. The most I've ever weighed is 140. I hope to be at 150-160 and be healthy as well as faster and stronger."
Obe posted his before photos, read through the eBook, and started eating and training. He also started asking other members that were doing well how they were doing it, which resulted in Jeff's great answer. Obe took Jeff's advice to heart and ate like a champ.
This is where the anti-secret comes in. When putting Bony to Beastly together Jared, Marco and I started reading a lot about habit change, lifestyle change, and how to make new habits stick. A big part of making a transformation isn't simply knowing the science and details, but knowing how to incorporate the plan into your current lifestyle and stick with it. Some approaches are better than others, but chances are that even just consistently trying will move you closer to your goals. The problem is that staying motivated and consistent is easier said than done—lots of people make excuses and give up before seeing any lasting results. Obe came into the community, saw that other lifetime ectomorphs were having success, trusted that he could do the same and whipped out four pounds of muscle in his first week. Encouraged by that success he started adding in new muscle-building habits week by week. 5 weeks later he had accomplished his 5 month goal.
One great book on lifestyle change, Switch, recommends studying the "bright spots", seeing what they're doing, and then trying to replicate that success among the others. The cool thing about Obe is that he's just doing what's recommended. He isn't buying fancy supplements, he isn't adding in extra exercises to the program or spending all his time at the gym, he isn't totally changing his lifestyle, and as a result he isn't burning out or messing up the recipe. He's doing what he's supposed to and he's spending the rest of his time studying, flying planes, and watching movies with his wife. He changed his life in the ways he needed to in order to grow, and he keeps doing the things that he loves with the rest of his time. Marco just wrote a really great article on that, here.
We've found this with a couple of other members as well. Sometimes the busiest people have the best results, because it prevents them from going overboard and burning out. The truth is that building muscle is achievable with any lifestyle if you a) know how to do it, and b) slowly turn your skinny-boy habits into muscle-building ones. Take Albert—a young physician paying his dues in the workplace and working 6 days a week for 14+ hours straight. He snacks on the healthier food available at his work when he has a few free minutes, hits the gym efficiently three times a week, makes sure he's gotten in enough calories before going to bed, orders his supplements online to save time and money, and is up 15 pounds in 3 weeks. This isn't about going "hard", living and dying in the gym, or even about being nitpicky—this about understanding the fundamentals of muscle growth, finding a good plan, and being efficient.
The secret to growing like a beast is intelligent consistency, not obsession. If what you're doing right now isn't working, don't do more of it—find a better plan. If your current job is earning you $0/hour the solution isn't to work more hours, the solution is to find a job that pays better. Building muscle is the same. No matter how much of a hardgainer skinny-boy ectomorph you are, and no matter how busy your life is, growing isn't unachievable.
Obe, last week:
"Started week 5 today. At this point I have to buy all new pairs of pants, all my pairs tight and can no longer stretch in them, even ripped a pair last week! I know it sounds dumb but it's a sick feeling! Below are my results, couldn't be more proud. As you can see I did not go up in waist size this time. What I did was not go over the calories and match as closely as I could and ate a lot more greens this week. Specifically beets, avocados & spinach. I'm certain that had something to do with my waist staying the same."
He's right. The phytonutrients in spinach, broccoli, kale and a few other super-vegetables help muscle growth, increase healthy hormone production, reduce estrogen production, and minimize fat storage. Avocados are an incredible source of monounsaturated fats, which are also fantastic for healthy hormone production. It's also interesting to see that Obe, who is clearly building bigger and badasser abs with every week, is being proactive and making sure to eat a healthy diet. Every week he's improving on his habits and gradually turning himself into a healthy muscle-building and fat-resistant machine. No bulking and cutting necessary. He's truly embodying the beastly mentality, and all those little details that most people skip over are almost certainly the reason why he's up an astonishing 20 pounds of muscle in just 5 weeks. He mastered the fundamentals of the program quickly and now week by week he's seeing what he can do to subtly improve his results, and he slowly shifts his lifestyle to incorporate those changes. Changing habit by habit, starting with the most important ones, is allowing Obe to maintain steady but incredibly impressive results week by week.
Last night Obe finished the first phase (there are 4 in total), posted his progress photos and updated his measurements: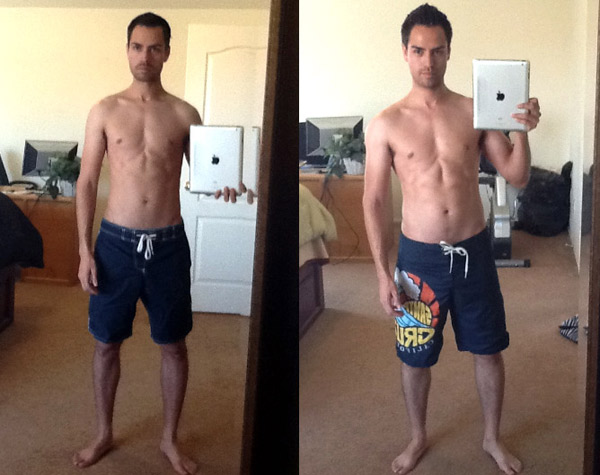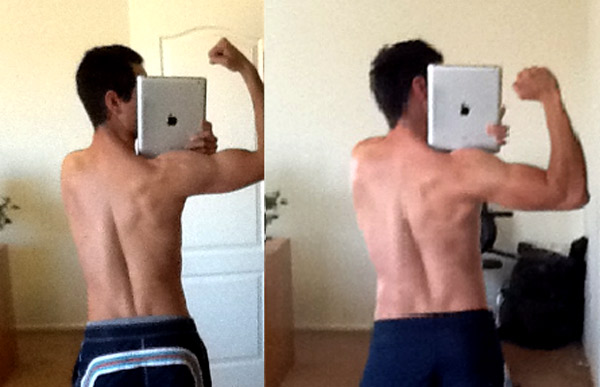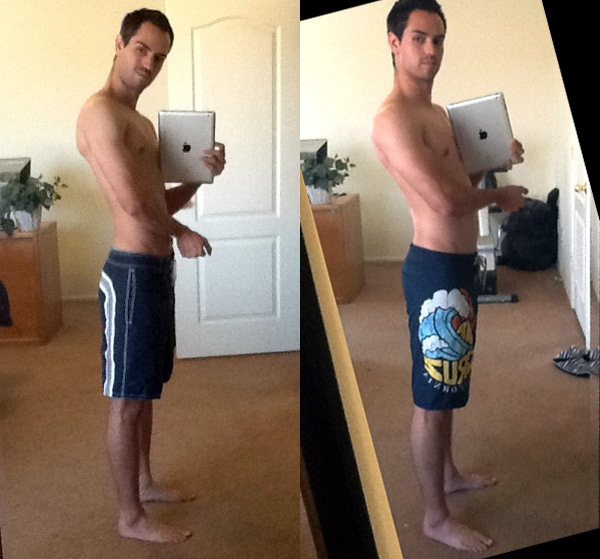 Starting phase 1
Weight 134 pounds
Biceps 12 inches
Shoulders 41 inches (measured week 2)
Waist 27.5 inches
Thighs 19.2 inches
End of phase 1
Weight 154 pounds
Biceps 13.8 inches
Shoulders 46 inches
Waist 32.5 inches
Thighs 22.4 inches
What does he credit his success to?
"Definitely being strict with the nutrition. When I read the book it mentioned we should expect growth to slow down as the weeks pass by, so I go a bit over the calories required every day to make sure I keep up with a big gain every week. I try to have an excess of about 200 calories over my daily intake calculation. I have at least one full avocado a day, sometimes 2. I just switched from soy protein to whey but don't notice any difference. I will start the leaning program to reduce my waist hopefully 🙂 I really want to sculpt the "V" look"
Obe is trying to build a V shape, and is a little concerned with his growing waist size. The crazy thing is that he's building such huge amounts of muscle in his back, obliques, and abs that his waist measurements are actually going up by quite a bit. We can always customize his plan a bit if that ever becomes an issue. As far as the V shape goes though, well, he's clearly kicking ass. You can barely even tell that he was once an ectomorph who struggled to put on even a couple pounds. His face even looks fuller and healthier. And he tells us that he now enjoys strutting around shirtless in front of his wife. How does his wife like it? She's excited to go shopping and help him pick out new pants ahaha.
Now, after all this talk about not being obsessive, Future Islands is back in Toronto so it's time to put on my dancing shoes and have a few beers!
—wait a second Shane! that can't be all of it… can it?! All he does is follow the program?! Where's Obe's secret?! Come on, come clean—he's on 'roids, right?
"Lmao! Dood Im surprised too! My brother asked me if I was doing roids too xD I supplement with multivitamins & fish oil everyday!"
Shane Duquette is the co-founder and creative lead of Outlift, Bony to Beastly, and Bony to Bombshell, and has a degree in design from York University in Toronto, Canada. He's personally gained sixty pounds at 11% body fat and has nine years of experience helping nearly ten thousand skinny people bulk up.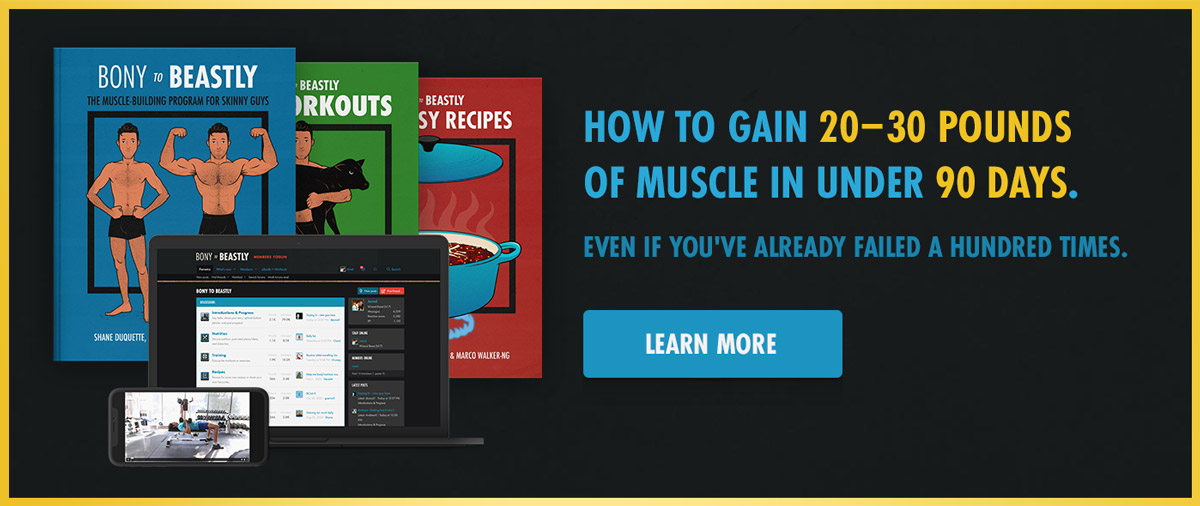 FREE Bulking Mini-Course
Sign up for our 5-part bulking mini-course that covers everything you need to know about:
Hardgainer genetics

and how to make the most of them
How to take a minimalist approach to bulking

while still getting great results

What you need to know about

aesthetics, health and strength

while bulking up