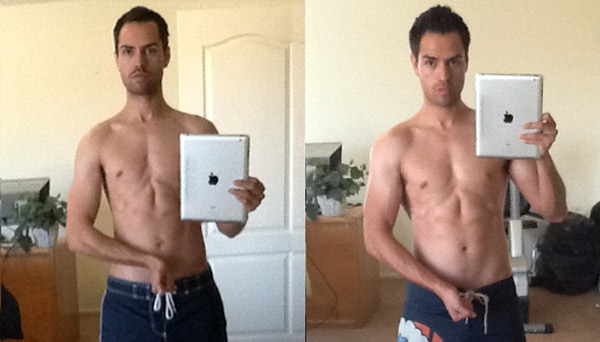 How Long Does it Take to Gain 20 Pounds of Muscle As a Skinny Guy?
Obe is a student in studying commercial aviation. He's married, naturally skinny, and he spends his free time playing soccer and watching movies. A little over 5 weeks ago, he started doing our Bony to Beastly Program. He isn't doing anything crazy, he's just following a conventional bulking routine:
His routine isn't anything wild. Just 3 workouts per week. And although we recommend creatine, he isn't using it. He's just taking a multivitamin and fish oil. Every week, he gained 4 pounds. It only took him 5 weeks to gain a full 20 pounds, and without any visible fat gain.
A lot of us so-called "ectomorphs," hardgainers, and skinny-fat guys assume that we have bad muscle-building genetics, but that's rarely the case. We can often gain weight quite quickly and leanly. Let's talk about how to do that, and how long it will realistically take to gain 20 pounds.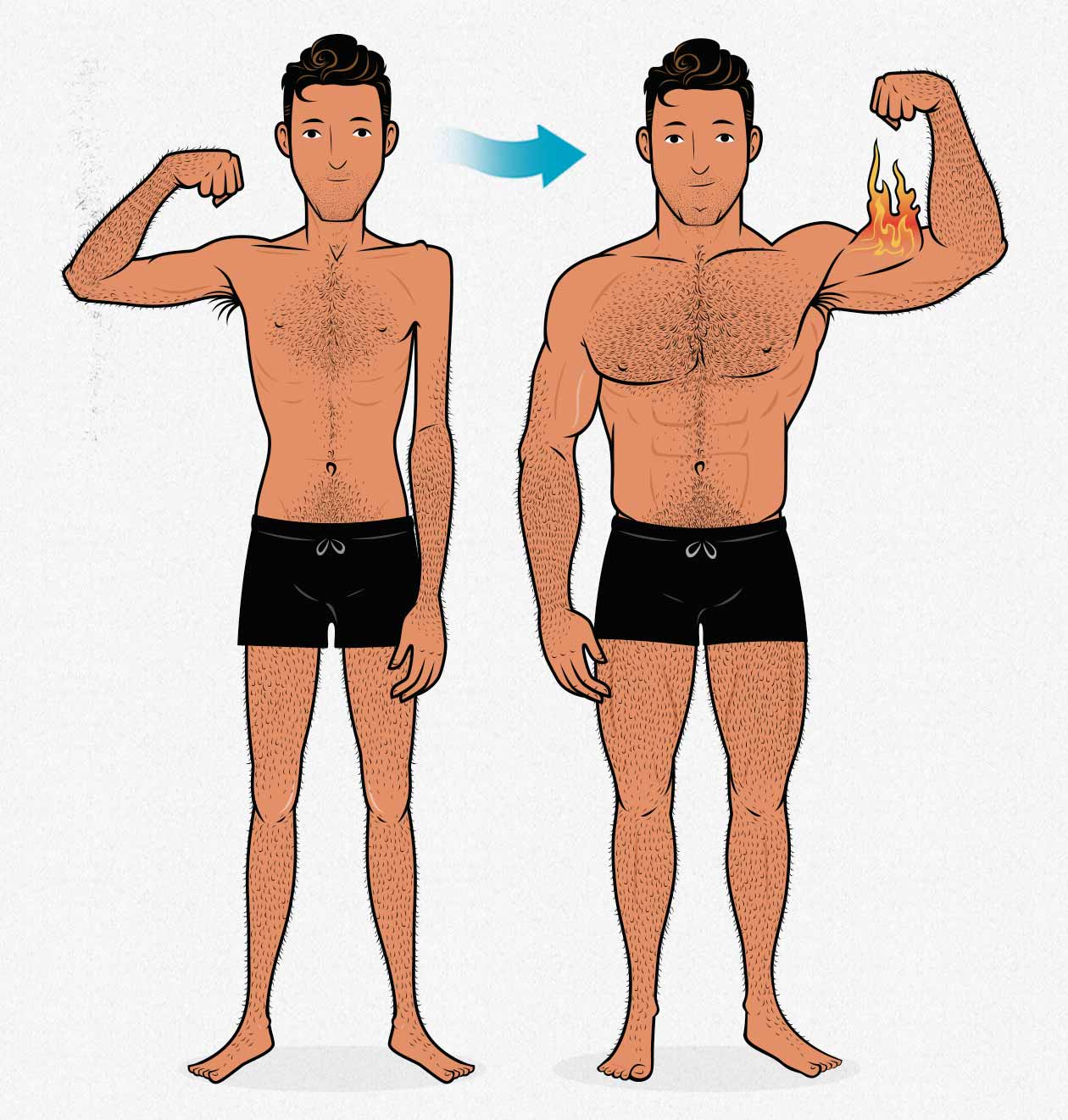 Obe's 20-Pound Bulking Transformation
A little over five weeks ago Obe joined the program:
Whats up everyone! My name is Obe and I'm a student. I'm 5'11 and currently weigh 135. I'm freaking stoked to be part of this program as I've always been skinny. The most I've ever weighed is 140. I hope to be at 150-160 and be healthy as well as faster and stronger.

Obe
Here's his before photo: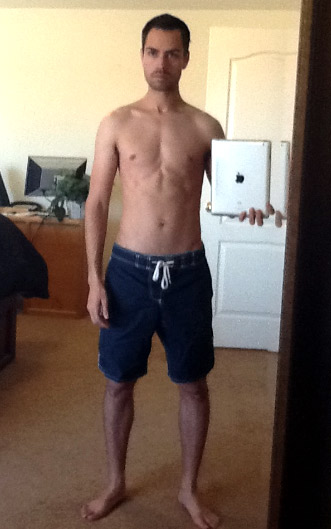 And here are his "before" measurements:
Weight: 134 pounds
Biceps: 12 inches
Shoulders: 41 inches
Waist: 27.5 inches
Thighs: 19.2 inches
Fast forward 5 weeks:
"Started week 5 today. At this point I have to buy all new pairs of pants, all my pairs tight and can no longer stretch in them, even ripped a pair last week! I know it sounds dumb but it's a sick feeling! Below are my results, couldn't be more proud. As you can see I did not go up in waist size this time. What I did was not go over the calories and match as closely as I could and ate a lot more greens this week. Specifically beets, avocados & spinach. I'm certain that had something to do with my waist staying the same."

Obe
Here are his progress photos: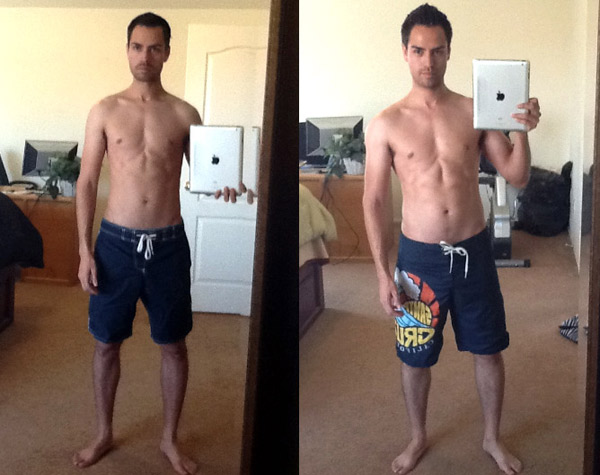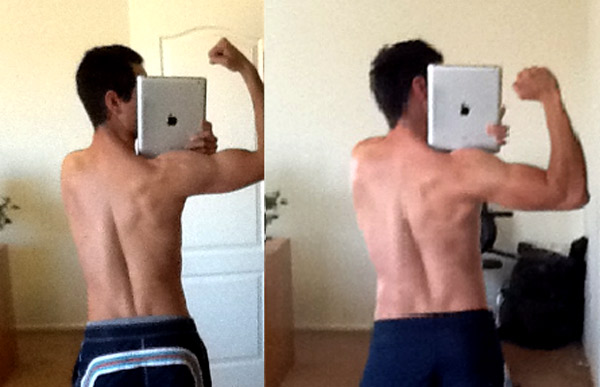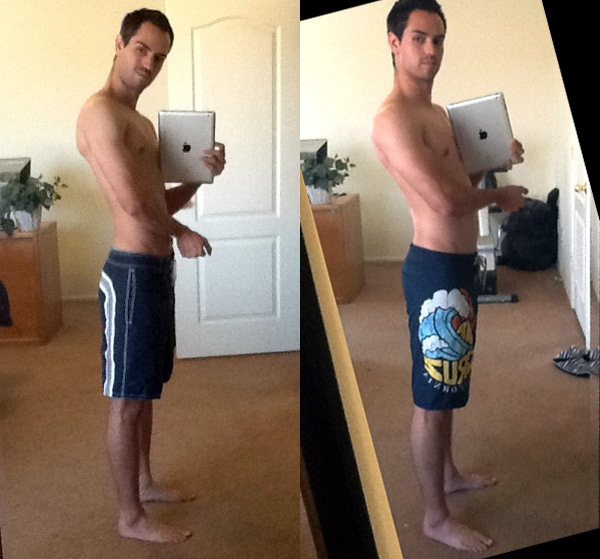 Here are his "after" measurements:
Weight: 154 pounds (+20 pounds)
Biceps: 13.8 inches (+1.8 inches)
Shoulders: 46 inches (+5 inches)
Waist: 32.5 inches (+5 inches: so much food in there!)
Thighs: 22.4 inches (+3.2 inches)
How Did Obe Build Muscle That Fast?
After posting his before photo in the coaching community, he read through the eBook, watched the exercise tutorials, and did his first workout. He came home, started eating more calories and eating more protein. And that's it. No crazy tricks, no strange gimmicks, nothing out of the ordinary.
To get exceptional results, he didn't need to do anything weird or unconventional. Quite the opposite. He just did everything normally, properly.
That doesn't mean it was easy, though. It can be hard. Doing the workouts can sometimes mean lifting weights even when you're feeling sore, or tired, or unmotivated. Eating enough calories often means fighting against fullness, and that can really suck. And eating enough protein often means spending more money on food or protein powder.
The point isn't that gaining 20 pounds is easy, the point is that it's something you can do with totally conventional bulking methods.
How Long Does it Take the Average Skinny Guy to Gain 20 Pounds?
Now, here's the catch. Not everyone builds muscle this quickly or leanly. In fact, if the average skinny guy tried to gain four pounds per week, he'd be gaining quite a lot of fat. Obe is a bit of an outlier.
We've helped a lot of guys gain weight quickly. Some guys, especially if they're starting out fairly lean and skinny, can gain weight very fast without gaining a noticeable amount of fat. Here's another popular example, GK: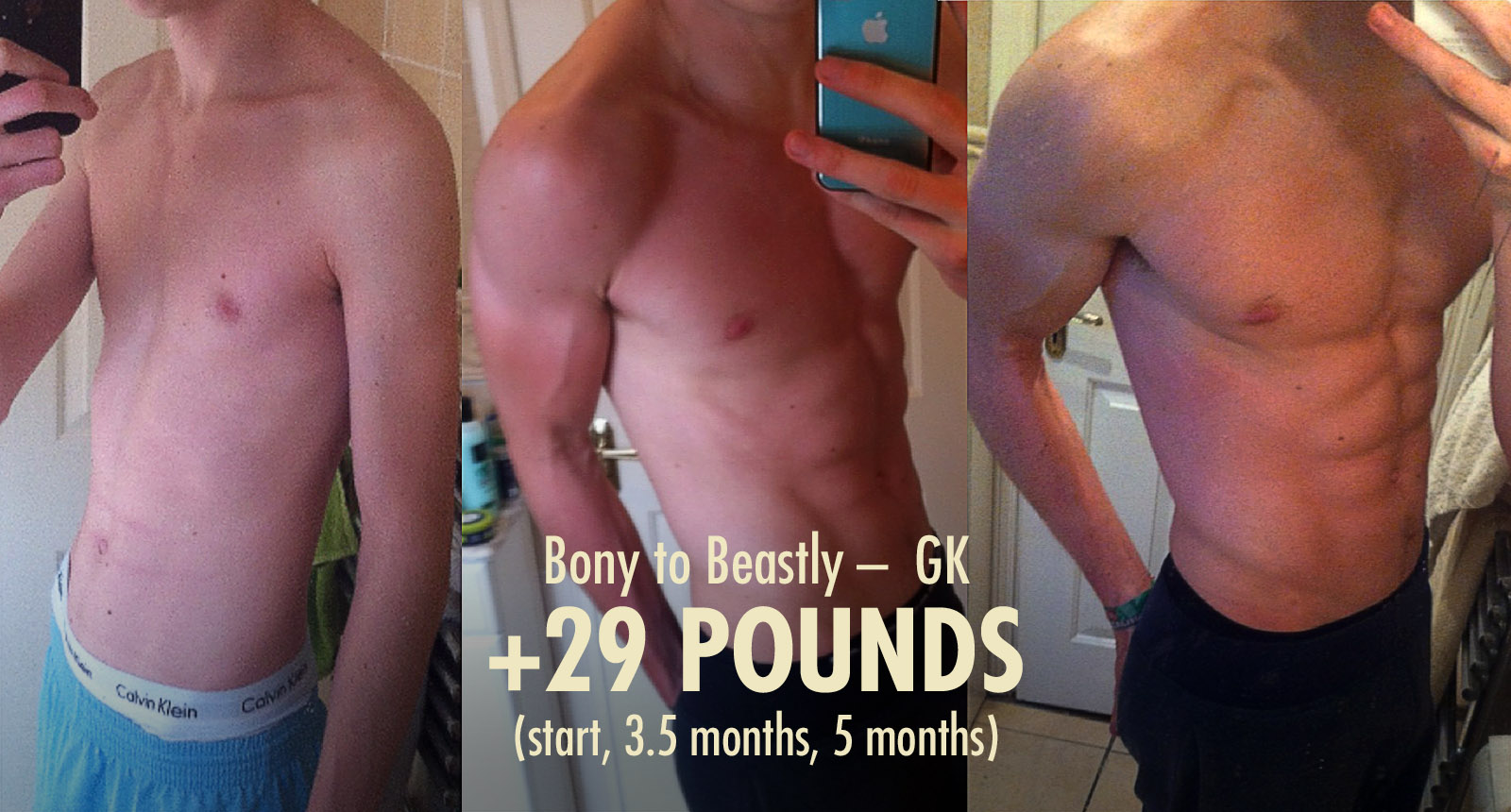 I've done it myself, too. I've gained 20 pounds in two months, and then after that, I gained another 20 pounds in three months: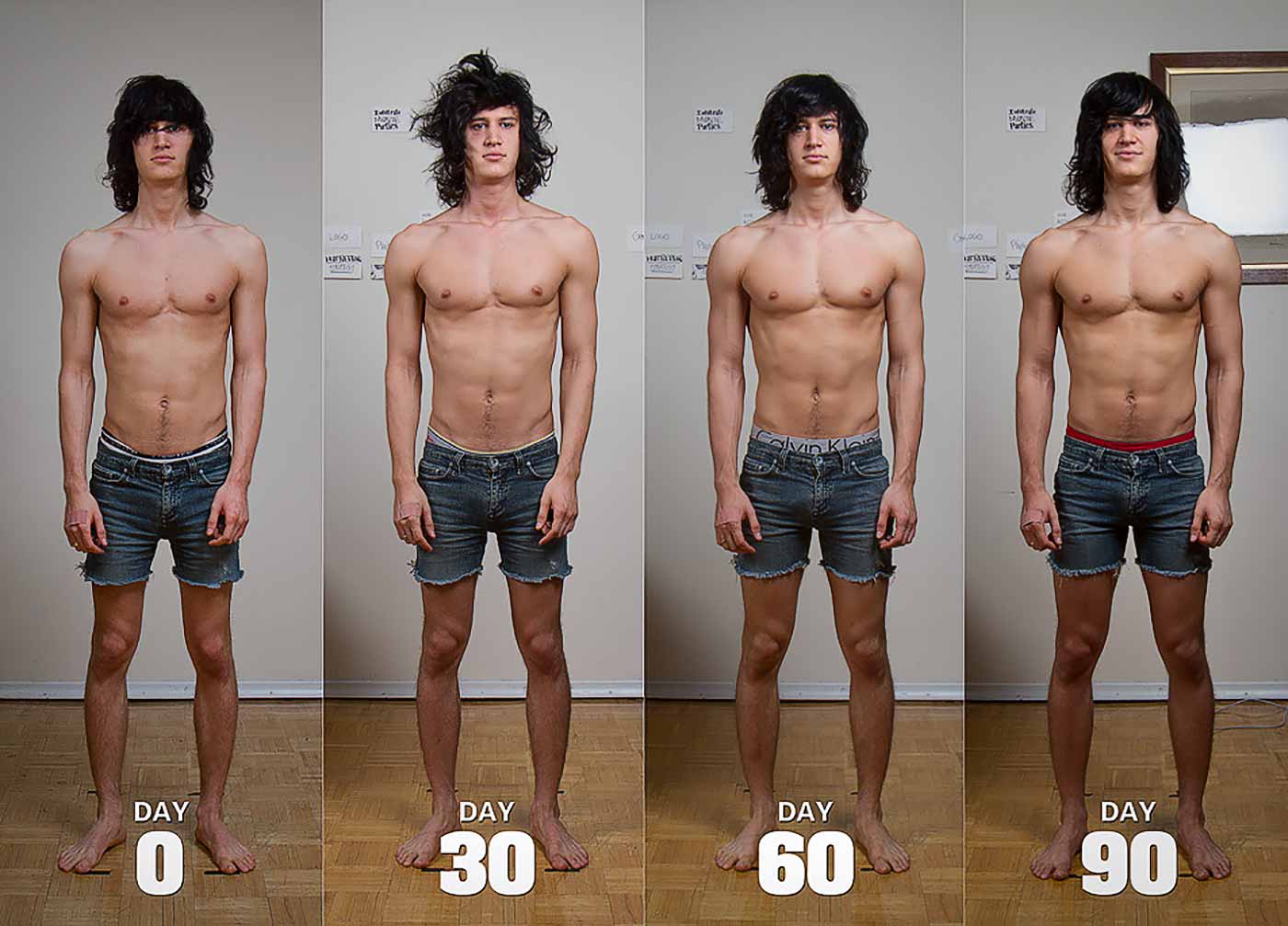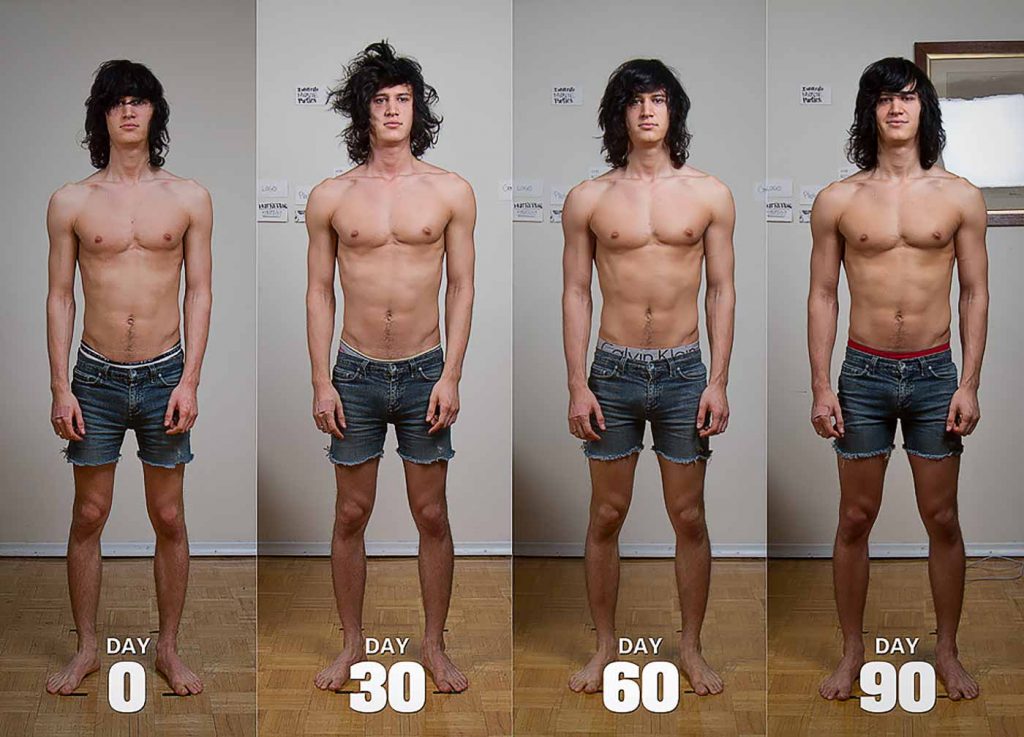 I also helped my roommate gain 27 pounds in four months: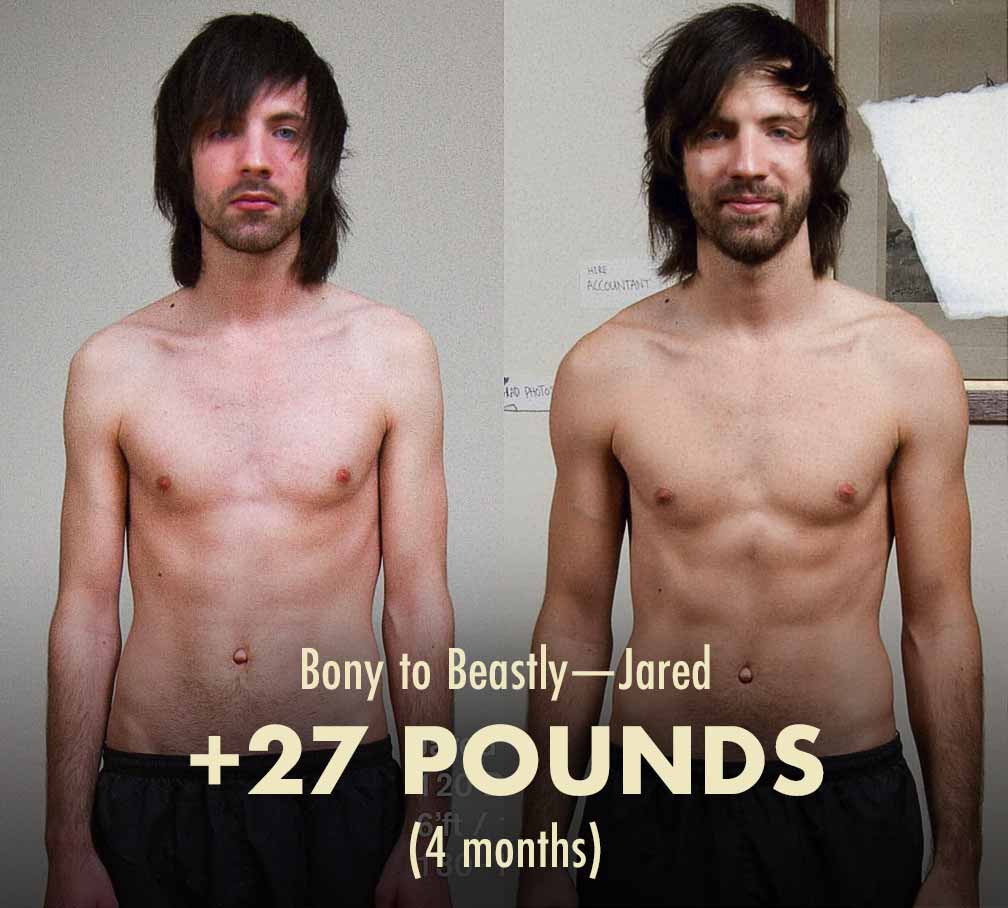 Crazy, right? I remember reading about how to build muscle at the time, and everyone was saying that gaining weight this quickly was a horrible idea. They were recommending that we gain a pound per month, tops, or we'd just get fat. But we were gaining 5+ pounds per month and we weren't getting fat.
Here's an article about how we did it. But again, there's no real secret. We bulked up conventionally. It's just that because we were starting off so quickly, we were able to gain weight more quickly and leanly than the average person.
But not everyone can build muscle that quickly. It really depends. We need to see how it's going, and then adjust accordingly. In our experience, though, after helping over 10,000 skinny people build muscle, is that it takes the average skinny guy around 20 weeks to gain 20 pounds.
Summary
Everyone is different, and everyone builds muscle at a different rate. The good news is that us skinny guys are further away from our genetic muscular potential, and so we tend to build muscle quite fast, especially at first. This early period of rapid growth is referred to as "newbie gains."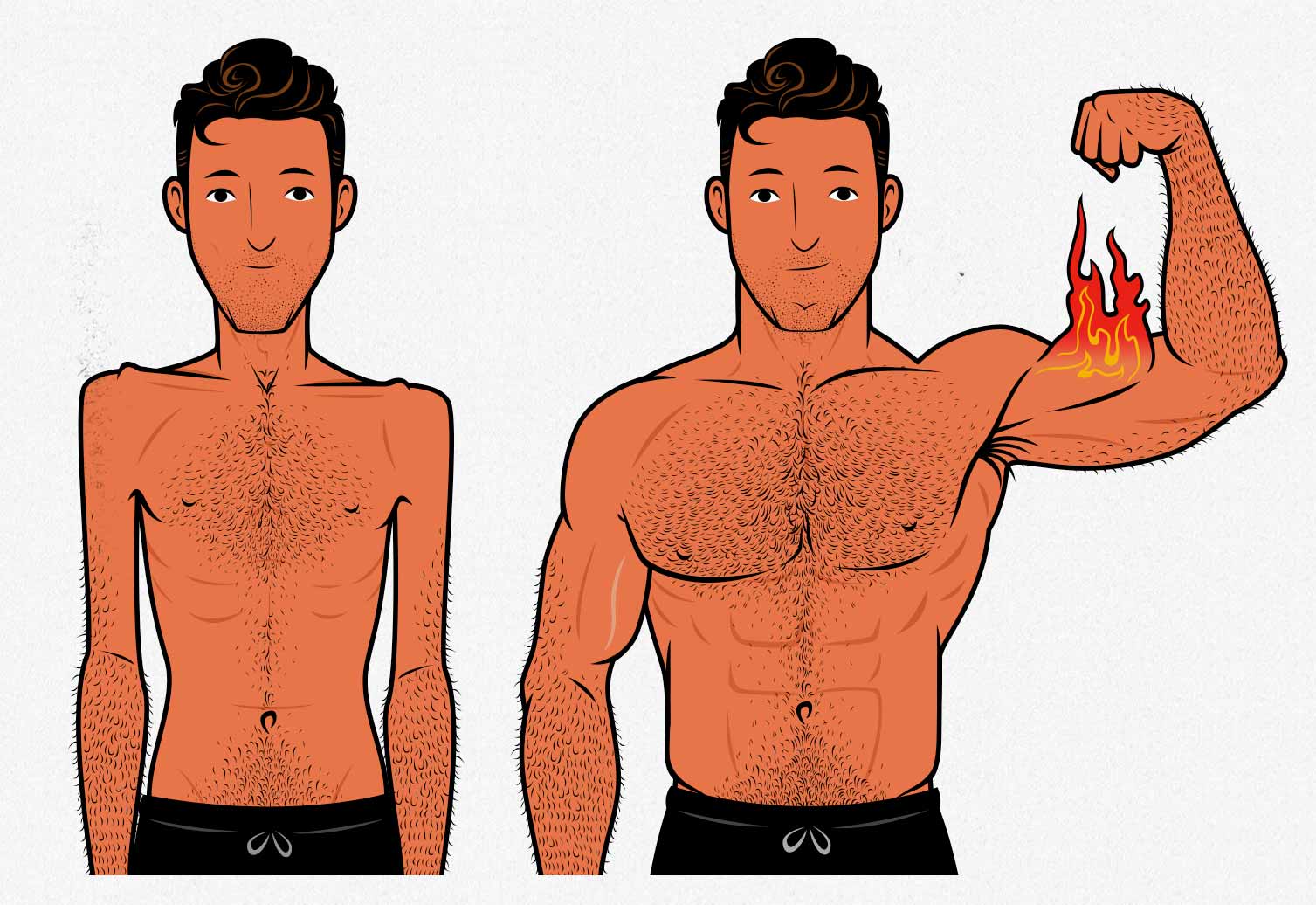 If we leverage our newbie gains, in our experience, most of us can gain 20 pounds in 20 weeks without gaining a noticeable amount of fat. That's what we aim for in our program. But if you want to play it safe, gain weight more slowly, and avoid the risk of gaining unwanted fat, then you can do that, too. You can control how quickly you gain weight by controlling how many calories you eat.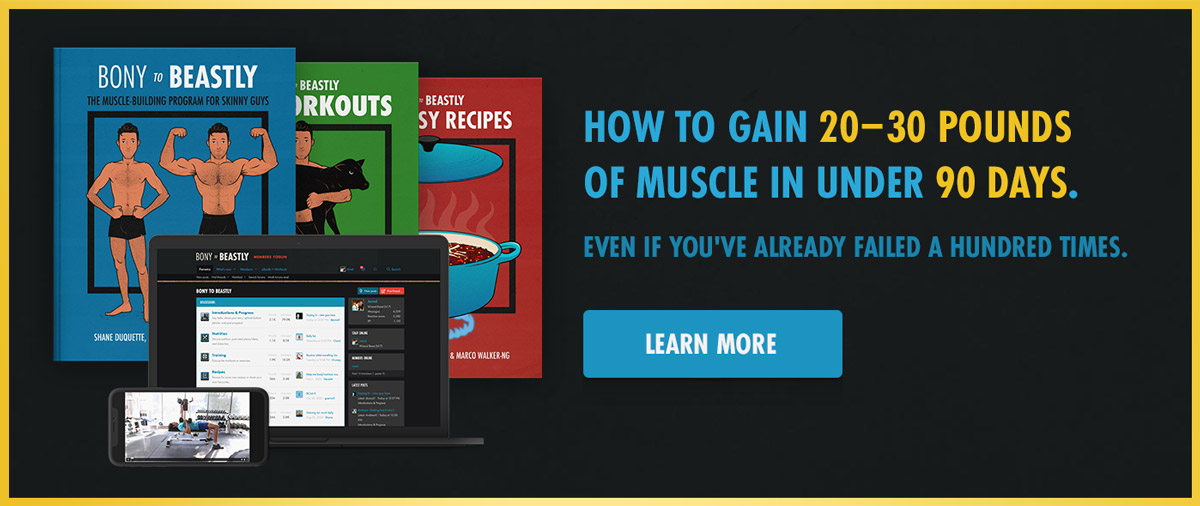 FREE Bulking Mini-Course
Sign up for our 5-part bulking mini-course that covers everything you need to know about:
Hardgainer genetics

and how to make the most of them
How to take a minimalist approach to bulking

while still getting great results

What you need to know about

aesthetics, health and strength

while bulking up