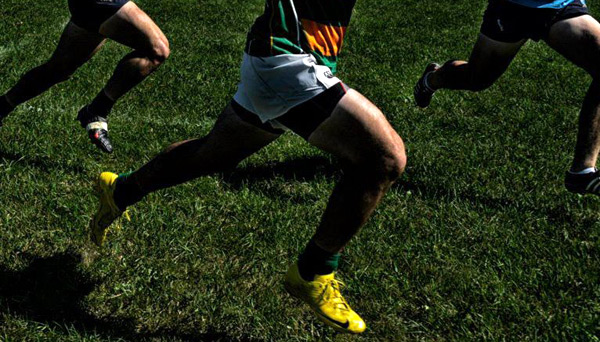 Should Ectomorphs do Cardio?
(Updated March 2015) Weightlifting, training for a triathlon and chugging along on your mum's treadmill will all result in your body adapting to the given training stimulus. You'll create more blood vessels, develop more mitochondria in your cells, trigger gene expression and transform your body right down to a molecular level. You'll become better at what you're training to do and collect on all the corollary benefits: health, fitness, energy, longevity, intelligence, happiness, calmness, etc. You'll also spend more of your life feeling awesome, since exercise affects your neurotransmitters and releases endorphins.
So exercise in general is great. However, not all exercise is equally great. Different types of exercises accomplish different goals. Cardio and endurance training is mostly an oxygen delivery thing—more blood vessels, more red blood cells, more blood, etc—whereas strength training is mostly a muscle thing—more muscle fibres, thicker muscles fibres, more fluid in your muscle fibres, etc.
Both types of adaptations are incredibly good for your health. Weightlifting keeps you young, spry, strong, resistant to injury, lean, intelligent, focused. Cardio keeps you energetic, lively, calm, happy and strong-hearted.
So for optimal health you need to be both strong and fit.
The trouble is that mixing strength training and cardio together means that your body will be trying to adapt in at least two separate ways. Some people think that's good, some people think that's bad.
Things get more confusing still when you're an ectomorph—naturally thin and already burning a ton of calories just by reading this blog post. That last thing you want to do is burn calories by jogging around town, since that will mean you need to eat even more. Ain't nobody got time for that. (Kidding, everyone in the world has time for that except for us.)
Anyway, that raises the age-old question: should ectomorphs do cardio?
The Basics of Cardio and Strength Training
Cardio. Cardio stands for cardiorespiratory training, where the goal is to maintain an elevated heart rate using exercise. It's a catch all term for activities designed to strengthen your heart and lungs—ellipticals, running, rowing, p90x, biking, aerobics, Richard Simmons, etc. Many people think that cardio is synonymous with fitness, and that's why many people do it—because they want to be healthy.
It's also kind of cool. I mean, most people know that cardio isn't really designed to make you look better, so it gets cred for being the non-narcissistic and wholesome form of exercise. It can make many people look better in the sense that it can help your overweight person get back down to a healthy bodyfat percentage, but that isn't really the main concern for most of us naturally skinny (or skinny-fat) guys who aren't really trying to get smaller, per se.
Not all of us skinny guys are particularly inclined to lift weights though, and not all of us ectomorphs are looking to build up big burly biceps. In fact, many of us would rather stick to our natural strengths–endurance stuff—rather than take up a sport where our prowess is determined by the size and strength of our muscles. If that sounds like you, cardio is a good way to get some health and lifestyle benefits without needing to lift heavy.
Strength Training. Strength training (anaerobic training) is meant to build up muscle size and strength, bone density and tendon strength, as well as improve coordination, speed, power balance, stability and mobility. It will make you bigger, stronger and more powerful. This is the dream for a lot of us skinny guys.
That's not where the benefit stops though. Weightlifting improves insulin sensitivity, as does having more muscle mass. (study, study) This makes being lean and mean a breeze, since it helps shuttle the calories you eat into muscle instead of fat. Lifting heavy weights also reduces anxiety, counteracts the effects of aging, and reduces your risk of dying from, well, pretty much everything. (study, study, study, study)
If you've tried lifting weights, you may also have noticed that your heart rate rises… meaning theres's at least a bit of a cardiovascular fitness component to it too. This is where things get really interesting, and a little controversial.
Does Weightlifting Count as Cardio?
Wouldn't it be amazing if weightlifting didn't just made you stronger, it also made you fitter? I've got good news. It does.
A 2014 study published in the Journal of Exercise Science (study) evaluated a bodybuilding workout by cardio standards. They measured the heart rate of 16 young and healthy people while doing a fairly typical bodybuilding weightlifting workout: bench presses, lat pulldowns, curls, leg presses, etc. Three sets of around ten reps per exercise. Around 2.5 hours of weightlifting per week.
They found that about half of the time they spent weightlifting was spent with the ideal heart rate for improving cardiovascular health and fitness. For absolute optimal health, the World Health Organization recommends doing cardio for about 2.5 hours per week, so the weightlifting workouts provided about half of that.
So yes, weightlifting—even typical bodybuilding bro style—does indeed count as some of your cardio.
To make that better still, you could structure your weightlifting workouts in a way that kept your heart rate higher for a little longer. You can dot his by using supersets/circuits. If you've ever done a heavy set of deadlifts followed by a heavy set of chin-ups you already know what I mean. That'll jack your heart rate up like no other and have you sleeping like a baby at night. Best of all, since your individual muscle groups are getting plenty of rest, you'll be able to lift heavy enough to optimize muscle growth (and the other benefits of heavy lifting).
In our Bony to Beastly Program we lift for three hours per week, and our workouts are made up of pairs of compound exercises performed one after another. This builds muscle optimally well, and I suspect this would also give you all three hours of your weekly cardio requirements for optimal health.
We don't officially program any cardio in addition to our workouts, but our guys are free to do play sports and whatnot as they wish.
Why is Cardio the Default Form of Exercise for Health & Fitness?
The Cardio Craze. Apparently after the first and second World Wars, while Russia and parts of Europe continued to value strength, the West became fascinated with aerobic fitness. It became a media craze that lasted for decades and worked its way into our culture on a deep level. It's not that strength training isn't as fitness friendly as aerobics, it just wasn't swept up in the marketing craze that aerobics was.
Instead of strength and power, endurance became associated with physical prowess and fitness. Running a marathon was the benchmark of fitness, whereas it could just as easily have been deadlifting 400 pounds. One isn't necessarily healthier than the other after all, they're just different. Strength training makes you big, lean and healthy, and gives you excellent muscular size, speed, strength and power. Cardio and aerobics training makes you svelte, light and healthy, and gives you excellent muscular endurance and oxygen delivery. Both are valid forms of exercise with their own sets of strengths and weaknesses.
Are there health downsides to cardio or weightlifting? Sure, some. Plodding along on treadmills, concrete and asphalt can be hard on your feet, the cartilage in your knees, and your joints. That repeated impact can also be very hard on people with back injuries. With weightlifting, some guys wind up with cranky shoulders from bench pressing poorly, and some guys have sore backs for weeks after reckless deadlifting.
Most of those risks can be minimized by doing things properly. Learning how to run correctly (which is actually very difficult) and wearing proper footwear will solve most of the downsides of jogging. The same is true with most types of cardio and aerobics.Understanding the fundamentals of good lifting will solve most of the downsides of strength training, and serious injuries associated with weightlifting are surprisingly rare to begin with. Weightlifting results in eleven times fewer injuries than playing soccer, for example (study), and the most common injury is dropping a weight on your foot—hardly the sort of injury to have nightmares about.
In fact, injuries are even more common in people who don't lift weights. Stronger men are less susceptible to injury both in and out of the gym because we learn and practice proper movement patterns, develop good postural alignment, gradually develop denser bones and build up tons of protective muscle to stabilize our spine and joints. Having strong spinal erectors, for example, is an excellent way to safeguard your back against injury—especially for us longly spined ectomorphs. Similarly, having a strong pair of glutes reduces the risk of lower back injuries (study).
So, when done properly, weightlifting should make you healthier and reduce your risk of injury. When you lift a couch or rev up your lawnmower you'll be densely boned, strongly tendoned, and cozily protected underneath a thick layer of muscle.
Losing Fat: Cardio vs Weightlifting
Exercise in general is a great tool when trying to lose fat. You can lose fat just through solid nutrition, sure, but adding in exercise can allow you to burn fat faster, as you'll be burning more calories.
… Since we're a community of naturally thin guys, we rarely encounter people who struggle with being overweight or obese. Eating too much isn't really something we struggle with 😉
We do get guys interested in fat loss though. We get a lot of skinny-fat guys, some guys come to us after having inadvertently bulked themselves into some fat, and some naturally thin guys want to play to their strengths and rock even lower body fat percentages. So losing fat certainly deserves a bit of attention. (Here's our article on that.)
The problem is that after perusing some pop culture mags, we often think adding in jogging, HIIT  or cardio on top of our strength training is the best way to lose fat. That isn't necessarily true, and that whole "eat less and move more" stuff isn't advice meant for guys like us to begin with. Let's take a step back for a second. To effectively lose weight all you need to do is get into an energy deficit. There are two ways to do this: consume fewer calories or burn more calories.
The benefit of cardio is that it burns calories without increasing your appetite. It would be fairly using for losing fat if you went and burned off a bunch of calories and then came home and ate extra calories to make up for it. But it doesn't always work that way. People exercise and burn calories, but oftentimes their appetite doesn't go up by the same amount. (study, study) Since appetite is such a huge struggle for most people, that's a pretty huge deal—you can cardio yourself into a calorie deficit. (Us skinny dudes do fine by simply eating less.)
Exercise can also very slightly raise your resting metabolism. Since your metabolism is what's steadily burning calories all day long, it plays a huge role in how quickly you can burn fat. The effect that exercise of any kind has on your metabolism isn't all that significant though, and us ectomorphs tend to have impressively high metabolisms by default… so we don't really need to emphasize making it even higher. As far as metabolism goes though, a good rule of thumb is that the more joints and muscle groups involved the better, and the heavier you go the better. (The more muscle mass you can get doing intense amounts of work the better.) So while cardio will increase your resting metabolism by a bit, heavy squats, deadlifts, presses and chins would boost it even higher. A single 30 minute full-body strength training session will increase your metabolism for 38 hours (study).
Your metabolism is also affected by the amount of muscle you have on your body, but again the effect there is surprisingly small. Each pound of muscle burns about 6 calories per day at rest, so adding twenty pounds of muscle to your frame would burn an extra 120 calories per day. That's a glass of milk, or four prunes, or a small mouthful of peanuts. Nothing to write home about.
(While that's bad news when trying to burn fat, that's great news for those of us worried about having to eat more to fuel our ever more muscular bodies. Building muscle doesn't increase how much you need to eat by all that much.)
So there's the calorie deficit part of fat loss, which usually isn't very difficult for us. That's the part that gets your weight moving down. Weight loss, of course, isn't synonymous with fat loss.
For guys like us, it's the muscle maintenance part that's the tricky part. When losing weight our bodies can get energy from stored fat or by breaking down muscle mass. So for us skinny guys who also care about how much muscle we have, driving ourselves into a calorie deficit via cardio can be counterproductive, as it doesn't protect us against muscle loss. A bigger calorie deficit via cardio will just increase the chances of us shedding muscle along with the fat. That's where strength training comes in.
Let's look at a study.
First, the simplest option: dieting. The participants who ate at a controlled calorie deficit dropped 21.1 pounds over 3 months. 14.6 of that was fat and 6.5 pounds of that was muscle. That's quite lot of muscle loss!
Now let's look at option #2: aerobic training (i.e. cardio). This group ate at a controlled calorie deficit and added in 3 weekly hours of endurance training. They dropped 20.1 pounds.  Not quite as big a number as the dieting group, but 15.6 pounds of that was fat, so it wasn't quite as good for weight loss, but slightly better for fat loss. These guys 'only' lost 4.5 pounds of muscle. That's pretty good for your average person just trying to get 'smaller'. Getting 'smaller' is every skinny guy's worst fear though. When trying to lose fat we aren't trying to get smaller, we're trying to get leaner. Hell, when I'm trying to lose fat I'd rather come out bigger.
Option #3: anaerobic training (i.e. strength training). If you add in 3 weekly hours of strength training you're up to 21.6 pounds of weight lost—the most impressive yet. The really impressive part though is that 21.1 pounds of that was fat! That's five more pounds of fat loss than the cardio group, and only 0.5 pounds of muscle was lost. Visually you can imagine how dramatic a change that would make to someone's physique, not to mention they'd come out ripped and muscular, not simply smaller.
Now, I should point out two things:
The strength training group was also doing aerobics. The cardio-centric work might have accounted for around one pound of that fat loss. (As you can see in option #2, cardio added in about an extra pound of fat loss compared with just dieting.) It's safe to assume that removing the cardio would have still resulted in by far the most fat loss, and other studies support that conclusion.
The diet wasn't optimal. As a beginner it's quite possible to build muscle while losing fat, especially if you're starting off 20+ pounds overweight or relatively under-muscled (as almost all of us ectomorphs are). Hell if you're fat, skinny or skinny-fat you can expect much better results than this as far as muscle is concerned.
To put that into perspective, I took a couple of my old progress shots and faked up a "weight loss" before and after, which is similar to what a skinny or skinny-fat ectomorph would accomplish through dieting + cardio (or just dieting). My posture is slightly worse in the after shot, which can't really be helped, since it was taken when my posture was still very much a work in progress.
Here's what a month of weight loss might look like: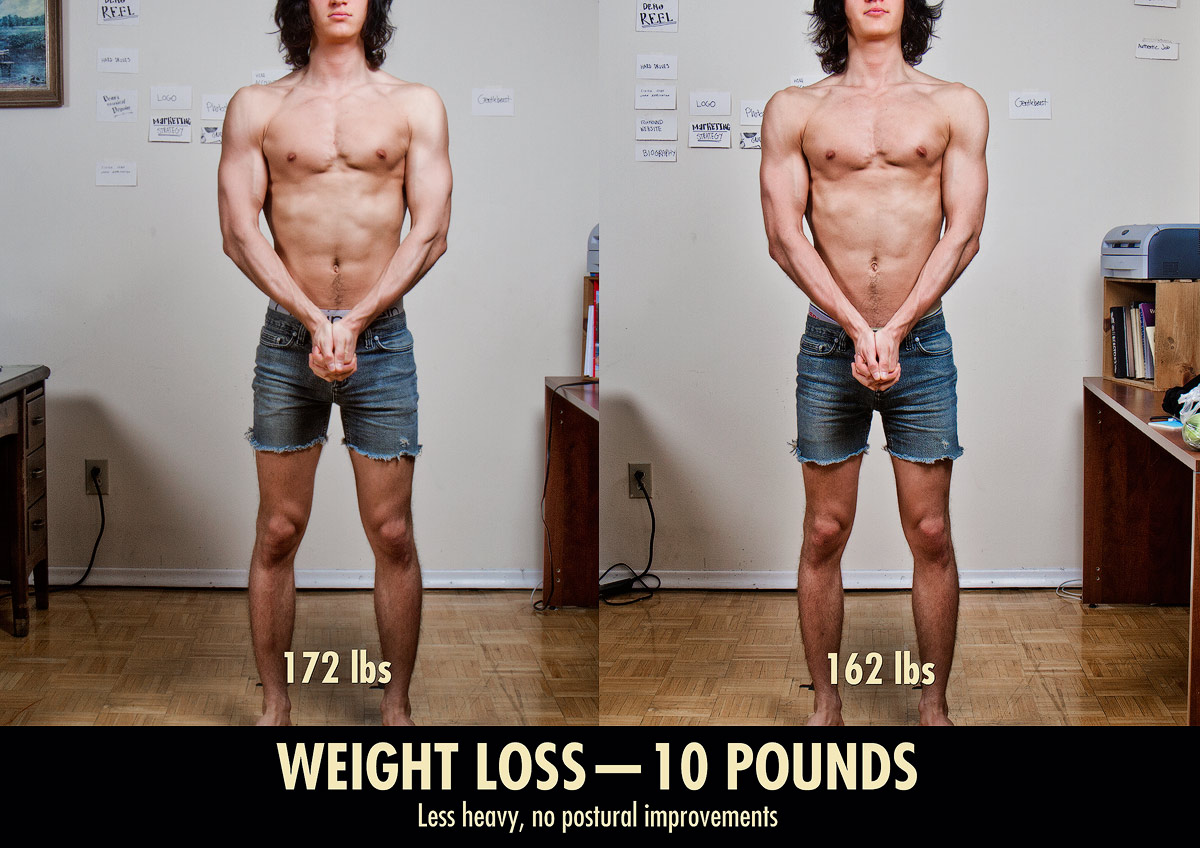 And here's weight loss consistent with option #3: strength training (3 hours per week) and cardio (30 minutes per week). Over 4 weeks I dropped from 172 lbs to 162 lbs. As I lost fat it chiselled out the muscle underneath, making my chest look a whole lot bigger. I also improved my posture.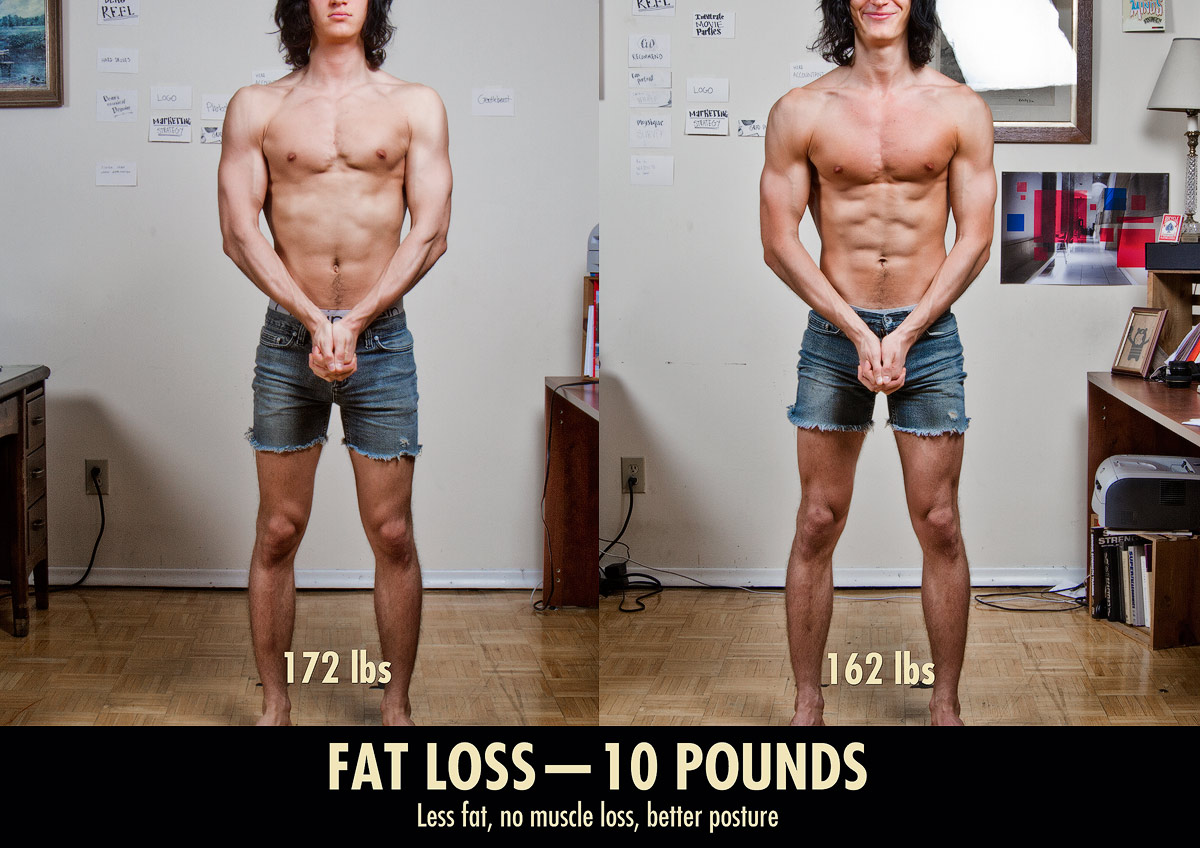 So if you're trying to lose fat should you run? If you're comparing it to couch-riding, then yes. If lifting weights is an option though, then you'll see much much greater results there.
If you have the time and energy for both, feel free to do both! Running will burn extra calories allowing you to eat a little more and still get/stay lean. You could also eat a little less, which us ectomorphs are often rather good at. Recently I've been researching and experimenting with appetite for an upcoming article (update: article here), and when it came time to trim back down after months of overeating, I lost 20 pounds of fat just by continuing on with my same ol' Bony to Beastly weightlifting plan and combining it with a calorie deficit.
Just lifting, no cardio: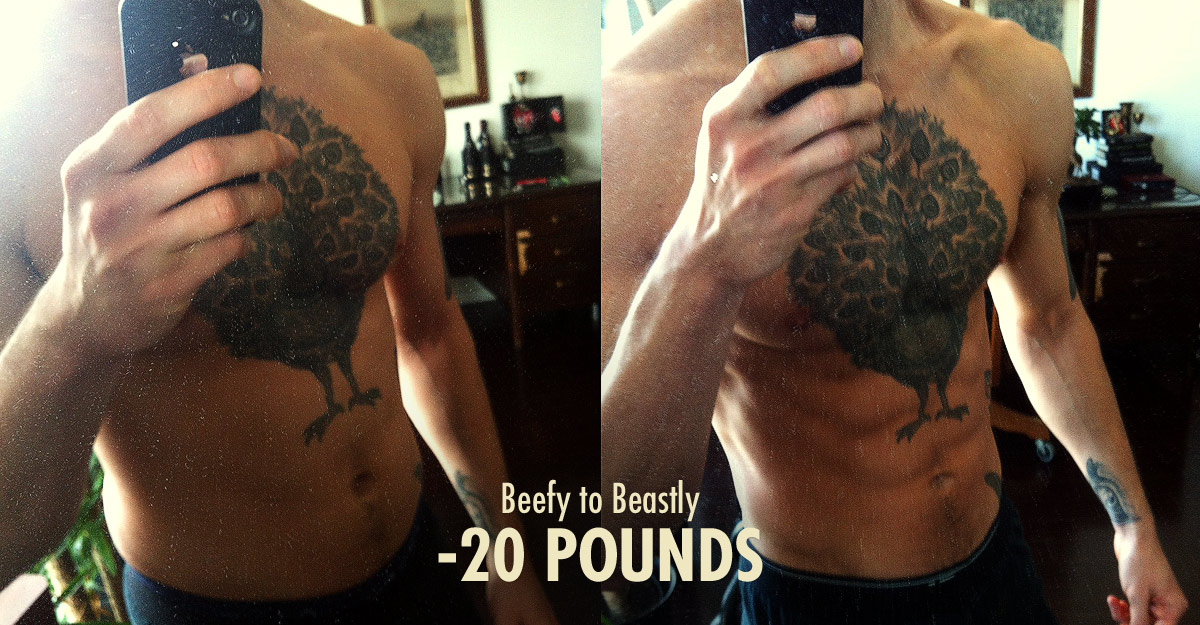 Muscle and Strength: Cardio vs Weightlifting
Weightlifting is traditionally geared at building up muscle size and strength, and it does it extremely well. It's an incredibly effective way to build up muscle mass (even for us skinny guys). Cardio is designed to improve your cardiorespiratory system, so it's not really doing much in the muscle-building department. Training for endurance can produce small muscles gains in extreme beginners, but it caps out very early. Even bodyweight strength training and weightlifty aerobics programs like p90x cap out very early on the muscle front, which makes sense – that's just not what they're designed for.
So if you're training to build big strong muscles while training to develop your cardiorespiratory system (or muscular endurance) you're aiming at two opposite ends of the fitness spectrum at once: being big, fast, explosive and strong vs being able to lithely and steadily chug along for miles.
If you're trying to build muscle efficiently you pretty much need to lift weights, but that doesn't mean you shouldn't do cardio as well. The downside is that you risk run into a certain degree of training 'interference'. The upside is that you'll still make pretty substantial progress towards both goals. Ectomorphs often love running, for example, since they find they're well suited to it naturally, and there's no need to stop. We have lots of guys who love to run, play sports, do martial arts, etc. come into our program, and they get kickass results.
In fact, in some ways it may even help.
Some studies show that your strength, speed, power and size gains would be reduced by only 20-30% if you add in heavy endurance training to your strength training. (Study.) Similarly if you add in strength training to your endurance training it would take you longer to become a master marathoner. The effects are fairly proportional, so the more running you do the slower you'll build strength, speed, power and size. In return for those sacrifices you'll build endurance though, so if endurance is key for what you do then it's certainly valid to train both simultaneously.
If you're relatively out of shape then to a certain extent both types of training can help with both. As a classic ectomorph just starting out, say, you'd build a small amount of strength by doing aerobic work, and you'd build a small amount of endurance by strength training. I noticed this quite a bit when I first started. See, despite my long lanky limbs I was a crap jogger … until I started building up my strength. After a few months of strength training I found I could all of a sudden jog pretty effortlessly—without ever having trained my endurance. Were I trying to become a jogger though, I would have improved my ability to jog much more quickly had I trained by jogging.
Most people aren't trying to train for a marathon while simultaneously trying to build muscle. It happens, but it's relatively rare. Adding modest amounts of cardio to a muscle-building program is very different. For example, 15-30 minutes of cardio once or twice a week on top of a heavy weightlifting routine wouldn't be significant enough endurance training to result in any interference at all. In fact, strategically adding in a bit of cardio, depending on what type of cardio you do, can sometimes accelerate results. One recent meta-analysis looking into concurrent training (strength training + endurance training) found that while lots of jogging reduced strength and hypertrophy, small amounts of biking actually increased it. (study)
There are other benefits too. Improving your cardiovascular fitness will allow you to recover better between lifting sets, and recover better between workouts. If you lift in a way that improves your cardio, this may be enough, but for the very unfit, or for people who prefer lifting in a powerlifting sort of style (just a few reps per set, several minutes of rest between sets), doing extra cardio carries benefits there.
With us ectomorphs though, since cardio burns calories without increasing our appetite, we're often best leaving it out unless we love it. It's not bad, but it means we need to eat even more, and eating enough to build muscle is often challenging enough for us already (although a big emphasis in our program is clever eating strategies to make that easier).
We're often quite insulin sensitive and rocking rather high metabolisms anyway, so with a good muscle-building program in place it's not like we're at risk of gaining much fat with or without cardio. We tend to be able to build muscle pretty effectively and leanly with or without cardio added in (even if you think you're skinny-fat).
So cardio can be worked into a muscle-building program, but you'd need be mindful of the type of cardio you do and the amount of cardio you do. If your goal is building muscle then you'll see better results if you emphasize building muscle.
Aesthetics: Cardio vs Weightlifting
Cardio isn't really something a non-overweight person would do to improve how they look. Cardio won't make you significantly more muscular or less fat, so it won't really make you look any better. It's really only an aesthetics tool for people struggling to lose weight. (Weightlifting would work well for that too, and also keep more muscle around – but for many overweight guys maintaining muscle isn't really that big of a deal.)
As guys who are naturally thin and have no trouble with overeating, running will often take us further away from our aesthetic goals. We're much better off pursuing weightlifting, as that's a style of training designed specifically to make us bigger and stronger as efficiently as possible. There are subsets of weightlifting designed specifically to make you look better, too (namely bodybuilding). So as far as looking better goes it's no contest really: weightlifting for the win.
Athletics: Cardio vs Weightlifting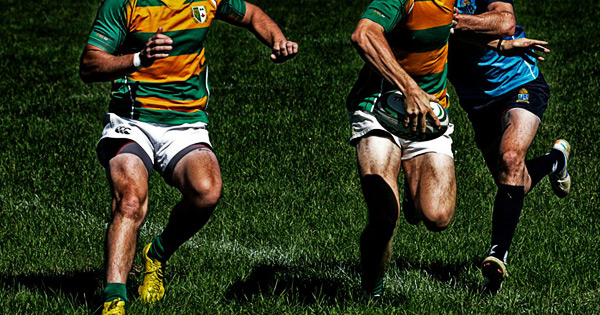 This is highly individualized and obviously depends on your sport. Generally speaking training with heavy weights gives you speed and power, while aerobics/jogging gives you endurance. Since most sports involve bursts of speed followed by lower intensity periods (e.g. soccer, basketball, football, frisbee, martial arts, etc) steady state cardio isn't necessarily the best way to train for it, and thus the cardio/conditioning part of their training typically involves some form of cardio intervals instead. Oftentimes you'll see a mix of cardio and weightlifting when it comes to athletics.
Running for Running
Humans are incredible endurance running machines. We've evolved shorter toes than our ape-like brothers, allowing us to run more easily; we've lost most of our body hair, giving us an extremely efficient cooling system (sweating); we've got two legs, which is slower but more energy efficient than four; and we've got a ton of slow twitch muscle fibres compared with many animals, allowing us to run for miles and miles. As ectomorphs this is even more true, as we often have tons of slow-twitch muscle fibres. With a little training we can be running rock stars.
Running is something we're really good at as a species, and with a little bit of training we make truly incredible distance runners. Not to mention it  improves our cardiovascular health, gets endorphins flowing and can give us a runner's high. (Jared, 2010, after some sprint intervals outside.)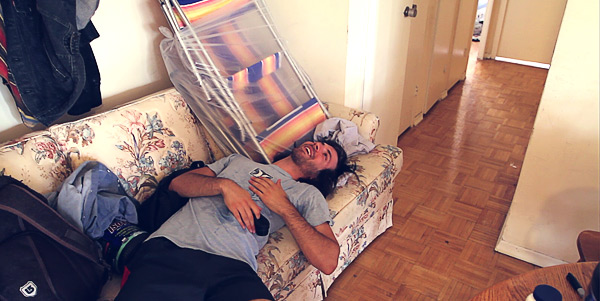 It's no surprise that there are so many popular sports for endurance runners: marathons, triathlons, decathlons, ultrathons, etc.
So, should ectomorphs do cardio?
It may sound like I have a bias in favour of lifting weights, and I have to admit that I've grown to love it, so perhaps I do … but I chose this type of exercise because it was the type of exercise that lined up with my goals, not because I was particularly inclined to lift weights. In fact, nothing scared me more than going to a gym. At 6'2 and 130 pounds even lifting weights in private was pretty intimidating. I would have much preferred jogging around the block or popping in a p90x DVD because, as a skinny guy, I would have felt much more comfortable doing it.
What endurance training excels at is producing adaptations that make you better at endurance activities. If you love running and your goal is to be a kick-ass marathoner then it's a no-brainer: you should definitely be running. Just like you shouldn't be playing the drums with the goal of building up your biceps though, you shouldn't be jogging because of its supremacy in the muscle-building, health, fitness, aesthetics or fat-burning spheres.
What heavy weightlifting excels at is building muscle size, strength, speed and power. It's also great for making you look better, because it fixes up your postural alignment and broadens your shoulders. And it's key when it comes to getting lean, since it causes your body to burn fat for energy instead of muscle.
I'd recommend choosing the type of exercise you do based on your goals. Bonus points if you find time in your schedule to do a bit of both, too.