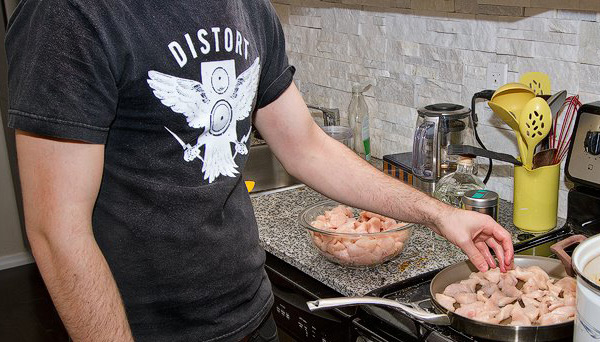 Muscle-Building Myth #3: High Protein Diets
(Article updated September, 2015) You probably know that protein is a really important macronutrient for building muscle. In fact, my little sister probably knows that protein is important for building muscle. There's some truth to this—if you don't eat enough protein your body won't build muscle. In fact it can't build muscle, since muscle is build directly out of digested protein. This is a common problem for some absolute beginners, vegetarians and vegans. They eat too little protein and thus struggle to put on muscle.
But what about your regular gym dude? What about the guy that trains 6 times a week? What about a skinny ectomorph trying to pack on muscle? They all probably think they need a helluva lot of protein.
However eating a diet overly high in protein is a great way to limit the amount of muscle you build, especially as an ectomorph.
I've been doing a lot of research lately into clinical studies conducted on muscle growth. Most of them are funded by supplement companies who pay their bills by selling protein powders, so these companies have a huge vested interest in proving that more protein = more muscles.
A protein company funding a protein overfeeding study doesn't mean the results will be fraudulent or anything—the scientific community is pretty good at preventing this—but it's always wise to keep potential biases in mind when reviewing studies.
Oddly enough, even the protein manufacturers haven't been able to show that there's a correlation between more protein and more muscle. 
It seems like once the minimum required amount of protein is met, eating more protein on top of that has very little effect beyond the extra calories that you get from it. Believe it or not, some studies show that you'd gain significantly more muscle by getting those calories from carbs instead (study). This is because when we consume an abundance of carbohydrates (and calories in general) protein oxidation goes down, allowing us to use that protein more efficiently to synthesize muscle. More carbs and more calories means we're able to build more muscle out of less protein.
Jose Antonio is the director in chief of the Journal of the International Society of Sports Nutrition (JISSN)—the journal that publishes all the best muscle-building nutrition studies—believes that a very high protein diet is ideal for building muscle, and he has been doing a lot of fascinating research into very high protein diets lately. Some of them show some preliminary promise. However, his studies still aren't showing that much of a benefit despite the incredibly high protein intakes. For example, the conclusion of one of his more recent studies: "Consuming 5.5 times the recommended daily allowance of protein has no effect on body composition in resistance-trained individuals who otherwise maintain the same training regimen."
So while we do need to eat enough protein, we don't need the bodybuilder style 1-2g protein per pound bodyweight when trying to put on muscle.
So what's the magic amount of protein for building muscle?
That varies, but for a classic ectomorph the minimum amount is around 0.8 grams of protein per pound of bodyweight per day—and that's already playing it safe. Beyond that amount it hasn't been proven that more protein results in any more muscle growth whatsoever (study, study, study, study). Some of Jose Antonio's work has shown some potential benefit to higher intakes (as high as 1.5 grams of protein per pound bodyweight), but it's too early to tell if this will pan out into anything meaningful.
0.8g/pound should give you pretty damn near perfect results.
So let's say you're a classic ectomorph weighing in at lean 150 pounds and on a muscle-building diet of 3400 calories. If you get even just 20% of your calories from protein you're eating 170 grams of protein. That's all you need plus a bit extra—just incase. Keep in mind that there's no harm to your health in eating loads of protein, just that the muscle-building benefit comes from the extra calories, not the fact that you're consuming protein (study, study, study).
Even those extra calories aren't packing quite the caloric punch that another macronutrient would, because digesting protein results in a lot of energy being "wasted" as heat. If you've ever heard that high protein diets increase your metabolism then you know what I mean. Your body expends a certain amount of energy digesting and processing nutrients, and this is dubbed the thermic effect of food (TEF). If you eat 800 calories of protein you'll lose about a quarter of them to heat. (With carbs or fat you'd lose less than a tenth.) This is great under some circumstances, such as weight loss, but when building muscle the high TEF that protein has means that you'd need to eat way more calories. For skinny guys with small appetites this can make bulking up a lot harder.
In addition to this, protein is also the most filling of all the macronutrients. Eating a lot of calories while also eating a lot of protein is miserably difficult, and us ectomorphs already have enough trouble eating enough to gain weight. Bulking diets become far easier when you're getting more of your calories from carbs or fats.
All of a sudden you have poor ectomorphs trying to force feed themselves way past the point of fullness and still unable to get into a caloric surplus, i.e., unable to gain weight.
As you may be noticing, us ectomorphs often stumble into doing mainstream appetite control tricks for chubby people trying to be lean and muscular. Paleo, low carb diets, etc—these are all diets designed for naturally chubby guys who are trying to get leaner. (Our article on appetite here.)
Where you should be getting the bulk of your calories
What someone should be eating depends on their circumstances and goals. Someone with heart diseases might be best eating a lower fat diet. Someone who's overweight might be best on a higher protein diet.
As skinny guys, we tend to benefit from eating a ton of carbs. There are a few reasons for this.
First, carbs can be really great for our appetite. They may even create something called the "rebound effect", where it causes our appetite to come back again shortly after eating. For chubsters this is often the express highway to fatville, but for us ectomorphs this is an incredible tool for loving a calorie-heavy diet that will have us building loads of muscle.
Second, some of the carbohydrates we eat are stored in our muscles in the form of muscle glycogen, and it's that glycogen that entirely fuels our weightlifting workouts (study, study). Not consuming enough carbohydrates will make us fatigue sooner, reducing our workout performance. Training volume (how heavy you lift for how many reps/sets) is the most important factor in the gym, so anything that gets in the way of this will greatly reduce your results. A crappy workout means less weight lifted, fewer muscle fibres stimulated, less muscle built.
Third, carbs are cheap, accessible and delicious. If you try to bulk on high protein diet you'll probably be eating tons of meat and tons of dairy (especially whey protein powder). That's not bad, but it's expensive!
For most ectomorphs eating enough to gain weight, 20% of your calories coming from protein works out to a little over a gram of protein per pound bodyweight – and that's more than enough protein while still leaving plenty of room for other nutrients.
If you count grams, something like 1 gram of carbs per pound bodyweight would be the minimum you'd want to consume (and that's a good minimum when cutting), but optimum performance and muscle-building usually comes at 3 grams per pound, which is more like 50% of your daily calories.
This may sound counterintuitive, considering that muscle can only be synthesized out of protein, and that carbs are currently infamous for being the fat-causing macronutrient… but they actually have a ton of anabolic effects and really don't have much risk of being converted into fat if you consume them intelligently.
Opening the door to meals that are higher in carbs and just moderate in protein makes bulking a whole helluva lot more realistic. Things like muesli cereal with milk, or peanut butter and banana sandwiches—these are super cheap, super healthy, super easy to prepare, quite high in calories, and the nuts, grains and dairy will still provide the minimum amount of protein per meal that you need to spike great muscle protein synthesis (20g).
B-b-but what about post-workout?
That's the exception, right? Okay so we do advise getting in some good protein after working out, and studies pretty unanimously support the benefits of that (study, study), but a huge part of the benefit actually comes from the calories/carbohydrates that we recommend having alongside it, and not just the protein (study). In fact, you can build tons of extra muscle just by having carb-filled post-workout shakes without any protein in them at all, especially if they have creatine in them (study).
(If you want our recommendations for ectomorph post-workout nutrition check this post out.)
Why doesn't everybody know this then?
A lot of the most popular diets these days are higher in fat and lower in carbs. It may unfairly vilify certain foods, but it's easy to understand and works pretty well for the vast majority of people. So it's not wrong, per se, just not ideal for guys like us.
Different body types, lifestyles, and goals produce very different nutritional demands:
Naturally chubby guys often respond better to a diet higher in protein and fats, and these guys make up the majority. As ectomorphs we're thyroid dominant (hormone talk), meaning that we're better at processing carbohydrates. It's unlikely that we'll convert them to fat, and with a proper workout plan in place we'll use those carb calories to build muscle.
Most guys aren't trying to gain weight, let alone rapidly gain weight. If you were asking me how to maintain your muscle mass or lose fat my nutrition advice would be different… but we're trying to build muscle here. In order to do this we need to intelligently stimulate our muscles and increase our calorie intake. Carbs will help.
Sedentary lifestyles reduce the demand that we have for carbohydrates. Our bodies use carbohydrates as an energy source, so if you don't expend much energy you don't need many carbohydrates. Most guys drive to work, sit in an office and daydream about weighing less. Those guys don't need carbs. Since overweight people living that lifestyle are so prevalent, this is great nutrition advice for the masses. Only 3% of the population wants to gain weight, so, for better or worse, we are not the masses. As ectomorphs we have higher metabolisms and naturally expend a lot of energy (often as heat). Add in a weightlifting plan and our energy requirements shoot up even further.
Strength training and carbs are a match made in heaven. There's a window surrounding our workouts where carbs are extremely beneficial. Even beefy guys will often benefit from consuming plenty of carbs within the two hours following their workouts if they're looking to maximize muscle gain while minimizing fat gain. As ectomorphs this window doubles. If our goal is rapid muscle gain we should even be eating plenty of carbs up to 48 hours after our last workout (within reason). If you work out three times per week, as we do, well, that's pretty much always!
Does this mean too much protein is bad for us?
Not at all. It won't strain your kidneys, stress your liver, make you ugly, lower your sperm count, or any of the other anti-protein myths you may have heard (
study
). Well except for the gas thing. A very high protein diet will give some people pretty gnarly gas.
Protein is a perfectly fine macronutrient, and you can digest over 100 grams of it in a single meal without a hitch. You just don't need ludicrous amounts of it when trying to build optimal amounts of lean muscle as an ectomorph. We can do better.
Overview
All this doesn't mean that protein isn't important, but rather that most of your calories should probably come from carbohydrates. It's rare to find a skinny guy (or even a skinny-fat guy) that this won't hold true for. If you're eating a calorie surplus large enough to build muscle with around 20% of your calories are coming from protein you'll be just fine. That will give you more than the required amount of protein, and any extra is muscle gravy.
Where should most of your calories come from? Everyone is a little different, which is why it can be really helpful to track your results and adjust accordingly… but likely you'll want to be getting 50% or so of those calories from dense and healthy carbohydrates—potatoes, yams, fruits, grains, rice, dairy, legumes, etc. And maybe 30% from nutritious fats—olive oil, butter, avocados, fish oil, nuts, coconut oil, eggs, cheese, etc.
As you can imagine, this opens the door to eating a pretty delicious, nutritious and well balanced diet even when trying to bulk up in a hurry. And therein lies your best chance at building muscle as a thin / skinny / skinny-fat / ectomorph guy: eat well, lift heavy, be smart, love life.
Adequate protein is enough:
…but don't give your girlfriend this advice unless she's also a strength training ectomorph. Carbs might make her phat 😉