The Skinny Guy's Guide to Newbie Gains
If you're a skinny guy who's new to lifting weights, it's possible to build muscle incredibly quickly. Lifters call this phenomenon "newbie gains," and it lasts for about a year.
During that first year alone, the average man will often claim to gain around 20 pounds of muscle. Skinny guys often claim to be able to do even better, gaining upwards of 40 pounds in just a single year. Can beginners really build muscle that quickly?
However, although newbie gains seem to allow some beginners to build muscle unbelievably quickly, research shows that other lifters fail to gain any muscle when they first start working out. When that happens, they're dubbed non-responders. Do non-responders really exist? And if they do, how do you know if you're a non-responder?
Why are some guys able to build a lifetime of muscle in a single year, whereas other guys spend an entire lifetime unable to build a single year's worth of muscle?
Let's dive into the science of newbie gains.
How Quickly Can a Skinny Beginner Gain Muscle?
During my first five weeks of bulking, I gained twelve pounds. My roommate gained 22. But then, after posting our results online, we discovered that what we'd just done was considered scientifically impossible.
The skeptics had a point. That rate of muscle growth is virtually unheard of, even for beginners making newbie gains. For example, here's a quote from Vice Magazine's article about how quickly beginners can build muscle:
How fast can you gain muscle naturally? If all the muscle-building stars are aligned—you're new to lifting weights, eating enough food, lifting weights 4-5 times a week, and in your twenties with a relatively low-stress lifestyle—the average guy can hope to gain around eight or nine pounds of muscle after three months of hard training.
There's a small mistake there. A single full-body workout will usually stimulate 48–72 hours of muscle growth in a beginner (study). That means that there's no need for a beginner to work out more than three times per week. In fact, given how sensitive beginners are to muscle damage, extra workouts may slow down muscle growth. It's only advanced lifters who benefit from training 4–5 times per week (study, study).
But that's beside the point. Their claim is that a newbie would be lucky to gain 8–9 pounds of muscle during their first three months of lifting. If we look at the research, that's not quite the case:
This study on beginners found that guys were able to gain 9 pounds of muscle during their first 8 weeks of working out.
In this study, a group of untrained beginners were able to gain an average of 12 pounds of muscle during their first 10 weeks of working out.
In another study, beginners were able to gain 15 pounds of muscle during their first 12 weeks of lifting weights.
If the average beginner in these studies is able to gain more than 8–9 pounds in three months, then if the stars are aligned for a particular participant, we'd expect him to gain muscle even more quickly than that. After all, even if their circumstances are the same, genetics must play a role in how quickly a beginner can build muscle, right?
To see whether that assumption is true, we can look at the research on how rates of muscle growth vary between individuals. For example, this study found that:
The average beginner was able to add 2 inches to their biceps in 12 weeks
Some beginners were able to add up to 5 inches to their biceps in 12 weeks
Other guys lost muscle, despite following the exact same workout routine
There are a couple of interesting things about this study. First, it shows that some beginners can gain muscle almost three times as quickly as others. Second, it shows the phenomenon of "non-responders." Some newbies really don't gain any muscle whatsoever when they start lifting weights.
This is where things get interesting:
Skinny guys can build muscle the most quickly: It's not the naturally muscular guys who gain the most muscle when they start lifting weights, it's the skinny guys. We're further away from our genetic potential and so our ability to build muscle is exaggerated. (More on ectomorph muscle-growth rates in this article.)
The "non-responders" don't necessarily have bad muscle-building genetics. Their muscles may have a totally typical response to lifting weights. More often than not, the problem is that they're hardgainers. These are guys who have a hard time eating enough calories to gain weight. It's not a workout issue, it's a diet issue. (More on hardgainers here.)
The first reason that I was able to gain twelve pounds during my first month of lifting weights wasn't that I had exceptional muscle-building genetics, it's just because I was skinny. When I first started lifting weights, I had a BMI of 16.7. I was underweight. So was my roommate. Our newbie gains were so dramatic because our lanky frames still had so much room for muscle growth.
David Epstein, the author of The Sports Gene, found that each pound of bone can support five pounds of muscle. So if right now you're shaped more by your bone structure than your muscle mass, you've still got plenty of room for muscle growth, allowing you to have more extreme newbie gains.
The second reason that I was able to gain muscle so quickly was that I was eating a good bulking diet. I was making sure to eat enough protein, I was getting most of my calories from carbohydrates, and I was eating close to 1000 extra calories every single day. Not only was I in a calorie surplus, but I was also in a huge calorie surplus.
The third reason, of course, was that I was following a good workout program. The quality of your workout program (and how consistently you follow it) has a huge impact on how quickly you can build muscle. Most studies that produce great newbie gains put beginners on a good workout program and then force them to do it with perfect consistency.
Within four months, I'd gained over twenty pounds of muscle while losing a significant amount of fat:
I wasn't even a total beginner during this transformation. I'd already gained twenty pounds, going from 130 up to 150 pounds. This set of progress photos was from the middle of my transformation, showing me going from 150 up to 170 pounds.
Here's the entirety of my newbie gains, showing 55 pounds of drug-free muscle growth over the course of a couple of years:
A common objection that people make when guys claim to gain muscle this quickly is that it's not all muscle. They argue that when someone gains weight this quickly, a huge proportion of the weight gain is fat. In my case, I got a DEXA scan showing that I had a body-fat percentage of 10.8%, which seems to be even lower than when I started: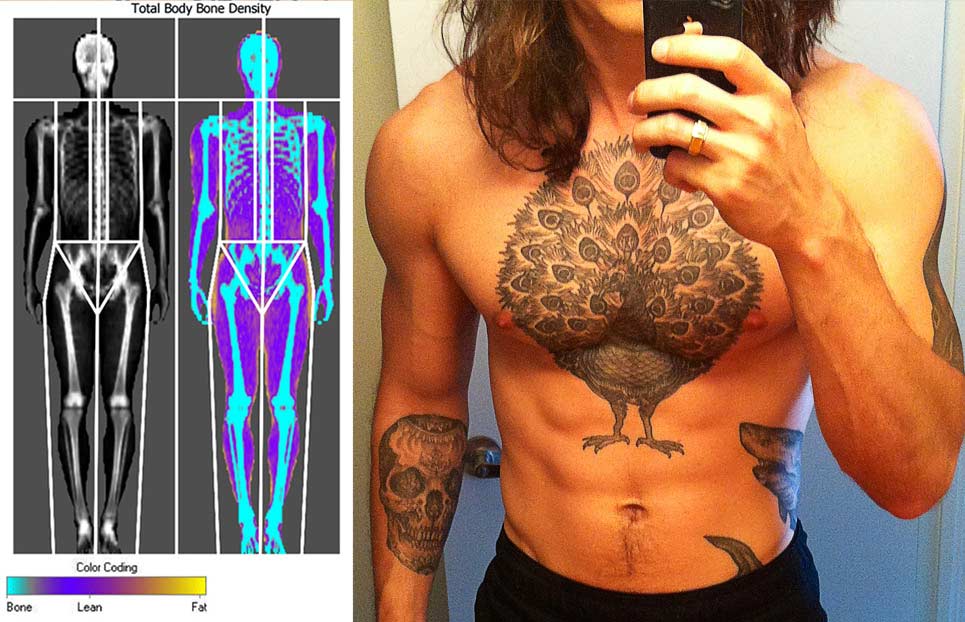 The next thing to keep in mind is that newbie gains aren't linear. Rather, as you build more muscle, your rate of muscle growth gradually slows. The closer you get towards your genetic potential, the more your growth will slow.
Because skinny guys are starting further away from their potential, their newbie gains are more dramatic and they last longer. For example, the average man starts off with roughly 80 pounds of muscle on his frame. If we imagine a skinny guy who's starting with just 40 pounds of muscle on his frame, he's essentially starting behind the starting line, and so his newbie gains will look more like this: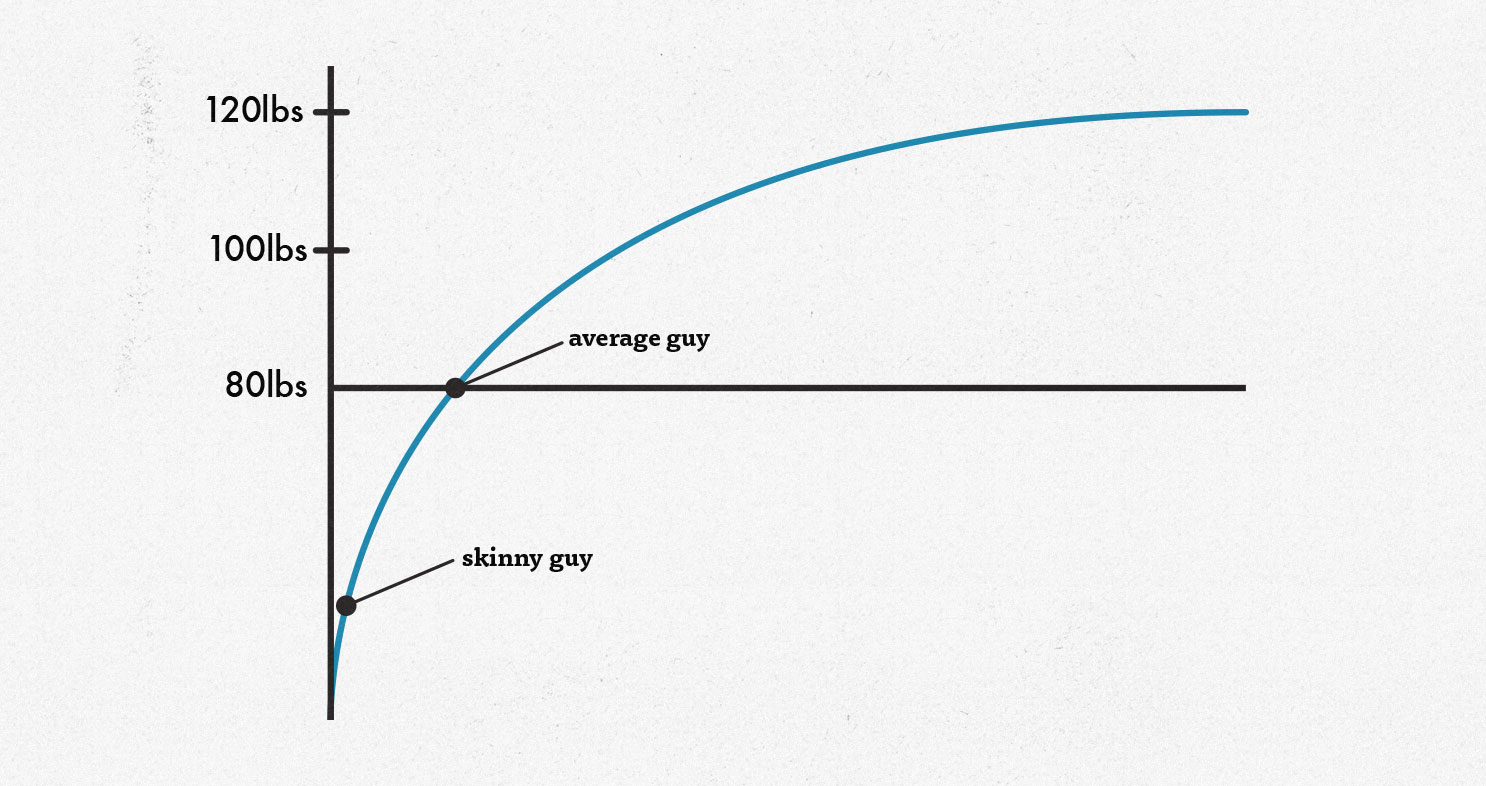 Regardless of where you're starting, though, your first workout will produce the most muscle growth, your second workout will produce slightly less, and so on. By the time you get to your hundredth workout, you're going to notice that you're gaining muscle much more slowly. Your newbie gains will have gradually run dry.
For the average lifter, we can divide newbie gains up into two stages:
Early-stage newbie gains (months 0–3): the average newbie can expect to gain up to 15 pounds of muscle within their first three months of working out, but if you're a naturally skinny, you can expect to gain even more. We often see skinny guys gaining upwards of 20 pounds within three months. Sometimes more.
Late-stage newbie gains (months 3–12): as you become more muscular, you'll start to gain muscle more slowly. It might take another 6–9 months to double that initial amount of muscle mass that you gained. For the average guy, that might bring his newbie gains to 20–25 pounds within his first year of lifting weights. For a skinny guy, that would bring his newbie gains to upwards of 40 pounds within his first year.
Because skinny guys can build muscle so much quicker, and because we have much further to go before reaching our genetic potential, it might even make sense to break our first round of newbie gains off into their own stage:
Pre-newbie gains (first year): This is when a skinny guy can gain up to 40 pounds in just a single year, with upwards of 20 pounds gained in the first 3 months alone. This stage lasts until the skinny guy has as much muscle on his frame as a regular untrained man. After this stage, a skinny guy will start making progress similar to an average newbie.
Mind you, this depends on how skinny you're starting. If you're only a little bit more skinny than average, then your newbie gains will be more like the average man's. If you're like me, though, where you're starting with a very underweight BMI, then you can expect to build muscle far more quickly.
Keep in mind that these rapid rates of muscle growth assume that right from your very first workout, you're following a near-perfect bulking program. In real life, it's rare for a beginner to have any idea what they're doing in the gym. It usually takes a lifter a few years to get his newbie gains as he gradually learns how to bulk.
In fact, some guys spend entire lifetimes lifting weights without even making it out of their early-stage newbie gains. They still have an incredible potential for rapid muscle growth, they just never figure out how to do it.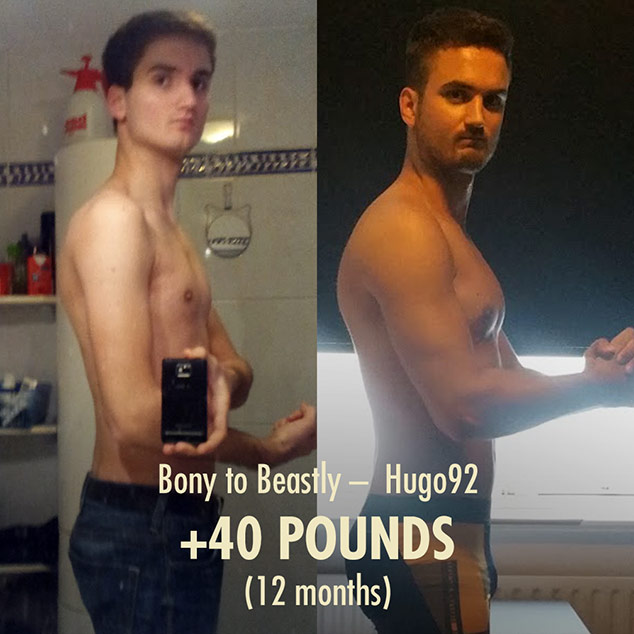 But if you're starting out skinny, and you jump right into a professionally programmed bulking routine, including both a bulking workout and diet (such as our bulking program), then it's realistic to gain a full 40 pounds in your first year of lifting weights.
How to Know If You Can Still Make Newbie Gains
Keep in mind that newbie gains have nothing to do with how many times you've tried to build muscle, they only have to do with how much muscle you've succeeded at building.
Before I succeed at gaining my first 20 pounds, I had tried and failed to build muscle six times. That was irrelevant to my newbie gains, though, because failing to build muscle wasn't bringing me any closer to my muscle-building potential. If you aren't muscular yet, you can still make newbie gains.
To understand why newbie gains work this way, we need to look at what's going on inside our muscle fibres.
The Science of Newbie Gains

If you haven't gotten your newbie gains yet, this is what your muscle fibres look like: thin and with only a few nuclei in them. Even though your muscle fibres only have a few nuclei in them, though, that's already quite remarkable. Most cells in our bodies have just one nuclei, which limits how big they can get. Our muscle fibres have multiple, though, and by lifting weights, we can gain more of them. This ability to add more nuclei to our muscle fibres is what allows our muscles to grow so much bigger.
To understand how these special "myonuclei" work, the researcher Greg Nuckols uses the analogy of a wifi router. The wifi router can project an internet signal a certain distance. Once you get too far from the signal, your device can no longer connect. Myonuclei function the same way. Each one can only handle an area so big. That area is called the maximum myonuclear domain.
That means that building muscle, at least as a newbie, comes down to:
Filling out your nuclear domains with muscle.
Adding new nuclei to expand your domain.
Early-Stage Newbie Gains: Filling Out Your Domain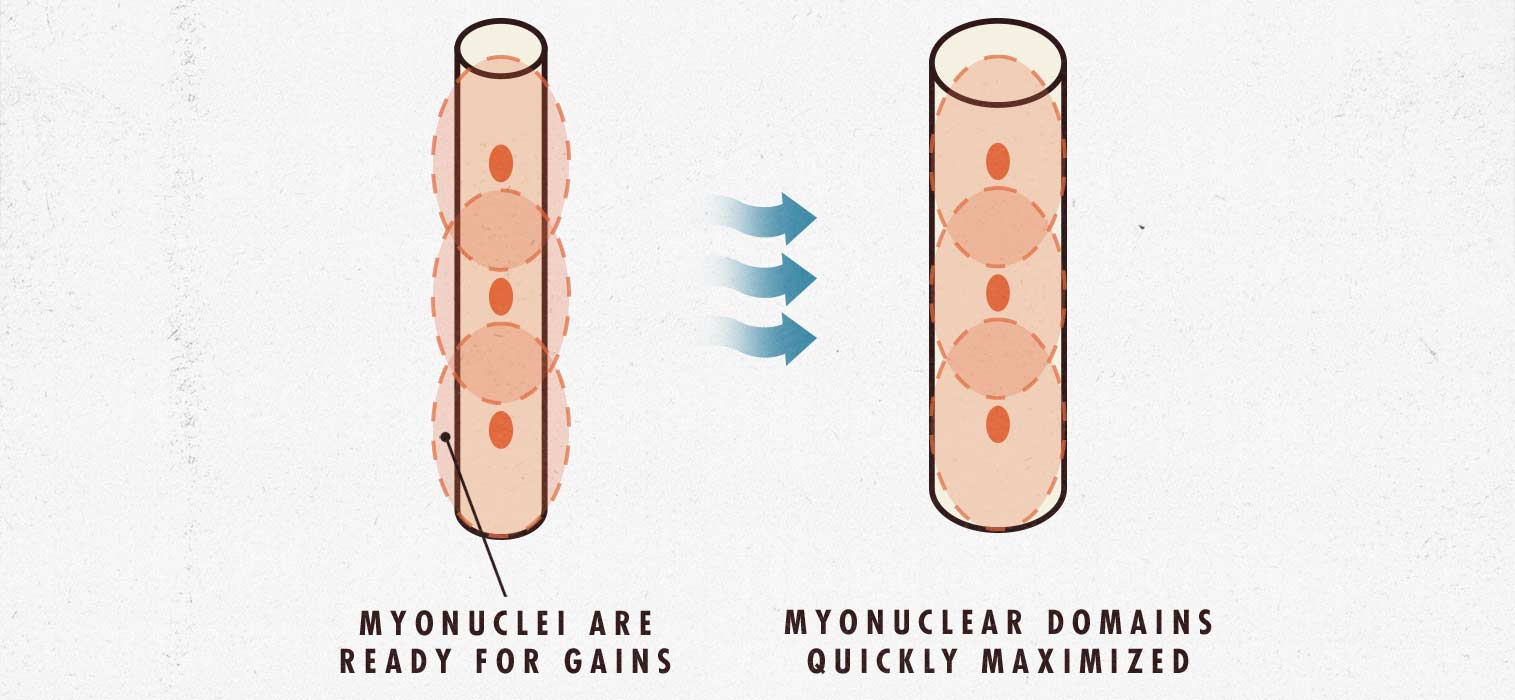 When you first start bulking, your muscle fibres will quickly expand to the limit of their nuclear domains, as shown above. You can expect your muscle fibres to grow 15–27% before hitting that limit (study).
This early stage of newbie gains is so quick and explosive that it's described as steroid-like growth. This stage will last until you've maximized your nuclear domains. At that point, if your muscle fibres were to grow any bigger, your nuclei would lose control of them. Your muscles won't grow until you add new nuclei.
It's common for people to hit a plateau at this point. Almost any workout will be enough to maximize your nuclear domains, but in order to gain new nuclei, your lifting routine needs to be quite good.
But let's say your workout routine and diet are good enough. At that point, you'll start making a new kind of adaptation: adding new nuclei to your muscle fibres.
Late-Stage Newbie Gains: Adding New Nuclei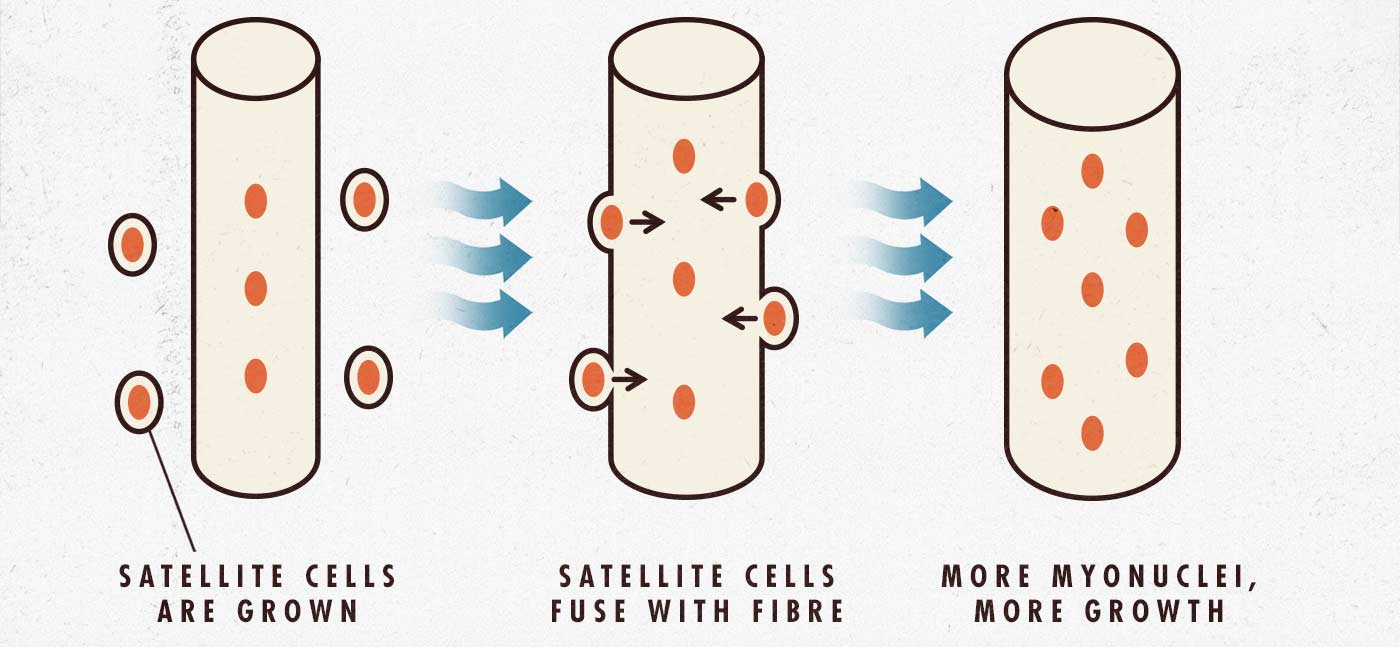 These processes blend together. Right from your first workout, you'll start gaining new nuclei in your muscle fibres. And as you gain new nuclei, you'll need to fill out that bigger domain. However, during the early stage of newbie gains, since all of your domains aren't maximized yet, there's almost no limit to how quickly you can build muscle.
By the time you reach late-stage newbie gains, those low-hanging fruits are gone. Every pound of muscle you gain will need to be preceded by gaining new nuclei. Your body does this by growing satellite cells and then fusing them into your muscle fibres. When your muscle fibre consumes a satellite cell, it gains that satellite cell's nuclei. Cannibalism.
This allows for even more muscle growth, and this is where most of your overall muscle growth will come from. At first, this growth can be quite quick. This is the stage of newbie gains is where guys gain another 10–20 pounds of muscle over the course of another couple months.
This is where the magic happens. The growth isn't quite as quick, but the changes in your body are far more exciting. By adding new nuclei to your muscle fibres, you're improving your ability to turn protein into muscle and improve your insulin sensitivity, making you naturally leaner and more muscular. Best of all, these changes are permanent. You're essentially improving your genetics.
You aren't just carrying your computer to the limit of your wifi signal anymore, you're installing new routers, expanding your domain. This allows you to make your muscle fibres much bigger (study).
This is how you build a strong and healthy body that lasts.
The End of Newbie Gains: Growing Tougher
As you push deeper into late-stage newbie gains, you'll start to notice that your muscles are adapting in two separate ways:
Lifting makes your muscles grow bigger: This first adaptation is the one we all know and love. After a good workout, your muscles will rebuild themselves bigger so that next time, they are strong enough.
Lifting makes your muscles grow tougher: This new, second adaptation is more nuanced. After a good workout, your muscles will rebuild themselves in a more durable way so that they won't be as easily damaged next time. This is called the repeated bout effect (RBE).
The first adaptation is what newbie gains are all about: we build bigger, stronger muscles. The second adaptation marks the end of newbie gains: our muscles grow more resilient, harder to stimulate, and more resistant to growth.
You'll notice this happening. As a beginner, it's common to be brutally sore for a full week after a hard workout. During that time, your muscles will be so inflamed that you'll feel like a cripple. After a year of lifting, though, you'll be lifting twice as much weight, doing far more sets, pushing closer to failure, and yet your workouts will barely even make you sore.
Growing tougher is technically a good thing. Your muscles are gaining the ability to do more work without sustaining as much damage. Without a doubt, this is an upgrade to your body. You are no longer fragile. However, if your goal is to continue building muscle, this can be a big problem. Your body is making itself immune to your workouts.
You've gone from gaining two pounds per week (early-stage newbie gains) to gaining one pound per week (late-stage newbie gains), and now even that pace is impossible. Your newbie gains are grinding to a halt.
The good news is that by the time newbie gains end, the average lifter will have gained a good 20 pounds of muscle over the course of a year. By the time a skinny guy finishes making his newbie gains, he'll have gained a whopping 40–60 pounds of muscle over the course of a couple of years, depending on how skinny he starts.
By this point, you'll have quite a muscular physique. And that brings us to the final and most brutal stage of adaptation: building new muscle fibres.
What Happens After Newbie Gains?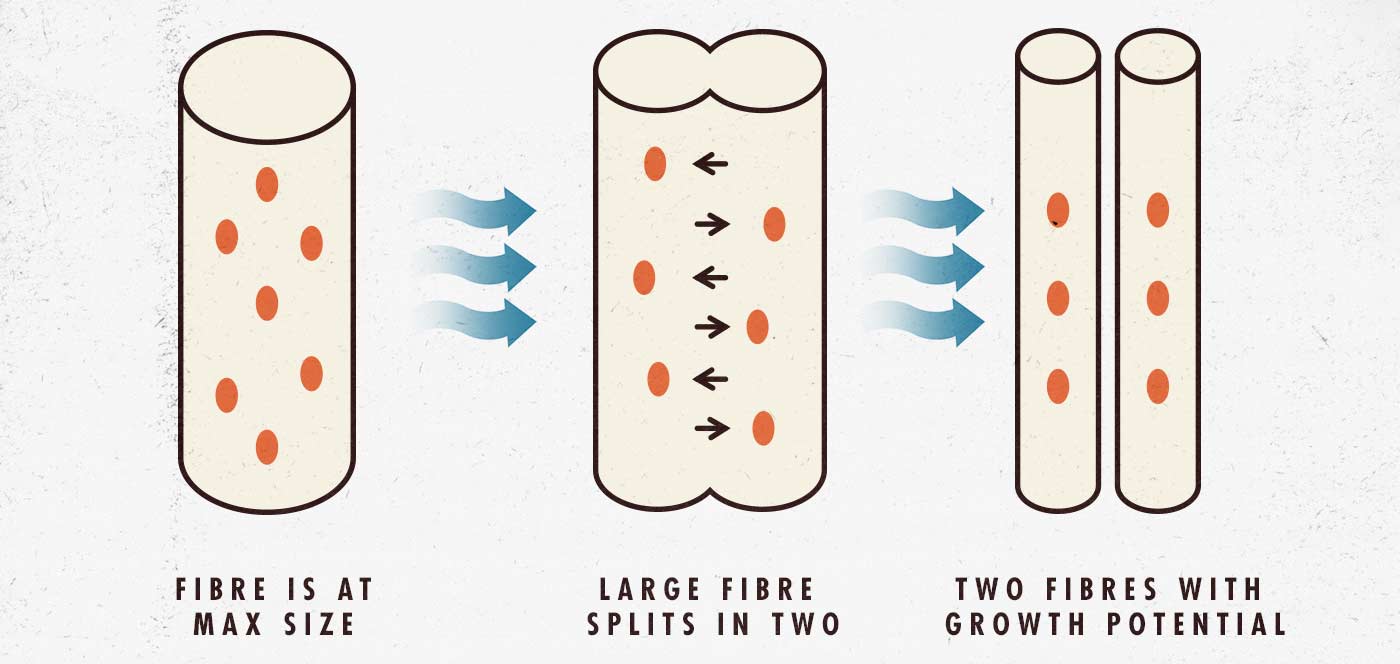 These stages all blend together. You can continue adding nuclei to your muscle fibres for quite a long time, just with increasingly diminishing returns. If you've been bulking steadily, by the time you finish your second year of lifting, you'll probably be about 80% of the way to your genetic muscular potential. Again, most people don't build muscle anywhere close to that efficiently, but with a perfect bulk, that would be the case.
At that point, your muscle fibres will be as large as those of an athlete, strongman, and bodybuilder (study). You won't be quite as big as them yet, though. They have more muscle fibres… maybe.
We're at the advanced muscle-building stage now, which is beyond the scope of this article. That's a good thing, too, because this advanced muscle growth science is highly theoretical. We know that elite powerlifters have more muscle fibres than intermediate lifters, and we also know that animals are able to create new muscle fibres. With those two facts, we can infer that men are able to build new muscle fibres. That's one plausible theory, anyway.
Anyway, now that you understand the stages of muscle growth, we can talk about why some guys struggle to get any newbie gains whatsoever.
How to Bulk up Quickly as a Beginner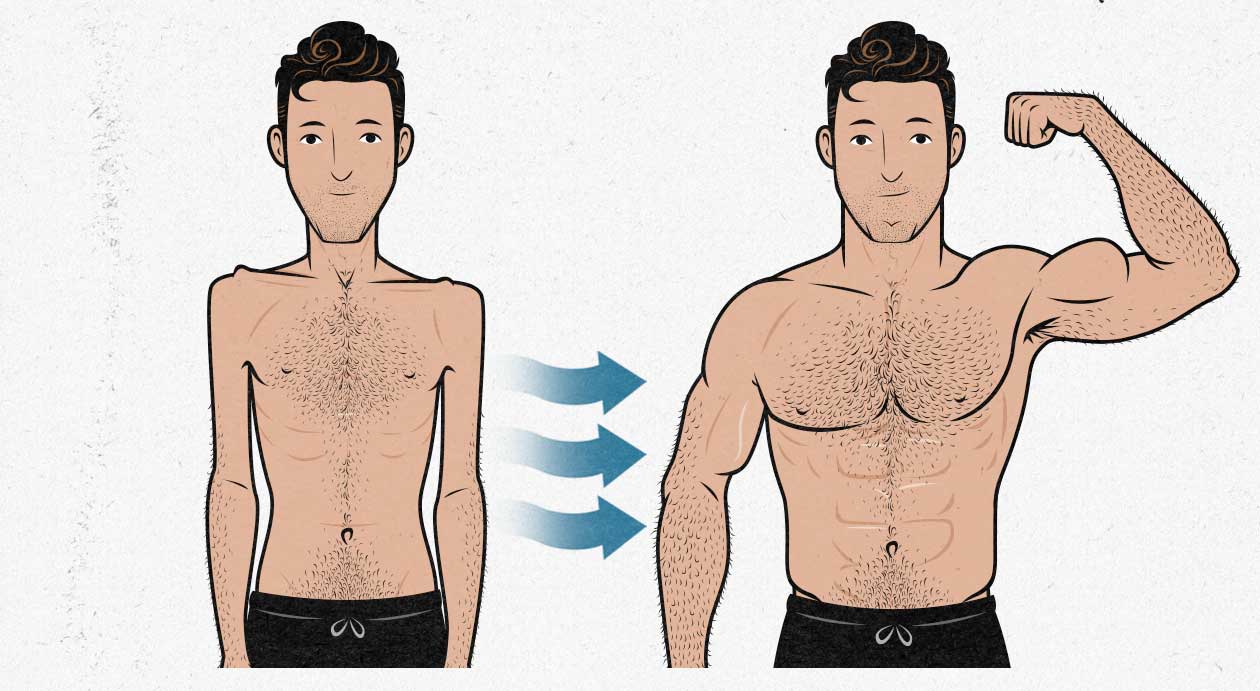 Do a Workout Routine Designed for Beginners
Three full-body workouts per week: As a beginner, each workout will stimulate 48–72 hours of muscle growth. That means that if you do three full-body workouts per week, you can have every muscle in your body growing at full speed all week long. This approach also gives you plenty of recovery days, giving your body plenty of time to build muscle between workouts.
Avoid regularly training to failure: When doing these workouts, remember that during early-stage newbie gains, your muscles will be quite easy to stimulate. You don't need an intense lifting routine, you don't need to go lift to muscle failure, and you certainly don't need advanced techniques like drop sets. In fact, the more muscle damage you cause, the more resources will be wasted repairing muscle damage instead of building new muscle.
However, sometimes it can be hard to know how far away from failure you are. Maybe you're trying to stop 2 reps shy of failure, but since you aren't experienced with lifting to failure, you aren't sure how to do that. In that case, try taking a set all the way to failure. Don't make a habit of it, but feel free to use it as a learning tool.
Start with beginner bulking lifts: Finally, you aren't a skilled lifter yet, so start with lifts that are easy to learn, hard to mess up, and great for stimulating as many muscles as possible, bringing up any weak links you might have. However, that doesn't mean that you need to avoid lifting weights while you work on your flexibility or technique. You can start right into a full-fledged bulking program, stimulating muscle growth right from Day One. Just choose lifts that match your experience level.
Here are some good bulking lifts for beginners:
Goblet squats instead of back squats: A goblet squat is where you hold a dumbbell in front of your chest while squatting. Having the weight held in front of you makes it easier to sink lower, helping to build up better hip mobility. It's also a great lift for building size and strength in your arms, shoulders, and back. When you can do ten reps with the heaviest dumbbell, switch to a front squat or high-bar back squat. (Or if you only have dumbbells, grab a second dumbbell.)
Push-ups instead of bench press: If you aren't able to do 20 push-ups yet, then they'll be absolutely perfect for building up your chest, shoulders, and arms. They'll allow you to build up some shoulder strength and stability before you progress to the bench press, which is harder to learn and has a greater injury risk. As a bonus, push-ups are great for building up the muscles under your armpits (the serratus muscles). When you can do 20 reps with great technique, progress to the dumbbell or barbell bench press.
Romanian deadlifts instead of conventional deadlifts: Conventional deadlifts are ideal for bulking up your posterior chain, but if you aren't doing them properly, they can hurt your back. If you start with a Romanian deadlift, you'll get the same muscle-building stimulus in your posterior chain, but without the increased risk of injury. When this movement pattern feels comfortable, switch to raised deadlifts. When those feel comfortable, start doing conventional deadlifts from the floor.
Isolation lifts are great for building muscle. There's nothing wrong with doing curls for your biceps and lateral raises for your shoulders. These are easy lifts that are great for stimulating muscle growth. If you want bigger biceps, do curls. If you want to build broader shoulders, do lateral raises.
Don't be afraid to add weight: While you're making newbie gains, your muscles will be growing extremely quickly, gaining a ton of strength as they grow. You'll also be improving your coordination, allowing you to lift more forcefully and with better leverage. Every time you step into the gym, you should be trying to outlift yourself. Add weight, add reps.
Here's our article about which type of lifting is best for gaining muscle size.
Eat a Good Bulking Diet
Extra muscle is built out of extra calories: This is especially true if you're a skinny guy making newbie gains, given that your body doesn't have much body fat to use for energy, and you'll be able to gain muscle at a tremendous pace, requiring a tremendous amount of extra calories.
To build a pound of muscle, you need to eat around 3500 extra calories. That means that if you want to gain a pound of muscle per week, you'll need to eat an extra 500 calories per day. If a week goes by and you haven't gained weight, add even more calories into your diet. Making consistent newbie gains is a constant process of weighing yourself and adjusting your calorie intake accordingly.
When you're gaining weight this quickly, keeping up with your calories can be incredibly difficult, especially if you're a naturally skinny guy who has a smaller stomach, a faster metabolism, or good appetite control. If you force-feed yourself, you'll eventually get to a point where you're too tired or stressed, and you'll lose the willpower to overcome your appetite. You have to take a smarter approach, learning how to eat more food with less effort.
Here's our Ectomorph Bulking Diet article about how to eat more calories.
You need to eat enough protein: After you have your calories sorted out, you need to make sure that you're eating enough protein. This is especially important while making newbie gains because the nuclei in your muscle fibres are able to stimulate an immense amount of muscle protein synthesis (aka muscle growth). However, in order to do that, you need to regularly consume protein.
If eating that much protein that often seems daunting, you might want to get some protein powder. If you sneak in a scoop of protein powder between your main meals, that will probably do the trick. You could also snack on some cottage cheese or a protein bar (either homemade or pre-made).
Also, remember that bulking isn't forever. You only need to eat this many calories and this much protein because your newbie gains are allowing you to build muscle at such a breakneck pace. As soon as your newbie gains start to slow down, you can ease back.
But hopefully, your newbie gains won't slow down until you've gained a good 40 pounds of muscle.
If you want a full bulking guide, check out our Bony to Beastly Bulking Program.