The Skinny on Newbie Gains
I gained 12 pounds during my first 5 weeks of bulking. Jared gained 22. Then, after blogging about it, we started hearing that it was impossible.
Imagine that. You've just finished doing something, your friend did an even better job, and then everyone starts telling you that you couldn't possibly have done it.
What's even crazier is that everyone was right—all of the articles we were reading were saying that it couldn't have happened.
Over the years, we've come across studies where the participants make great gains in just a couple months. The problem is that lifters write those results off because they were done on untrained men.
"Yeah, but those are just newbie gains."
Well, let's talk about those newbie gains. Because most people don't understand what they are, and most people gain 0 pounds during their first month of lifting, not 12.
Newbie gains are controversial. They seem impossible. We get a lot of comments and emails from guys who see our sales page and seriously doubt being able to gain 20 pounds in 3 months. For anyone who has read about how quickly muscle grows, that seems way too rapid to be real.
The doubters have a point, but they're forgetting an important caveat. It's impossible to gain over 20 pounds of muscle in 3 months unless you're a beginner. It's impossible to double your strength in half a year unless you're a beginner. It's impossible to build muscle and lose fat at the same time unless you're a beginner.
For all of these miracles, we have newbie gains to thank. Newbie gains being what we call the series of rapid adaptations that makes new lifters grow as quickly as guys who take massive doses of steroids.
Unfortunately, there's a caveat to this too. Newbies can gain a ton of strength without any increase in muscle size. Many skinny guys will start up a new lifting program, become far stronger and more athletic, but remain just as thin as ever. Not a single gain.
So if being a newbie means we can grow incredibly fast, but also not at all… how does that even make any sense?
When I began researching this,  the news got even better than I expected. I started to realize that skinny guys could blow the average guy's newbie gains out of the water.
Something still wasn't adding up yet, though. As ectomorphs, we're known for being hardgainers—we're known for our absolute inability to build muscle, not for being able to build muscle more quickly than anyone else. Most emails we get are from guys who haven't been able to gain any muscle at all.
In this article we'll cover a few things:
Can you get newbie gains?
The science of newbie gains—what are they and how do they work?
Why some newbies gain nothing. (It's not genetics.)
How to build muscle as quickly as possible as a beginner.
First, let's make sure that you're able to get newbie gains.
Can You Get Newbie Gains?
Is the word "skinny" still somewhere in your self-description? Would you call yourself skinny, skinny-fit, skinny-fat? If there's a skinny in there, you're still eligible.
Maybe an even better word to use is "bony." David Epstein, the author of The Sports Gene, found that each pound of bone can support 5 pounds of muscle. So if right now you're shaped more by your bone structure than your muscle mass, you've got a helluva ton of room for muscle growth, and you'll be able to grow far more rapidly than the average guy (who can only gain about 0.5 pounds per week as a beginner).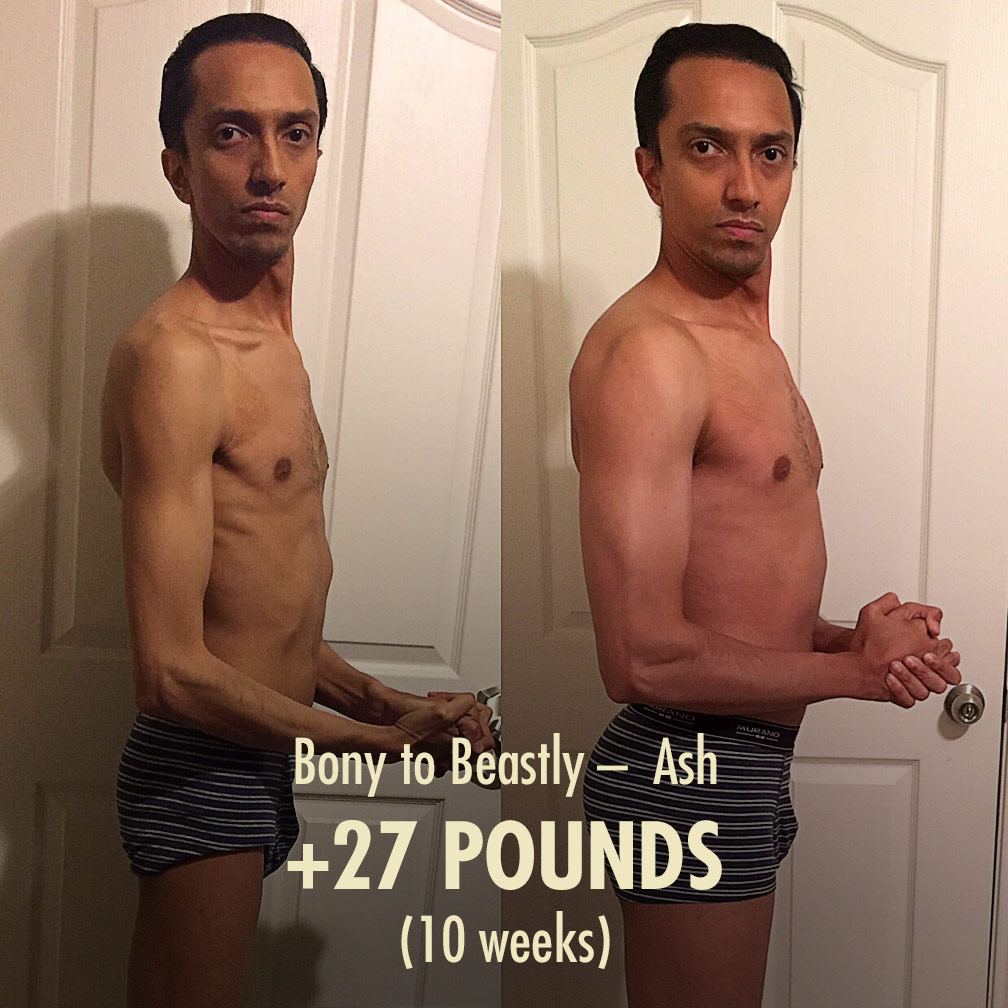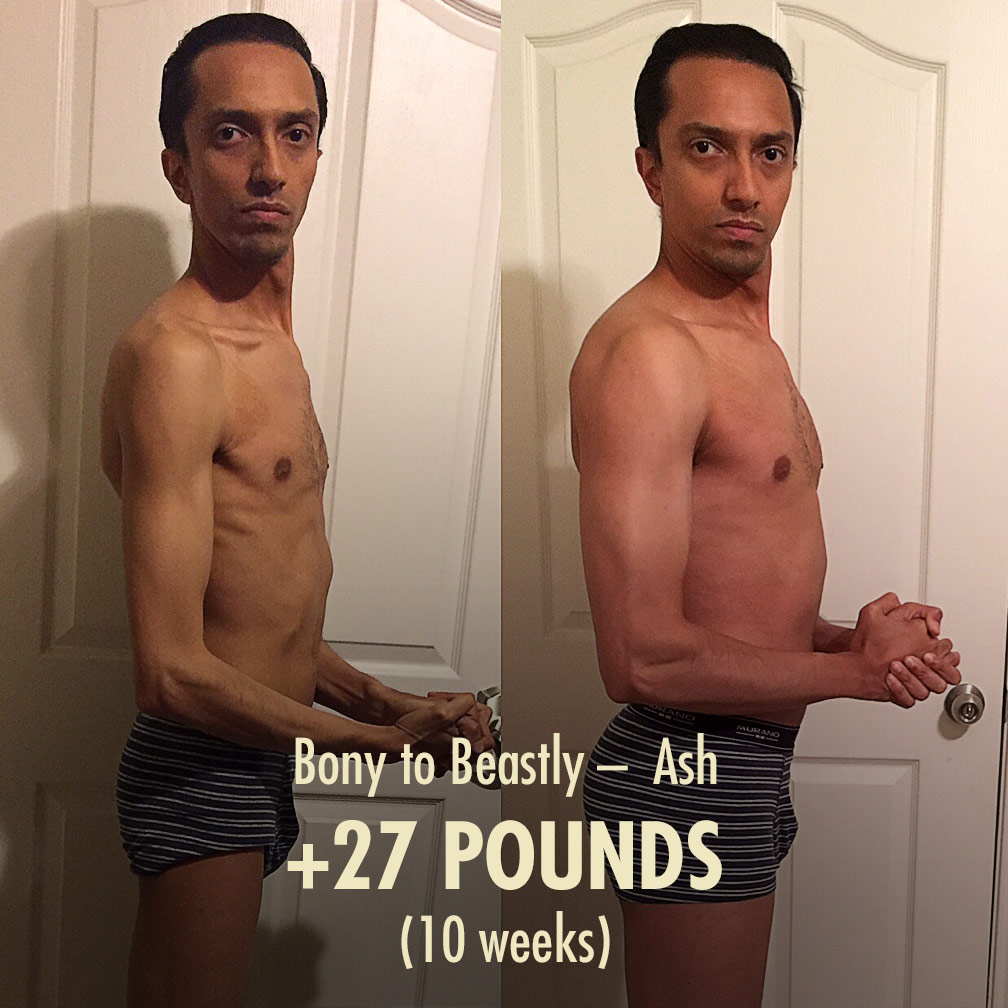 Also remember that newbie gains aren't about how many times you've tried, they're about how many times you've succeeded. So if you've already gained 20 pounds, you've already used them. But if you've tried to gain weight 20 times and failed each and every time, like many of us have, you still have all of your newbie gains to look forward to the first time you do this properly.
The Science of Newbie Gains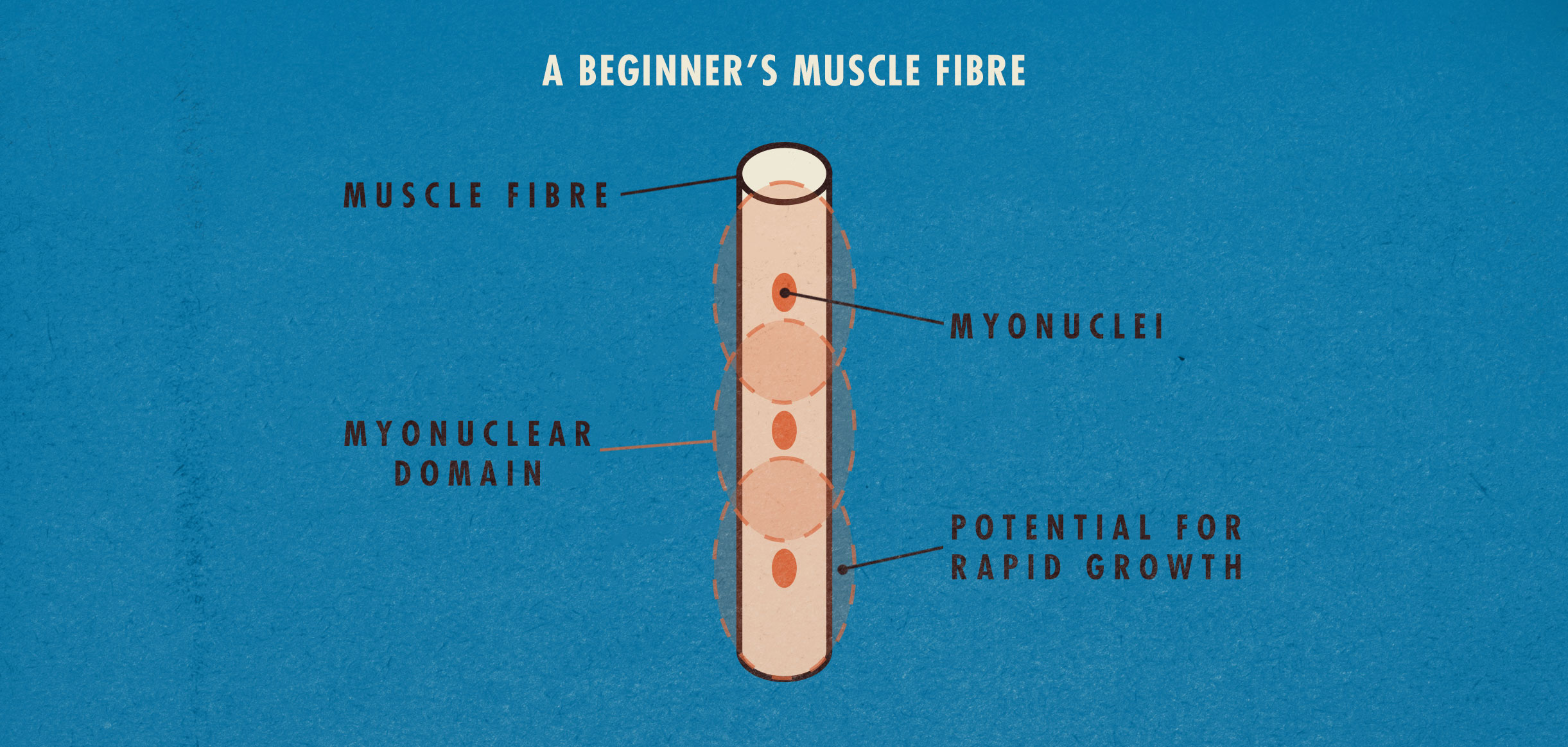 If you haven't gained 10–20 pounds yet, this is what all your muscle fibres look like.
Most cells have just one nuclei, but your muscle fibres have many. These are called myonuclei, and because of them, your muscles can grow a tremendous amount.
To describe how myonuclei work, fitness blogger Greg Nuckols uses the analogy of a wifi router. The wifi router can project an internet signal a certain distance. Once you get too far from the signal, your device can no longer connect. Nuclei are not so different. Each myonuclei can only handle an area so big. This area is called the maximum myonuclear domain.
Newbie gains is the process of filling out those myonuclear domains with muscle.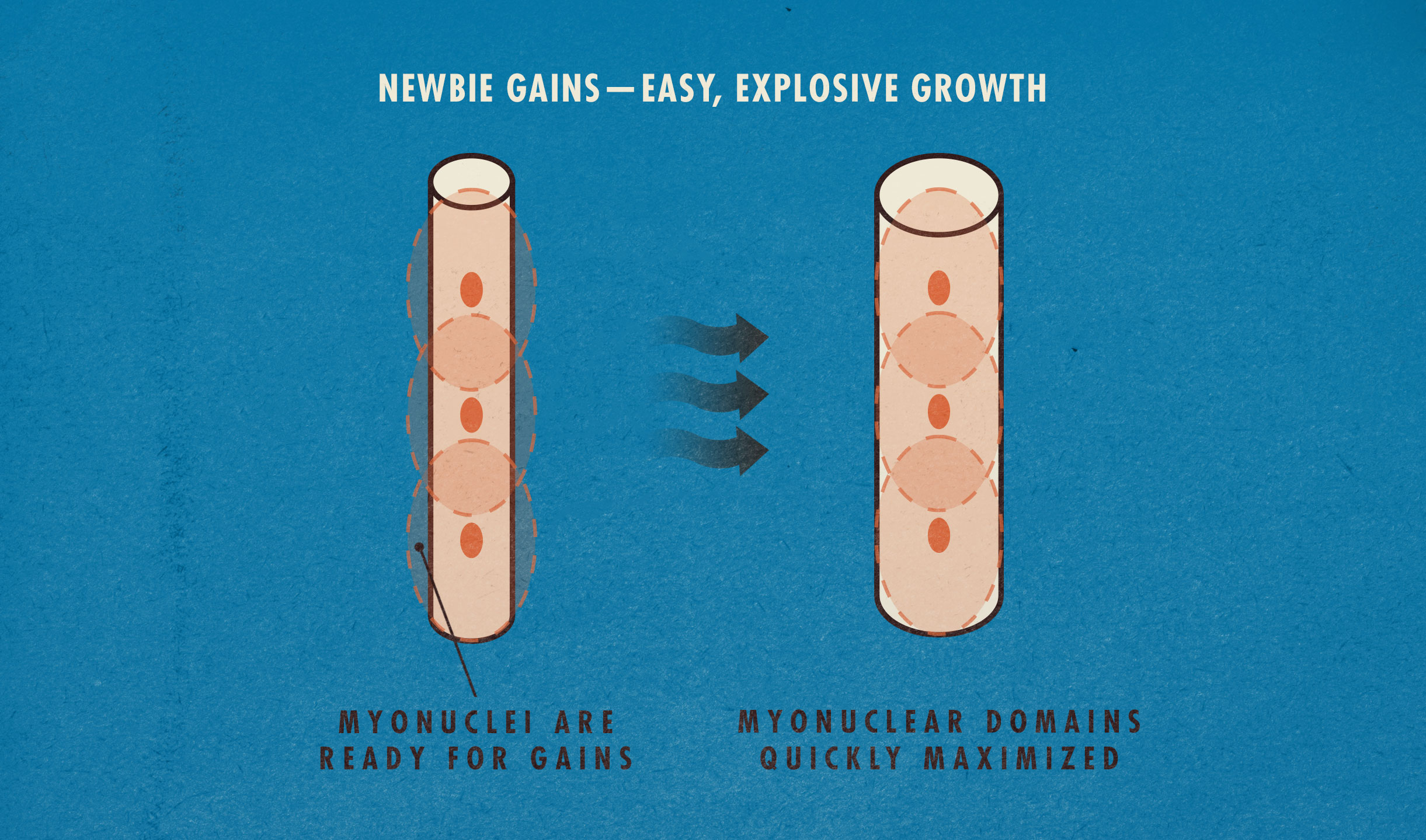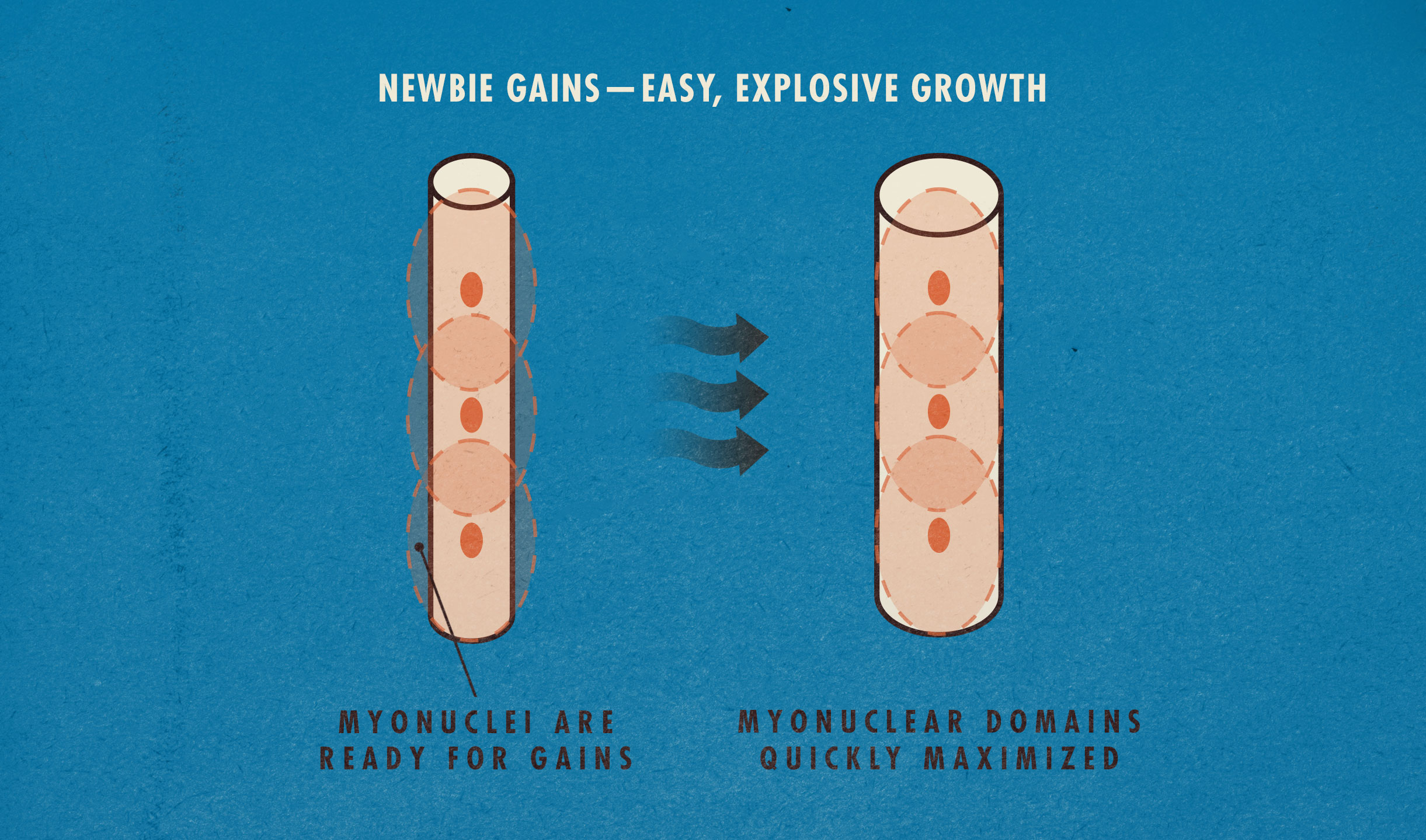 It's important that your muscle fibres don't grow so large that your myonuclei cannot fully control them, so your body places strict limits on muscle growth. You can expect your muscle fibres to grow 15–27% before hitting that limit (study). I'm going to make an educated guess that for the average skinny guy, this is a gain of around 8–12 pounds.
This process is simple and explosive. Lifting or dieting poorly can extend this process, but you can finish this stage in as little as a month.
At this point, most people plateau. Your muscle fibres fill out their myonuclear domains without much struggle, but each stage of adaptation is slower and more difficult. The routine that allows you to gain your first 10 pounds may not be enough to allow you to gain 20.
But let's say your lifting and diet routine are on point. Your muscles must grow stronger. Then we enter the second stage of adaptation: adding new myonuclei to your muscle fibres.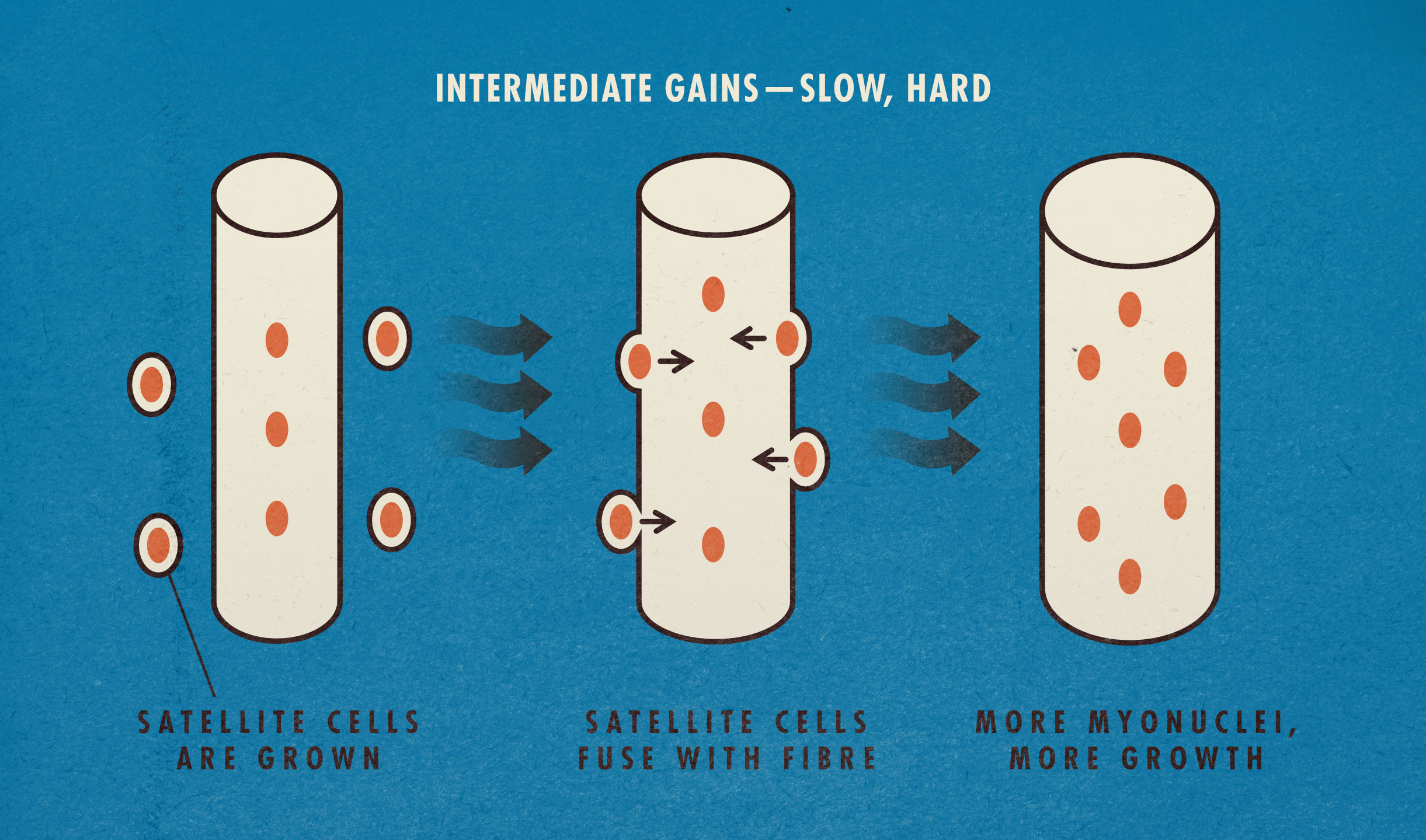 By adding more myonuclei, you can make your muscle fibres far bigger. Your body will do this by growing satellite cells, fusing those satellite cells into your muscle fibres, and then repurposing their nuclei into myonuclei.
This allows for more muscle gains, and at first, they can be quite quick! This is the stage where guys gain another 10 pounds of muscle over the course of just a couple months.
This stage of adaptation isn't as explosive as newbie gains, but the changes in your body are far more exciting. You aren't just carrying your computer to the limit of your wifi router's signal, you're installing this new, far better, internet system. These new myonuclei improve your ability to turn protein into muscle, and they improve your insulin sensitivity. You're upgrading your muscularity in a number of ways, and these changes are permanent. 
These structural upgrades are improving your muscle-building genetics, allowing you to be "naturally" more muscular with less effort.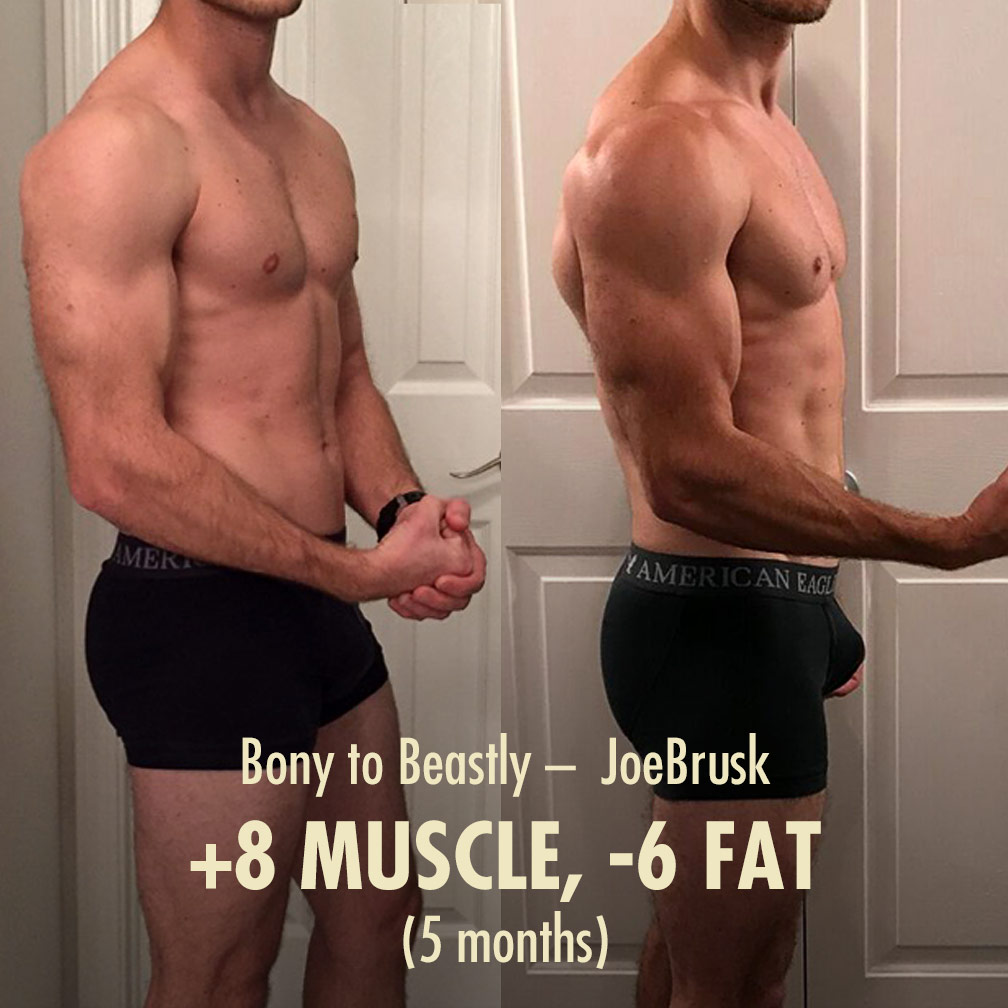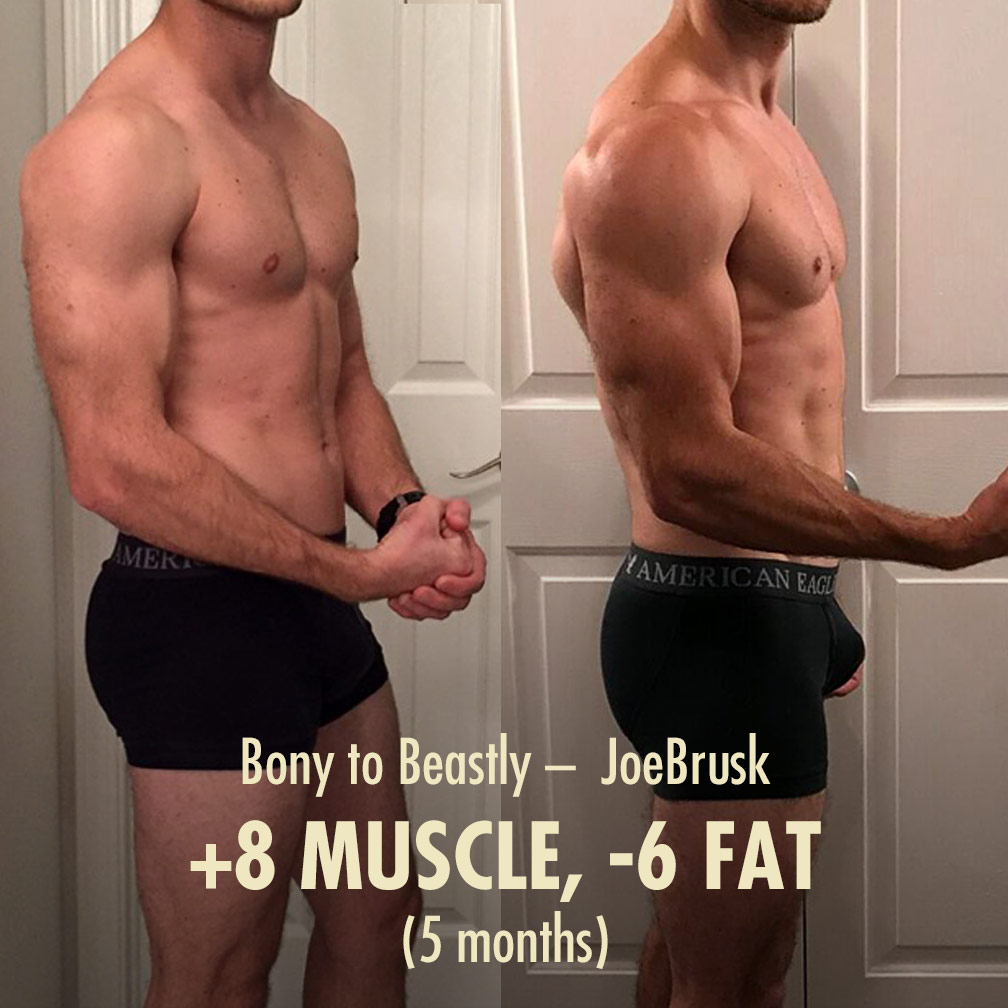 But we run into another problem. At this point, your body will start adapting to lifting in a second way:
The first adaptation is the one we all know and love. After a good workout, your muscles will rebuild themselves even bigger and even stronger so that next time, they are strong enough.
This new, second adaptation is different. After a good workout, your muscles will rebuild themselves in a more durable way so that they don't get damaged as easily next time. They protect themselves from the stress. This is called the repeated bouts effect—RBE.
The first adaptation is exactly what we want—bigger, stronger muscles.
This second adaptation is more nuanced. As a beginner, it's common to be brutally sore for a week after a hard workout. As an intermediate lifter, you'll be less sore, and only for a couple of days.
But if your goal is to build muscle, this is not good. Your body is protecting itself from the workout. Your body resists the stimulus that you need to make gains. The muscle growth adaptations slow down again.
You've gone from gaining 2 pounds in a week, to gaining 1 pound in a week, and now even that pace is impossible.
Again, most people plateau.
The good news is that by the time this process grinds to a halt, you've gained 20–30 pounds in 5–6 months, and your muscle fibres are now as large as those of an athlete, strongman, and bodybuilder (study). Not bad!
You won't be as big as them yet, though. They have more muscle fibres.
That brings us to the final and most brutal stage of adaptation: building new muscle fibres.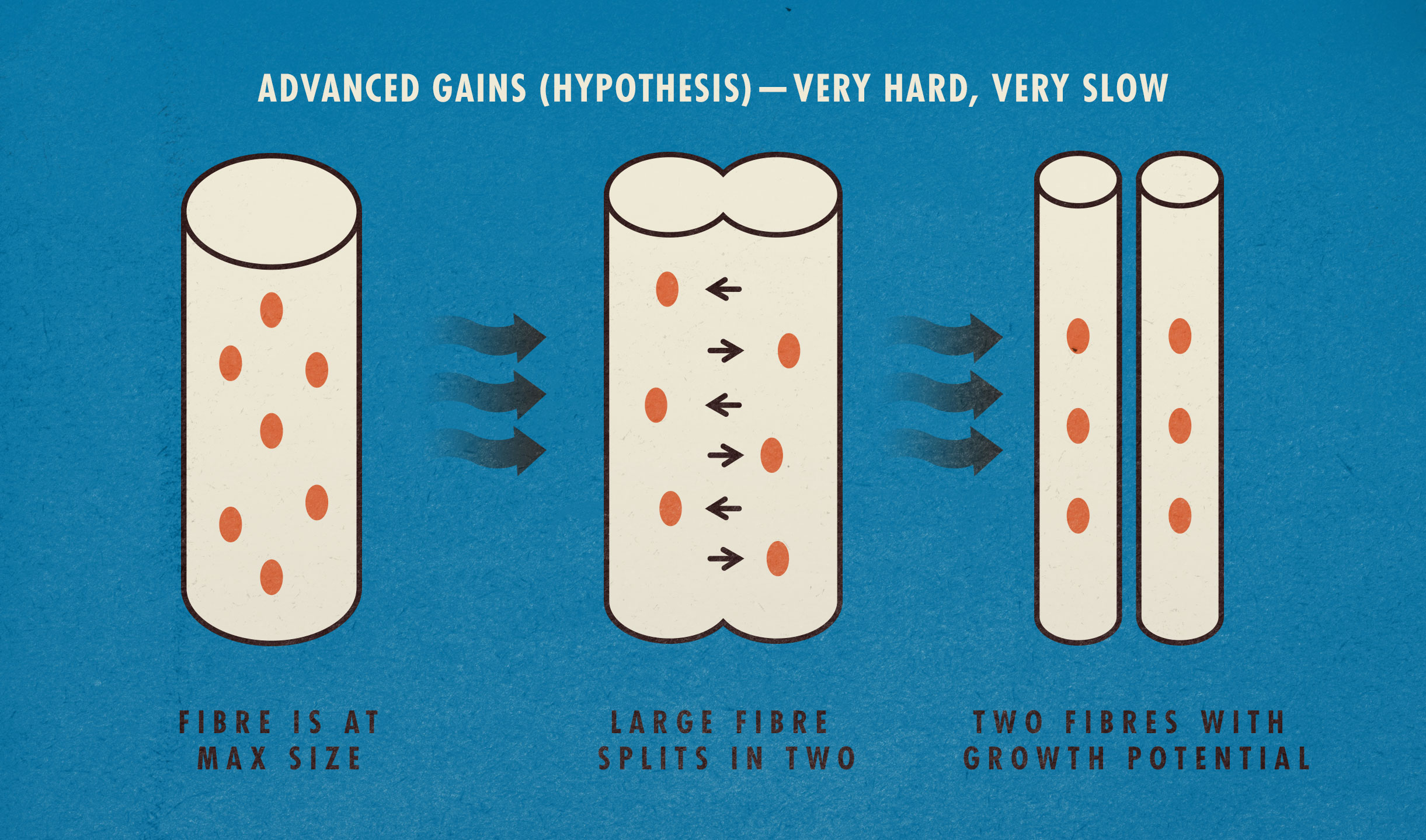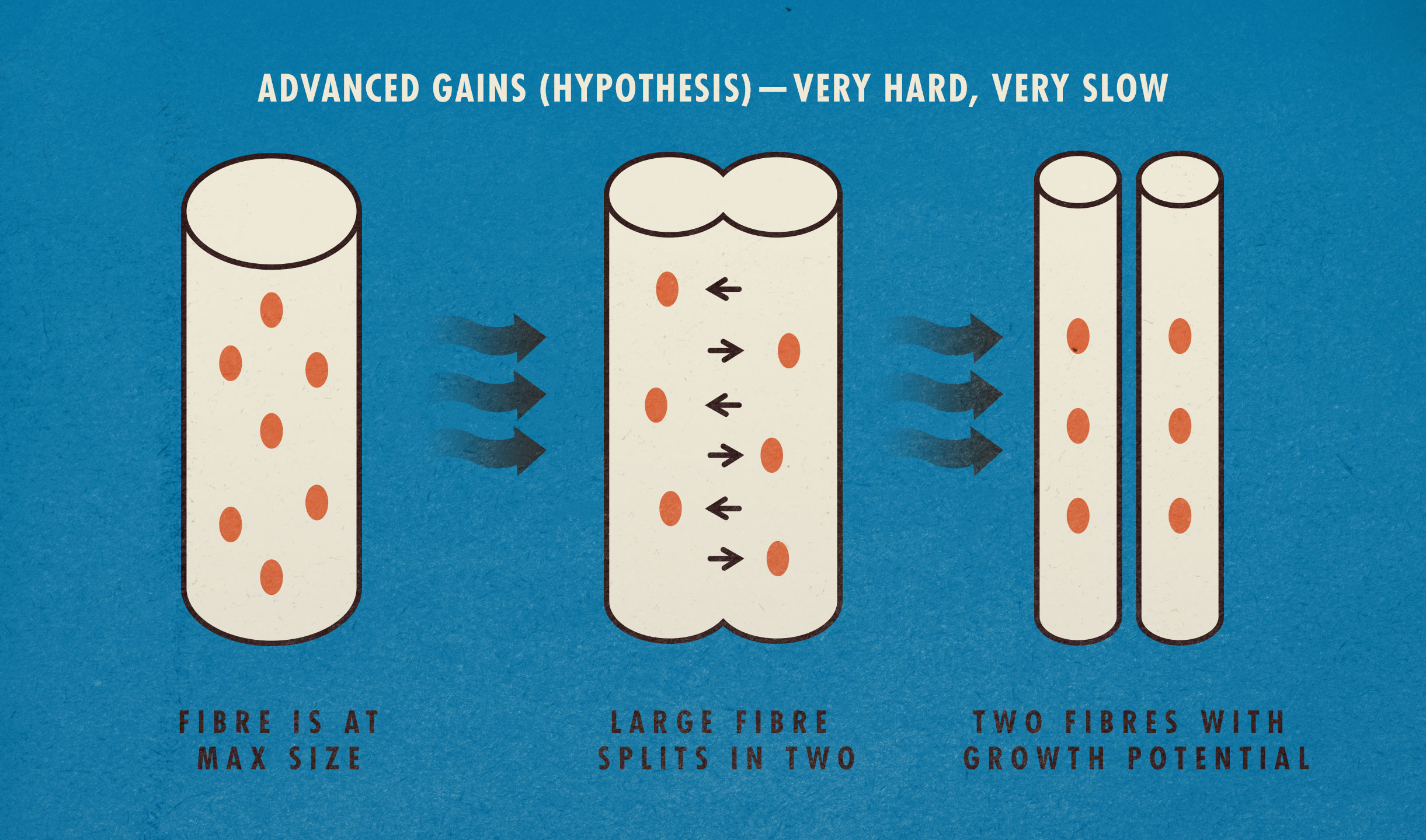 We're at the advanced stage now, and we're now beyond the scope of this article. That's a good thing, too, because this advanced muscle growth stuff is highly theoretical and extremely confusing. I'm really lucky that Greg Nuckols has been researching and writing about this stuff.
This stage is still a mystery. We know that elite lifters have more muscle fibres than intermediate lifters, and we also know that animals are able to create new muscle fibres. With those 2 facts, we can infer that something like the above diagram takes place. That's one plausible theory, anyway.
Now that you understand the stages of muscle growth, we can talk about why some newbies don't get even a single gain.
Why Some Newbies Gain Nothing
A simple way to understand this newbie-gains dilemma is to think of your body as being frugal. It doesn't want to make any changes to your muscularity unless it has to. After all, building muscle is quite costly, and your body would much prefer to just rebuild your muscle to exactly the same size it was before (study).
Let's imagine that you start following an intermediate lifting program.
You: I'm going to lift weights to make myself stronger. It's time to build muscle, body!
Your body: Actually, we don't even need to invest in new muscle to get stronger! We can just use the muscle we already have more efficiently.
You: …But the whole points was to get big and strong.
Your body: Sorry, we just can't justify spending that many resources on something you don't even need. Get strong by developing your coordination first, then ask us about building muscle.
You: But that could take months 🙁
Your body: Exactly. We won't need to spend any resources for months! 😀
But your body is not just frugal, it's also effective. It's incredible at adapting to novel stressors, as we covered in the science section. You could think of your body like a genie, able to grant you any wish, but you need to word that wish very clearly.
Let's imagine a lifting program designed to get you newbie gains.
You: I'm going to lift weights to make myself bigger. It's time to build muscle, body!
Body: Well, if you're doing simple muscle-growth lifts that require no coordination, shoot, well I guess we'll have to build muscle then. Fortunately, I can quickly boost your muscle size without much effort by maxing out your myonuclear domains. But, just so you know, I'm not going to waste any time developing your coordination!
You: But I'll be way more muscular, though?
Body: Yes 🙁
So let's say you want to make damn sure that you get that second outcome. What's the difference between those 2 ways of lifting?
The strength approach uses complex, compound lifts like the deadlift, squat, overhead press, bench press and the barbell row. These lifts have great transference to athletics, but they're so technically difficult that you can spend several months getting stronger by refining your technique without gaining a single gram of muscle.
The "newbie gain" approach also has compounds lifts, because becoming a skilled lifter is important for later, but it also has simple bodybuilding lifts like biceps curls, triceps extensions, pec flys, and shoulder raises. These lifts aren't as good at improving your coordination, but that's exactly why your body must build muscle to get better at them.
You might gain as much as a pound of muscle after your very first workout alone (if your diet is on point), and after a few weeks of lifting, you'll be 8–12 pounds heavier and able to do the big lifts with good technique. At this point, your myonuclear domains will be maxed out, and it will be time to lift like an intermediate lifter.
Having both size and skill after your first few weeks of training allows you to transition seamlessly into the intermediate lifter stage. This sets you up to gain another 10–20 pounds of muscle without hitting a plateau.
How to Max Out Your Newbie Gains Quickly
Do some simple bodybuilding. Your muscles will be easy to stimulate, but you also aren't a skilled lifter yet. You need to include plenty of lifts that aren't highly technical in your routine. This will get you building muscle as quickly as possible.
Learn the strength lifts progressively. You should also start practicing the technical lifts. They will be important soon. But even then, at least with the most complex lifts, like squats and deadlifts, it can help to start off with simpler variations with a friendlier learning curve. I recommend beginning with goblet squats and dumbbell sumo deadlifts.
Because these variations are simpler, it will be easier to stimulate your muscles without being overwhelmed by the complex movement patterns. More muscle growth and better practice. This means better short-term and longterm results.
Learn how to eat enough, don't just force-feed yourself. Extra mass must be built out of extra nutrients. That's a struggle in and of itself, especially for those of us with the infamous hardgainer appetite + hardgainer stomach capacity + hardgainer metabolism combo. That's something I struggled a great deal with, so appetite manipulation is a huge part of our Bony to Beastly Muscle-Building Program.
If you just force yourself to eat more, you'll soon get to a point where you're tired, busy or stressed, and you won't have the willpower to overcome your appetite. You have to take a smarter approach, learning how to eat more food with less effort.
If you can do this, you'll learn to set the pace of your gains by controlling the degree of your calorie surplus. Just remember to get your lifting program handled before doing this, otherwise you'll be gaining too much fat.
Focus on muscle-protein synthesis. The myonuclei in your muscle fibres are responsible for handling muscle protein synthesis. Right now your myonuclei aren't producing muscle at maximum capacity. You have a factory already built, but the workers inside are hardly doing anything. At a certain point you will need to hire more workers—adding more myonuclei—but right now, just get those workers working.
There are two good ways to do this:
Train with a higher frequency, hitting every muscle 2–3 times per week. Doing 3 full-body workouts every week is a good way to do this. Bodybuilders at later stages of development will often need to do focus on just one muscle group per workout in order to cause enough stress. They might use drop sets, supersets, cheat reps, etc. Their muscles are very tough, and they are trying to literally tear their muscle fibres in 2. They might even need to spend months at a time prioritizing just one muscle group. Beginner and intermediate lifters just need to stimulate all of their muscles properly and frequently. As a beginner, every workout that you spend blasting just one muscle group is a wasted opportunity to get growth in all of your other muscles.
Focus on eating protein more often. 20 grams of protein is enough to spike muscle protein synthesis, and that spike will last for a few hours. Try to eat protein-rich meals 4–5 times per day, each a few hours apart. If eating that often seems daunting, remember that a little bowl of cottage cheese, a protein bar (homemade or store-bought), or a scoop of whey protein + water will do the trick. As a more advanced lifter, you will be limited by the amounts of myonuclei and muscle fibres you have—not a muscle-protein synthesis issue—but right now, the more muscle-protein synthesis, the better! Try intermittent fasting later.
Conclusion
The point here is not to listen to the guys telling you that you can only gain 1 pound per month. You can listen to that advice one day, when you're as big as they are. But until then, your potential is far greater than that.
You also don't need to wait! You don't need to spend a month learning the ropes or fixing your posture before you start building muscle. Start building muscle now. Make sure that you see results on the scale and in the mirror after your first week. Become a better lifter as you go. Going up a shirt size in a month will be the encouragement you need to keep lifting, to keep refining your diet.
Otherwise, you risk spending a month or 2 getting way better at deadlifting, not seeing any visual progress, becoming disheartened by your genetics, and giving up.
Your genetics are not the problem.
We see so many ectomorphs start a program, gain some strength, then give up before they even start bringing new myonuclei into their muscle fibres. Most guys starting our program haven't just failed once, they've failed many times. They've given up on building muscle before they even got any permanent changes—before they even know what it's like to be strong.
I was able to eek out a 50-pound gain over the course of a couple years, just beta-testing different versions of the Bony to Beastly Program. 12 pounds in one month, 7 in another, slower near the end. I was gaining way too quickly, but I never thought to look up how much muscle I should be gaining. I was tired of failing over and over. I just gained as much as I could.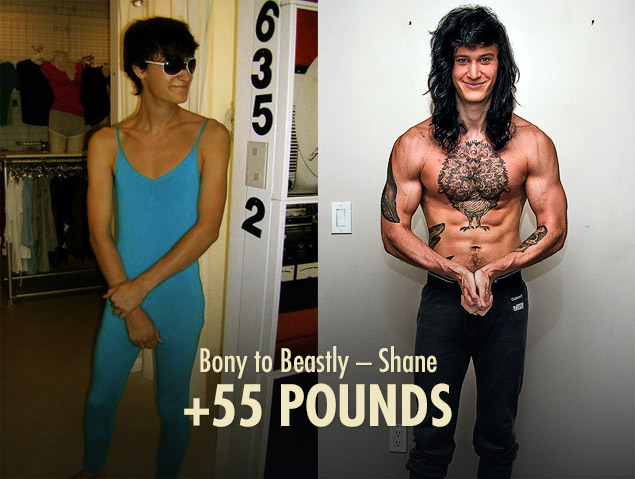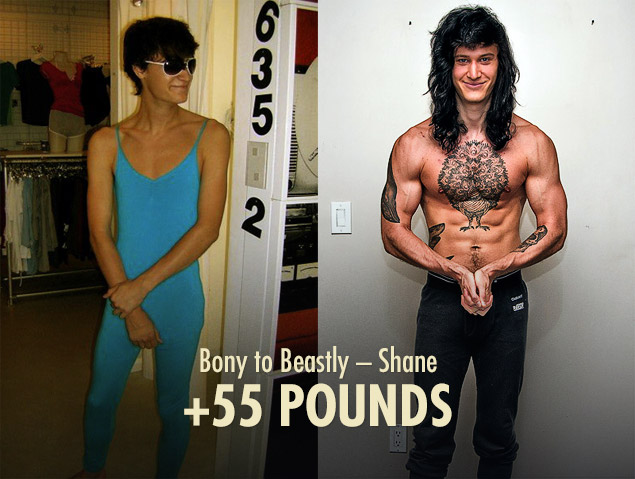 If I had listened to all the limitations that people were trying to put on me, or to the doubts I had in my own head, I would still be 130 pounds.
I know, I know—slow and steady wins the race.
Except that it doesn't.
Not with physique transformations.
Motivation is too important.
It would be nice to think that if I had gained 1 pound per month over the course of the last 4 years, I would be 48 pounds heavier. That's still a good pace. But the truth is that I would have become disheartened when, after a year of training hard, nobody could even see a difference. I never would have made it to 4 years.
So explode out of the gate. Get impossible gains. Use that success as fuel for the harder, slower months that will come. By then you'll be strong, fit and confident enough to weather that storm.
The next time you put on your favourite shirt, let's make sure it doesn't fit.