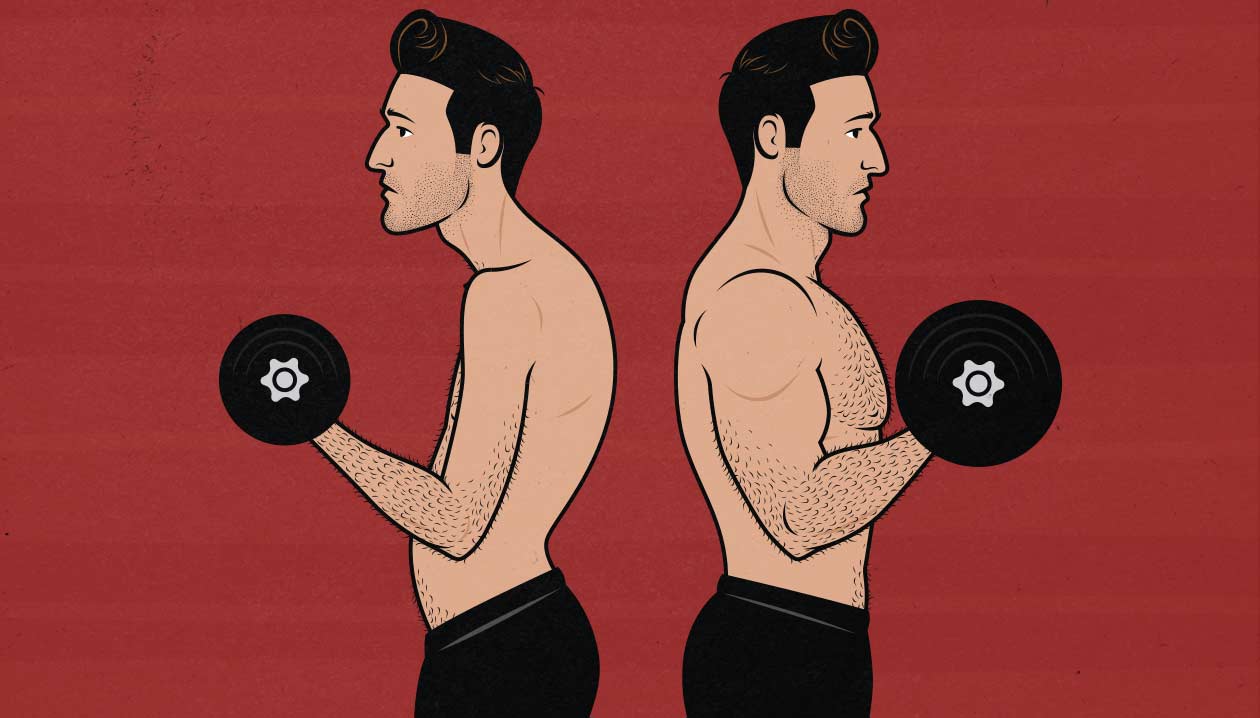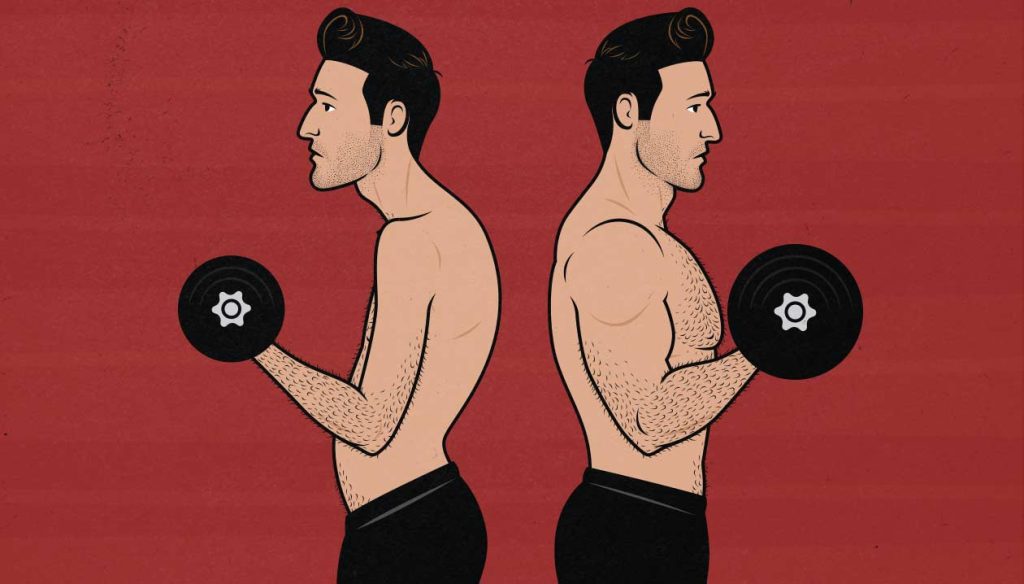 Ectomorph Workout: What's the Best Type of Lifting for Skinny Guys?
Most exercise programs are designed for overweight guys. Even most lifting programs are designed for overweight guys. After all, overweight or not, most men want to be more muscular. Thing is, most guys intuitively overeat, and so year after year, they gain pound after pound (study). They don't gain muscle quickly, they gain it relentlessly.
That's where the "just lift heavy" mantra comes from. It comes from guys who are interested in eking more strength out of their already large muscles. By lifting heavy, they strengthen the neural connections between their brains and their muscle fibres, allowing them to lift more weight with the ample muscles they've already built (study).
I wasn't like most guys. Puberty didn't automatically plumpen my pecs, my shoulders never naturally grew wider, and my bodyweight didn't naturally increase over time. When I lifted weights, my body weight dropped, which would be great for most people. But I wasn't most people. I was already too skinny.
When I started searching for bulking information online, I kept running into programs like Starting Strength, StrongLifts, Reverse Pyramid Training, nSuns, and GreySkull LP. If you haven't heard of them, they're strength training programs that seem to be advertised to everyone, regardless of their goals. The idea is that if you want to build muscle, just lift heavy, and the muscle size will follow.
The problem with strength training is that it's not very good for stimulating muscle growth. That's simply not what it's for. It's a style of training designed to teach us how to contract all of our muscle fibres simultaneously for a single all-out rep. That adaptation, nicknamed neural gains, helps people lift more efficiently with the muscle they already have. It makes us stronger for our size. Better to become bigger and much stronger.
On the other end of the spectrum, there's the idea that we don't need to get strong in order to build muscle. This is where bodyweight workouts, P90X, and CrossFit come in. This concept is even more tenuous: that by becoming more physically fit, we can become more muscular. Improving your physical fitness does cause a number of beneficial adaptations, such as improved muscular endurance, better blood flow, and more efficient oxygen usage, but it's awful for making our muscles bigger.
Now, don't get me wrong. These aren't bad programs. They're massively popular for a reason: because they work quite well for most men. It's just that most men aren't ectomorphs who are desperately trying to bulk up.
Naturally skinny guys shouldn't be doing workouts that stimulate a little bit of muscle growth as a byproduct, we should be doing workouts that are designed to stimulate a massive amount of muscle growth on purpose.
The good news is that once we start training for muscle growth, we can gain muscle more quickly than any other body type. We're far enough away from our genetic potential that our bodies are primed for muscle growth. The average guy would be lucky to gain ten pounds of muscle in a year. We can gain up to forty.
The History of Ectomorph Bulking Workouts
The very first muscle-building program for skinny guys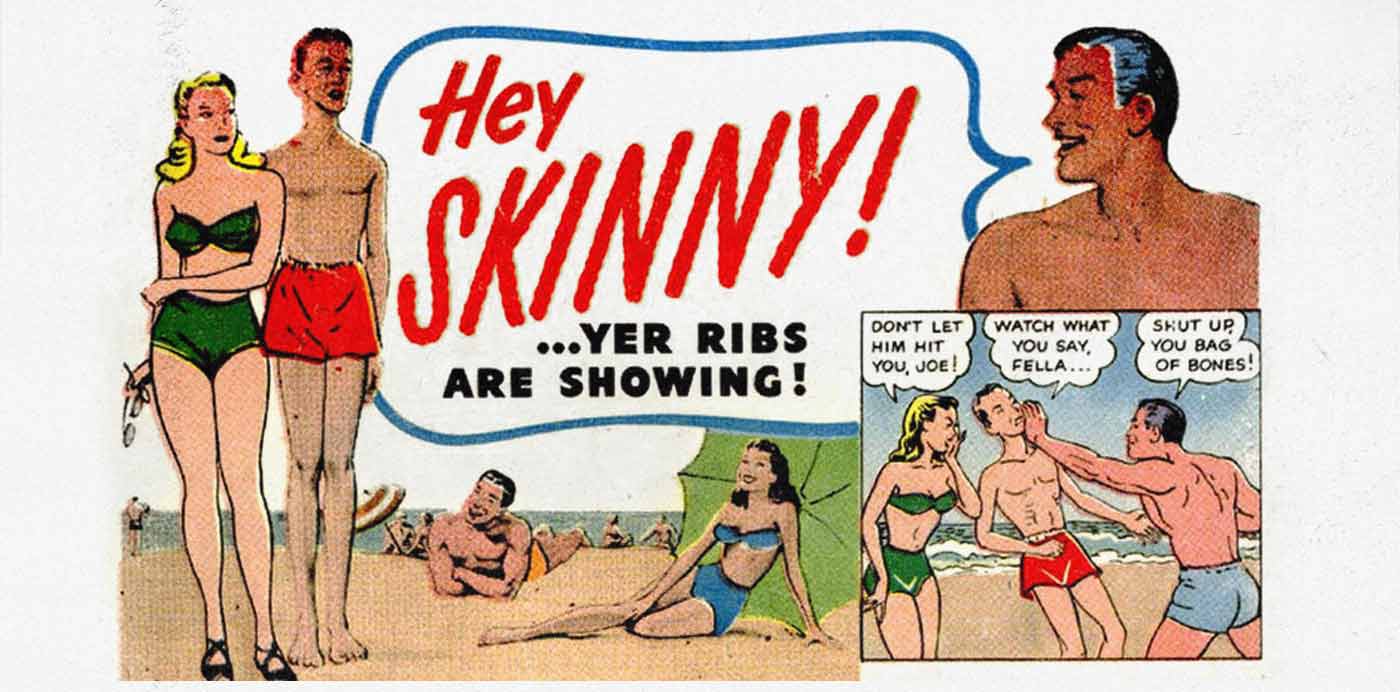 Back in the 1920s, Charles Atlas came up with the first muscle-building program for skinny guys. This was back in the good old days, back before the word "ectomorph" was coined, back before skinny guys even knew they could build muscle. Back then, being skinny was just a body type. If you were skinny, you were skinny. That was it.
Problem was, the good old days weren't so good for skinny guys. Even back in the 1920s, muscular men got more attention from women and more respect from other men. The skinny guys didn't want to be skinny, but since it was considered immutable trait, they didn't realize they could do anything about it. They thought they were stuck that way.
Charles Atlas saw an opportunity there, and he designed a workout program that he could market to these skinny guys. He called it the Dynamic Resistance Fitness Course, and he placed advertisements in magazines, calling out to "98-pound weaklings" who were eager to bulk up.

Pre-ectomorph ectomorphs all over the world began placing their orders, eager to finally build up enough muscle to look good on the beach.
Atlas' theory was that you could "pit muscle against muscle" to create the tension needed to stimulate growth. You'd clench your triceps, say, and then contract your biceps against that tension. He claimed that the resistance would stimulate muscle growth. Then, as your muscles became stronger, the resistance you'd create would become more intense, allowing you to become even stronger still. Best of all you could do this workout program from the privacy of your own home. No equipment required.
Surprisingly, Charles Atlas was actually right. You can build your biceps simply by flexing them. A 2014 study published in the European Journal of Applied Physiology found that doing a biceps flexing routine three times per week for 12 weeks produced a 4% increase in both biceps and triceps size. Is that a good workout routine? No. But it wasn't total bull, either.
Even though his workout routine did technically help skinny guys build muscle, Charles Atlas was soon accused of false advertising. Bob Hoffman, founder of York Barbell, believed that lifting weights was the only way to build an impressively muscular physique. He saw that Atlas was impressively muscular, and so he suspected that Atlas was secretly building his muscles by lifting weights, then claiming that the results came from his flexing routine. A fraud.
On the stand, Atlas insisted that he did do his flexing routine every single day. But when the lawyers asked him if he also lifted weights, he admitted that, yes, he also lifted weights "on occasion" to test his strength. Pressed further, he admitted that he "tested his strength" three to four times per week.
Nowadays, this same thing still happens. Not always fraudulently, but still, it can be confusing. For example, P90X is a bodyweight workout routine that's supposed to help guys build muscle. But before he even joined the company, Tony Horton, the face of the brand, had already bulked up by lifting weights. However unintentional, there's a bait and switch there.
I don't mean to single out P90X. This is standard practice in the fitness industry. And oftentimes it's entirely innocent. You'll have a guy who achieves his muscularity goal by lifting weights, and then he becomes passionate about calisthenics, say. He goes on to become famous for teaching calisthenics, but people don't realize that he built his muscle by lifting weights.
Another variation of this is someone building an impressive physique using traditional methods: lifting weights, eating enough calories, eating enough protein, maybe supplementing with some creatine. Then, once they're already muscular, they're asked to promote various workout routines or supplements that they never used while they were bulking up.
This all goes to show that we can't look at what someone does now to see how they build the built their muscle in the first place.
The Colorado Experiment and the magic of muscle memory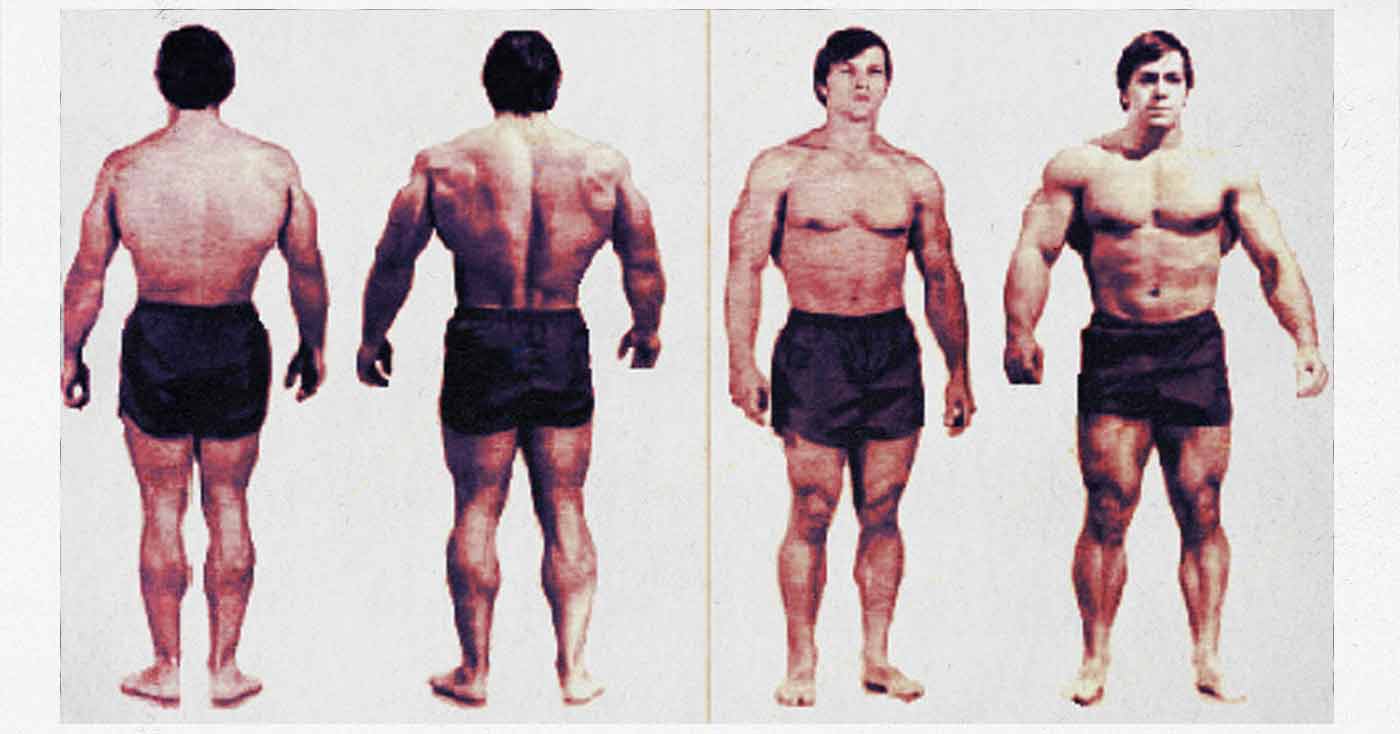 Jumping forward to 70s, and Arthur Jones is one of the biggest names in the fitness industry, famous for inventing new bodybuilding equipment and methodologies.
In 1973, he introduced his most famous idea: high intensity training (HIT). The idea behind HIT is that you do a single set for each exercise, moving the weight extremely slowly, and going all the way to total muscular failure. Then, to allow the lifters to focus all of their energy on simply pushing the weight through a fixed path, he recommended his Nautilus lifting machines, which he had invented for this very purpose.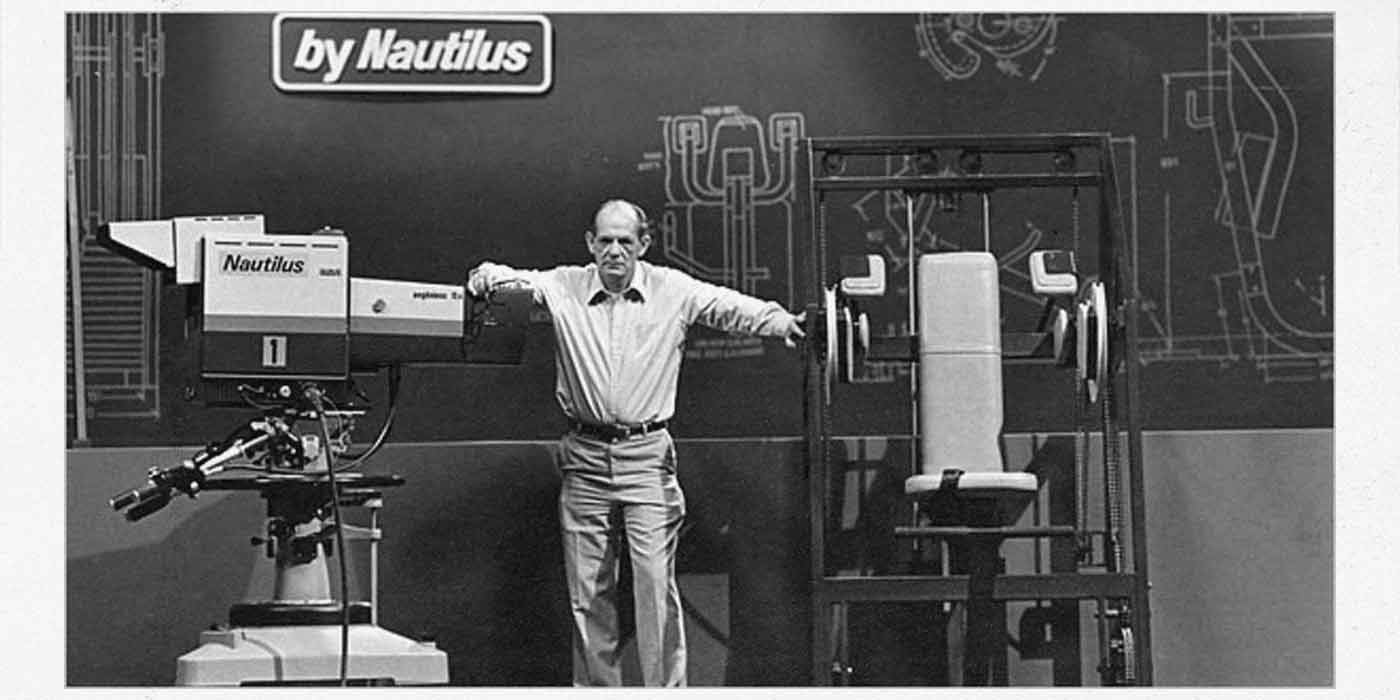 To advertise this new bulking method and these new lifting machines, he enlisted the help of his protégé, a professional bodybuilder named Casey Viator. Over the course of 28 days, Arthur Jones coached Viator through the HIT program. They trained just three times per week, each workout lasted only 30 minutes, and yet over the course of those 28 days, Casey Viator gained an astounding 63 pounds of muscle.
This was unheard of at the time. It's still unheard of to this day. Was this revolutionary new bulking routine really that powerful?
To understand how this is possible, we have to look at Casey Viator's history:
Viator had some of the best muscle-building genetics the world had ever seen. He had won the title of Mr. Universe at age 19, and he was known for his ability to lift incredibly hard and eat enormous amounts of food.
He had a reputation for his steroid use, which causes more nuclei to be drawn into muscle fibres. This is a permanent adaptation that makes it easier to gain and regain muscle mass. There's also no reason to think that he wasn't taking steroids during the experiment.
In the year before the experiment, got into an accident where he lost part of his little finger. He got a tetanus shot to prevent infection but had a severe allergic reaction to the shot. He lost his ability to eat and exercise for almost a year, losing dozens of pounds of muscle mass.
In the two months leading up to the experiment, Viator intentionally lost a couple dozen more pounds of muscle by following a starvation diet (800 calories per day) and by strictly avoiding weightlifting. Casey Viator was being paid a tremendous amount for every pound he gained, and so he wanted to make his transformation as dramatic as possible.
There were even rumours that Casey Viator, certain that the HIT program wouldn't be effective enough, had been sneaking in extra workouts in order to boost his muscle growth.
There are a few cases of people using a similar approach to rebuild muscle and getting similarly impressive results. Arthur Jones followed the same protocol as Viator. First a starvation diet, then detraining, and then rapidly recovering 17 pounds of lost muscle in just 28 days.
The results were advertised, the starvation diets and detraining leading up to those results was not. HIT went on to become a popular way to bulk up despite a mounting pile of evidence that it didn't work very well.
Over the past five decades, research has consistently shown that slow lifting isn't a good way to build muscle (study, study, study). Neither is low volume training (systematic review). Taking sets to all-out failure doesn't help either (study, study).
Why is this relevant today? In his Geek to Freak experiment, the best-selling author Tim Ferriss followed the same protocol as Casey Viator, using it to rebuild 34 pounds of muscle mass in 28 days. Like Viator, Ferriss was detrained and underfed in the year leading up to his transformation, which is what allowed him to regain so much muscle so quickly. Unlike Viator, Ferriss was fully open about this. There was no deception or false advertising.
The only problem is that when Tim Ferriss published his fitness book, The 4-Hour Body, it featured his Occam's Protocol bulking routine, which was based on Arthur Jones' old HIT routine. For a few years, that workout routine became extremely popular with ectomorphs who were trying to build muscle.
Eventually, it became clear that regular skinny guys weren't able to reproduce Tim Ferriss' dramatic results, and so it gradually faded from popularity. We rarely hear about it anymore.
My point is that looking at these anecdotal "it worked for them" stories is a poor way to find a workout program. Who knows what other factors influenced their results?
Without research, it's hard to tell what actually builds muscle
There are plenty of bizarre muscle-building techniques that have been marketed to skinny guys over the years. As a teenager, I tried my fair share of them. I thought that maybe, just maybe, a radical new method could produce radical new muscle growth. I'd failed so many times that I was sure the solution must lie in something new.
However, there was a flaw in my thinking. The very things that make new routines unique are also what make them ineffective. The newest and most daring techniques are the ones with the least amount of evidence behind them. What are the chances that this new fad will be one of the rare fads that actually works?
For example, consider low-volume training, which was supposed to be a more efficient way to train. Here are the results of a recent study, extrapolated for a 150-pound man:
1 set of squats: 0 pounds muscle, 0 pounds fat, strength up by 36 pounds.
4 sets of squats: 0 pounds muscle, -3 pounds fat, strength up by 46 pounds.
8 sets of squats:  5 pounds muscle, -2.5 pounds fat, strength up by 82 pounds.
HIT bulking programs, with their single sets to failure, might not produce any muscle growth in the average person. They also aren't very good for gaining strength.
However, it's not quite that simple. Looking at the 1–4 set squatters, they gained an average of zero pounds of muscle. Not good. But that doesn't mean that everyone gained zero pounds. Some guys surely gained muscle, others surely lost muscle.
Even with poor bulking programs, some guys will succeed. Still, better to be in the 8-set group. Especially if you don't have the best muscle-building genetics.
This is a well-studied phenomenon. In another study, the researchers put participants on a 12-week arms-only lifting program (bicep curls and tricep extensions):
Most participants added around two inches to their arms.
A few gifted participants were able to add 5.3 inches to their arms.
A few "hardgainers" lost 0.1 inches around their arms.
The reason why some participants lost muscle size in their arms can likely be explained by their diet, which wasn't monitored, but nevertheless: some people naturally respond favourably to lifting weights. Others need to be more deliberate about it.
In this case, the hardgainers didn't have great intuition about how to eat a proper bulking diet. They needed a bulking program that included information about how to eat.
If we want to gain muscle consistently, especially if we've failed in the past, then we have to follow the evidence. We need a science-based workout program, a science-based bulking diet, and we should also consider whether we need to make any other lifestyle adjustments that might be bottlenecking our muscle growth (such as improving sleep quantity and quality).
By stacking together the most effective approaches to building muscle, we can guarantee consistent muscle growth. That's going to allow us to blast past our ectomorph genetics.
The Science of Building Muscle
When evaluating different types of training, it's important to have a clear grasp of what makes a muscle grow. In (probable) order of importance, here are the three things that will cause a muscle to grow:
Mechanical tension: This is the tension placed on the muscle as you lift weights. The heavier the weight (study) and the larger the range of motion (study, study, study), the more muscle you'll build. An example of this would be doing heavy chin-ups for your biceps, starting from a dead hang and bringing your chest all the way up to touch the bar. If you aren't strong enough to do a full chin-up yet, you can jump up to the bar and then lower yourself back down. You'll still get a tremendous amount of mechanical tension simply by resisting gravity on the way down. This is where most of your muscle growth will come from (study).
Metabolic stress: This is the "burn" or the "pump" that you get while lifting weights, causing your body to produce local growth factors in the muscles that you're training (study). For example, after finishing your heavy chin-ups, you might want to do some biceps curls to build up a biceps bump. The extra growth factors your produce in your biceps will cause them to grow slightly more quickly. How much more quickly? If we pool the data from the seven relevant studies, we can predict about 27% more muscle growth from doing curls after chin-ups (from Monthly Applications in Strength Sport).
Muscle damage: This is how much damage you inflict on your muscles during your training. The muscle soreness you feel a couple days later is caused by inflammation as your body sends in nutrients to repair the damage. If everything goes right, your body will build your muscles back bigger and stronger than they were before (study). This is by far the least important factor. In fact, you may even want to minimize muscle damage so that more of your resources are used to build muscle instead of repair it.
The tricky part is that if your workouts aren't challenging enough, your body won't feel any need to grow stronger, and so you won't stimulate any muscle growth (study). This is why it's so important to always be trying to add extra weight or extra repetitions every workout.
This is why weights are so valuable. You can start off lifting light weights, gradually working your way up to lifting heavier ones. Barbells, dumbbells, and exercise machines are all great for this, with dumbbells and barbells tending to stimulate more overall muscle growth by demanding that your muscles also work to stabilize the weight.
Bodyweight exercises like push-ups and chin-ups are also valuable, but you need to have a way to make them heavier as you get stronger, and so they don't stay bodyweight exercises for long. Before too long, you'll be doing chin-ups with weights hanging from your waist.
The more overall sets and reps you do in a workout while still being able to recover from it, the more growth you'll be able to stimulate via these three factors (meta-analysis). Programming your workouts is thus a balancing act of trying to stimulate as much tension and stress without overdoing it on the damage, allowing for enough recovery before the next workout.
After a couple days, that muscle growth will stop and you'll be able to stimulate a new wave of muscle growth. Because the growth only lasts around 48 hours (study), doing full-body workouts three times per week tends to be the quickest and most reliable way to build muscle, especially as a beginner or intermediate lifter. That allows you to stimulate as much muscle growth as you can, then have full day of rest to recover, and then you stimulate a new wave of growth with the next workout.
The more consistent you can keep your workouts, the easier it will be to progressively add more weight and more reps to your lifts. Whenever you go to the gym, you should know how much weight you lifted last time, that way you know how much you need to lift in order to out-lift yourself. That's how you'll inch your muscle strength and size steadily upwards. This is the principle of progressive overload.
Now that we've covered the basics of muscle growth, let's look at a few popular bulking methods and evaluate how effective they are for helping an ectomorph build muscle.
GENERAL FITNESS TRAINING

CONDITIONING & CALISTHENICS (E.G. P90X)
One of my university roommates, Willem, was a muscular guy who naturally weighed in at a hearty 200 pounds. Over the course of a couple years, he managed to lose twenty pounds by doing P90x and 5-minute ab workouts in our living room. It wasn't enough to preserve all of his muscle as he lost weight, but he had muscle to spare, and so he still wound up looking pretty buff by the end of it.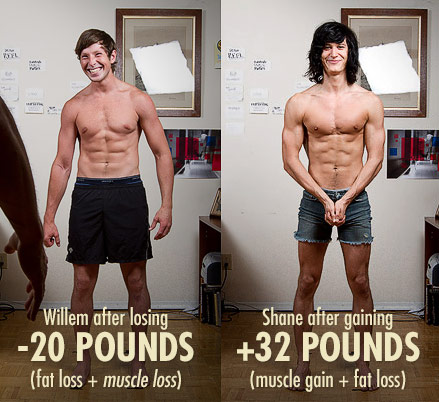 My situation was a little different. I'm a classic ectomorph, and my starting point was 130 pounds at 6'2. That gave me a BMI of 16.7, which is considered underweight. My goal was to gain 20 pounds, bringing my BMI up to 19, and putting me in the healthy weight range for my height.
Given that my goal was to gain weight overall, I couldn't do a fitness program, shred some fat, and wind up looking ripped. I needed a workout and diet routine that would help me add mass to my frame. I started following a bulking program, and I managed to gain 32 pounds while reducing my body-fat percentage. (The above transformation shows about 7 months of bulking, but I took a break in the middle because I was tired of having to eat so many damn calories.)
What I find interesting about these photos is that after gaining 32 pounds, I'm still smaller than Willem was after he lost 20 pounds. Up until then, we had both lived in the same house, we had both eaten similar diets, and neither of us had been in the habit of exercising. It just goes to show how different people can be. (I went on to gain another 28 pounds, and Willem eventually started lifting weights.)
If you're like Willem—naturally more muscular—then these fitness-oriented workout programs can work well. They'll help you improve your cardiovascular fitness and they'll help you burn some calories. However, if you're like me, they won't help you accomplish your goal of bulking up. These aren't bulking programs. They won't help you build an appreciable amount of muscle.
Do fitness programs help people lose fat?
In this 12-week study, the researchers split the participants into three groups: no exercise, a fitness routine, or a lifting routine. Each group was put on a weight loss diet. Here are the results:
No exercise: 14 pounds of fat loss, 7 pounds of muscle loss, and 21 pounds lost overall.
Fitness workout: 16 pounds of fat loss, 5 pounds of muscle loss, and 21 pounds lost overall.
Lifting routine: 21 pounds of fat loss, 0 pounds of muscle, and 21 pounds lost overall.
What's interesting about this study is that it showed equal weight loss between all three groups. The degree of the calorie deficit determines the rate of weight loss. No exercise required.
But as soon as we look at body composition, the story is different. Without exercise, about one third of the weight people lose is muscle. (The same is true when people gain weight. A third of the weight they gain is muscle. That's why overweight people have so much muscle mass.)
By adding in a fitness routine, people lose a little bit more fat and preserve a little bit more muscle. This is similar to the results that my roommate Willem got during his fat loss transformation. In his case, by the end of it, he still had enough muscle to look quite strong. He was thrilled with those results.
If people do a proper muscle-building routine while losing weight, though, this study shows that they're able to maintain all of their muscle, losing only fat.
For someone like me, with no muscle to spare, these kinds of details matter.
An even more recent study tried to replicate these results and got even more dramatic findings:
Fitness workout: 7 pounds of fat loss, 6 pounds of muscle loss, 13 pounds lost overall.
Lifting routine:  22 pounds of fat loss, 4 pounds of muscle 

gain

, 18 pounds lost overall.
Do fitness programs help people build muscle?
The studies above are about weight loss, which isn't really what we're interested in. So how do general fitness workouts perform when people are using them to bulk up?
The first thing to note is that some bodyweight movements can be heavy for beginners. For example, if you can only do ten push-ups, then they're going to be just as effective as doing a 10-rep set of the bench press. Both are sufficiently heavy to stimulate muscle growth. You can gain muscle that way (study).
Things get more complicated as people get stronger, though. At a certain point, the various bodyweight exercises in these programs stop challenging our strength, and so they stop becoming effective for stimulating muscle growth.
If you're following a fitness program while gaining weight, you'll build some muscle at first if and only if these workouts are relatively heavy for you. Beyond that early stage though, it doesn't matter how gruelling the workouts are or how fearsomely your muscles burn with a hellish fire. If the stimulus isn't heavy enough, it won't cause you to adapt by becoming bigger and stronger (study, study, study, study, study).
If you keep eating in a calorie surplus, at a certain point 2/3 of your weight gain will come from fat.
Remember—sweat is your fat crying, not your body building muscle.
Yes, calisthenics can be progressed to be quite difficult. Planches and handstand pushups require a ton of stabilizer muscle strength and a ton of balance. This makes them rather impressive (and fun) … but the very thing that makes them impressive also makes them rather poor at building up muscle mass. Even with advanced progressions of bodyweight workouts the limiting factor will very rarely be mechanical tension in the targeted muscle, but rather stabilizer muscle strength and/or balance. As a result, your balance and stabilizer muscle strength will improve while your muscle size will remain more or less the same.
Summary. If your goal is building muscle or cutting, these workouts fail at the most important criteria for growth: they aren't heavy enough. Combined with a calorie deficit you will lose weight (both muscle and fat). Combined with a calorie surplus you will gain weight (both muscle and fat).
These are general fitness workouts though, and they will indeed help make you fit and healthy. This will improve your energy levels, your mood and even your cognition (as will most other types of exercise). Moreover, they can also help you lose weight, as they will help create a calorie deficit by burning calories.
HIGH INTENSITY POWER TRAINING (E.G. CROSSFIT)
There are a lot of routines that involve doing weightlifting for the purposes of improving general fitness. These are common in Men's Health, group weightlifting classes, and when doing sports specific training. Some of them are very advanced, too. CrossFit™, for example, involves doing a lot of highly technical advanced lifts in a gruelling and competitive way. Part general fitness, part extreme sport. In fact, it's a workout that's so sport-like that people will sit on the couch and pay to watch CrossFit on TV.
CrossFit isn't for sissies, and it's actually pretty damn effective at what it's designed to do – make you incredibly fit in a very versatile way. There are a lot of claims that CrossFit encourages poor lifting poor, but I think that's a little harsh. There are people who practice poor lifting form in all styles of training, and it doesn't seem to me like CrossFit is particularly problematic. Nevertheless, it has a debatably (very) high injury rate, given how advanced the lifts are and that you're (oftentimes) supposed to do them well beyond the point of fatigue
… but the studies invariably also show that it will indeed make you wicked fit. I would say that the results of the studies looking into CrossFit are very positive, and like callisthenics programs I don't think it's a fad, nor should it be. (study, study)
Is it good at building muscle? Well you'll certainly build a whole hell of a lot more muscle by doing CrossFit than by reading blog posts. We have a few relatively advanced guys in our program who also do CrossFit, and, well, they tend to be pretty damn badass dudes. If they've got a good grasp of muscle-building nutrition they often come in having gained a decent amount of muscle mass too. Heavy-ish weightlifting, even when done for the purposes of general fitness, can be good for that. While it doesn't rival other forms of exercise designed to build muscle, CrossFit can indeed make you bigger and stronger, especially if you're relatively skinny starting out. (study)
With general fitness programs designed to make you fit in every way possible, it's understandably hard to make consistent size/strength gains. After all, it's a program designed very specifically to make you athletically fit, so any mass gains are more of a side effect rather than the intended outcome. You'll usually fail with your central nervous system (aka overall fatigue) rather than with the muscle group that you're trying to grow. When you do fail with the muscle group you're training it's often due to muscular endurance instead of muscular strength, which leads to endurance adaptations more so than muscle-building adaptions. The weight used, since it's used so athletically and with such varied rep ranges, is only occasionally heavy enough to cause muscle growth, the volume and frequency for any one muscle group is sporadic, and most of the lifting is done in the sagittal plane (at the expense of the transverse and frontal planes). As a result your muscle development may not be that balanced. (study)
Summary. These are not programs designed specifically to build muscle, but you may build a bit of it anyway! As far as fitness oriented styles of training go this is by far the best way to go. It's also very advanced, and probably something you'd want to do after you've built up a helluva lot of muscle.
MUSCLE & STRENGTH TRAINING

Alright so now we're into the types of training that aren't about fat loss or general fitness, but rather about building up more muscle mass and strength. Heavy weightlifting is without a doubt the easiest way to optimize all muscle-building factors, since you're moving heavy objects by stretching and contracting your muscles. As a result, virtually every type of training designed to build muscle will involve lifting heavy weights. There are many ways to do this though. One of the more popular approaches is to focus on getting stronger (strength training/powerlifting) and the other popular approach is to focusing on getting bigger (bodybuilding).
There are some less common ways that people lift, like Olympic lifting. It's a sport in and of itself, and it's commonly used to train athletes to be explosive, and it's used in sporty competitive training programs like CrossFit. The lifts are very difficult to learn, they require a lot of equipment, there's only mechanical tension in the concentric part of the lift (since you drop the weight after lifting it), there's no emphasis on metabolic stress, and they're often done far away from failure in order to minimize muscle damage and reduce the risk of injury. This is well known in the muscle-building community, and you rarely see people doing them with the goal of building up muscle mass.
STRENGTH TRAINING (POWERLIFTING)
Now we're at the heart of the "just lift heavy" argument. That's what strength training is all about – damn heavy deadlifts, squats, bench presses, overhead presses, etc. This involves lifting very heavy weights through a large range of motion. This is excellent for stimulating mechanical tension, which is the most important factor when it comes to building muscle. Since your muscles will be so eager to grow (aka your muscle cells will be very insulin sensitive) this will mean that a caloric surplus will cause your body to preferentially build muscle instead of storing fat. Brilliant.
The lifts are compound lifts too, which means you'll hit many muscle groups at once. The squat uses something like 200 muscles. Not all of these muscles will grow maximally, of course. Many are stabilizer muscles, and not even all of the prime movers will be limiting factors. (If your quads are the limiting factor, then it's your quads that are getting the best stimulus for growth.) You're going to see a decent amount of growth in many of the muscle groups worked though: your quads, butt, hamstrings, lower back, etc. As a result your workouts will be fairly efficient.
Classic strength training is also based around barbells. This means you'll do a great job of building up stabilizer muscles, balance, tendon and ligament strength, etc. It's safer too, since your body will be able to use natural movement patterns and distribute the stress in a biomechanically sound manner. (Counterintuitively, free weights tend to be safer than machines.) Furthermore, the strength that you build will transfer to virtually every other type of manly strength activity, whether that's advanced callisthenics, CrossFit, carrying your wife over a threshold, flexing and unflexing your pecs to the rhythm of your favourite song, carrying an old woman out of a burning building, etc.
We get a lot of guys coming into our program who didn't make any progress even when following a hearty strength training program. This is probably not a training problem, but rather a nutrition problem. If you're trying to lift heavier and heavier weights each week but your body doesn't have the nutrients it needs to build up more muscle mass, it will be forced to make neural adaptations, i.e., it will learn to use the muscle it already has more efficiently.* This isn't always bad. This is how you'd get stronger while staying inside your weight class. This is bad when you're a skinny dude trying to build muscle … because, err, well we don't want to stay in the featherweight weight class.
*These are called "neural" gains because your  body will grow new neurons to allow you to optimize the unfamiliar movement patterns you're practicing.
So this is indeed an effective way to build muscle mass… but this still isn't a mass-building approach to training. This is a strength-building approach to training. If you're a skinny guy trying to build muscle mass this a fairly poor approach. Here's where the "just lift heavy" argument falters:
Volume is optimized for building up muscle strength. The weights are so heavy that it imposes a huuuge stress on our central nervous system. As a result we fatigue very quickly. We fatigue before we've maximally stimulated our muscles for growth. 
To illustrate this point, consider the deadlift. If you're doing a heavy 5×5 with a deadlift you're going to be absolutely destroyed by the end of it.  But you've only done 25 reps. That's nowhere near the optimal amount if you're trying to develop muscle size. Yes, you could do 10-15 sets of five reps and build maximal amounts of muscle… but it would take you hours to do your workouts and your central nervous system would be fried to a crisp by the end of it. Your risk of injury in those later sets would be very high, you'd very quickly become overtrained, and you'd grind your joints to the bone. (study)
Strength-building versus muscle-building lifts. A deadlift is an excellent exercise for strength. After every rep you set the weight on the ground, get back into a great position, and then lift the next rep. You're essentially doing a series of single rep lifts. You also need to set the weight down relatively quickly, or you risk causing excessive damage / injury on the way down. This means that mechanical tension isn't constant throughout the lift and the time under tension is quite small. Perhaps the best lift known to man for overall strength… but surprisingly mediocre for size.
Form is optimized for lifting more weight, not building more muscle. A common example is the bench press. If you're powerlifting or strength training you'll bring your elbows in right close to your body so that you can press with your triceps and shoulders, and you'll create an arch in your back to limit the range of motion and improve your leverage. This will radically reduce your ability to grow your chest, but substantially increase the amount of weight you can lift in a competition. If you aren't competing in a powerlifting competition that isn't very helpful.
The accessory lifts are designed to improve strength. A good strength training program will use accessory lifts designed to blast you through plateaus on your big lifts. It's common to do rack pulls to work on locking out a deadlift, or add chains to your bench press to even out the strength curve. These accessory lifts are designed to improve your strength on the big lifts, not designed to build muscle mass.
If you're wondering if accessory lifts are needed at all (some minimalist 5×5 programs don't really use them), a study that came out May 2014 looked into how doing just squats compared with doing squats, leg presses and leg extensions. The volume was equated, so both groups were doing the same amount of weightlifting overall. The multi-exercise group did far better than the squat-only group. They both grew the same overall amount of muscle, presumably because the weightlifting volume was equal, but the greater variety of exercises resulted in more balanced muscle growth – all heads of the quads grew proportionally. Surprisingly, it also resulted in a far greater increase in strength! (study)
Another example is a November 2014 study that found that including partial range of motion accessory lifts (like rack pulls) alongside full range of motion lifts (like deadlifts) was more effective at improving strength gains than just performing a greater volume of full range of motion lifts. (study)
So there's a very strong case for including accessory lifts in pure strength programs.
You're doing competition lifts instead of lifts that align with your goals. If you're doing a minimalist powerlifting sort of program you'll be doing lots of things designed to make you a better squatter, deadlifter and bench presser (and maybe barbell curler or rower). If you don't like to squat, deadlifts aggravate your back, barbell rowing hurts your forearms or your goal is to get big and strong in general rather than compete in very specific lifts… then your program isn't optimal.
Summary. Strength programs are ideal for developing badass strength in competition lifts. They're also pretty damn decent when it comes to building muscle when gaining weight. Similarly, when losing weight these programs will help preserve your muscle mass. However, in the longer term these programs can be fatiguing and tough on your joints and the overuse / injury rates are somewhat high – comparable to CrossFit. (study, study, study) Because of how much stress very heavy lifting will put on your body, it may be wise to begin by bodybuilding to give your tendons and stabilizer muscles time to adapt to the stresses of lifting, and to give yourself an opportunity to practice your lifting technique with lighter loads.
If you aren't interested in becoming a powerlifter, but rather you're interested in building muscle size and strength, then this type of training probably isn't for you.
Note: Make sure that if you're jumping straight into strength training that you're doing a program that's appropriate for beginners. A proper strength training program will be, but these are not the ones you tend to find online. It's extremely rare that someone can just put a barbell on their back and squat with anything close to decent form, it's even rarer that someone can deadlift a barbell off the ground with decent form, and I've never even heard of anyone picking up a barbell and pressing it overhead with enough technique that it's even remotely safe. Rushing right to doing these big compound lifts is often dangerous and ineffective – especially if you're a naturally skinny guy, since our bodies are longer and thinner. More on that here.
HYPERTROPHY TRAINING (BODYBUILDING)
A good bodybuilding program will be designed to make you muscular in a balanced, symmetrical and aesthetically pleasing way. If you're bulking bodybuilding will build more muscle mass, and if you're cutting bodybuilding will maintain all of your muscle mass so that you can exclusively burn fat. If you're trying to optimize your body composition or aesthetics then this is the type of training you're after.
Since muscle size and strength is so closely correlated, there are actually a lot of similarities between a good bodybuilding program and a good strength training program. Bodybuilders also tend to build their routines around compound free weight lifts like squats, chin-ups, bench presses, deadlifts, overhead presses, etc.
However a bodybuilder isn't limited to competition rules and lifts. A bodybuilder doesn't have to squat below parallel, or include deadlifts in his program, or bench press to his chest. If he likes those lifts and handles them well then he probably should, but he doesn't have to. He also doesn't need to maximize his one rep max, so he can spend less time doing the hard-to-recover-from low rep training and more time stimulating muscle growth.
Bodybuilding tends to build more muscle for a few reasons:
More emphasis on the "pump" (metabolic stress). Powerlifters focuse on getting strong via mechanical tension, whereas bodybuilders focuses on getting big via metabolic stress. Instead of loading up the bar with as much weight as possible and lifting for 1-5 reps, a bodybuilder will focus on using perfect form for 6-12 reps. They'll focus on building up a mind-muscle connection, feeling the burn, and working towards getting a pump.
Some lifters bash the pump, saying it's meaningless when it comes to growth. That isn't true. Metabolic stress is a real factor when it comes to muscle growth, and there's lots of evidence to back this up (study).
Besides, when aesthetics and size are the goals it might not be enough to just do the right lifts, you also want to make sure you're targeting the right muscles when doing those lifts. Want a big chest? The bench press is a great lift for most, however if you get a pump in your shoulders and triceps instead it's a sure sign that you're using other muscle groups to do the lift instead. You may need to work on your technique or use a different lift to target your chest.
Less central nervous system fatigue, more muscle damage. Strength training is very taxing on the central nervous system, since the rep ranges used are so low. Bodybuilders spend less time lifting maximally, which means less central nervous system fatigue, which leaves your body with more resources to build muscle. Because of this bodybuilders are able to do more sets, more reps, more lifts, and train more frequently.
More slow twitch fibre growth. Powerlifters tend to exclusively lift heavy weights. Even if you're doing a 5×5 program, which is light as far as a powerlifting goes, you're still just stimulating your fast twitch muscle fibres, and thus only growing your fast twitch muscle fibres. Bodybuilders maximally grow their fast twitch muscle fibres too, but by mixing in lighter rep ranges (12-30 reps) they also grow their slow twitch muscle fibres. While slow twitch muscle fibres have less potential for growth, they can add a significant amount of mass to your frame when properly developed. This may be especially true for us hardgainers, as we may have a higher proportion of slow twitch fibres compared to guys who are naturally very muscular.
Accessory lifts added in to improve aesthetics. Some argue that if you're already doing compound lifts you don't need accessory lifts. This is true. A strength training program might not include bicep curls because they won't improve your big competition lifts. Moreover, strength training programs are so taxing on your ability to recover that you'd risk overtraining by adding in a bunch of superfluous accessory lifts.
But if you want burlier biceps, curls sure help. With a bicep curl you'll load up your biceps with maximal mechanical tension, fail based on bicep strength, you'll use a full range of motion with your biceps, etc. Adding in some bicep curls on top of your compound lifts is a no brainer if you want bigger biceps.
Chin-ups are good for building your biceps – probably the best lift for building your biceps – but they also have their limitations. Your biceps cross two joints (your shoulder joint and your elbow joint) so you aren't getting a full stretch or full contraction. The range of motion is deceptively small. In addition to that, your biceps might not be what you're lifting with, or they might not be your limiting factor. This is true for me – my back grows when doing chins, not my biceps.
Even the studies that people use to argue that compound lifts are all we need make me want to do curls. (study, study) Check this first one out: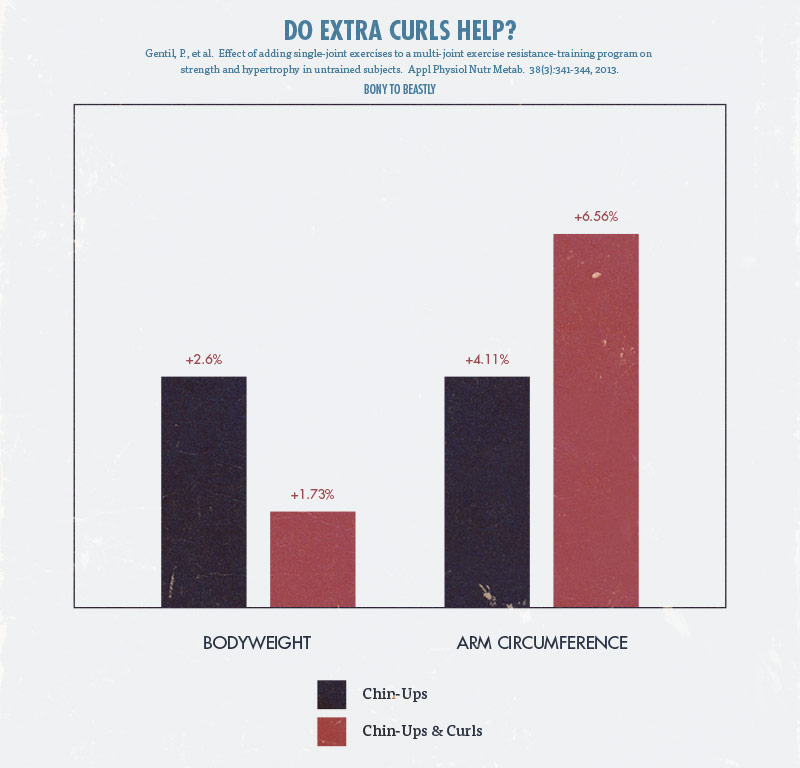 The participants that did curls in addition to their chin-ups did indeed grow girthier guns even though they didn't gain as much weight. I suspect that the differences in arm size would have been even more pronounced had both groups gained a similar amount of weight.
Note: the sample size was so small that this could very well be a coincidence at this point—we can't say for sure.
Note: more recently, another study came out showing that doing 30 sets per muscle group per week with compound lifts (nearly twice as much as is considered optimal) was able to stimulate max muscle growth, even without the inclusion of isolation lifts. With isolation lifts added in, bringing the volume to 36 sets per muscle group per week, growth remained about the same. Obviously this is an extremely inefficient and overkill way to train though.
This is true with many lifts. In a bench press the long head of your triceps is working through such a ridiculously small range of motion that you won't be stimulating it at all. Plus, for many guys it's the shoulders and medial/lateral heads of the triceps that do most of the pushing, so the chest won't be the limiting factor and thus won't grow. As a result you'd want to include a few sets of overhead tricep extensions and pec flys. (study)
You'd also be adding in aesthetic and performance enhancing lifts like reverse flys or IYTs, which will build up the under stimulated and under developed back side of your shoulders, overhead tricep extensions so that you can finally target the long head of your triceps, etc. These aren't very well stimulated with big compound lifts, but they can have a huge impact on your aesthetics (and posture!).
Summary. Hypertrophy programs are ideal for developing a buff physique, and also pretty decent when it comes to getting fearsomely strong. When losing weight these programs will preserve all of your muscle mass. These programs are also fairly appropriate for people just starting with weightlifting, since the rep ranges are more moderate.
COMBINED STRENGTH & SIZE TRAINING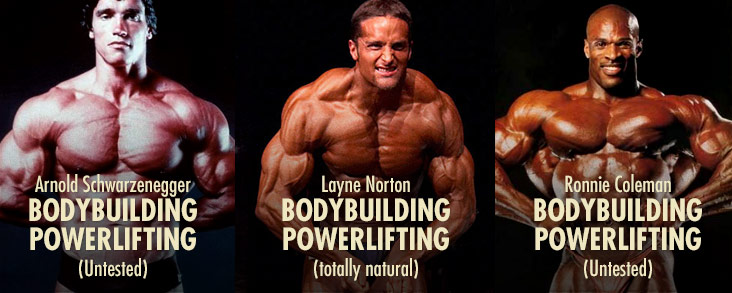 This is the approach that uses all the available techniques/research to create the burliest physique possible. You could think of it as the CrossFit of muscle-building. While CrossFit combines a bunch of different styles of training in an attempt to train for maximum fitness, this approach combines a few different techniques and approaches in an attempt to train for muscle.
You could just as easily call this a subset of bodybuilding, since it will maximally build size … but there are a few things that are common here that aren't necessarily prevalent in the bodybuilding world. You could call it a subset of strength training too, since quite a few top powerlifters use it to build strength … but there are a few things that aren't common in the strength training world. Some people realize this is the handsome child of both bodybuilding and powerlifting, so in some circles it's called "Powerbuilding".
It's not new or revolutionary. Most old-time strongmen used a variety of different training styles, lifts and rep ranges to build their physiques. A hundred years ago, Eugen "the Father of Modern Bodybuilding" Sandow used a combination of heavy compound barbell lifts and lighter dumbbell lifts to build his muscle. The golden age lifters did it in the too – Arnold Schwarzenegger was a top level powerlifter and bodybuilder. And it's still going on today. Ronnie Coleman is an untested world class bodybuilder and powerlifter. Perhaps more relevantly, Layne Norton is a top natural bodybuilder and record holding powerlifter. It's not a controversial approach to training either. Good luck finding a study that doesn't show that this is without a doubt the best way to build muscle.
This approach will usually involve:
Equal emphasis on mechanical tension and metabolic stress. A combined approach will focus on getting strong via mechanical tension while also focusing on getting big via metabolic stress. A wide variety of rep ranges will be used, typically ranging from 3-20, but perhaps going as wide as 1-30.
Lifts designed to get you fearsomely strong. Like strength training, you'd probably use heavy squats, deadlifts and bench presses. Unless you're competing though, you have a lot of flexibility here.
You'd also use accessory lifts designed to improve your big lifts so that you can get consistently stronger and blast through strength plateaus. Building up more strength will also help you lift heavier weights in the higher rep ranges, which can improve your ability to build muscle mass in the longer term.
Lifts designed to build muscle mass. Like bodybuilding, you'd use lifts and rep ranges that optimally build muscle size, like moderately heavy romanian deadlifts, dumbbell bench presses, curls, and dumbbell rows. You'd also use accessory lifts to build mass in your goal areas and bring up lagging body parts.
This goes beyond just making you look bigger and better. Building up muscle size is very closely correlated with strength, and training with an emphasis on size can drastically help people improve their heavy lifts. One study found that powerlifting performance on a lift was strongly correlated with the size of the main movers. So, for example, how big your chest is fairly accurately predicts how strong you are at the bench press, at least once technique is mastered (study). Another study found that how much muscle powerlifters have can correctly predict how successful they are (study). So the bigger their muscles are overall, the stronger they're likely to be overall. This explains why many of the top powerlifters these days also practice bodybuilding.
Maybe some fitness techniques. For example, it's common to organize lifts into small circuits and/or supersets. You'll build the most muscle if you're able to lift heavy and with good form, after all, so it's advantageous for the given muscle group to be fully rested before using it again. This can take several minutes, so oftentimes you can fit in another lift. This can improve your general fitness and work capacity, allowing you to recover better between sets/workouts in the future. It will also keep your workouts short and efficient. Plus, of all the types of exercise out there, this is perhaps the best bang for your buck as far as your health and longevity goes.
Bigger emphasis on periodization. You'll be alternating periods of more intense volume with periods of more intense rest. This will yield the most muscular gains, prevent overtraining, and also build up your overall work capacity, which will allow you to better build muscle in the future. You'd also alternate periods where the emphasis is on bodybuilding with periods where the emphasis is on strength training. This will help keep you consistently progressing.
Summary. A combined approach to lifting is ideal for developing the burliest physique possible, both in terms of strength and size, and both in the shorter and longer term. When losing weight these programs will preserve all of your muscle mass. These programs are also fairly appropriate for people just starting with weightlifting, so long as the lifts and rep ranges are properly progressed and periodized.
This is the approach we use. We use every piece of research to find the optimal way to build muscle, and at this point there's enough evidence that it's pretty clear that the best way to build muscle is to strategically combine the best practices of both bodybuilding and powerlifting. As a result, this approach is common with the nerdier of muscle-builders, regardless of whether they're aiming primarily for size or strength.
There are many ways to structure things. We train three times per week. Each workout takes about an hour. We hit every major muscle group each workout. And each workout we use a variety of lifts and rep ranges designed to make us both big and strong. This has us building size as quickly as possible, strength as quickly as possible … and even improving our posture, health and fitness.
PUTTING IT ALL TOGETHER
This may or may not sound like good news. The fact that muscle-building programs are the best programs for building muscle is an awkward truth for us skinny guys. When you don't have much muscle, it can be intimidating to start a style of training where the amount of muscle you have on your body is indicative of your success (or lack thereof). It would be much more pleasant if we could build up muscle mass as a by-product of doing something that we're already good at. This is why I spent so long trying to get fitter and stronger doing things like swimming and martial arts – because I felt like I wouldn't be judged as harshly based on my lack of muscle mass. Not surprisingly, this kept me skinny.
(People at the gym won't actually judge you harshly, in fact they'll probably be thrilled that they have someone they can pretend they aren't flexing in front of. On that note, you can build a home gym if you prefer training at home. It's not as difficult or expensive as you may think. Here's what we recommend.)
The good news is that the better your training program, the more your muscle cells will be doing everything they can to grow as quickly as possible. They'll be incredibly insulin sensitive, meaning that more of the food you eat will be invested in building muscle, and less will be invested in storing fat. The quality of your training will determine how quickly you can build muscle, and also to a large degree how resistant you'll be to storing fat.
The further away you've been from training optimally, the more exciting this news is. You may think that your genetics are keeping you skinny, but by optimizing your training for muscle growth you may actually find that you can grow at an incredibly rapid pace.