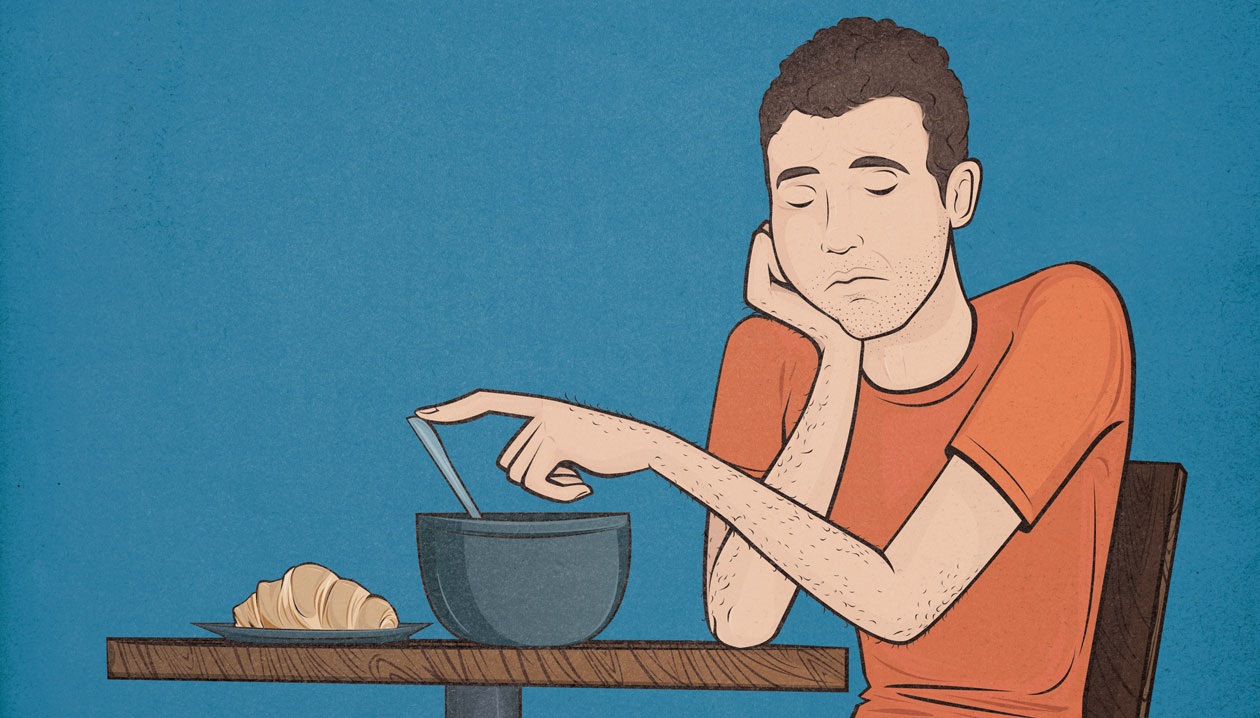 Why Is It so Hard for Ectomorphs to Eat Enough Calories to Gain Weight?
As a naturally skinny guy, I spent almost 10 years of my life trying and failing to gain weight. During these failed attempts, I would often lose weight. People would see this, they'd realize I wasn't eating enough calories to gain weight, and so they'd tell me to "just eat more."
Then they'd look at me like they'd just solved all of my problems, totally confident they'd given me the information I'd been missing all my life. I had been skinny all of my life, though, so "just eat more" was exactly new advice. I mean, it's not like I hadn't tried to eat more. Of course I had. I'd been trying my entire life.
That "just eat more" advice would work fine for most people. After all, eating lots of food and gaining weight is second nature for most people. If you tell the average dude to "just eat more," he'd be able to. Hell, he'd probably even like it.
So the assumption is that we're just supposed to tough it out and force-feed ourselves. But after grinding out a typical bulking diet for a few weeks, feeling miserably bloated and tired the whole way through, we inevitably give up. It's just not sustainable. So at that point, most of us blame our genetics, thinking that we're doomed to stay skinny forever.
We never make it far enough to realize that we've also got some incredible genetic advantages when it comes to building muscle—advantages that we can leverage.
In this article we'll cover:
Do ectomorphs have faster metabolisms?
Do ectomorphs have smaller stomachs?
Why do hardgainers resist weight gain even in a calorie surplus?
Do ectomorphs have better insulin sensitivity and carb tolerance?
Can lifting weights improve our appetite? How?
What's the best ectomorph bulking diet?
Here's a quote talking about a famous researcher who conducted overfeeding studies in the 70's (study, study):
"One of his volunteers, for example, began at 132 pounds. He struggled resolutely for more than thirty weeks to gain weight, ate great amounts of food, and reduced his activity to less than half its former level, but was never able to push above 144 pounds. He simply didn't have the willpower to get fat."
Story of my life.
Trying to gain weight by force-feeding yourself can be so incredibly difficult that it feels physically impossible. Even if we can tough it out for a few weeks, eventually we run out of willpower and give up, blaming our genetics, thinking we're doomed to be skinny forever.
Thing is, it doesn't have to be that hard. It's not about force feeding ourselves, it's about understanding our body type and learning how to eat in a way that suits us.
So, what's makes an ectomorph so different from an average guy?
Ectomorphs are designed to burn calories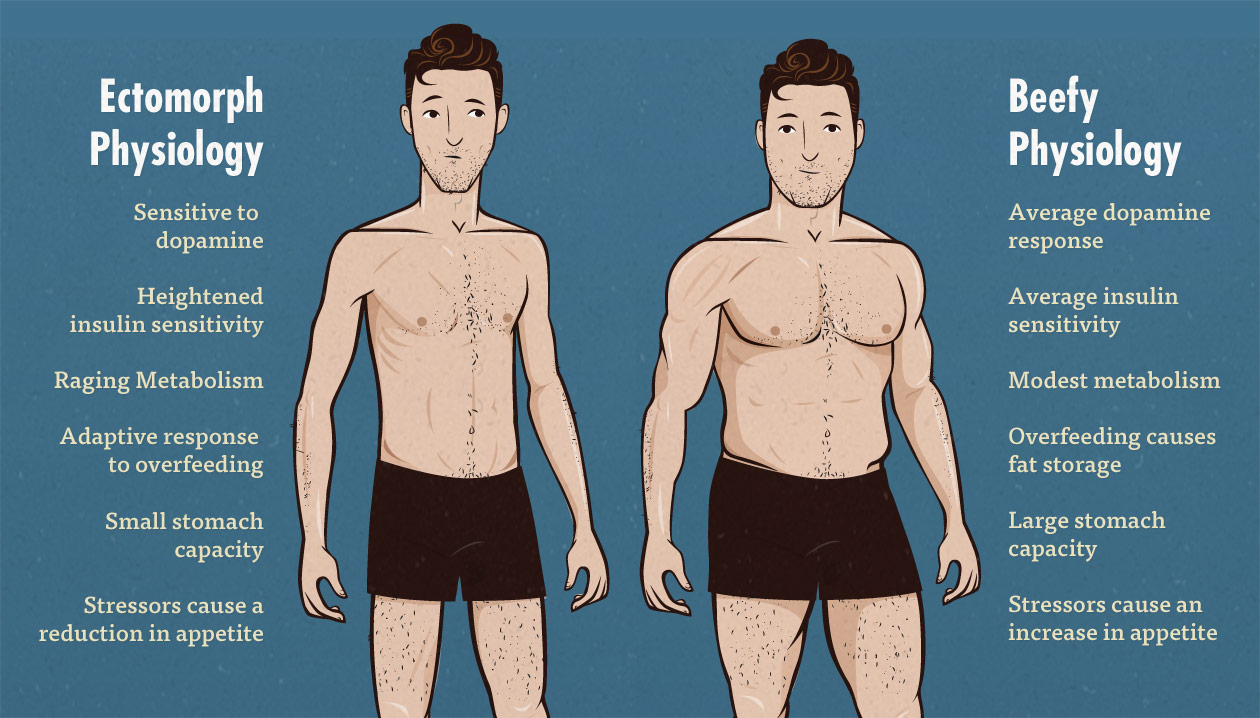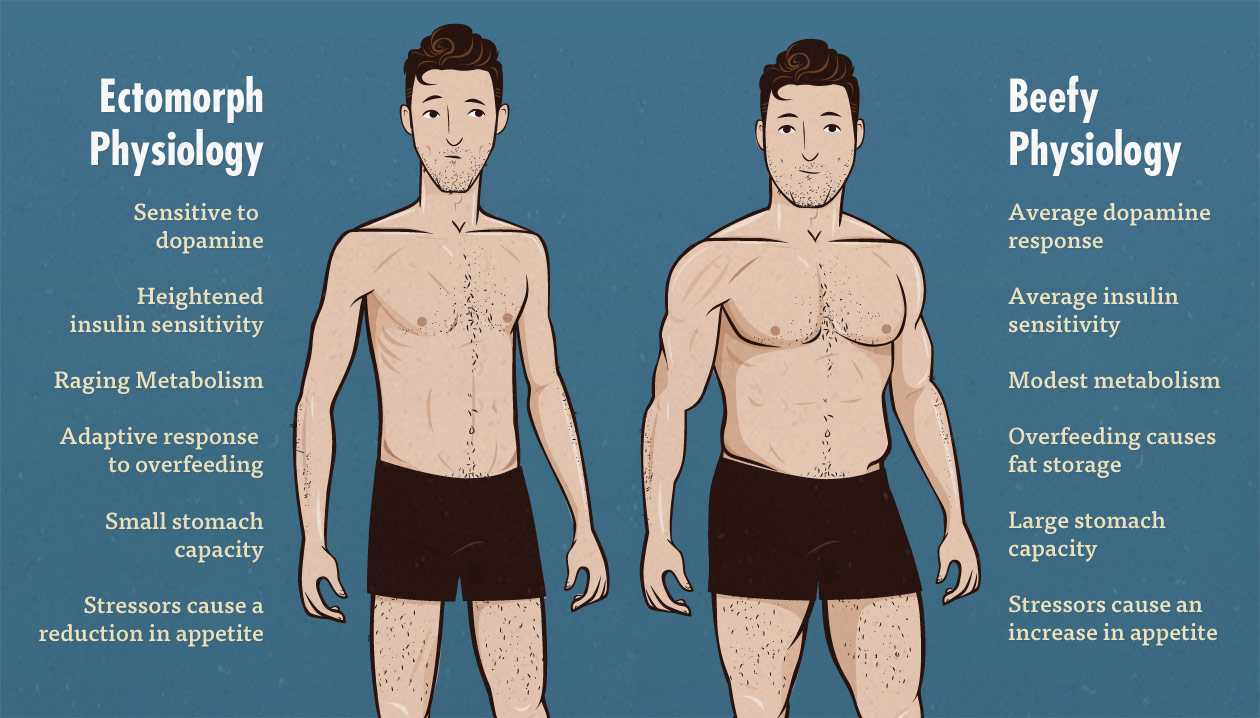 There's a huge amount of genetic variation between individuals. The differences between a naturally overweight "endomorph" and a naturally underweight "ectomorph" are far more extreme than most of us realize.
According to the Smithsonian, people with thin builds are good at travelling long distances in hot climates, radiating energy outwards so that they don't overheat. We have smaller stomachs, faster metabolisms, lighter bones, longer limbs, and less body fat to insulate us. If you're trying to run a marathon across the plains of Africa, being an ectomorph helps quite a lot. If you watch the summer Olympics, this will come as no surprise, as ectomorphs—especially those from places like Kenya—absolutely dominate the long-distance races.
They also argue that people with thick builds are good at conserving heat and hibernating, making endomorphs great for surviving harsh arctic winters. If you look at populations who evolved in Northern climates, such as the Inuit, you'll notice that they tend to be short and thick—perfect for the cold.
This means that ectomorphs excel at burning a ton of calories to stay lean, light and cool; whereas endomorphs excel at conserving calories to stay chubby, insulated and warm.
Our body types are very different, with totally different strengths and weaknesses.
Ectomorphs have far smaller stomachs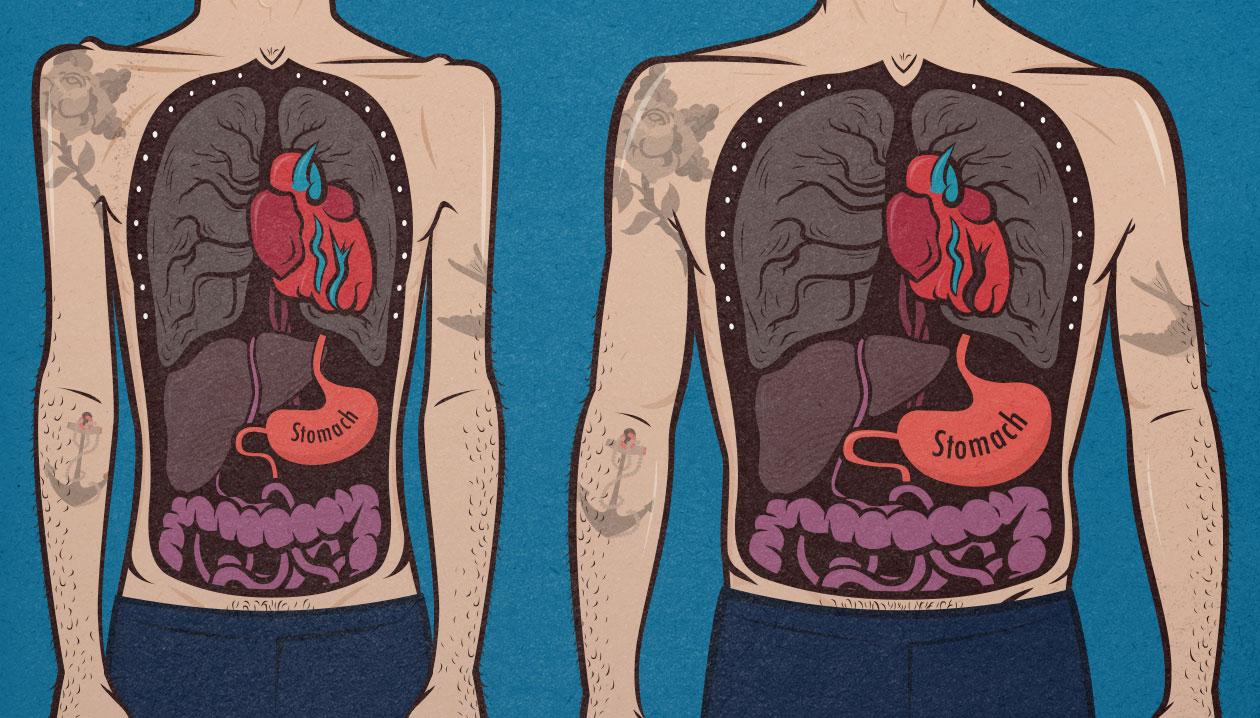 If you're anything like I was, you've realized that attempting to eat enormous meals doesn't work very well. I'd feel stuffed, sick, and lethargic for hours afterwards. Worse still, after a few weeks of trying to eat more, I started getting acid reflux.
My stomach just wasn't big enough to handle large meals.
So how were my friends able to do it? It's not that they had more willpower or grit, it's just that stomachs come in different sizes. In fact, according to Cunningham's Textbook of Anatomy, "no organ in the body varies more in size than the stomach."
How much does stomach size vary? AJ Cox, in his famous 1945 study, found that the size of the human stomach varied by up to 600% between individuals. Insane. And even more insane is the fact that it wasn't dependant on height, gender or age.
As ectomorphs, we tend to have narrower torsos and shallower rib cages. This leaves less room for our organs, and our stomachs are the organs that wind up seeing the greatest reduction in size.
This means that you could have a male friend the same height and age as you who has a stomach six times as large.
As you can imagine, having a larger stomach is linked with weight gain. In a 2001 study researchers discovered that people with larger stomachs were more likely to be obese, and that the people with the largest stomachs were able to binge on massive amounts of food each meal.
So no wonder we can't "just eat more."
Are we stuck with small stomachs forever? Fortunately, no. In another study, scientists recruited a group people and split them into two groups. One group ate what they normally ate, and the other was forced to eat itty bitty meals. Four weeks later, the people eating itty bitty meals had reduced their stomach size by 27 to 36%. The researchers concluded that stomach size can adapt over time.
This suggests that by gradually eating larger and larger meals we could gradually increase our stomach sizes. This certainly lines up with my personal experience. After gaining 55 pounds of muscle over the course of a couple years, my stomach capacity has seemingly doubled, allowing me to effortlessly eat much larger meals. This allows me to naturally maintain my higher body weight.
That doesn't help us when we first start trying to build muscle, though. We still start this journey with too-small stomachs.
Ectomorphs are very sensitive to insulin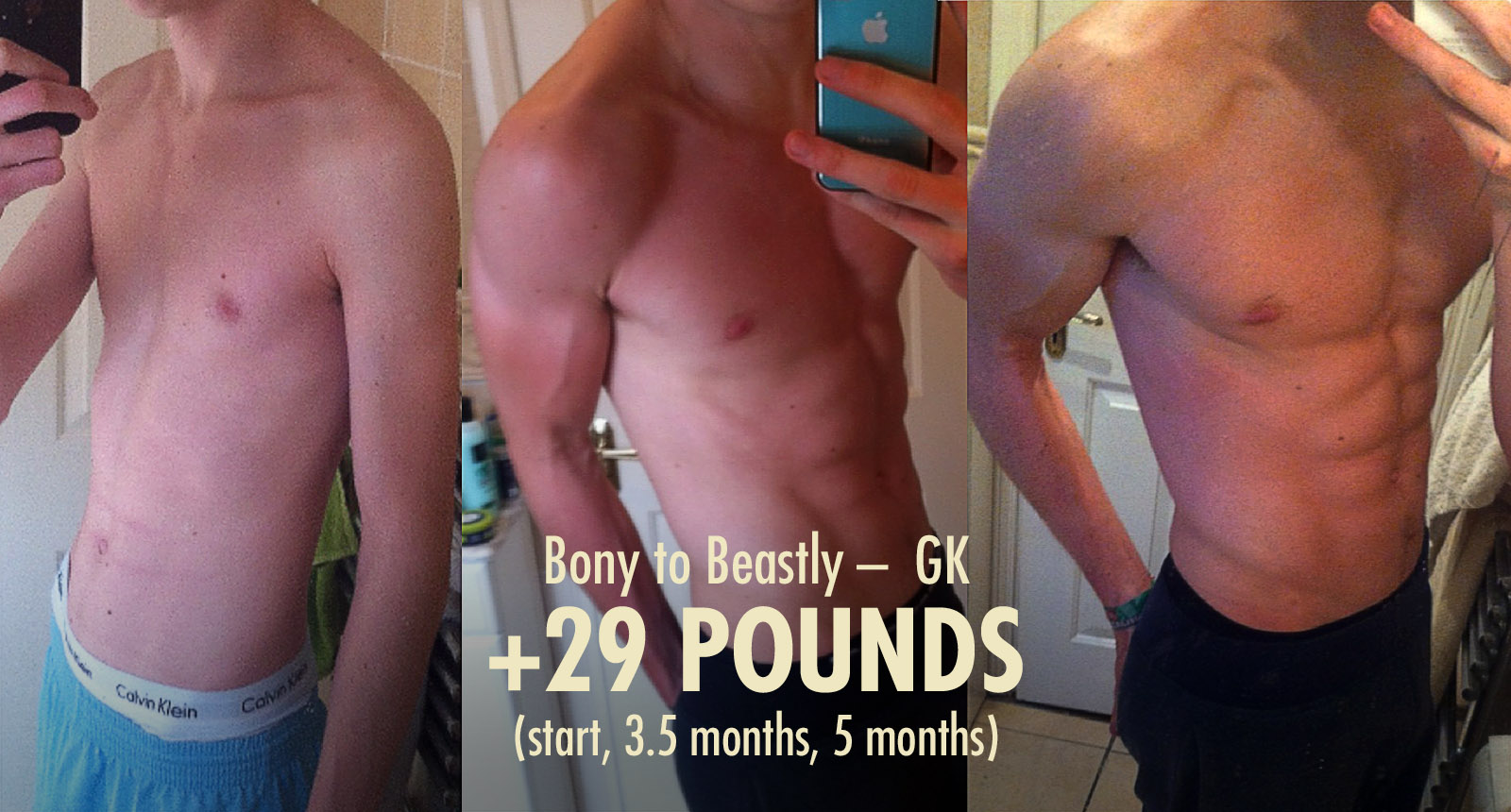 If you're a naturally lean ectomorph (body fat percentage under 20%), you're naturally quite insulin sensitive. This is one of the things keeping you lean, even if you try to overeat, and even if you eat quite a lot of junk food. It's a pretty nice genetic advantage, but as you might be able to guess… having greater insulin sensitivity also makes it harder to eat more calories.
If you're a naturally skinny-fat ectomorph, your insulin sensitivity is likely what differentiates you from a naturally leaner ectomorph. You can ignore this section and read our article for skinny-fat guys instead.
When our insulin levels are low, we get hungry, which makes us want to eat. When we eat, our insulin levels go up, which makes us feel full. This is how our body tells us when to start and stop eating, which means that insulin also has a huge impact on our appetite.
Being insulin sensitive means that our system works very efficiently. When we eat, we produce a healthy amount of insulin, and our body is sensitive enough to notice even small changes in our insulin levels. So as soon as we've eaten enough food, we realize right away, and our body makes it very unpleasant to continue eating extra calories.
The average person, however, is overweight. This gives them a blunted insulin response that goes more like this: in goes food, in goes a little more food, up goes insulin, up goes even more insulin, and eventually their appetite starts going down… slowly.
By the time the average person feels full, not only have they produced too much insulin, they've already eaten too much food. This is why there's such a hubbub about avoiding foods that cause insulin spikes. It's a big issue for the average overweight person, but we don't have to worry about it at all—especially if we lift weights and eat well.
As we bulk up—provided that we can do it leanly, and we can—our insulin sensitivity gets even higher. Being lean increases insulin sensitivity (study),  heavy weightlifting increases insulin sensitivity (study), and gaining muscle mass increases insulin sensitivity (study). So if you take a skinny guy with naturally high insulin sensitivity already and then put him on a hearty muscle-building program, he becomes an insulin sensitivity powerhouse.
This is why we can bulk so aggressively, building muscle leanly and quickly.
So don't get me wrong—having greater insulin sensitivity is a good thing. It's great for our health, and it's amazing for building muscle leanly. Having more insulin sensitivity in our muscle cells allows us to successfully direct extra nutrients towards muscle instead of fat. We hit the genetic jackpot with this one, and we want to hold onto it at all costs.
However, it also means that we aren't about to overeat by accident, and when we try to overeat on purpose, it can be damn hard.
Ectomorphs have faster metabolisms
Many of us ectomorphs feel like caloric bottomless pits. No matter how much food we shovel into our mouths, our weight refuses to budge on the scale. Why is that? Are our metabolisms really that much higher?
Some experts argue that we're just underestimating how much we eat. That could make sense. After all, we have smaller stomachs that fill up more quickly, and we have greater insulin sensitivity that makes us feel full more quickly.
For some of us, that probably explains the mystery.
We're also naturally thinner, which gives us a greater surface area, and that causes us to burn extra calories compared with shorter and thicker people.
That also explains part of the mystery.
The mystery is far more interesting than any of that, though. Scientists started noticing strange things happening during overfeeding studies, where they were trying to study fat gain.
In one study, the participants were overfed by 1,000 calories per day for eight straight weeks and instructed not to exercise. Eight weeks later, most people had gained quite a bit of fat, with one guy gaining a whopping 9.3 pounds. That's fairly normal, and it's exactly what they expected. You overeat, you get fat.
However, there were also a couple participants who hardly gained anything, with one guy only gaining 0.79 pounds. This was a puzzling result, so they came up with a name for these superhuman creatures: "hardgainers."
Hardgainers remained a mystery for quite a while, until a group of researchers discovered that hardgainers burn extra calories through subconscious activity—things like fidgeting and postural control (study).
While this may not sound like a big deal, the effect is enormous. Hardgainers burn 50% more calories than the average person while just sitting in a chair, and when they stand up, they start burning 80% more calories (study).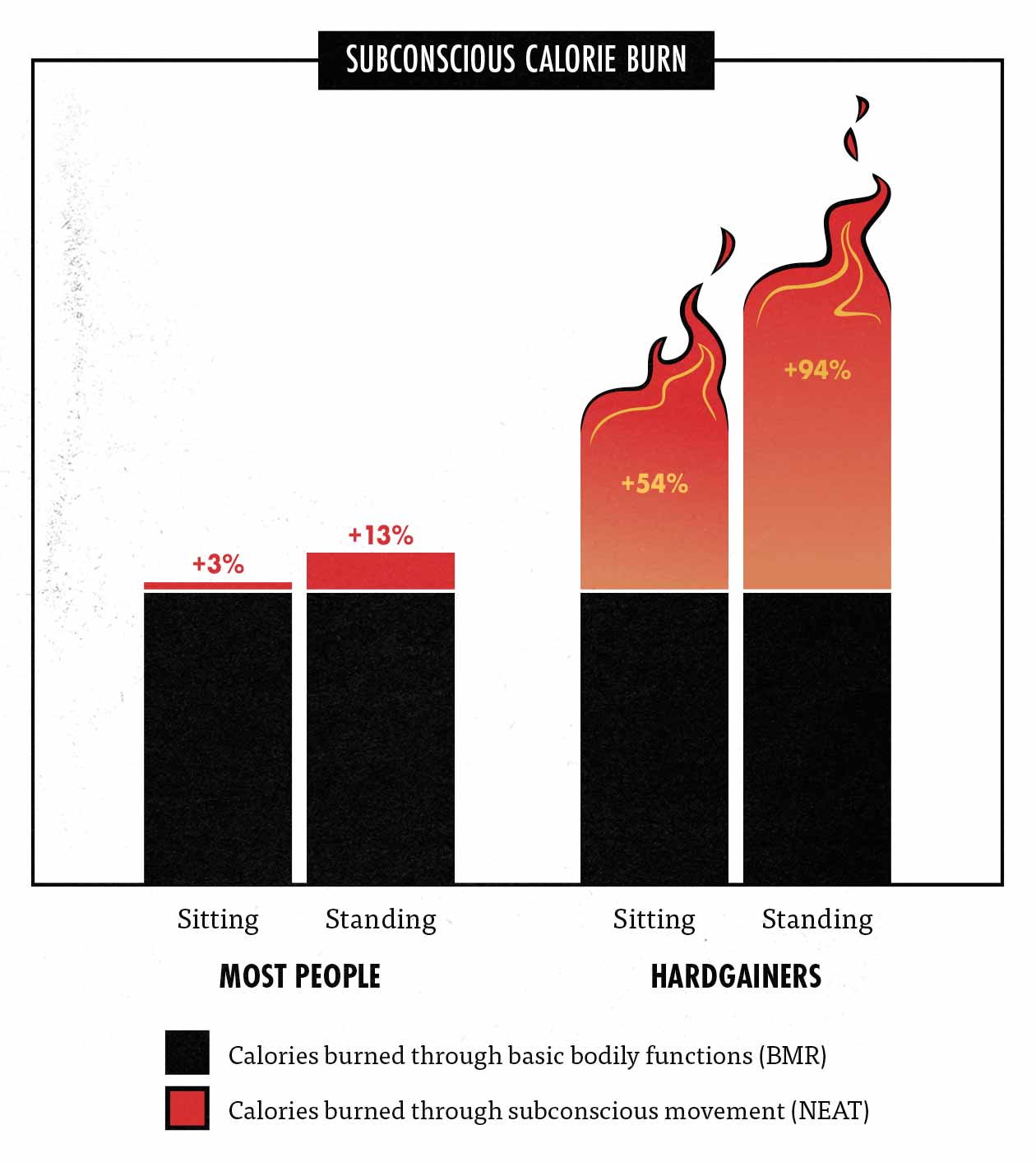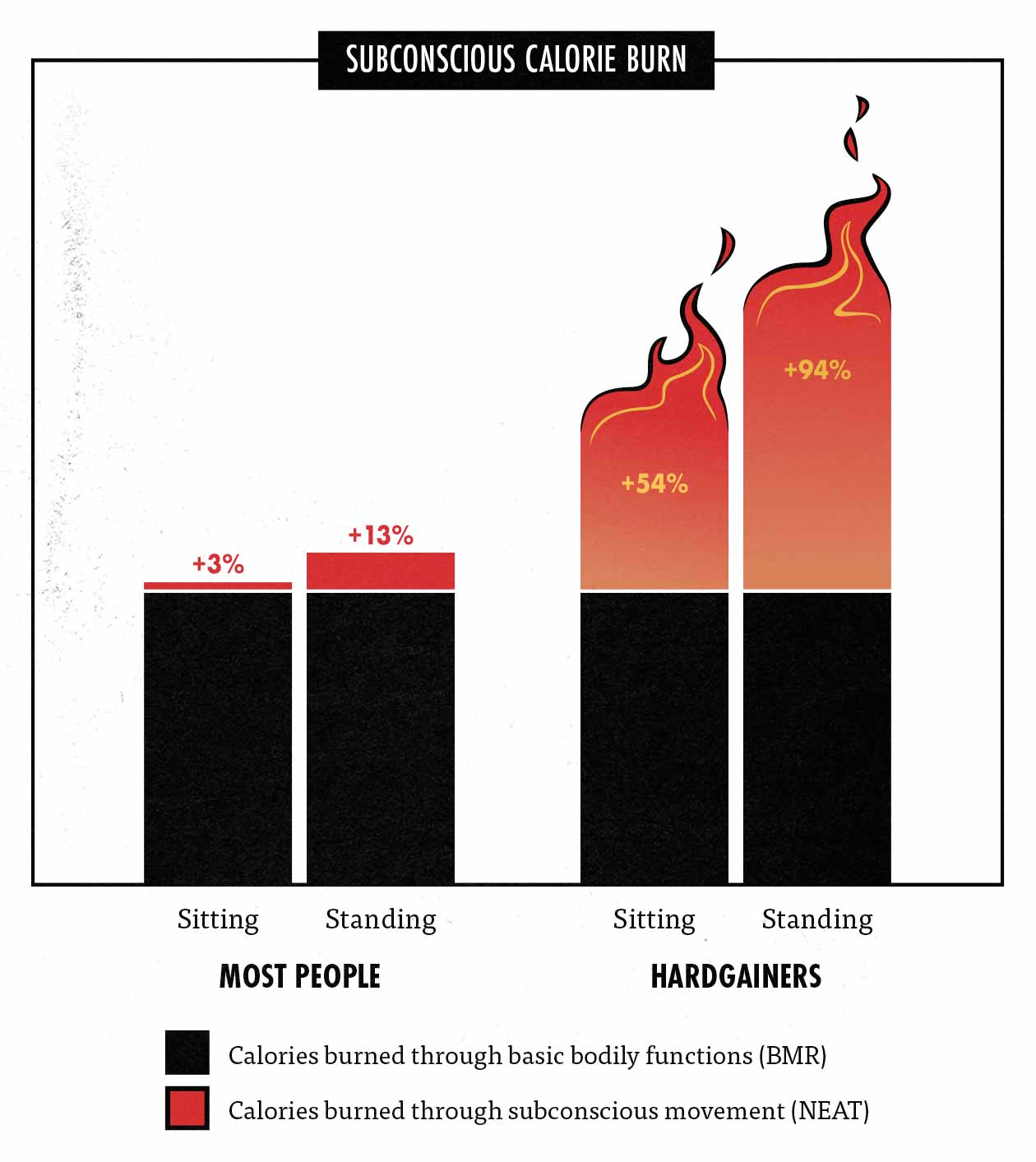 Depending on how much of your time you spend standing, that works out to burning an extra 600–950 calories each day.
That's already a huge difference, but it's not even the whole story…
As it turns out, hardgainers also choose to spend about two extra hours on their feet each day (study), burning another 350 extra calories.
To put this into perspective, the average guy might be able to maintain his weight with 13x his bodyweight in calories each day. If he weighs 150 pounds, that's about 2,000 calories per day. If he eats more than that, he might start getting fat.
However, some ectomorphs can eat 22x their bodyweight each day without gaining any fat. If he weighs 150 pounds, that's 3,300 calories per day.
The interesting thing is that a hardgainer can maintain his weight on both caloric intakes. If a 150-pound hardgainers eats 2,000 calories per day, his metabolism will slow down and his weight will stay the same. If he starts eating 3,300 calories, you'd expect him to gain weight, but he doesn't—his metabolism just revs up and burns the extra energy.
So that "just eat more" advice is pretty damn shoddy. Our metabolisms eagerly adapt to any attempts at overfeeding, making our bulking attempts feel totally futile.
Does that mean it's impossible to bulk up? Luckily, we aren't simply trying to gain weight, we're trying to build muscle. With a good enough nutrition and weightlifting program this won't much get in the way of building muscle.
When we stimulate muscle growth by following a good weightlifting program, eating enough protein, and eating enough calories, our bodies will shift our priorities. Instead of revving up our metabolisms to prevent fat gain, we'll keep some of those extra calories to invest into muscle growth.
Calories that need to be invested into building bigger biceps aren't extra calories, after all. Being a hardgainer makes us resistant to fat gain but not muscle gain.
So being a hardgainer doesn't make it harder to eat enough calories to build muscle. Finally an ectomorph trait that isn't working against us. Being a hardgainer just keeps our gains leaner. It burns off unneeded calories.
However, do keep in mind that there's always a point where you're eating so many excess calories that some will spill over into fat gains. We tend to get a pretty wide berth though, especially if we're following a good lifting program and eating enough protein.
Ectomorphs lose their appetite when stressed
Our small stomachs, insulin sensitivity and fast metabolisms make it hard to eat enough on a good day. What about when we get tired, busy or stressed?
If we were most people, the worse our lifestyles got, the more weight we'd gain. But strangely, we have the exact opposite emotional response.
Eating food causes the release of dopamine, and that release of dopamine causes feelings of intense pleasure. This is how our bodies encourage us to do things that are good for survival and replication. Eating calories helps us survive, so our body associates eating calories with pleasure.
Not surprisingly, it's pretty common for people to get bummed, tired or stressed and automatically turn to food, subconsciously craving that surge of dopamine. This is your typical scenario where the heartbroken gal drowns her sorrows in a tub or ten of Ben & Jerry's.
First of all, because we're so insulin sensitive (as explained above), our bony hearts are mendable with relatively small portions of ice cream.
Second of all, ectomorphs don't drown their sorrows in ice cream (study, study). When we get stressed, heartbroken or tired, we often lose our appetites entirely. We'll often entirely forget to eat.
Researchers call this a lower hedonistic response to food, i.e., we aren't as likely to use food to seek pleasure. And so in tough times, we tend to find ourselves losing weight.
If you get in a fight with your gal, she might storm off and raid the fridge. Meanwhile, you might forget that the fridge even exists.
This applies to other "stressors" as well, such as weightlifting. Lifting heavy things makes most guys ravenous, whereas I've always found that it makes me less hungry.
According to a study published in Physiology and Behavior, while lifting causes most people to eat more calories, it makes other people eat fewer calories. This lines up with other studies as well, and seems especially pronounced when the type of exercise is heavy weightlifting (study, study, study).
This is one reason why most guys naturally grow bigger and stronger when they start lifting weights. Even if they weren't already gaining weight by accident (i.e. getting fat), their bodies will automatically up-regulate their food intake when they start lifting weights.
We have a great fix for this one: drinking a calorie-rich blend of protein and carbohydrates while working out. Not only does it boost workout performance and make our gains leaner, it also makes it far, far easier to eat enough calories to build muscle. Here's our workout shake recipe.
Ectomorphs can easily maintain muscle mass
I used to worry that even if I could build muscle, at some point I'd surely get sick, stressed or busy and then just lose it all again. I worried that as soon as I stopped overfeeding, my muscles would shrivel up and be skinny again.
Luckily I was dead wrong. Building muscle requires consuming a lot of extra calories (among other things), but maintaining muscle is entirely different.
As you bulk up, your stomach will grow bigger, making it easier and more enjoyable to eat bigger meals. Your digestive system will get better at digesting food, making you feel better while digesting those bigger meals. You'll become even more insulin sensitive, making it even easier to maintain a low body fat percentage. You can cut your protein intake in half, meaning that you won't ever really need to think about it again. And while building muscle will raise your metabolism a little bit… it's not a big increase—not big at all.
A pound of muscle only burns around 6 calories per day (study, study, study), so gaining 20 pounds of muscle will only burn an extra 120 extra calories per day. That's barely a 5% increase in your metabolism. That's a small glass of milk, or a cookie for dessert.
Moreover, many of the changes in your muscle fibres are totally permanent. Once you build muscle, it becomes very easy to stay muscular. You'll find that you're just "naturally" stronger and leaner.
If you want to learn more about this, here's our article about changing your set point.
How to eat enough calories to gain weight
Trying to eat enough to gain weight is a lot harder for ectomorphs than most people realize. Our stomachs can be up to six times smaller, our metabolisms can burn up to 1,300 extra calories per day, and as soon as we go into a calorie surplus, it can feel awful.
Thinking that "just eat more" is a good bulking strategy is like thinking the ultimate fat-loss secret is "just eat less." If you told that to a fat person, he'd probably eat you, and rightfully so—that's totally moronic advice. 
So, as ectomorphs, how can we eat more calories?
Well, we've made a free guide for you. It includes our popular article about how to eat more calories, a sample bulking meal plan designed for ectomorphs (which is how I was able to finally gain 55 pounds), and we've even included 3 bulking recipes: one for breakfast, lunch and dinner.
You can get it (for free) right here:
​Free guide: How to Eat More

​​A PDF version of this article

for later reference​

A cheat sheet of the main points (great ​for putting on​ your fridge)
A sample meal plan with these principles optimized—​the​ same plan Shane used to gain 55 pounds
3 of Shane's favourite bulking recipes​; one for breakfast, lunch and dinner
Plus, we'll put you on the Beastly newsletter so that you get all of our best information and offers.