(Updated August 2017) We've gotten several hundred questions about supplements for ectomorphs—which supplements are best for us, what brands we recommend, whether they're healthy, and whether we need them at all. The answer to that last question is simple: you don't need them. You can build muscle just fine without them. However, adding in some key supplements can speed up your gains, make your life easier, improve your health, and even save you some money. That is, if you're smart about it.
To make things simpler for you, we've put together a protocol that should be ideal for improving your gains. The best supplements to take, how much, and when.
These probably aren't the supplements you expect, though. Two are classic, since they work for all body types, but you're going to find the third one a little weird. It only works well for ectomorphs, so you may have never even heard of it.
Finally, this is a research-based article, and there's a lot of research being done into muscle-building supplements. We'll update this post every month with all the relevant new studies that come out.
Runner ups & noteworthy mentions:
Citrulline Malate: good, not great. This is the best "pump" supplement on the market right now, and is starting to get some good research behind it. When digested, it converts into arginine, which turns into nitric oxide, which allows you to get a fearsome pump. The pump improves the health of your blood vessels and increases protein synthesis.
Beta-alanine: good, not great. Beta-alanine supplements are proving to be quite effective. It's not on the golden list yet, but for ectomorphs eager to experiment with new supplements, this could noticeably improve the speed with which you can build muscle. The ideal dosage seems to be around 4 grams per day at any time (similar to how you take creatine). Be warned, though—it can make your skin tingle. Harmless, but strange.
Ashwagandha: promising. Last year a study came out showing that ashwagandha can increase testosterone production, reduce cortisol production, increase strength, limit fat storage, and accelerate the pace that your body can build muscle. To give you an idea of the magnitude of these effects, the study found a 15% greater increase in testosterone and a 44 pound greater increase in bench press strength when compared to the placebo group over the course of 8 weeks. If more robust evidence comes out to back up these findings, ashwagandha could be a good supplement for bulking ectomorphs.
HMB: almost promising. HMB did really well in a couple studies funded by the supplement companies that make it. That's not uncommon. Now we need to wait to see if these results can be reproduced. This could wind up being a good muscle-building supplement, but it's too early to say.
Vitamin D: a healthy testosterone booster for some. Vitamin D supplements can increase testosterone output if you're deficient in vitamin D, and most people are.  However, unlike steroids, it won't boost your testosterone production outside of normal ranges. For guys who don't get enough sun, though, this can bring their muscle-building potential back to baseline while improving their general health.
Fish oil: healthy. Another study has come out showing that fish oil supplementation can slightly improve weightlifting performance. There are others showing that it can allow you to build slightly more muscle slightly more leanly. These effects are weak compared to the core muscle-building supplements, though. Fish oil is still a supplement that is better for general health than body composition.
Nitrates: ignore for now. There was a buzz about the nitrates in beets and leafy greens being good for gains, but as more research comes out, they're seeming less and less intriguing. Great for general health, not gains.
Collagen powder: ignore until you're very old. A new study just came out showing that collagen powder can be effective for building muscle in old people with sarcopenia (age-related muscle loss). However, whey protein is a better supplement for young skinny guys trying to build muscle because it has more of the amino acid leucine, and leucine is the amino acid that optimally stimulates muscle protein synthesis.
Arginine: replaced by citrulline malate. This was used in the past, but wasn't very effective. Recently, citrulline malate is proving to be a better supplement for increasing arginine, increase nitric oxide, and ultimately get a bigger pump.
Baking powder: misery awaits. Some cool research is going on with plain old baking powder as a pre-workout supplement, and a new study just came out showing that it improved muscular endurance by 42%! Very cool, but way too early to draw any conclusions, especially when it comes to muscular strength/growth. The dosage in the study was 0.2 grams / kilogram bodyweight taken one hour before training. I tried this and I really do not recommend it—extremely unpleasant.
With that handled, let's move on to the very effective muscle-building supplements that have rigorous research proving their effectiveness.
Ectomorphs need to approach supplements differently
Only 3% of people are looking to gain weight. When companies are making a supplement for the masses, we are not the masses.
Most supplements are targeted at the average person, and the average person is overweight. Being muscular is considered very attractive these days, so there are some supplements for muscle gain out there, but even then, most of them don't take into account the fact that us ectomorphs are trying to gain weight.
For example, consider branched chain amino acids (BCAAs). BCAAs are in incredibly popular ingredient in muscle-building supplement cocktails, and they're a perfect example of the kind of supplement we don't need.
All protein sources are made up of amino acids. The benefit of BCAAs are that you're extracting only some of the amino acids out of the protein source, making BCAAS lower in calories than, say, whey protein. As naturally skinny guys, we want those extra calories. Why would we pay extra to get less? Besides, the other nutrients in whey spike muscle protein synthesis far higher than BCAAs taken alone, making whey protein better for building muscle anyway (study).
This supplement protocol has one type of guy in mind: the naturally skinny ectomorph who's looking to build muscle, i.e., gain weight.
Do us ectomorphs need supplements?
No. Supplements aren't magic. You can build muscle very well with just a good lifting program, a good bulking diet, and some quality sleep. Cheap, simple and effective, and until you're doing that properly, all the money you spend on supplements will be wasted.
Even if you find a supplement that can boost your results by 50%, if you aren't gaining anything, an extra 50% on top of nothing is still nothing.
Crappy program + supplements = no results, frustration, wasted money, cursing your skinny genetics, and giving up
Mediocre program + supplements = you'll think that building muscle is a slow, unpredictable and frustrating process.
Great program + no supplements = great, steady, reliable results. Other people will assume you have good muscle-building genetics.
Great program + great supplements = "holy $%& man! Are you on steroids!? Last Thanksgiving you were skinny!"
A good program (like ours!) that includes both training and nutrition is the #1 place that you want to invest. Hehe, okay, yeah, so we're a little biased there. But it's still true! You won't pill-pop and powder-shake  your way through $200 of information and then have to go buy more. You can invest once, start following an optimal lifting and diet routine, and then collect your results consistently over the coming days, weeks, months and years. Taylor is a good example of that:
With weightlifting and nutrition handled though, these supplements will help you transform yourself much faster. This protocol is backed up by well established research, I used it to gain over 50 pounds myself, and it's part of what allows our members to consistently gain 20+ pounds within just a few months of joining us.
Simple Calories > Fancy Ingredients
Us skinny guys need to be eating more calories than we want to. I don't know about you, but that's hardest part of building muscle for me. Not the lifting, but the eating. We don't want a supplement protocol that's just a bunch of vitamins, we want one that contains a hell of a lot of calories. But we also don't want to get fat, so we need to focus on consuming the right kinds of calories during the right circumstances.
In this study, guys who added whey protein and maltodextrin into their diet gained an extra 7.5 pounds of muscle over the course of 8 weeks while simultaneously losing fat.
Now I want to be clear here. Workout nutrition is overhyped. Nothing trumps overall calorie and protein intake. You'll build muscle whether you take this drink first thing in the morning, while training, or even right before bed—gasp—so long as you have a good lifting program. That's because the calorie, carb and protein content of the workout drink supersedes the timing of it (study, study, study).
We do recommend that you take it while training, though. Why? Because insulin sensitivity in your muscle cells will be heightened after training, meaning that your body will use the nutrients to construct muscle mass instead of storing them as fat (study).
And the fact that you'll be consuming these supplements in liquid form makes this combo even better for us ectomorphs. Because liquid calories aren't very filling, they subconsciously cause us to consume more calories (study, study). Downing 1,000+ liquid calories while lifting is a total breeze, and it will make hitting your daily calorie goals much more achievable.
Okay so maybe downing the workout shake isn't a total breeze. For us naturally skinny guys, this is the Buckley's of workout nutrition. It's a gruesome drink, but it works!
I know we're making pretty large claims, and you might not know us yet. So who do you call when you need to analyze muscle-building nutrition research? Alan Aragon, of course. He's one of the best sports nutrition researchers out there, he's got a masters degree in nutrition, and he's handled the nutrition of a pretty fearsome roster of athletes: Olympians, the Lakers, pro bodybuilders, fitness models, etc.
So I sent him the study and asked him for his thoughts on our supplement protocol. He thought that the premise made sense, but he wasn't familiar with the study we were basing it on. He was a little dubious and a lot intrigued, so he wanted to take the time to fully review it. He did. He posted a review and breakdown of the study in the December 2012 edition of his monthly research review.
According to Alan Aragon, it checked out. He concluded that the study was properly conducted and that the trainees really did gain tons of muscle while losing a bit of fat. Let me add, as he did, that gains this incredibly rapid are only possible in guys who are still fairly new to building muscle. Perfectly relevant for guys who are still relatively skinny, but if you've already built a ton of muscle, you can expect your gains to be a fair bit slower.
And what about chugging tons of liquid calories to finally overcome our ectomorph appetites (or lack thereof) and build muscle?
"I highly agree with you that the liquid meal can boil down to an appetite & compliance thing rather than a timing thing. No objections there at all. There are plenty of athletes whose energy demands benefit from liquid/refined nutrition, and they don't necessarily fit the endurance athlete mold." – Alan Aragon
Perfect.
Plus this stuff is cheap. It's even cheap compared to regular boring old food.
If there were fancier supplements out there that worked better than these, we'd tell you about them. There aren't.
We've done our best to find brands with a good reputation for being honest and reasonably priced. If you like our content and you want to support this website, you can purchase the supplements using the links, earning us a 4% commission. No extra cost to you (and these supplements didn't pay us to write this article or anything, we're just using Amazon.) If you don't want to support us, you can just get them without using the links.
Oh, and, of course, consult your doctor before beginning any supplement protocol that you find on the internet 😉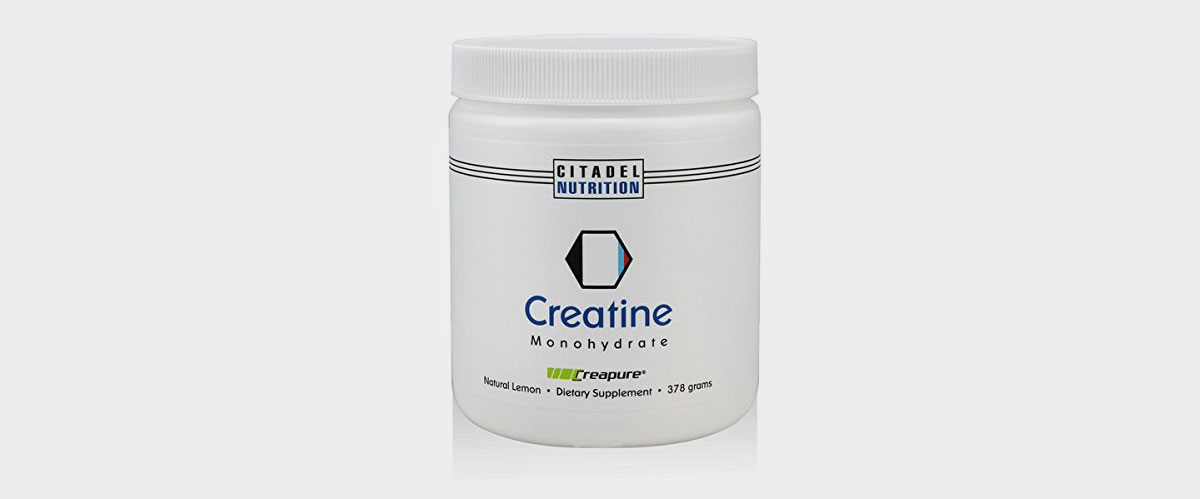 Creatine is by far the most powerful, legal muscle-building supplement for ectomorphs (study). It actually works pretty well for everyone, though. Your overweight friend and your mother would probably benefit from it as well.
More muscle. Studies unanimously show that it builds remarkable amounts of muscle and strength (study, study, study, study). Secretly mixing creatine into a trainee's coffee in the morning significantly improves his muscle gains? Pretty fearsome.
For example, this study found that guys who began weightlifting and taking a post-workout carbohydrate shake gained 6 pounds of muscle over the course of eight weeks. A separate group of guys who had creatine secretly mixed into the carb shake gained 9 pounds of muscle. That's a 50% improvement in muscle mass due to creatine. (And the post-workout carb shake that allowed guys to gain 6 pounds of muscle in 8 weeks? That's up next.)
Less fat. You'll also gain less fat because creatine improves insulin sensitivity in your muscle cells. More insulin sensitivity in your muscle cells means that more of the calories you eat are used for muscle growth instead of fat storage.
Many studies are conducted on overweight people with poor insulin sensitivity, so as a skinny guy these findings always need to be taken with a grain of salt. However, creatine was found to improve insulin sensitivity even in those with decent insulin sensitivity to begin with (like most of us skinny guys.)
Safety and health: Of all the muscle-building supplements out there, creatine is by far the safest. After decades of rigorous testing, researchers haven't found a single harmful side effect (study, study, study). In fact, they were surprised to find several beneficial side effects. Creatine is now being researched as a way to prevent depression, prevent Alzheimers, improve mood, etc. It may soon be known as a general health supplement.
The only reported negative side effect is that some people get stomach discomfort after consuming it. The stomach discomfort isn't harmful, it's just due to mild dehydration. Creatine will pull fluid into your muscles, so you may need to drink a little bit of extra water.
How does it work? Creatine helps your body replenish ATP, which increases anaerobic power—the type of power you need to lift weights. Being able to lift more weight increases the mechanical tension you're placing on your muscles, leading to greater muscle stimulation and a more anabolic hormonal response. It also improves muscle protein synthesis and glycogen storage. This means that not only will you build more muscle via your training, you'll also get more muscle out of the food that you're eating.
You also don't need to get fancy with how you take it, as you may have heard. Mix it into your tea, coffee, water—whatever.
Some guys joke that creatine supports the entire muscle-building supplement industry, and that isn't too far from the truth. When you start reading ingredient labels, you'll be amazed at how many supplements have a few grams of creatine tucked away into every serving. How many supplements out there would still produce results if you yanked the creatine out of them? Not many. Not many at all.
Think of most supplements like mix drinks. There are a lot of cool colours, flavours and ingredients, but the whole point of them is the alcohol. Creatine is the alcohol. We aren't really fans of mix drinks, so we're recommending that you instead focus on getting the highest quality creatine that you can find.
Keep in mind that we're looking for the highest quality creatine, not the most expensive. The best type of creatine, creatine monohydrate, is actually fairly classic and very reasonably priced. The best manufacturer, CreaPure, is the same. It's an old company that produces good creatine at a good price. They sell their creatine to many of the best supplement brands, such as Citadel Nutrition.
Click here to check out the creatine brand we recommend
*Creatine is synthesized in a lab so it's safe for vegetarians and vegans too.
**If you're a vegan, you'll be more likely to have a deficiency in creatine, making supplementation even more beneficial. (study)
***Creatine raises a masculinizing hormone called dihydrotestosterone (DHT), which is normally a good thing. However, lowering DHT has been shown to slow down balding in those with male pattern baldness. Following that line of logic, it's theoretically possible that if you are already balding that creatine could speed up that process by raising your DHT. This is not proven, just theoretical, but something to keep in mind. If you aren't already balding, though, no problem.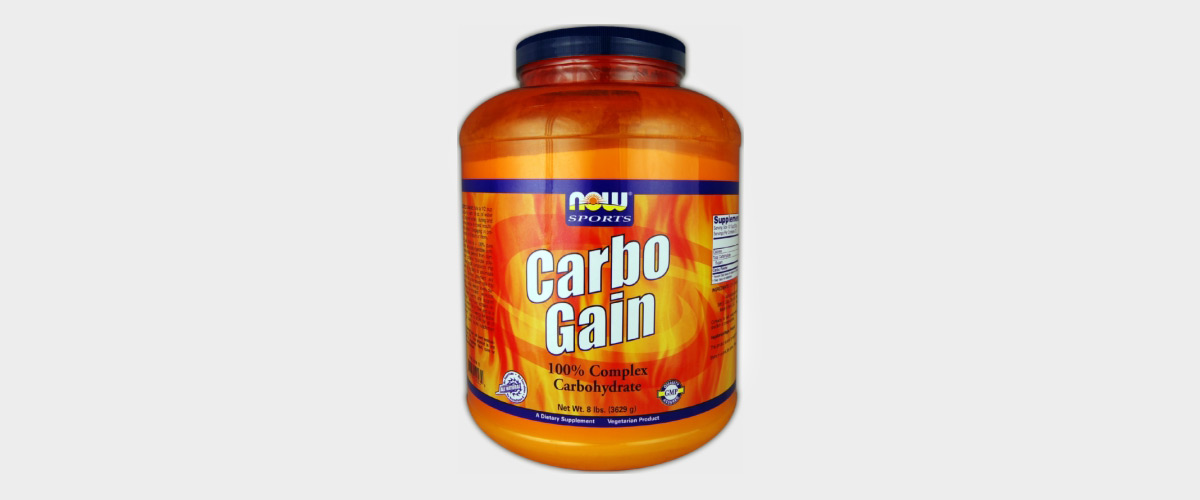 Most expensive weight gainers are packed full of dextrose or maltodextrin, but it's actually a little alarming how cheap these supplements can be when you buy them separately. Given how cheap they are, you'd almost think you were buying a tub of flour… and you'd be correct!
The supplement that we're recommending is maltodextrin, which is a glucose polymer. It's a starch made up of many glucose units bound together, like flour, rice and potatoes. Unlike flour, rice and potatoes though, it can be consumed in liquid form. This makes it easier to consume in large quantities without your stomach feeling like it's going to explode. It's also very low in fibre, so it's easy on the appetite and will clear out of your stomach relatively quickly.
That study in the creatine section is said to have produced "some of the highest non-steroidal increases in lean mass" ever seen even in the placebo group. While the study was technically studying creatine, even the study participants who just had the "placebo" carb drink gained 6 pounds of lean muscle in 8 weeks. (The training program was also very well designed.)
"But Shane, won't consuming all these refined carbohydrates make me fat?!"
No. This is actually a pretty good way to minimize your chances of getting fat. Lifting raises the insulin sensitivity in your muscle cells, especially right after your workout, meaning that surplus calories consumed within a couple hours of training are more likely to be stored as muscle than fat. Another key factor is that pure carbs aren't very easily stored as fat. The final factor is that consuming protein, carbs and calories after your workout is very anabolic, meaning that your body will be more inclined than ever to invest all of those calories into muscle gains. (The protein part is up next.)
To make absolutely sure of this, we consulted the most respected researcher in this field,  Dr. James Krieger, who responded, "post-workout carbohydrates shouldn't cause you any trouble in the long-run as you are extremely insulin sensitive after training. As long as you maintain a good diet, good activity, keep your body fat low, and your fasting blood sugar remains normal, then you should be fine."
Essentially, what this means is that so long as we're naturally skinny guys who are following a good muscle-building program, this is perfect for us.
Click here to check out the maltodextrin brand we recommend
We picked this brand because it's pure and affordable. It has one and only one ingredient—maltodextrin.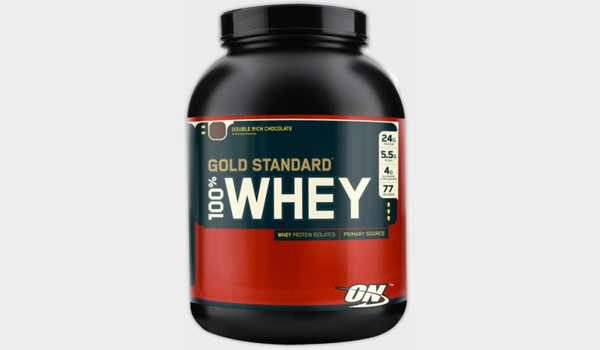 Whey protein is the more easily digested protein found in milk. Unlike many other supplements, the processing of whey is fairly minimal, allowing it to retain many vitamins and minerals as well as being a great source of protein. Many nutritionists and dieticians consider it a whole food, as they would with other minimally processed dairy products, like cheese and yoghurt. Because it's high protein content, though, whey protein powder is most similar to a chicken breast. A chicken breast would taste pretty funky blended up into a fruit smoothie though, so sometimes whey is preferable.
Our muscle fibres are constructed out of the protein we eat, so a shortage of protein will severely limit the amount of muscle we can build. Since most of us ectomorphic guys aren't consuming enough protein to optimally build muscle, adding more protein into your diet may improve the rate that you can build muscle (study, study). Whether you choose to eat more chicken, greek yoghurt, whey or pumpkin seeds is up to you, though. All will work.
However, whey does have some tricks up its sleeve!
Whey is the best type of protein to take before, during and after a workout because it digests quickly and contains a very anabolic blend of amino acids (study, study). If you really want to kick things up a notch, it works even better at stimulating muscle growth when combined with a carb source like maltodextrin (study). This is why most commercial weight gainers will combine these two ingredients.
Whey has some other advantages that make it great for us ectomorphs, too: it's calorically dense, it's easy on the appetite, it's extremely quick to prepare and consume, and it's fairly cheap in large quantities.
Click here to check out the whey protein brand we recommend
An interesting (indie) study recently looked into many of the popular brands of whey protein. The study got a lot of attention because of how controversial it was – a lot of popular brands were making false claims. This brand (Optimum Nutrition) wasn't, and was thus ranked the highest.
*If you want a non-workout protein powder to take along with meals use this casein protein, but keep in mind it presents no advantage over real food. It's handy and affordable though if you're not much one for cooking.
**If you don't handle whey protein well (allergies) or you're avoiding it for moral reasons (e.g. you're a vegan) then you can go with rice+pea protein, or another blend of plant-based protein sources. (The amino acid profile in individual plant-based sources isn't complete, so blends are ideal.) SunWarrior is pretty fantastic both from a quality standpoint and from a taste standpoint. I use it sometimes and I'm not even a vegan.
THE SUPPLEMENT PROTOCOL FOR ECTOMORPHS
Daily Creatine: Take 5 grams every day. Sprinkle it on your cereal, put it in your coffee/tea, mix it with water—whatever you like. On workout days you'll be putting it right in your workout drink.
With 5 grams per day, it will take around a month for your creatine levels to rise to max levels. To cut that loading period down to a week, you could take four 5-gram doses each day during the first week. However, it's unclear whether there's a muscle-building advantage to loading up quickly like that.
Training drink: 30-90 grams Whey + 60-180 grams maltodextrin + 5 grams creatine. The smaller dose will create a perfect hormonal response and fully take care of all of the nutrient timing benefits (study). The larger dose would be ideal if you struggle to eat enough to gain weight because it contains far more calories, all in liquid form, all easily digested.
You'd want to have this shake within 1-2 hours of training for optimal results (study, study). There are even nutrient timing benefits to taking the creatine surrounding your workouts (study, study). Personally, I start sipping on it as I warm up and I chug whatever's left when I finish my workout.  It tastes pretty unappealing (think liquid cake), but nothing will guarantee muscle growth like consuming tons of the right kinds of calories at the most crucial muscle-building moment.
For most of us skinny guys, this is the magic formula we've been missing. It gives us everything we need to build muscle quickly and leanly while also allowing us to consume more calories more easily. With a good workout program, soon you'll be (falsely) accused of rampant steroid abuse and/or participating in a top secret military experiment.
Summary
If you use our links to buy the supplements, thank you! We appreciate it. If you don't, that's cool too. The supplements will work just as well wherever you find them. Here they are all in a row:
Creatine for the improved rate of muscle growth.
Maltodextrin for the extra calories and appetite manipulation.
Whey to provide the raw building materials for muscle growth (and also for calories).
And once again, if you aren't already getting results, don't spend any money on supplements. They aren't magic. They won't help. I know we have a bias here because we have a lifting and diet program for skinny guys who want to bulk up, but think of supplements like a multiplier. If you build zero pounds of muscle and increase your results by 50%… you've still built zero pounds of muscle. If you're gaining a pound of muscle every week and you add in that same 50% increase though, you're now gaining 1.5 pounds of muscle every week. As an ectomorph who's tired of being skinny, that may be worth your hard earned money. Or it might not be, because, see, either way you'll end up a beast!
Questions? Ask 'em in the comments!
Edit—Common Question: What's the best pre-workout supplement?
The idea of a pre-workout supplement isn't to give you the calories and macronutrients to build muscle, nor to accelerate your body's ability to build muscle. This is why we left it off the list. That doesn't mean that they're ineffective though. By giving you the energy you need to get to the gym and finish your workout, these supplements can indirectly lead to better muscle growth.
There are a lot of pre-workout supplements on the market. Most of them are "proprietary blends" of poorly tested ingredients in doses that are too small to be effective. However, the fact that these experimental stimulants are in too-small doses is usually a good thing, because many of these stimulants haven't yet been proven safe.
There are really only a couple ingredients you need to pay attention to:
Caffeine. The king of physical performance boosters. It increases endurance, improves high intensity training performance and reduces fatigue. You want about 3-5mg per kg in order to optimally boost physical performance (study). A 150-pound man would want something like 272mg.
Actually that's pretty much it. Caffeine is quite safe, very well studied and extremely effective.
Since caffeine is really all you need, and since you need a very specific dose to get the promised effect, there's really only one amazing pre-workout supplement on the market as far as we know: Citadel Nutrition's Tier One.

It has 5 grams of creatine from Creapure, 3.2 grams of beta-alanine from Carnosyn, and 150-200mg of caffeine. Pretty simple, pretty effective.