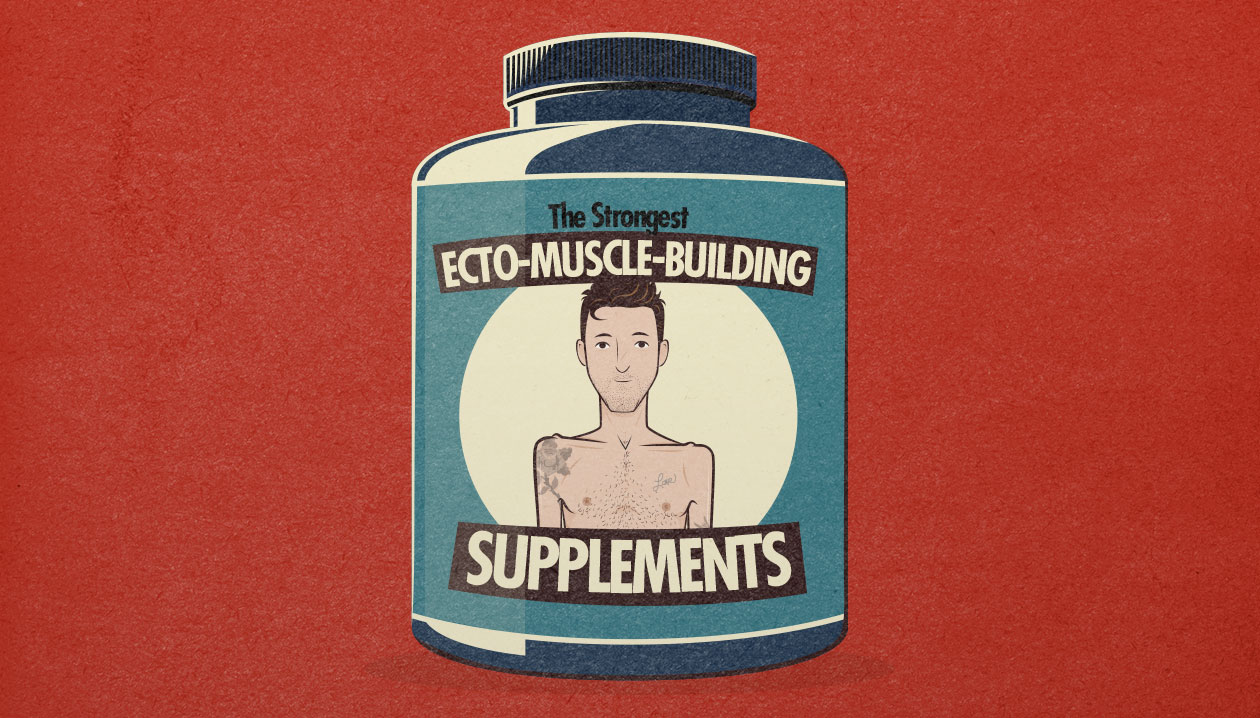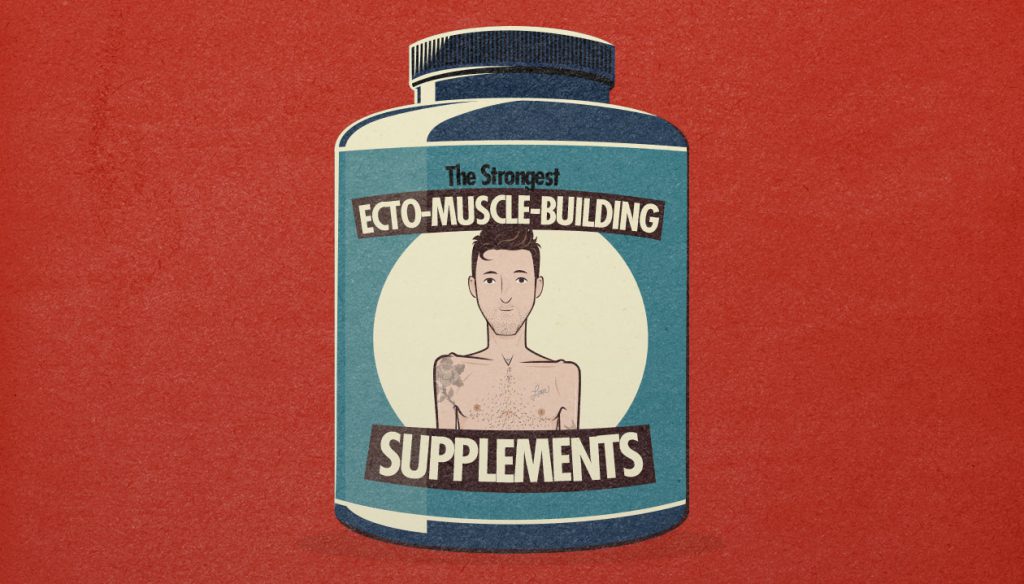 The Best Bulking Supplements for Ectomorphs
Over 5,000 shares and 500 comments later, here's our revised supplement guide for skinny guys who are trying to gain muscle leanly. We'll go over the very best supplements, recommend supplement brands that have good reputations, discuss creatine and other supplements that are proven to increase muscle growth, and we'll go over the pros and cons of bulking-specific supplements such as weight gainers.
To do this, we need to evaluate the research—all of the research. It's easy to claim that a supplement is effective by showcasing results from a single study, but when we zoom out and look at the entire body of evidence, only a few supplements remain standing. This article takes into account every single study about a given supplement, favouring systemic reviews and meta-analyses over the latest (and often controversial) research.
In addition to leveraging science, we've also been in the trenches with this. I've personally used these supplements to gain 55 pounds at 10–11% body fat, and we've recommended them to nearly 10,000 members of the Bony to Beastly Bulking Program, as well as the 500,000 people who have read this article.
On that note, these supplements didn't make the cut but are still worth a mention:
Citrulline Malate: good. This is the best "pump" supplement on the market right now, and is starting to get some good research behind it. When digested, it converts into arginine, which turns into nitric oxide, which allows you to get a fearsome pump. The pump improves the health of your blood vessels and increases protein synthesis. This isn't quite a top-tier supplement, but it's a good one.
Beta-alanine: good. Beta-alanine supplements are proving to be quite effective. They're not quite top tier yet, but for ectomorphs eager to experiment with new supplements, this is another solid choice. The ideal dosage seems to be around 3–5 grams per day at any time (similar to creatine). Be warned, though—it can make your skin tingle (paresthesia). Harmless, but strange.
Ashwagandha: decent. Last year a study came out showing that ashwagandha can increase testosterone production, reduce cortisol production, increase strength, limit fat storage, and accelerate the pace that your body can build muscle. To give you an idea of the magnitude of these effects, the study found a 15% greater increase in testosterone and a 44 pound greater increase in bench press strength when compared to the placebo group over the course of 8 weeks. If more robust evidence comes out to back up these findings, ashwagandha could be a good supplement for bulking ectomorphs.
Vitamin D: decent. Vitamin D supplements can increase testosterone output if you're deficient in vitamin D,

and most people are

.  However, unlike steroids, it won't boost your testosterone production outside of normal ranges. For guys who don't get enough sun, though, this can bring their muscle-building potential back to baseline.
Fish oil: okay. Another study has come out showing that fish oil supplementation can slightly improve weightlifting performance (study). There are others showing that it can allow you to build muscle more leanly. However, these effects are quite weak compared to the core muscle-building supplements.
Ecdysterone and ecdysteroids: interesting. This new study found that a spinach extract containing small amounts of ecdysterone caused the study participants to gain quite a bit of extra muscle mass and strength. However, this is just a single small study, it was hardly conclusive, and it's still far too soon to tell whether ecdysterone could be a good bulking supplement.
HMB: ignore for now. HMB performed very well in a couple recent studies, getting participants steroid-like gains. However, since HMB is found within protein sources, it's generally better just to optimize your protein intake. Focusing on protein instead of HMB will allow you to build muscle more quickly.
Nitrates: ignore for now. The nitrates found in beets and leafy greens are incredibly for your health, muscle soreness and even your lifting performance… but there's no need to supplement with nitrate supplements. In fact, if you want the benefits of eating more vegetables without needing to eat more vegetables, we recommend Athletic Greens instead. 
Collagen powder: ignore for now. A new study just came out showing that collagen powder can be effective for building muscle in old people with sarcopenia (age-related muscle loss). However, as with HMB, collagen is found within regular protein sources. You'll build muscle far better if you just focus on your protein intake.
Arginine: use citrulline Malate instead. Arginine is a popular supplement that cannot be digested properly, and thus doesn't work. Citrulline malate

can

be digested properly, successfully producing the intended effect (a bigger pump and accelerated muscle growth).
Baking powder: use beta-alanine instead. Baking powder mimics the effects of beta-alanine, making it an effective pre-workout supplement… kind of. Not only will it make you feel incredibly sick and dehydrated, a single dose contains 4x your recommended daily sodium intake.
With that handled, let's move on to the very best weight-gain and muscle-building supplements. All of these have proven to be incredibly effective, with hundreds of studies backing them up.
Ectomorphs need totally different supplements
Our goal is literally the opposite of the average person. They want to lose weight, we want to gain it. This means that we're using a different set of criteria to evaluate the effectiveness of our supplements. More calories? Good. More weight gain? Good. Does it increase appetite? Perfect.
For example, consider branched chain amino acids (BCAAs). BCAAs are an incredibly popular ingredient in muscle-building supplement cocktails. However, BCAAs are simply a calorie-light version of protein powder. A standard serving of whey protein powder contains the exact same nutrients as a standard scoop of BCAAs. The difference is that the whey protein also contains a ton of other amino acids and nutrients, making it far higher in calories.
If someone is looking for a low-calorie alternative to protein powder, BCAAs are a good choice. However, as hardgainers, we're desperately trying to eat more calories so that we can gain weight. And we don't just want the three branched-chain amino acids, we want all of the amino acids. After all, the more amino acids there are in a protein source, the better it will be for building muscle (study).
This means that whey protein is far better for our goals. It's cheaper, it's healthier, it has the ideal blend of all the amino acids, and it has more calories. We can even take this line of thinking one step further. When it comes to whey protein, whey protein isolates are usually considered the gold standard because they're a purer source of protein—more of the carbs are processed out. Whey protein concentrates, on the other hand, use a less refined type of processing that leaves more of the carbs and nutrients mixed in with the protein—it's a higher-calorie and more nutrient-dense alternative, which is great for us.
This is all to say that when looking at supplements, we need to keep our specific goal in mind: we need bulking supplements.
Do ectomorphs need supplements?
The short answer is no, you don't need supplements to build muscle. You don't even need supplements in order to build muscle quickly. You can build plenty of muscle simply by following a good lifting program, eating enough protein, eating enough calories, and getting plenty of good sleep.
Furthermore, without those getting fundamentals down, supplements are a waste of money. After all, even if you find a supplement that can boost your results by 50%, an extra 50% of nothing is still nothing.
If you're a beginner trying to build muscle, you can probably expect to gain 1–2 pounds of muscle during your first few weeks of lifting, and then around a pound per week for the next few months, netting you 20–30 pounds of muscle growth. You can do this with or without supplements.
If you aren't lifting weights yet, I recommend getting a good bulking program and starting with that. You might even like our Bony to Beastly Bulking Program. Even without any supplements whatsoever, we guarantee that you can gain 20–30 pounds during the 5-month program: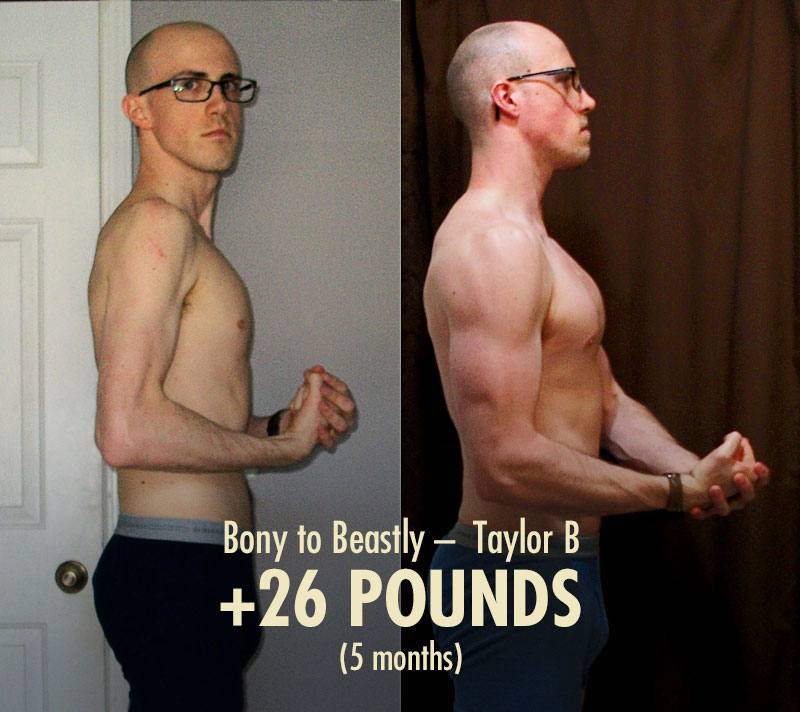 If you already know the fundamentals of building muscle, though, supplements can help you do a few things:
Supplements can make a bulking routine easier. For example, protein powder makes it easier to eat enough protein. Mix it with some water and you're done. Protein powder also has the advantage of not being very filling, making it easier to eat enough calories.
Supplements can speed up the rate that you build muscle. For example, creatine will allow you to build muscle more quickly, meaning that you might able to gain your first twenty pounds of muscle in fifteen weeks instead of twenty.
Supplements can help keep your gains leaner. For example, by speeding up the rate that you can build muscle, creatine can also help you stay leaner. If more of the extra calories you're eating are being invested in muscle, there are fewer left over to be stored as fat.
Supplements can improve consistency. For example, caffeine can help reduce fatigue, making it easier to hit the gym consistently. Caffeine is also addictive (which is both good and bad), so if you get in the habit of having it before lifting, you might become addicted to your lifting routine.
None of these things are essential, but they might make supplements worthwhile for you.
Simple calories outperform fancy ingredients
I don't know about you, but the hardest part about building muscle for me is eating enough. Not the lifting, but the eating. My stomach is tiny, my appetite is meagre, and my metabolism is huge. This has a couple implications.
First, if we're eating more food, and if that extra food contains nutrients, then we're eating more nutrients. This means that we don't necessarily need to worry about supplementing with vitamins, minerals, and phytonutrients. We also don't need to worry about all of the foods that we're eating being a super rich source of micronutrients. If we're eating more food, we're already getting more of that stuff. This gives us more flexibility in our diets.
Second, we want to prioritize supplements that help us get into a calorie surplus. A supplement like whey protein is rich in calories and easier to eat than most other forms of protein, making it a great supplement for gaining weight. This is even true of carbohydrate powders. In this study, guys who added whey protein and maltodextrin into their diet gained an extra 7.5 pounds of muscle over the course of 8 weeks while simultaneously losing fat.
We can make your gains even leaner. Insulin sensitivity in your muscle cells will be heightened after lifting, meaning that your body will use these nutrients to construct muscle mass instead of storing them as fat (study). We recommend doing hearty full-body workouts to make all of your muscles insulin sensitive, not just some of them. You'll need to eat a little bit more protein, but it will also allow you to build muscle more quickly and leanly.
Now I want to be clear here: what you eat is more important than when you eat. You'll get far further focusing on following a good lifting program, eating enough calories to gain a pound per week, and eating enough protein to make sure you aren't limiting muscle growth. This combination of carbs and maltodextrin is so effective because of the calorie content, high protein content, and high carb content. Having it right after your workout just maximizes the benefits and minimizes the downsides (study, study, study).
This shake is an ectomorph appetite hack. You'll be drinking the calories, they're all quickly digestible, and they won't take up much room in your stomach (study, study). This makes downing 1,000+ post-workout calories totally realistic no matter how small your stomach is, and you'll still be ready for your next meal.
We know we're making fairly extravagant claims, and so we knew it was important to double-check our research. So we reached out to the best muscle-building nutrition researcher: Alan Aragon. He runs the most respected research review, and he's the author of the most influential meta-analysis on workout nutrition (study). He's also been the nutritionist for Olympians, professional bodybuilders, and the Los Angeles Lakers.
So we asked Alan Aragon for his opinion on our supplement protocol. He was intrigued enough that he posted a full breakdown of the study in the December 2012 edition of his research review. He concluded that the study was properly conducted, and that this research was perfectly relevant for guys who are skinny and struggling to gain weight. Perfect.
We can boost muscle growth even further. We're getting ahead of ourselves a little bit, but there is one supplement that doesn't contain calories but can still boost muscle growth by as much as 50%—especially when gaining your first 20 or so pounds. We can add this to the shake.
This supplement protocol is cheap. It's even cheap compared to buying chicken and rice at the grocery store. If there were fancier supplements out there that worked better than these, we'd tell you about them. There aren't.
Okay, now onto the specific ingredients so that you can make your own workout shake. We've done our best to find brands with a good reputation for being honest and reasonably priced. If you like our content and you want to help support this website, you can purchase the supplements using the links, earning us a 4% commission. If you don't want to support us, you can just get them without using the links.
Oh, and, of course, consult your doctor before beginning any supplement protocol that you find on the internet 😉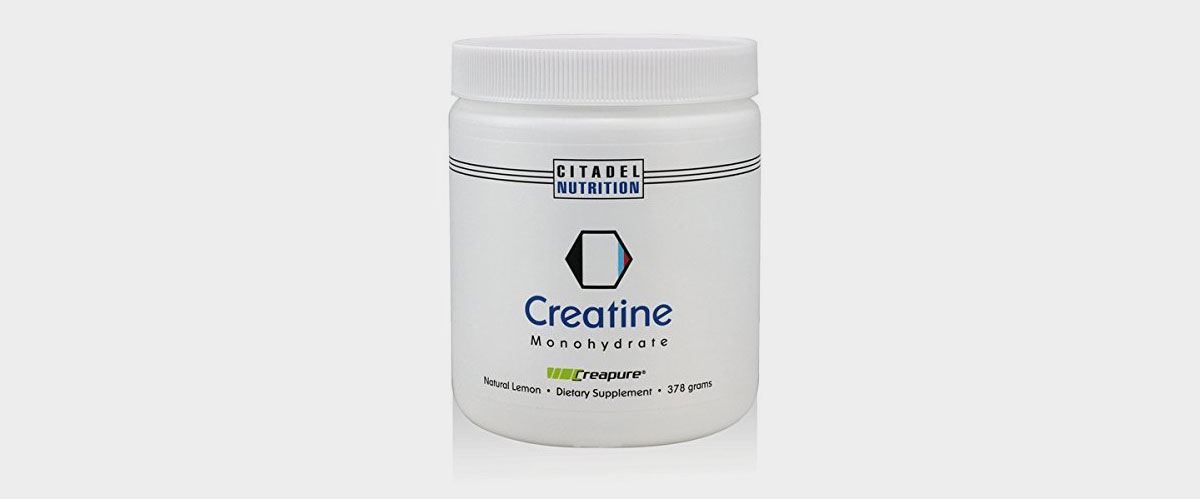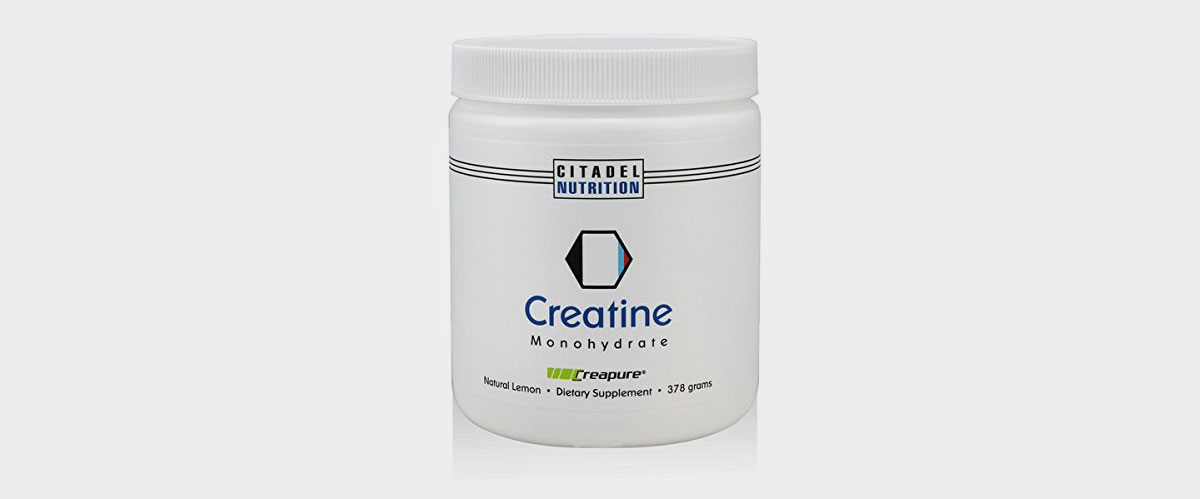 Creatine is by far the most powerful, legal muscle-building supplement for ectomorphs (study). Studies unanimously show that it builds remarkable amounts of muscle and strength (study, study, study, study). Secretly mixing a little creatine into a guy's morning coffee will make him significantly stronger and more muscular.
And after decades of rigorous testing, researchers haven't found a single harmful side effect (study, study, study). The only thing to watch out for is that you drink enough water. Creatine will pull fluid into your muscles, so you may need to drink a little bit of extra water. (If you don't, you might get a stomach ache.)
How does Creatine work? Creatine helps your body replenish ATP, which increases anaerobic power—the type of power you need to lift weights. Being able to lift more weight increases the mechanical tension you're placing on your muscles, leading to greater muscle stimulation and a more anabolic hormonal response. It also improves muscle protein synthesis and glycogen storage. This means that not only will you build more muscle via your training, you'll also get more muscle out of the food that you're eating.
Exactly how much extra muscle will you build? It's hard to be precise, but we can look at the relevant studies to get an idea. this study found that guys who began weightlifting and taking a post-workout carbohydrate shake gained 6 pounds of muscle over the course of eight weeks. A separate group of guys who had creatine secretly mixed into the carb shake gained 9 pounds of muscle. That's a 50% improvement in muscle mass due to creatine. (And the post-workout carb shake that allowed guys to gain 6 pounds of muscle in 8 weeks? That's up next.)
You'll also gain more leanly. Creatine will help you gain muscle more leanly because it improves insulin sensitivity in your muscle cells. More insulin sensitivity in your muscle cells means that more of the calories you eat are used to build muscle instead of being stored as fat.
Most of us ectomorphs naturally have good insulin sensitivity, but the research shows that it will just further enhance our natural advantage.
Click here to check out the creatine brand we recommend
Keep in mind that we're looking for the highest quality creatine, not the most expensive. The best type of creatine (monohydrate) is actually fairly reasonably priced.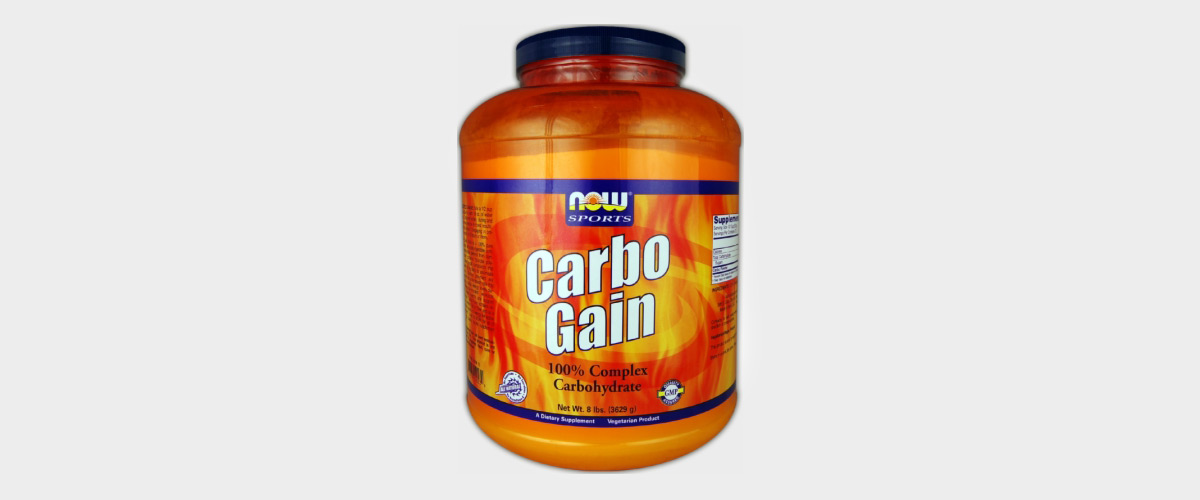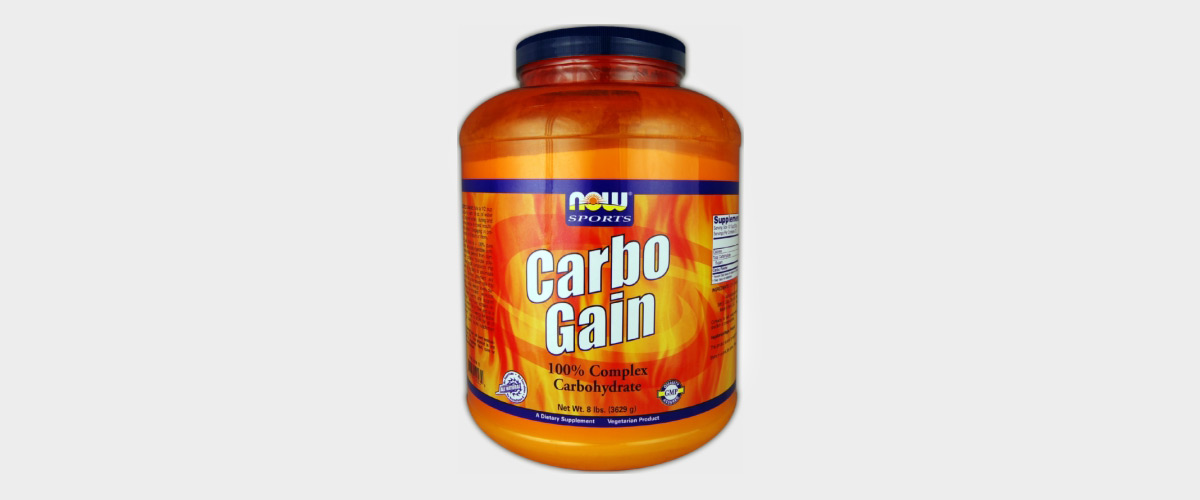 What is maltodextrin? Most expensive weight gainer supplements are packed full of maltodextrin, so it's actually a little alarming how cheap it can be when you buy it separately. Given how cheap it is, you'd almost think you were buying a tub of flour…
…and you'd be correct! The only significant difference between maltodextrin (corn powder) and flour (grain powder), is that maltodextrin is safe and easily digested when mixed into a protein shake, whereas flour must be cooked first. This makes it easier to consume in large quantities without your stomach feeling like it's going to explode. It's also very low in fibre, allowing it be digested very quickly and easily.
That study in the creatine section is said to have produced the highest non-steroidal increases in lean mass ever seen in the placebo group. The study was technically studying creatine, so the researchers were surprised when the placebo group, who was just getting corn powder, saw a massive increase in muscle mass, gaining 6 pounds of lean muscle in just 8 weeks. (Part of this is due the participants being put on a fairly good lifting program.)
Will consuming refined carbohydrates make you fat? If you were the average man, yes, because the average man is overweight, has impaired insulin sensitivity, and is struggling to control his massive appetite. However, as an ectomorph who's lifting weights and trying to build muscle, this is actually a pretty good way to minimize your chances of getting fat.
Lifting raises the insulin sensitivity in your muscle cells, especially in the two hours following your last workout, and especially if you're doing full body workouts. This means that any surplus calories consumed within a couple hours of an effective workout are more likely to be stored as muscle than fat.
Another key factor is that pure carbs aren't very easily stored as fat. Your body can convert carbs into body fat, but it needs to go through a costly conversion process, and most of the energy is lost as heat. Now, most people eat meals containing a combination of fat and carbs, which means that a meal that's high in carbs will just cause more of the fat calories to be stored. This is why the average guy can get fat while eating a higher-carb diet. And it's why we're recommending that your workout shake be exclusively carbs and protein—no fat. (You can go back to eating a balanced diet in every other meal, where we won't be boosting your calorie intake as high.)
The final factor is that consuming protein, carbs and calories after your workout is highly anabolic, meaning that your body will be more inclined than ever to invest all of those calories into muscle gains. (The protein part is up next.)
To make absolutely sure of this, we consulted the most respected researcher in this field,  Dr. James Krieger, who responded, "post-workout carbohydrates shouldn't cause you any trouble in the long run as you are extremely insulin sensitive after training. As long as you maintain a good diet, good activity, keep your body fat low, and your fasting blood sugar remains normal, then you should be fine."
Essentially, what this means is that so long as we're naturally skinny guys who are following a good muscle-building program, this is perfect for us.
Click here to check out the maltodextrin brand we recommend
We picked this brand because it's pure, incredibly affordable, and has only one ingredient: maltodextrin.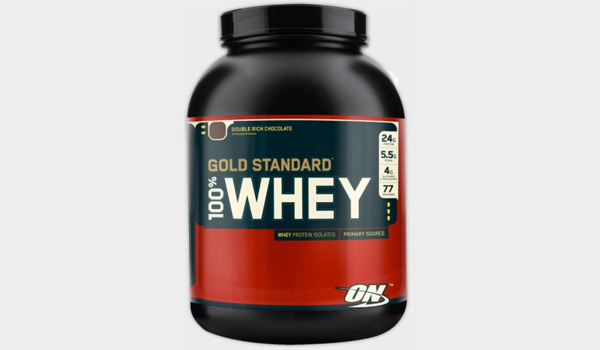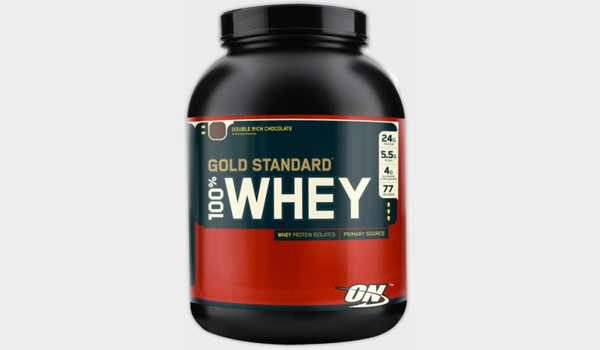 Why is protein so important? Our muscle fibres are constructed out of the protein we eat, so a shortage of protein will severely limit the amount of muscle we can build. Since most of us ectomorphic guys aren't consuming enough protein to optimally build muscle, adding more protein into your diet may significantly improve the rate that you can build muscle (study, study). Whether you choose to eat more chicken, greek yoghurt, whey or pumpkin seeds is up to you, though. All will work.
How much protein do you need to build muscle at full speed? That depends on your lifestyle and your goals. Maintaining a muscular physique doesn't require that much protein, and living a sedentary lifestyle requires even less. But if you're trying to build muscle as quickly as possible, you need roughly 1 gram of protein per pound bodyweight per day. Less than that, and you'll be building muscle at a reduced pace. More than that, and it won't have any added benefit (but won't be harmful either).
What is whey protein? Whey is an easily digested protein found in milk. It's processed fairly minimally, allowing it to retain many vitamins and minerals. Many nutritionists and dieticians consider it a whole food, as they would with other minimally processed dairy products, like cheese and yoghurt. Because of it's high protein content, though, whey protein powder is nutritionally more similar to a chicken breast.
Why is whey protein the best type of protein powder? Whey digests very quickly and efficiently, and it contains the perfect blend of amino acids for building muscle. To be more specific, Dr Norton's research proved that leucine is the amino acid that triggers muscle growth, and a single serving of whey protein contains enough leucine to maximally trigger muscle growth. This means that whey protein provides all the benefits of BCAA supplements and HMB, all for a fraction of the price, and while containing several times as many calories, vitamins and minerals.
Because of how effectively whey protein stimulates muscle growth, and because of how efficiently digested it is, it's the best type of protein to take before, during and after a workout (study, study). This is even more important when doing full body workouts, as you'll be stimulating growth in all of your muscle fibres at once.
Then, if you really want to kick things up a notch, you can combine whey protein with an efficiently digested high-calorie carb source, such as maltodextrin (study). This is why most commercial weight gainers will combine these two ingredients. (However, we don't recommend commercial weight gainers. They contain too many filler ingredients that can impede digestion, and the ratio of whey-to-maltodextrin is too low.)
Whey is also especially well-suited for us ectomorphs: it's calorically dense, it's easy on the appetite, it's extremely quick to prepare and consume, it's fairly affordable per gram of protein, and it tastes better in smoothies than fish and chicken. So if you're struggling to gain weight, a tub of whey can go a long way.
Click here to check out the whey protein brand we recommend
An interesting (indie) study looked into the top brands of whey protein. The study went viral because it showed that a lot of popular brands were making false claims. Optimum Nutrition, the brand linked above, was found to be the best.
Soy protein is the best non-dairy protein powder, great for people with dairy allergies or who want to eat a plant-based diet.
THE SUPPLEMENT PROTOCOL FOR ECTOMORPHS
Daily Creatine: Take 5 grams every day. Sprinkle it on your cereal, put it in your coffee/tea, mix it with water—whatever you like. On workout days you'll be putting it right in your workout shake.
With 5 grams per day, it will take around a month for your creatine levels to rise to max levels. To cut that loading period down to a week, you could take four 5-gram doses each day during the first week. However, it's unclear whether there's a muscle-building advantage to loading up quickly like that, and the risk of becoming dehydrated goes up. So we recommend taking 5 grams every day instead.
Training drink: 30-90 grams of Whey + 60-180 grams of maltodextrin + 5 grams of creatine. The smaller dose will create a perfect hormonal response and fully take care of all of the nutrient timing benefits (study). The larger dose would be ideal if you're really struggling to gain weight, as it's more of a "weight gainer" supplement at that point, although far more effective than most pre-made gainers.
You'd want to have this shake within 1-2 hours of training for optimal results (study, study, study, study). Personally, I start sipping on it as I begin my workout, and I chug whatever's left when I finish my workout.  It tastes pretty… unappealing (think liquid cake), but nothing will guarantee muscle growth like consuming tons of the right kinds of calories at the most crucial muscle-building moment.
For most of us skinny guys, this is the magic weight-gain formula we've been missing. It gives us everything we need to build muscle quickly and leanly while also allowing us to consume more calories more easily. With a good workout program, you'll soon be (falsely) accused of rampant steroid abuse and/or participating in a top secret military experiment.
Summary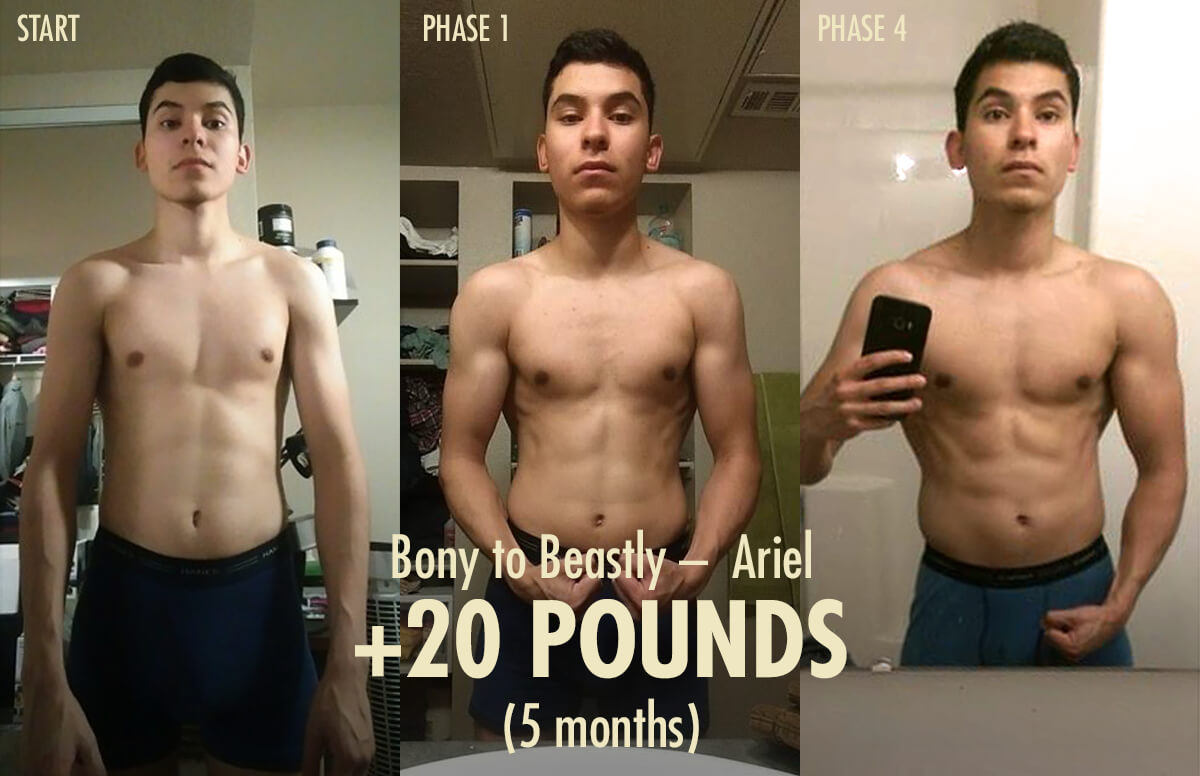 If you use our links to buy the supplements, thank you! We appreciate it. If you don't, that's cool too. The supplements will work just as well wherever you find them. Here they are all in a row:
Creatine for the improved rate of muscle growth.
Maltodextrin for the extra calories and appetite manipulation.
Whey to provide the raw building materials for muscle growth (and also for calories).
And once again, if you don't already know the basics of how to gain a pound of muscle each week, don't get supplements yet. You won't get consistent results, you won't know why you aren't getting consistent results, and you'll just wind up wasting time, money and effort.
I know we have a bias here because we have a lifting and diet program for skinny guys who want to bulk up, but it's helpful to think of supplements like a multiplier. If you build zero pounds of muscle and increase your results by 50%… you've still built zero pounds of muscle. If you're gaining a pound of muscle every week and you add in that same 50% increase, though, now you're gaining 1.5 pounds of muscle every week. That's the power of supplements.
Edit—Common Question: What's the best pre-workout supplement for ectomorphs?
The idea of a pre-workout supplement isn't to give you the calories or nutrients needed to build muscle (like whey and maltodextrin), nor to accelerate your body's ability to build muscle (like creatine). The purpose of a pre-workout supplement is to give you the energy you need to get to the gym and finish your workout. This allows them to indirectly lead to better muscle growth.
There are a lot of pre-workout supplements on the market. Most of them are "proprietary blends" of poorly tested ingredients in doses that are too small to be effective. Moreover, most of those ingredients are new and exciting, with a preliminary study or two showing that they're effective in rodents. A year later, we find out that the ingredients don't work very well, and a new round of supplements come out with new ingredients.
There are really only a couple ingredients you need to pay attention to:
Caffeine. The king of physical performance boosters. It increases endurance, improves high intensity training performance and reduces fatigue. You want about 3-5mg per kg in order to optimally boost physical performance (study). A 150-pound man would want something like 272mg.
Creatine. Creatine is a cool supplement because it boosts muscle growth and lifting performance. And then that boost in lifting performance further boosts muscle growth.
Beta-alanine. Beta-alanine is kind of like creatine's younger brother. It also boosts lifting performance, and that extra lifting performance can allow you to stimulate extra muscle growth. Be warned that beta-alanine can make your face tingle. It's harmless, but it can feel weird.
To get these three ingredients in their ideal doses, there's one pre-workout supplement that rises to the top: Citadel Nutrition's Tier One.


It has 5 grams of creatine from Creapure, 3.2 grams of beta-alanine from Carnosyn, and 150-200mg of caffeine. (Red is higher in caffeine, black is lower in caffeine.) Simple, effective.