Research Review: The Most Important Bulking Studies for Ectomorphs from 2018
To close off 2018 and kick off 2019, let's take a closer look at the most important bulking research that was published last year, including studies looking into:
How important are bicep curls for big arms?
Does muscle memory really exist?
How long should you rest between sets?
What happens if you bulk on a ketogenic diet?
Are high-protein diets healthy?
Does casein before bed speed up muscle growth?
Are 5×5 routines good for building muscle?
That last one, wow. It's not just a single study, it's a massive meta-analysis looking into every single study published on the topic. It's not a total surprise given the research that has been trickling out over the years, but seeing them all together in one place like this—wow.
Anyway, all of those answers and more inside.
* * *
Okay, so there were a lot of studies that were published this year. We went through all of the influential ones that had anything to do with muscle gain, strength, and body composition. In this article, I've tried to cover the most significant of those.
I've chosen four studies to dive deep into, finishing with that epic meta-analysis about bulking up using strength training (e.g. a 5×5 routine). 
But let's start with a rapid-fire review of the other important research:
Okay, now let's go in-depth on the four studies that I thought were particularly valuable. It's not that these findings are all that shocking (except for the last one), but rather that they clarify little details that weren't very clear yet. So what I did was quickly summarize the current body of evidence (all the research published in the decades before 2018), and then added in how these new studies fit into that.
Does casein before bed stimulate more muscle growth?
Casein is a protein found in some dairy products, such as cottage cheese. You can also buy casein protein powder, which is pretty popular among bodybuilders.
Like whey protein, casein has a great mix of amino acids for building muscle, but whereas whey digests extremely quickly, casein digests extremely slowly. You'd think that casein, as the slow-burning protein, would be great to have before bed. That way while you're sleeping, your body is slowly digesting the casein, turning it into muscle mass. Theoretically, this makes sense.
The next step was to test this hypothesis, and at first the research seemed promising—kind of. In 2012, the first study did find that adding a casein protein shake before bed boosted muscle growth. However, muscle growth only increased compared to people who didn't have any sort of protein shake whatsoever. All this study proved was that it's important to get enough protein while bulking, which is no surprise to anyone.
This led to a follow-up study by Jose Antonio. He gave one group a casein shake before bed, and he gave the other group a protein shake earlier in the day. Same overall protein intake. Perfect. And this time there was no difference in muscle growth. But here's the problem, neither group gained muscle. The participants were seasoned lifters, so just the workout program alone wasn't enough to spur on any muscle growth, and they weren't eating in a calorie surplus, so they didn't gain any weight overall. It's not surprising that the bulking program failed—they didn't take into account the fundamentals of muscle growth. This shows that pre-bed casein isn't magic, but it doesn't say much about how effective it would be in the context of an effective bulking program.
That brings us to this new 2018 study. In this study, they split the participants into two groups. The first group got a carb shake during the day and a casein shake before bed. The second group got a casein shake during the day and a carb shake before bed. Both groups consumed 0.8 grams of protein per pound bodyweight per day, which is great. Only the timing of the casein different. And they used a program that was actually effective for bulking up. Now we're talking.
So what happened? Both groups gained a bunch of muscle mass and strength. Following a good lifting program, eating a good bulking diet, and having enough protein each day produced awesome gains in both groups. In fact, the group having the extra protein during the day and the carbs before bed got better muscle gains than the pre-bed casein group. This difference wasn't significant though—probably just a fluke. This again confirms that casein isn't magic and that it's the fundamentals that produce awsome muscle growth.
However, keep in mind that if having some casein before bed helps you get the protein and the calories that you need to bulk up, absolutely go for it. Cottage cheese is still a great muscle-building snack to have before bed. There's just no need to buy special casein protein powder and there's no need to intentionally have it at night.
Also keep in mind that this study doesn't prove that there's no benefit to pre-bed casein, just that there's no noticeable benefit. There could be a tiny benefit that the study couldn't detect. Hard to say. But don't worry about it either way.
Now the question becomes why? All of the protein researchers expected that having casein before bed would be effective. Why didn't it produce more muscle growth?
The researcher Eric Helms, PhD, makes the point that when we're bulking, our digestive systems are pretty much running at capacity 24/7 anyway. If you're eating a good bulking diet, chances are that you have plenty of protein digesting all night long anyway (along with carbs, fats, fibre, vitamins, minerals, etc). This is why we build a ton of muscle while we sleep with or without the casein. If Dr Helms is right, this would mean that casein before bed might still be viable while cutting, just not while bulking.
Clean bulking or dirty bulking: which is better?
Previous research, such as this 1991 study, found that clean eating places so many restrictions on food choices that the diet tends to become unbalanced. Perhaps the participants eat plenty of leafy greens, which is good, but they have too much fibre, which is bad. Maybe they find themselves craving chocolate covered peanuts because their body is looking for a good source of zinc, but they resist that craving because chocolate peanuts are "dirty," creating a zinc deficiency.
With a flexible dieting approach, we tend to eat a wider variety of foods—including junk foods—which paradoxically gives us a more balanced intake of nutrients overall. There was this one old study that found that people who were given unrestricted access to a full refrigerator were able to prevent deficiencies by simply trusting their cravings. You could say that when it comes to your gut, you should trust your gut. Heh.
This more unrestricted approach to food makes even more sense while bulking, given how many calories we're consuming overall (more overall vitamins and minerals), and given how easy it is to run into digestive problems from eating too much fibre (gas, bloating, etc). If we casually aim for a diet that's around 80% whole foods, we'll still be getting more fibre and micronutrients than we need for our health, our diet will be easier to digest, and we'll have an easier time eating more calories. (Dessert is a very easy source of calories.)
This has led most of the top researchers, such as Dr Eric Helms, to recommend bulking up using a more flexible approach. It's more enjoyable, and it's also healthier. He just adds the caveat that even flexible dieters should aim to eat 80% whole foods and at least three servings of fruits and vegetables each day.
Okay, so that's the lay of the land.
In this new study, the researchers wanted to challenge this idea. They hypothesized that since strict dieters would be eating more whole foods and less sugar, they would get superior results.
To test this hypothesis, the researchers split bodybuilders preparing for a competition into two groups. Both groups ate the ideal amount of protein, carbs, and fat, but the first group ate a strict diet (clean) whereas the second group had no dietary restrictions (flexible).
Bodybuilders who are preparing for a competition cut hard. They enter into diets that are extremely low in calories. That makes it almost impossible to eat enough vitamins, minerals, and fibre. If there was ever a time when you'd expect a clean diet to pay off, you'd expect this to be it… right?
So what happened?
Both groups lost fat… at the expense of their health. Both the clean eaters and the flexible dieters were deficient in a dozen different nutrients. If anything, this study just shows that cutting down to 6% body fat is is almost impossible to do while staying healthy. The typical bodybuilder on stage isn't the picture of perfect health, they're an extreme athlete making extreme sacrifices to accomplish their extreme goals.
Anyway, when it comes to both bulking and cutting, Dr Helms' advice is a good rule of thumb: aim to eat around 80% whole foods.
If you're curious, we've written an in-depth article about the pros and cons of clean and dirty bulking.
What happens if you bulk on a ketogenic diet?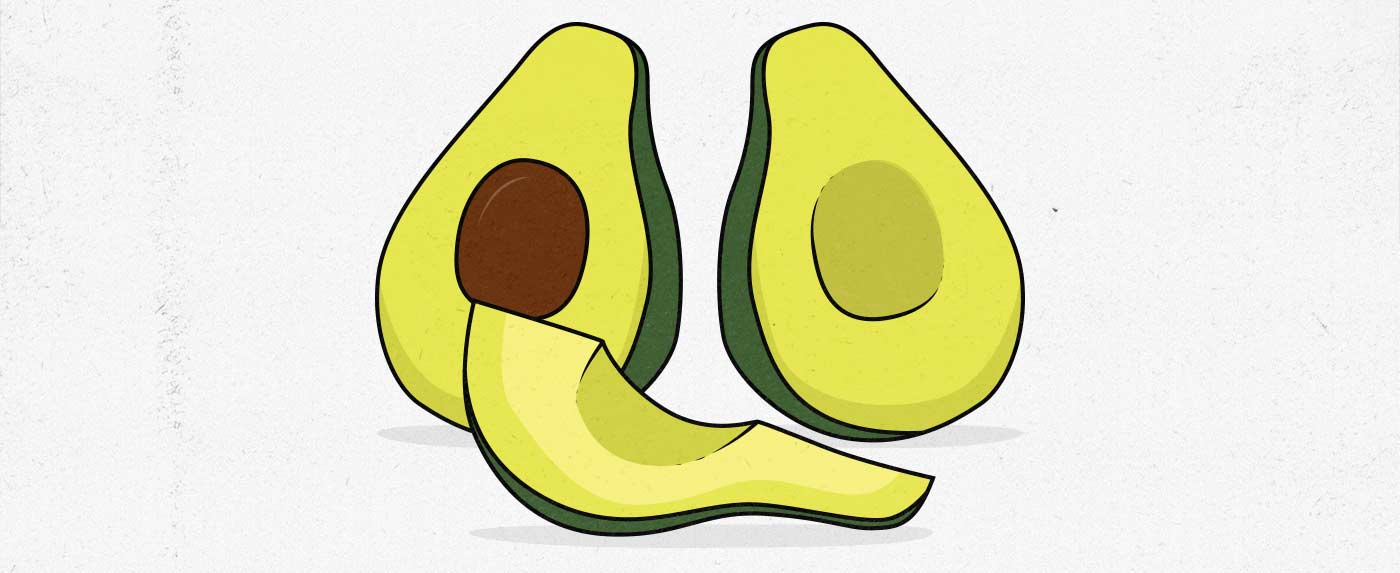 2019 Update: We've got a full article about whether the ketogenic diet is good for bulking. It includes this new study along with every other study on how keto affects muscle growth.
From 2018: I found this new study on ketogenic bulking really interesting. To set the stage, a ketogenic diet is a very-low-carb diet. Because of how few carbs you're eating, your body learns how to get energy from fat instead. This has made it a popular approach for people with various illnesses (e.g. epilepsy) as well as for people trying to lose fat.
Eating very few carbs is really trendy lately, with popular figures like Joe Rogan speaking favourably about ketogenic diets, and Jordan Peterson recently switching to an all-meat diet.
But despite the growing popularity of ketogenic diets, there's almost no research investigating whether they're any good for building muscle, which is where this new study comes in. They split up the study participants into a ketogenic group and a higher-carb group, and both groups were put on a 4-day-per-week lifting program and instructed to eat in a calorie surplus, i.e., instructed to eat enough calories to gain weight.
There's a ton of research proving how effective carbs are for building muscle, so it's no surprise that the higher-carb group gained a bunch of muscle. What's cool is that they even lost some fat while bulking up (which isn't uncommon in these types of studies).
The ketogenic group was more interesting. They didn't build any muscle. And so the researchers concluded that ketogenic diets are not effective for bulking up. However, there's a huge flaw here that completely undoes this finding—the ketogenic group wasn't even able to get into a calorie surplus.
It turns out that ketogenic diet is so effective at getting people into a calorie deficit that even when the ketogenic participants were instructed to gain weight, they simply couldn't. Sounds like a problem that many of us hardgainers can relate to!
The ketogenic dieters finished the study weighing less than when they started. This hints at ketogenic diets being a pretty cool tool for overweight people trying to lose fat. They can truly eat as much as they want and still lose weight. Even if they try to overeat, they might not be able to.
For us naturally skinny guys eager to build more muscle, though, it's another reason to be careful with ketogenic diets. It's already hard to eat enough calories to bulk up. The more restrictions we add in, the harder we make it.
So I would be inspired by the higher-carb group in this study. They ate plenty of carbs, they were able to get into a calorie surplus, and they succeeded in building muscle while losing fat. Total win.
Are 5×5 strength training workouts good for building muscle?
2019 update: If you want to know more, here's our full article about whether strength training is good for gaining muscle size. It includes the research on myofibrillar and sarcoplasmic hypertrophy, we talk about whether bodybuilders are weak but strong, and how to build a good program for gaining as much functional muscle size as possible.
From 2018: Let's end this article with a meta-analysis that evaluated fourteen studies in order to tease out the relationship between rep ranges, volume, and muscle growth.
First of all, the term "volume" is often used to mean "the total number of sufficiently challenging sets per week." That's the definition we use, and it's also the definition the researchers use in this study. (Another popular definition is the total amount of weight moved.)
So, for example, let's say your chest workout looks like this:
Bench press: 3 sets of 5
Push-ups: 3 sets of 10
Flyes: 3 sets of 15
Because there are nine sets, we would say that the chest volume in this workout is nine. So if you do this chest workout just once per week, that would give you a weekly chest volume of nine, which isn't very much. After all, other meta-analyses, as well as Schoenfeld's new study that we mentioned above, have all confirmed that the more sets you do per muscle group, the better. The only caveat is that you need to be able to properly recover from all those extra sets. Mike Israetel, PhD, calls this our "maximum recoverable volume," which is what should provide us with the most muscle growth each week.
Now we can bring in all of our frequency research, including the study mentioned above about muscles recovering fully within 1–4 days. That means that training your chest just once per week isn't often enough. Your chest will be fully recovered within 1–4 days, so you'd want to train it at least twice per week.
So let's say that you do this nine-set chest workout twice per week, doubling your chest volume, and bringing it to eighteen sets per week. That's still within our maximum recoverable volume, so based on all of the research done to date, we would expect that to stimulate a lot more muscle growth. Our routine is already looking much better.
That brings us to this new 2018 meta-analysis, which investigated whether different rep ranges stimulate different amounts of muscle growth per set. For example, if you did a 5-rep set of the bench press, would that stimulate as much muscle growth as a 10-rep set? And would that 10-rep set stimulate as much growth as a 20-rep set? Because if different rep ranges stimulate different amounts of growth, then simply adding up the total number of sets wouldn't tell us very much. We would need a new working definition of volume. That's a big deal.
What this study found is that sets only stimulate similar muscle if they're within the 6–20 rep range. For example, this study found that lifters doing heavy bench press sets (2–6 reps) had to do a whopping 24 sets per week in order to maximize muscle growth, whereas lifters doing moderately heavy sets (8–12 reps) only had to do thirteen sets. What we're seeing is that moderate-rep sets stimulate almost twice as much muscle growth as heavy sets. This means that if you're including very heavy sets in your workout program, those sets would only give you half a volume point.
So, going back to our example, let's say our chest workout looks like this:
Bench press: 3 sets of 5
Push-ups: 3 sets of 10
Flyes: 3 sets of 15
With the findings of this study, we would only count those bench press sets as half a point, giving us 7.5 total volume points instead of nine. If we do the workout twice per week, that gives us a weekly volume of fifteen instead of eighteen. However, our maximum recoverable volume is also reduced. In fact, because these heavy sets are more fatiguing than the lighter ones, they actually count for more than one set.
So let's say that our maximum recoverable volume is twenty sets per week. We're doing eighteen sets, we're only getting fifteen sets worth of growth, but we still might actually be doing more than we can recover from. As you can imagine, our routine is quickly moving away from optimal.
Now, in this example, we're still going to get plenty of muscle growth because we're still getting plenty of volume from the moderate-rep push-ups and flyes, but if our routine had a bigger emphasis on heavy lifting, we'd have exposed a huge flaw in the workouts—at least if our goal is to bulk up.
This is where the news gets bad for a lot of popular strength programs. I've seen 5-rep sets being advertised as the perfect blend of size and strength. We can now say, without any doubt, that this simply isn't true. In fact, 5-rep sets are only about half as good for stimulating muscle growth while simultaneously reducing our maximum recoverable volume.
For example, in your typical 5×5 routine (Bill Starr 5×5, Stronglifts 5×5, etc), where you do 5–10 sets of the bench press per week, you'd only be reaching a volume of 2.5–5, which isn't anywhere close to the volume you'd need in order to see good muscle growth.
Not being totally optimal is one thing. Many people are happy to follow a free or simple program if it works 80% as well as its competition. But if your goal is to gain muscle size, these 5×5 programs aren't even going to work 50% as well as their competition. That means much slower muscle growth, much faster fat gain.
Mind you, these strength programs aren't designed with muscle growth in mind, they're designed to give us practice lifting heavy weights, which gives us something called neural gains—an improved ability to lift heavy with the muscle we already have. By the end of a 5×5 program you'd expect to look about the same but to be able to lift a bunch more weight, and these programs do deliver on that promise.
But some guys do use these strength programs for bulking, and the more research that comes out, the more we learn how bad of an idea that is.
Now, we always need to watch out for putting too much stock into a single new study. However, this isn't a single new study, this a meta-analysis of all fourteen studies examining this topic. Furthermore, this isn't even a controversial finding. For example, Schoenfeld's 2016 study also showed greater muscle growth from doing three sets of 8–12 reps when compared with doing three sets of 2–4 reps. There's also his famous study about how powerlifters had to train for over an hour, doing eight sets of three, in order to match the muscle growth that bodybuilders got in ten minutes doing three sets of eight. The powerlifters felt wrecked after the workout because they'd exceeded their maximum recoverable volume, whereas the bodybuilders were fresh and ready for more.
So this meta-analysis is a pretty big deal. It's going to be a lot harder for 5-rep programs to claim that they're any good for building muscle. The research has piled up against it. It simply hasn't proven to be true.
How does this affect us? Our Bony to Beastly Bulking Program has always been a dedicated bulking program. It already has the ideal balance of volume, frequency, and recovery. We do start off some of our workouts with heavy compound sets, but the emphasis on those sets is low enough that our workouts still math out quite optimally. This might bring our weekly volume from twenty down to eighteen near the end of the program, but that's still well within the optimal range, producing staggering results like this: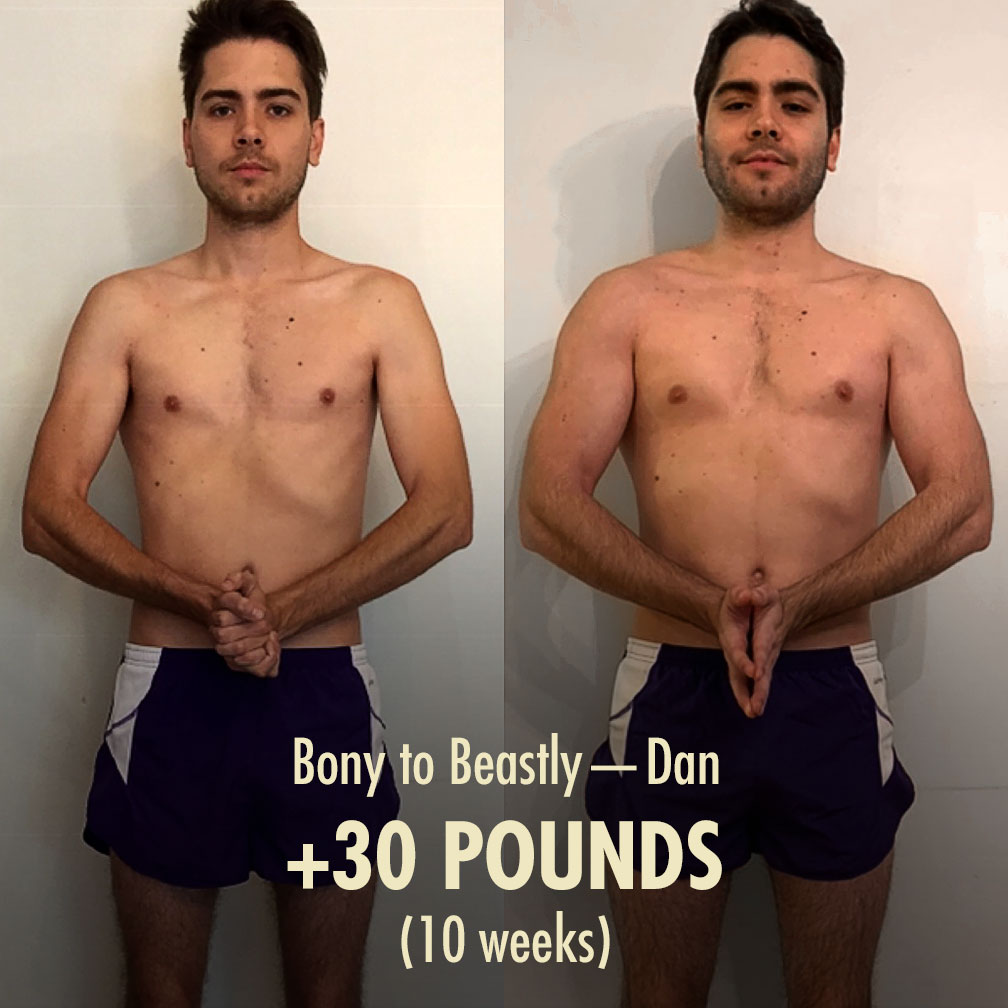 However, Marco and I have discussed moving a couple of our sets up a couple reps, and then making a dedicated strength program for guys to do after they hit their muscle size goals. Of all of this new research, I think that's the adjustment that will allow us to help you eek out another couple percentage points of growth each week. So that's something we're excited about for 2019.
Alright, that about does it.
Some final words
We've got exciting plans for Bony to Beastly this year, so stay tuned for some upcoming announcements.
And as always, if you're ready to start bulking up, there's never been a better time to join the Bony to Beastly Bulking Program. You'll love it. This is my favourite time of year to be in the coaching community, and we've even got a New Year sale running right now. If you click that link, all the sale details are right there.
Happy New Year and Happy Bulking. Good luck making 2019 your biggest year yet!