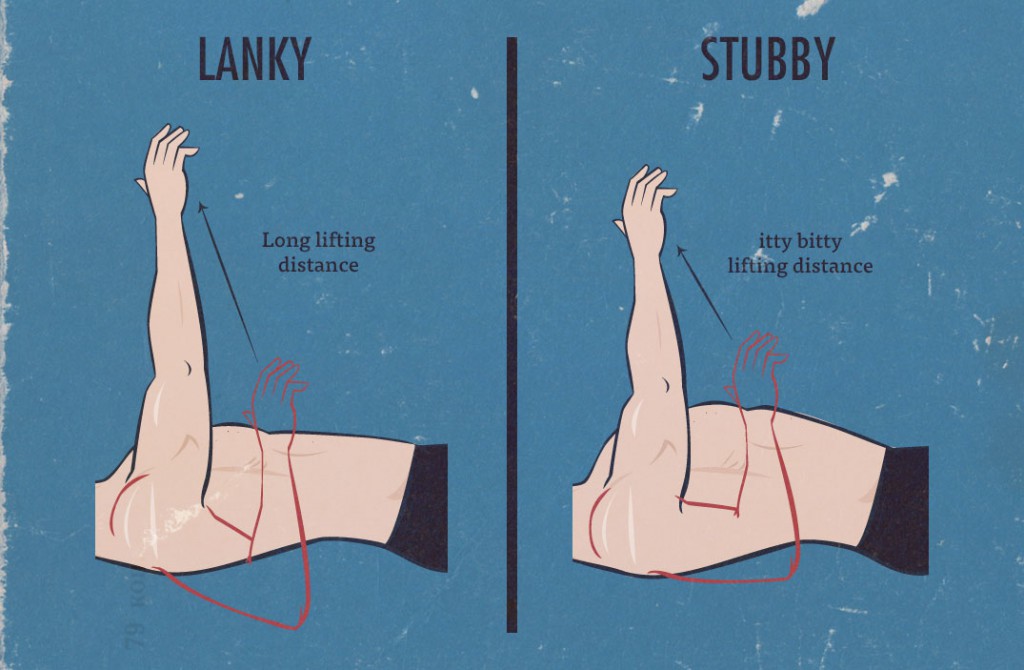 Why Ectomorphs Should Lift a Little Differently
There are two important things that we naturally skinny ectomorphs tend to forget when we start lifting weights.
The first is that when we start bulking, we're still novices. We can't be expected to perform lifts that require high degrees of technical skill. This is off-putting, because we're often desperate to get bigger. We want to start lifting for muscle growth. We don't want to be held up for months doing mobility drills.
Luckily, we can develop mobility, strength, stability and power simultaneously with size. But we do need to learn how to move and lift right from the get-go though, otherwise we'll have an easier time getting injured and a harder time building muscle.
The second thing we often forget is that we don't have the same body type or muscular development that most bodybuilders and powerlifters have. Most of those guys have highly specialized bodies that they've developed with years of training. Most of them were born with thick and robust bone structures, too.
The strongest men are often born with bodies that suit the lifts they do. Just like the tallest guys are drawn to basketball, the sturdiest guys are often the ones who are drawn to strength training.
This means that the guys you're watching do the bench press are often the worst ones to get your cues from. The lift is very different for them—they've got big muscle bellies, short thick bones, stubby limbs and barrel chests. We've often got long tendons, long slim bones, long lanky limbs and shallower ribcages.
Taking their cues is like asking a 7'2 guy how to dunk a basketball. He may very well say "uh just reach up and put it in."
Overall, ectomorphs are just longer people. We make better decathletes than shot-putters; better quarterbacks than linebackers. Hardly anything to be upset about—it's not like we can't build strong and aesthetic bodies.
We just need to take a different approach. An approach that's actually designed for naturally skinny guys.
First, let's take a look at common male proportions. We aren't talking about how skinny or muscular you are, but rather about your bone structure. Some guys are stocky, other guys are lanky. Some guys have long arms, some guys have stubby ones.
Instead of talking about endomorphs, mesomorphs, and ectomorphs, let's just talk directly about limb lengths, proportions, and stockiness, like so: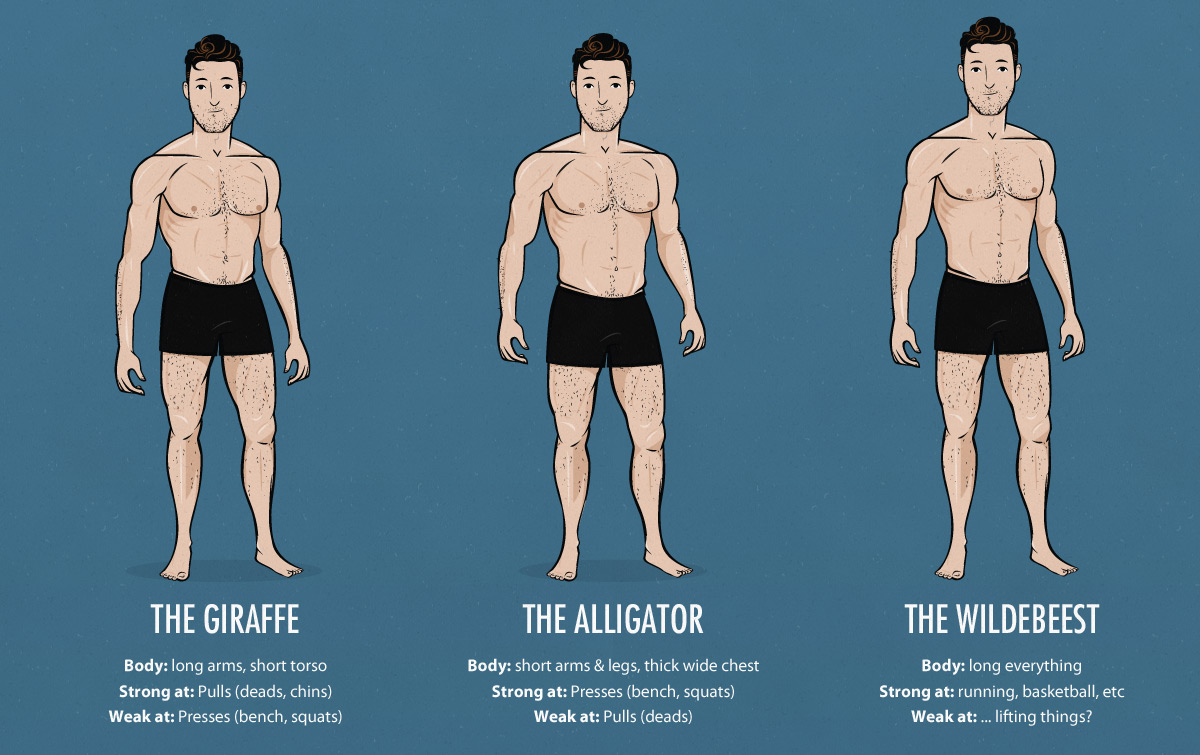 We can explain why body proportions matter by dipping into the three big lifts a little bit. Obviously these aren't the only lifts you'd use, but they make for a pretty gnarly foundation when putting together a muscle-building program.
How to Deadlift as an Ectomorph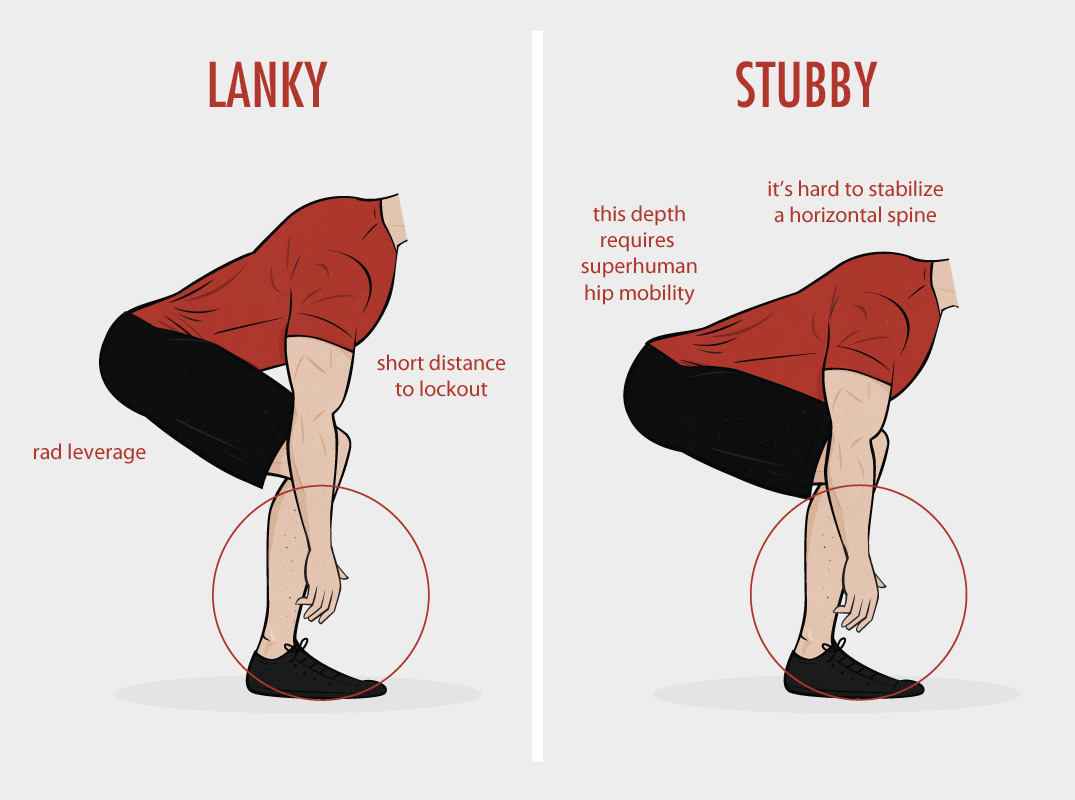 If you're familiar with physics, you'll intuitively know that our bone structure defines our lever lengths and affects the range of motion we lift weights through.
This means that our proportions play a huge role in how much weight we can lift. A guy with gorilla-like arms can easily deadlift weight off the ground. He hardly needs to bend to grab the barbell and doesn't need to lift the weight back up very high.
In physics terms that means he needs to exert a large force, sure, but since the distance travelledisn't very far, there isn't much "work" (force x distance) being done. Deadlifts are made even easier by having a short torso, which means there isn't much spinal stabilization required. Plus, short lever lengths lead to rad leverage.
If an alligator-type guy were to attempt a deadlift he'd need to bend down ridiculously low because of his short little arms (also resulting in bad lifting mechanics) and then lift the weight through a huge range of motion—all while stabilizing an incredibly long torso. A huge amount of work is being done, a lot muscle surrounding the spine needs to be present to keep the spine stable, it requires impressive hip mobility, and that man needs to be wickedly strong to overcome really poor leverage.
As such the world's best deadlifters tend to look like Lamar Gant. Gant could deadlift over 600 pounds at a bodyweight of 120. Let me introduce you to the king of ectomorphs: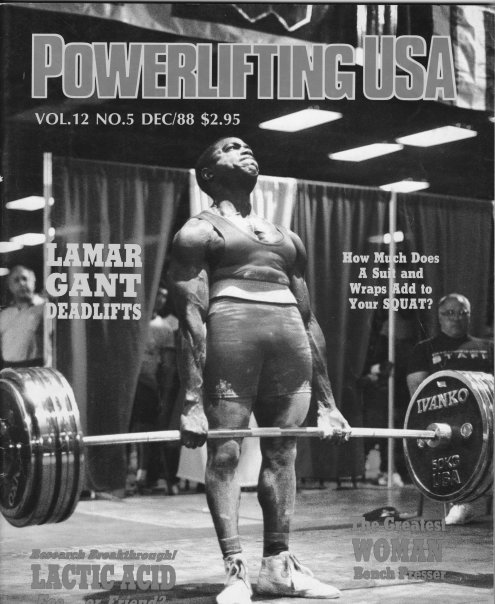 Most of us ectomorph have much longer torsos though, often leading us to believe that since we have long fragile spines we probably shouldn't be deadlifting. That's just asking for disaster, right? It makes sense that we should leave the deadlifting to the short muscular guys with short stable spines – the guys that don't need to worry about popping a disk… right?
As guys with long fragile spines and with relatively little muscle protecting them, we, more than anyone, need to be doing lifts that build up stability in our torsos. That means building a stable core and packing huge slabs of muscle onto our lower and upper backs. This will protect our long and precious spine.
And the best lift for developing a bullet-proof back, of course, is the deadlift. Perhaps surprisingly, though, goblet squats and front squats are also great for improving your back strength. (And so are chin-ups.)
The last thing you want to do as an ectomorph is neglect strengthening your spine, build up a ton of muscle, get married while looking buff in your tux, get a little bit drunk at the wedding reception, go to carry your bombshell bride over the threshold… and throw out your still-fragile back.
If this sounds a little farfetched, just try to think up a scenario where you'd be lifting something and your back wouldn't be involved at all. It's kind of tricky. It hardly ever happens. Hell, you can't even stand up and do a biceps curl without relying on your back for stability. And forget sweeping!
That's why no amount of lower or upper-body strength matters in the real world if you can't transfer that load through your torso. You can't squat big, deadlift big, press things overhead, carry things, play sports, carry your lover around, etc.
The short stocky barrel-chested guys have stability in their torso naturally. It just comes along with their stockier body type. We ectomorphs need to build it.
Many of us start out looking like crooked lollipops when viewed from the side—what with our long narrow bodies bent out of shape by years of postural/weightlifting neglect. Deads'll fix that right up. Check out how much lower and upper back musculature one of our members, Brett, was able to build after 10 weeks of focusing on building up his posterior chain: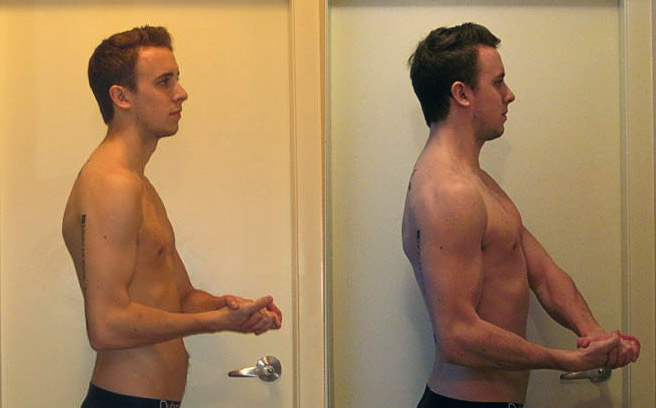 Even Lamar Gant, seemingly a rare breed of ectomorph with a short torso, actually isn't as atypical as it first seems. He had a severe case of scoliosis growing up, hindering his back development and causing him a lot of problems. He decided to pursue weightlifting in an effort to correct his spinal curvature and strengthen the muscles surrounding his spine. So, far from being a genetic superhero, he entered the weightlifting arena skinny and with a crooked back.
His back is still crooked, but it's now far from fragile: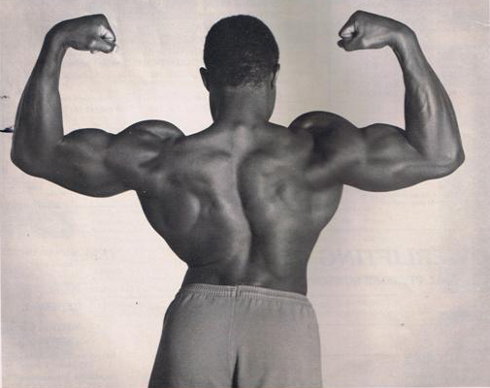 The deadlift isn't a lift reserved for guys with naturally strong backs, it's really quite the opposite. If you assumed that a skinny guy deadlifting was a recipe for disaster, though, don't worry—I'm not going to make fun of you. Especially since you're correct. We've got some work to do before we can deadlift like Lamar Gant.
For powerlifters, who need to follow a strict set of lifting regulations, the best way to deadlift is to use a wide stance, bringing their legs outside their arms. The "sumo" deadlift, it's called: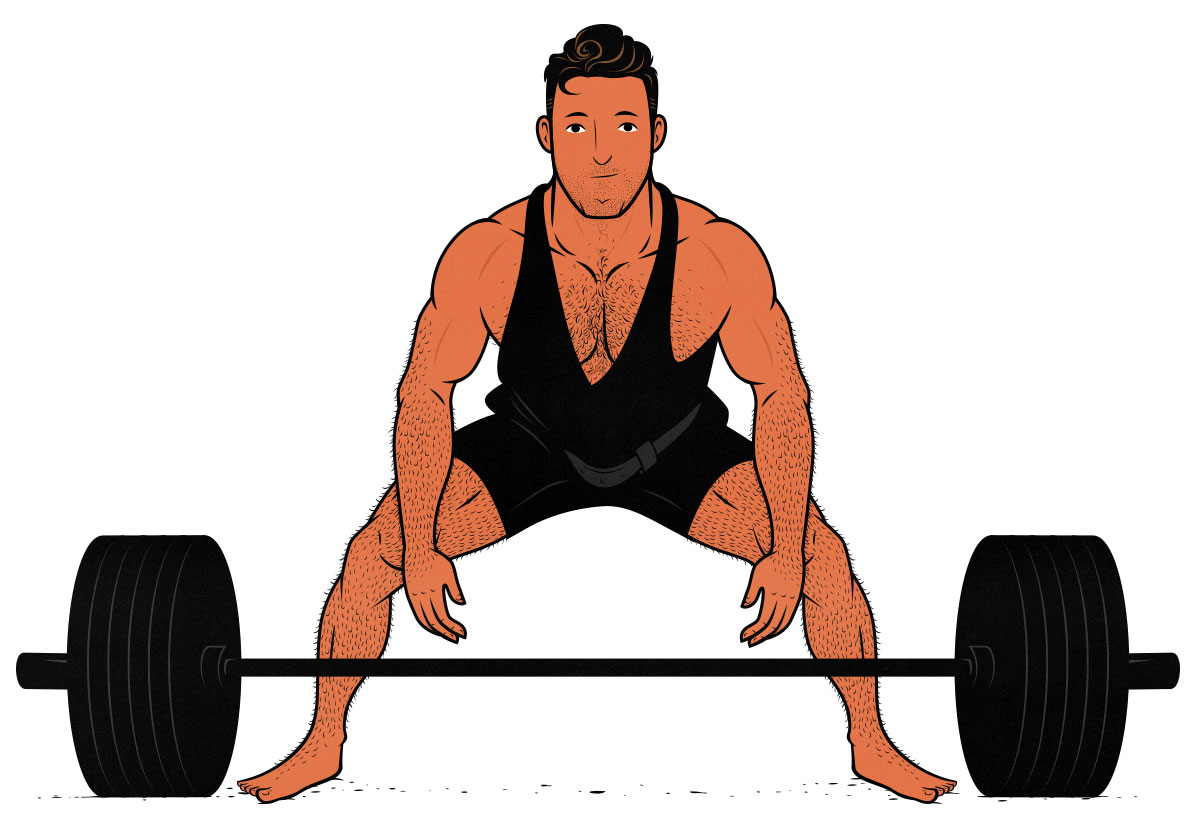 The sumo deadlift allows their torso to remain upright, which means that they won't need to work as hard to stabilize it. It also shortens the range of motion and improves their joint angles, which allows them to lift more weight while doing less work.
Now, don't get me wrong. That approach of improving leverage while minimizing range of motion is perfect for powerlifting. The downside is that instead of building up a bigger back, powerlifters build up a bigger lower body.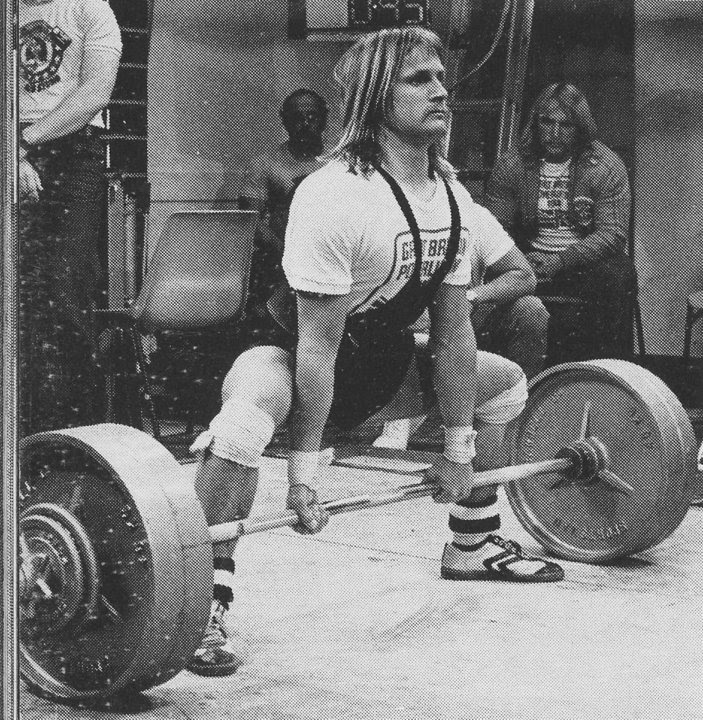 Having a bigger lower body is fine, but the deadlift is a great lift for building a thicker back. It would be a shame to miss out on that growth stimulus just to lift a little more weight. Especially since we aren't being judged on how much weight we can lift. After all, we aren't powerlifters. We're just skinny guys who are trying to bulk up.
Luckily, since we aren't powerlifters, we have the option of modifying our lifts to help us get more muscle growth out of them. So in this case, we can take the barbell inside a squat rack, set it up the barbell raised up on the safety bars, and start with rack pulls. This keeps the dead an amazing exercise for building up back strength and stability, while also letting us safely lift heavy enough to stimulate some muscle growth.
The goal isn't to keep doing raised deadlifts forever, though. As you improve your mobility, you can lower the bar lower and lower, requiring more and more hip mobility and back stability, until eventually you're doing a full conventional deadlift. (You could even take it further, progressing to snatch-grip deadlifts, which are even better for your upper back.)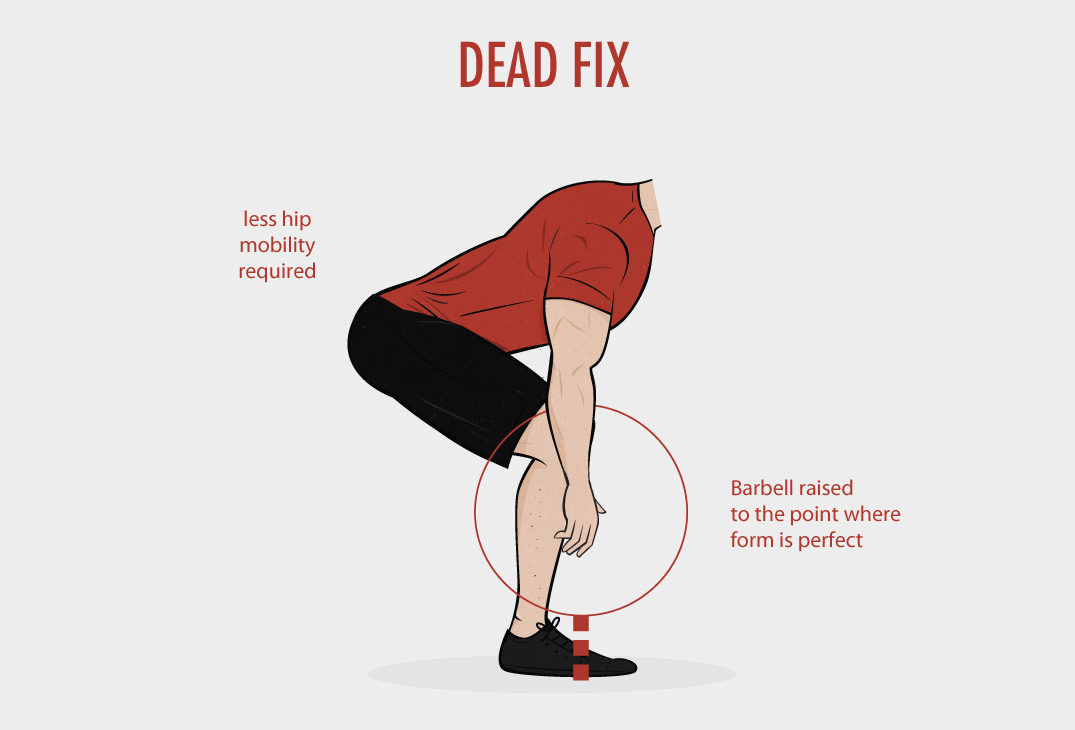 At that point, your long arms become an advantage, and you should be able to hoist some pretty nice numbers. There's no sense rushing right there though. Building up hip mobility and back strength is far more important than winning the powerlifting competition you aren't in.
How to Bench Press as an Ectomorph
When it comes to pressing movements (the overhead press, the bench press, the squat, and so on) it pays to have a big barrel chest and stubby alligator-arms. This will improve your joint angles and reduce your range of motion, making the lifts much easier.
Us ectomorphs often have shallower ribcages and lankier arms. This can make our first time on the bench a really frustrating experience, as the odds are totally stacked against us. We often awkwardly struggle to press tiny amounts of weight while we watch other guys benching big numbers effortlessly.
The problem isn't that we suck at building muscle though—we don't—the problem is that we're trying to use lifting routines designed by stocky people for stocky people.
The good news is that Lamar Gant, the ectomorph deadlifting king, was also able to break a world record with his bench press despite having the worst possible physique for it. If he can do it we sure as hell can.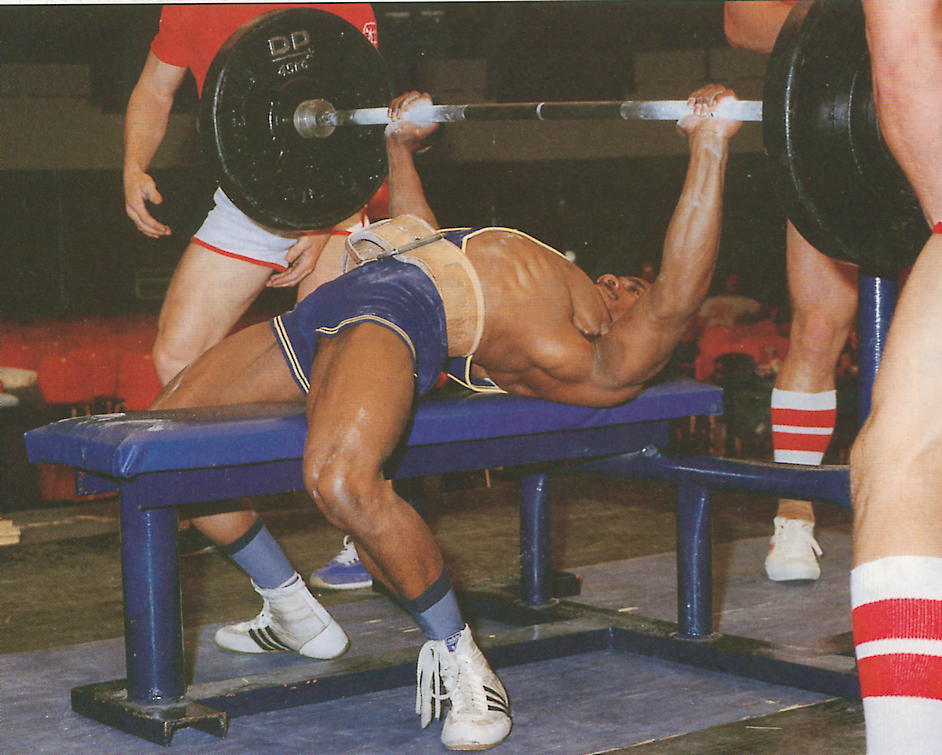 When it comes to the bench press, most powerlifters arch their backs to improve their leverage. Since the rules state that the bar needs to touch their torso in order to count, they get creative. Instead of bringing the bar down low, they bring their torsos up high, like so: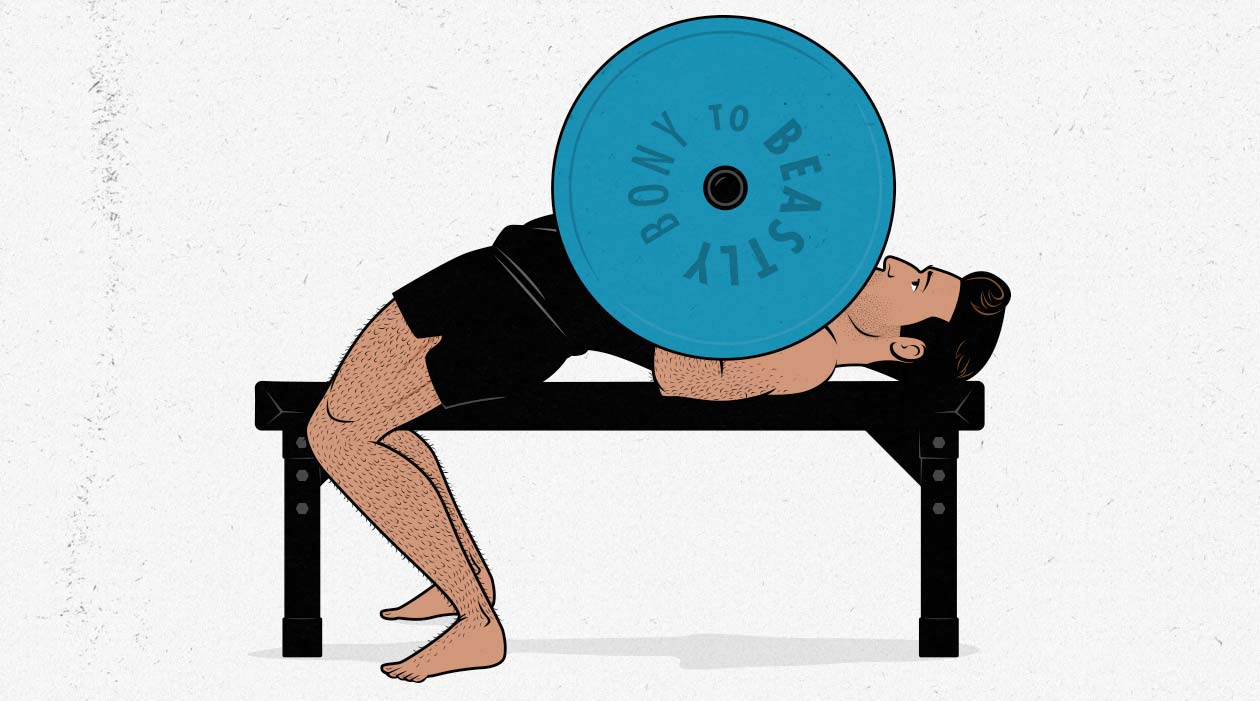 Their belly then meets the bar halfway, keeping their shoulders in a healthy position, improving their leverage… and shortening the range of motion.
The problem is that while improved leverage helps to lift more weight, a shortened range of motion means that you'll build less muscle.
If you're trying to bulk up, you'll do better by keeping your arch more modest and simply stopping when your shoulders lose their pressing power. You don't want to drop it any further than that, as too much rotation in your shoulder joints will risk doing damage to them.
We're of the belief that lifting weights should make you bigger and stronger, not weaker and more injured. Damage done to joints in the process of building bigger muscles doesn't really fit with that objective.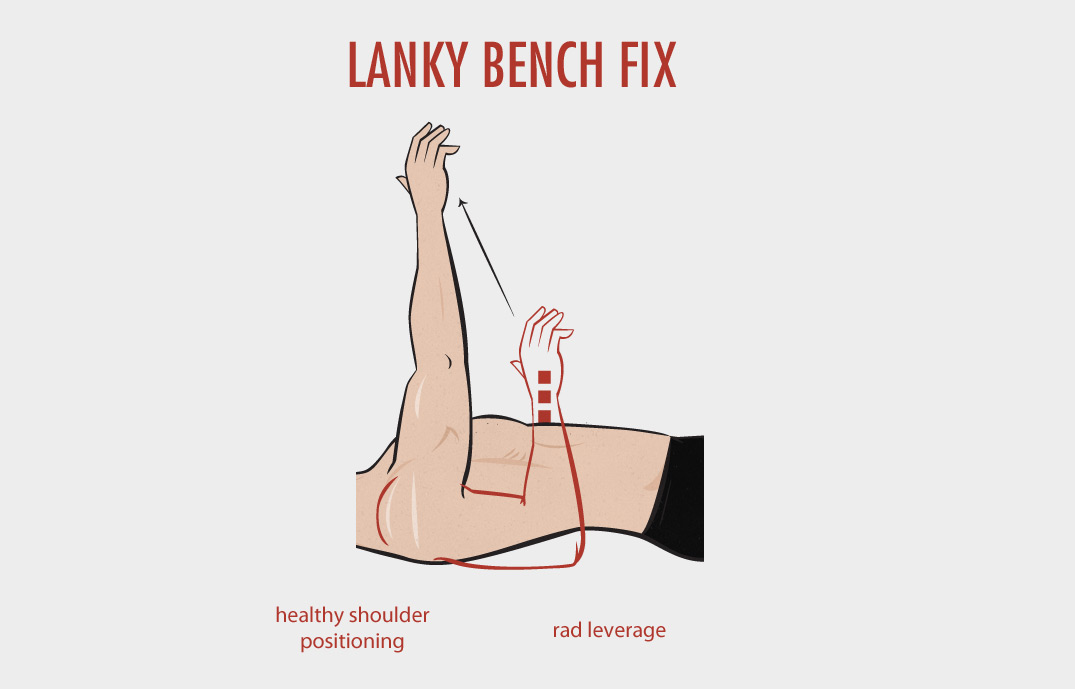 One trick we use is rolling up a towel and putting it on our chests, simulating a larger ribcage. Even better, you could use a plank of wood. Keep it fairly small. Just a couple inches thick. That way you'll still have a larger than average range of motion, allowing you to build a greater than average amount of muscle.
As your shoulders get stronger and your torso gets thicker, you can get rid of the towel and start bringing the bar all the way down to your chest.
Also keep in mind that if you're a beginner, you don't have to even use the bench press. You can start with push-ups. Until you can do 20–30 push-ups with perfect technique, they'll build just as much muscle as the bench press. In fact, push-ups might even be better for beginners.
How to Squat as an Ectomorph
Squats are a tricky beast for us ectomorphs too, and by now you might be able to guess the fix. As you've probably heard a thousand times, the lower you squat, the better. And that's true. Deep squats are one of the best ways of involving the biggest and most powerful muscle groups in your body. You'll be building up your quads, many of your core muscles, your posterior chain, your ego, and your glutes.
The benefits keep compounding the lower you can go with perfect form. The deeper you squat, the more your gains will translate into hearty real world strength (study), the more glute activation you'll get (study), and, since muscle hypertrophy is positively correlated with range of motion, the more muscle size you'll build.
So squatting deeply is generally a good thing, especially for us ectomorphs who are trying to bulk up as quickly as possible.
However, just because deep squats have advantages doesn't mean that you should be doing them. At least not yet.
Many of these classic exercises are actually quite advanced. It's usually best to start with easier variations and work your way up. And even when you work your way up, you might choose different squat variations from a powerlifter.
For example, if you want to stimulate upper-back and core growth while squatting, you might want to start with a goblet squat and work your way towards a front squat.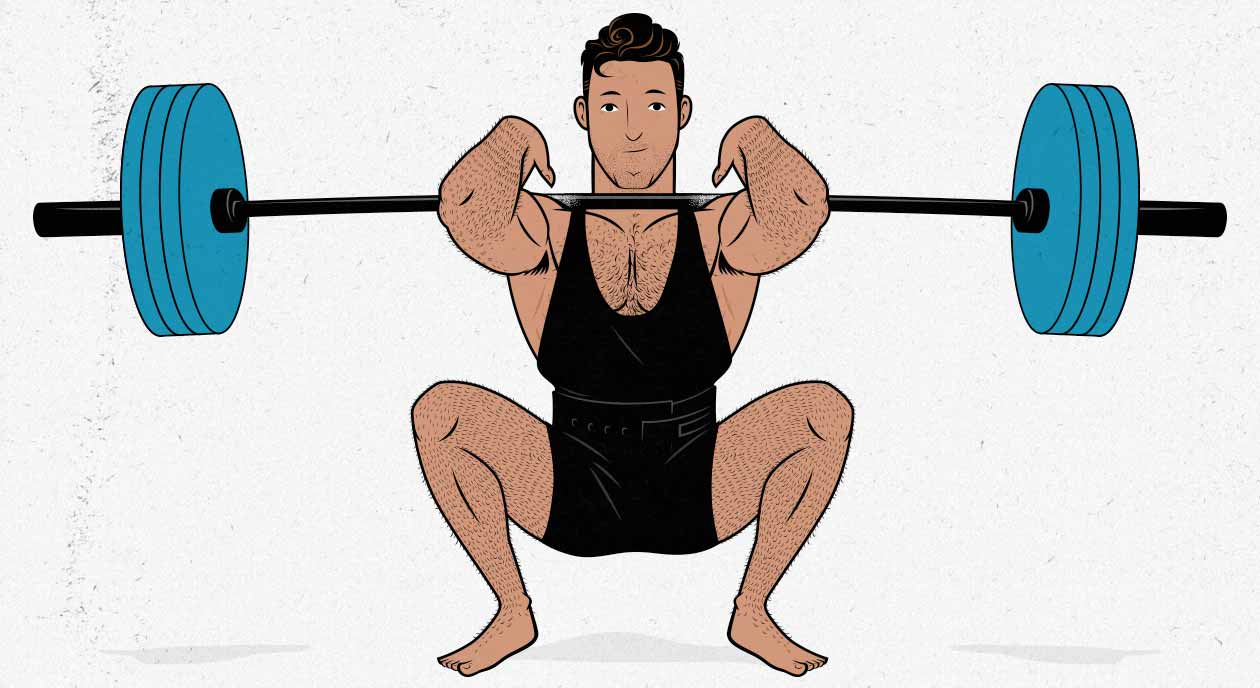 The reason that these front-loaded squats are so incredible for helping beginners bulk up is twofold. It demands more upper back strength, yes, and that's great, but there's a second benefit. The further in front of you the load is, the more upright you'll be able to keep your torso, and the less hip mobility you'll need to do the lift safely.
Even with these more ectomorph-friendly variations, don't squat deeper than you can go with good form. There's no need to round your back over in an attempt to squat as deep as possible. Just squat within your means. And then work to expand your means.
Like with his bench, Gant has a horrendous body for squatting. He's got a short torso and mile-long legs.
To make up for it, he had to develop unbelievable hip mobility in order to get to depth. But he did: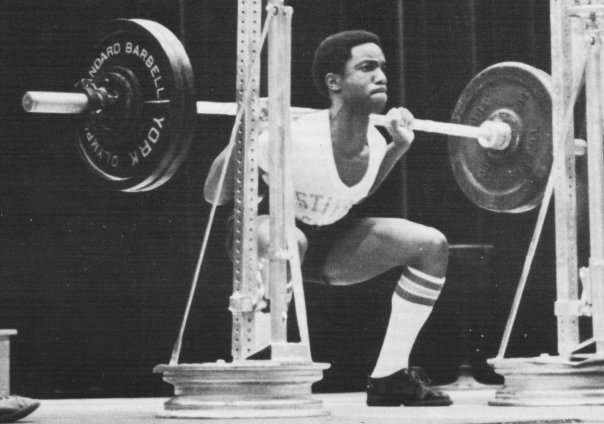 So as an ectomorph you should probably squat, and you should probably squat deep… eventually. But you don't need to squat like a powerlifter. You'll probably do better if you choose a front squat.
How to Lift Weights as an Ectomorph
It's typical to be a little atypical. When it comes to any lift, there's always a chance that it won't quite suit your body type or your experience level.
If you're thin, skinny, an ectomorph—whatever you want to call us—we often benefit from changing the lifts to better suit our body type. Powerlifting and bodybuilding are dominated by stocky guys with decades of lifting experience. That's fine. We'll just do it our way instead.
The good news is that many lifts are geared more towards athletes, and athletes come in all shapes and sizes. There's plenty of research done into lifting with a wide variety of body types. Marco has helped professional football players bulk up, and they often tend to be sturdily built. But he's also helped lanky college volleyball players bulk up.
Whatever style of lifting you do, a good rule of thumb is that lifting should feel good. You shouldn't feel pain in your joints, you shouldn't feel pinches, and you shouldn't be worried that a limb will pop off.
Lift with a weight that's challenging yet comfortable and generally stay away from failure during your heavy sets—at least during your first few months of training. As a relatively untrained ectomorph looking to build size and strength, you probably shouldn't be squatting, deadlifting or benching to failure every week, if ever. That's where form deteriorates, recovery times become enormous, and injuries become more common.
There are exceptions to every rule, but in general, it's the isolation exercises, such as bicep curls, that you'd want to take to failure, not the big compound lifts.
Focus on the details of perfecting form when practicing and warming up; focus on lifting when you're lifting. Our goal isn't to turn you into a rigid lifting robot; you're still supposed to lift like a rugged beast.
Developing perfect textbook technique is something that happens over years of training, not before you ever do your first squat. There's plenty of time to focus on perfecting your form while warming up and practicing your lifts.
When it comes time to actually lift weights, though, it's often easier to loosen up a bit and focus more on lifting "naturally." Holding onto tension and getting too cerebral while lifting can often be more troublesome than just selecting a weight you're totally in control of and then lifting it.
There's no need to be lifting as heavy as you possibly can or forcing yourself through ranges of motions that your body isn't comfortable in yet.
Bulking up isn't about how much you can lift today, it's about how much more you can lift tomorrow. Good luck!