Is Training to Failure Good for Stimulating Muscle Growth?
For most guys, stopping most of their sets short of failure will allow them to build muscle more quickly. This is especially true of people who are still relatively new to lifting. This is because training to failure can cause excessive muscle damage, which can impede muscle growth. It can also ingrain poor lifting technique, which can negatively impact longterm progress.
But isn't that last rep the only one that matters? Isn't that last rep the one that separates the weaklings from the warriors? Grab a seat by the curl rack, and let me tell you about keeping two in the tank.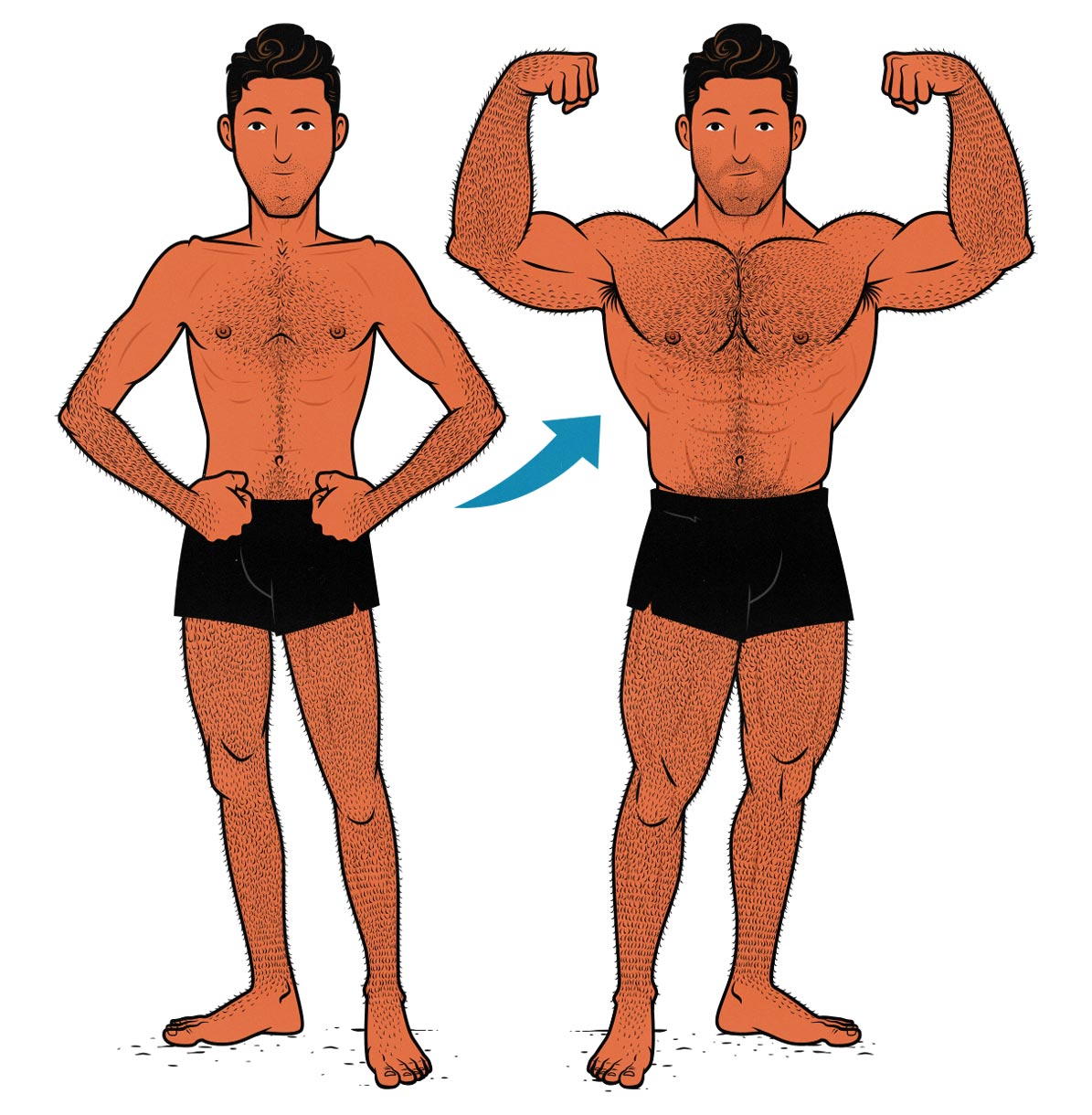 Why You Shouldn't Always Train to Failure
Training to muscular failure causes a disproportionate amount of muscle damage. This means that you'll need to go through a long recovery process before you can train those muscles again. Historically, muscle damage was thought to cause muscle growth, but now most hypertrophy research is showing that muscle growth is caused by mechanical tension and metabolic stress, not muscle damage. Furthermore, excessive muscle damage means that your body will need to invest more resources into repairing that damage, leaving fewer resources available for constructing new muscle tissue (study).
As counterintuitive as it may sound, your muscles will grow quicker if you stop your sets a good couple reps before you hit muscle failure (study). You'll still need to progressively increase that load over time, adhering to the principle of progressive overload, but you can stay away from muscle failure while doing it.
There's another problem with training to failure, too. The more you damage your muscles, the longer it will take for them to recover, and the less frequently you'll be able to train them. A workout only stimulates 24–72 hours of muscle growth, so if you're going more than a couple days between workouts, you're going to leave muscle growth on the table. That's why full-body workouts tend to stimulate more muscle growth than push/pull/legs split routines.
There's also form to consider. Now, to be clear, as a beginner, don't expect perfection. Aiming for "good" is good enough. Your technique will improve over time. However, that doesn't mean that you should be intentionally lifting with poor technique. Quite the opposite: you should be lifting with the best technique that you can muster, taking into account your experience level. And if you're taking your sets to failure, you're not going to be lifting with the best technique that you can muster. That last rep or two of every set is going to be an ugly mess. You are what you practice, and so if you practice ugliness, you will become ugliness.
Why You Should Sometimes Lift to Failure
We're not saying that you should come out of the gym feeling like you didn't work out. Your workouts should be challenging. You should need a minute or two of rest between sets, and you should definitely feel your muscles being stressed by the weights that you're lifting.
However, you also shouldn't be getting sick every second week because your body is struggling to keep up with your training regime, you shouldn't be sore all the time, and you shouldn't have trouble sleeping. Training is supposed to be a fountain of youth, not a preview of what it feels like to live in a retirement home.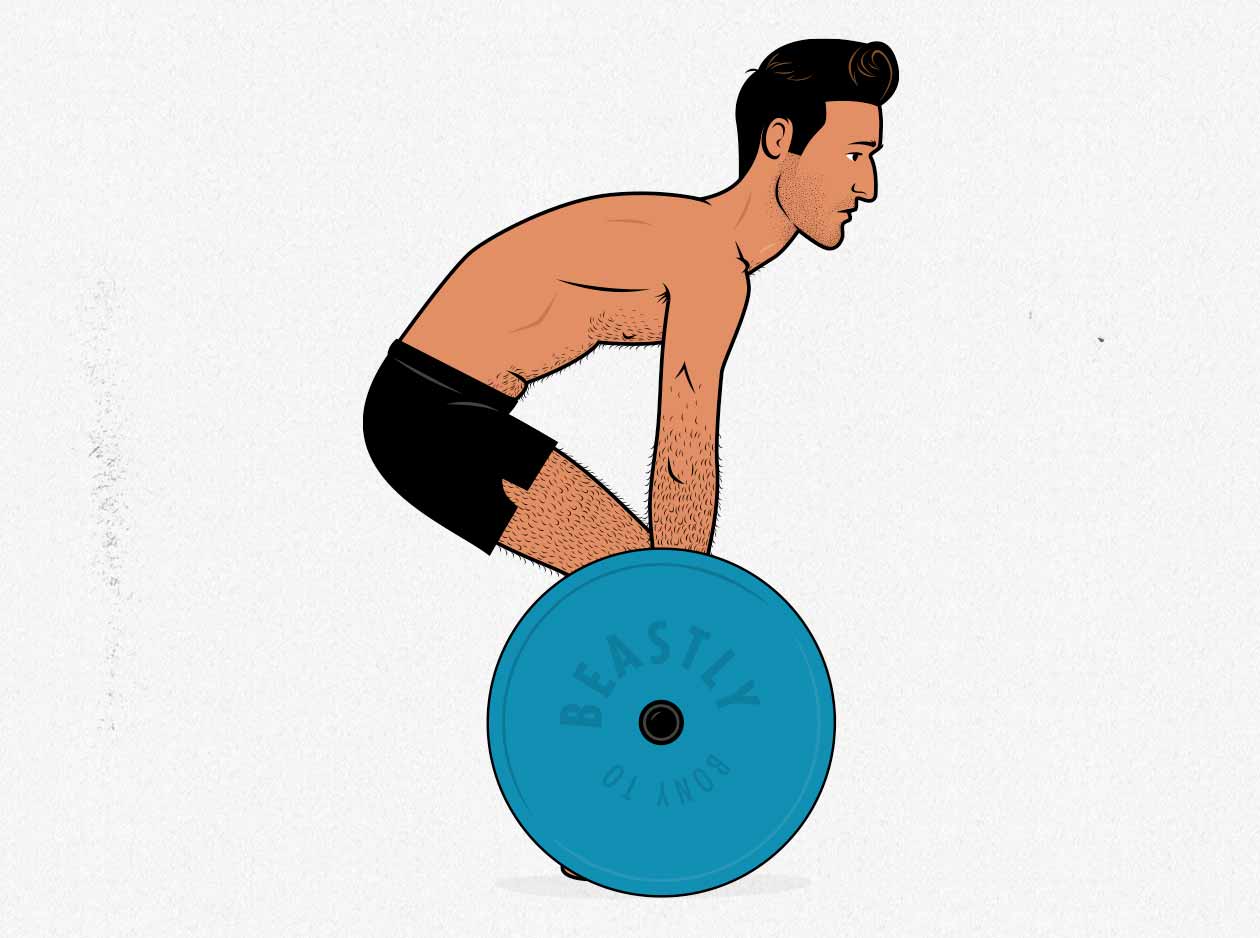 As a beginner, our muscles are quite sensitive. We can build muscle extremely quickly due to a phenomenon called newbie gains, but we're also sensitive to muscle damage. It's often better to ease into lifting somewhat cautiously. We can take our sets close to failure, yes, but there's no need to grind out reps with poor form for fear of missing out on muscle growth. It's okay to stop before we fail. At least most of the time.
As a beginner, it's also quite important to make sure that your training is challenging enough. To do that, you might want to experiment with taking some of your final sets to failure some of the time. By occasionally taking your final sets on an exercise to failure, you'll learn how close to failure you're actually going. You might be surprised to learn that you're stopping further away from failure than you thought you were.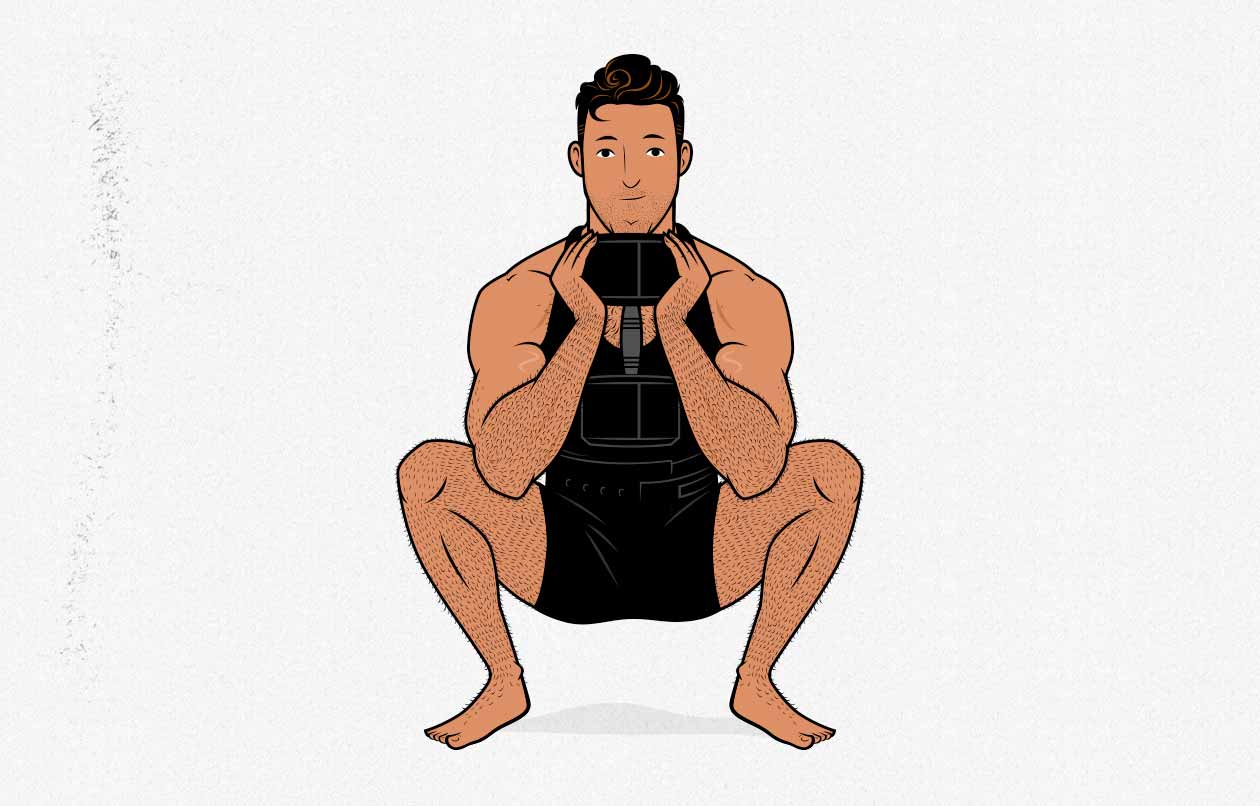 For example, perhaps you're trying to leave around two reps in the tank, but when you take your set to failure, you find that you can eke out five more reps. In that case, you're going to need to learn to push yourself harder. This is common with exercises like the squat, where getting anywhere close to failure can be quite challenging.
The opposite can happen, too. Perhaps when you take your set to failure, you realize that you can't get any extra reps. This is common with exercises like the bench press and overhead press, where people can often get quite close to failure before the exercise really starts to challenge them.
Now, with this idea of taking some sets to failure, always make sure that you're doing it safely. With a set of curls, you there's no real risk of injuring yourself by pushing yourself a little harder. But if you're going to take a set of squats to failure, make sure that you've got your safety bars set up. The same is true with the bench press. Get your safety bars set up. (Here's how to set up your safety bars for the bench press.)
Remember that taking your sets to failure is mainly a learning tool. It's not the ideal way to train all of the time forever, it's just a way to gauge how many reps you're leaving in the tank, a chance to learn what it's like to push yourself, and a way for beginners to make sure that they're pushing hard enough.
What's cool is that when beginners take their isolation lifts to failure, they wind up stimulating around twice as much muscle growth with those lifts (study, study, study, study). However, when looking at experienced lifters doing compound lifts, those benefits disappear completely, and an equal amount of muscle growth is stimulated by stopping 2–3 reps shy of failure.
How Close to Failure Should You Lift?
As a beginner, it might be smart to include some simple isolation lifts in your routine that allow you to push your muscles all the way to failure. For example, if you're eager to grow your biceps, then including some biceps curls in your program and taking your final sets to failure can be quite helpful. Not only will it ensure adequate muscle stimulation, it will also help you learn what failure feels like and how to keep a precise number of reps in reserve.
If you're a typical trainee—even one with a few years lifting experience—you'll build muscle mass more quickly if you stop 2–3 reps shy of failure. That's going to put more emphasis on mechanical tension and metabolic stress, less emphasis on muscle damage. As a result, you'll be able to build muscle more quickly because fewer resources will be wasted on muscle repair. You'll also be able to train your muscles more frequently, leading to even more muscle growth. (As for optimal training frequency, we usually recommend doing three full-body workouts per week.)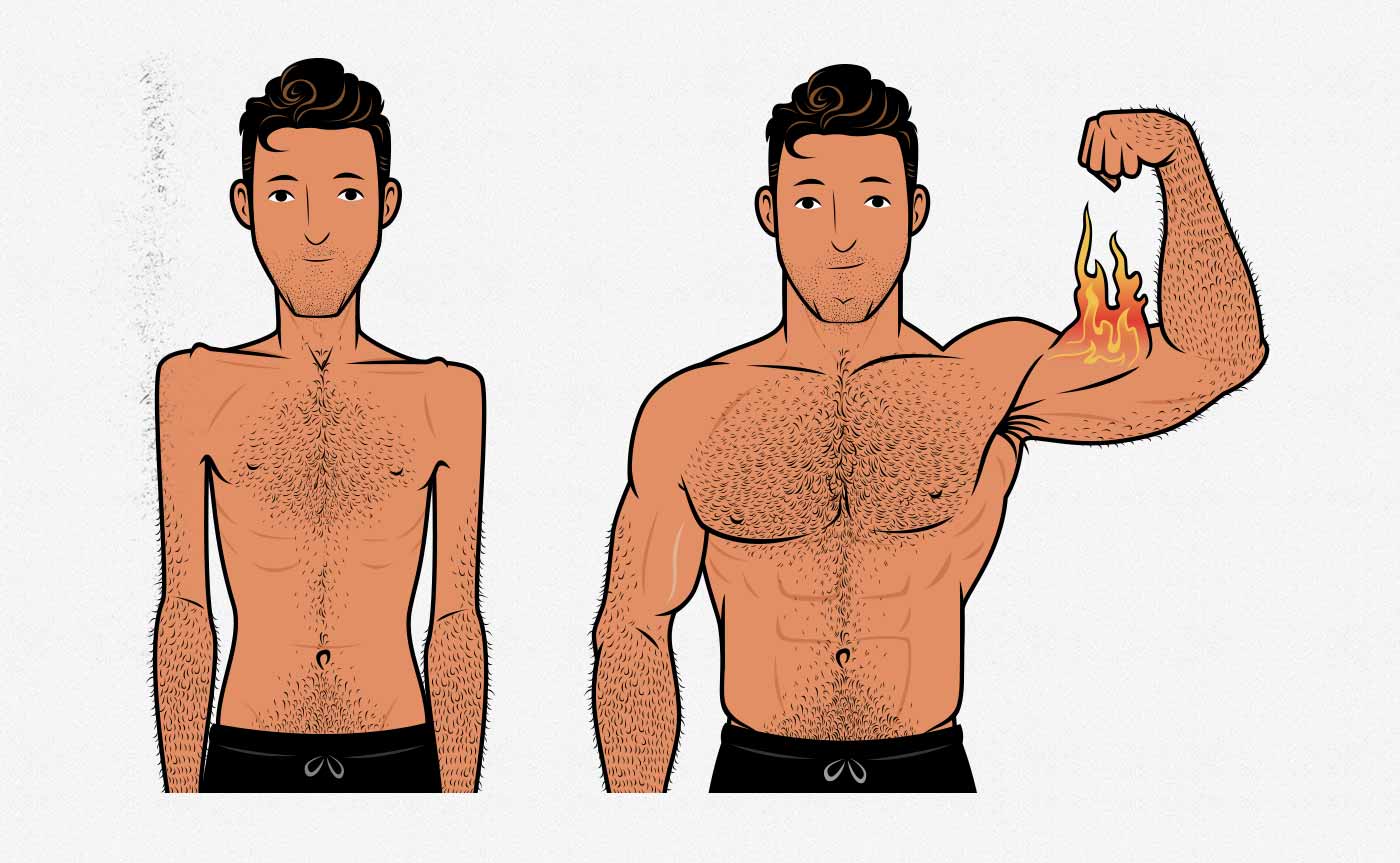 In addition to helping you build more muscle, stopping your sets shy of failure may also result in far fewer injuries, a stronger immune system, and less time spent suffering from muscle soreness and fatigue.
When you finish a set, you should be thinking to yourself: "phew that was tough, but I probably could have done one or two more reps." That's what we call keeping two in the tank. And it's called keeping two "in the tank" because it will transform you into a tank. Or at least I think that's why. To be honest, I'm not quite sure of the etymology.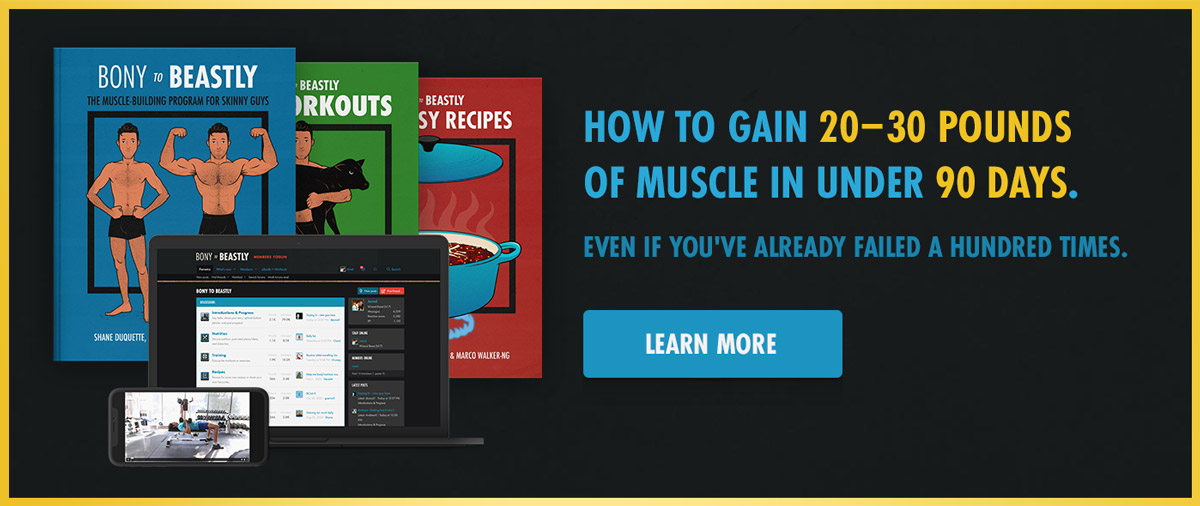 FREE Bulking Mini-Course
Sign up for our 5-part bulking mini-course that covers everything you need to know about:
Hardgainer genetics

and how to make the most of them
How to take a minimalist approach to bulking

while still getting great results

What you need to know about

aesthetics, health and strength

while bulking up