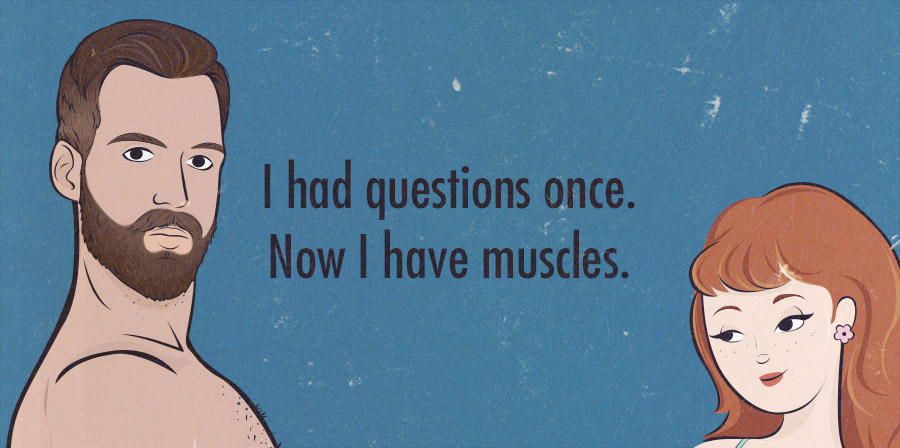 Back in the day my girlfriends would treat me like a rickety old ladder that might, at any moment, collapse under her weight. Now, against all odds, I get skinny guys asking me for muscle-building advice.
Over the past couple years we've gotten many thousands of questions from skinny guys all over the world, and I've done my best to diligently and thoroughly answer all of them.
The interesting thing is that a lot of the questions—even the super weird ones—come up a lot. I mean, there are some differences too. Some of us consider ourselves "skinny-fat", some of us are straight up skinny, and some of us are already pretty good at this stuff and looking to become really good. Still, we're more similar to one another than we often realize. Lots of guys in the community open up about a weird issue they've been having… only to have three other guys chime in with, "No way—me too!"
I figure for every question we get, there are at least ten more guys asking it who didn't email us. So this section of the website is for them. For you, I hope.
We cover juicy skinny topics like:
How do I know if I'm an ectomorph? I'm sort of naturally skinny.
I'm skinny-fat. Bulking just makes me fatter. Cutting just makes me skinnier.
As a skinny guy, can I use calisthenics (bodyweight workouts) to build muscle—Frank Medrano style?
Is heavy strength training—a 5×5 routine, say—good for a skinny guy trying to build muscle?
Can I build muscle without going to a gym? What equipment would I need?
How do I get leaner and more muscular. Is it possible to build muscle and lose fat at the same time?
How important are supplements? How much does creatine actually help?
Should I be doing cardio? What I'm skinny-fat—should I do cardio then?
Can I build muscle even if I'm a vegan/vegetarian?
What do I do if my schedule is crazy busy?
Are machines safer than free weights?
We tried to go into a lot of detail, provide a ton of practical information, and back up all of the controversial stuff we're saying with sound scientific evidence.
And if we haven't already covered your questions, just let us know