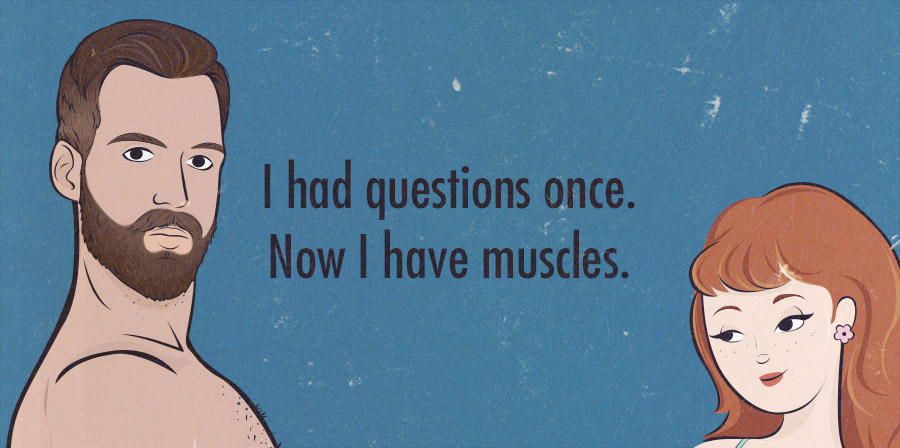 (Updated December 2014) We've been spending a lot of time coaching guys in the community, keeping all our articles up to date, improving the Bony to Beastly program, and trying to come up with cool bonus/advanced content for our members. We're still posting articles on the blog—we're in the middle of writing a couple—but we like to make 'em long and full of research… which means they take a helluva long time to write.
So we added an FAQ to the websitewhere we can quickly dart in every once in a while and add some new content to the free side of the website.
We cover juicy skinny topics like:
How do I know if I'm an ectomorph? I'm sort of naturally skinny.
I'm skinny-fat. Bulking just makes me fatter. Cutting just makes me skinnier.
As a skinny guy, can I use calisthenics (bodyweight workouts) to build muscle—Frank Medrano style?
Is heavy strength training—a 5×5 routine, say—good for a skinny guy trying to build muscle?
Can I build muscle without going to a gym? What equipment would I need?
How do I get leaner and more muscular. Is it possible to build muscle and lose fat at the same time?
How important are supplements? How much does creatine actually help?
Should I be doing cardio? What I'm skinny-fat—should I do cardio then?
Can I build muscle even if I'm a vegan/vegetarian?
What do I do if my schedule is crazy busy?
Are machines safer than free weights?
We tried to go into a lot of detail, provide a ton of practical information, and back up all of the controversial stuff we're saying with sound scientific evidence.
And if you have another question, just let us know