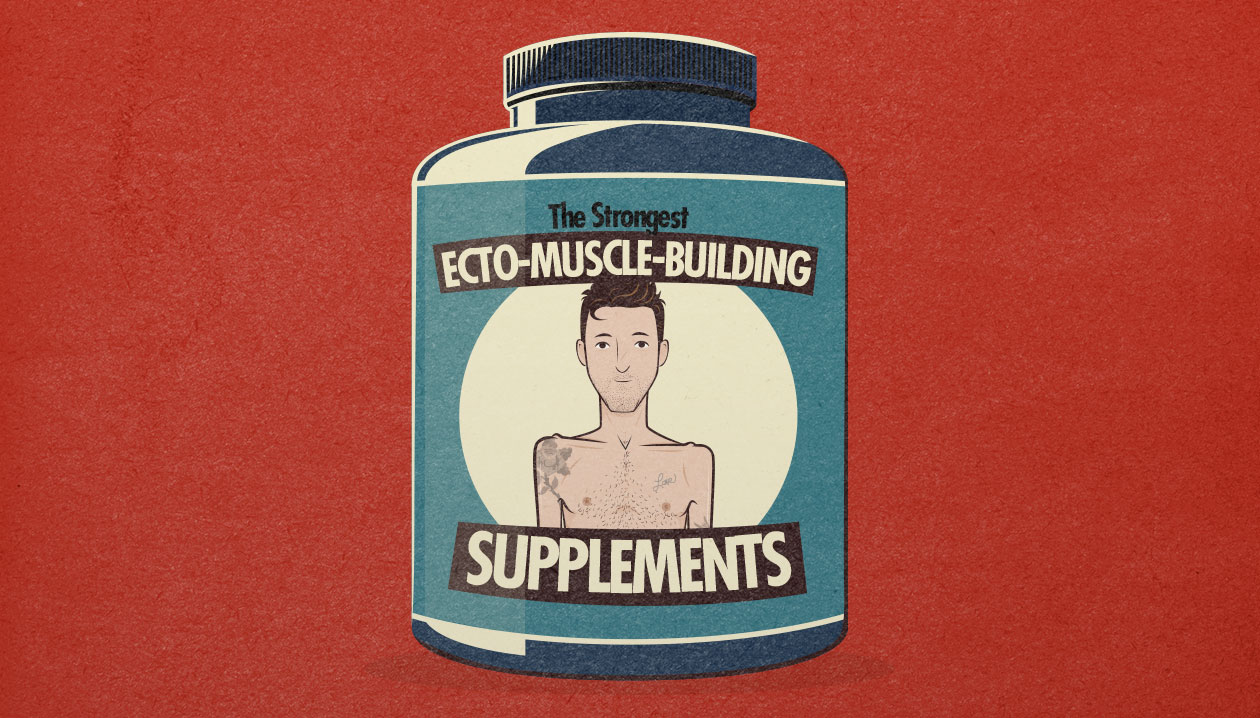 Over 5,000 shares and 500 comments later, here's our revised supplement guide for naturally skinny guys who are trying to gain weight, build muscle quickly and leanly, and do all of this in a healthy way. We're interested in the best weight gain supplements for ectomorphs, hardgainers and skinny guys. We'll cover the very best supplements, we'll recommend brands that have good reputations, we'll cover creatine and other supplements that are proven to increase muscle growth, and we'll go over the pros and cons of supplements designed to help guys eat more calories, such as weight gainers.
These may not be the supplements you expect, though. Two of the best supplements are classic, since they work for all body types, but the third one is only helpful for hardgainers, and you might find it a little weird. We'll also teach you how to make your own homemade weight gainer supplement that outperforms the store-bought ones, is better for your digestion, and is far cheaper.
It's easy to show that a supplement is effective by looking at a single study, but when we zoom out and look at the entire body of evidence, only a few supplements remain standing. Our goal is to make the ultimate evidence-based supplement guide for naturally skinny guys who are having trouble gaining weight, so this article takes into account every study about a given supplement, favouring systemic reviews and meta-analyses over the latest (and often controversial) studies.
In addition to leveraging science, we've also been in the trenches with this. I've personally used these supplements to gain 55 pounds at 10–11% body fat, and we've recommended it to nearly 10,000 members of the Bony to Beastly Bulking Program as well as the 500,000 people who have read this article.
On that note, these supplements didn't make the cut but are still worth a mention:
Citrulline Malate: good. This is the best "pump" supplement on the market right now, and is starting to get some good research behind it. When digested, it converts into arginine, which turns into nitric oxide, which allows you to get a fearsome pump. The pump improves the health of your blood vessels and increases protein synthesis. This isn't quite a top-tier supplement, but it's a good one.
Beta-alanine: good. Beta-alanine supplements are proving to be quite effective. They're not quite top tier yet, but for ectomorphs eager to experiment with new supplements, this is another solid choice. The ideal dosage seems to be around 3–5 grams per day at any time (similar to creatine). Be warned, though—it can make your skin tingle (paresthesia). Harmless, but strange.
Ashwagandha: decent. Last year a study came out showing that ashwagandha can increase testosterone production, reduce cortisol production, increase strength, limit fat storage, and accelerate the pace that your body can build muscle. To give you an idea of the magnitude of these effects, the study found a 15% greater increase in testosterone and a 44 pound greater increase in bench press strength when compared to the placebo group over the course of 8 weeks. If more robust evidence comes out to back up these findings, ashwagandha could be a good supplement for bulking ectomorphs.
Vitamin D: decent. Vitamin D supplements can increase testosterone output if you're deficient in vitamin D,

and most people are

.  However, unlike steroids, it won't boost your testosterone production outside of normal ranges. For guys who don't get enough sun, though, this can bring their muscle-building potential back to baseline.
Fish oil: okay. Another study has come out showing that fish oil supplementation can slightly improve weightlifting performance (study). There are others showing that it can allow you to build muscle more leanly. However, these effects are quite weak compared to the core muscle-building supplements.
HMB: ignore for now. HMB performed very well in a couple recent studies, getting participants steroid-like gains. However, since HMB is found within protein sources, it's generally better just to optimize your protein intake. Focusing on protein instead of HMB will allow you to build muscle more quickly.
Nitrates: ignore for now. The nitrates found in beets and leafy greens are incredibly for your health, muscle soreness and even your lifting performance… but there's no need to supplement with nitrate supplements. In fact, if you want the benefits of eating more vegetables without needing to eat more vegetables, we recommend Athletic Greens instead. 
Collagen powder: ignore for now. A new study just came out showing that collagen powder can be effective for building muscle in old people with sarcopenia (age-related muscle loss). However, as with HMB, collagen is found within regular protein sources. You'll build muscle far better if you just focus on your protein intake.
Arginine: use citrulline Malate instead. Arginine is a popular supplement that cannot be digested properly, and thus doesn't work. Citrulline malate

can

be digested properly, successfully producing the intended effect (a bigger pump and accelerated muscle growth).
Baking powder: use beta-alanine instead. Baking powder mimics the effects of beta-alanine, making it an effective pre-workout supplement… kind of. Not only will it make you feel incredibly sick and dehydrated, a single dose contains 4x your recommended daily sodium intake.
With that handled, let's move on to the very best weight-gain and muscle-building supplements. All of these have proven to be incredibly effective and have hundreds of studies backing them up.