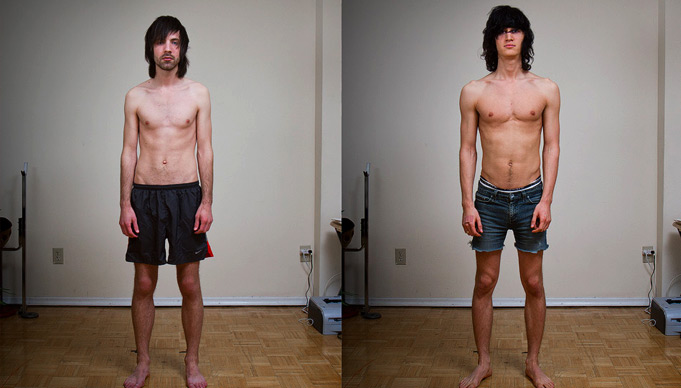 How to Go From Skinny to Muscular: Our Ectomorph Transformation
April 2010—the month that two skinny ectomorphs decided they were fed up with being skinny ectomorphs. Did we know what an "ectomorph" was? Hell no, we knew virtually nothing about building muscle. We just knew we were really damn skinny, completely fed up with it, and determined to become muscular at all costs.
That day, the two of us made a bulking pact: we would do thirty days of whatever it took to build muscle naturally (steroids not included). Skinny genes be damned, we were growing out of our skinny jeans.
At the end of those thirty days, we had gained more than two dozen pounds between us. It was working, we were finally gaining muscle. So we doubled down on our efforts, extending our bulking pact for another three months.
By the end of those four months, we weren't skinny anymore.
Here's the story of our ectomorph transformation: how we went from skinny to muscular.
First, a little backstory. With a lot of these internet transformations guys will intentionally lose weight so they can rebuild it quickly. Or they'll try to manipulate their before or after photos to make the transformations look more impressive. We were tired of that. We wanted none of it. We were going to take our photos clinically: same lighting, same poses, same time of day, same stomach contents, no pumping up our muscles, no tricks at all.
That before shot of me up there (I'm on the right)—that was the most muscular I had ever been in my entire life. In fact, I was proud of having gotten that big. Even in that before photo, I was trying my damnedest to look as muscular as possible.
See, I actually felt like I knew a lot about bulking up already. If you compare that statement with the photo, you might think that I'm a glass half full kind of guy (or crazy). That's true, but you've also got to take into consideration that two years before that photo was taken, I was 20 pounds lighter.
All through high school, I was 6'2 and 120–130 pounds. In university my weight held steady at 125-130. That's a BMI of 16.7, which isn't just skinny, it's considered dangerously underweight. My doctor had been telling me to put on weight for years.
Here I am in university, wearing a size small shirt: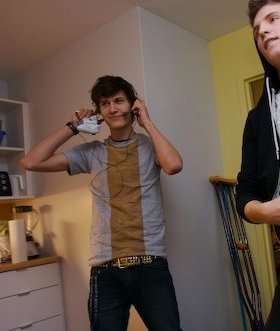 In my last two years of university, at 21 years old, I bought a muscle-building program for ectomorphs and managed to put on 20 pounds of muscle during a three-month bulk. That brought me from 130 up to 150 pounds. From a BMI of 16.7 up to a BMI of 19.3. I was no longer clinically underweight. I was still thin, sure, but I wasn't dangerously underweight. I didn't feel skinny anymore.
At this point, after finally gained some weight for the first time in my life, I was feeling proud of my progress: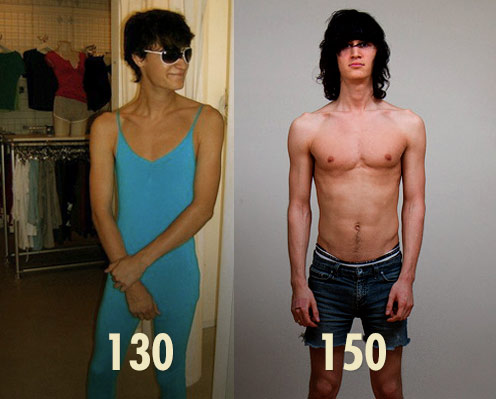 My successful attempt at gaining weight put me in charge of this new bulk.I promised Jared that I could help him build muscle. He believed me. And that's how I became the leader of our ectomorph bulking duo. That's why we decided to start our bulking pact.
The first task was figuring out a plan. At first, it was a little discouraging because all of the online information at the time was targeted at overweight people looking to lose fat, not at skinny guys trying to build muscle.
It took me quite a while to even figure out what our body type was. Eventually, though, I learned that we were ectomorphs because of our narrow bone structures and thin bones. I also learned that we were hardgainers because of our small stomachs, meagre appetites, and insanely fast metabolisms.
Once we figured out that were ectomorphs, everything else started to fall into place.
Or so we thought.
We devoured every single bit of ectomorph muscle-building information tidbit we could find, from blog to book to eBook. We didn't have an appetite for food, but we certainly had an appetite for bulking information.
A couple weeks later, homemade ectomorph workout routine and diet in hand, we started bulking our hearts out. We treated it as an experiment. Partly because that gave us an excuse to track and photograph everything. But mainly because we were too ashamed to tell our friends and family that we were actually, genuinely trying to build muscle. We figured "we're doing an experiment" wasn't quite as embarrassing.
As we gained more and more muscle, we got a lot of attention on YouTube and fitness forums. Some of the attention was good, some bad. On the bad side, I realized that wearing "daisy dukes" (cut-off jean shorts) in my progress photos wasn't an appropriately masculine choice for the bodybuilding bros on Bodybuilding.com. But on the bright side, we also got accused of taking steroids, proving that something masculinizing was happening, which we were totally stoked about.
I don't know about you, but at least for me, being falsely accused of taking steroids was a dream come true.
A couple months into our bulk, even the personal trainers at the gym were starting to notice these two quickly growing little skinny guys running around pumping iron.
We may not have had the best form, and we may not have been doing the best exercises, but damn we were dedicated, and boy was it ever working!
No matter how busy we were, we always found a way to get our meals in, however makeshift they had to be. There was a weight-gainer supplement called Myoplex that was popular at the time, and we always kept a few servings nearby.
We always got our workouts in too, no matter how busy or sick we were. One week the gym shut down for renovations, so we made a makeshift half-functional gym in our little design office (aka our living room). Fortunately, it wound up being a great opportunity to set up a tripod and take weightlifting selfies: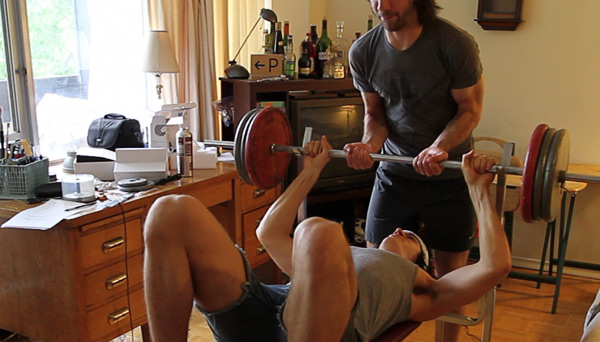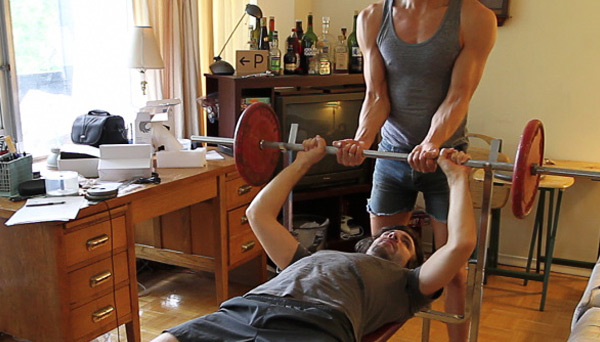 Our hard work was paying off. We were building muscle.
However, it turns out that the mainstream approach to bodybuilding is one of the silliest ways to build muscle as a skinny ectomorph. It was working, sure, but only through sheer force of will. We were sore as all Hell, perpetually stuffed to the gills, and our muscle-building progress was beginning to plateau.
Some guys don't need a smart plan. In every muscle-building study you'll see "hyper-responders." These are the guys doing the ineffective workouts and still building all kinds of muscle. Everyone else in their study group will gain nothing, but they'll have pretty stellar gains regardless. These are the jacked guys in the gym doing moronic stuff, certain that their method is superior because it's working.
But then you've got naturally skinny, ectomorph, hardgainer guys like us. We can't just pop on over to the gym, do whatever we fancy, and expect to build muscle. We're the guys that bro-science doesn't work on. We're the guys who actually need to be clever about this stuff. We need to use real science.
Let's talk about non-responders for a second. Most studies looking into lifting won't standardize nutrition. And more studies looking into nutrition won't standardize lifting. They focus on one or the other, not both. The guys who are non-responders to lifting programs tend to be the guys who naturally have a small appetite or fast metabolisms—us.
There are also many genetic components, as you've probably realized. For example, normal ranges of testosterone production in a man are between 170 and 780. That means that one normal guy can have 4.6x the testosterone of another normal guy. Judging by our bodies, diets and exercise habits, Jared and probably fell on the low end of the testosterone spectrum back then. The good news, though, is that by improving our exercise routine, diet, and sleep, we had a good chance of increasing our testosterone production, which seems to have happened over the course of our bulk.
There's a third factor, too. Most bodybuilding programs are popularized by professional bodybuilders. These bodybuilders aren't only genetically gifted at putting on muscle, they're also pharmaceutically gifted at putting on muscle! Not only can they get away with bending the rules, they aren't even playing by the same rules in the first place.
Here's an example: back in 2010, the most popular type of workout routine was something called a split routine, where you train a different area of your body every workout. Monday might be dedicated to your chest, shoulders, and triceps. Wednesday for your back and biceps. Friday for your legs and abs. This approach had first become popular with bodybuilders, and then it had trickled down to the general public.
Was it effective for the general public, though? In a 2000 study by McLester, the researchers took experienced male lifters and put them on a workout routine made up of three workouts per week. Both groups did the same exercises, same number of sets, same number of reps. The only difference was that one group had their lifts organized into full-body workouts, whereas the other group was doing a split routine like the one we mentioned above (with a chest day, back day, and leg day).
After twelve weeks of lifting, the participants doing the full-body workout routine increased their muscle mass by 8%, whereas the group doing the triple-split workouts only increased their muscle mass by 1%.
Interestingly enough, those bodybuilding triple splits only became popular in the 1960s, when steroids came into vogue. This new era of bodybuilders didn't need to pay any attention to increasing their testosterone production or stimulating muscle protein synthesis because they were doing it with performance-enhancing drugs. This kept their bodies permanently primed for muscle growth whether or not their training was optimal or not.
So these enhanced bodybuilders divided their workouts into splits, allowing them to absolutely annihilate a single muscle group each session. And in their unique circumstances, that made sense. The drugs allowed them to benefit from infrequently hitting muscle groups extremely hard. After all, they had an enhanced ability to recover from that relentless weightlifting onslaught.
Does that approach work for them? Absolutely. Does it work for us skinny guys? A little bit. It's better than nothing. We got results with it. But we can do much, much better. Increasing your muscle size by 8% in twelve weeks is going to create an impressive muscle-building transformation. Increasing it by 1% wouldn't even be noticeable progress.
That study was using experienced weightlifters, but another study found that the same was true in beginners.
The next question was whether doing more than three full-body workouts per week could speed up muscle growth. It turns out that it doesn't. Training a muscle group more than three times per week reduces muscle growth (study, study).
Before steroids, all the best bodybuilders, strongmen, and athletes were doing full-body workout routines three times per week. Full-body workouts just worked better. In fact, they worked so much better that it was common knowledge that you should train that way.
Doing three full-body workouts per week makes sense physiologically, too. A workout stimulates about 48 hours of muscle growth in the muscle groups you train. So with full-body workouts, you're stimulating every muscle group and then giving it a couple days to recover, at which point you train them again, stimulating a new wave of growth. That keeps your muscles growing all week long. With a split routine, on the other hand, your muscle groups are only growing two days per week.
Unfortunately, I had gained my first twenty pounds doing a split bodybuilding routine, and I still didn't know any of this yet. Oops.
I did get half of it right, though. By this point I had our bulking diet down to a science:
Enough calories: We were eating enough calories to gain weight at a good pace (500-1000 extra calories per day).
Enough protein: We were eating the correct amount of protein (1 gram of protein per pound bodyweight per day).
Mostly whole foods: We had some weight-gainer shakes, but most of what we ate was whole food.
Good protein distribution: We had three meals + a couple snacks every day, each with at least 20 grams of protein.
Through sheer trial and error, we had also stumbled upon a few tricks that helped us stomach more food:
We started most days with a smoothie, which are easy on the appetite and easy to digest.
We ate lots of ground meat (such as in chili), which again, is very easy to digest.
Our snacks were simple and small, like a protein shake or protein bar.
We also made our dinners in bulk, cooking them on Sunday and reheating them during the week. That made our bulking diet a little easier to follow.
Here's our more recent article about putting together a good ectomorph bulking diet: Ectomorph Bulking Diet: How to Eat More Calories and Gain Weight More Easily. We've been helping ectomorphs bulk up for nearly ten years now, and we've learned a lot from coaching so many guys through it.
Anyway, because our bulking diet was on point, it allowed us to make up for the fact that our workout program wasn't ideal. We were still skinny beginners, and so our bodies were eager to grow. Our calorie surplus was guaranteeing our weight gain, and our steady intake of protein was boosting our muscle growth throughout the day. We were still able to gain muscle.
In fact, we were even building muscle faster than we had thought was physically possible. It seemed like our genetics had gone from terrible to terrific overnight. We couldn't believe it: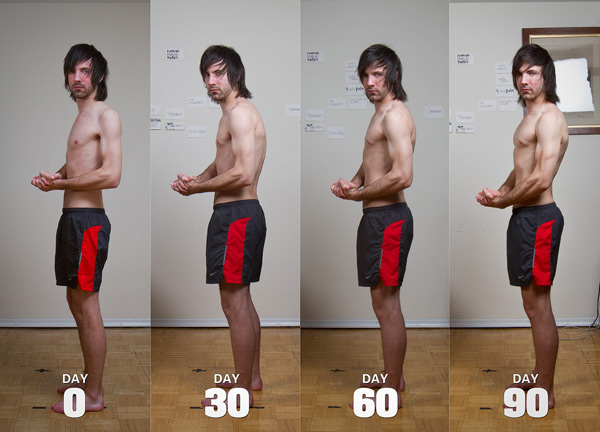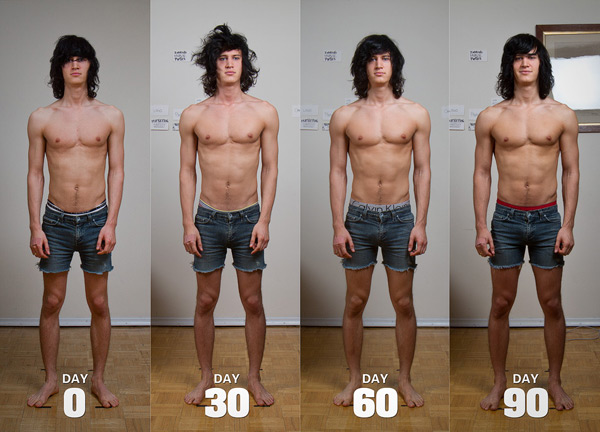 We had blogged about our progress, and we were starting to get emails from other skinny ectomorphs who wanted our help with their own workout routines and bulking diets.
Eventually, an old friend of a friend connected me with Marco, who I'd gone to high school with. He told me that if I was interested in building muscle, I should talk with Marco. At the time, he was in charge of bulking up his university's football team, and his former clients included a whole slew of professional and Olympic athletes.
I thought there must be some sort of mistake. The Marco I remembered had a pretty comparable body to mine and Jared's—tall, lanky, and runway-model skinny. The last time I'd seen Marco, he'd weighed 150 pounds at 6'4.
Turns out that since I'd last seen him, Marco had completely transformed his skinny physique, becoming incredibly muscular. Since graduating from high school, he'd put on 63 pounds of muscle and was now weighing in at 205 pounds: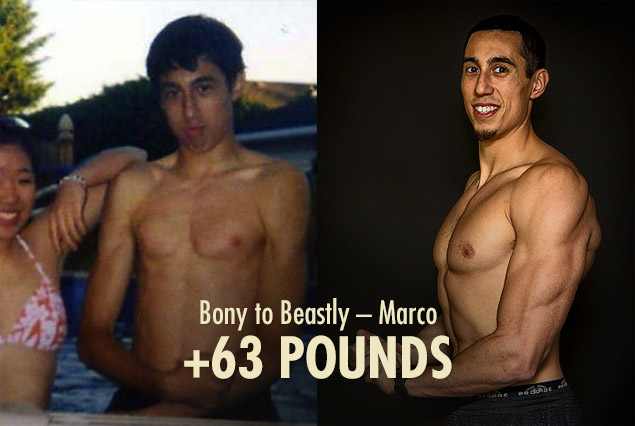 While Jared and I had been studying design, Marco had been studying health sciences and working as a strength and conditioning coach. Not only that, he'd also studied under the top strength and conditioning coaches in the world, such as Eric Cressey and Mike Robertson. That expertise had gotten him a career coaching college, professional, and Olympic athletes.
When Marco and I first spoke, he congratulated us for having gained so much muscle. He didn't point out our mistakes, he was just happy for us. But then I asked him if we were doing anything wrong. I asked him if there was anything he would change about our bulking routine. That opened Pandora's box.
For about an hour, Marco broke down our routine and explained how we could make it better. Better in the sense that we could gain more muscle mass and strength, which is what we were interested in, but also better in the sense that we could keep our joints healthy, avoid injury, and do a better job of improving our health and posture. He'd seen too many athletes wear their bodies down in an effort to get bigger. After all, his job was to help athletes bulk up quickly and efficiently without causing any longterm harm.
Back then I was too skinny and desperate to find that stuff interesting, but I followed his advice anyway. Now, ten years later, having gained over 60 pounds of muscle without any nagging injuries, aches, or pains, I'm very grateful for that advice. At the time, though, what I found the most interesting was a little hint he gave us about our workout shakes.
I told him that we had been drinking high-carb workout shakes mixed with protein while working out. Protein powder with some sugary water (Gatorade or whatever). He said we might want to try doubling our dosage, but that we should also switch from "sugary" to a carbohydrate source that was made up entirely of glucose.
That confused me. I didn't know what glucose was. Marco explained that most sugars are a fairly even split between glucose and fructose. Table sugar is 50% glucose and 50% fructose. High-fructose corn syrup, the sugar used in most junk food, is 45% glucose and 55% fructose.
Glucose is great for bulking because it's easily used as energy, easily stored in our muscles as glycogen, and extremely unlikely to be stored as fat. Having glucose while lifting weights is an effective way to boost your energy, build more muscle, and avoid gaining fat. Basically, glucose is fantastic for skinny guys who are trying to bulk up. (You can buy it as as supplement in the form of maltodextrin powder, which is common in weight-gainer supplements, but glucose is also what you find in rice, potatoes, pasta, and so on.)
Fructose, on the other hand, is harder for our bodies to process, it can't be stored as muscle glycogen, and it's associated with fat gain. Worse, it's associated with visceral fat gain, which is the unhealthy kind of fat gain that's known for causing cardiovascular disease and diabetes (study).
Marco wasn't trying to scare us. We were skinny guys. Unless we gained a ton of fat, we weren't likely to develop health problems from having too much fructose. But if we switched from having a small amount of sugar in our workout shakes to having a large amount of glucose (maltodextrin powder), we would be able to gain muscle more quickly and more leanly.
We took his advice. Next time we took to the gym, we were armed with a workout shake containing:
50 grams of whey protein
100 grams of maltodextrin
5 grams of creatine
It worked. We found that we seemed to recover faster and it became a little easier to eat enough to gain weight. (If you're curious about muscle-building supplements, here's our article on the best bulking supplements for ectomorphs.)
Marco made a lot of great changes to our bulking workout routine, too:
He put us on a full-body workout routine, three workouts per week
He had us focus our energy on the big compound lifts (chin-ups, bench press, deadlifts, and so on)
He had us doing a mix of strength and size training
He added a few core exercises that allowed us to fix our posture as we gained muscle
We were ditching our bro-science bodybuilding habits for the science-based bulking techniques that he was using to help his college football team bulk up. We were even doing loaded carries and a few other athletic bulking techniques, which we loved. Our upper backs and shoulders started getting a lot bigger.
These new bulking workouts were great. Marco explained that the better you could stimulate muscle growth in the gym, the more insulin sensitive your muscles would become, and the leaner your muscle gains will be. Our training plan was a lot better, and our muscle-to-fat gain ratio was noticeably improving.
Marco's approach to training is pretty wholesome too. He's all about using lifting to improve mobility, posture, strength and performance. We were gradually standing straighter and feeling better, and my strength was going up by leaps and bounds.
With Marco's help, we finished our 4-month experiment much leaner and more muscular than we expected: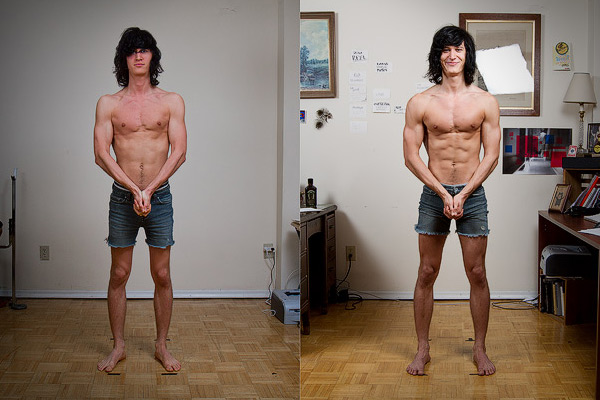 At that point, we started getting even more emails from other skinny ectomorphs who were desperate to become more muscular, and who wanted to know how we had done it. Our friends and families were all asking us for advice, too. After all, we'd gone from being the weakest and unhealthiest people we knew to being the strongest and fittest.
I spent a year where I would do design work from 9–5pm, and then answer emails from 5–10pm. Not every day, but a good 4–5 days per week. To make coaching these guys easier, I had put Marco's advice together into a little PDF guide. Everyone loved it, and it was producing great results: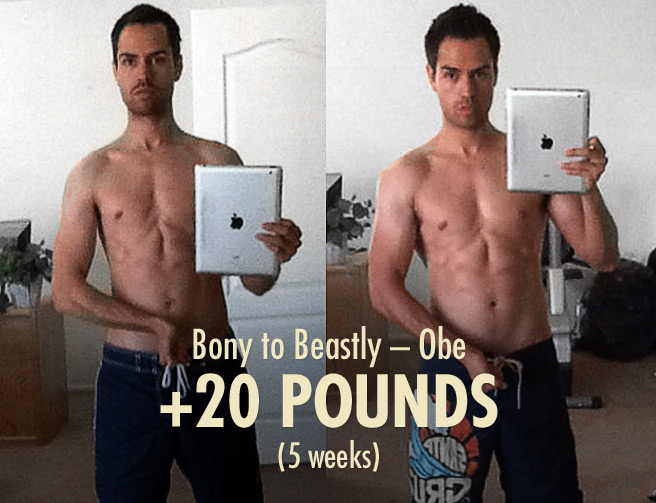 With my own training, I was happy with my size, so Marco switched me over to a full strength routine. I went from being able to bench 135 pounds for a half rep to being able to bench 225 pounds all the way down to my chest for reps. My lifetime goal had been to do a rep with 185 pounds. I couldn't believe it.
Aafter having coached a few dozen clients together, the three of us decided to go all-in, creating The Bony to Beastly Bulking Program and building this business around it.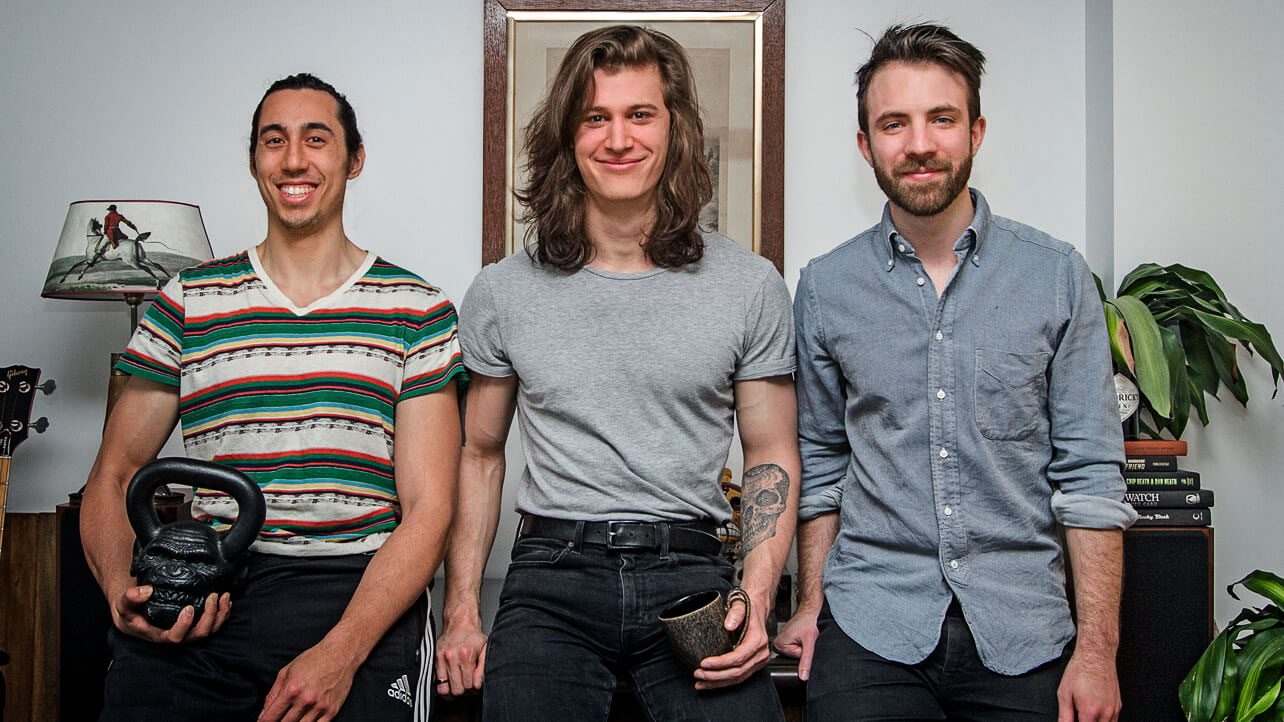 By that point, I'd gained a total of 55 pounds, going from 130 pounds all the way up to 185. In just a couple years, I'd overshot my lifetime goal by a good 15 pounds: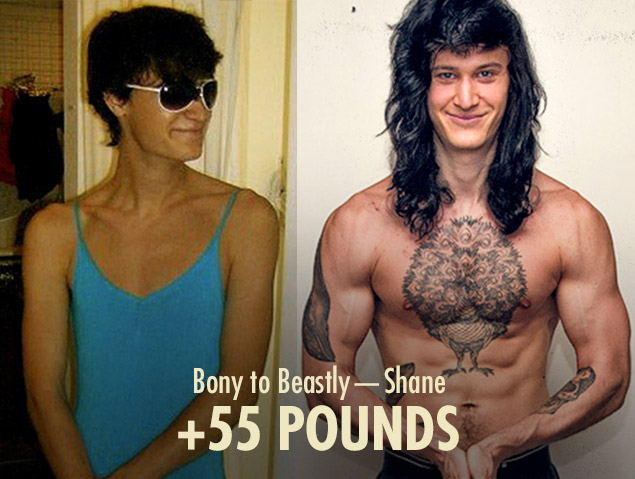 I little while later, I got a DEXA scan to test my body composition, I learned that I was 10.8% body fat. Somehow, I'd managed to gain 55 pounds and come out even leaner than when I started: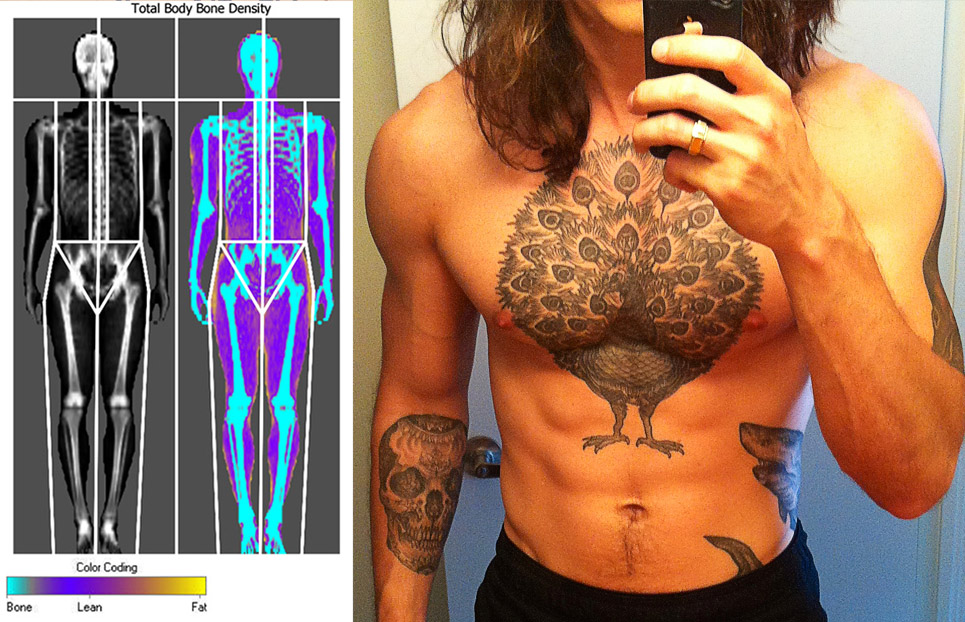 I had spent my whole life thinking that my body was unable to become strong and muscular. In a few months, Marco had shown me that my potential was far higher than that. I could become as strong and muscular as I wanted. (Here's our article about how much muscle size and strength an ectomorph can expect to gain.)
I also felt healthy and athletic. My doctor was blown away by how much my health markers had improved, and I no longer felt clumsy and tired. I started sleeping better, too. A lifetime of insomnia disappeared now that I was exercising properly.
Since then, we've been helping other ectomorphs put our transformations to shame.
Here's one of our very first members, Albert. He's a doctor who was working 80 hours per week while going through the program, often needing to rely on the hospital vending machines for his meals. But he wanted to set a good example for his patients, he was determined to go from skinny to muscular, and he managed to gain 25 pounds while finishing even leaner than when he started: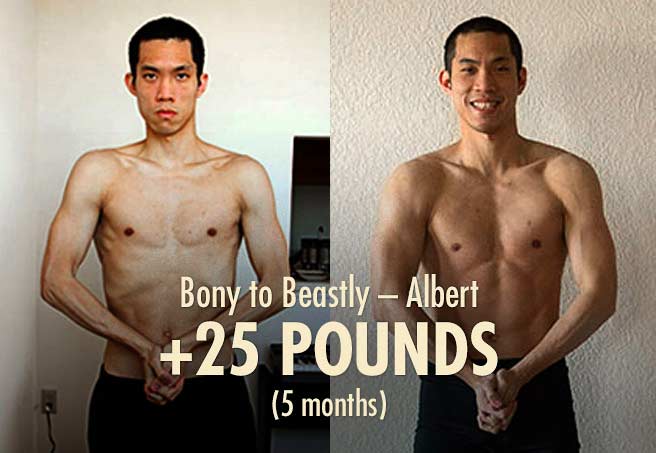 Our bulking routine was five months long, but just to be clear, Albert took longer than five months to finish it. He took a few breaks from exercising when work got hectic. But the above photo shows five months of doing the bulking routine.
Here's another great example from GK, showing how quickly and leanly ectomorphs can build muscle: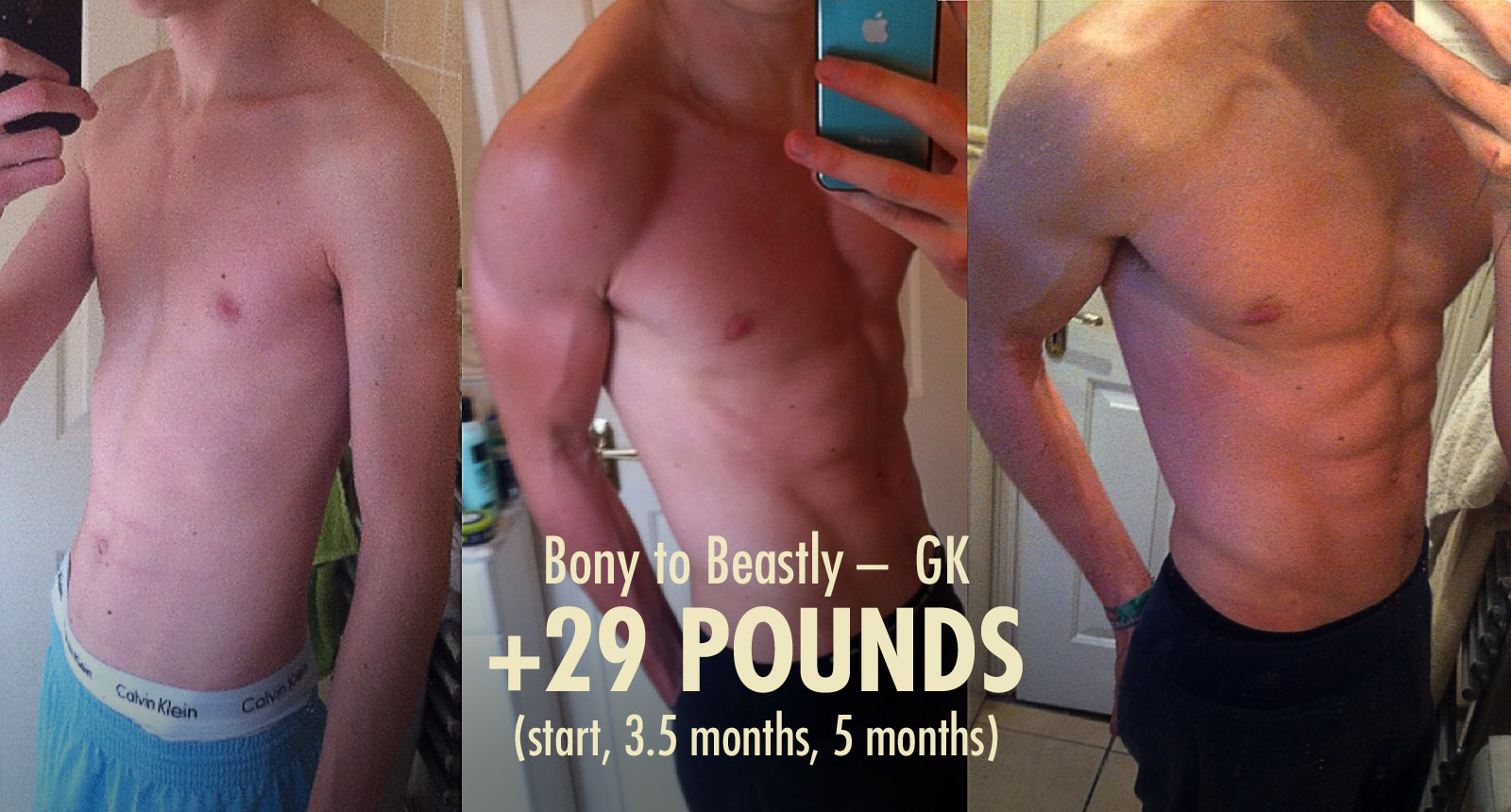 And here's one of my favourites, Klaus, who started out skinny-fat and totally transformed his body-shape by building muscle and losing fat. Imagine how much muscle he must have built in order to finishing weighing 22 pounds heavier while also losing so much fat: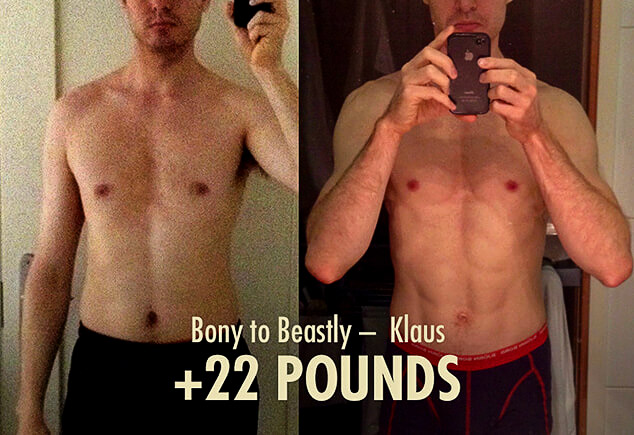 Here's Ariel's skinny to muscular transformation, showing that ectomorphs can indeed build broader shoulders: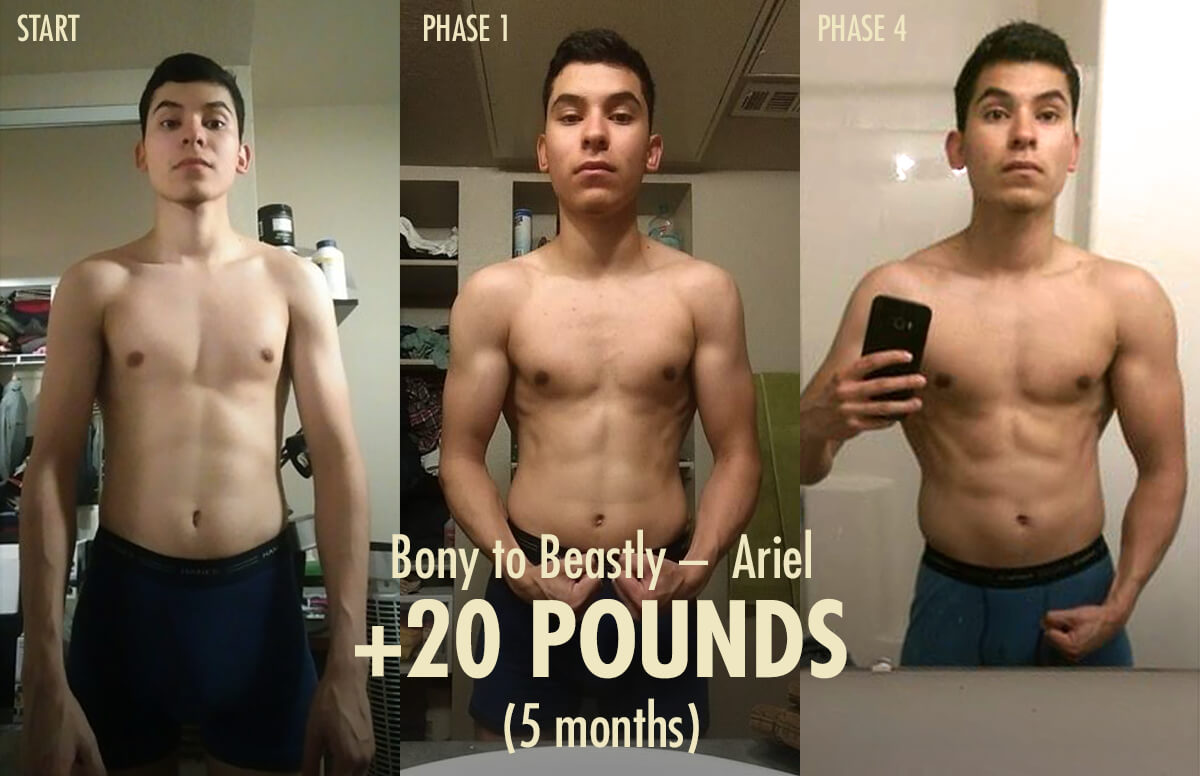 Since then, I haven't put much emphasis on gaining more muscle. 60 pounds proved to be enough. But I've gotten married, just had my first son, and I'm still feeling grateful that I took the effort to bulk up. It's helped me live a productive and healthy life, and I get to feel like a strong husband and father.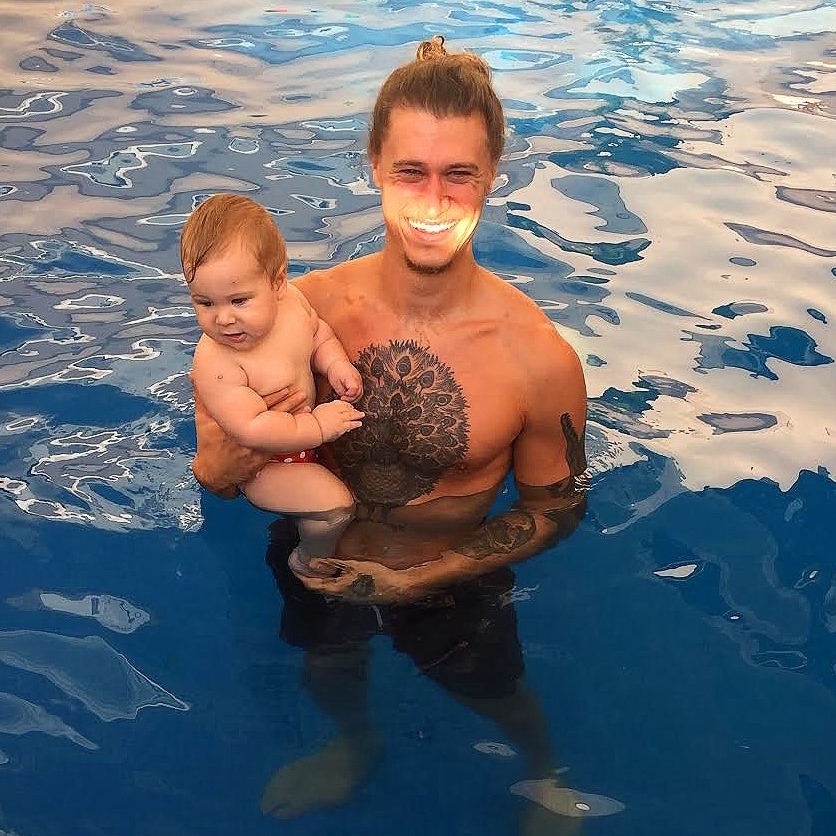 I'm benching 275 pounds now, and I think 315 is coming soon.
Anyway, that's the story of how we went from skinny to muscular, with Jared gained 50 pounds, me gaining 60 pounds, and Marco gaining 63. It's also the story of how our Bony to Beastly business came to be, and why we're so passionate about helping other ectomorphs bulk up.
If you're a naturally skinny guy and you want our help building muscle, check out our Bony to Beastly Bulking Program. We've been doing this full-time for seven years, and we've had almost 10,000 satisfied clients. I think you'll love it.